A Cup of Coffee with…Ron Thomas, Sr.
1) Who, What and Where: (Your name, formal title for your company, association and show you are associated with and where you are based).
Ronald A. Thomas Sr.
CEO Rona Enterprises, Inc.
30 W Broad Street
P.O. Box 1498 Pataskala, Ohio 43062
2) Background: (Educational/Professional snapshot before entering the factory-built housing arena.).
Ohio State University
Worked for newspaper until 1962
Manufactured Housing industry 1962- present day
3) When and How: (When and how you began in Manufactured Housing.).
A friend of mine was in the Manufactured housing industry. I went to visit him at work and they hired me.
4) What are your personal interests or hobbies? How do you like to spend non-work time?
My personal interests are family, golf and some travel.
5) You spent a number of years with the Midwest Manufactured Housing Federation (MMHF) and the Louisville Show. Tell us about the experience with people like Dennis Hill at Show Ways Unlimited, and your thoughts about the come back of the Show, which Wally Comer said merits you and Dennis Hill a statue in front of the KEC!
When the Louisville Show was in trouble and it looked like we were going to have to close it down, I made and effort to contact many of my peers and ask them their thoughts. From every man and woman, the answer was that they still wanted the Louisville Show to go on.
I talked with Dennis Hill and we agreed to try and put the show back on. We worked really hard and put together a small show. Quite frankly I was not proud of the show we put together and we got a lot of criticism from some of the attendees. As luck would have it, the show has progressed till last year. It was a sell out for homes and suppliers.
In 2015 we are looking to increase the show by another 10-15%. Dennis Hill was very valuable to have as a partner for the show. Tell Wally Comer that the only input I want on this statue is to be able to choose the material. No particle board, please!
6) You are fresh from the MHI Congress and Expo in Las Vegas. What were your take aways from that event?
The M.H.I. show in Las Vegas was a very good event. The numbers were up 10-15% for attendance and booths. I think M.H.I. is headed in the right direction and has excellent leadership under Dick Jennison.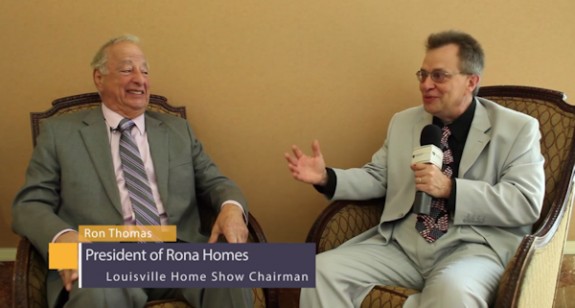 7) You have some strong thoughts about manufactured housing finance. As an award winning retailer and community owner who is a member of the RV MH Hall of Fame, please tell our readers your thoughts on what you think is needed in manufactured "home only" financing.
I believe the Manufactured Housing Industry is a phenomenon. We are different and misunderstood. Let me start:
A) When in the history of the world could you purchase a home for less than a one annual years' pay.
B) All smart money lays off.
Insurance companies spread the risk among themselves and others. If you place a large bet with a bookie he will take that and lay it off among other bookies.
When you purchase a Manufactured Home and place that in a Manufactured Home community, you are laying off the land and the improvements costs.
You are leasing them back, thus reducing your debt, often by some 50%.
When you purchase a home and put it in a land lease community, you are never in debt more than the home itself, say around $50-$60,000 or so.
It's when we try to do it all and build homes on for $120,000-$300,000 and finance it for 30 years so your debt would become $300,000-$600,000 which is too much for millions of people today.
Look at the difference – $200,000 as opposed to 50,000. It's a phenomenon! When you finance $50,000 for 12-15 years at 150-200 basis points on real estate the savings are huge; making this truly the most affordable housing in the history of the modern world.
8) You have a unique take on paying off communities and the value that brings to a community owner. Would you like to share your insights on that opportunity?
I don't believe in debt. Obviously you need some debt at some point in your life. You should work very hard reduce that debt. Dealers that have floor plans and continue to pay interest for 25 years, they pay 2 fortunes in interest. WHY??
Parks are the same thing. I don't believe in leveraging debt. When you do it becomes the 800 pound gorilla and all of your efforts are focused on that debt instead of running your business.
9) The industry is seeing a lot of interest from outside investors. Knowing you like to do things as debt free as possible, what are your thoughts on the up to two billion – or more – dollars, that will likely enter our industry, but do it via leveraging debt?
When I look at the United States I see at least six different currencies. There is the California currency, Texas, Ohio, Mississippi currency. If you take the California dollar and use it to purchase land in Coshocton, Ohio you will come out with 3-4 times as much. They keep buying our parks and raising our rent. They have lots of cash and the money is free.
10) Any insights or words of encouragement regarding the past or next Louisville Show?
Dennis Hill and the show committee are looking forward to the next show. We are increasing it by about 15%. It will be a sell out and we will make a profit of which mostly goes back to the states. This will be the biggest and best show since 2006!
11) Any closing thoughts you'd like to share with the industry at large?
My dream would be to get national spokesman with large credibility to represent our industry. One like Warren Buffet or Rush Limbaugh. If they would come out in support of our industry and tell everyone our story we could BOOM again.
Someone should get out and tell our story, that will get more support.
Look at the 40 million Americans that can't purchase the American dream. They are the same 40 million that have been there since 1945. Their credit is less than 650. The banks won't buy them; the banks would never buy them. But if the government co-signed for the consumer then the banks would buy them.
If the government guaranteed 90% of the loan through Fannie, Freddy, V.A., USDA, FHA, etc. With the government co-signing, the banks bought the deals.
It worked for 75 years then they ruined the program by going too liberal.
Those people lived in their homes for 30 years, receiving equity and appreciation and used their homes to retire. That's ended. They can't retire.
The housing industry has become the 800 pound gorilla in the economy. We aren't going to sell more cars. The stock market isn't going up any faster.
The only thing that's missing is the housing industry with the government co-signing. We must get these 40 million people back in the game.
Without them there is no game and the economy goes up .05% and goes down .05%.
All the people that use tools are not going to retrain and go hi-tech. Put the construction industry back to work and millions will go back to work!
I want to thank you Tony for your contributions to the industry. Its people like you, whom I have been blessed to know and that keeps me going. ##