1) Who, What and Where: (Your name and your formal title at Champion Commercial Structures).
Phyllis Knight President, Champion Commercial Structures EVP, Champion Home Builders, Inc.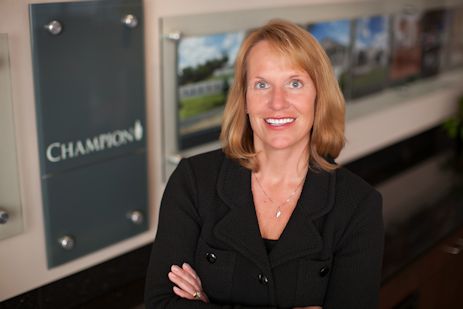 2) Background: (Educational/Professional snapshot before entering the factory-built housing and construction arena.).
B.A. – Accounting & Finance
Michigan State University (1985).
KPMG – CPA – 1985 through 1994.
Green Tree Financial – SVP & Treasurer – 1994 through 2002.
Champion Home Builders – EVP & CFO – 2002 through 2013.
3) When and How: (When and how you began in your involvement at manufactured and modular home building and then how you came to be at Champion Enterprises. Please include a snapshot of your various roles at Champion, leading up to your current role).
I became familiar with the factory built housing industry while working in public accounting when Green Tree Financial became a client of mine. I loved the business and later went to work for them. I spent 9 years leading Green Tree's efforts to fund its loan originations. We completed billions of dollars in MH portfolio securitizations and pioneered a number of leading edge structures. During my time at Green Tree, we entered the floor plan financing business, and I was significantly involved in getting that business up and running (and financed).
As a result of this involvement, I came to know a number of large retailers and manufacturers. I had the privilege of meeting Walt Young during his days at the helm of Champion, and went to work for him as the CFO at Champion near the end of 2002.
Since joining Champion over 10 years ago (after Walt convinced me that the industry's turn around was just around the corner . . . still waiting!) I've been involved in many different things – most of them fun, and a few not so fun.
In the early days, I was tasked with helping Champion largely divest of its retail and finance investments. After getting Champion focused squarely back on its core business of manufacturing, we had the opportunity to complete a number of acquisitions and get back on a growth trajectory.
Among them, we added a commercial modular operation in the U.K. and significantly increased our presence in western Canada, both of which have helped to diversity and strengthen Champion overall.
In 2009, after struggling through a wretched economic meltdown in 2008 and an unsustainable debt load dating back to Champion's late-90's adventures in the retail business, I had the unfortunate responsibility of leading Champion through its restructuring. After being a public company for over 50 years, we took the company private with three strong equity partners that have recapitalized the company and helped to revive its operations.
At Champion, for many years, we have been big believers that factory built housing has many applications in addition to the core HUD code homes business. We began completing a handful of commercial projects in our plants in 2007 and 2008, but only in the last 2 years have we seen our many investments into this arena begin to pay-off.
During this time we've constructed multiple hotels, apartment buildings, student housing and worker accommodation facilities, and residential subdivisions.
We've completed projects as far north as Labrador and Fort McMurray, Alberta, and as far south as Florida and Texas. We've shared projects across a variety of North American plants, and share customers with our U.K. operations.
I now have the opportunity to help steer Champion's growth in this transformative venture and have taken over leadership of Champion Commercial Structures on a full time basis.
4) What are your personal interests or hobbies? How do you like to spend non-work time?
My husband and I have 3 children (2 sons bracketing our daughter) that have, most enjoyably, consumed much of my free time. They are now 23, 19 and 17 with only the youngest still at home full time.
We have a summer lake home in northern Michigan that we spend every minute we can enjoying where we boat, ski and still take in way too much night life.
We like to spend winter vacations skiing in Utah and Colorado, and I still try to be a runner whenever time permits!
Oh, and we rarely miss a Michigan State Spartan sporting event (go Green!).
5) You've been in the factory-built housing arena at the C-Suite level for some years, what do you see as the key issues that challenge residential or commercial factory building?
How are those challenges to residential similar on the commercial side of factory construction? How are those challenges different?
Consistently, whether commercial or residential, successful manufacturing operations have great people from top to bottom – starting with a seasoned, dedicated labor force that shares our vision on quality, customer service and disciplined performance.
Great people overcome mediocre markets, whereas a weaker team will often make little of even a terrific market.
I believe the most important responsibility we have as leaders is to ensure that we have an environment where people thrive, where their ideas are listened to, their needs are met and they have an opportunity to contribute and be successful.
6) Champion has tested the waters on an outreach to manufactured housing professionals to 'refer' possible commercial clients to its commercial division.
Knowing that even factory pros can at times be slow to adapt, give us a sense of how that effort is going and what is coming down the road from your division to create more synergy between the residential and commercial building wings of construction.
Commercial projects can certainly challenge a plant that is accustomed to building residential products. The way we address this is to manage the complexity via thorough, disciplined and rigorous pre-production planning. At Champion we have a growing team of dedicated engineering, project management and procurement professionals whose job it is to ensure that our plants are successful when a project hits the production floor.
We manage all aspects of the project centrally with the exception of the actual production in the plant. This includes estimating, quoting, engineering, design, procurement, project management and post-production site scope.
Keeping it as simple and close to the "norm" as possible for the plant is our goal.
7) When we at MHProNews go to an event like the Louisville or Tunica manufactured home shows, we met professionals who are not in an industry trade association. Champion is quite active at the Manufactured Housing Institute (MHI), not to mention other trade associations. What can you share with someone who is not in an association as to the value proposition for them?
Being part of MHI allows you to be part of finding solutions to problems. It's easy to point out issues, but takes time and personal investment to help solve them.
In addition to that, for me, I really enjoy the opportunity to spend time with peers from other companies and other segments in the industry – I learn new things, meet new people and often find opportunities to advance our business.
8) Usually one of the hottest topics in manufactured housing revolves around financing. You and other association leaders are in the thick of the efforts to reform Dodd-Frank through HR 1779 and the companion bill that will be filed in the Senate.
For those readers who have not yet picked up the phone, sent an email, fax or letter to the Congressman or Senators about this issue, please tell us why grass roots action is essential. What does passage of this 'fix' for the unintended consequences of Dodd-Frank mean to the typical retailer or community operator? What does it mean to a transporter, installer, insurance, lender or other service provider?
The manufactured housing industry is facing potentially debilitating regulation that takes effect in January 2014. The regulations were written by the CFPB, which was formed as part of the Dodd-Frank Act.
These regulations are thousands of pages and cover everything from how to hire an employee to how to foreclose on a loan. There are two particular issues that will be crippling to our industry: the definition of Mortgage Loan Originator, and the definition of High Cost Mortgage.
Mortgage Loan Originator: Unless we can pass legislation that changes the definition, then any manufactured housing sales person who does any of these tasks will meet the definition of a Mortgage Loan Originator. The task include things like helping a customer complete a credit application, helping a customer evaluate alternative lenders; suggest the customer apply for a loan with any lender. Negotiating any loan terms, and gathering loan documents to send to a lender. Surely most of us would agree that many of these tasks are essential to selling homes, and it is impossible for a lender to know if these tasks are being performed by sales persons. The way the regulations are structured, if the sales person performs any of these tasks, then his/her compensation-sales profit becomes classified as a finance charge, and the contract disclosures are wrong. The problem creates many thousands of dollars of exposure to the lender. No lender can afford to originate business with such risk exposure.
High Cost Loan Definition: The DF act and CFPB regulations define high cost loans for a manufactured home (avg. $46,000), the same as the definition for a site built home (avg. $222,000). The regulations fail to recognize the fact that the cost for each loan are the same, regardless of the loan size, but as a percentage of the loan, the manufactured home loan origination and servicing costs equal a much higher rate simply because the loan balance is small. No lender will want to originate a loan that meets the High Cost Loan definition for various reasons. One of the reasons is that a customer must attend a HUD approved counseling school and receive a graduation certificate before entering into the loan.
The industry has made numerous presentations before the CFPB to convince them that the regulations are unfair to our customers and our industry. Thus far they have been unwilling to provide any relief.
It is critical that all of us be engaged with our representatives given the magnitude of these issues and the significant impact that they could have on all aspects of the business.
9) If you could wave a magic wand, and get one wish to come true relative to factory building in the U.S., what would it be and why?
That's an easy one. I'd have the GSE's (Fannie Mae and Freddie Mac – and / or whomever their successors are) making loans available to manufactured housing buyers on a level playing field with traditional mortgages.
A system similar to this has supported the Canadian manufactured housing business quite consistently and quite well for many decades, and it works!
Loan terms are similar, loan qualification requirements are the same, and loan performance is the same. It works there, so why not here? If only I had that magic wand!
10) When one looks around the manufactured housing industry, there are not a large number of women in C-Suite level roles. Marguerite Nader with ELS, Dee Pizer at Zeman Homes and you are among the rare exceptions. At the same time, there are dozens of women in leadership roles at the association level. What do you make of this 'glass ceiling' on the for profit side and what would you say to an aspiring woman who has the talent and discipline to be in the C-Suite in corporate factory building?
I think the issue in our industry is less that of the "glass ceiling" and more related to the fact that fewer women are involved in our industry at the entry level. All I can say is that, personally, I've not ever felt that I was biased against for my gender. I think all women that commit to working hard, learning the business and doing what it takes to succeed will have as good a chance as anyone else to be successful.
It is also important to note that, on the retail side of our industry, there are a large number of successful women running businesses and thriving.
12) Closing thoughts or comments, ma'am?
We need to get back to being proud of what we do in the manufactured housing industry. Our products fill a crucial need and they're "cool!" They're "green," they're affordable and they're "built in America"! What else could you ask for? ##