1)    Who, What and Where: (Your name, and your title, District and Party Affiliation in Congress and how it relates to manufactured housing)
Joe Donnelly, Democratic Representative of the 2nd District of Indiana, which is home to the Manufactured Housing Capital of the World.
2)    Background: (Educational/Professional background before entering Congress.  Explain how you first connected with the manufactured housing/factory-built housing arena.)
I attended the University of Notre Dame for my undergraduate and law education. After school, I joined a general law practice and operated a small business in Mishawaka, Indiana. I call north central Indiana home, and the manufactured housing industry is a crucial part of our state's economy.
3)    When and How: (When and how you began your political and Congressional career, then tie it in as it relates to the Manufactured Housing Industry)
I started my career in public service by serving as legal counsel on the Indiana State Election Board from 1988-1989. I also served on the school board for Mishawaka Marian High School from 1997 through 2001. I decided to run for Congress because I felt that politicians in Washington seemed more focused on partisan politics than actually getting things done. I was elected to represent the 2nd District of Indiana, which is home to the Manufactured Housing Capital of the World. I currently sit on the House Financial Services Committee, which allows me to play a role in shaping the policies that impact industries such as the manufactured housing industry.
4)    What are your personal interests or hobbies?  How do you like to spend non-work time?
When I am not busy representing my constituents, I enjoy spending time with my wife and two children. I also enjoy baseball, and I have played in the Congressional Baseball Game the last five years.
5)    HR 3849 is on the minds of many of the roughly 250,000 Americans who own a business in manufactured housing (MH) or who work in our industry. As a co-sponsor of HR 3849, please give us your perspectives on it.  Tell us why this is important to MH businesses and the roughly 20 million Americans who live in manufactured homes.
I signed on as an original co-sponsor of H.R. 3849 because it would help ensure that manufactured housing remains a reliable option for homebuyers and also help strengthen the industry, which is a significant driver of the economy in northern Indiana. The manufactured housing industry employs more than 3,000 people in Indiana. Many of these hard-working Hoosiers and their families live in north central Indiana, which is home to at least ten manufactured housing-related plants. Also, more than 150,000 people in Indiana live in manufactured housing. This legislation would help make affordable homeownership a reality for many by making sure consumers are able to obtain mortgage financing for their manufactured homes.
6)    As you know, some 75% of all loans in manufactured housing are personal property or 'chattel' loans, according to a recent survey by the Census Bureau. While all home lending is important, clearly personal property lending is the life blood of manufactured housing at this time. In spite of what HERA 2008 called for – namely, the Duty to Serve manufactured housing, first the GSE and now the FHFA have failed to implement what the law seems to require.  Yet the housing/finance crisis occurred in the conventional housing sector, not in the manufactured housing sector. 5 private lenders have proven this sort of personal property lending can be done successfully.  With this in mind, what are your views on the GSEs, FHFA and the Duty to Serve provisions from HERA 2008?  Do you think that Congress intended, as the language of the law indicates, that the GSEs – and thus FHFA – should in fact be providing a secondary market for personal property loans?
With so many Hoosier jobs related to manufactured housing, I have worked to ensure that the federal government fosters a business climate that will allow our local companies to remain competitive and hopefully even grow. I support the implementation of the Duty to Serve provisions from HERA 2008 because they would help keep manufactured housing affordable for the over 17 million Americans living in manufactured homes. Without question, the housing market decline was a leading factor in the economic downturn and a rebound of the housing market will be critical to rebounding our economy and providing long-term stability. What the recent decline in the housing market has taught us is the need to better balance the existence of both private and government-sponsored markets. 
7)    There are concerns over changes in the composition of the Manufactured Housing Consensus Committee (MHCC), there being no national associations represented; neither MHI or MHARR.  Some believe these and other changes undercut the very purpose of the MHCC as established by the Manufactured Housing Improvement Act of 2000 (MHIA 2000) and as it relates as a regulatory check on HUD.  Your comments or perspectives on the independence of the MHCC and related with HUD, please?
I have long employed a policy of listening to all stakeholders and will continue to do so going forward. If groups feel the government is inhibiting their work and are able to help provide a reasonable solution or contribute to a solution, my staff and I are happy to listen to and convey concerns to the administration.
8)  You are seeking the Senate seat in Indiana.  Please compare and contrast your vision with that of your opponent, Richard Murdock.
I believe we accomplish more when we work together. Indiana has a great tradition of Senators who weren't limited by their party, including Richard Lugar and Evan Bayh. I am running for Senate to follow in that tradition and put an end to Washington's petty partisanship.
Mourdock once said he 'didn't take a pledge that [he] would support every job in Indiana.' I disagree. I am running to fight for every single Hoosier job and will work with anyone of any party to create jobs.
9) As a Democrat, you no doubt want your party's standard bearer, Barack Obama, to re-win the White House.  You've clearly demonstrated on manufactured housing issues that you are willing to work with members of both parties.  Regardless of who wins the White House and who controls the House and Senate, what are your views on working with members of the other major political party?
The only way we will accomplish great things for the American people is to work together. Hoosiers need a U.S. Senator focused on what matters most for them, not what a political party or a Washington special interest wants. I am proud that my record on a variety of issues shows that I will work with Republicans and Democrats alike when the end results are good jobs, quality schools, and secure futures for all Hoosiers.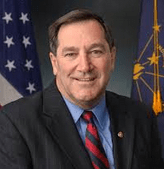 10) Congressman Paul Ryan has called our times one of "debt, despair and doubt" facing America.  Former President Clinton famously said the "era of big government is over."  Do you believe – as President Bill Clinton has said – that we must have smarter government that works with business to create jobs?  Do we need to control spending and reign in debt, as Democratic President Clinton and Republicans in the House and Senate did in the 90s?  Or as Ronald Reagan and Democrats in Congress did during the 1980s?
The only way that we are going to successfully move our country forward is to work together, reaching across the aisle, in order to find solutions to the problems we face. No matter what party controls the White House or either chamber of Congress, there is no need for continued partisan gridlock that prohibits progress, and if I am fortunate enough to serve Indiana in the Senate, I will work with all of my colleagues to help improve the lives of all Americans.##