1) Who, What and Where: (Your name and your formal title at CU Factory Built Lending and where your company and you are based).
Barry Noffsinger, Sales and Marketing Manager. 2640 Idlewood Drive, Lexington, KY 40513, (859)797-4002 bnoffsinger@sacu.com.
CU Factory Built Lending (CUFBL) is a division of San Antonio Federal Credit Union located in San Antonio, TX. CUFBL has three indirect offices – Greensboro, NC, San Antonio, TX and Seattle, WA and two direct offices in Vermont and Colorado.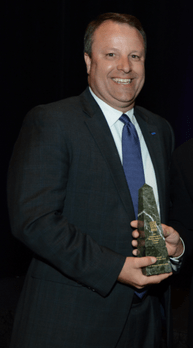 2) Background: (Educational/Professional snapshot before entering the factory-built housing arena. Specifically mention your prior work experience to SACU).
I grew up in Western Kentucky on a tobacco and grain farm and still have an interest in production agriculture. I received 3 degrees from the University of Kentucky (Agriculture Economics, Marketing and Business Management) that was supposed to prepare me for a career in Agri-business. I started my career in that field with Hormel Foods, but plans have a funny way of changing.
In our industry, in addition to the 10 years I have spent at CUFBL, I have spent time with Greentree/Conseco and 21st Mortgage in various capacities.
3) When and How: (When and how you began with in manufactured housing).
The year was 1993. My wife accepted a job as a director of a clinic in Oak Ridge, TN. My then employer graciously allowed me to move to Tennessee and "commute" back to the home office in Kentucky.
As you can imagine, commuting long distances never works out. So I decided to get my resume in order and look for a new position.
With my agriculture background, John Deere offered me a position as Sales Manager in their tractor division. I accepted the job and was in the process of buying blue oxford shirts and khakis (John Deere employee uniform) when their final offer mentioned that I would have to spend the next 10 years moving from plant to plant. We were just starting a family and roots were important.
I lamented this problem to a lady at church who said they had an opening for a sales person at work. The name of the company was Greentree and the rest – as they say – is history.
4) What are your personal interests or hobbies? How do you like to spend non-work time?
Much of my non-work, non-honey-do time is consumed with my 16 year old son's baseball interest. I spend the spring, summer and fall as either a coach or a father in the stands (I like this the best as I can sit back, enjoy the game and watch the other "expert" parents make fools of themselves). Winter is reserved for overseeing his (not my) training for the next season.
5) CU Factory Built Lending (CUFBL) was honored with the Regional Lender of the Year award in 2013, that you and John Walters accepted on your firm's behalf. Tell us what that represents, and elaborate on such peer recognition for readers who may not realize how far and fast CUFBL has come on in the MH Lending field.
Of course we were honored to be selected as Regional Lender of the Year for the second year in a row. The fact that it was an award from our peers also is very satisfying because they understand the hard work and challenges that goes into what we do.
It helps to validate our approach not only to lending but the industry itself where we want to be a positive force and continue to move it forward.
We also understand the importance of our business partners and the part they play that puts us in position to earn these types of awards and for that we are very grateful as well.
6) Personally and professionally, we've used both a credit union and a bank. Many know that credit unions exist, but don't completely grasp the unique dynamics they bring to the table vs. other 'banking' options. Please share some insights with our readers, and note how having a strong operation such as San Antonio Credit Union (SACU) matters specifically to manufactured housing home owners and pros in the age of the Consumer Financial Protection Bureau (CFPB).
It's very comforting to know that we are part of such a strong financial institution. Besides the stable, low cost source of funds they provide for us to be able to lend, they offer a very high level of commitment.
Our current CEO started the MH Lending group when he was the COO of SACU and helpfully supports us.
SACU understands our business aligns itself very well with its objectives including providing its members with sensible loan products like our "Equity Suite" that we are promoting currently. It is a group of programs that speaks to both the industry's and consumers need to build equity in the homes we finance.
As a credit union and being not-for-profit, we are uniquely in the position to serve both the needs of the industry and our members.
7) When SACU squired Mountainside Financial, what does that represent strategically and practically for retailers, communities and those home owners who may be looking to buy or refi a manufactured home?
The acquisition of Mountainside Financial represents CU Factory Built Lending's strong commitment to manufactured housing finance.  Retailers and communities have a simple, compliant avenue to provide financing options to their business clients and homeowners looking to purchase or refinance a manufactured home loan can apply directly with their lender; who in this case is a member-owned, not for profit Credit Union.
The passage of the SAFE Act in 2008 was the catalyst for the marriage between Mountainside Financial and CUFBL but it was just the beginning of the changes to the home lending regulatory landscape.
Here we are 5 years later and still trying to make sense of pending legislation!  Acquiring Mountainside was a strategic decision that would allow CUFBL to work directly with the homeowners they provided financing to and would provide business clients who were not interested in becoming licensed Mortgage Loan Originators a legitimate source of financing through an experienced team of professionals.
8) You personally played a part in introducing MHProNews to Stacey Epperson at NextStep and others in the non-profit world that can make a significant difference for the public understanding and respect for manufactured housing. Tell us why non-profits who do fact-based reports like Howard Banker's, which was strongly supported by Andrea Levere led CFED, are all part of the puzzle that must come together for the benefit of manufactured housing home owners and professionals.
The non-profits are great advocates of the virtues of manufactured housing; they just come at it from a different angle.
I was recently at I'm Home Retreat in Denver and you would have thought that you were at an MHI convention if you closed your eyes. They see manufactured housing as the answer to the country's affordable housing needs and promote it as a wealth-building tool for many Americans – see the similarities?
The difference resides in the philosophies of Non-Profits vs. Profits. I believe we need to work with them as allies, include them and work on our differences through understanding. They can be a great advocate and marketing asset to our industry!!
9) Usually one of the hottest topics in manufactured housing revolves around financing. Tim Williams at 21st among many others MH C-suite leaders we've interviewed have made a strong call for support of HR 1779 and the planned Senate companion measure. You are in the thick of the efforts to reform Dodd-Frank through HR 1779 and the companion bill that will be filed in the Senate. We are seeing apathy or inaction by too many in the rank and file, including owners of MHCs and independent retail centers. For those readers who have not yet picked up the phone, sent an email, fax or letter to the Congressman or Senators about this issue to get them to co-sponsor, please explain why grass roots action is essential. Failing action, what does passage of this 'fix' for the unintended consequences of Dodd-Frank mean to the typical retailer or community operator?
Alexis de Tequeville wrote in his book Democracy in America (Andy Gallagher of WVMHI is not the only one who can quote history!),
"In a democracy, the people get the government they deserve."
Grass-roots efforts are essential to our democratic process. If enough people cry about the same thing, politicians will listen and form their opinions from their voters. Lord knows they do not form an opinion from reading a bill – I'd love to ask Barney Frank how many pages of the Dodd/Frank legislation he read!
As a voter, you have the most powerful political tool available, your vote. Without hearing from their constituents, legislators do not know what is important to their constituents. Remember, your recommendation may be the deciding factor in a Congressional member's decision to vote for or against a bill.
Will it be business as usual for M.H. stakeholders? No!
In the short/medium run, Dodd-Frank will change the way we currently conduct business and I believe that it will cause many unintended consequences.
Changing could be everything from how each stakeholder interacts, to consumers not being served (smaller loans and lower credit customers could push a loan into high cost loans and thus not being made by a lender), to home values falling because of a potential limited access to credit.
In the long run, we are a resourceful industry that will figure out how to survive and thrive in this regulatory environment, but in the meantime, well…
10) Having said why passage of HR 1779 is important, now let our readers know why CUFBL is well positioned regardless of what happens in the coming months.
In order to be proactive, several months ago we created a strategic management team to conduct an in-depth study of the regulations and determine the best course of action for all stakeholders involved. It's a little early in the game to give specifics, however, I can assure you that we have a strong commitment to the manufactured housing industry and we will have a communicated plan in place at "go time."
11) While some are crying in their beer or see doom and gloom, CU Factory Built Lending has worked hard to grow, even during the downturn. Your industry colleague, UMH CEO Sam Landy, said in an interview with MHProNews that given the large and growing need for affordable housing in the U.S., he sees how manufactured housing could return to new home shipping totals of 300,000 to 400,000. Others inside our industry think we ought to be happy to return to shipments in the 100,000 annual shipment levels. What say you? Why?
Sam Landy can be a prophet if we get our message out correctly.
Manufactured housing is the true affordable housing alternative in the US for not only rural Americans, but urban.
In my view, we have a mainstream product being promoted by an extremely beautiful industry that sometimes suffers from low self-esteem.
With our quality and affordability we should be at the first thought of every stakeholder when it comes to affordable housing options. Instead, sometimes we say yes to the first person to ask us to the prom.
For example, I hear all the time that we need financial institutions to return "to the '90's" and buy deeper. My question is why? Shouldn't we learn from history? According to Fair Isaac, 73% of the US population has a credit score over 650.
Let's all be innovative and creative in our own little corner to move our industry from "Boutique" to "Supercenter."
In CUFBL's corner, we have created innovative products such as the Step Rate and our Equity Suite of products to help our business partners attract better quality customers.
12) Jay Hamilton from GMHA made a pithy, powerful plea for the Industry to pull together and support training and image building if we are to grow again. Leigh Abrams made a powerful case for the same. Jim Ayotte from FMHA specifically shared their experience in image building, and encouraged the effort launched with ManufacturedHomeLivingNews.com. SACU has taken the step of investing in the very efforts Jay, Leigh, Jim and others have called for by supporting educational inreaches on MHProNews and outreaches on public focused MHLivingNews. What do you personally think are the merits of image building and education in terms of industry growth? Are investments that SACU, UMH and others are making, can they pay off with more sales that will benefit everyone in the mix? What say you, sir?
First, education is very vital to eliminating the bias and loathing that permeates our industry's image both internally and externally. Manufactured housing today is not the "trailers" of yesteryear so we have a great story to tell! In order for us to grow we must get this story out, if not the misconceptions will continue to rule the day.
Second, for CUFBL, getting our message out is already paying off.
Not only are we experiencing exciting growth, but, we are able to cultivate members that are pleased with their purchase choice (marriage of the right loan and right home) which in turn gives them a favorable impression which leads to positive word of mouth or repeat purchases which increases sales of the industry as a whole – funny how that works! 🙂
13) Let's talk Louisville! The show has had three years of increasingly good attendance. In 2013, it passed Tunica in total attendees who came and in total attendance. CU Factory Built Lending and Mountainside have both routinely been strong supporters of our industry's trade shows. For those who haven't been to Louisville in a few years – or to those who have never come – explain why the show truly does live up this year's theme of 'Show me the Money!' Why do seminars, dozens of homes all under one roof, and all of those suppliers in one place make for a great way to get business done that lets you make more money?
The reason the show lives up to this year's theme of "Show me the Money!" is because under one roof it provides access to manufacturers, vendors, retailers, and seminars that provide valuable information and insights that assist those in the manufactured housing industry to protect and grow the bottom line of their businesses.
Each facet of the industry is dependent upon the health and well-being of the other, so getting the opportunity to learn about new products, programs, and services, first hand, will provide you a leg up on your competition and enhance your bottom line.
As an added bonus, Tony Kovach may take your picture and it ends up in an edition of MHProNews!
14) What do you consider the largest challenges facing the industry in general today? Where do you see our largest opportunities?
The largest challenge facing the industry today is change.  Change is happening so rapidly that lenders, retailers and community owners alike can barely make sense of the increasingly complex regulatory environment overwhelming manufactured home financing.
Manufactured home financing has always been a blend of auto and mortgage financing, traditionally acting a lot more like auto than mortgage.  Much of the pain being felt in the industry, associated with the significant change that's been occurring, is due to the shift from an auto mindset to a mortgage mindset.
The reason the change has been so painful is the pace.  New rules are constantly being added and old rules are updated with so much vigor that staying on top of compliance takes a level of diligence that can be out of reach to the average retailer or community owner.
The uncertainty bred from the brisk and drastic changes seen by the manufactured home industry has led to many individuals either exiting the business or ignoring the law; and as enforcement of the new laws increases, the latter will inevitably cause the former.
Change is also our biggest opportunity. It's a chance to rebrand ourselves as who we actually are – as the attractive, affordable housing option.
At CUFBL, we're embracing the opportunities presented by these changes in an effort to highlight our innovation, experience, and commitment to the industry.
In order to navigate the uncertain waters, we offer our business partners two compliant solutions for processing loans, depending on the client's needs or desires regarding licensing.  In addition, we are diligently working to expand our products and programs to meet the demands of the post Dodd-Frank "world."
15) Closing thoughts or comments, sir?
In the words of Mahatma Gandhi – "Be the change you want to see in the world (substitute the manufactured housing industry for world!)." ##