1) Who, What and Where: (Your name and your formal title at New Durham Estates).
Melville (President) and Thelma Fath (Secretary) at New Durham Estates, Manufactured Home Sales and New Durham Hardware.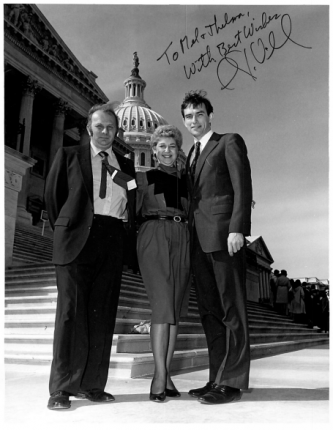 2) Background: (Educational/Professional snapshot before entering the factory-built housing arena. Specifically mention any work experience prior to starting New Durham Estates.).
Mel – I started my career working for Mobile Oil. In the meantime, I was attending Purdue University Calumet in Gary, Indiana, to achieve an associate degree in Industrial Technology with the hope to be employed in a management position. While working for Mobile Oil, the union went on strike, and I started working part-time for Schilling Construction and Swift Mobile Homes in Gary. My income actually increased making mobile home sales my primary career. As my knowledge of the industry grew, I had an opportunity to work for Smith Mobile Homes located in Illinois. At Smith Mobile Homes, my vision for starting my own business started to take flight.
Thelma – I started my education at Indiana University in Gary pursuing a degree in elementary education. Later I would further my education by achieving a master's degree at Purdue University North Central located in Westville, IN. As a teacher, I was employed for 10 years at Joy and Mullen Schools in Michigan City, IN.
3) When and How: (When and how you began New Durham Estates Manufactured Home Community.  Also tell us how you worked to develop and continue to grow New Durham Estates in phases).
Mel – After starting my career in the MH industry, the vision to start my own community and retail center took place around 1966-67. Frank and Louie Schilling from St. John, Indiana, and a priest, Fr. Wirtz, were a major influence that helped set the stage for a family business that would be passed down for three generations.
At the time, Fr. Wirtz was working in a hospital located in Westville, Indiana, and had mentioned a 12 acre plot of land on the intersection of HWY 421 and State Rd. 2 that would be a great place to start my business. Thelma and I then decided to make the jump. We put our house up for sale to gather enough money to put a down payment on the property and add our first 8 floating slabs to place homes.
In the meantime, we rented a house until we had enough cash flow to purchase our first mobile home. Our first homes in the community were models from Park Estate and Ritzcraft, which the manufacturer was struggling to sell. We would typically renovate different portions of the home by adding carpet and staging furniture. In the 12 acres parcel of land, we were able to develop 72 sites that were filled in a matter of 2-3 years.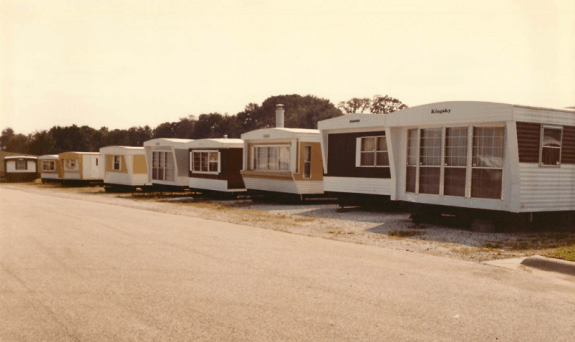 Original MH Sales Center.
At this point, we saw success. This set the stage for the next part of my vision. We needed to build an office and retail center along with additional sites. Previously, we had been selling homes from our kitchen table! In order start our next endeavor, we presented our plan to the county but we were denied the first time around. We Fath's, though, do have grit and are very persistent. We tried for a second time to continue our expansion and we were approved. I had purchased a 100 acre plot of land and later sold 60 acres to a local doctor due to the financial strain. Our 2nd phase of the community was composed of an office, retail center, a large lake, and eventually 260 sites. The 2nd phased of the community was filled in approximately 3 years.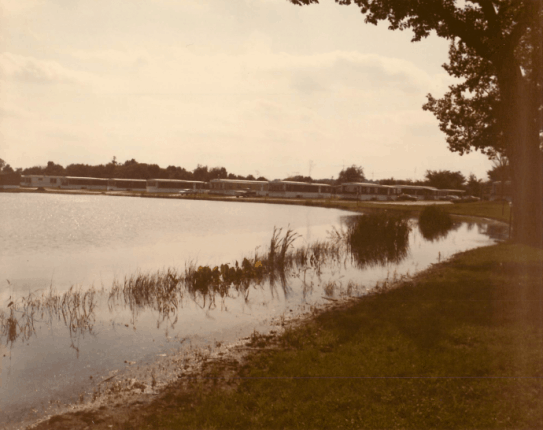 Phase Two, Lake View, New Durham Estates.
It was now around 1998. I saw an opportunity to bundle parcels of land to start a third phase to the community. The third phase would include 85 sites and the purchase of a Baptist Church and School, which was later renovated into office space and a community center. The sites were filled in approximately 8-10 years.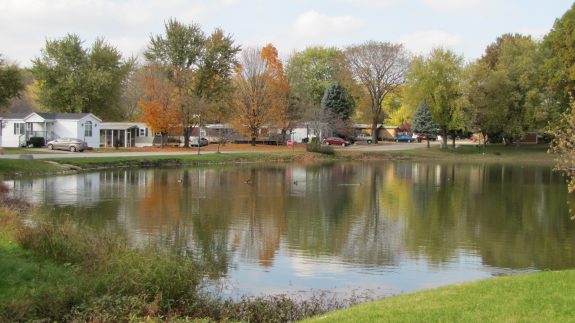 Lake Thelma in foreground. Parts of New Durham Estates
circles the lake, which is popular with residents.
The fourth phase of our development was New Durham Estates South, which is currently in progress. The development has potential to expand into many more sites and implement general business to our community.
4) What was a significant challenge you faced when first starting your community?
Mel – We struggled with cash flow when starting our business. I was taking my income from Smith Mobile Homes and investing into the business. We used Thelma's income as a teacher for our household.
Thelma – Times were tight financially. I would come home from school and would find a handle or lamp missing in our house. Little did I know, the handle or lamp was being used in a model home. In other words, our house was a furniture and/or hardware store.
5) Discuss New Durham Estates South and your vision for starting the development?
Mel – The New Durham Estates South development was a new concept we saw the opportunity to explore. The homes are required to be on foundations and have a garage. We have attached many baby boomers and downsizers with this development.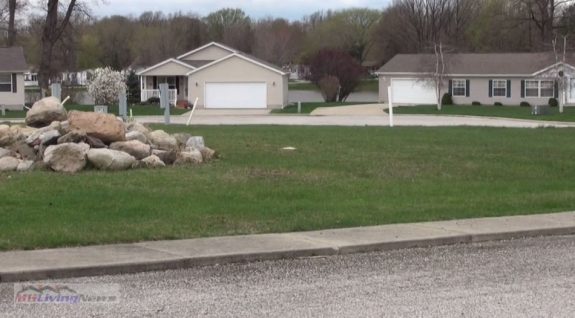 New Durham Estates South, see
video with resident Tyson Blattner at this link.
6) When developing a plan to build the community, what was your reasoning for building homes on slabs in lieu of runners?
Mel – We chose to utilize slabs in lieu of runners to create a community where homes were on level foundations that the skirting (Foundation Enclosure) could be mounted on. We wanted the homes to be secure, aesthetically pleasing, and have an ease of maintenance. We are grateful 48 years later to have concrete slabs in place. The slabs make it easier to install and remove homes from sites.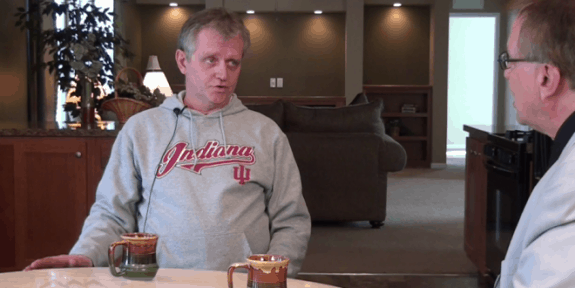 Local Builder, Wayne Hopper, talks about New Durham Estates and compares stick building to
modern manufactured homes in the video interview linked here.
7) At New Durham Estates, when employees are hired they tend to stay for their career. How is this longevity possible in today's market?
Thelma – The simple answer is we treat them as family. We are very close with our employees and care a lot about them. Over the years, we have seen ups and downs in our business and employees. The trick is to stay focused on growing with your employees and standing by their side.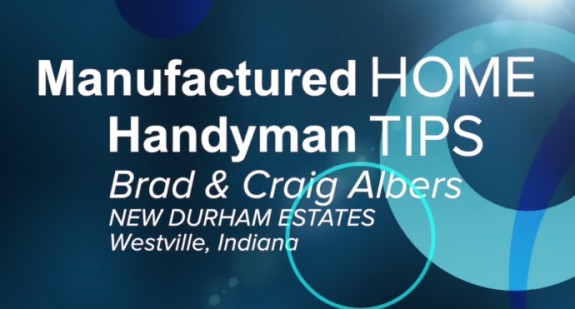 This handyman tips video features Brad and Craig Albers,
who have been at New Durham Estates for over 2 decades.
8) When residents move to New Durham Estates, why do they tend to stay and how does a family-operated business benefit residents?
Thelma – We are all part of this community. While we were still managing the business, we lived in the community. The residents were our neighbors and we put forth a great effort to make New Durham Estates a wonderful place to call home. We lived in the community to show our trust in the product and the convenience was a great benefit.
9) Please share the insights on the many awards and recognition you and your operation has earned.
Indiana Manufactured Housing Association (IMHA) History
Northwest Indiana Offices Held:
1971, 1972, 1989 President
1988 Vice-President
Served on the IMHA Board of Governors
1973-1977
1979-1981
1994-1996
1974 Treasurer
1976 President
Two Terms Past-President
Served on IMHA Awards
1979 President Award
1983 Citizen of the Year
2001 Citizen of the Year
Committees
Committee which formed National Dealer Organization
IMHA Promotions Committee
Housing Indiana
Chairman of the MH Community Electrical Committee
Installation Committee
Hall of Fame
1990,1991, 1992, Board of Directors
1993, 1994, 1995
1992, 1993, 1994, 1995 Secretary
1996-Present Contributing Member
2002 Inductee
Local Involvement
Westville Lions Club
Vice-President and President
District Governor for District 25-A
Parade Chairman for Indiana at National Convention in Hawaii (Won 2nd Place)
National Special Election Committee at Convention in New Orleans
Received Melvin Jones Fellowship Award
Active Member for 25 years
Westville Chamber of Commerce
Inaugurated Chamber in Westville and is a present member
President for 2 terms
Presently the Treasurer and a member of the Board of Directors
Chairman of Committee to procure Christmas decorations for the town
Chairman of various fund-raising committees
Received Citizen of the Year Award
Town of Westville
Represented the Town as a member of the Northwestern Indiana Regional Planning Commission
10) What are your personal interests or hobbies? How do you like to spend non-work time?
We enjoy spending winters in Florida with family and friends. Prior to retiring, we spent a lot of our time boating on Lake Michigan.
11) One area New Durham Estates has been successful at is succession planning in a family-owned business. How did you encourage and groom the future generations at New Durham Estates?
We gave our son and grandchildren the opportunity to pursue an education and explore our business at an early age. Family is always welcome in our business, but we encouraged outside experiences prior to joining our team. We have been very supportive no matter what career path our children and grandchildren have pursued giving each one the freedom to choose.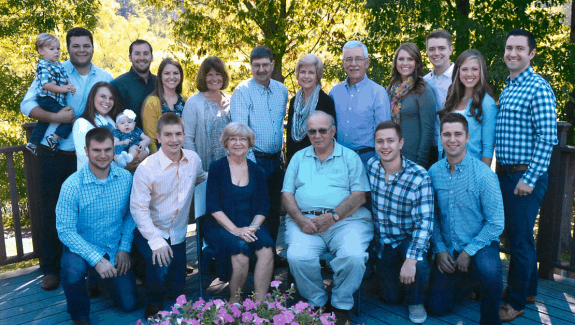 Share holders in the Fath Family related business connected to New Durham Estates.
12) At what age and how did you start bringing Gary into the family business?
He began working in the community when he was 12 years old. He would help after school and during summer vacations. Gary chased down parts and tools for the workers and would do general labor around the community. In 1976, he pursued a HVAC Technology and Business Administration degree from Ferris State University. During college, Gary continued to grow his knowledge of the business. In 1981, he graduated and joined the family business taking over more responsibilities. He brought his knowledge of technology and specialized skill sets to the community.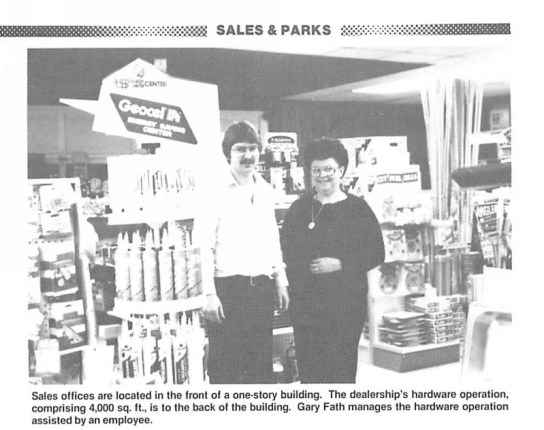 Since Gary has been involved with New Durham Estates, he has had several accomplishments. One great accomplishment that really helped the community was the development of the Lincoln Memorial Bike Trail in 2006. It was a big project that involved working with the La Porte County Parks Department. We leased the land to La Porte County Parks and built an outdoor bathroom facility. This trail has been a wonderful addition to the Town of Westville and our community.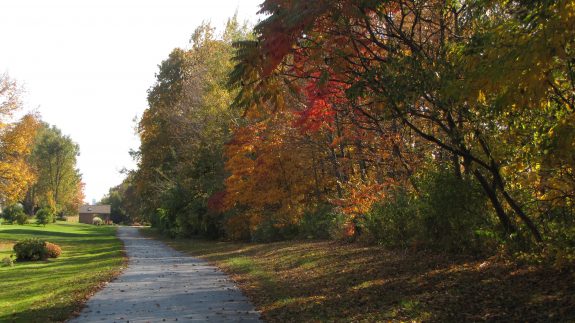 The Trail runs adjacent to New Durham Estates and connects parts to local parks.
13) At what stage did you let Gary begin running operations at New Durham Estates?
Mel – After Gary graduated from Ferris State University with degrees in heating, air conditioning, and business, Gary started his career by opening up a hardware store and focused on service. When the store first opened, it was set-up in a small backroom. Eventually, 3,000 SF was added to this small town hardware store. The store provided convenience not only for future development of the community and sales but also a convenience for the families residing in the community.
It was during these years that he became a licensed Manufactured Home Installer and served as the contractor in charge of placing homes not only in New Durham Estates but also on private properties. In November of 1993, Gary was certified as a Grade WT2 Water Treatment Plant Operator and a Grade DSM Water Distribution System Operator. New Durham Estates became an active member of the Indiana Water Association in 1994.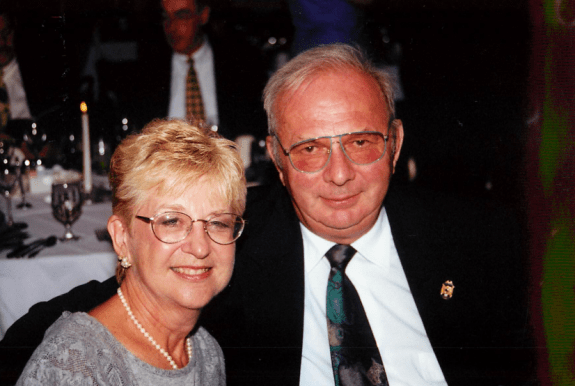 Thelma and Mel Fath.
In 2001, we began spending more time in Florida. This is when Gary became responsible for running the day to day operations year round. We were always available for Gary when he had questions or concerns. During the summer months, we always came back to the Westville area and continued to work at New Durham Estates. In 2013, we retired.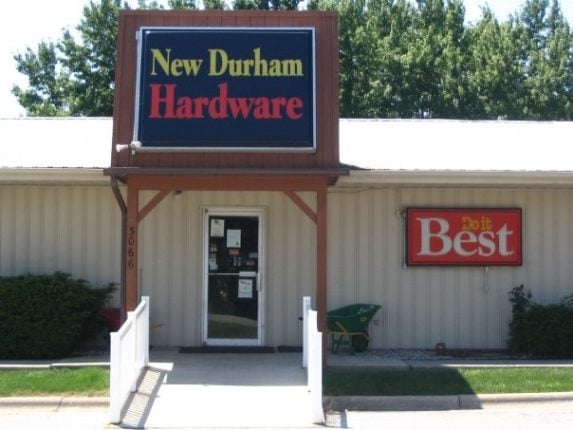 New Durham Hardward store, is adjacent to the MH Community office.
It attracts residents from other parts of Westville IN, plus
community residents as well who need parts and supplies.
14) What was it like getting your daughter Liz involved in the business and how did she originally get started?
Thelma – Liz is family and what comes with that is extra care that goes into everything she does. She has been around the business since she was a young girl. When she could go to the office she was always excited to help dust the shelves in the hardware store or help organize papers.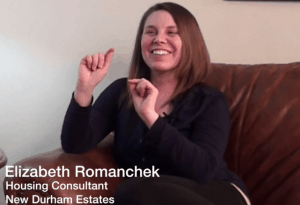 Currently, Liz is responsible for the payroll, account payable, home consultant, and helps stage model homes. Anything that needs to be done she always offers a hand and will take on any new task. Family members have a certain passion when it comes to working for a family business.
15) What are a few of the benefits and advantages you have noticed from having multiple generations in a family business?
Thelma – There are definite benefits that come from each generation and when you mix the new with the experienced you are able to excel at a faster pace. Another benefit is you are working with family you can trust and you know they are with you for the long run. It is exciting to see the passion and excitement about the family business from each generation. Everyone in the family business has great new ideas to help make the community the best it can. Each generation works together and accomplishes goals that are making history in the New Durham Estates community.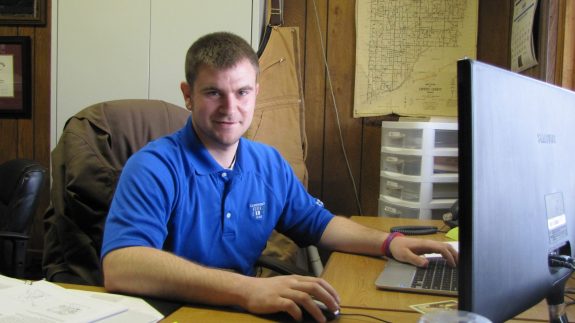 Tom Fath, see Tom's letter regarding the MH Alliance in this issue.
16) If you could pass on advice to small, family operated businesses across the country, what would you say?
Work hard, work together as a team, never give up even when things get hard, and always be there for each other for support. Being in a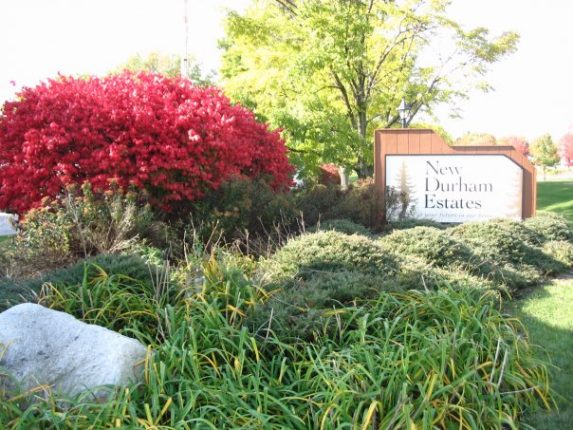 family business comes with many challenges but it is all worth it. You are on a journey together, make it the best it can be.
The ability to create and make decisions is quicker and most cost-effective in a small operation. Large corporate structures take many resources and long periods of time to make critical decisions. ##