1) Who, What and Where: (Your name, and your role/job title at organization or firm and where you are based.)
Sheila S. Dey, JD
Executive Director
Western Manufactured Housing Communities Association
455 Capitol Mall, Suite 800
Sacramento, CA 95814
916 448-7002
916 448-7085 FAX
www.wma.org
2) Background, When and How: (Educational/Professional before entering the factory-built housing arena):
I have been the Executive Director of WMA since 1997, and prior to that served as General Counsel for WMA beginning in 1993.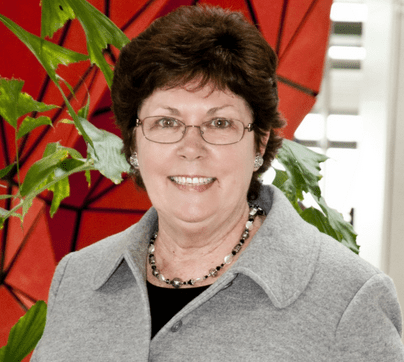 I am an attorney, having graduated from McGeorge School of Law in 1979 and I became a member of the State Bar in the same year. I graduated from  the University of California, Davis in 1974 with a BA.  
My career has focused on advocacy. Prior to joining WMA, I served as Senior Vice President and Legislative Counsel for the California Bankers Association from 1980 to 1985, General Counsel for the California Savings and Loan League from 1985 to 1991 and Legislative Counsel for the California Land Title Association from 1991 to 1993. 
I began lobbying in 1980 when Governor Jerry Brown was in office the first time, and now he is back, running for his fourth term as Governor of California.
3) What are your personal interests or hobbies? How do you like to spend non-work time?
I like to travel, cook, read, join wine clubs, attend concerts, and watch the LA Dodger games. I love the ocean and really enjoy boating.
4) Prior to joining WMA, you served as Senior Vice President and Legislative Counsel for the California Bankers Association from 1980 to 1985, General Counsel for the California Savings and Loan League from 1985 to 1991 and Legislative Counsel for the California Land Title Association from 1991 to 1993. Tell our readers how those experiences helped prepare you for your role today, especially in the light of all the financing issues, SAFE Act, Dodd-Frank, etc.
I think my background in banking, finance and title insurance has been very helpful in the mobilehome parks business. I think being an attorney has also been very helpful.
Dean Cannon, the President of the California Savings and Loan League, is the person who taught me how to run a trade association. My office was right next to his and he had me join him in most meetings. It was a great learning experience.
5) Sam Zell has said, paraphrasing, that there is a need to 'protect the property line.' As an adviser to the Committee to Save Property Rights and your other roles at the WMA, you are in the trenches on issues such as rent control. Through your lens as attorney and association leader, give us a generic sense of what the left-of-center-media or public official slant often is on issues such as rent control, and then contrast that with the facts that you advocate for with MHC owners.
The most common statement you get from elected officials is "I support property rights, but not in mobilehome parks." Or, "I am opposed to rent control, but I support it in mobilehome parks."
Especially at the local level, the impact of 100 residents showing up at city hall for a vote on rent control is very impactful on a city council person who wants to get reelected.
100 resident votes versus the parkowners one vote can be overwhelming to them and they cave in and vote for rent control so they can stay in office.
Rent control is usually caused by one very aggressive owner and yet it impacts all of the responsible owners. We work very hard to convince the elected officials that rent control is not the answer and that it will be very expensive for the city to enforce and defend. We are successful much of the time.
6) You've received a number of awards and recognitions over the years. For example, you earned the Bush Carr McAdoo Award, in 2004. You received the Manufactured Housing Executive Council (MHEC) Jim Moore Excellence in Communications Award in 2008. In 2012, MHI named the WMA the association of the year. You also lead MHEC as Chairman in 2006. Clearly, you know the association world and what makes for a successful association and leader! Against that backdrop, what do you say to those who may not grasp the many advantages of being in an MH trade association such as the WMA?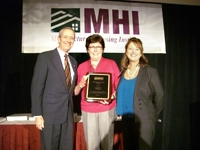 Membership, the lifeblood of any trade association, is always a constant battle. Every trade association I have worked for has had membership challenges. It is just the nature of the association business. So much of what the trade association does for the industry it represents is intangible.
The defeat of a bad piece of legislation is difficult to monetize for the industry. Also there are many owners who are happy to enjoy a free ride on the backs of the owners who pay their dues.
7) How do you personally like to respond to challenges that come up for you professionally? (In other words, how do you try to tackle problems and arrive at effective solutions?)
I work with our Board and staff to seek solutions to most problems facing the industry. I have my go to people from whom I seek advice and counsel.
8) There are some in our industry's ranks that believe that not-for-profit organizations are 'the enemy' of our industry. There are organizations and voices, such as Ishbel Dickens, that want to treat community owners as 'the enemy.' At the same time, there are positive contributions being made by non-profits, such as the facts in the report urging American Bankers to do more MH lending. In a generic way, do you see a path towards better understanding and mutual cooperation between some home owner groups, non-profits that are pro-MH but may not at times be for some specific MH business or operational practice?
After many years of work, we recently secured a ruling from the California Public Utilities Commission to establish a pilot program where by all eight of the investor owned utilities will rebuild the electric and gas systems of 10 percent of the spaces in their utility service area. They will then directly serve the residents as customers.
Currently, the vast majority of the parks in California have master metered electric and gas systems which are old and need to be replaced. This pilot program will get the park owners out of the utility business. The Golden State Mobilehome Owners League joined WMA in supporting this effort.
9) Paul Bradley, in a video interview with us, pointed out that there is a need for more cohesion. Another industry pro said, "we don't have a product problem we have a communications problem." How can the various 'camps' or voices in the industry achieve more cohesion for the good of all concerned? How can we do a better job of reaching out to the public with what the GAO's recent report essentially said is the best housing value in America?
Manufactured housing communities are the largest source of unsubsidized affordable housing in California. It is the small minority of community owners who abuse their residents that give our industry a bad name.
I can name on one hand the owners who are the cause of rent control in California and those owners are not members of WMA. I am not sure there is a solution, but we continue to fight for property rights.
10) New home shipments in California are up. Operations like Newport Pacific are seeing success, not only with new homes, but with green new homes placed in MHCs. We've been fortunate in getting some good publicity lately from the mainstream media. CBS News, NBC News are among the media outlets that have given us favorable coverage, or in the case of the and the Boston Globe essentially has publicly recommended MH as an important part of the solution in public policy. What are the ways you think we might capitalize on good coverage and build on it?
I think we need to show our homes more often. Our industry builds a beautiful product. Having Newport Pacific's home at the State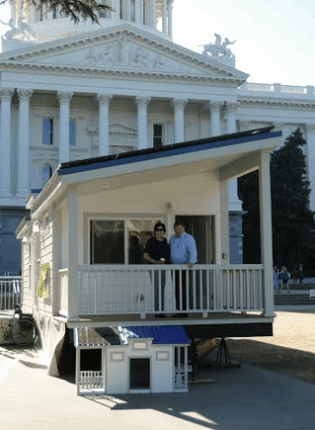 Capitol in August was great exposure.
Hats off to Mike Sullivan and Steve Lefler for spending the time, effort and money to bring the home to the Capitol, it was a great event.
(Sheila Dey, (left), Mike Sullivan (r) at California State Capitol standing by off grid Quest Home by Modular Lifestyles)
11) Let's look at another side of the good news in MH and for MHCs. A recent Masthead blog reported facts that ought to point to much higher levels of success than we see today. What do you consider to be the largest challenges facing the manufactured housing industry in general today? What do you see as possible solutions to those challenges?
Our biggest problem is financing for the homes themselves. We need to be creative and come up with new financing models that will facilitate greater sales.
12) Jay Hamilton, who has worked in management in factory built home production and now is a state association executive director, has said that manufactured housing has historically failed to invest in marketing and training. Drew's prior Chairman, Leigh Abrams, has called for a robust, generic image campaign. Randy Rowe with Green Courte Partners made it part of his 5 point plan for industry recovery. When there is considerable consensus among successful, seasoned veterans on steps needed to advance, why is there a lack of follow through on such matters, as Marty Lavin periodically points out? Do you see a path that would bring Industry associations and/or corporations together to boost sales and occupancy through image, education and training?
The PR/Marketing effort has historically failed due to lack of monetary resources. When that money puzzle is solved, we will be able to successfully market the industry. Without the money, a PR/Marketing effort will not come about or be successful.
13) Any other industry related remarks or comments before we close?
I really enjoy working for WMA and I feel fortunate to be the Executive Director of WMA.
##