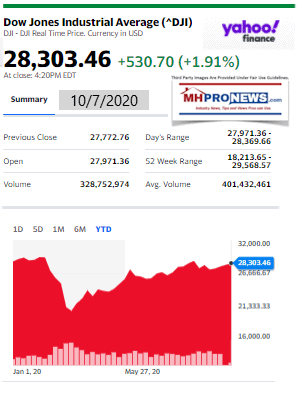 Predictability in law is essential for smoothly functioning markets and business.
The following is a recent release from the NFIB on the subject of the nomination of Judge Amy Coney Barrett (ACB) to the Supreme Court of the United States (SCOTUS).
Washington, D.C. – NFIB, the nation's leading small business advocacy organization, issued the following statement on behalf of Brad Close, President of the National Federation of Independent Business (NFIB) made the following announcement about the Trump Administration's United States Supreme Court nominee:
"Small businesses depend on the U.S. Supreme Court to uphold the U.S. Constitution and protect their rights as small business owners. Judge Barrett has a proven record of interpreting the law as written, which provides needed certainty in the law for America's small business owners. We support the nomination of Judge Barrett and look forward to the Senate Judiciary Committee hearings."
As a bonus item for this evening, given that concerns about China are rising in America and in over a dozen other "western" nations and the various threats that poses to the U.S. and a range of businesses, before pivoting to the JCN commentary from Alfredo Ortiz, is this right-of-center Fox News video interview below.
Dr. Li-Meng Yan: Chinese nation says research reveals evidence that coronavirus came from Wuhan Virology Institute.
Note that another Chinese national is saying similarly to Dr. Yan. That fits with MHLivingNews and MHProNews previously published concerns.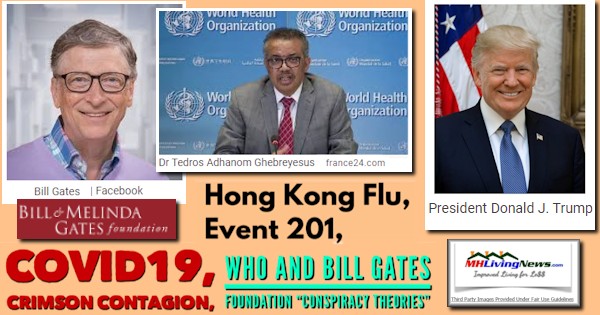 Those points noted, let's segue to tonight's quotable quotes, left-right headlines, and two of our three market snapshot graphics at the closing bell today. The final market graphic that summarizes over a dozen manufactured housing industry connected stocks at the closing bell follow the featured focus, recent and related report links.
Quotes That Shed Light – American Social, Industry, National Issues..
Headlines from left-of-center CNN Business
The global elite
FILE: Jeff Bezos, founder and chief executive officer of Amazon.com Inc., listens during an Economic Club of Washington discussion in Washington, D.C., U.S., on Thursday, Sept. 13, 2018. Amazon.com Inc. founder Jeff Bezos, the worlds richest person, and his wife MacKenzie are divorcing after 25 years. Bezos, 54, is worth $137 billion, according to the Bloomberg Billionaires Index, a ranking of the worlds 500 wealthiest people. The couple met when they both worked at hedge fund D.E. Shaw, and they married in 1993. He founded Amazon a year later.
Billionaires are getting even richer despite the ongoing pandemic
Analysis: This is an insane time for Trump to reject a stimulus package
The most important man in Washington may not be Trump or Biden
LIVE UPDATES US stocks rebound
Opinion: What record growth numbers miss about the economic recovery
Dangerous TikTok trends go viral because we like to be liked
Google and Oracle square off in the Supreme Court. What's at stake
Ad attacking Mark Zuckerberg to air during VP debate
66% of companies still plan to give bonuses next year
Ruby Tuesday files for bankruptcy
3 reasons why holiday toy sales will be huge this year
Lawmakers say Amazon has 'turned a blind eye' to potential dangers posed by its own brand
Space is becoming too crowded, Rocket Lab CEO warns
Turkeys stand in a barn at the Yordy Turkey Farm in Morton, Illinois, U.S., on Saturday, Nov. 11, 2017. Americans are expected to eat about 46 million turkeys during their traditional family feasts, and the cost to feed 10 people has slipped to its lowest since 2013, according to the American Farm Bureau Federation's annual grocery store survey. Photographer: Daniel Acker/Bloomberg via Getty Images
Why Thanksgiving turkeys will be smaller this year
Outside view of a house near downtown Southampton, New York on September 30, 2020. – Beach umbrellas are in back garages as temperatures cool, but wealthy New Yorkers are staying in the Hamptons beyond summer, fearful of the pandemic and rising crime in the city.
Here's what's different about getting a mortgage now
Headlines from right-of-center Fox Business
POLITICS
EXCLUSIVE: Senator embracing Trump's strategy to punish China for coronavirus
Experimental Chinese COVID vaccine reportedly safe in early stage trials
China cashes in on America's coronavirus lockdown
ECONOMY
Fed ramped up deliberations over low-rate promises
MARKETS
Dow jumps over 500 points as stimulus hopes outweigh Fed's warning
LIVE UPDATES: Airlines, consumer stocks rallying on stimulus talk
POLITICS
Amazon, Apple, Google, Facebook fight Democratic campaign to break up Big Tech
OPINION
ALFREDO ORTIZ: Pence must use debate to expose Harris' anti-business agenda
5 things to watch in first vice presidential debate tonight between Pence, Harris
SAFETY FIRST
POLITICS
National security officials reassure voters about election safeguards
POLICIES IN PRACTICE
POLITICS
Trump would cut taxes by about $1.7T, Biden would hike by $4.3T
'ONE EPIC FINAL FILM'
MEDIA
SEE IT: 'Jurassic World: Dominion' teases release date with spooky poster
SCOTUS HEARS BID
TECHNOLOGY
S. Supreme Court hears Google bid to end Oracle copyright suit
'BAILOUT IRRESPONSIBLE'
OPINION
Varney: Pelosi using coronavirus relief to bailout Democrat-run states
SILLY SALE
REAL ESTATE
Iconic Second City comedy theater for sale
Amazon and Whole Foods evolving into grocery tech giant: John Mackey
FRESH FUTURE
LIFESTYLE
These companies are becoming a grocery tech giant: John Mackey
FRANCHISEE FILES BANKRUPTCY
LIFESTYLE
163 Pizza Hut restaurants up for sale
UNCLAIMED FUNDS
ECONOMY
Stimulus checks to 100,000 Minnesotans left unclaimed
MONEY
Pelosi, Mnuchin signal openness to $25B bailout for US airlines after Trump reverses course on stimulus
HEALTH CARE TECH
Eli Lilly seeks authorization for coronavirus antibody drug
HEALTH
Emergency COVID vaccine approval to require 2 months of follow-up data
LIFESTYLE
Petco stops selling shock collars, asks competitors to do the same
LIFESTYLE
What is Eddie Van Halen's net worth?
RETAIL
Ikea opening record number of stores globally in 2020, despite shoppers moving online
LIFESTYLE
Duracell debuts lithium coin batteries with bitter coating to curb accidental ingestion
REAL ESTATE
NY loses more residents than any state during coronavirus pandemic
TECHNOLOGY
Apple expands health records on iPhone ahead of refresh
TRAVEL
Cruise line association says all passengers, crew will need COVID-19 tests before boarding
ECONOMY
Ruby Tuesday files for bankruptcy protection
OPINION
Remember this at VP debate, Kamala Harris is no moderate on health care
TECHNOLOGY
Facebook steps up QAnon crackdown amid anti-trust, censorship scrutiny
LIFESTYLE
McDonald's adding items to McCafe menu for first time in nearly a decade
LIFESTYLE
The paint colors pandemic-weary Americans are choosing for DIY projects
LIFESTYLE
Bugatti could set revenue record in 2020, but will delay second model, company president says
LIFESTYLE
Bill Murray tells FBN he can moderate next presidential debate after 'a couple cups of coffee'
REAL ESTATE
'Sex and the City' star want millions for Hamptons home
ENTERTAINMENT
Netflix indicted by Texas grand jury for 'Cuties' film
MARKETS
FOX Business enhances portfolio tracker, real-time market data
Market Indicator Closing Summaries – Yahoo Finance Closing Tickers on MHProNews…
Featured Focus –
Where Business, Politics and Investing Can Meet
Alfredo Ortiz is the head of the Jobs Creator Network (JCN). The conservative-leaning JCN's president and CEO leader made the following observations on Fox Business. MHProNews has spotlighted Ortiz and the JCN work on previous occasions. The quotable quote below is one example.
With that brief tee-up, here is what Ortiz had to say about the looming vice presidential debate that starts tonight at 9 PM ET.

At VP debate Pence must expose Harris' radical, anti-business agenda
Small business owners and ordinary Americans looking for insight into the governing agendas on offer on Election Day should pay close attention to VP debate
Wednesday night's vice-presidential debate may be the most important one in history. And not just because President Trump and former Vice President Joe Biden, the two candidates at the top of the tickets are 74- and 77-years old. Vice President Mike Pence and Sen. Kamala Harris, D-Calif., are perhaps the best representatives of their respective parties' policy priorities.
Whereas the presidential debates are more about style, this contest will be about substance.
Small business owners and ordinary Americans looking for insight into the governing agendas on offer on Election Day should pay close attention.
Pence and Harris are a study in contrasts. With Pence, what you see is what you get.
He is an Indiana conservative who will cut taxes, reduce regulations, and improve the health care system. Small businesses couldn't ask for a better advocate and friend. Harris is his polar opposite — a San Francisco Democrat who has never met a tax or regulation she doesn't like. Her agenda is outright hostile to small businesses. According to a 2019 analysis by GovTrack, a nonpartisan watchdog, Harris is the most liberal member of the Senate — even more so than socialist Sen. Bernie Sanders, I-Vt.
To hide this fact, the media has desperately tried to rebrand her as a "pragmatic moderate" with a "relatively centrist record." The Guardian claims, "Kamala Harris is Obama's natural heir." In terms of worshipping media coverage, she certainly is.
With what will likely be an assist from moderator Susan Page of USA Today, Harris will try to continue whitewashing her radical record at Wednesday night's debate. Pence must expose her real worldview for all Americans to see.   One of Harris's most destructive small business positions is also the one that's received the least attention. Harris supports a California law known as AB 5, which makes roughly one million contractor jobs in the Golden State illegal. California's AB 5 outlaws many sole-proprietorships, which account for about 80 percent of American small businesses. If elected, Harris will likely expand such California-style labor legislation nationwide, destroying countless entrepreneurs and reducing American entrepreneurship in the process. Harris is also a cosponsor of the Green New Deal, perhaps the most radical anti-business legislation ever introduced.
The Green New Deal [GND] would cost at least $52 trillion and force the economy to transform rapidly from traditional to green energy.
The GND would dramatically raise energy prices, which are one of the biggest input costs facing small businesses. Many low-margin small businesses that use a lot of energy — such as laundromats or pizzerias — would be put out of business. "There's no question I'm in favor of banning fracking," says Harris. Eliminating fracking would destroy hundreds of thousands of good jobs and America's world-leading progress in cutting carbon emissions. Swing-state voters in Pennsylvania should take note.   Harris also supports reducing funding for the police. She applauded Los Angeles Mayor Eric Garcetti's decision to cut $150 million from policing, a move that's coincided with skyrocketing local crime.
Restoring order to Main Streets hit by recent rioting and looting is one of the biggest steps to getting local businesses back on their feet.
Harris supports "Medicare-for-all," which would kick some 180 million Americans off their health insurance and put them on public plans akin to Medicaid. She also appears to support packing the Supreme Court. She wants to reverse President Trump's tax cuts, including the 20 percent tax deduction for small businesses. She's implied the 70 to 80 percent tax rates proposed by Alexandria Ocasio-Cortez are "fantastic." Some "pragmatic moderate." A new report by the James Madison Institute chronicles the taxpayer pain of the Biden-Harris Administration. It finds that, if elected, Biden and Harris would cost ordinary taxpayers in swing states about $1,500 to $2,000 more per year. If Harris gets her way, these costs will only balloon. And Harris and her team of power-hungry leftists are champing at the bit to implement their worldview on all Americans. Biden is just their Trojan Horse to power.
It's up to Pence to expose this ruse in Utah on Wednesday. ##
"Flatten the Fear" Says Jobs Creator Network Foundation, plus Manufactured Home Investing Stock Updates
The Ortiz led JCN has gone after several progressives, including Alexandria Ocasio Cortez.  They recently promoted the notion of flattening the fear now that the COVID19 virus is better understood. See reports on those topics above and below.
Both NFIB, JCN and a range of other groups are striving to set the stage for what they doubtlessly hope will be pro-small business victories. See the related reports for more.
Related, Recent, and Read Hot Reports
Wall Street Backing, Black Americans Platinum Plan, KKK & Antifa Branded "Terrorist Organizations," plus Manufactured Housing Investing, Stock Updates
China vs USA, Antitrust Looms, AP Highlights 'Competing Versions of Reality,' Sunday Weekly MHVille Headlines Review
"More Punitive Regulatory" Regime Looms Warns New Manufactured Housing Industry Insider
U.S. Senate Homeland Security and Governmental Affairs Report Obtained, Purported Corrupt and Illegal Acts by Bidens, plus Manufactured Housing Investing, Stock Updates
James O'Keefe-Project Veritas Sting Video Spotlights Pay-for-Ballot Allegations Against Rep Ilhan Omar; plus, Presidential Debate Preview, Manufactured Home Investing, Stock Updates
White Billionaires vs Blacks, Minorities, "Uncle Tom" "Gaslighting" "Misdirection and Deception" – "Uncle Tom" Videos Review, plus Sunday Headline Recap
Attorney Jamie Smith – RBG Fan – Explains Joining Satanic Temple; Judge Amy Coney Barrett Connection, plus Sunday Weekly Headlines Review
Dark Money-Billionaires Buffett, Gates, Soros Funding Black Lives Matter, Antifa – Named by AG Barr in Riots, Looting – Hijacking Peaceful George Floyd Death Racial Justice Protests
'Dawn of the New Middle East,' says President Trump After Signing Peace Deal with Bahrain, UAE, Israel – Why It Matters – plus Manufactured Home Investing, Stock Updates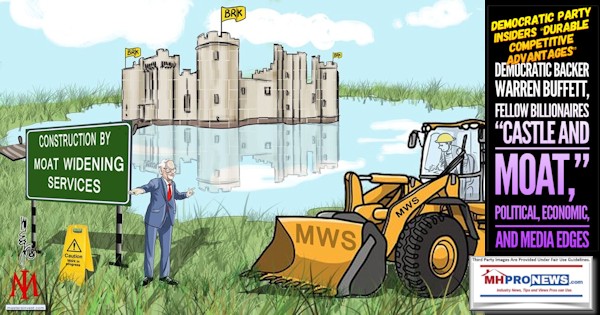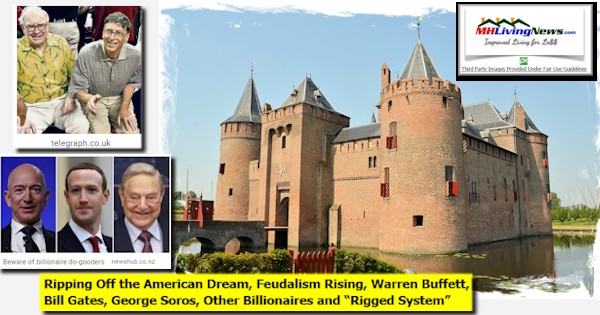 "Strong Horse" Post-Debate Surge? Hunter Biden, Blacks, Hispanics, Other Debate Insights Plus Manufactured Housing Investing, Stock Updates
Manufactured Housing Industry Investments Connected Closing Equities Tickers
Some of these firms invest in manufactured housing, or are otherwise connected, but may do other forms of investing or business activities too.
NOTE: The chart below includes the Canadian stock, ECN, which purchased Triad Financial Services, a manufactured home industry lender
NOTE: Drew changed its name and trading symbol at the end of 2016 to Lippert (LCII).
Fall 2020…
Berkshire Hathaway is the parent company to Clayton Homes, 21st Mortgage, Vanderbilt Mortgage and other factory built housing industry suppliers.
· LCI Industries, Patrick, UFPI, and LP each are suppliers to the manufactured housing industry, among others.
· AMG, CG, and TAVFX have investments in manufactured housing related businesses. For insights from third-parties and clients about our publisher, click here.
Enjoy these 'blast from the past' comments.
MHProNews. MHProNews – previously a.k.a. MHMSM.com – has celebrated our tenth anniversary and is in year 11 of publishing.
Learn more about our evolutionary journey as the industry's leading trade media, at the report linked below.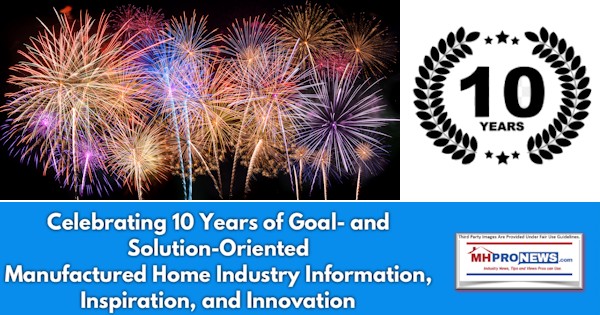 · For expert manufactured housing business development or other professional services, click here.
· To sign up in seconds for our industry leading emailed headline news updates, click here.

Disclosure. MHProNews holds no positions in the stocks in this report.
2019 Year-End Totals Reveals Decline in New HUD Code Manufactured Home Production, Shipments vs. 2018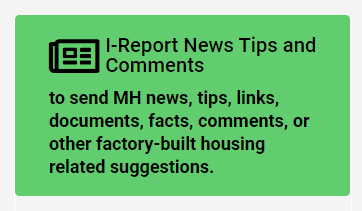 That's a wrap on this installment of "News Through the Lens of Manufactured Homes and Factory-Built Housing" © where "We Provide, You Decide." © (Affordable housing, manufactured homes, stock, investing, data, metrics, reports, fact-checks, analysis, and commentary. Third-party images or content are provided under fair use guidelines for media.) (See Related Reports, further below. Text/image boxes often are hot-linked to other reports that can be access by clicking on them.)
By L.A. "Tony" Kovach – for MHLivingNews.com.
Tony earned a journalism scholarship and earned numerous awards in history and in manufactured housing. For example, he earned the prestigious Lottinville Award in history from the University of Oklahoma, where he studied history and business management. He's a managing member and co-founder of LifeStyle Factory Homes, LLC, the parent company to MHProNews, and MHLivingNews.com. This article reflects the LLC's and/or the writer's position, and may or may not reflect the views of sponsors or supporters.