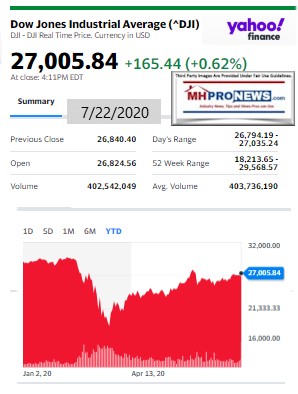 There are numerous reasons why it makes sense to look beyond the four corners of manufactured housing for insights and opportunities.
A prime example of that is the report this evening, which will be primarily from left-of-center CNN and CNBC.
That noted, this pull quote from right-of-center Fox Business' report on the same topic of Lawrence Yun and the National Association of Realtors (NAR) data is what tees up the data the other sources cite so vividly for manufactured housing professionals and investors.
"Even so, the number of property listings has plunged 18.2% from a year ago to 1.57 million. It's the 13th straight month of shrinking supply on an annual basis. The shortage of homes makes it unlikely that the housing industry can significantly boost the overall economy.
The combination of steady demand and falling mortgage rates has helped fuel a 3.5% rise in the median price of an existing home over the past year to $295,300."
Each of those sentences above are reasons why manufactured housing should be soaring.
Newcomers note what longtime detail-minded readers at MHProNews already knows. Namely, that manufactured housing has been underperforming for years. The question thinkers and doers should ask is why?
Given the need for more housing, why are HUD Code manufactured homes snoring instead of soaring?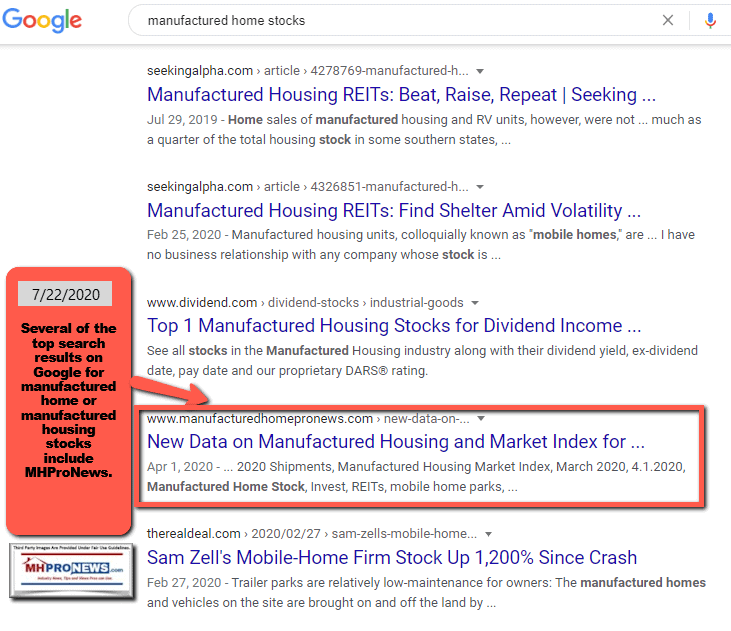 With that backdrop, following the left-right bullet headlines tonight from CNN and Fox, some quotable quotes, and two of our three market summaries at the closing bell is our featured focus this evening. The manufactured housing specific stocks and those firms with significant interests in manufactured homes and communities follows the featured focus, the recent and related reports, near the end of this business-nightly report.
Quotes That Shed Light – American Social, Industry, National Issues…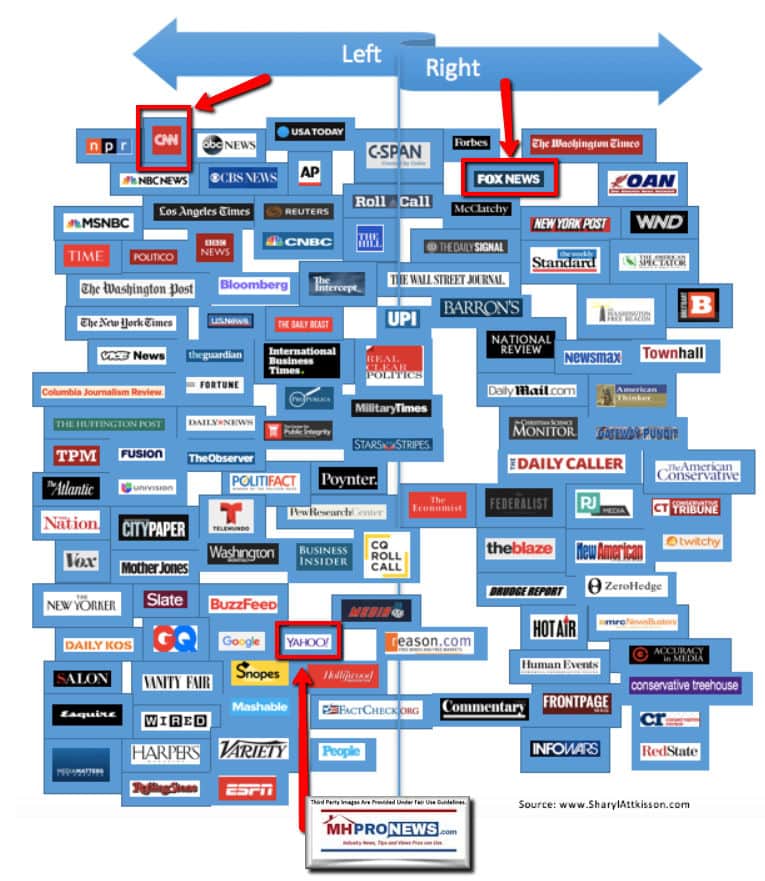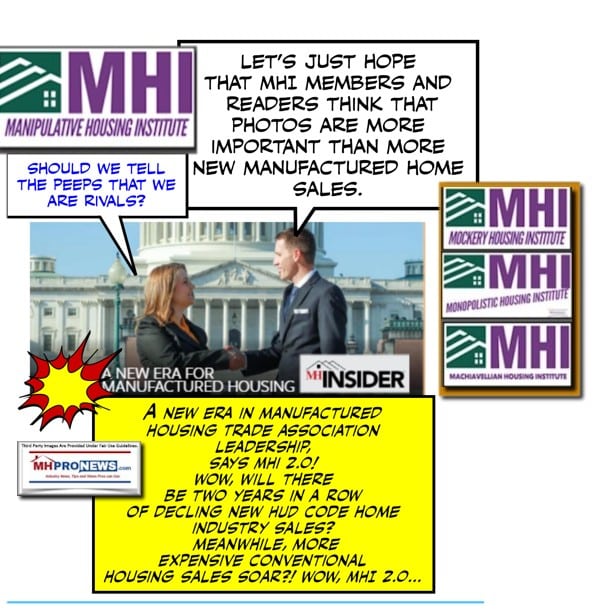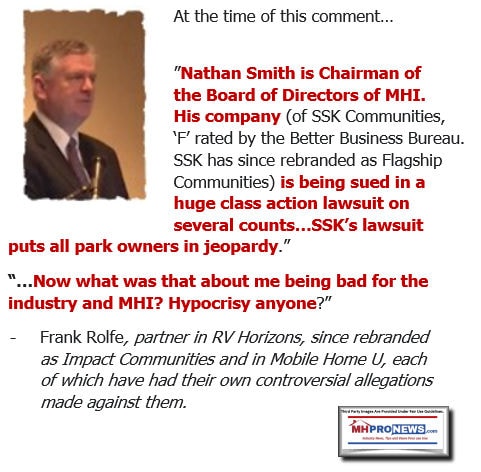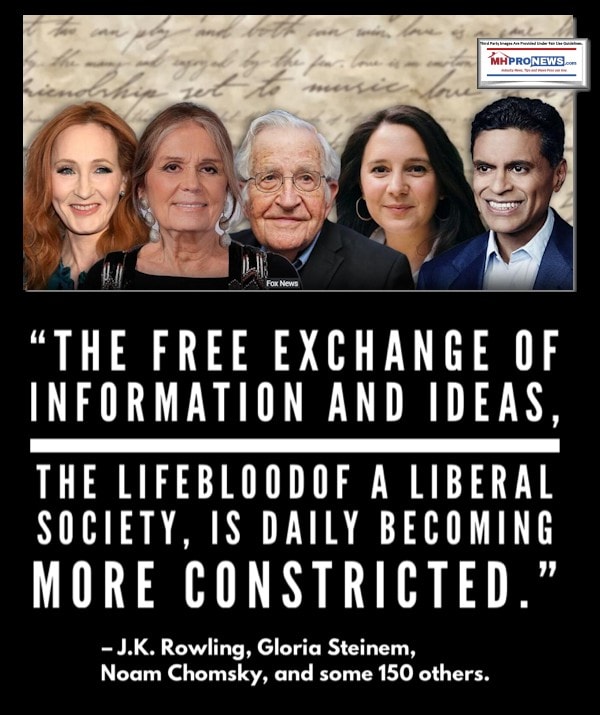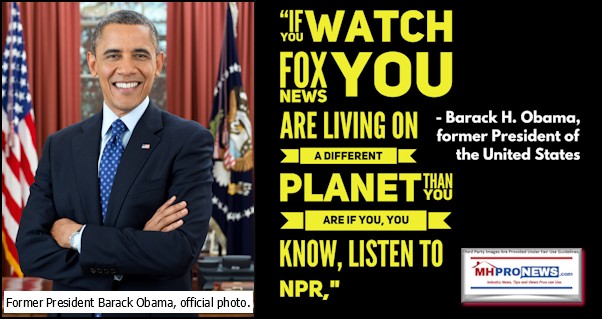 Headlines from left-of-center CNN Business
Doing it all, staying sober
Shannon Urban
They're executives and moms who are also recovering alcoholics. Here's how they're managing
A pandemic is the perfect time to finally get rid of the penny
Coin shortage driven by Covid-19 crisis
LIVE UPDATES Stocks rise despite US-China tensions heating up
Coronavirus turned traditional investing advice on its head
Twitter tries to catch the QAnon horse that bolted
Coke says it will kill more 'zombie' brands, weeks after dropping Odwalla
Men's Wearhouse and Jos. A. Bank are closing hundreds of stores
CEOs of Delta and Emory Healthcare: Everyone should wear a mask in public
Airlines appeal for coronavirus testing to restore transatlantic flights
One of the internet's oldest businesses has a new owner
A for sale sign is seen near houses in Arlington, Virginia on May 6, 2020.
Home sales jumped nearly 21% in June
A woman wearing a facemask rides down the escalator at the Mall of America on June 16, 2020 in Bloomington, Minnesota, after some of the shops at the mall reopened on June 10. – The mall was initially closed due to the coronavirus pandemic and remained closed due to unrest following the death in police custody of George Floyd.
Credit card CEO warns of dark times ahead
MillerCoors and Pabst products are shown on November 29, 2018 in Chicago, Illinois. Today the two brewers reached an agreement as the jury was deliberating in their civil suit that would extend their brewing arrangement despite their competition for the inexpensive beer market.
A can shortage means it may be hard to find your favorite beer
MARKETS
LAW AND ORDER
People exit the Morgan Stanley headquarters building in New York, U.S., on Thursday, April 12, 2018. Morgan Stanley is scheduled to release earnings figures on April 18. Photographer: Christopher Lee/Bloomberg via Getty Images
Ex-Morgan Stanley financial adviser charged with stealing $6 million
Korean Air matriarch receives suspended jail sentence
Wirecard and the case of the missing $2 billion
Chicken industry execs indicted in price fixing case
Deutsche Bank fined $150 million over Jeffrey Epstein transactions
UPPING THEIR DIGITAL GAME
View of the Starbucks card on the Starbucks mobile app
Starbucks is getting rid of one of the most annoying things about its app
Wendy's launches a rewards program
Ulta and Sephora's new take on 'try before you buy'
Retail empire is spending $3 billion on its future
Soon you'll be able to download heated steering wheels for your BMW
Headlines from right-of-center Fox Business 
CORONAVIRUS
California becomes the worst state in the nation for coronavirus cases
California's confirmed coronavirus cases have topped 409,000, surpassing New York for most in the nation.
Stocks shake off US-China tensions, focus on coronavirus vaccine progress
MARKETS
Tesla stock zooms toward big milestone
CRIME
McDonald's restaurants in this state fined for hiring dozens of young kids, feds say
TRAVEL
Delta has already banned over 100 travelers because of this coronavirus policy
OPINION
Our current system is broken — this SEC proposal is a sensible solution
YOUR NEW OFFICE?
TRAVEL
Tropical island will let foreigners stay, work remotely for a year
FULL LIST: Brands that pulled Facebook ads with #StopHateForProfit campaign
BIG DEPARTURES
SOCIAL MEDIA
FULL LIST: Brands that pulled Facebook ads with #StopHateForProfit campaign
WORKPLACE OUTBREAK
CORONAVIRUS
Coronavirus outbreak at Iowa pork plant larger than state reported
RESCUE OPERATION
MONEY
Study reveals how many US jobs were saved due to government's PPP loans
AROUND THE WORLD
TRAVEL
Viking announces 136-day, 27-country world cruise
DOESN'T PASS THE SMELL TEST
LIFESTYLE
'Panera Karen' claims masks won't stop COVID since pants don't contain farts
THE WAY TO PAY
PERSONAL FINANCE
Why you might not want to zero out every credit card
NEW LOOK
SPORTS
Major bank scores 20-year deal for Islanders' arena naming rights
TECHNOLOGY DELIVERS
TECH
PLAYING DEFENSE
NFL
NFL to mandates face masks for fans attending games
OPTIONS TO CONSIDER
PERSONAL FINANCE
More Americans are changing Social Security plans because of COVID-19
LEANING LEFT?
POLITICS
Potential Biden VP pick takes on key role as policy adviser, confidant
MARKETS
Top 5 most profitable companies during coronavirus pandemic
MONEY
Hanna Andersson CEO threatened 'war' with ex-employee after diversity criticism
VIDEO
China agents given 72 hours to leave the country: Sen. Marco Rubio
LEGAL
Gap countersues landlord over missed rent payments during coronavirus
TECHNOLOGY
Apple defends App Store ahead of House hearing
MONEY
Why retailers say this has become the worst place to do business
MONEY
Disney's fairy tale ending? Theme parks at risk of upsetting biggest fans
HEALTH CARE TECH
US secures 100 million doses of Pfizer, BioNTech experimental coronavirus vaccine
POLITICS
China threatens retaliation after US orders consulate closure over IP theft
MARKETS
Trucking giant Knight-Swift steers through coronavirus to profit growth
SPORTS
MLB returns ball kids to lines after feedback from clubs
MARKETS
Tesla needs to prove its worth after electrifying stock-price surge
HEALTH
Silent spread of coronavirus keeps scientists grasping for clues
PERSONAL FINANCE
3 ways a recession could affect Social Security and your retirement
ECONOMY
Fed will meet next week about potential stimulus action: Here's what to expect
REAL ESTATE
One of America's tallest buildings sold to World Trade Center developer
POLITICS
Why Trump's payroll-tax cut plan is meeting resistance amid stimulus talks
TECH
Slack accuses Microsoft of illegally trying to snuff out competition
REAL ESTATE
US sales of existing homes jump after a months-long slump
TRAVEL
Major airline now requiring all travelers take this precaution in airports
10 Market Indicator Closing Summaries – Yahoo Finance Closing Tickers on MHProNews…

Featured Focus –
Where Business, Politics and Investing Can Meet
According to CNN Business on 7.22.2020, the following from the National Association of Realtors (NAR).
After several months of plummeting sales caused by the coronavirus pandemic, the housing market came back to life in June.
Sales of previously owned or existing homes jumped a record 20.7% from May, the largest month-over-month increase since NAR began tracking in 1968.
"Record low mortgage rates are no doubt helping to bring buyers to the market," said Lawrence Yun, NAR's chief economist. "But the inventory levels are shrinking, which could create a bottleneck for sales gains going forward."
What's problematic news for housing in general could spell – should spell – more opportunities for HUD Code manufactured homes.
National Home Price Appreciation Higher Than Pre-Pandemic, Latest AEI Nowcast Trends Data, plus Manufactured Housing Investing, Stock Updates
What NAR is reporting mirrors or echoes data MHProNews has reported from the American Enterprise Institute (AEI) Housing Center and the National Association of Home Builders (NAHB).
Conventional Housing Soars as Manufactured Homes Snore, MHI's Lesli Gooch Mark Bowersox Friday Follies Photo Op, plus Manufactured Housing Investment, Stock Updates
The bullets that follow are per CNN Business.
But sales are still below where they were pre-pandemic and remain down from this time last year. The year-over-year decline in existing home sales — which includes completed sales of single-family homes, townhomes, condominiums and co-ops — was 11.3%.
While the improvements could be dampened by a resurgence of coronavirus cases, a faltering economy and buyers' comfort levels, this is progress for the housing market, said Robert Frick, corporate economist at Navy Federal Credit Union. The market may just be up and down for a while.
"Sales are still hampered by the weak economy, which causes fewer Americans to move for jobs and keeps the supply of existing homes on the market low, as well as the potential buyers' reluctance to tour homes due to Covid-19," said Frick. "Virtual tours help, but they are no substitute for a buyer's in-person inspection."
"Home prices rose during the lockdown and could rise even further due to heavy buyer competition and a significant shortage of supply," said Yun.
The median price of an existing home in June was at an all-time high of $295,300, which is up 3.5% from a year ago. June's price increase marks 100 straight months of year-over-year gains.
With such low inventory, homes didn't sit long. Properties were typically on the market for 24 days last month, down from 26 days in May and even less time than the average 27 days in June 2019. Over half of homes sold in June 2020 were on the market for less than a month.
Low inventory of available homes for sale continued to curb market activity, said Yun. While housing inventory at the end of June was up 1.3% from May, it was still down 18.2% from one year ago.
Sales increased in every region of the US in June. Median home prices grew in each of the four major regions from one year ago.
"Buyers are out in force, but new listings remain the key to housing's recovery," said Danielle Hale, Realtor.com's chief economist. "More sellers are needed before we'll see year-over-year gains in home sales."
All of these facts should point to spikes in manufactured housing. But for reasons noted in reports like those linked below, manufactured housing is struggling instead of surging.
Beneficial Betrayal? HUD Ripped – "Sheer Sophistry" – Federal Enhanced Preemption of Manufactured Homes
HUD Response to Federal "Enhanced Preemption" for Manufactured Homes, FHA Loan Exclusive, as Mainstream Housing Prices Surge Despite Pandemic, Unemployment Crisis
Back to CNN…
Hale pointed to forward-looking indicators, like buyer traffic and mortgage applications, which are higher than they were this time last year and show that the demand is there.
One big reason: Mortgage rates are at record lows. Last week, the average rate for a 30-year-mortgage fell below 3%, according to Freddie Mac, the first time the benchmark rate has fallen that low in the 50 years of the survey.
The number of mortgage applications ticked up 4.1% last week from one week earlier, according to the Mortgage Bankers Association. While much of that activity is because current homeowners are refinancing mortgages, applications for loans to purchase a home went up 2% from last week and 19% over last year.
"There continues to be strong homebuyer demand this summer, as home shoppers have returned to the market in many states," said Joel Kan, MBA's associate vice president of economic and industry forecasting.
"The recent resurgence in case numbers is likely to impact demand and continue to keep inventory at suppressed levels," said Ruben Gonzalez, chief economist for real estate firm Keller Williams. "But agents and consumers have now had ample time to adapt to social distancing practices and virtual tools, so the impact on sales may be less than we saw in April."
Upcoming reports will shed more light on the purportedly rigged system that has allowed a relative few larger firms to consolidate numbers of smaller ones, often at discounted rates. By coincidence of design, it is common for those larger firms to be members of the Manufactured Housing Institute (MHI).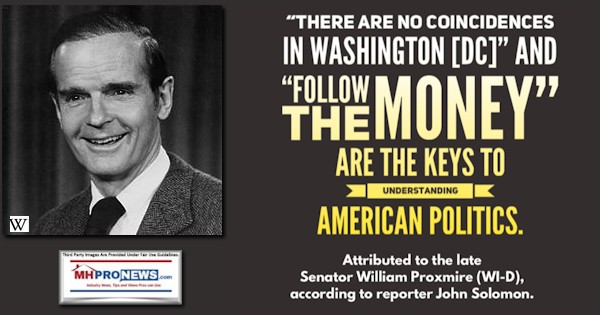 Official National Manufactured Housing Production, Shipment Data May 2020 – Plus Added Manufactured Home Professional Facts
Related, Recent, and Read Hot Reports
"I Can't Keep Doing This" – Small Businesses Quitting. MHPros, Small Business, Investing Impacts – Equity LifeStyle Chair Sam Zell Sounds Off
Demographic Trends, New RV Industry Data, Profit-Potential Laced Insights for Manufactured Housing Industry
Arrest, Indictment of Ghislaine Maxwell, Jeffrey Epstein "Madam," Returns Bill Gates–Warren Buffett, Gates Foundation, Donald Trump, Bill Clinton, Others – to Sexual Predator's Spotlight
Dark Money-Billionaires Buffett, Gates, Soros Funding Black Lives Matter, Antifa – Named by AG Barr in Riots, Looting – Hijacking Peaceful George Floyd Death Racial Justice Protests
'Stop Trump!' Group Supported by Billionaires Soros, Buffett, Gates Vows to Defeat President Trump in 2020
Warren Buffett Declared "Class Warfare," Buffett Says Fellow Billionaires – "We're Winning"
History, Financial Ties-Black Lives Matter, Antifa, Billionaires Warren Buffett, Bill Gates & George Soros–Economic, Political Upheaval Spotlighted by Mary Walter, Tony Kovach on Brian Kilmeade Show
Black Lives Matter-Slavery, Racial History, Economic Inequality, Affordable Home Ownership–White Billionaires Getting Richer
"The way to defeat bad ideas is by exposure, argument, and persuasion, not by trying to silence or wish them away." JK Rowling, Gloria Steinem, Noam Chomsky, 150 Others Decry Censorship in "Letter on Justice and Open Debate," Harpers
"We are trained Marxists." – Black Lives Matter (BLM) co-founder Patrisse Cullors, "Deception and Misdirection" – Capital Research Center
Terror Tactics 1960s-1999 vs 21st Century Terrorist Attacks – Cops, Shops, Workers, Christians, Believers vs Wall Street, Silicon Valley, Marxists, Atheists, Terrorists, Leftist Billionaires – Sunday Weekly Headline Review
"Enough is Enough" – Democratic Mayor in Ranking MH State Pleas for End to Black-on-Black Violence, Murder – Crime Wave Spreads
Manufactured Housing Industry Investments Connected Closing Equities Tickers
Some of these firms invest in manufactured housing, or are otherwise connected, but may do other forms of investing or business activities too.
NOTE: The chart below includes the Canadian stock, ECN, which purchased Triad Financial Services, a manufactured home industry lender
NOTE: Drew changed its name and trading symbol at the end of 2016 to Lippert (LCII).
Summer 2020…
Berkshire Hathaway is the parent company to Clayton Homes, 21st Mortgage, Vanderbilt Mortgage and other factory built housing industry suppliers.
· LCI Industries, Patrick, UFPI, and LP each are suppliers to the manufactured housing industry, among others.
· AMG, CG, and TAVFX have investments in manufactured housing related businesses. For insights from third-parties and clients about our publisher, click here.
Enjoy these 'blast from the past' comments.
MHProNews. MHProNews – previously a.k.a. MHMSM.com – has celebrated our tenth anniversary and is in year 11 of publishing.
Learn more about our evolutionary journey as the industry's leading trade media, at the report linked below.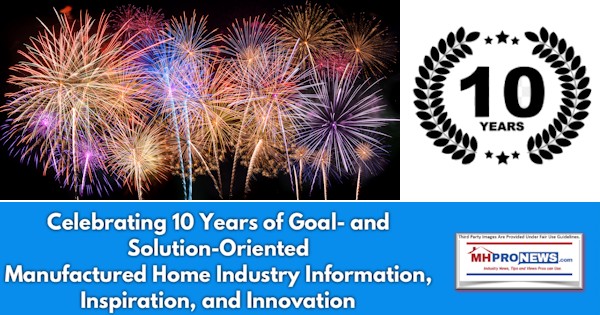 · For expert manufactured housing business development or other professional services, click here.
· To sign up in seconds for our industry leading emailed headline news updates, click here.

Disclosure. MHProNews holds no positions in the stocks in this report.
2019 Year-End Totals Reveals Decline in New HUD Code Manufactured Home Production, Shipments vs. 2018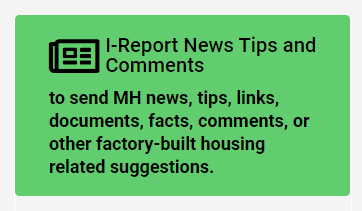 That's a wrap on this installment of "News Through the Lens of Manufactured Homes and Factory-Built Housing" © where "We Provide, You Decide." © (Affordable housing, manufactured homes, stock, investing, data, metrics, reports, fact-checks, analysis, and commentary. Third-party images or content are provided under fair use guidelines for media.) (See Related Reports, further below. Text/image boxes often are hot-linked to other reports that can be access by clicking on them.)
By L.A. "Tony" Kovach – for MHLivingNews.com.
Tony earned a journalism scholarship and earned numerous awards in history and in manufactured housing. For example, he earned the prestigious Lottinville Award in history from the University of Oklahoma, where he studied history and business management. He's a managing member and co-founder of LifeStyle Factory Homes, LLC, the parent company to MHProNews, and MHLivingNews.com. This article reflects the LLC's and/or the writer's position, and may or may not reflect the views of sponsors or supporters.