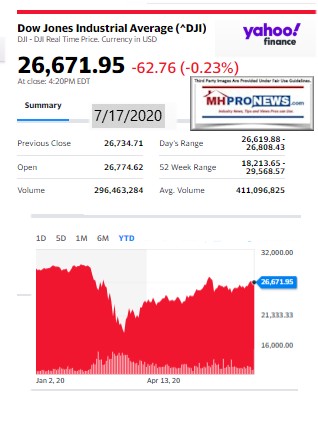 Unlike much of manufactured housing, Reuters reports that mainstream housing is soaring.
While the Manufactured Housing Institute (MHI) touts photo ops to their readers, the National Association of Homebuilders (NAHB) CEO Jerry Howard is reporting a sharp jump in sales.
Which sounds more important to professionals and investors? Pictures at a presser? Or actual money-making sales?
According to the NAHB website, "Jerry Howard, Chief Executive Officer of the National Association of Home Builders, has over 25 years of association experience and a lifetime in the housing industry. Jerry began his association career at the National Association of Realtors, where he served as a Legislative Analyst for tax issues. Prior to joining NAHB, Jerry served as the Chief Lobbyist for the National Council of State Housing Agencies where he was instrumental in the development of the low-income housing tax credit as part of the Tax Reform Act of 1986. Jerry came to NAHB as tax counsel in 1988 and served in a variety of roles, including Chief Lobbyist. He was promoted to Executive Vice President and Chief Executive Officer in February 2001. Before embarking on his association career, Jerry practiced real estate law in his home state of South Carolina."
Meanwhile, all of those impressive photos earlier this year of Lesli Gooch, CEO, and Mark Bowersox, President of MHI have accomplished…what?
Here is what Reuters said on 7.17.2020. "U.S. homebuilding surged in June amid reports of rising demand for housing in lower density areas as companies allow employees flexibility to work from home because of the COVID-19 pandemic."
Housing starts increased 17.3% to a seasonally adjusted annual rate of 1.186 million units last month, the Commerce Department said on Friday. Data for May was revised up to a 1.011 million-unit pace from the previously reported 974,000.
"Economists polled by Reuters had forecast starts increasing to a rate of 1.169 million units." Rephrased, that is a 'seasonally adjusted annual rate' or SAARs of 1.169 million units. That would place conventional housing at outpacing 'more affordable' manufactured housing by well over a million units a year, if that pace where to hold. By contrast, how is manufactured housing doing?  That data from the Manufactured Housing Association for Regulatory Reform (MHARR) below reflects a 22 percent year over year drop. meanwhile, conventional housing increased 17.3 percent?
While it isn't apples to apples, the indicators are troubling.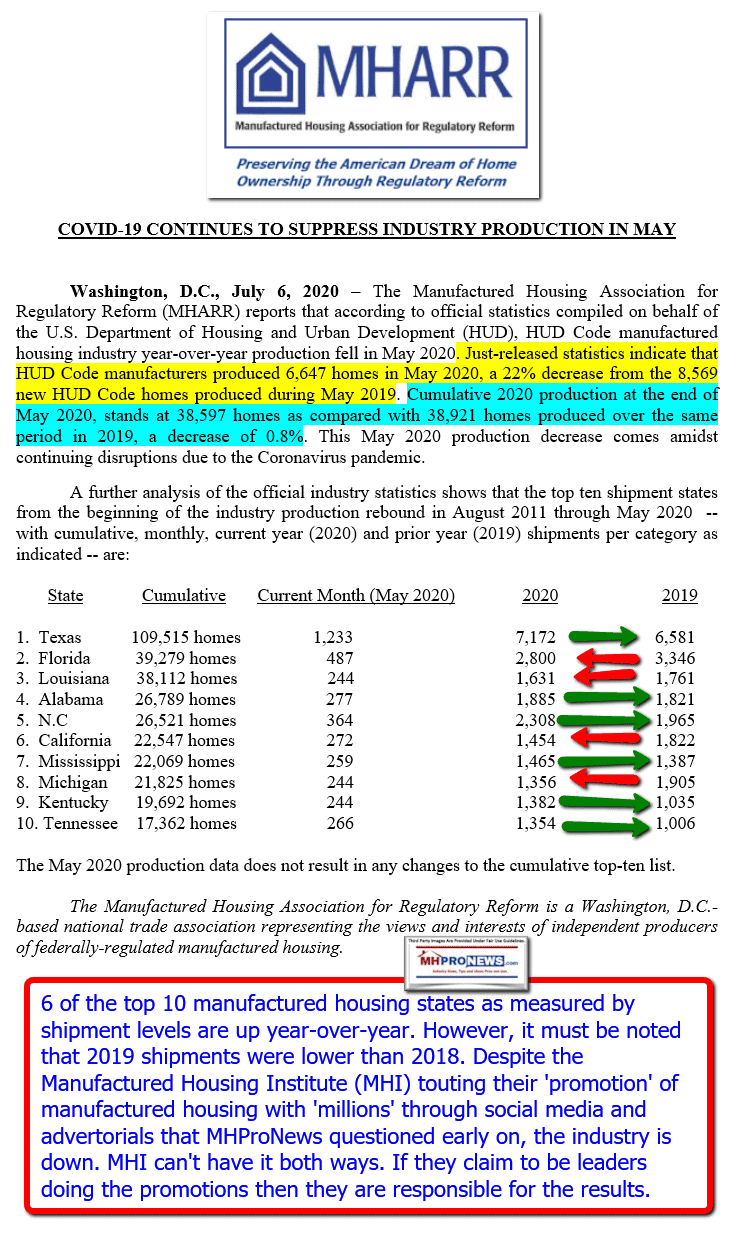 The impact of interest rates being at about a 50-year low, plus other facts that shed light on mainstream housing and thus obliquely manufactured housing, are the featured focus for this evening.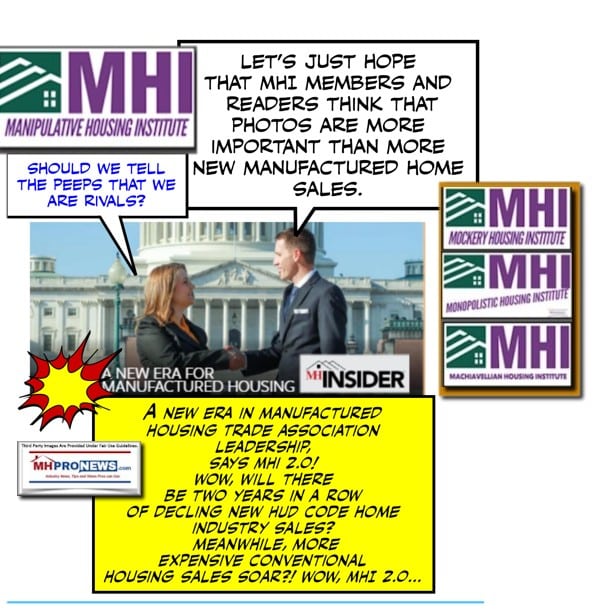 Saturday Satire and Executive Summaries for Manufactured Housing Professionals, Investors, Advocates, Researchers, Public Officials, and Investigators
With that backdrop, following the left-right bullet headlines tonight from CNN and Fox, some quotable quotes, and two of our three market summaries at the closing bell is our featured focus this evening. The manufactured housing specific stocks and those firms with significant interests in manufactured homes and communities follows the featured focus, the recent and related reports, near the end of this business-nightly report.
Quotes That Shed Light – American Social, Industry, National Issues…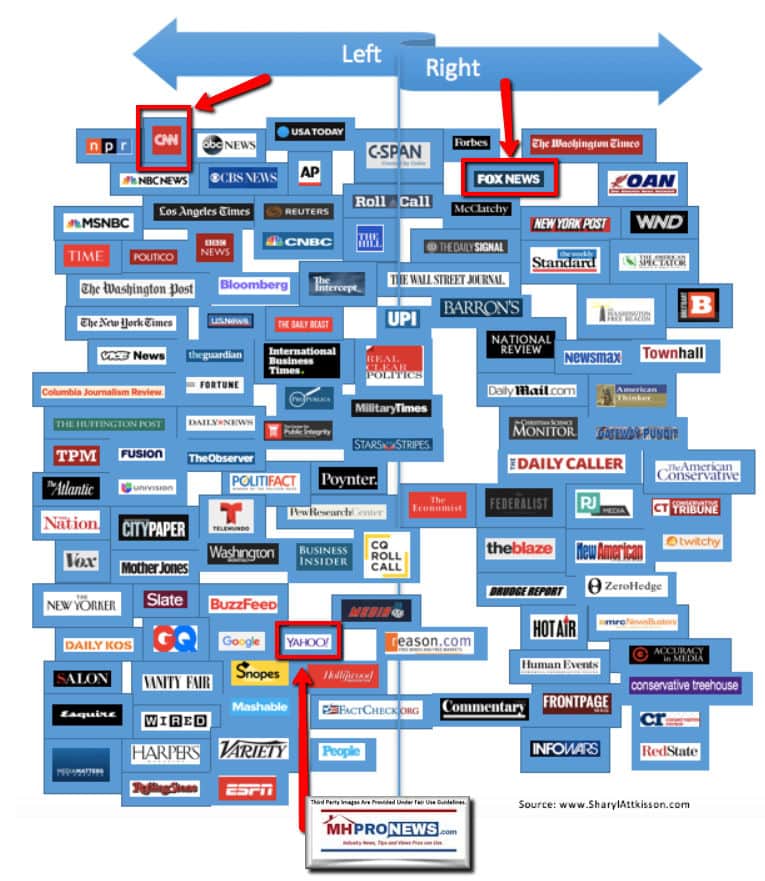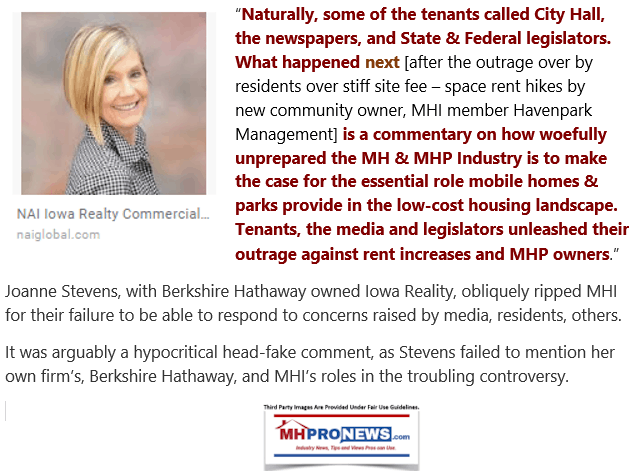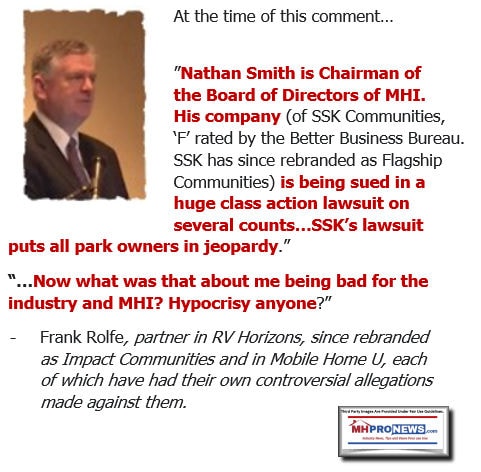 Headlines from left-of-center CNN Business
Customers wearing face masks wait in line to enter a Best Buy electronic store on July 16, 2020 in Pembroke Pines, Florida. Some major U.S. corporations are requiring masks to be worn in their stores upon entering to control the spread of COVID-19.
These CEOs say that it's time for all US governors to require masks in stores
Home Depot and Lowe's will start requiring customers to wear masks
Fed opens $600 billion Main Street program to colleges, hospitals and other nonprofits
Sony and Target distance themselves from Senator who denounced Black Lives Matter
Here's what you need to know about inflation
A US travel ban would bar China's top billionaire entrepreneurs from America
A nightmare scenario for farmers is happening right now
British Airways is retiring its entire fleet of Boeing 747s
United reaches a deal with pilots to reduce or eliminate layoffs
McDonald's exec: What we learned from the Covid-19 meat shortages
Mark Zuckerberg slams President Trump for undermining health experts
Pedestrians walk past a boarded up restaurant in Santa Monica, California, U.S., on Friday, June 5, 2020. Fewer felony arrests for looting and vandalism have been reported each day this week in the city of Los Angeles, just as street protests against unjustified police violence grew in size and frequency, according to NBC Los Angeles.
Big banks expose the glaring gap between Wall Street and Main Street
Travelers wearing protective masks use kiosks to check-in at the American Airlines Group Inc. counter at San Francisco International Airport (SFO) in San Francisco, California, U.S., on Wednesday, July 1, 2020. American Airlines said it would sell flights to capacity starting July 1, abandoning caps on passenger loads that were designed to promote social distancing amid the coronavirus pandemic.
American Airlines and JetBlue are teaming up
MARKETS
LIFE AFTER THE PANDEMIC
A man wearing a face mask looks at the skyline of the central business district (CBD) from a park in Beijing on May 23, 2020.
Ian Bremmer: This is what awaits us after the pandemic
Lunch at work may never be the same
The new rules of buying and selling a house
Welcome to your new, post-pandemic office
These companies plan to make working from home the new normal. As in forever
PLANET-FRIENDLY INNOVATIONS
Red Angus cows and calves after feeding on Martin Davis' ranch on April 21, 2020 in Paradise Valley near Livingston, Montana.
Burger King's latest sustainability effort: reduce cow farts
KFC will sell plant-based fried chicken in these cities
Johnnie Walker whisky will come in paper bottles
Chipotle is testing out cauliflower rice
Nissan unveils its first electric SUV, the Ariya

Headlines from right-of-center Fox Business 
UNDER FIRE
SPORTS
Washington NFL owner Dan Snyder breaks silence on sexual harassment allegations
LIFESTYLE
NYC restaurants 'harassed' by inspectors, fined over confusing regulations
NYC poised to open zoos, play ball under reopen plan, mayor says
APPLE
Apple doubles down on retail space in Beijing despite tensions
OPINION
Goya CEO proves you can beat the outrage mob, and other CEOs need to step up
CARS
Carmakers show off radically redesigned self-driving car concept
TENSIONS AT A BOIL
STARBUCKS
Protesters rally against Starbucks over company's Seattle police ties
FRISCO IN FREE FALL
MONEY
Median rent in Silicon Valley right now
'LOLITA EXPRESS'
CRIME
Jeffrey Epstein plane listed for sale in Florida: Report
SWING FOR THE FENCES
MLB
MLB finds a novel way to make up for the lack of crowd noise at games
DON'T HOLD YOUR BREATH
ECONOMY
Masks or not? Doctors debate best way to get economy back to normal
WORD ON THE STREET
TECH
Utah and Georgia install tech that lets roads talk
HOME RUN?
REAL ESTATE
California says $600M available to build housing for the homeless
SCAMMER'S CHOICE
MARKETS
Why hackers use bitcoin and why it is so difficult to trace
CANCELED DEBT?
SMALL BUSINESS
Mnuchin suggests automatic forgiveness of smallest PPP loans
'CIVIL WAR'
POLITICS
Wilbur Ross addresses reports of titanic clash between Mnuchin, Kudlow
FAITH IN FILM
MOVIES
Actor launches 'conservative' movie studio: 'Hollywood has got to be fair'
UNWANTED ADVICE
POLITICS
Cuomo rejects AOC push to hike taxes on New York billionaires
RICH & FAMOUS
Kylie Jenner falls to No. 2 spot on Instagram Rich List
LIFESTYLE
DC restuarants come up with 'ghost food hall' concept in struggle to survive
KFC to test Beyond Fried Chicken again
FOOD & DRINKS
KFC to test Beyond Fried Chicken again
TECHNOLOGY
Uber offers $0 delivery for Black-owned restaurants
PERSONAL FINANCE
43% of Americans plan to delay retirement due to COVID-19
ECONOMY
Extra $600 in unemployment benefits boosted US economy, study finds
LL Bean hits Nordstrom, Staples in first US wholesaler partnerships
MARKETS
LL Bean hits Nordstrom, Staples in first US wholesaler partnerships
SOCIAL MEDIA
Facebook planning TikTok competitor 'Instagram Reels'
S. homebuilding surges as coronavirus sparks flight to suburbs
ECONOMY
As coronavirus lockdowns drag on, days grow long at nursing homes
CORONAVIRUS
As coronavirus lockdowns drag on, days grow long at nursing homes
CORONAVIRUS
Home Depot latest retailer to require face masks amid coronavirus resurgence
NFL
Washington Redskins executives accused of sexual harassment, verbal abuse
LEGAL
Twitter says about 130 accounts were targeted in cyber attack this week
BASEBALL
A-Rod, bidding for Mets, wants players to accept cap system
AIRPLANES
British Airways retires entire fleet of Boeing's jumbo jets
TECH
T-Mobile kicks off new merger with robocall killer
TRAVEL
Cruises banned through September over coronavirus spread, CDC says
TELEVISION
Former Ellen DeGeneres Show employees cite a toxic culture: report
LIFESTYLE
California 'Karen' wants half of $100K raised for Starbucks barista
MONEY
You may be in line for 2 separate tax refunds this year. Here's why.
PERSONAL FINANCE
Missing stimulus payments leave Americans with some important, unanswered questions
MOVIES
Barr says Hollywood's self-censorship is part of China's 'massive propaganda coup'
10 Market Indicator Closing Summaries – Yahoo Finance Closing Tickers on MHProNews…

Featured Focus –
Where Business, Politics and Investing Can Meet
According to the NAHB in a news release, the following.

"Led by solid single-family production, total housing starts increased 17.3% in June to a seasonally adjusted annual rate of 1.19 million units, according to a report from the U.S. Housing and Urban Development and Commerce Department.
The June reading of 1.19 million starts is the number of housing units builders would begin if they kept this pace for the next 12 months. Within this overall number, single-family starts increased 17.2% to an 831,000 seasonally adjusted annual rate, after an upward revision from the May estimate. The multifamily sector, which includes apartment buildings and condos, increased 17.5% to a 355,000 pace.
"Fueled in part by record low mortgage rates, builders are seeing solid demand for housing despite the challenges of the virus and elevated unemployment," said NAHB Chairman Chuck Fowke. "Demand is growing in lower density markets, including exurbs and small metros."
"Single-family construction is expanding off April lows due to lean inventories of new and existing homes," said NAHB Chief Economist Robert Dietz. "However, builders face challenges in growing costs, particularly rising prices for lumber."
On a regional and year-to-date basis (January through June of 2020 compared to that same time frame a year ago), combined single-family and multifamily starts are 2.2% higher in the Midwest, 0.2% higher in the South, 2.9% higher in the West and 5.4% lower in the Northeast.
Overall permits increased 2.1% to a 1.24 million unit annualized rate in June. Single-family permits increased 11.8% to an 834,000 unit rate. Multifamily permits decreased 13.4% to a 407,000 pace.
Looking at regional permit data on a year-to-date basis, permits are 3.4% higher in the South, 8.8% lower in the Northeast, 2.3% lower in the Midwest and 3.9% lower in the West."
##
Fox Business noted a trend that MHProNews has been periodically spotlighting in recent weeks. Namely, the reportedly increased move of people out of cities into suburbs, exurbs, and rural areas. "Builders reported increased demand for single-family homes in lower density markets, including small metro areas, rural markets and large metro suburbs. The public health crisis has shifted office work from commercial business districts to homes, a trend that economists predict could become permanent."
That ought to be good for manufactured housing. But instead, as our teaser reflected, the industry is in reverse for the second year in a row.
What's that bragging by "MHI 2.0" all about?
Beneficial Betrayal? HUD Ripped – "Sheer Sophistry" – Federal Enhanced Preemption of Manufactured Homes
Related, Recent, and Read Hot Reports
"I Can't Keep Doing This" – Small Businesses Quitting. MHPros, Small Business, Investing Impacts – Equity LifeStyle Chair Sam Zell Sounds Off
Demographic Trends, New RV Industry Data, Profit-Potential Laced Insights for Manufactured Housing Industry
Arrest, Indictment of Ghislaine Maxwell, Jeffrey Epstein "Madam," Returns Bill Gates–Warren Buffett, Gates Foundation, Donald Trump, Bill Clinton, Others – to Sexual Predator's Spotlight
"Enough is Enough" – Democratic Mayor in Ranking MH State Pleas for End to Black-on-Black Violence, Murder – Crime Wave Spreads
Dark Money-Billionaires Buffett, Gates, Soros Funding Black Lives Matter, Antifa – Named by AG Barr in Riots, Looting – Hijacking Peaceful George Floyd Death Racial Justice Protests
'Stop Trump!' Group Supported by Billionaires Soros, Buffett, Gates Vows to Defeat President Trump in 2020
Warren Buffett Declared "Class Warfare," Buffett Says Fellow Billionaires – "We're Winning"
History, Financial Ties-Black Lives Matter, Antifa, Billionaires Warren Buffett, Bill Gates & George Soros–Economic, Political Upheaval Spotlighted by Mary Walter, Tony Kovach on Brian Kilmeade Show
Black Lives Matter-Slavery, Racial History, Economic Inequality, Affordable Home Ownership–White Billionaires Getting Richer
Fear & Frustration-Constitutionality of Business, Religious Shutdowns, Other Restrictions Challenged, plus Sunday Headlines Review 6.28 to 7.5.2020
"The way to defeat bad ideas is by exposure, argument, and persuasion, not by trying to silence or wish them away." JK Rowling, Gloria Steinem, Noam Chomsky, 150 Others Decry Censorship in "Letter on Justice and Open Debate," Harpers
"We are trained Marxists." – Black Lives Matter (BLM) co-founder Patrisse Cullors, "Deception and Misdirection" – Capital Research Center
Manufactured Housing Industry Investments Connected Closing Equities Tickers
Some of these firms invest in manufactured housing, or are otherwise connected, but may do other forms of investing or business activities too.
NOTE: The chart below includes the Canadian stock, ECN, which purchased Triad Financial Services, a manufactured home industry lender
NOTE: Drew changed its name and trading symbol at the end of 2016 to Lippert (LCII).
Summer 2020…
Berkshire Hathaway is the parent company to Clayton Homes, 21st Mortgage, Vanderbilt Mortgage and other factory built housing industry suppliers.
· LCI Industries, Patrick, UFPI, and LP each are suppliers to the manufactured housing industry, among others.
· AMG, CG, and TAVFX have investments in manufactured housing related businesses. For insights from third-parties and clients about our publisher, click here.
Enjoy these 'blast from the past' comments.
MHProNews. MHProNews – previously a.k.a. MHMSM.com – has celebrated our tenth anniversary and is in year 11 of publishing.
Learn more about our evolutionary journey as the industry's leading trade media, at the report linked below.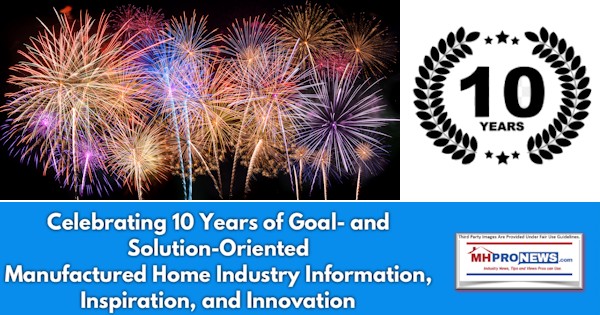 · For expert manufactured housing business development or other professional services, click here.
· To sign up in seconds for our industry leading emailed headline news updates, click here.

Disclosure. MHProNews holds no positions in the stocks in this report.
2019 Year-End Totals Reveals Decline in New HUD Code Manufactured Home Production, Shipments vs. 2018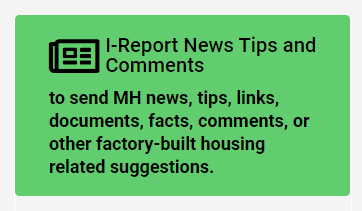 That's a wrap on this installment of "News Through the Lens of Manufactured Homes and Factory-Built Housing" © where "We Provide, You Decide." © (Affordable housing, manufactured homes, stock, investing, data, metrics, reports, fact-checks, analysis, and commentary. Third-party images or content are provided under fair use guidelines for media.) (See Related Reports, further below. Text/image boxes often are hot-linked to other reports that can be access by clicking on them.)
By L.A. "Tony" Kovach – for MHLivingNews.com.
Tony earned a journalism scholarship and earned numerous awards in history and in manufactured housing. For example, he earned the prestigious Lottinville Award in history from the University of Oklahoma, where he studied history and business management. He's a managing member and co-founder of LifeStyle Factory Homes, LLC, the parent company to MHProNews, and MHLivingNews.com. This article reflects the LLC's and/or the writer's position, and may or may not reflect the views of sponsors or supporters.