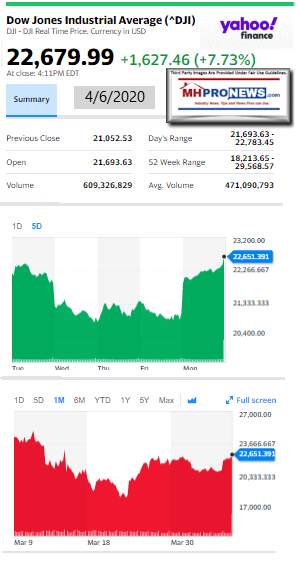 It would be grand if the Manufactured Housing Institute and their "state affiliates" would spend the next days laser focused on getting retailers and other segments of the manufactured housing industry designated as "essential businesses."
Will that occur? Will state association and MHI do what's necessary? Time will tell, and MHProNews will monitor.
Meanwhile, the Manufactured Housing Association for Regulatory Reform (MHARR) has reported that in some states, retailers are not yet designated as "essential businesses." That's technically a post-production issue, not a production issue – which is MHARR's focus.
MHARR's media release and our related analysis and commentary will be our featured focus for this evening's market report.
Every Business Nightly – Headline Insights-at-a-Glance.
Every weekday night that the stock markets are open, we provide headlines from left-of-center CNN followed by right-of-center Fox Business. It is sometimes surprising how much We share closing tickers and other related data courtesy of Yahoo Finance, and more. 5 to 10 minutes reading this MHProNews market report every business night could save you 30 minutes to an hour of similar reading or fact-gathering elsewhere.
Perhaps more important, you will get insights about the industry from experts that care, but also dare to challenge the routine narrative that arguably keeps manufactured housing underperforming during an affordable housing crisis.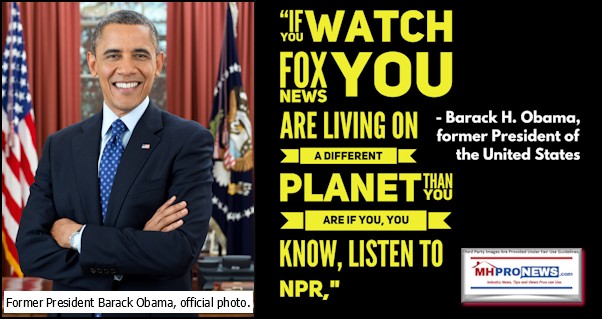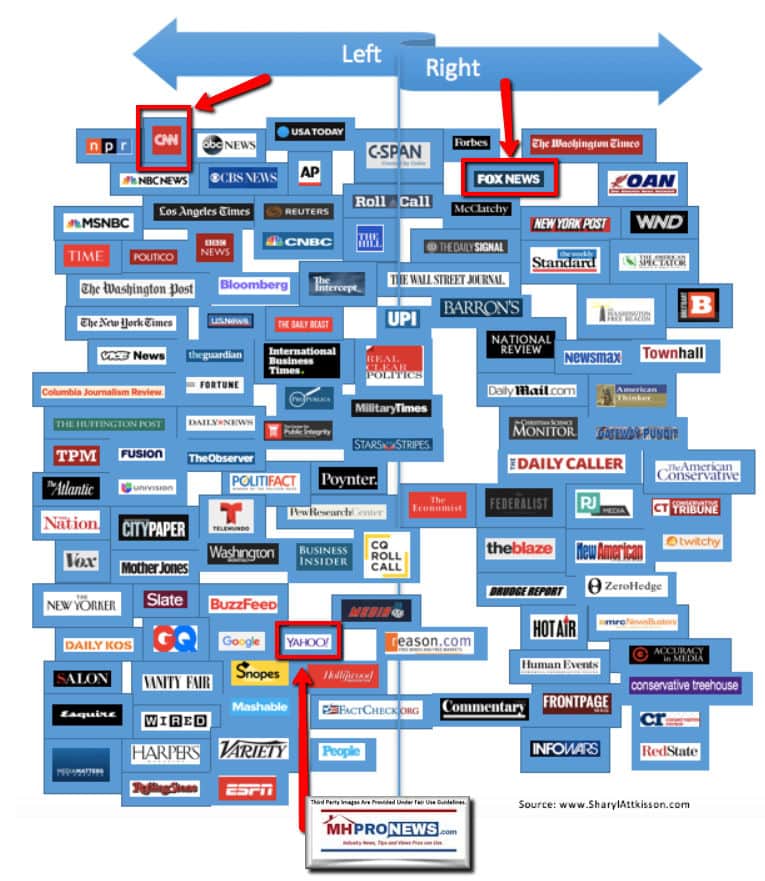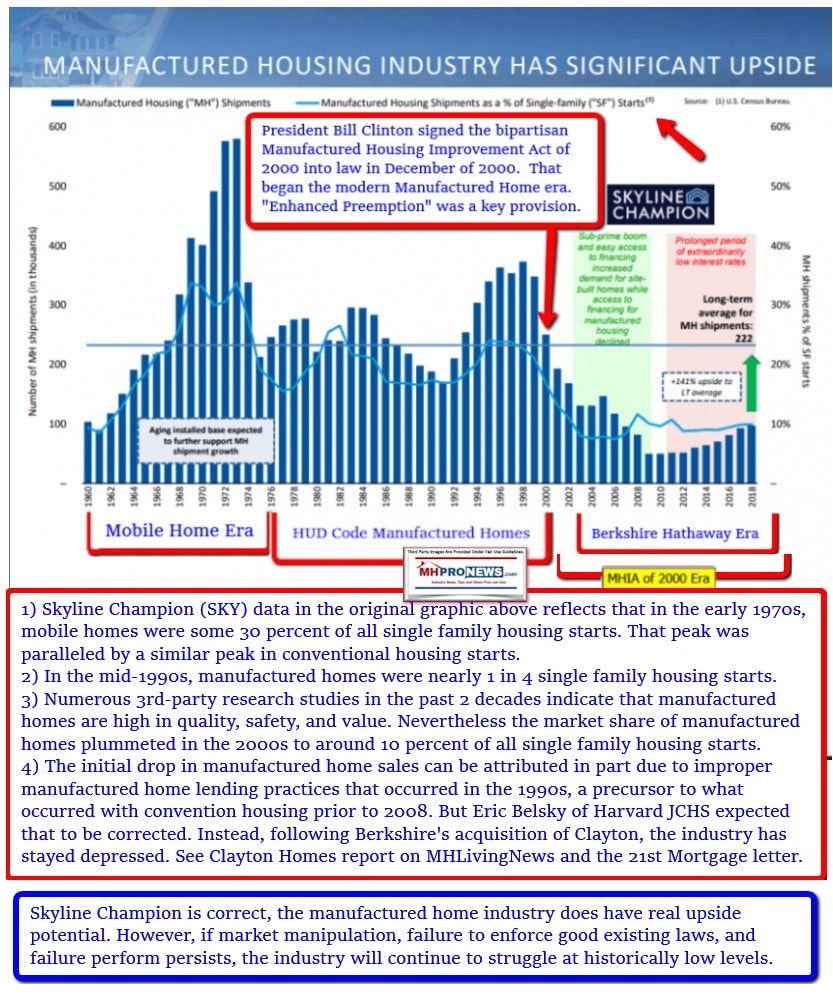 Headlines from left-of-center CNN Business
A devastating ripple effect
WASHINGTON D.C., April 1, 2020.A sign is seen near the Washington Monument during the outbreak of COVID-19 in Washington D.C., the United States, April 1, 2020. The United States became the first nation with more than 200,000 COVID-19 infections on Wednesday, according to a new tally from Johns Hopkins University.
ANALYSIS
The US government's response to coronavirus could make the recession worse
LIVE UPDATES Dow soars 1,500 points
Janet Yellen: America's deficit could soar to $2 trillion
How do you reopen the economy after coronavirus? German experts have a plan
The global economy just got a $1 trillion infusion from Japan
Oil for less than $10 a barrel is on the horizon. Will OPEC blink first?
Opinion: Billionaires are failing us when we need them most
Analysis: Get ready for wartime levels of national debt and tough choices
Quarantined Lyft and Uber drivers are fighting for coronavirus pay
YouTube tries to limit spread of false 5G coronavirus conspiracy theories
5G and Wi-Fi 6 will improve your WFH experience
WASHINGTON, DC – SEPTEMBER 12: Jamie Dimon, Chairman and CEO of JPMorgan Chase & Co., speaks at the Economic Club of Washington September 12, 2016 in Washington, DC. Dimon joined a discussion on the state of U.S., global and regional economies.
Jamie Dimon predicts a 'major' recession
Peloton Interactive Inc. stationary bicycles sit on display at the company's showroom on Madison Avenue in New York, U.S., on Wednesday, Dec. 18, 2019. The stakes are high for Peloton as it heads into its first holiday season as a publicly traded company. Peloton projected sales of $410 million to $420 million for the quarter ending Dec. 31, up about 60% from the same quarter a year earlier.
Peloton cancels live video classes for April after employee contracts coronavirus
Tesla engineers work on a ventilator using Tesla car parts.
Tesla's working on making ventilators from car parts
DATA PRIVACY
People exercise in South Pointe Park on March 18, 2020 in Miami Beach, Florida. Miami Beach city officials closed the area of the beach that is popular with college spring breakers and asked them to refrain from large gatherings where COVID-19 could spread.
How the phones of spring breakers who flouted virus warnings were tracked
Google to release location data to help fight pandemic
Europe tries to ethically use apps to track Covid-19
Why personal privacy is at risk right now
Israel is deploying spy technology to track the virus
QUIBI IS HERE
Quibi CEO Meg Whitman (R) and Quibi founder Jeffrey Katzenberg speak about their short-form video streaming service Quibi during their keynote address January 8, 2020 at the 2020 Consumer Electronics Show (CES) in Las Vegas, Nevada.
Here's what you need to know about the new streaming service, Quibi
This startup wants to turn streaming on its head
Some of the the shows coming to Quibi
Quibi says people staying home won't be a problem
These big name execs are giving mobile video the Hollywood treatment
Headlines from right-of-center Fox Business
MARKETS
Dow up 1,200+ on virus slowdown hopes
Dow pops over 1,600 points on coronavirus slowdown, new stimulus hopes
What could be included in fourth coronavirus stimulus package
Allstate to return $600M in premiums
Russia ready to cut oil output
Companies hiring for work-from-home jobs
Governors push for food stamp change
States could expand benefits this week
FBI warns of coronavirus scams
Full list of businesses still open
Help wanted: These companies are hiring
Can I get unemployment if I'm furloughed?
Ex-Amazon employee: Delivery giant is lying about workers' cases
E TU, AMAZON?
Cryptocurrency issuers, exchanges face US class action lawsuits over billions
UK PM Boris Johnson sent to ICU as battle with coronavirus intensifies
Target delivery workers 'walkoff' job amid surging demand
What is Netflix Party? Coronavirus shut-ins can watch together
'Goldfinger' star dead at 94
Kudlow says US economy could 'snap back' from coronavirus crisis
Crime wave hits abandoned NYC streets, stores, police say
Why eggs are getting more expensive
Consumer expectations plunge as coronavirus drags on economy
How businesses plan to keep their shops coronavirus-free
Top WH officials: This is one of most valuable steps on road to recovery
Inside underground bunkers where the rich are waiting out coronavirus
The new store policy that will change the way you shop
SEE PICS: Raging fire near Florida airport ignites 3,500 rental cars
How the NFL plans to handle the draft amid coronavirus lock down
Consumer expectations plunge as coronavirus drags on economy, New York Fed finds
Domino's Pizza donating 10M slices during coronavirus pandemic
What's the difference between coronavirus ventilators, CPAP and BiPAP machines
Coronavirus crisis shows need for wealth tax, basic income, Financial Times editorial argues
'Aliens' actor Jay Benedict dead at 68 due to coronavirus complications
Coronavirus patients rush to join Gilead drug study in hospitals across globe
Chef's Warehouse CEO: Relief for restaurants in some states 'not enough'
Where CVS is launching new drive-thru coronavirus testing sites
Bill Gates: When some parts of US economy can start to reopen
GM on track to deliver 20k face masks to health care workers this week
SeaWorld CEO resigns after clashing with board
Salesforce donates coronavirus medical supplies to NY
Bankruptcy court approves Dean Foods asset sale
Mark Cuban slams 3M for lack of transparency during coronavirus response
Jimmie Johnson talks coronavirus, NASCAR return date, says he's 'watching the curve'
WATCH: Raytheon CEO says small business key to building coronavirus US supply chains
Coronavirus catapulting US into deepest recession since WW2
Halliburton slashing hundreds of US jobs as oil bust deepens
Unemployment filing tips during coronavirus pandemic
Warren Buffett drops these stocks as coronavirus hammers markets
WATCH: Home Depot co-founder says Congress lost sight of coronavirus in China
Farming industry vulnerable amid coronavirus pandemic
Coronavirus crisis puts bankrupt hospitals back in demand
JPMorgan rolls out relief measures for customers hurt by pandemic
Bank of America loosens criteria for small business pandemic loans
Wells Fargo caps role in coronavirus rescue program at $10 billion
Trump open to big oil tariffs, but doesn't expect to need them
'Everyone is scared': Coronavirus fears weigh on front-line grocery workers
FDA commissioner: We must 'absolutely' hike domestic drug manufacturing
Country stars play on as coronavirus delays awards show
Ford ships out 1 millionth coronavirus face shield
10 Market Indicator Closing Summaries – Yahoo Finance Closing Tickers on MHProNews…

Featured Focus – Where Business, Politics and Investing Can Meet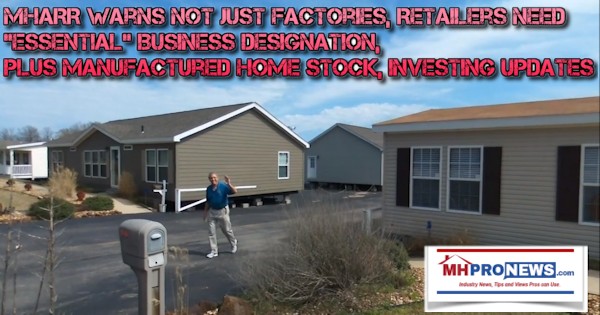 For newcomers or those not already aware of the nuances of the manufactured housing landscape, the Manufactured Housing Institute (MHI) says they are both a production and a post-production national association. They phrase that as representing "all segments" of "manufactured housing" or "factory built housing."
By contrast, the Manufactured Housing Association for Regulatory Reform (MHARR) has from its inception been federal regulation focused. They are a production association, reflecting the interests of the builders or "producers" of HUD Code manufactured housing.
That distinction is noted because a pro-MHI blogger and others at times try to muddy the waters between the two distinct types of organizations. Think of MHARR as being mildly akin to the National Association of Home Builders. They are not 'realtor' or "retail" focused.
However, given years of MHI arguably failing to do what their mission states in the post-production side of advocacy, MHARR has of necessity stepped up on several issues that are post-production related. This memo earlier today from MHARR is to be seen in that context. It will be followed by an MHProNews analysis and commentary.
APRIL 6, 2020
TO:                 MANUFACTURED HOUSING STATE ASSOCIATION EXECUTIVES
FROM:           MARK WEISS
RE:                 DESIGNATION OF "ESSENTIAL" INDUSTRY ACTIVITY
Within the past several days, we have been contacted by a number of HUD Code manufacturers who have expressed serious concern that HUD Code manufactured housing retailers have been omitted (by implication or interpretation) from at least some state COVID-19 "Stay at Home" orders. Needless to say, lack of access to the industry's customary chain of distribution from producers to homebuyers would necessarily result in severe disruptions to both consumers in those states and industry members at all levels, contrary to the letter and intent of a March 28, 2020 COVID-19 "Essential Workforce" Advisory Memorandum issued by the Department of Homeland Security (DHS), which identifies "workers supporting the construction of housing" as being "essential."
MHARR has taken action at the federal level (see, attached communication to HUD Secretary Ben Carson and Cybersecurity and Infrastructure Security Agency Director Christopher C. Krebs) to address this issue and will take further steps, as necessary, in an effort to resolve this matter on a "macro" level (i.e., obtain specific federal guidance designating manufactured housing retail operations as "essential" given the unique structure of the industry and its chain of distribution).
At the same time, it would be helpful if state associations in jurisdictions with orders that have been (or could be) construed as not including manufactured housing retail operations as "essential" activity, would take parallel steps to seek the inclusion of retail centers as "essential. Toward this end, please let us know if there is anything that MHARR can do to further assist you with this urgent and necessary activity.
Your assistance, as always, is crucial and greatly appreciated.
cc:  HUD Code Industry Manufacturers, Retailers, Communities and Finance Companies
Attachments
Mark Weiss
President & CEO
Manufactured Housing Association for Regulatory Reform (MHARR)
1331 Pennsylvania Ave. N.W., Suite 512
Washington, D.C. 20004
Phone: 202/783-4087
Fax: 202/783-4075
Email: MHARRDG@AOL.COM
Email: MHARR@MHARRPUBLICATIONS.COM
Website: manufacturedhousingassociation.org
##
Update 4.7.2020: the letter from MHARR President Mark Weiss to HUD Secretary Ben Carson and Christopher C. Krebs Director Cybersecurity and Infrastructure Security Agency dated 4.3.2020 is found at this link here.
MHProNews Analysis and Commentary
COVID19 is clearly an entirely new issue that has impacted manufactured housing and essentially all other professions to varying degrees.
Retailers, communities and developers are the 'customer' of the factories. Even if a factory may have a vertical sales organization and/or its own community(ies), they are separate entities from the production side.
While MHARR has consistently pushed for the full implementation of good existing laws, MHI has arguably dropped the ball on that repeatedly. Who says? How about their own past chairman?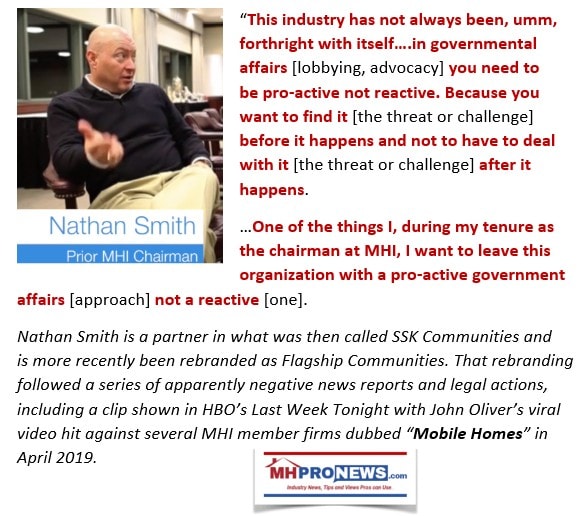 Grotesque Failure – Ken Cashin, Nathan Smith Revealed Manufactured Housing Institute Fear of Manufactured Housing Association for Regulatory Reform's Federal Arguments
Nor is Smith alone.

As Tim Williams, President and CEO of 21st Mortgage Corporation, a Berkshire Hathaway owned brand. While he was MHI's chairman, Williams also said during an MHI a business meeting that "The horse has left the barn" on MHI's failure to address problems with the SAFE Act. Later, it was the same story on Dodd-Frank.
MHI's former VP made an on the record statement that undercut the arguments of Williams and MHI leaders of 'progress' on modifying Dodd-Frank. The Preserving Access to Manufactured Housing Act that MHI pushed on behalf of Berkhshire Hathaway brands never passed.
Why didn't they press instead for implementation of good existing laws?
As regular MHProNews readers have learned, there are no trade media in our industry that do a better job of connected the historic dots of known facts that help explain over 15 years of industry underperformance.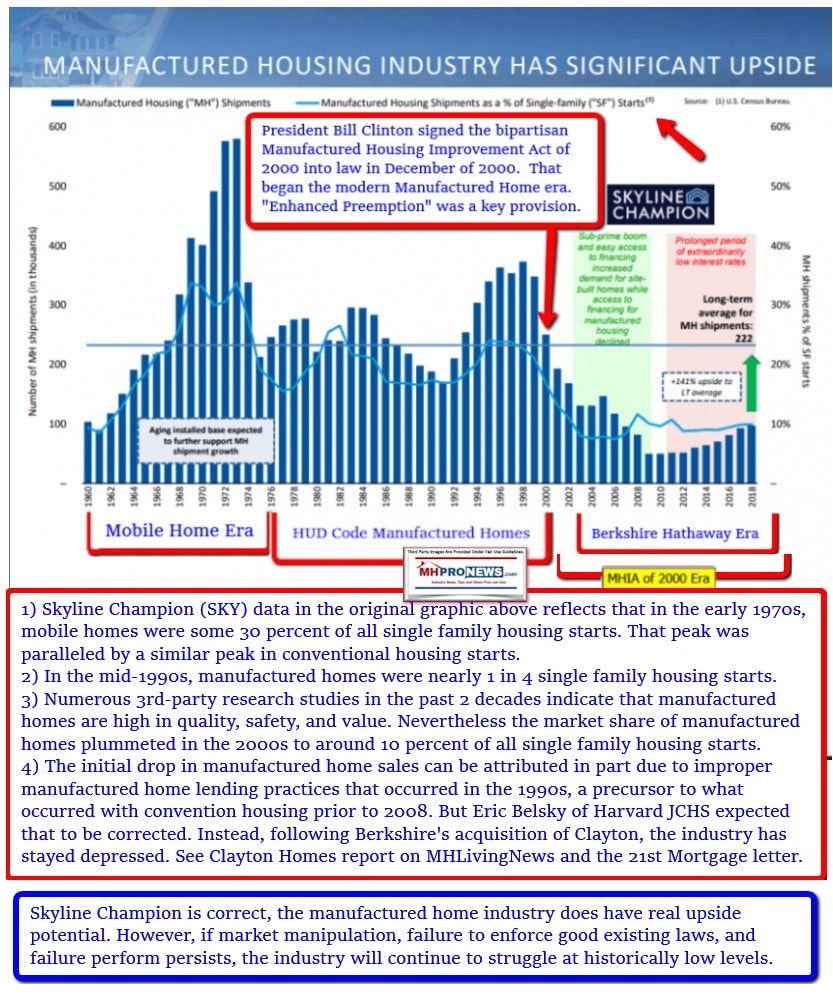 Despite the increasingly obvious truth of industry underperformance during an affordable housing crisis, MHI's so-called leaders have bizarrely tolerated years of problematic leadership at the Arlington, VA based trade group.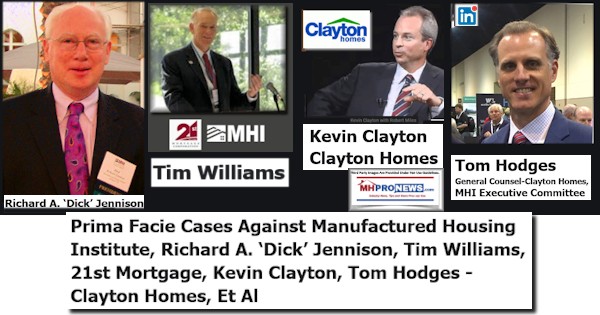 That was true during the Richard "Dick" Jennison.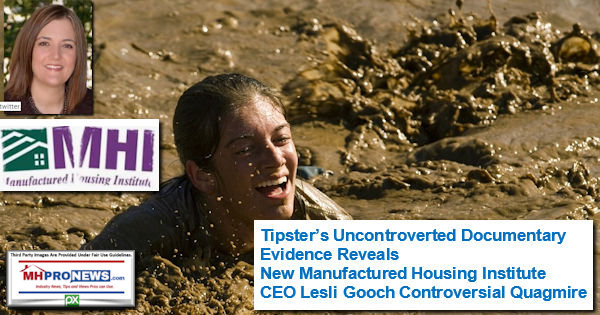 It is already being made clear by conflict of interest whistleblower reports with respect to MHI's new CEO, Lesli Gooch.
Whistleblower's Documents on Lesli Gooch – Manufactured Housing Institute CEO – New Discoveries
That's true despite MHI-connected voices purportedly winding up the Ohio Manufactured Home Association's executive director Tim Williams who inexplicably made the self-evidently false claim that Lesli Gooch was the best he's seen in 25 years. That was pure nonsense from anyone who knows the facts.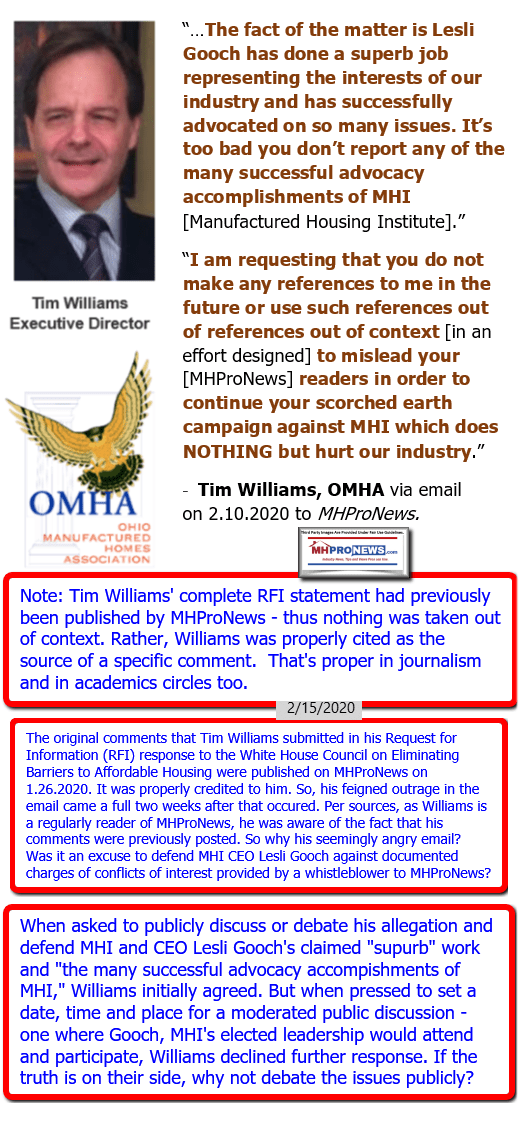 "Scorched Earth" Reply-Lesli Gooch, Tim Williams, and Manufactured Housing Institute (MHI) Claims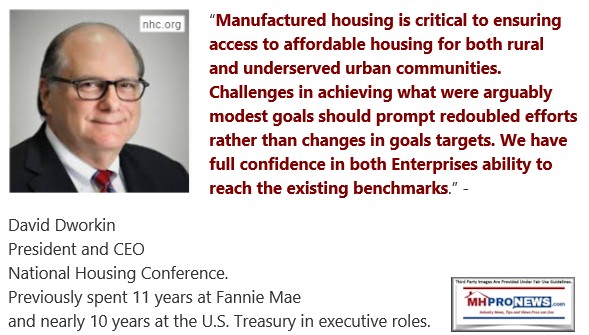 David Dworkin, National Housing Conference, Compared and Contrasted with Lesli Gooch, Manufactured Housing Institute on Fannie Mae, Freddie Mac Proposed Modifications to FHFA on Duty to Serve Finance Plans
The number of whistleblower reports to MHProNews are apparently increasing.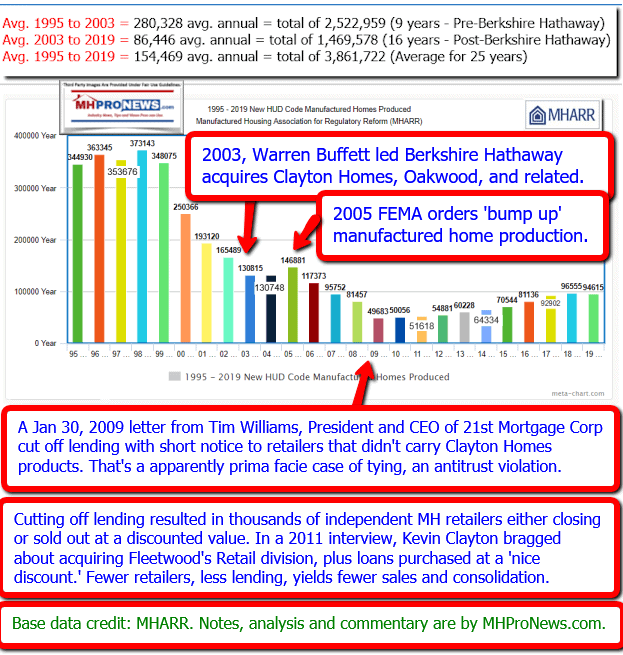 Another whistleblower has raised their hand with respect to financing related issues. An upcoming series on that is being developed.
There will be a special report tentatively planned for tomorrow morning. Don't miss it.
NOTICE

:

Inside Washington, D.C. across the nation and in
company or organizational offices are the 'secrets' that can
continue to expose the purported corruption that has
undermined manufactured housing for years.
Got a news tip or document(s) to share

? See the below.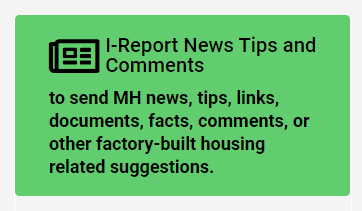 Until then, other tipsters inside Legacy Housing (LEGH) and the company's response to that document drop is reported among the related items below.
Related Reports:
Legacy Housing's "Warren Buffett Type Moat" and COVID19 Response Plan Assailed by Company Whistleblowers
Special COVID19 Economic Data, Report and Projections from Marcus & Millichap, plus Manufactured Home Stock, Investing Updates
Clayton Homes (CMH) Plant Ordered Closed, Clayton Homes Headquarters Hit by COVID19-Coronavirus Outbreak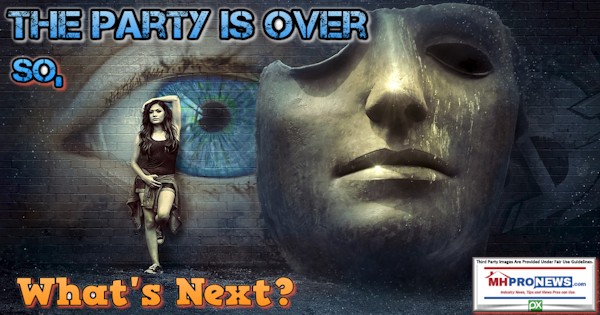 Clayton Update; Pro-Trump Independents vs Anti-Trump MH Communities Green Courte Partners CEO David Lentz? Plus, Manufactured Housing Headlines in Review 3.22 to 3.29.2029
"Hell is Coming" from COVID19, But Stocks Soar – Pershing Square's Bill Ackman Outed by CNBC, plus Manufactured Home Investing, Stock Updates
Official Modular Builders, Manufactured Housing and HUD Stances on Coronavirus Crisis, Controversies – and Silver Lining?
'Fundamentally Good Businesses Will Have Terrible Year,' Private Equity Moving for Bargains, plus Manufactured Housing Investing, Stock Updates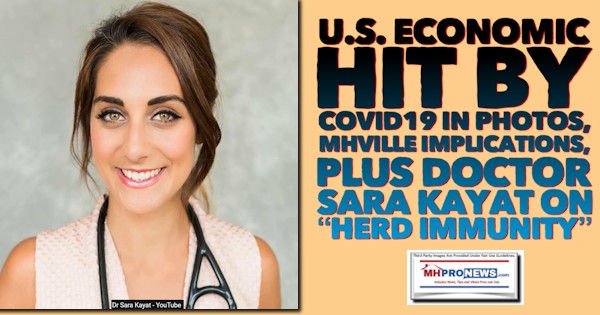 Kill Shot – MHI Bro Connected Plan is Crippling to HUD Code Manufactured Housing Independents; MHI's Stance – Facts and Analysis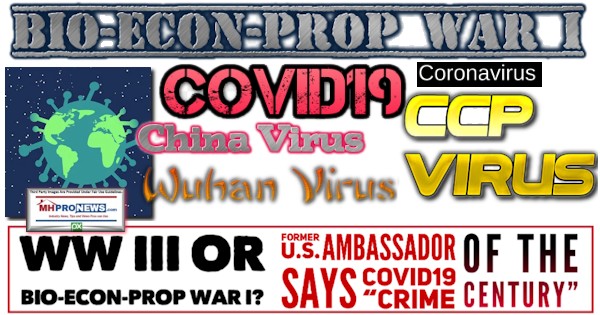 Manufactured Housing Industry Investments Connected Closing Equities Tickers
Some of these firms invest in manufactured housing, or are otherwise connected, but may do other forms of investing or business activities too.
NOTE: The chart below includes the Canadian stock, ECN, which purchased Triad Financial Services, a manufactured home industry lender
NOTE: Drew changed its name and trading symbol at the end of 2016 to Lippert (LCII).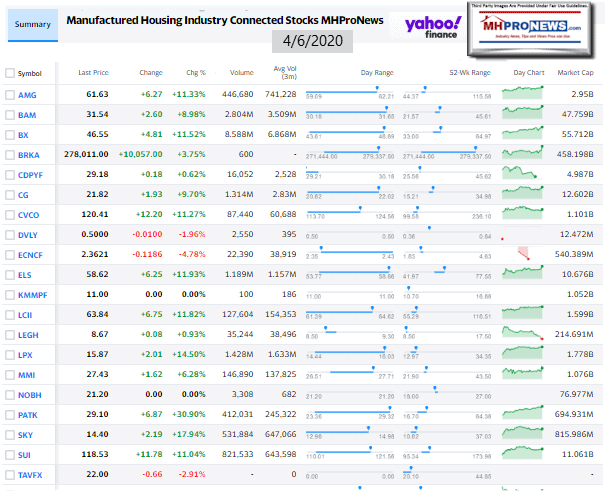 Spring 2020…
Berkshire Hathaway is the parent company to Clayton Homes, 21st Mortgage, Vanderbilt Mortgage and other factory built housing industry suppliers.
· LCI Industries, Patrick, UFPI, and LP each are suppliers to the manufactured housing industry, among others.
· AMG, CG, and TAVFX have investments in manufactured housing related businesses. For insights from third-parties and clients about our publisher, click here.
Enjoy these 'blast from the past' comments.
MHProNews. MHProNews – previously a.k.a. MHMSM.com – has celebrated our tenth anniversary and is in year 11 of publishing.
Learn more about our evolutionary journey as the industry's leading trade media, at the report linked below.
Celebrating 10 Years of Goal- and Solution-Oriented Manufactured Home Industry Innovation Information, and Inspiration for Industry Professionals
· For expert manufactured housing business development or other professional services, click here.
· To sign up in seconds for our industry leading emailed headline news updates, click here.
Disclosure. MHProNews holds no positions in the stocks in this report.
2019 Year-End Totals Reveals Decline in New HUD Code Manufactured Home Production, Shipments vs. 2018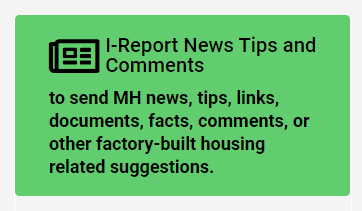 That's a wrap on this installment of "News Through the Lens of Manufactured Homes and Factory-Built Housing" © where "We Provide, You Decide." © (Affordable housing, manufactured homes, stock, investing, data, metrics, reports, fact-checks, analysis, and commentary. Third-party images or content are provided under fair use guidelines for media.) (See Related Reports, further below. Text/image boxes often are hot-linked to other reports that can be access by clicking on them.)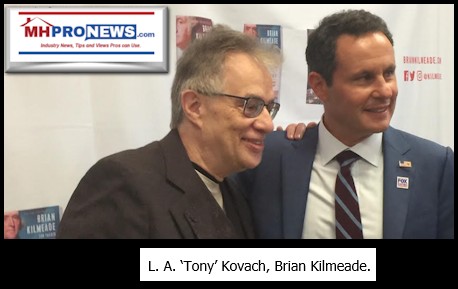 By L.A. "Tony" Kovach – for MHLivingNews.com.
Tony earned a journalism scholarship and earned numerous awards in history and in manufactured housing. For example, he earned the prestigious Lottinville Award in history from the University of Oklahoma, where he studied history and business management. He's a managing member and co-founder of LifeStyle Factory Homes, LLC, the parent company to MHProNews, and MHLivingNews.com. This article reflects the LLC's and/or the writer's position, and may or may not reflect the views of sponsors or supporters.
Connect on LinkedIn: http://www.linkedin.com/in/latonykovach