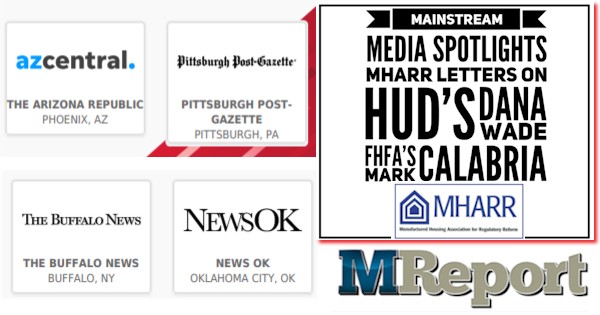 The MReport – says they are "Your Trusted Source for Mortgage Banking News." On 5.15.2020 that popular site for mortgage professionals spotlighted and linked the Manufactured Housing Association for Regulatory Reform (MHARR) in their report entitled, "Industry Reacts: Federal Housing Commissioner Nominee Advanced."
The MReport article opened with "Leaders within the housing are applauding the advancement of Dana T. Wade's nomination as the next Assistant Secretary of the Department of Housing and Urban Development."

"The Manufactured Housing Association for Regulatory Reform (MHARR) sent a letter to the Senate Banking Committee pledging its support of Wade.
"Ms. Wade—who has a wealth of experience regarding housing and housing finance—showed herself to be a strong advocate for affordable housing, including affordable manufactured housing, during her prior tenure at HUD," the letter stated. "Commendably, Ms. Wade was always available to hear the concerns of both the industry and consumers of affordable housing and took key actions to modernize the federal manufactured housing program at HUD and bring it more closely into compliance with the Manufactured Housing Improvement Act of 2000, after nearly two decades of needless delay."
The letter continued by saying Wade is a "tireless advocate for safe, decent, quality, and affordable housing."
"Particularly given the urgent national need for affordable housing and homeownership that exists today, she would be an important and worthy addition to the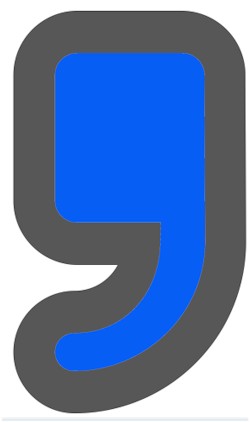 management team at HUD.  Consequently, MHARR strongly supports her nomination and urges the Committee to recommend her for confirmation by the full Senate," the [MHARR] letter said."
The  MReport linked up that MHARR letter at this link here. There was no mention by same publication of the Manufactured Housing Institute (MHI) in that same report, which is linked here.
Why the difference? Could it have anything to do with the information in the report linked below?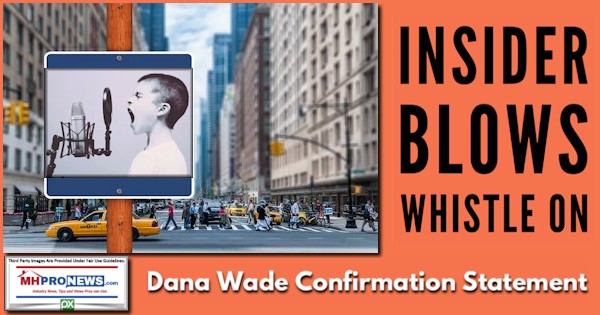 FHFA Director Mark Calabria and DTS
Starting on 5.14 and into 5.15.2020, several dozen mainstream media news sites picked up a press release from MHARR on the issued on the important Duty to Serve (DTS) manufactured home lending topic. That MHARR release is shown below. It will be followed by an MHProNews analysis.
FOR IMMEDIATE RELEASE                                              Contact: MHARR
(202) 783-4087
INDUSTRY GROUP EXPOSES FANNIE MAE AND
FREDDIE MAC'S DEFIANCE OF FEDERAL LAW
            Washington, D.C., May 14, 2020 – The Manufactured Housing Association for Regulatory Reform (MHARR) in a May 11, 2020 communication to Federal Housing Finance Agency (FHFA) Director, Mark Calabria, has called for an end to a decade-plus of stonewalling, stalling and misdirection by Fannie Mae and Freddie Mac regarding the implementation of the "Duty to Serve Underserved Markets" (DTS) as it pertains to federally-regulated manufactured housing. A full copy of MHARR's communication is available at MHARR's website, www.manufacturedhousingassociation.org.
The statutory DTS mandate, enacted into law as part of the Housing and Economic Recovery Act of 2008 (HERA), is specifically designed to remedy the long-term and ongoing failure of the two government-sponsored and taxpayer-supported mortgage giants – Fannie Mae and Freddie Mac – to provide securitization and secondary market support for certain historically underserved markets, and millions of consumers within those markets. DTS, therefore, among other things, affirmatively directs both Fannie Mae and Freddie Mac to "develop loan products and flexible underwriting guidelines to facilitate a secondary market for mortgages on manufactured homes for very low, low and moderate-income families," including manufactured housing purchase loans "secured by both real and personal property." (Emphasis added).
Such manufactured homes, by law, must bear a federal seal and certification confirming that they have been constructed in full compliance with construction and safety standards established by the U.S. Department of Housing and Urban Development. Those standards, in turn, are required, by federal law, to ensure the highest standard of protection for consumers, consistent with affordability and a proper balance of those dual objectives.
Congress' inclusion of both real and personal property loans for manufactured homes within the express scope of DTS is particularly significant because personal property (or "chattel") loans comprise (and have long constituted) the vast bulk of the purchase-lending market for federally-regulated manufactured homes, representing nearly eighty percent (80%) of all manufactured home purchase loans over the past decade, according to official U.S. Census Bureau data.
In the twelve years that have passed since Congress' bi-partisan enactment of DTS, however, neither Fannie Mae nor Freddie Mac have securitized or provided secondary market support for manufactured housing personal property loans. Nor have Fannie Mae or Freddie Mac developed any type of program, approach or sustained institutional mechanism for the securitization and/or secondary market support of such loans – in market-significant numbers or otherwise – that has been approved or otherwise sanctioned by FHFA, which serves as the mortgage giants' federal regulator. As a result, the vast bulk and vast majority of manufactured housing consumers (i.e., lower and moderate-income American families in need of inherently affordable homeownership in the midst of an affordable housing crisis) have been left completely unserved by Fannie Mae and Freddie Mac with the blessing and concurrence of FHFA, directly contrary to the express will and mandate of Congress.
This ongoing policy failure – and overt discrimination — on the part of FHFA, Fannie Mae and Freddie Mac, has had three distinct but inherently-related and highly-destructive impacts on American consumers of affordable housing and the market for mainstream, inherently affordable manufactured housing.
First, it has prevented untold numbers of lower and moderate-income Americans from being able to access and purchase the nation's most affordable type of housing and homeownership, thereby needlessly exacerbating the nation's housing crisis and the well-documented societal ills associated with a lack of affordable housing opportunities. Such market exclusion by the mortgage giants, with the connivance of FHFA and its predecessors over the course of decades – which DTS was designed and structured to remedy – is, in and of itself, an inexcusable, indefensible and glaring failure that demands an immediate remedy.
Second, it specifically targets lower and moderate–income consumers for baseless, government-sanctioned financing discrimination, which forces manufactured housing consumers to seek purchase financing from a limited number of "portfolio" lenders which charge higher interest rates than lenders in markets that have the benefit of Fannie Mae and Freddie Mac securitization and secondary market support. This needlessly excludes otherwise-qualified borrowers from the manufactured housing market, while it forces those purchasers who do qualify for financing to pay higher-cost interest rates than would otherwise be the case.
Third, it has needlessly suppressed and seriously harmed the market for today's modern, quality, affordable, mainstream manufactured housing (and employment and job opportunities within that national market) as manufactured home sales have significantly underperformed historic industry norms over the entire decade-plus period since the enactment of DTS, which Fannie, Freddie and FHFA have needlessly squandered and wasted with phony excuses, false starts and empty promises.
Worse yet, while the full, market-significant implementation of DTS for the mainstream federally-regulated manufactured housing market has been needlessly and baselessly hamstrung for more than a decade, Fannie Mae and Freddie Mac, with the knowledge and de facto support of FHFA have sought – over the same period — to divert DTS from the mainstream manufactured housing market and mainstream manufactured housing consumers, as directed by Congress, to a much-more-costly, non-affordable, non-mainstream, "new class," "new type," "or new generation" of supposed manufactured home that more closely resembles and imitates the type of site-built housing that Fannie and Freddie would clearly prefer to deal with. This pernicious tactic – with the unfortunate complicity of some within the manufactured housing industry – is a blatant diversion of DTS from its fundamental purpose and yet another slap in the face for millions of lower and moderate-income consumers of affordable housing who have needlessly and inexcusably been kept waiting for mainstream HUD Code housing support under DTS.
MHARR's communication, accordingly, calls on the FHFA Director to take immediate steps to fully implement DTS for the mainstream manufactured housing market in market-significant numbers. Anything short of that should trigger an internal investigation of this entire matter by FHFA's Inspector General. Alternatively, FHFA should seek congressional oversight and appropriate adjustments to DTS (if necessary) in order to make it fully-functional and fully operative for the mainstream manufactured housing market and mainstream manufactured housing consumers.
In Washington, D.C., MHARR President and CEO, Mark Weiss, stated: "After twelve years of baseless delays, diversions, dodges and excuses, it is time for Fannie Mae and Freddie Mac to fully implement their responsibilities and statutory duty under DTS, and it is time for their federal regulator, FHFA, to demand their full compliance with the law for the benefit of lower and moderate-income American consumers of affordable housing. FHFA Director Mark Calabria has a responsibility, both to Congress and to the American people, to fully and finally implement this key mandate for affordable housing and homeownership right now."
The Manufactured Housing Association for Regulatory Reform is a Washington, D.C.-based national trade association representing the views and interests of independent producers of federally-regulated manufactured housing.
— 30 —
An example of that release on the mainstream media's website is linked below.
http://markets.post-gazette.com/postgazette/news/read/39945122
Some of the dozens of logos from the various media outlets that picked up that press release (PR) linked above are as follows.
MHProNews Analysis and Commentary
There are reasons to believe that this MHARR press release is only the latest 'shot across the bow' from MHARR with respect to FHFA, Fannie Mae and Freddie Mac. Time will tell.
But the real question isn't what the next shot from MHARR might look like. The better question is why hasn't the Manufactured Housing Institute (MHI) – which claims to represent "all segments of manufactured housing" – has so problematically failed to push the good laws that already exist that could help manufactured home sales and affordable home ownership soar?
It is worth reminding longtime readers – and advising the growing number of new readers – that Fannie and Freddie have been prominent "sponsors" of MHI events, all while dragging their feet in the full and proper implementation of the Duty to Serve (DTS). Is that part of how the 'game is played' that keeps laws favorable to manufactured housing from being properly enforced?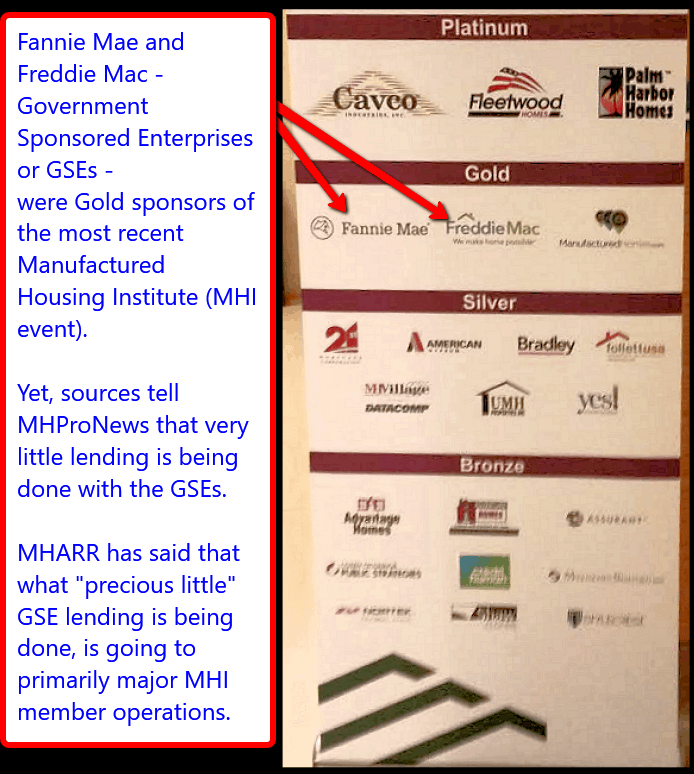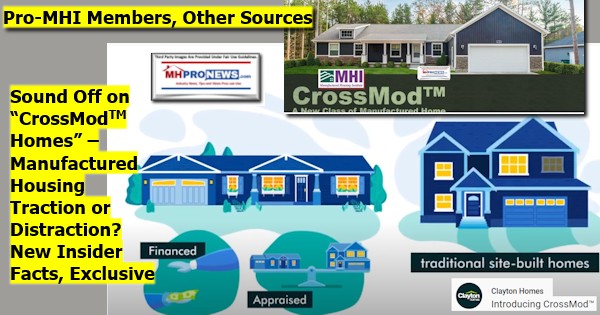 It is also relevant to explore why MHI admitted to the Washington Post that they didn't intervene in the Pam Danner imbroglio during her tenure at HUD's Office of Manufactured Housing Programs (OMHP). For MHI to posture being the 'champion' of the industry while consolidation continues and the industry's shipment levels fell in 2019 compared to 2018 speaks volumes about how disconnected from reality the Arlington, VA based trade group's communications are.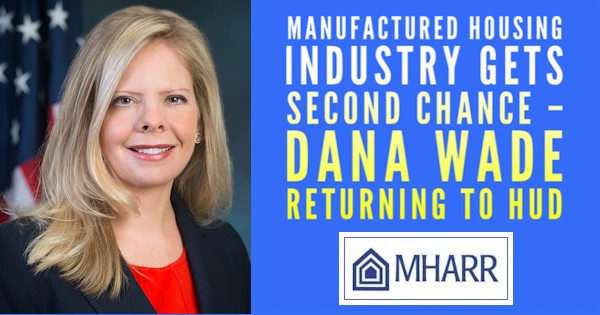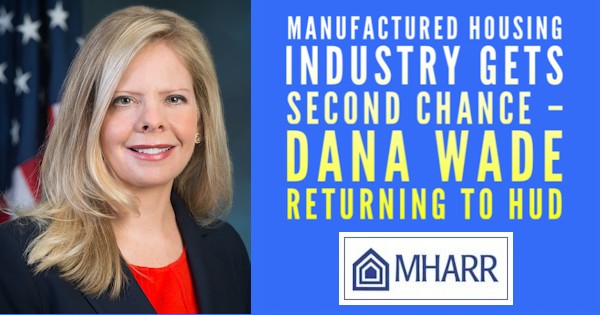 By contrast, the smaller MHARR was keenly engaged with Ms. Dana Wade during her prior tenure at HUD. ICYMI or need a refresher, see the report linked below.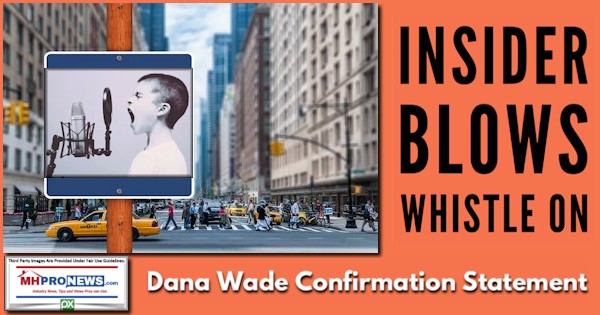 See the related reports linked herein and don't miss the RINOs, DINOs and MHInos report linked below the byline for more.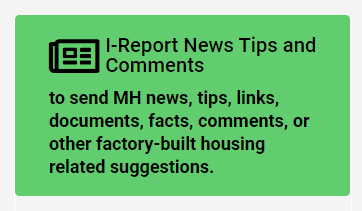 It was Senators Bernie Sanders, Elizabeth Warren and President Donald J. Trump that have all said at various times that the "system is rigged." There is ample evidence that the system in manufactured housing has been rigged on several levels.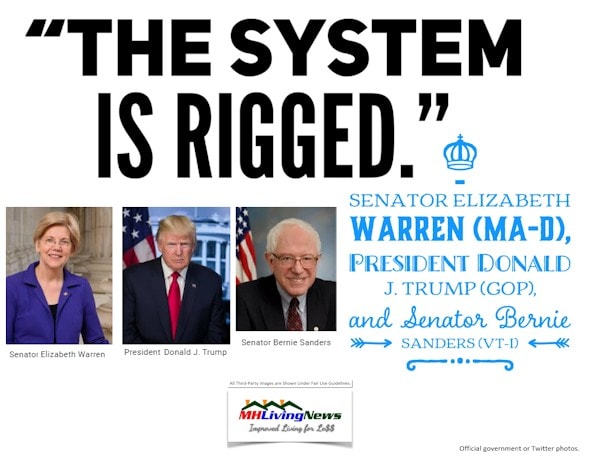 That's a wrap on this installment of manufactured home "Industry News, Tips and Views Pros Can Use" © where "We Provide, You Decide" ©. ## (Affordable housing, manufactured homes, reports, fact-checks, analysis, and commentary. Third-party images or content are provided under fair use guidelines for media.) (See Related Reports, further below. Text/image boxes often are hot-linked to other reports that can be access by clicking on them.)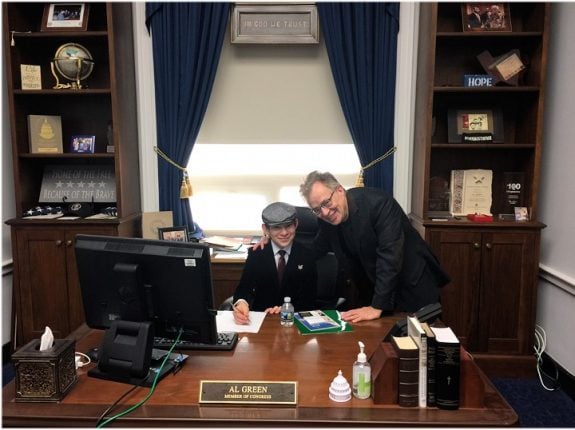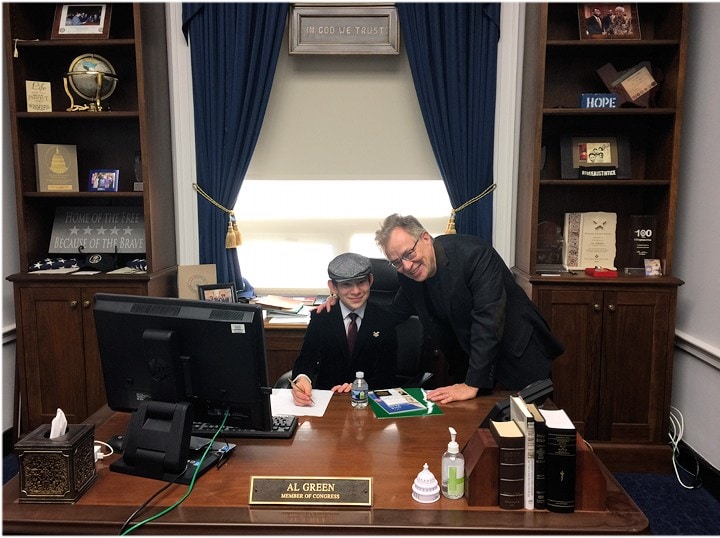 By L.A. "Tony" Kovach – for MHLivingNews.com.
Tony earned a journalism scholarship and earned numerous awards in history and in manufactured housing. For example, he earned the prestigious Lottinville Award in history from the University of Oklahoma, where he studied history and business management. He's a managing member and co-founder of LifeStyle Factory Homes, LLC, the parent company to MHProNews, and MHLivingNews.com. This article reflects the LLC's and/or the writer's position, and may or may not reflect the views of sponsors or supporters.
Connect on LinkedIn: http://www.linkedin.com/in/latonykovach
Related References:
The text/image boxes below are linked to other reports, which can be accessed by clicking on them.
Tornado Devastates, Death Toll at Least 25 – Videos, Reports and Manufactured Housing Lessons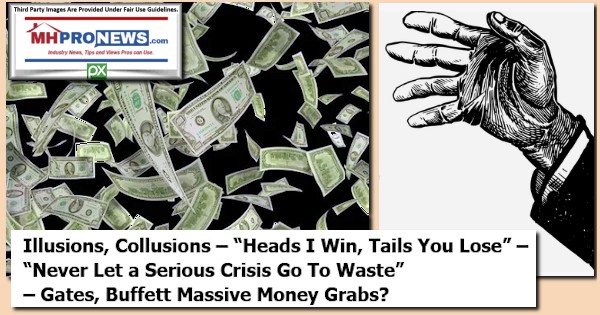 "Where the hell have you been?" – MH Communities Giant Equity Lifestyle Properties Sees Pandemic Gold, Official Remarks, ELS Moves
Frank Rolfe, Impact Communities Admissions, Ripped by Quad Cities Report on Manufactured Home Operations
HUD Code Producer Clayton Homes in Publicly Traded Berkshire Hathaway Part of Paradise CA Community Rebuild, plus Manufactured Housing Investing, Stock Updates
"Unprecedented Opportunity" – Jason D. Lippert, President & Chief Executive Officer of LCII – RV, MH, Marine Insights – plus, Manufactured Home Investing, Stock Updates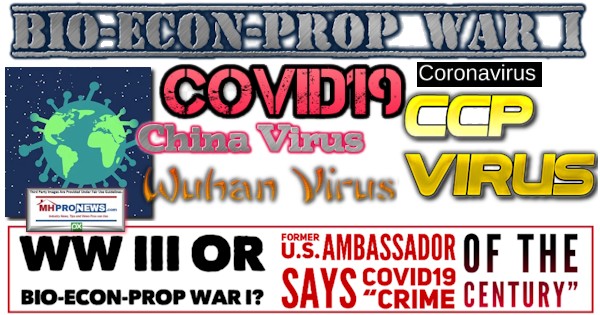 "MHI Lies, Independent Businesses Die" © – True or False? – Berkshire's Joanne Stevens Strikes Again
Fraud, RICO and Antitrust-Issues of Genius, Honesty, Legality, Competency-Berkshire Hathaway and Manufactured Housing Institute Leadership, Sunday Morning Headlines Review 2.23 to 3.1.2020
What Andy Gedo – ManageAmerica Partner, Manufactured Housing Institute Supporter – Revealed About Clayton, Cavco and Skyline Champion Manufactured Homebuilders
Kevin Clayton, CEO Clayton Homes, Explains Why Replacing Sales Professionals with Automation Makes Sense
Prosperity Now, Nonprofits Sustain John Oliver's "Mobile Homes" Video in Their Reports
Epic! Creating 200,000 New MH Homesites in 4 Years; Allegations of Corruption by Fannie, Freddie, Others in Duty to Serve Manufactured Housing Law
'Fundamentally Good Businesses Will Have Terrible Year,' Private Equity Moving for Bargains, plus Manufactured Housing Investing, Stock Updates
Are Manufactured Housing Supply Chains in China Threatened by Coronavirus?