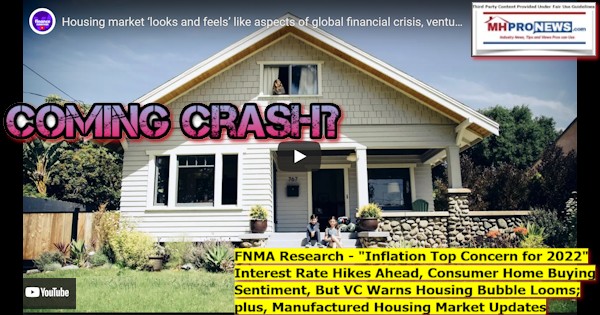 Fannie Mae (FNMA/OTCQB) Economic and Strategic Research (ESR) Group research provided to MHProNews on 12.20.2021 along with a prior FNMA survey also provided in December provide fresh insights for the challenges facing affordable housing valuable for manufactured housing professionals. But Jordan Nof of Tusk Venture Partners is the latest voice from the financial community that is warning that a housing crash looms. The twin Fannie Mae media releases and the video with Nof on housing overheating and operating in bubble territory will be followed by additional information, more MHProNews analysis, commentary, and our business daily macro and manufactured housing market reports.
Economy Finishes 2021 Strong; Inflation is Top Risk Concern for 2022
Home Sales Also Meaningfully Upgraded in the Near-Term, But Mounting Affordability Pressures Expected to Present Challenges in 2022
WASHINGTON, DC – December 20, 2021 – The outlook for full-year 2021 economic growth was revised upward to 5.5 percent, an improvement of 0.7 percentage points compared to last month's projection, due primarily to stronger-than-anticipated consumer spending and inventory investment data, according to the December 2021 commentary from the Fannie Mae (FNMA/OTCQB) Economic and Strategic Research (ESR) Group. The ESR Group also adjusted downward its forecast for 2022 real gross domestic product (GDP) growth to 3.2 percent, noting that strong recent data likely reflects a pull-forward of activity from the first half of 2022 and is unlikely to be sustained.
The principal macroeconomic concern for 2022 remains accelerating inflation – and how the market and policymakers respond to it. While there's significant room for uncertainty regarding the near-term path of inflation, the ESR Group projects it to peak at approximately 7.0 percent annualized in the first quarter of 2022 before gradually decelerating to 3.8 percent by year-end. The ESR Group expects the Federal Reserve to begin a more aggressive pace of monetary tightening in the new year as part of its effort to combat rising price pressures without tipping the economy into recession. The forecast is now calling for interest rate increases in the second and fourth quarters of 2022, and then quarterly through 2023. The market forwards showed a high probability of a third increase in 2022 at the time of writing.
The ESR Group upgraded its home sales growth projection for 2021 to 7.1 percent, with a strong end-of-year sales surge expected, from the previously projected 5.3 percent, but forecasts a decline of 1.4 percent in 2022 due to limited listings and growing affordability constraints. The expectation that mortgage rates will continue to drift upward, averaging 3.2 percent in 2022, coupled with additional home price appreciation, are likely to make affordability a growing constraint on home sales in the new year. According to the ESR Group, the impact of monetary policy tightening to combat inflation will combine with ongoing supply issues and still appreciating home prices to slow sales activity.
"While the economy picked up steam late in the year, unfortunately, so did inflation, and the market expects the Fed to recalibrate its monetary policy as a result," said Doug Duncan, Fannie Mae Senior Vice President and Chief Economist. "The public registered its ill-will toward inflation in our most recent National Housing Survey®, which found that 70 percent of consumers believe the economy to be on the wrong track – the most since 2011, when consumer sentiment was weighed down by the aftermath of the Great Recession. The Fed recently acknowledged that inflation is unlikely to be transitory, and it will now attempt to engineer a soft landing, one in which inflation moderates to acceptable levels and economic growth decelerates but doesn't contract. Whether the Fed is able to thread this historically difficult policy needle is shaping up to be one of the most consequential economic storylines of 2022." …  ##
That Fannie Mae report can logically be paired with the following, also from Fannie Mae. Then, a sobering discussion on Yahoo financial news about yet another voice warning of a different kind of housing bubble will be added prior to the MHProNews analysis on these inputs. That analysis will be through the lens of a previous statement posted on the FHFA website.
Economic Pessimism Hits 10-Year High, but Consumer Sentiment Toward Housing Remains Flat
December 7, 2021
Seventy Percent of HPSI Respondents Believe Economy Is on the Wrong Track
WASHINGTON, DC – The Fannie Mae (FNMA/OTCQB) Home Purchase Sentiment Index® (HPSI) decreased 0.8 points to 74.7 in November, as consumers expressed not only disparate views of homebuying and home-selling conditions but also their greatest economic pessimism in 10 years. Overall, four of the index's six components decreased month over month. In November, 74% of respondents reported that it's a good time to sell a home, compared to the 29% of consumers who reported that it's a good time to buy. Consumers also continued to report strong expectations that mortgage rates will increase over the next 12 months, and they expressed even greater pessimism about the direction of the economy, with 70% saying it's on the wrong track. Year over year, the full index is down 5.3 points.
"The HPSI experienced some shuffling among its underlying components in November, but the overall index once again stayed relatively flat," said Mark Palim, Fannie Mae Vice President and Deputy Chief Economist. "While consumers expressed even greater concern regarding the direction of the economy, with the share of respondents expressing pessimism hitting a 10-year high, overall housing sentiment remained stable. Consumers' concerns for their personal job situation have eased and respondents also reported feeling better about their income level compared to a year ago, with both of those components now nearing their pre-COVID levels."
Palim continued: "Even though consumers are reporting broader macroeconomic concerns – with much of it likely tied to inflation – so far any negative sentiment tied to the economy has not translated into a meaningful decrease in actual purchase mortgage demand. According to this month's survey, an even greater share of consumers (particularly those with low and moderate incomes) expects mortgage rates to go up in the next 12 months, which may be a signal that some households plan to pull-forward their home purchase plans despite growing economic apprehension."
Home Purchase Sentiment Index – Component Highlights
Fannie Mae's Home Purchase Sentiment Index (HPSI) decreased in November by 0.8 points to 74.7. The HPSI is down 5.3 points compared to the same time last year. Read the full research report for additional information.
Good/Bad Time to Buy: The percentage of respondents who say it is a good time to buy a home decreased from 30% to 29%, while the percentage who say it is a bad time to buy decreased from 65% to 64%. As a result, the net share of those who say it is a good time to buy remained unchanged month over month.
Good/Bad Time to Sell: The percentage of respondents who say it is a good time to sell a home decreased from 77% to 74%, while the percentage who say it's a bad time to sell increased from 17% to 21%. As a result, the net share of those who say it is a good time to sell decreased 7 percentage points month over month.
Home Price Expectations: The percentage of respondents who say home prices will go up in the next 12 months increased from 39% to 45%, while the percentage who say home prices will go down decreased from 22% to 21%. The share who think home prices will stay the same decreased from 32% to 28%. As a result, the net share of Americans who say home prices will go up increased 7 percentage points month over month.
Mortgage Rate Expectations: The percentage of respondents who say mortgage rates will go down in the next 12 months remained unchanged at 5%, while the percentage who expect mortgage rates to go up increased from 55% to 58%. The share who think mortgage rates will stay the same decreased from 33% to 32%. As a result, the net share of Americans who say mortgage rates will go down over the next 12 months decreased 3 percentage points month over month.
Job Concerns: The percentage of respondents who say they are not concerned about losing their job in the next 12 months decreased from 84% to 83%, while the percentage who say they are concerned remained unchanged at 15%. As a result, the net share of Americans who say they are not concerned about losing their job decreased 1 percentage point month over month.
Household Income: The percentage of respondents who say their household income is significantly higher than it was 12 months ago remained unchanged at 23%, while the percentage who say their household income is significantly lower increased from 12% to 13%. The percentage who say their household income is about the same decreased from 62% to 61%. As a result, the net share of those who say their household income is significantly higher than it was 12 months ago decreased 1 percentage point month over month." … ##
Housing market 'looks and feels' like aspects of global financial crisis, venture capitalist says
Jordan Nof, Tusk Venture Partners managing partner and co-founder, joins Yahoo Finance to discuss web3 and whether or not there's a bubble in the housing market as more homeowners access equity through HELOCs.
MHProNews has reported previously the concerns that serious minds have raised that a housing bubble exists. This is different in some respects than the one that burst in 2008 but could nonetheless be similarly as harmful to millions.  Of course, some would profit from such a crash, which may shed light on why there is not more discussion of this grave concern.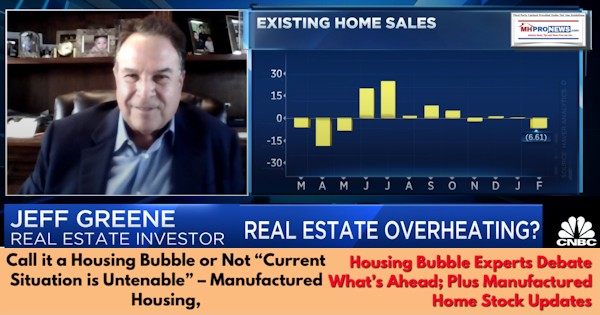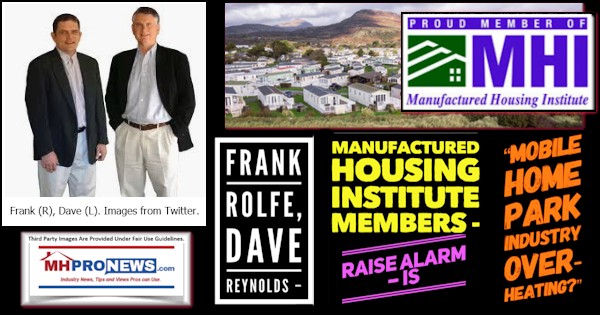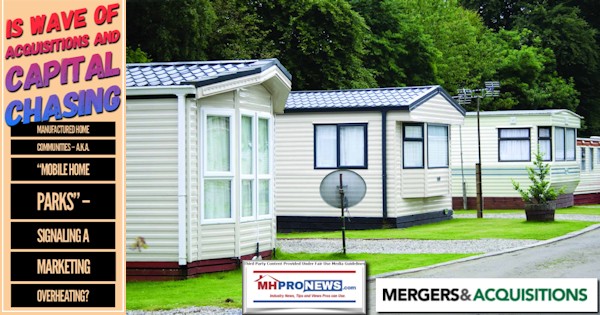 Additional Information, more MHProNews Analysis and Commentary
The following was posted on the FHFA website last spring. It is provided verbatim, because the statements therein are as relevant now as when they were first made.
Enterprise Housing Goals FHFA Listening Session 3.25.2021
That's how a Manufactured Housing Executives Council (MHEC) member described to MHProNews the comparative losses on manufactured homes to losses incurred in conventional housing during the 2008 housing-financial crisis. He compared those trillions in losses on houses to the far more modest losses experienced by lenders operating in HUD Code Manufactured Homes in the late 1990s into the early 2000s.
Despite that comparative pimple, Fannie Mae, Freddie Mac, and others periodically point back to that problematic so-called "GreenSeco era." That's 2 decades in the rearview mirror. How can that be an excuse for treating manufactured homes so differently than conventional housing in access to lending?
The FHFA website says that Enterprise Housing Goals are supposed to "FOSTER competitive, liquid, efficient, and resilient (CLEAR) national housing finance markets that support sustainable homeownership and affordable rental housing…"
Before and after passage of the Housing and Economic Recovery Act (HERA) of 2008 and the
Congressional mandate of Duty to Serve (or DTS) for manufactured housing by Fannie Mae, Freddie Mac – FHFA and other regulators have paid lip service to supporting manufactured homes.   That negatively impacts millions. Who says?
HUD Secretary Marcia Fudge spoke recently about the tragedy of increased homelessness in America.
HUD's sad report is fascinating because James Schmitz Jr. – a researcher for the Minneapolis Fed, and three colleagues – published reports accusing HUD and builders of collusion in deliberately undermining manufactured housing.
Schmitz and those researchers argued that collusion between HUD and builders is a case of "sabotage monopoly."
They said that sabotaging collusion between HUD and builders increased homelessness, harmed minorities, and cut off the lower income class of all backgrounds from the benefits of affordable manufactured home ownership.
Schmitz and his colleagues wrote positively about the manufactured home option.
Scholastica "Gay" Cororaton's research for the National Association of Realtors also praised modern manufactured homes.
What makes Schmitz and his colleagues' charge of HUD's role in "sabotage monopoly" more compelling are comments from Bill Matchneer. Attorney Matchneer is the former HUD administrator for the Office of Manufactured Housing Programs (OMHP).
Matchneer said HUD's Office of General Counsel consistently failed to enforce the enhanced preemption clause made law when the Manufactured Housing Improvement Act of 2000 (MHIA or 2000 Reform law) was enacted.
Jim Gray, formerly with the FHFA Duty to Serve program, said in his exit message that FHFA and GSEs – "[W]e have not made as much progress [toward meeting the Duty to Serve mandates] as many of us would have liked; so much remains to be done to reach these [DTS] markets."
In December 2019, I made two different listening session presentations on the DTS mandates; one virtual and another live in Washington, D.C.
In both presentations, I made the evidence-based case how disgraceful it was that the FHFA and GSEs have ignored the law to the harm of millions.
GSEs and FHFA failures arguably included key corporate members of the Manufactured Housing Institute or MHI.
Several scheduled to present today are aware of the issues I'm raising. Because some worked for HUD, FHFA, GSEs, or are otherwise connected to the manufactured housing industry.
For instance. Lesli Gooch, Ph.D., with the Manufactured Housing Institute (MHI) made statements in her filed EHG comments letter that sound supportive of manufactured homes.
But upon closer examination, Ms. Gooch focused on an unproven plan that Berkshire Hathaway (BRK) owned Clayton Homes – which supports MHI – in their push for their branded CrossModTM homes scheme.
Where was Gooch's similarly robust support for all other mainstream manufactured homes?
Fannie calls CrossModTM MH Advantage®.
Freddie calls their version of CrossModTM CHOICEHome®.
The known data reveals that these programs are market failures.
Supposedly there have been double-digit sales nationally of CrossModTM – under whatever name – in the last few years. That's in a market producing some 95,000 HUD Code manufactured homes annually.
Attorney and manufactured home finance veteran Marty Lavin – an MHI award winner – did consulting for Fannie Mae. Lavin told MHLivingNews that MHAdvantage ® was likely to be as successful as MH Select®. Lavin said MH Select® was also a virtual goose egg.
David Dworkin, CEO of the National Housing Conference in federal comments said that manufactured housing was necessary for affordable housing.
Dworkin was fully confident that the GSEs could successful do manufactured home loans.  Dworkin previously worked for a GSE as a Vice President.
Edward Golding worked for HUD and the FHA.
In 2018, Golding and 3 colleagues did a post for the Urban Institute. It was a entitled "Manufactured homes could ease the affordable housing crisis. So why are so few being made?"
Citing FHFA data, Golding and his co-authors in that Urban Institute report said manufactured homes appreciated in value. They said manufactured homes could appreciate even more given access to affordable sustainable GSE loans.
What that Urban Institute post didn't disclose on that specific page is that Berkshire chairman Warren Buffett is a lifetime trustee of the Urban Institute.
The applied logic of Golding, Dworkin, MHARR's Mark Weiss, and others should make it plain that the GSEs could and should be doing robust lending in manufactured housing.
Oxford Bank has made personal property loans on manufactured homes for some 2 decades. Oxford reportedly loans with credit scores that mirror those of Berkshire owned 21st Mortgage.  Oxford purportedly does so profitably and sustainably and at lower interest rates than 21st.
Given those facts and legal mandates, what possible excuse can FHFA and the GSEs give for not robustly making mainstream manufactured home loans for both personal property as well as mortgage lending?
I am consultant L.A. "Tony" Kovach. I've worked in the insurance, RV, trade show, and other professions. But all told, I have some 30 years' experience in manufactured housing retail, communities, with financial service firms, and builders of HUD Code manufactured homes.
Keep in mind that I was an MHI member for years. I was elected by my peers to sit on the MHI Suppliers Division board.
For a time, I was arguably fooled by the purported paltering and posturing of the MHI flim-flam that has undermined manufactured housing.
That paltering pattern harms millions of Americans while thousands of independent retailers, producers, and others went out of business or sold out at discount.
Applying the "Iron Triangle" notion and Schmitz's "Sabotage Monopoly" principles suggest that insiders rigged the market in ways that undermine the interests of various competitors.
The late Democratic Senator William Proxmire said that in Washington, two things shed light on what occurs.
There are no coincidences.
The other is follow the money.
I encourage all to Google each of these topics yourself!
—-
For instance, Google "Sam Strommen from Knudson Law" on manufactured housing research.
Strommen's report called what is happening in manufactured housing a case of "Felony" antitrust violations with possible RICO aspects involved.
Strommen has no axe to grind in our profession.
Strommen concluded that manufactured housing was being subverted from within and mentioned Clayton, MHI, other MHI members, plus the Buffett "castle and moat" method too.
Given the degrees, evidence, and experiences of those involved, I have a hard time making the argument for incompetence causing the status quo.
The Rev. Martin Luther King Jr said:
"He who passively accepts evil is as much involved in it as he who helps to perpetrate it. He who accepts evil without protesting against it is really cooperating with it."
What comes next should include a full and proper implementation of federal laws that include the
Those good laws need to be fully and properly implemented to restore the free market and liberate millions who want affordable home ownership made possible by mainstream manufactured homes. Pax et bonum. ##
"State of Emergency" GOP Governor Ron DeSantis Asked by Democratic Lawmakers to Declare Affordable Housing Crisis Emergency; plus, Manufactured Housing Equities, Markets Updates
"No Room" this Christmas? BGNews Spotlights Manufactured Housing, Warren Buffett, Bill Gates, George Soros – Paltering and Battle for Affordable Housing, Economic & Social Justice; plus MHMarket Updates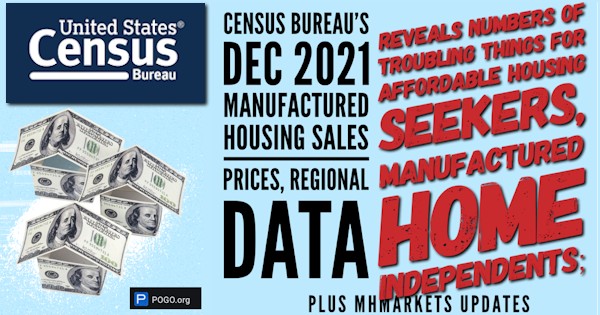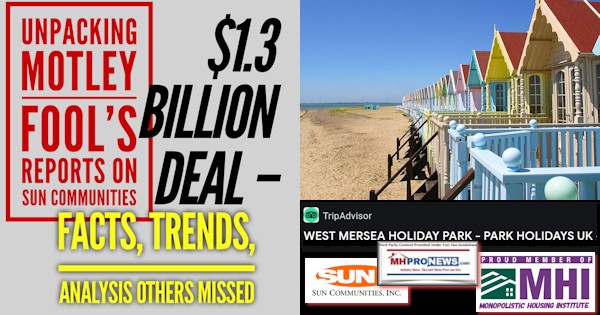 ##
Next up is our business daily recap of yesterday evening's market report, related left-right headlines, and manufactured housing connected equities.
The Business Daily Manufactured Home Industry Connected Stock Market Updates.  Plus, Market Moving Left (CNN) – Right (Newsmax) Headlines Snapshot. While the layout of this daily business report has been evolving over time, several elements of the basic concepts used previously are still the same. For instance. The headlines that follow below can be reviewed at a glance to save time while providing insights across the left-right media divide. Additionally, those headlines often provide clues as to possible 'market-moving' news items.
Market Indicator Closing Summaries – Yahoo Finance Closing Tickers on MHProNews…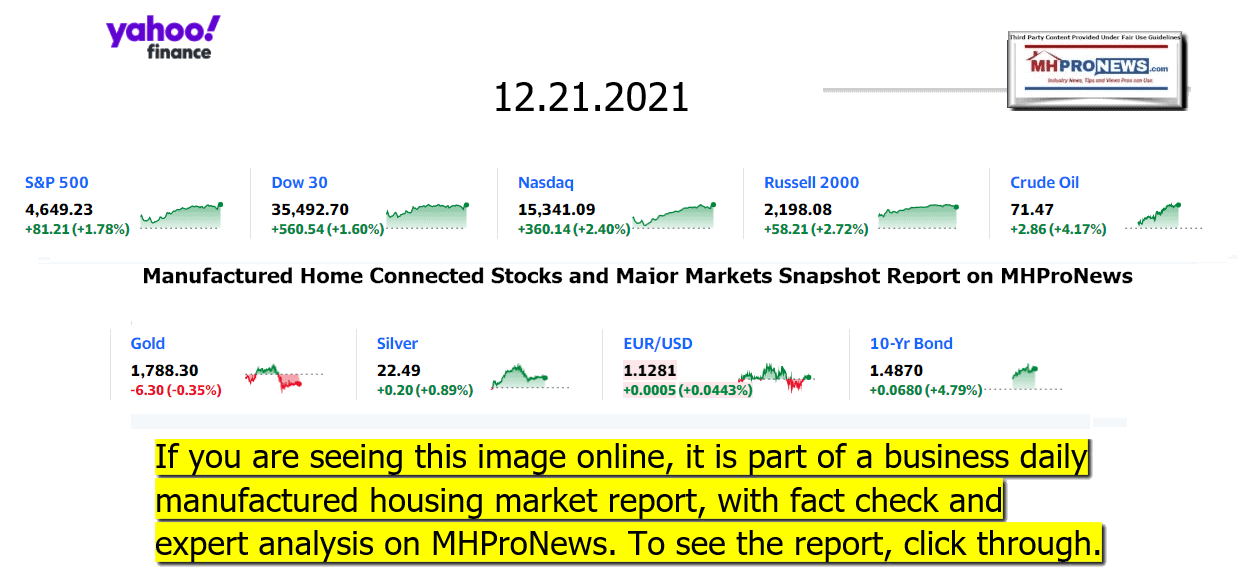 Headlines from left-of-center CNN Business – from the evening of 12.21.2021
'We've taken a big nose dive'
A person walks past empty tables on a sidewalk outside a restaurant in Greenwich Village on December 17, 2021 in New York City.
Omicron slams into American businesses
Coal miners want Joe Manchin to reverse opposition to Build Back Better
Turnaround Tuesday on Wall Street: Stocks attempt rebound
Kellogg strike will end after workers agree to new contract
Bitcoin and other cryptos may become a little less volatile in 2022
Amazon generally delivers later than competitors. That can be terrifying for some of its drivers
The Turkish lira swings wildly as Erdogan's big gamble continues
Boeing and Airbus want Biden administration to delay rollout of 5G cell service, citing safety concerns
Nikola agrees to pay $125 million fine to settle SEC probe
Nike is trying to outrun supply chain problems
Rite Aid is closing more than 60 stores
Zombies, laser tag and confusion: Here's what it's like inside Meta's virtual world
A person tours his new home in Washingtonville, N.Y. on Tuesday, July 21, 2020.
Buyers, get ready for another crazy housing market next year
Swirl candy lollipops are displayed for sale inside the gift shop at the Hammond's Candies production facility in Denver, Colorado, U.S., on Thursday, Oct. 29, 2015. Hammond's Candies, manufacturer of hard candies and chocolates established in 1920, makes lollipops, ribbon candy, and oversized candy canes.
America is running out of candy canes
Cooking is out. Campbell's soup is in again
FAST FOOD
KFC is testing a new dipping sauce in these three cities
This rare McDonald's treat is making a comeback
Here's what it'll take to fix drive-thrus
White Castle thinks a robot can make better french fries
McDonald's is returning the Egg McMuffin to original price
ECONOMY
Xi Jinping, Li Keqiang, Li Zhanshu, Wang Yang, Wang Huning, Zhao Leji and Han Zheng attend the sixth plenary session of the 19th Communist Party of China Central Committee in Beijing, capital of China. The session was held in Beijing from Nov. 8 to 11.
Xi Jinping has been taking on China's capitalists. Here's why that will change
China cuts key interest rate for first time in 20 months
The Fed hints at multiple rate hikes in 2022
A key inflation measure hit its highest level on record
Goldman Sachs cuts US economic forecast after Joe Manchin rejects Build Back Better
Headlines from right-of-center Newsmax – evening of 12.21.2021
Biden Pledges 500M Free In-home COVID Tests Amid Omicron
President Joe Biden speaks about the COVID-19 response and vaccinations, Tuesday in the State Dining Room of the White House in Washington.
In a speech Tuesday afternoon, Biden detailed major changes to his COVID-19 winter plan, his hand forced by the arrival of the fast-spreading variant, whose properties are yet not fully understood by scientists. [Full Story]
Newsmax TV
Ernst: Biden, Schumer, Will Seek Loopholes for 'Radical Ideas' | video
Meuser: Retiring Dems Mean 2022 'Very Good Year' for GOP
Jha: Omicron No Reason to Return to Remote Learning | video
Ric Grenell: California Built Culture Leading to Crime Wave | video
Kim Klacik: VP Harris 'Condescending' in Interview | video
Ron Johnson: Dems Needed to Be 'Nicer' to Get Manchin's Vote
Huckabee: You Can't Make Mask Wearing a 'Permanent Emergency Order' | video
More Newsmax TV
Newsfront
2021 Was Record Year for States' Restrictions on Abortions
A report from the pro-choice Guttmacher Institute revealed that 19 states enacted a total of 106 abortion laws this year. Among the record year's abortion restrictions is Texas' ban on abortions after six weeks…… [Full Story]
Fighting the omicron variant surging through the country, President [Full Story] | video
No Biden-Putin Meeting Plans Despite Ukraine Tensions
Secretary of State Antony Blinken said Tuesday there were no plans [Full Story] | video
Unvaccinated Texas Man Is 1st Omicron-Related Death in US
A Texas man, who was unvaccinated, became the first confirmed [Full Story]
Related
US Considers Reducing COVID Quarantine Time Amid Omicron Surge
NFL Could Become Trendsetter for COVID-19 Policies: Fewer Tests for Vaccinated
Biden to Pledge 500M Free COVID-19 Tests to Counter Omicron
Blinken: US Gives Seven Global Aid Groups $580 Million for COVID
NHL Pulls Out of Beijing Winter Olympics Due to COVID
The National Hockey League will not send its players to compete in [Full Story]
Biden Promised to 'Shut the Virus Down,' Now He Doesn't Know What to Say
President Joe Biden promised to "shut down" COVID-19 upon taking [Full Story] | Platinum Article
Pentagon Readies 1K Troops to Help COVID Response Amid Omicron Surge
The Pentagon is getting ready to send 1,000 military medical [Full Story]
Georgia House Contender, Ex-College Football Star, Wants to Help GOP Cancel 'Cancel Culture'
Patrick Witt – a 32-year-old Georgia native, standout Yale [Full Story] | Platinum Article
Schumer: 'Lots of Ways' to Pass Voting Bills, Including Filibuster
Senate Majority Leader Charles Schumer, D-N.Y., on Monday said [Full Story]
Bill Gates: Omicron Wave Could Be Over in March
Microsoft co-founder Bill Gates said he has canceled most of his [Full Story]
A New Policy For Florida Cars Used Less Than 50 Miles Per Day
Walletgenius
De Blasio Says 'No More Shutdowns' as NYC Faces Virus Spike
New York City Mayor Bill de Blasio said he's committed to keeping the [Full Story]
Rasmussen: 44 Percent Say Trump Represents Their Views v. 31 Percent for Biden
Former President Donald Trump reflects the views of likely voters [Full Story]
Dubai Ruler Must Pay Ex-Wife $700M in Divorce Settlement
A British court on Tuesday ordered the ruler of Dubai to pay his [Full Story]
Newsmax #1 on Twitter as Social Media Roars
Newsmax was #1 on Twitter for all social media interactions in [Full Story]
McConnell: Manchin 'Certainly Welcome' in GOP
Senate Minority Leader Mitch McConnell this week commented that Sen. [Full Story]
Mike Huckabee Hosts Christmas Special Featuring President Trump
He might be the most famous former governor in history … his friend [Full Story]
Rodman Questioned by Cops at Airport for Refusing to Wear Mask on Plane
Former Chicago Bulls basketball great Dennis Rodman was confronted by [Full Story]
Massachusetts Activates National Guard as Coronavirus Cases Increase
Massachusetts Gov. Charlie Baker announced Tuesday that he will [Full Story]
US Population Growth at Lowest Rate in Pandemic's 1st Year
S. population growth dipped to its lowest rate since the nation's [Full Story]
NYPD Planning for New Year's Eve 'Contingencies' at Times Square
An increase in COVID-19 infections could force a scaled-back New [Full Story]
Fauci: Fox News Host Should Be 'Fired' Over 'Kill Shot' Comments
Anthony Fauci on Tuesday said a Fox News personality should be [Full Story]
Kyle Rittenhouse Warns Media to Be On 'Lookout' For Possible Lawsuits
Kyle Rittenhouse, the teenager acquitted for two fatal 2020 shootings [Full Story]
Trump: 'I Think Our Nation Is in Great Trouble'
Former President Donald Trump says he believes the U.S. is in "great [Full Story]
Fellow Dems Slam Pelosi for Her Defense of Congressmen Trading Stocks
Many members of her own party are criticizing House Speaker Nancy [Full Story]
Trump Announces News Conference on Jan. 6 Anniversary
Former President Donald Trump said Tuesday he will hold a news [Full Story]
Criminal Probe: Members of Clinton 2016 Campaign Under Scrutiny
Special counsel John Durham told a federal court that, as part of his [Full Story]
White House Dodges Newsmax's Question About Modern High of Dems Leaving House
Hours after Reps. Stephanie Murphy, D-Fla., and Albio Sires, D-N.J., [Full Story]
Ex-intel Israel Chief Confirms Israel's Role in Soleimani Killing
Israel's former military intelligence chief says the country was [Full Story]
Texas Governor's Decision: Whether to Pardon George Floyd
Doling out pardons is a holiday tradition for Texas Gov. Greg Abbott, [Full Story]
Sarah Williamson Tapped as Newsmax's NY Correspondent
Newsmax announced Monday that television broadcaster Sarah Williamson [Full Story]
Manchin's Real Plan: End Trump Tax Cuts
Joe Manchin has offered Democrats hope that he still could [Full Story]
Incredible Miniature Telescope Lets You See for Miles
Smarter Living Daily
More Newsfront
Finance
NFL Could Become Trendsetter for COVID-19 Policies: Fewer Tests for Vaccinated
The NFL's decision to reduce COVID-19 testing for asymptomatic, vaccinated players could signal a trend for pro sports leagues and provide an example for society to follow heading into 2022…. [Full Story]
Wells Fargo Offices to Remain Closed Amid Omicron Surge
George Mentz: 20 Hot New Year's Resolutions to Attain Success
FDA Reportedly Set to Authorize Pfizer, Merck COVID-19 Pills This Week
US Population Growth at Lowest Rate in Pandemic's 1st Year
More Finance
Health
Moderna: Booster Dose of COVID Vaccine Appears Protective v. Omicron
Moderna Inc. said on Monday that a booster dose of its COVID-19 vaccine appeared to be protective against the fast-spreading omicron variant in laboratory testing and that the current version…… [Full Story]
FDA Reportedly Set to Authorize Pfizer, Merck COVID-19 Pills This Week
Are Cortisone Injections Good or Bad for Arthritic Knees?
US Considers Reducing COVID Quarantine Time Amid Omicron Surge
Moderna Could be Ready to Develop Omicron Booster in Weeks: CEO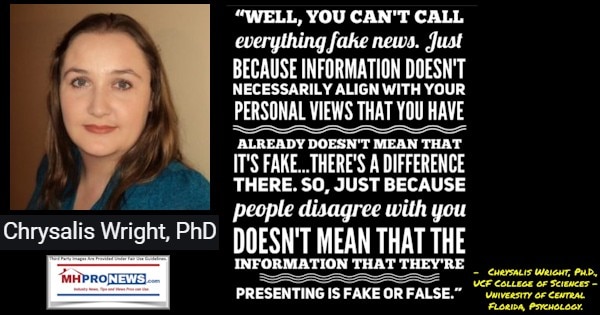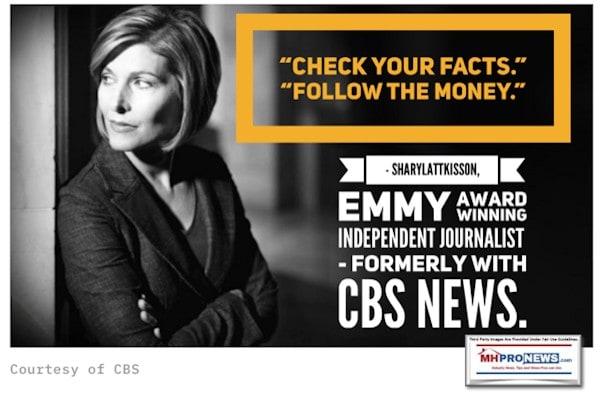 Manufactured Housing Industry Investments Connected Equities Closing Tickers
Some of these firms invest in manufactured housing, or are otherwise connected, but may do other forms of investing or business activities too.
NOTE: The chart below includes the Canadian stock, ECN, which purchased Triad Financial Services, a manufactured home industry lender
NOTE: Drew changed its name and trading symbol at the end of 2016 to Lippert (LCII).
NOTE: Deer Valley was largely taken private, say company insiders in a message to MHProNews on 12.15.2020, but there are still some outstanding shares of  the stock from the days when it was a publicly traded firm.  Thus, there is still periodic activity on DVLY.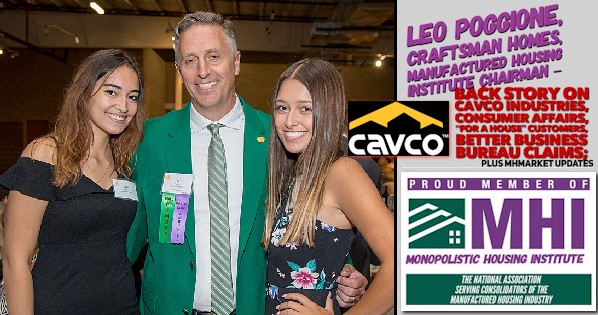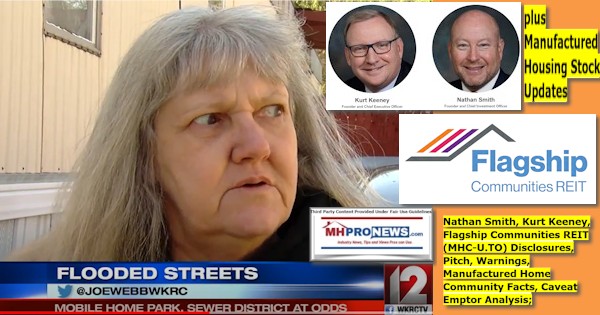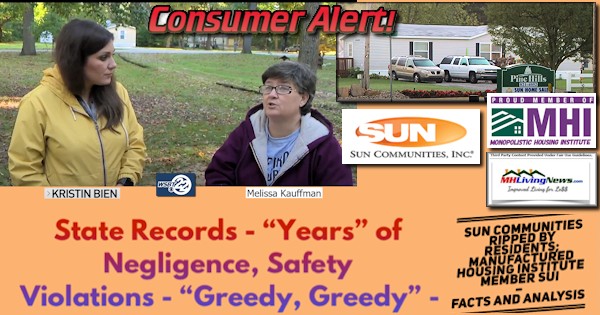 Note: depending on your browser or device, many images in this report can be clicked to expand. Click the image and follow the prompts. To return to this page, use your back key, escape or follow the prompts.

https://www.manufacturedhomepronews.com/steve-lawler-deer-valley-corporation-dvc-otcmkts-dvly-announces-merger-plus-manufactured-home-investing-stock-updates/

https://www.manufacturedhomepronews.com/nobility-homes-financial-position-very-strong-sales-strong-but-challenges-including-lending-and-others-examined-plus-manufactured-housing-stocks-update/

As 2021 draws to a close

…

Berkshire Hathaway is the parent company to Clayton Homes, 21st Mortgage, Vanderbilt Mortgage and other factory built housing industry suppliers.


·

LCI Industries, Patrick, UFPI, and LP each are suppliers to the manufactured housing industry, among others.




·

AMG, CG, and TAVFX have investments in manufactured housing related businesses.

For

insights from third-parties and clients about our publisher

, click here.


Enjoy these 'blast from the past' comments.

MHProNews. MHProNews – previously a.k.a. MHMSM.com – has celebrated our 11th year of publishing, and is starting our 12th year of serving the industry as the runaway most-read trade media.

Sample Kudos over the years…

It is now 11+ years and counting…

Learn more about our evolutionary journey as the industry's leading trade media, at the report linked below.

· For expert manufactured housing business development or other professional services, click here.
· To sign up in seconds for our industry leading emailed headline news updates, click here.

Disclosure. MHProNews holds no positions in the stocks in this report.

https://www.manufacturedhomepronews.com/years-of-state-national-level-manufactured-housing-factual-data-find-your-states-production-shipment-info-here-troubling-manufactured-home-affordable-housing-trends-issues-and-fact-checks/

https://www.manufacturedhomepronews.com/dominating-manufactured-housings-top-50-2020-year-in-review-by-manufactured-home-professionals-news-analysis/

To get our x2 weekly industry-leading emailed news headlines, click here. http://eepurl.com/bl-9t5

We recommend that news tips NOT use company, nonprofit or organizational emails or cell phones. To report a news tip, click the image above or send an email to iReportMHNewsTips@mhmsm.com – To help us spot your message in our volume of email, please put the words NEWS TIP or COMMENTS in the subject line.

That's a wrap on this installment of "News Through the Lens of Manufactured Homes and Factory-Built Housing" © where "We Provide, You Decide." © (Affordable housing, manufactured homes, stock, investing, data, metrics, reports, fact-checks, analysis, and commentary. Third-party images or content are provided under fair use guidelines for media.) (See Related Reports, further below. Text/image boxes often are hot-linked to other reports that can be access by clicking on them.)

All on Capitol Hill were welcoming and interested. But Congressman Al Green's office was tremendous in their hospitality. Our son's hand is on a package that included a copy of the Constitution of the United States and other goodies. Tamas has grown considerably since this photo was taken. 

By L.A. "Tony" Kovach – for MHProNews.
Tony earned a journalism scholarship along with numerous awards in history. There have been several awards and honors and also recognition in manufactured housing. For example, he earned the prestigious Lottinville Award in history from the University of Oklahoma, where he studied history and business management. He's a managing member and co-founder of LifeStyle Factory Homes, LLC, the parent company to MHProNews, and MHLivingNews.com. This article reflects the LLC's and/or the writer's position, and may or may not reflect the views of sponsors or supporters.