It has been an evolving saga of drama between residents and management at Jasper Mobile Home Park in San Antonio, Texas that merits a look back to grasp the recent headlined report.  For instance, it was on May 28, 2020 that the arrest of John Ripley, former owner of Jasper Mobile Home Park was reported by MHProNews.
Arrested! Manufactured Home Community Pro, Others Arrested & Charged w/Crimes – Resident Says, 'We're Prisoners of the Trailer Park'
KSAT reported at that time that Holly Winters said that she lives paycheck to paycheck. Moving was not an option for her family. "Nobody that lives in here, wants to be in here. They're in here because of circumstance." Winters added that "There are good people in here and we're just prisoners of the trailer park."
Suspicious cases of arson in February 2020 preceded that report.
John Ripley, the former owner who was still managing the property, was arrested last May for diverting $9000 worth of water from the property.
As time has moved on other residents have been steadily pushed out. KSAT reports that numbers of factory-built housing units have been demolished.
Those that remain are being threatened with water cutoff or having their mobile or manufactured home moved to the front of the property.
The Name of the Community Owner's Game?
Beneath the surface of the drama of Bexar County's Jasper Mobile Home Park appears to be an all too common issue, redevelopment. So long as residents are there, redevelopment can't take place. Certain instances of redevelopment has resulted in numerous tragedies, including death by suicide.
A variety of tactics, including the use of code violations as legal weapons to remove residents are deployed.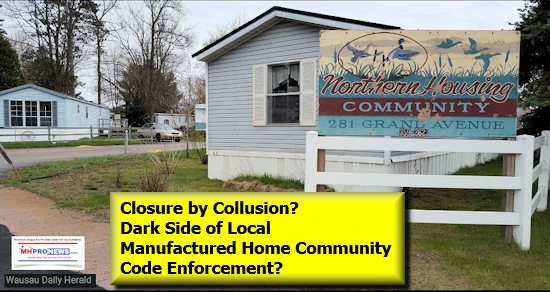 The phenomenon occurring has been the subject of a University of Texas research study called "Endangered."
Endangered – University of Texas Study of Manufactured Home Communities
This next video report from 2018 sets the broader context that the University of Texas "Endagered" study looked at in more detail.
It is worth noting that when HUD Code manufactured homes are involved, the suspicious fires should be even more suspect of being cases of arson. Despite public perception to the contrary, HUD Code manufactured homes have proven safer against fires than the mobile homes of the past and may even marginally outperform conventional housing, according to research by the National Fire Protection Association (NFPA).
Those points noted, a real estate eviction company purportedly acting on behalf of Texas PMR and its owner Robert Ripley said that they don't have to abide by federal stays of evictions because the property isn't backed by federal loans.
Precinct 4 Justice of the Peace Rogelio Lopez recently confirmed that six eviction cases were in process.
Robert Ripley and John Ripley are brothers. A case settled in December 2019 involving the brothers and the ownership of Texas PMR is linked here.
Texas PMR owner Robert told KSAT that "You can write, print, broadcast any bullsh-t you want. They aren't residents. None of them have any leases. That's why you see the sheriff's office out there all the time picking them up."
An Aug 27, 2019 reported push back on a proposed ordinance that would address so-called "illegal" "mobile home parks." According to Bluffton Today,  "The proposed ordinance addresses illegal mobile home parks, manufactured homes that do not meet habitability standards, manufactured homes being brought into the county without proper permits and inadequate infrastructure." No mention was made in their report about the enhanced preemption that HUD Code manufactured homes enjoyed since the passage of the Manufactured Housing Improvement Act of 2000, nor the federal preemption that existed as protections for manufactured homes and their owners since the HUD Code went into effect on June 15, 1976.
MHProNews Analysis and Commentary
There is a multiple-year pattern that can be discerned in several states where current or prospective property owners target a mobile home park or manufactured home community for redevelopment. They use a range of tactics that seem to include allowing a property to fall into disrepair of utilities and other infrascture. The apparent goal? To get public officials to do the dirty work of ordering the closure of the property as a mobile/manufactured home community and thus potentially saving the property owner legal and other costs in redevelopment.
Manufactured home industry veteran Marty Lavin, J.D., told MHProNews that he felt that there might be some implied legal safeguards for property owners.
As Lavin said, that bears legal research, but on the surface makes sense. No one buys a manufactured home or places it on a leased property with the notion that it may be subject to removal by the property owner for entirely selfish reasons. Furthermore, how often does a mobile or manufactured home community owner have prospective residence sign a disclosure that they are subject to having their lease terminated with little or no notice resulting in great costs to that person or family?
The costs of moving a manufactured home run into the thousands of dollars, sometimes $10,000 or more for a multi-sectional home. As such, most manufactured homes are never moved once installed. Indeed, manufactured homeowner and resident-advocate Tim Sheahan, the past president of the National Manufactured Home Owners Association (NMHOA) has called them "immobile homes."
Influence Watch says that the NMHOA's "Gary Miller, current President of the NMHOA is the district manager for Ricciardi Brothers, the largest Benjamin Moore dealer in the United States." Influence Watch also noted: "Since its foundation, NMHOA has partnered with several left-of-center organizations, including Prosperity Now, the National Consumer Law Center, and the Consumer Federation of America." They cited as their source the NMHOA website.
Benjamin Moore is a Berkshire Hathaway owned company, as is Clayton Homes, 21st Mortgage Corp, and Vanderbilt Mortgage and Finance (VMF). Warren Buffett is chairman of publicly-traded Berkshire Hathaway (BRK), and is consistently ranked as one of the world's richest men.
What Influence Watch didn't note is that Buffett's donations have flowed, often through so-called dark money channels, to groups such as MHAction and NMHOA.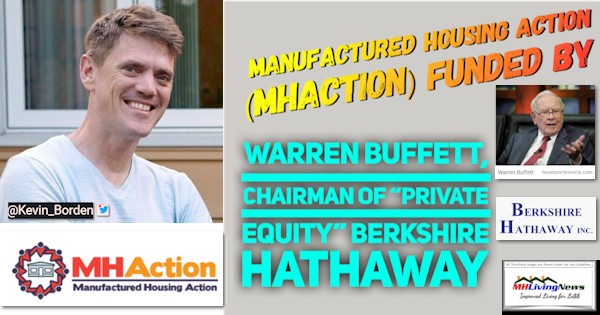 While there appears at times to be conflict between activist groups such as NMHOA, MHAction, and larger brands that are often Manufactured Housing Institute (MHI) members such as Clayton Homes, Equity LifeStyle Properties (ELS), or controversial community owners Frank Rolfe and Dave Reynolds led Impact Communities, upon closer examination, an argument can be made that the money trail between Warren Buffett, his 'charities,' and these leftist groups. These MHI member firms routinely have straight line business dealings with one or more Berkshire Hathaway brands.
Rolfe and Reynolds 'teach' current and prospective manufactured home community owners how they do things through paid classes under the "Mobile Home University" umbrella.
Frank Rolfe, Impact Communities Admissions, Ripped by Quad Cities Report on Manufactured Home Operations
In the world view of certain 'black hat' brands, attracting bad news is not necessarily bad for their mid-to-long term interests. More laws and regulations often flow from bad-news scenarios such as the one unfolding at Jasper Mobile Home Park. Larger firms can navigate heavier regulations more readily than smaller firms can, as professionals such as Carol Roth have observed.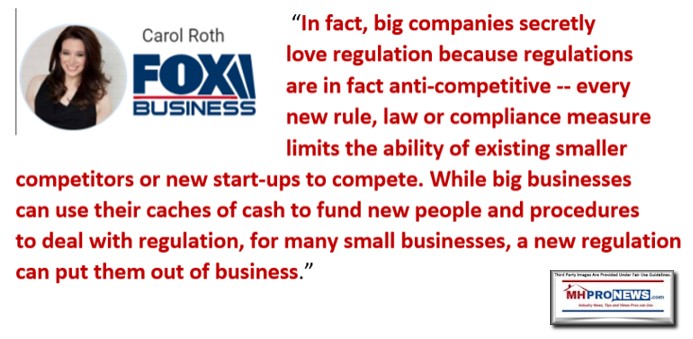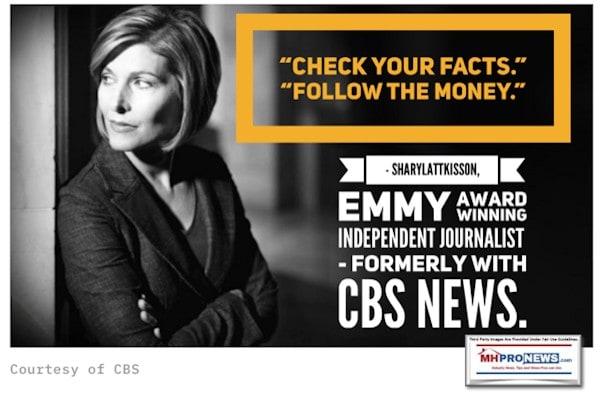 Additional MHProNews Analysis and Commentary – The Pattern?
While there are several different ways a given scenario may develop, there are certain generalities that often occur. They include, but are not necessarily limited to, the following. Note that not every element occurs in every case, but many may apply to any given circumstance.
A property owner and/or a redeveloper may decide that they want to move out the residents of a manufactured home community at the lowest possible cost to themselves.
A variety of tactics can be deployed that make life uncomfortable for residents.
Those tactics may include allowing situations to fester that could cause a local jurisdiction to declare the location out of compliance as a licensed entity. That in turn gives 'cover' for the property owner to close the location down.
Some residents often organize, and may turn to a group such as NMHOA or MHAction for guidance. At other times, a local tenant's rights group may be approached by residence, who are often lower income individuals and households.
Local, regional, or even national media coverage develops.
Pressure builds to 'do something.' If that involves new regulations, that creates a burden for white hat brands that may include a smaller 'mom and pop' sized business.
More regulations and headaches cause a steady stream of independents to sell out to consolidators.
Because of the bad news, new manufactured home communities are infrequently approved for creation.
Thus – unlike multifamily housing apartments, where new construction is routinely occurring – there is actually a dwindling supply manufactured home communities and few new land-lease community locations are approved development for prospective residents to consider.
The steady stream of bad news benefits consolidators, while harming 'white hat' independents.
The trade groups are routinely dominated by larger brands that through dues and/or elected positions control the direction that an association takes on such vexing issues.
Unlike a traditional monopoly, where perhaps a single company dominates, in this scenario it has been compared to a more oligarchic or feudalistic model.
As MHProNews and MHLivingNews have documented over the years, head-fakes, deception, and misdirection are routine in this emerging realm. Someone may posture a complaint but may actually desire the circumstance that is unfolding.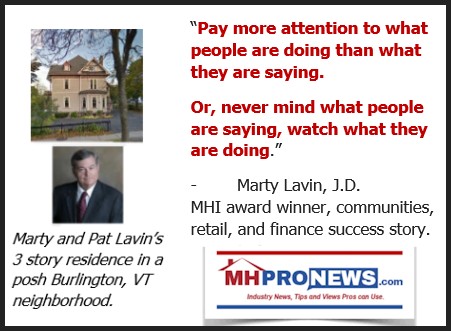 To the casual observer, much of those nuances would be missed. It is only when a broader study of the issues is conducted that the patterns and apparent techniques begin to emerge.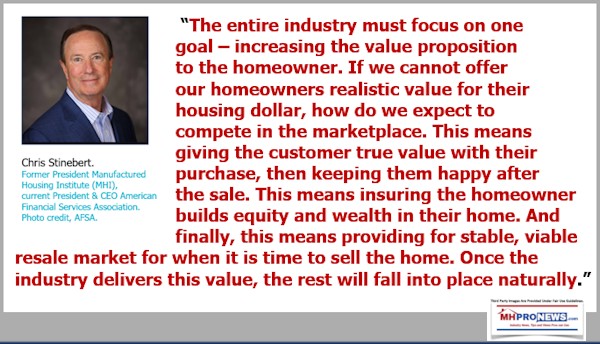 Closing Summary
Even experts and seasoned veterans in manufactured housing have in several cases missed what is happening. After all, most Americans are arguably honest and they don't think in terms that are nefarious. Because the personalities involved may seem very affable, it may be difficult for honorable people to even conceive of someone planning and executing something so devious and dishonorable.
Evidence for this pattern is growing as time goes on. But to a local or even state official that is not focused on the nuances and details of such issues, a single or a few cases could easily elude public officials notice too.
Because elected officials might have incentives to respond to campaign donors, without necessarily realizing what is afoot, it is a case of the truth hiding in plain sight.
Stay tuned for more of what is 'behind the curtains' as well as the more obvious and 'in your face' reports. That and more are brought to professionals and advocates here daily, at the runaway largest and most-read source for authentic manufactured home "Industry News, Tips, and Views Pros Can Use" © where "We Provide, You Decide." © ## (Affordable housing, manufactured homes, reports, fact-checks, analysis, and commentary. Third-party images or content are provided under fair use guidelines for media.) (See Related Reports, further below. Text/image boxes often are hot-linked to other reports that can be access by clicking on them.)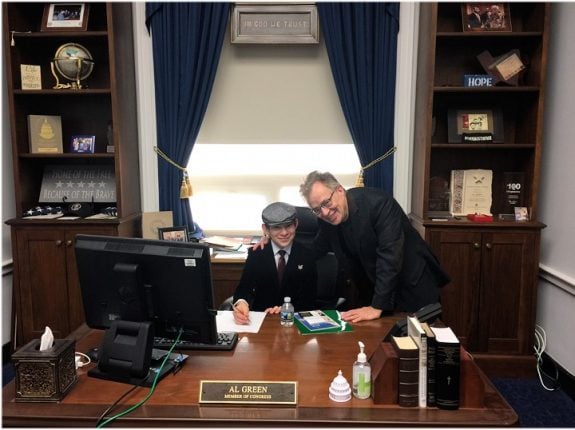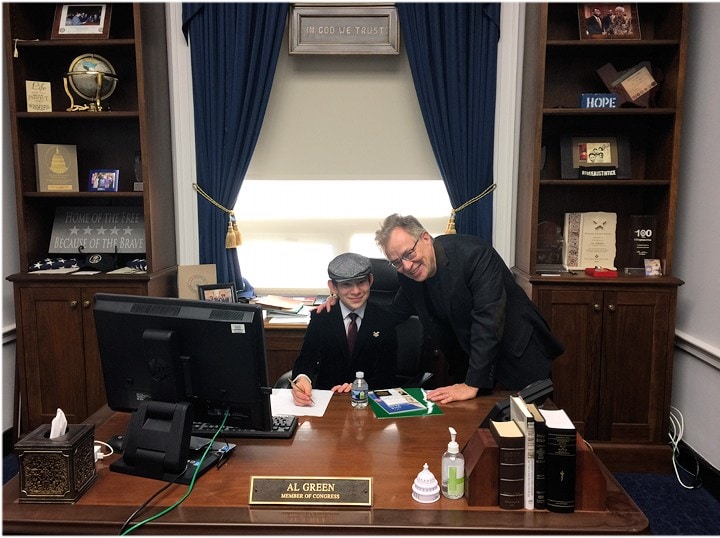 All on Capitol Hill were welcoming and interested with the discussion of manufactured housing related issues on our 12.3.2019 meetings. But Texas Congressman Al Green's office was tremendous in their hospitality. Our son's hand is on a package that included the Constitution of the United States and other goodies. MHProNews has worked with people and politicos across the left-right divide.
By L.A. "Tony" Kovach – for MHProNews.com.
Tony earned a journalism scholarship and earned numerous awards in history and in manufactured housing.
For example, he earned the prestigious Lottinville Award in history from the University of Oklahoma, where he studied history and business management. He's a managing member and co-founder of LifeStyle Factory Homes, LLC, the parent company to MHProNews, and MHLivingNews.com.
This article reflects the LLC's and/or the writer's position, and may or may not reflect the views of sponsors or supporters.
Connect on LinkedIn: http://www.linkedin.com/in/latonykovach
Related References:
The text/image boxes below are linked to other reports, which can be accessed by clicking on them.
CBS and Fox Report State Attorney General Investigation "Unlawful Eviction" by Manufactured Home Community, ex-Clayton Homes Executive Connections?
Prosperity Now, Nonprofits Sustain John Oliver's "Mobile Homes" Video in Their Reports
Hundreds of New Manufactured Home Communities Opened, But How Many Have Closed? Industry Research Result$
Whistleblower's Documents on Lesli Gooch – Manufactured Housing Institute CEO – New Discoveries
Jennifer Reingold Questioned Berkshire-Clayton Deal; MHI GSEs Rocked by Tip-Document Drop, plus Manufactured Home Investing, Stock Updates
"I Can't Think of a Good Reason to Keep People from Buying Affordable Housing" – Manufactured Home Industry Voices Video
Beneficial Betrayal? HUD Ripped – "Sheer Sophistry" – Federal Enhanced Preemption of Manufactured Homes
Warren Buffett Would be Okay With Clayton Homes Losing Money, Says Kevin Clayton – But Why?
Is President Trump's Executive Order Seeking to Stay Evictions Unconstitutional? HUD Provides Over $400 Million in Aid, plus, Manufactured Home Investing, Stock Updates
 
Warren Buffett, George Soros, Jeff Bezos, Strategic Ally Bill Gates Rails Against "Outrageous" Free Speech from Dissenting Views to Gates Foundation, Dr. Fauci
Dark Money-Billionaires Buffett, Gates, Soros Funding Black Lives Matter, Antifa – Named by AG Barr in Riots, Looting – Hijacking Peaceful George Floyd Death Racial Justice Protests
'Many can Defeat the Money,' Buffett Dark-Money Backed MHAction, Others Targets 'Wall Street,' Private Equity and 'Racist' Policies, plus Manufactured Housing Investing, Stock Updates
History, Financial Ties-Black Lives Matter, Antifa, Billionaires Warren Buffett, Bill Gates & George Soros–Economic, Political Upheaval Spotlighted by Mary Walter, Tony Kovach on Brian Kilmeade Show
Saturday Satire and Executive Summaries for Manufactured Housing Professionals, Investors, Advocates, Researchers, Public Officials, and Investigators
New Data Surfaces on Buffett Family, Foundation Funding Sources Which Attacked Manufactured Housing, plus Manufactured Home Stock, Investing Updates
Complaints to State and Federal Officials, Agencies About Corrupt Practices in Manufactured Housing Industry Growing
Buffett/Berkshire Bust! Stunning Charges – Frank Rolfe, Dave Reynolds, Impact Communities Lawsuit Against Residents; MHAction Connection Evidence
Kevin Clayton, CEO Clayton Homes, Explains Why Replacing Sales Professionals with Automation Makes Sense
Epic! Creating 200,000 New MH Homesites in 4 Years; Allegations of Corruption by Fannie, Freddie, Others in Duty to Serve Manufactured Housing Law