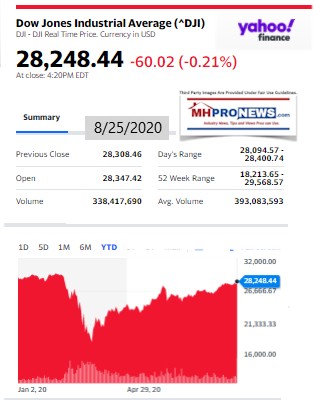 Joe Concha, writing for centrist The Hill, said "C-SPAN's livestream of the first night of the Republican National Convention has attracted nearly 440,000 views, marking a substantial increase over the start of the Democratic National Convention, which drew 76,000 views.
The numbers for Monday night come ahead of traditional TV ratings from Nielsen Media Research, which will be released on Tuesday afternoon."
Nielsen says that both the first night of the DNC and the RNC were off by nearly the same percentages (25% vs. 28%) for their first night compared to their respective conventions 4 nights ago. That's according to data summarized by the left-of-center Daily Beast.
Trump Admin Official Miles Taylor-Brutal Assault on POTUS Trump, Michelle Obama, Night 1 of Democratic National Convention; plus Manufactured Housing Investing, Stock Updates
Kim Klacik – a viral hit for the recent campaign video posted in the report linked above – has her full speech at the Republican National Convention | 2020 RNC Night 1 | from left-of-center PBS News.
Meanwhile, a group of independent voters were in lockstep with Republicans during the first night of the Republican National Convention, pollster Lee Carter told right-of-center "Fox & Friends" on Tuesday.
During her appearing on "Fox & Friends" with host Ainsley Earhardt, Carter stated she thinks "overall you saw independents really, really resonating with the messages that they heard."
Carter said that former Heisman Trophy winner Herschel Walker, who was raised a Democrat and is a longtime friend of President Trump's, "really resonated with the voters, and that's what's going to be remembered from last night." That video is posted a bit further below.
Carter, the president of Maslansky & Partners, broadcast her "voter dials," which assess the real-time reactions to the debate from voters across the political spectrum, rating candidates' statements from A to F.
Earhardt pointed to Senator Tim Scott's (SC-R) "powerful" convention speech where he "talked about his story and the American dream." That speech is among those that will be in our featured focus report segment further below.
"My grandfather's 99th birthday would have been tomorrow," Scott said during his speech Monday night. "He suffered the indignity of being forced out of school as a third-grader to pick cotton and he never learned to read or write."
Scott added, "Our family went from cotton to Congress in one lifetime and that's why I believe the next American century can be better than the last."
Sen. Scott praised progress for Black Americans under Trump.
"He [Senator Scott] hit it out of the park," Carter said. "You can see that Republicans gave this an A-plus, independents gave it an A and even Democrats gave it a C."
She went on to explain that Monday night was "a big night for Scott and it was also a really, really great capstone for Donald Trump."
"I think the most surprising thing that I saw last night is how much independents were lock in step with Republicans," Carter continued. "We did not see that during the DNC [Democratic National Convention]. Republicans and independents acted very differently in response to that. But here, last night we saw them right in step with the Republicans."
If Carter's focus group research is correct and holds through to election day, that would be a serious edge for Republican hopes to win on November 3, 2020.
Walker's speech from the RNC noting that he takes offense to the fact that many people call the president racist.
"It hurt my soul to hear the terrible names that people call Donald. The worst one is racist," Walker said during his speech Monday night. "I take that as a personal insult that people would think I've had a 37-year friendship with a racist."
Walker's full speech at the Republican National Convention | 2020 RNC Night 1 is posted below.
"People who think that don't know what they're talking about," Walker continued. "Growing up in the Deep South I've seen racism up close. I know what it is, and it isn't Donald Trump."
Carter said Republicans and independents reacted "very similarly" to Walker's speech as well.
"Republicans gave this an A, independents a B plus and Democrats a D," Carter said. "This was a big, big night for the president and for the Republican Party."
Democratic Georgia State Rep. Vernon Jones Full Remarks regarding 2020 Republican National Convention – night 1 from CSPAN.
"Every one of you have to watch because bad things happened last time with this spying on our campaign and that goes to Biden and that goes to Obama," President Donald J. Trump said Monday. "And we have to be very, very careful … And this time they're trying to do it with the whole post office scam. They'll blame it on the post office. You could see them setting it up."
"The Republicans gave this [an] A minus, independents a B, while Democrats gave this an F so a lot of Democrats [are] really upset about this argument, but it is resonating with both independents and Republicans," pollster Carter said.
More from the first night of the RNC convention's first night are the featured focus that follows the first two of three market snapshots, our traditional quotable quotes, left-right headline bullets, and before the 3rd manufactured housing specific related stock summaries at the closing bell today.
Quotes That Shed Light – American Social, Industry, National Issues…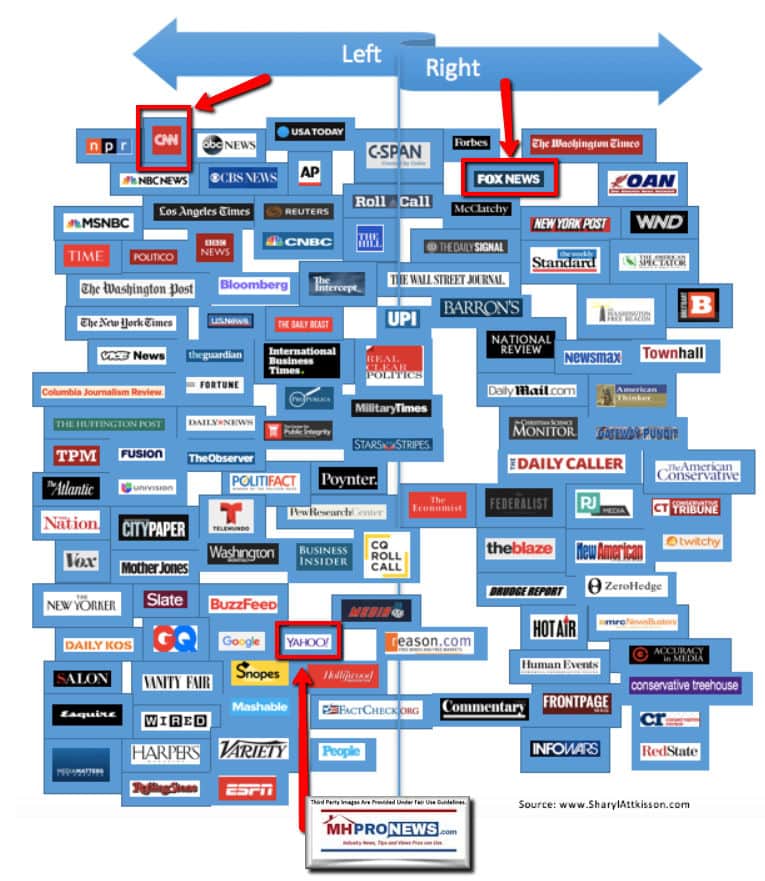 Headlines from left-of-center CNN Business
Exxon's rise and fall
Exxon gas station at night in Dallas, Texas, United States, April 27, 2016.
It was the world's largest company. Now it just got kicked out of the Dow
The office, as you know it, is dead.
US consumer confidence falls to its lowest level in six years
American Airlines will lay off 19,000 workers if it doesn't get more help
Why Trump's war on WeChat could hurt American businesses
Three new stocks join the Dow Jones Industrial Average
Google rolls out updates to Chrome tabs — and makes them 10% faster
Don't argue with anti-maskers, CDC warns stores
Your Roomba just got a lot smarter
Americans can't stop shoving pizza into their faces
Americans are resorting to frozen PB&J and instant coffee. That's good news for Smucker
Homeowners looking to refinance are likely to get hit with this new fee
Thailand issues new charges against fugitive Red Bull heir
Sean Hannity gets special White House access for Republican convention
Content by LendingTree
Refi rates at 2.42% APR (15 yr). Do you qualify?
These states' economies are recovering the fastest
Jean Benjamin joins with unemployed airport workers, the Black Lives Matter Alliance of Broward and other supporters to ask that Delta Airlines contractor, Eulen America, who the demonstrators say received $25 million from the CARES Act, hire back their unemployed Fort Lauderdale-Hollywood International Airport workers on August 13, 2020 in Fort Lauderdale, Florida. They are also asking that U.S. Senators pass the HEROES Act that provides PPE, essential pay and extended unemployment benefits for essential workers.
Trump's $300 supplemental unemployment benefit is 'too little too late,' Goldman Sachs says
A waiter walks past people sitting at an outdoor restaurant seating area as the city moves into Phase 3 of re-opening following restrictions imposed to curb the coronavirus pandemic on July 12, 2020 in New York City. Phase 3 is the third of four-phased stages designated by the state.
Winter is coming — and restaurants are scrambling
MARKETS
THAT'S ENTERTAINMENT
'The Batman' debuts its first trailer with Robert Pattinson as a gritty Dark Knight
Movie theaters are starting to reopen. Will anyone go?
Don't know what to watch? Netflix has a shuffle button
Microsoft resurrects its 38-year-old flight simulator game
NBA and Audible team on 'Beyond The Last Dance' podcast
SNACK TIME
McDonald's launches first new Chicken McNuggets flavor in nearly 40 years
KFC suspends famous slogan over Covid-19
The Pumpkin Spice Latte is back earlier than ever
Inside Krispy Kreme's insane new Times Square store
Kraft mac and cheese is now a breakfast food
Headlines from right-of-center Fox Business
TRAVEL
Major airline will have 40,000 fewer staff this fall than it did in March
Flight attendants will face the greatest number of cuts with the airline cutting some 8,100 positions by October, the company said.
SEE IT: Passenger throws expletive-laden fit after requesting to leave plane
UN: The staggering amount of money global tourism lost in 5 months
CRIME
College professor with access to NASA research hid ties to Chinese orgs, DOJ says
'As tight as it gets': Microsoft's China links studied ahead of potential mega-purchase
ECONOMY
How this cut-throat rivalry prepared big-box retailers for shopping in the time of COVID
POLITICS
Long arm of the COVID law: Crackdown from inspectors, sky-high fines hit hard
Cuomo, other govs keep travel rules despite CDC dropping quarantine recommendation
OPINION
PUZDER: Comparing economic polices of Trump vs. Biden, the choice is very clear
BRACING FOR LAURA
WEATHER
Intensifying hurricane prompts mandatory evacuations along coast
VIRTUAL VICE
TECH
Teen gamers engage in sexual behavior in platform's 'red light district': report
THE FALL OF FALWELL
COLLEGE
Liberty University's president resigns amid pool boy sex scandal revelations
WAKE UP, 'SLEEPY JOE'!
MONEY
Biden's spending 'dreams' will force him to hike middle-class taxes, Kudlow says
SCREECHING HALT
MARKETS
Harley-Davidson puts motorcycle launch on backburner
POLITICAL COURAGE
OPINION
Varney: This state's governor has defied naysayers on coronavirus reopening
'PLAYERS FEED OFF FANS'
SPORTS
Brett Favre on whether NFL stadiums should allow fans to attend games now
MORE LIKE THE 'ZOOMIES'
MEDIA
Emmys producers will send camera gear to 140+ nominees' homes for show
'BOSTON KREME STOUT'
FOOD & DRINK
Dunkin', Harpoon debut sweet-flavored beers — brewed with actual doughnuts
LIGHTBULB GOES OFF
MARKETS
California may rethink 'Green Energy' push after blackouts, power shortage
'LIKE NOTHING I HAVE SEEN'
BUSINESS LEADERS
Flood of small businesses flee Portland over riots, rampant 'lawlessness': report
HERE'S THE BRIGHT SIDE
MONEY
Even wealthier Americans are pessimistic about retirement right now
'PSEUDO-SCIENCE' SLAM
RICH & FAMOUS
'Brown Eyed Girl' singer says distanced shows are not 'economically viable'
UP AND DOWN
MARKETS
Stocks fighting for gains as investors weigh US-China talks, economic data
START TODAY!
MONEY
'My No. 1 secret to getting rich'
POLITICS
Trump to nominate Chad Wolf for DHS secretary
TECH
Fitbit takes on Apple Watch with high-end Sense smartwatch
PERSONAL FINACNE
Are you prepared for the 10 toughest retirement years?
HEALTH
Salmonella outbreak linked to peaches across 9 states, 2 Canadian provinces: CDC
CARS
Porsche launching 1-month subscriptions for its cars and SUVs
LIFESTYLE
Weights and dumbbells are latest COVID-fueled shortage: Here's what to use instead
HEALTH
Top college sees 'alarming increase' in COVID-19 cases, more than 100 students in quarantine
ECONOMY
Sales of new homes surge in July to highest level in more than 13 years
MARKETS
Home prices show modest growth, led by these major US cities
FOOD & DRINK
See why this restaurant's peanut butter and jelly sandwich costs $350
MONEY
Wages in key battleground state soar, boosted by controversial project
HEALTH
Fauci warns against distributing coronavirus vaccine until this happens
LIFESTYLE
National Park Service offering free admission across US: What to know
ECONOMY
COVID lockdowns are overly blunt and economically costly, evidence shows
FOOD & DRINK
Breweries apologize for naming beer this
LIFESTYLE
Disney World cast blast furloughs, while top executives see full salaries restored
HEALTH
AstraZeneca begins trial for coronavirus antibody treatment
FOOD & DRINKS
McDonald's bringing new McNuggets flavor to menu
VIDEO
'NYC is Dead Forever' author claps back at Jerry Seinfeld: 'He doesn't know me at all'
ECONOMY
When will the US recession end? Top economists make predictions
Market Indicator Closing Summaries – Yahoo Finance Closing Tickers on MHProNews…
Featured Focus –
Where Business, Politics and Investing Can Meet
Tim Scott's full speech at the Republican National Convention | 2020 RNC Night 1.  Many felt that this address was one of the most powerful for the night.
Latina Kimberly Guilfoyle's full speech at the Republican National Convention | 2020 RNC Night 1.
Donald Trump, Jr. full remarks at 2020 Republican National Convention.
Nikki Haley's full speech at the Republican National Convention | 2020 RNC Night 1.
Turning Point USA's Charlie Kirk's full speech at the Republican National Convention | 2020 RNC Night 1.
Florida Congressman (FL-R) Matt Gaetz's full speech at the Republican National Convention | 2020 RNC Night 1.
Ronna McDaniel: We heard very little about the Democrats' policies at DNC | 2020 RNC Night 1.
Maximo Alvarez's full speech at the Republican National Convention | 2020 RNC Night 1. Alvarez shared a powerful personal story that relates to many of the issues that are boiling especially in some of the metro areas of the nation.
To learn more about the dynamics at play for both major parties, see the related reports above and below.
Related, Recent, and Read Hot Reports
2020 Republican National Convention Lineup, Which Networks and Times, plus Manufactured Home Investing, Stock Updates
What Joe Biden Said and What Joe Didn't Say in Acceptance Speech, Wall Street Reportedly "Thrilled," plus Manufactured Home Investing Stock Updates
Triad Financial Services, Pam Danner, ObamaNation Federal Hiring Exposé, Affordable Manufactured Housing Reality Checks
HUD Secretary Carson on Local Officials and Trump Administration's Controversial AFFH Stance, DNC 2020 Night 3 Highlights, plus, Manufactured Home Investing, Stock Updates
"Anyone with eyes can see what's happening," "The American people are being told a lie by the media." Plus, Manufactured Housing Investing, Stock Updates
Warren Buffett Declared "Class Warfare," Buffett Says Fellow Billionaires – "We're Winning"
Black Lives Matter – the Nonprofit, Black Lives Matter – the Slogan, Black Man Dies – the Costly and Deadly Reality 
Terror Tactics 1960s-1999 vs 21st Century Terrorist Attacks – Cops, Shops, Workers, Christians, Believers vs Wall Street, Silicon Valley, Marxists, Atheists, Terrorists, Leftist Billionaires – Sunday Weekly Headline Review
Grapes of Wrath – Massive Foreclosure, Evictions Wave Looms, Threatens Housing, Usual Suspects-Gates, Buffett, Soros Lurk in Rigged System – Aspen Institute, COVID19 Eviction Project Plot
The Party is Over, So What's Next? Corruption and Evil Boils Down to This. Plus, Sunday Weekly Headlines Review
"Dark Secrets" – Warren Buffett, Racism, Eugenics, Infidelity, Ghislaine Maxwell's Father Robert Maxwell, Bill Gates, Gates Foundation; plus, Manufactured Housing Stock, Investing Updates
Acme Bricks – Yes, Bill Gates Investor in Warren Buffett's Berkshire Brand Acme Bricks – Allegedly Supplying Antifa, Black Lives Matter Rioters "Pallets of Bricks" Investigated
Warren Buffett, George Soros, Jeff Bezos, Strategic Ally Bill Gates Rails Against "Outrageous" Free Speech from Dissenting Views to Gates Foundation, Dr. Fauci
Manufactured Housing Industry Investments Connected Closing Equities Tickers
Some of these firms invest in manufactured housing, or are otherwise connected, but may do other forms of investing or business activities too.
NOTE: The chart below includes the Canadian stock, ECN, which purchased Triad Financial Services, a manufactured home industry lender
NOTE: Drew changed its name and trading symbol at the end of 2016 to Lippert (LCII).
Summer 2020…
Berkshire Hathaway is the parent company to Clayton Homes, 21st Mortgage, Vanderbilt Mortgage and other factory built housing industry suppliers.
· LCI Industries, Patrick, UFPI, and LP each are suppliers to the manufactured housing industry, among others.
· AMG, CG, and TAVFX have investments in manufactured housing related businesses. For insights from third-parties and clients about our publisher, click here.
Enjoy these 'blast from the past' comments.
MHProNews. MHProNews – previously a.k.a. MHMSM.com – has celebrated our tenth anniversary and is in year 11 of publishing.
Learn more about our evolutionary journey as the industry's leading trade media, at the report linked below.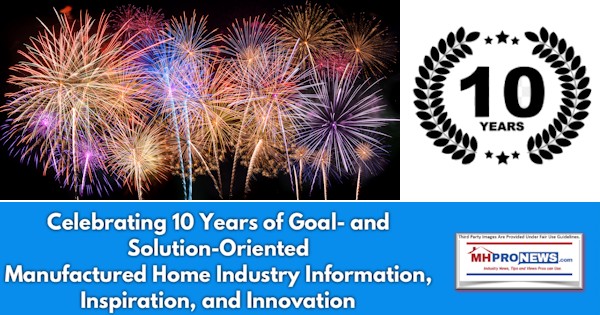 · For expert manufactured housing business development or other professional services, click here.
· To sign up in seconds for our industry leading emailed headline news updates, click here.

Disclosure. MHProNews holds no positions in the stocks in this report.
2019 Year-End Totals Reveals Decline in New HUD Code Manufactured Home Production, Shipments vs. 2018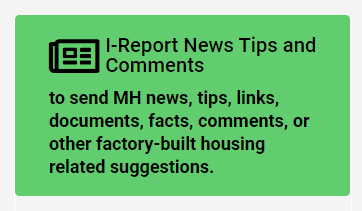 That's a wrap on this installment of "News Through the Lens of Manufactured Homes and Factory-Built Housing" © where "We Provide, You Decide." © (Affordable housing, manufactured homes, stock, investing, data, metrics, reports, fact-checks, analysis, and commentary. Third-party images or content are provided under fair use guidelines for media.) (See Related Reports, further below. Text/image boxes often are hot-linked to other reports that can be access by clicking on them.)
By L.A. "Tony" Kovach – for MHLivingNews.com.
Tony earned a journalism scholarship and earned numerous awards in history and in manufactured housing. For example, he earned the prestigious Lottinville Award in history from the University of Oklahoma, where he studied history and business management. He's a managing member and co-founder of LifeStyle Factory Homes, LLC, the parent company to MHProNews, and MHLivingNews.com. This article reflects the LLC's and/or the writer's position, and may or may not reflect the views of sponsors or supporters.