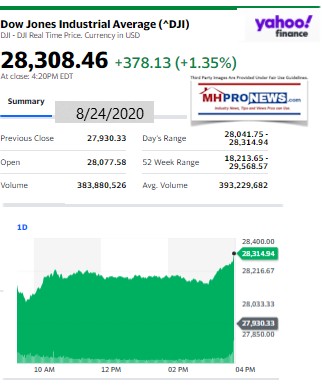 If it seems to some that right-of-center Fox News is hedging its bets, that impression may be underscored by the claim left-of-center CNBC about the Republican National Convention (RNC) details that follow below.
CNBC provided the lineup for this evening, along with the times and networks that are carrying RNC coverage live.
Fox News' Steve Hilton had this interview with President Donald J. Trump as a preview of the RNC, along with his take on the Democratic National Convention (DNC).
One of left-of-center CBS' previews of the RNC is as follows.
The take by CNBC is interesting, and that will be our featured focus this evening. That is found following 2 of the 3 closing market snapshots, quotable quotes, our business nightly left-right headline recap, and prior to our final manufactured home industry stock tracker as reported at the closing bell.
Quotes That Shed Light – American Social, Industry, National Issues…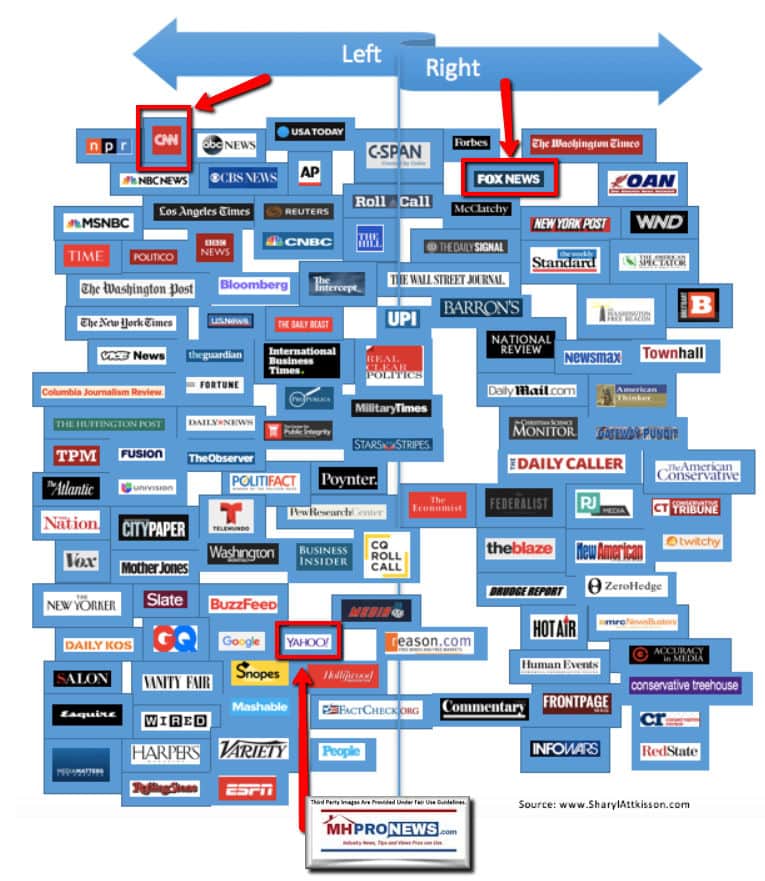 "We are a cancer and there is no cure," MSNBC Producer Ariana Pekary Quits, Rips Them, Flawed News Industry Practices by Left + Right Media, Names Fox News
Headlines from left-of-center CNN Business
Buy now or wait?
People stand in line outside the Apple store on Fifth Avenue as New York City moves into Phase 2 of re-opening following restrictions imposed to curb the coronavirus pandemic on June 30, 2020. Phase 2 permits the reopening of offices, in-store retail, outdoor dining, barbers and beauty parlors and numerous other businesses. Phase 2 is the second of four phased stages designated by the state.
Apple, the world's most valuable company, is doing a stock split. Here's what that means
Trump's $300 supplemental unemployment benefit is 'too little too late,' Goldman Sachs says
S&P 500 and Nasdaq set new records after Trump pushes plasma treatments
What the one-two tropical storm punch in the Gulf means for gas prices
Opinion: The US economy remains far from normal. That's the bottom line
Why Trump's use of the word 'hoax' is poisonous
Excerpt: At Fox News, 'the inmates are running the asylum'
You don't have to pay your federal student loans right now, but you should
The Postal Service may need a bailout. But it's actually making tons of cash
It's not just you. Zoom is down in some parts of the world
18 Chinese tech stocks soar 200% as a major market relaxes its IPO rules
China's Xpeng Motors plans to raise $1.1 billion in New York IPO
What Tiffany's renovated Fifth Avenue store looks like
Content by LendingTree
Refi rates at 2.42% APR (15 yr). Do you qualify?
A person stands on a social distancing sign waiting for a train at the Fulton Street subway station and complex on July 7, 2020 in lower Manhattan of New York City.
These states' economies are recovering the fastest
A pack of chocolate-covered wafer biscuit bar KitKat brand is displayed in the showroom of Swiss food giant's Nestle on October 20, 2016 in Vevey.
Sales of Swiss food giant Nestle rose slightly in the first 9 months of 2016, in a "more sluggish" environment, which led the group to strongly revise downwards its expectations for the full 2016 year. According to a statement released October 20, the group recorded a one-percent increase in sales over the first nine months of 2016 to 65,500,000,000 francs
How to make money in the pandemic: Invest in KitKats and Big Macs
A person holds out their hand as cars sit in traffic in SoHo as the city continues Phase 4 of re-opening following restrictions imposed to slow the spread of coronavirus on August 07, 2020 in New York City. The fourth phase allows outdoor arts and entertainment, sporting events without fans and media production.
Plan to charge cars for driving into Manhattan is facing 'unprecedented' delays
MARKETS
FAST FOOD WARS
Krispy Kreme debuted its new store in Times Square
Inside Krispy Kreme's insane new location in Times Square
Here's what the Taco Bell of the future will look like
Wendy's is eating McDonald's breakfast
5 ways coronavirus changed how we eat fast food
300 Pizza Huts closing after franchisee goes bankrupt
THE TRAVEL SEASON THAT WASN'T
Decommissioned and suspended American Airlines commercial aircrafts are seen stored in Pinal Airpark on May 16, 2020 in Marana, Arizona. Pinal Airpark is the largest commercial aircraft storage facility in the world, currently holding increased numbers of aircraft in response to the coronavirus COVID-19 pandemic.   (Photo by Christian Petersen/Getty Images)
American is dropping service to these cities. This is only the beginning
Why some airline pilots are learning to fly drones
1 in 4 hotels can't pay their mortgages
Boeing wins first order this year for 737 Max planes
Europe's summer tourist season may be past saving
Headlines from right-of-center Fox Business
NEWS
Largest US oil refinery scrambling to close as 2 monster systems stalk coasts
Shutting the 607,000 barrel-per-day (bpd) Port Arthur, Texas, refinery could take up to two days, sources said.
DOUBLE TROUBLE: US on alert as Tropical Storms Marco, Laura grow closer
Why Tropical Storms Laura, Marco won't cause gasoline prices to surge
POLITICS
Trump promotes tax record of cutting rates for middle-class Americans
Joe Biden's tax hikes will cause your life savings to collapse, Grover Norquist warns
ECONOMY
UK economy rebounding from coronavirus setbacks as public borrowing mounts
MARKETS
Apple stock hits record high ahead of split deadline
Stocks soar to record highs as COVID vaccine hopes build, Trump touts 'breakthrough'
NEWS
Rioters torch Wisconsin car dealership as violence erupts after cop-involved shooting
NO BITE IN THE BIG APPLE?
ECONOMY
NYC Mayor de Blasio suggests indoor dining may not return until 2021
CORN OFF THE COB
MARKETS
Iowa farmers devastated after derecho damages 14 million acres of farmland, grain bins
FULL SERVICE
LIFESTYLE
NH coronavirus restaurant restriction lifted, allowing them to operate at full capacity
DOUGH-NOT TRY AT HOME
FOOD & DRINK
WATCH: Krispy Kreme worker uses glazer to create sweet monstrosity
ON THE GO
ECONOMY
These cocktails are proving to be lifeline for shaken restaurants
FROWNED UPON
TECH
EXCLUSIVE: AmazonSmile accused of excluding conservative nonprofits
SAY IT'S NOT SO, JOE!
MONEY
Biden vows to raise taxes on Americans making more than this amount per year
FACEBOOK PAYS UP
TECH
Social media giant forced to pay massive amount to France in back taxes
CHECKING TRAVELERS
TRAVEL
New York City airports will have coronavirus testing, Cuomo announces
KFC CLEANS UP
NEWS
Chicken chain drops 'finger lickin' good' catchphrase amid COVID pandemic
PLAN ACCORDINGLY
MONEY
5 scenarios where claiming Social Security early is a terrible move
THE BIG GUNS
TRAVEL
Major airline awaiting EPA's OK to use chemical that can kill COVID for 7 days
LIFESTYLE
New York City's oldest tavern at risk of going out of business
SPORTS
Kobe, Gigi Bryant to be honored by Lakers before playoff game
TECH
Zoom says most service restored after US users hit by partial outage
TECH
TikTok sues Trump over threatened US ban, calling it an election ploy
POLITICS
'Opportunity zones' drew $75B in private investment in 2 years: White House
HEALTH
CDC drops 14-day self-quarantine recommendation for out-of-state, international travelers
CARS + TRUCKS
The best cars for dogs, according to Autotrader
SMALL BUSINESS
NYC Hospitality Alliance director: 'Something needs to be done' on city not reopening indoor dining
TECHNOLOGY
Apple CEO Tim Cook is fulfilling another Steve Jobs vision
MARKETS
Tesla stock could zoom to $3,500 in bull-case scenario
RETAIL
Back-to-school search for virtual school supplies could lead to critical shortages
TECH
Amazon restricts reviews on Meghan Markle, Prince Harry book after 'noticing unusual activity': report
TECHNOLOGY
Facebook's Zuckerberg reportedly raised red flags about TikTok last year
SPORTS
Angels' rookie card sells for eye-popping amount, sets new record
MARKETS
Schwarzman's Blackstone buys Japanese drugs subsidiary
LIFESTYLE
NYC restaurant owner: Restaurants will not 'survive the year' with de Blasio dismissing indoor dining
NEWS
Singer Justin Townes Earle, son of Steve Earle, dead at 38
PRODUCT RECALLS
Prima Wawona recalls peaches potentially linked to multi-state salmonella outbreak
SCIENCE
Earth lost 28T tons of ice in 23 years — 'direct consequence' of this, study says
SPORTS
Iowa Hawkeyes announce cuts to sports programs over financial fallout: 'A loss of this magnitude will take years to overcome'
VIDEO
WATCH: Outspoken media tycoon Jimmy Lai says many are reluctant to invest in Hong Kong
RICH & FAMOUS
Lori Loughlin speaks out after prison sentence in college cheating scandal
Market Indicator Closing Summaries – Yahoo Finance Closing Tickers on MHProNews…
Featured Focus –
Where Business, Politics and Investing Can Meet
Here's the speaker lineup for the first night of the Republican National Convention, according to CNBC.
 KEY POINTS
The 2020 Republican National Convention starts Monday night as President Donald Trump makes his case for reelection against Democratic presidential nominee Joe Biden.
The headliners Monday night include Sen. Tim Scott and former U.N. Ambassador Nikki Haley.
Congressional Trump defenders Reps. Matt Gaetz and Jim Jordan, along with figures in conservative media circles, will also speak Monday.
The 2020 Republican National Convention kicks off Monday as President Donald Trump makes his case for reelection during overlapping national crises, said CNBC. They added the following.
Many of the speakers, including the president, will deliver remarks from around the country during the four-day event because of the coronavirus pandemic. Parts of the convention will take place in the original site of Charlotte, North Carolina.
President Trump will outline his alternatives to the vision Democratic presidential nominee Joe Biden detailed in Delaware last week. The president has trailed his challenger in most swing-state polls as he struggles to contain the coronavirus pandemic.
The night's main speakers will start at about 8:30 p.m. ET. CNBC.com will livestream the convention.
C-SPAN, CNN, MSNBC and PBS will show the full 2½ hours of the convention each night. Fox News, CBS, ABC and NBC will show the 10 p.m. to 11 p.m. hour.
A mix of current and former elected officials and figures in conservative media circles will appear at the convention Monday night. The headliners include Sen. Tim Scott, the lone Black GOP senator who has taken a lead role in the party on racism in policing, and congressional Trump defenders Reps. Matt Gaetz and Jim Jordan.
Nikki Haley, the former South Carolina governor and U.N. ambassador mentioned as a potential 2024 presidential hopeful, will also speak.
Here's the list of speakers released by the Trump campaign:
Tim Scott, R-S.C.
House Minority Whip Rep. Steve Scalise, R-La.
Matt Gaetz, R-Fla.
Jim Jordan, R-Ohio
Former U.N. Ambassador and South Carolina Gov. Nikki Haley
Republican National Committee Chair Ronna McDaniel
Vernon Jones, a Democratic state representative from Georgia
Nurse Amy Johnson Ford
Trump campaign fundraiser Kimberly Guilfoyle
Trump campaign advisor Natalie Harp
Charlie Kirk, founder of Turning Point USA, an organization for young conservatives
Kim Klacik, a GOP candidate running in a deep blue Maryland congressional district who recently released a viral campaign ad
Mark and Patricia McCloskey, the St. Louis couple who pointed guns at peaceful Black Lives Matter protesters who walked past their home
Sean Parnell, a Republican congressional candidate in Pennsylvania
Andrew Pollack, whose daughter Meadow was killed in the 2018 Parkland, Florida, high school shooting massacre
Donald Trump Jr., the president's son
Tanya Weinreis, a Montana coffee shop owner who got a Paycheck Protection Program small business loan during the pandemic"
2020 – Year of the Unexpected, plus Sunday Manufactured Housing Headline Recaps
The DNC ended with no apparent bounce for their nominee Joe Biden and running mate Kamala Harris. By contrast, President Trump's approval rating rose to 51 percent, according to Rasmussen. Viewership of the DNC was reportedly down significantly since the 2016 convention. It remains to be seen if the 2020 RNC does better than 2016.
To learn more about the dynamics at play for both major parties, see the related reports above and below.
Related, Recent, and Read Hot Reports
What Joe Biden Said and What Joe Didn't Say in Acceptance Speech, Wall Street Reportedly "Thrilled," plus Manufactured Home Investing Stock Updates
Triad Financial Services, Pam Danner, ObamaNation Federal Hiring Exposé, Affordable Manufactured Housing Reality Checks
HUD Secretary Carson on Local Officials and Trump Administration's Controversial AFFH Stance, DNC 2020 Night 3 Highlights, plus, Manufactured Home Investing, Stock Updates
"Anyone with eyes can see what's happening," "The American people are being told a lie by the media." Plus, Manufactured Housing Investing, Stock Updates
Warren Buffett Declared "Class Warfare," Buffett Says Fellow Billionaires – "We're Winning"
Black Lives Matter – the Nonprofit, Black Lives Matter – the Slogan, Black Man Dies – the Costly and Deadly Reality 
Terror Tactics 1960s-1999 vs 21st Century Terrorist Attacks – Cops, Shops, Workers, Christians, Believers vs Wall Street, Silicon Valley, Marxists, Atheists, Terrorists, Leftist Billionaires – Sunday Weekly Headline Review
Grapes of Wrath – Massive Foreclosure, Evictions Wave Looms, Threatens Housing, Usual Suspects-Gates, Buffett, Soros Lurk in Rigged System – Aspen Institute, COVID19 Eviction Project Plot
The Party is Over, So What's Next? Corruption and Evil Boils Down to This. Plus, Sunday Weekly Headlines Review
History, Financial Ties-Black Lives Matter, Antifa, Billionaires Warren Buffett, Bill Gates & George Soros–Economic, Political Upheaval Spotlighted by Mary Walter, Tony Kovach on Brian Kilmeade Show
"Dark Secrets" – Warren Buffett, Racism, Eugenics, Infidelity, Ghislaine Maxwell's Father Robert Maxwell, Bill Gates, Gates Foundation; plus, Manufactured Housing Stock, Investing Updates
Acme Bricks – Yes, Bill Gates Investor in Warren Buffett's Berkshire Brand Acme Bricks – Allegedly Supplying Antifa, Black Lives Matter Rioters "Pallets of Bricks" Investigated
Warren Buffett, George Soros, Jeff Bezos, Strategic Ally Bill Gates Rails Against "Outrageous" Free Speech from Dissenting Views to Gates Foundation, Dr. Fauci
Manufactured Housing Industry Investments Connected Closing Equities Tickers
Some of these firms invest in manufactured housing, or are otherwise connected, but may do other forms of investing or business activities too.
NOTE: The chart below includes the Canadian stock, ECN, which purchased Triad Financial Services, a manufactured home industry lender
NOTE: Drew changed its name and trading symbol at the end of 2016 to Lippert (LCII).
Summer 2020…
Berkshire Hathaway is the parent company to Clayton Homes, 21st Mortgage, Vanderbilt Mortgage and other factory built housing industry suppliers.
· LCI Industries, Patrick, UFPI, and LP each are suppliers to the manufactured housing industry, among others.
· AMG, CG, and TAVFX have investments in manufactured housing related businesses. For insights from third-parties and clients about our publisher, click here.
Enjoy these 'blast from the past' comments.
MHProNews. MHProNews – previously a.k.a. MHMSM.com – has celebrated our tenth anniversary and is in year 11 of publishing.
Learn more about our evolutionary journey as the industry's leading trade media, at the report linked below.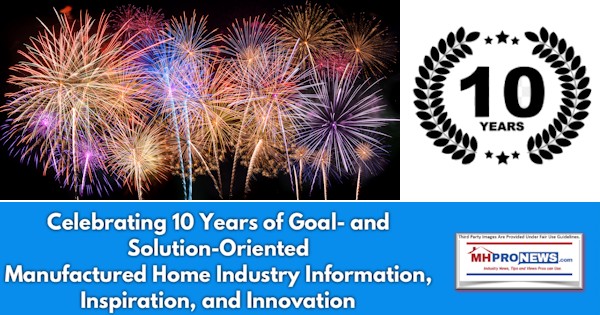 · For expert manufactured housing business development or other professional services, click here.
· To sign up in seconds for our industry leading emailed headline news updates, click here.

Disclosure. MHProNews holds no positions in the stocks in this report.
2019 Year-End Totals Reveals Decline in New HUD Code Manufactured Home Production, Shipments vs. 2018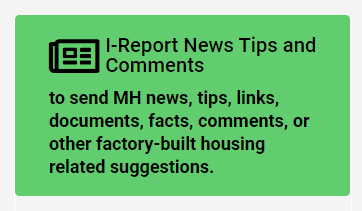 That's a wrap on this installment of "News Through the Lens of Manufactured Homes and Factory-Built Housing" © where "We Provide, You Decide." © (Affordable housing, manufactured homes, stock, investing, data, metrics, reports, fact-checks, analysis, and commentary. Third-party images or content are provided under fair use guidelines for media.) (See Related Reports, further below. Text/image boxes often are hot-linked to other reports that can be access by clicking on them.)
By L.A. "Tony" Kovach – for MHLivingNews.com.
Tony earned a journalism scholarship and earned numerous awards in history and in manufactured housing. For example, he earned the prestigious Lottinville Award in history from the University of Oklahoma, where he studied history and business management. He's a managing member and co-founder of LifeStyle Factory Homes, LLC, the parent company to MHProNews, and MHLivingNews.com. This article reflects the LLC's and/or the writer's position, and may or may not reflect the views of sponsors or supporters.