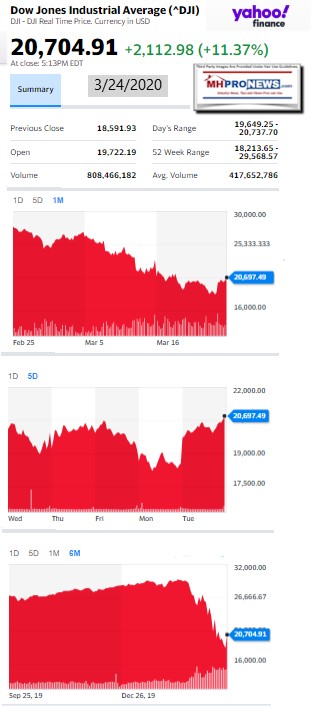 "You never let a serious crisis go to waste.
And what I mean by that it's an opportunity to
do things you think you could not do before."
– Rahm Emanuel,
former Chief of Staff to President Barack Obama and
former Mayor of Chicago. Source: per BrainyQuotes.
The headline quote is from the video further below, produced by a coalition of left-of-center groups that includes MHAction is making mainstream news again on various fronts. It is approaching one year since MHAction, as part of a group of activist nonprofits was spotlighted on HBO's Last Week Tonight with John Oliver.
The use of nonprofits – some of which have clear "dark money" or other financial ties to Warren Buffett's 'philanthropy.' It is a topic that has been widely ignored by others in manufactured housing trade media, but for the clear eyed that want facts over warm of fuzzy blather, tonight's article is one more reminder of the reasons why manufactured housing as an industry has been underperforming for over 15 years.
On a day when stocks strongly rebounded, the moves by nonprofits that could undermine specific manufactured housing firms will be our featured focus this evening.
Every evening our headlines that follow provide snapshots from two major media outlets on each side of the left-right news spectrum that reflect topics that influence or move investor sentiment. In moments on this business evening report, you can get 'insights-at-a-glance.'
This report also sets the broader context for manufactured housing markets, in keeping with our mantra, "News through the lens of manufactured homes and factory-built housing" ©.
We begin with headlines left-of-center CNN followed by right-of-center Fox Business. We share closing tickers and other related data courtesy of Yahoo Finance, and more. 5 to 10 minutes reading this MHProNews market report every business night could save you 30 minutes to an hour of similar reading or fact-gathering elsewhere.
Perhaps more important, you will get insights about the industry from experts that care, but also dare to challenge the routine narrative that arguably keeps manufactured housing underperforming during an affordable housing crisis.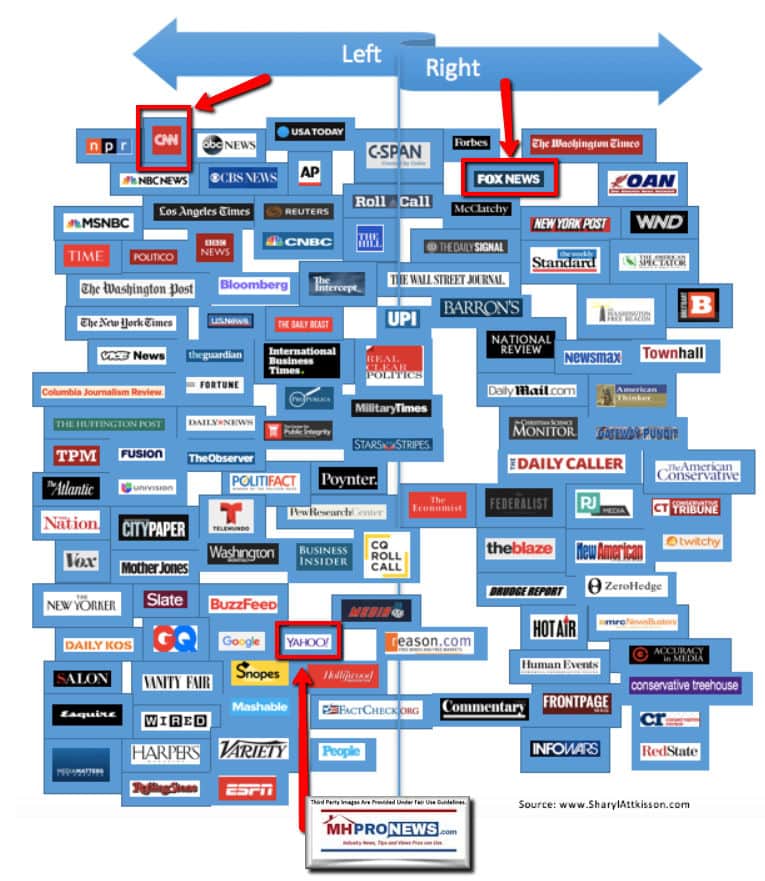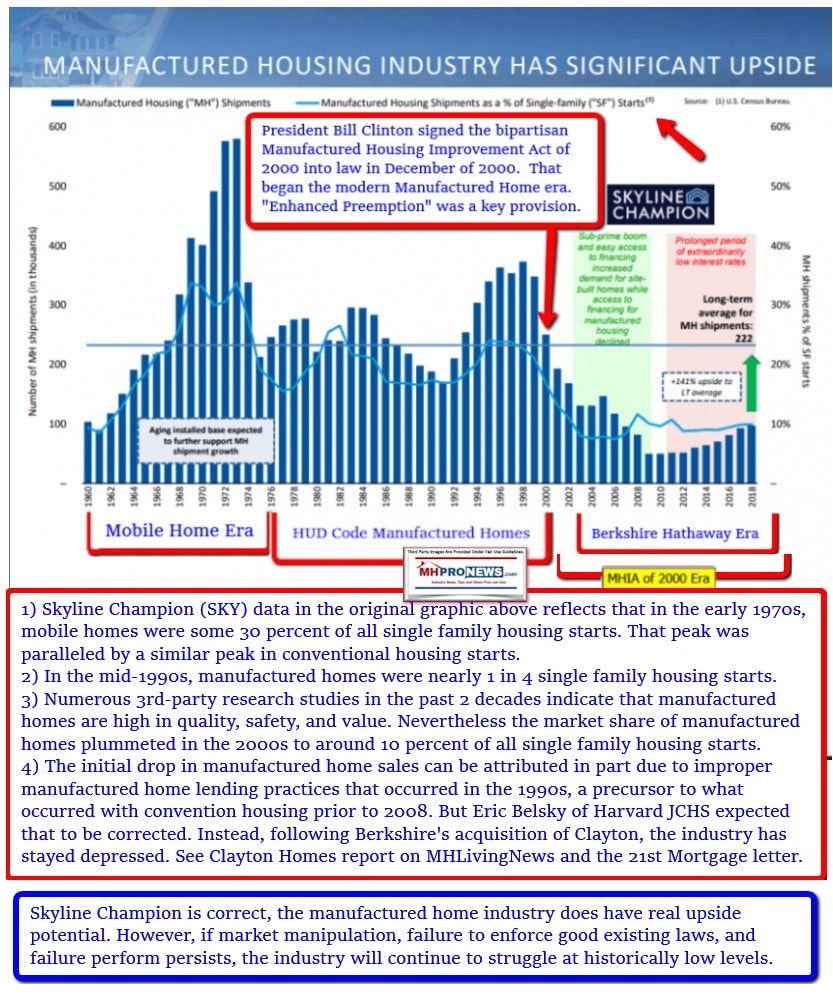 Newsy, Peeling Back Media Bias, Manufactured Housing Sales, Investing, Politics, and You
Headlines from left-of-center CNN Business
Planes are still flying
A flight crew member walks in a terminal of Reagan National Airport in Arlington, Virginia on March 17, 2020. – The coronavirus outbreak has transformed the US virtually overnight from a place of boundless consumerism to one suddenly constrained by nesting and social distancing. The crisis tests all retailers, leading to temporary store closures at companies like Apple and Nike, manic buying of food staples at supermarkets and big-box stores like Walmart even as many stores remain open for business — albeit in a weirdly anemic consumer environment.
But air travel has virtually come to a halt, and airlines are losing tons of money
Companies that binged on repurchasing shares now want bailouts from taxpayers
Dow posts its biggest point gain in history on hopes of economic relief plans
Ford is working with 3M and GE to make respirators and ventilators
Here's the difference between a recession and a depression
Chevron CEO vows to avoid first dividend cut since Great Depression
Fox News anchors fail to challenge Trump as he misleads during coronavirus town hall
Citi to close up to 15% of its branches this week
There's a simple way Apple and other companies can help the economy
Opinion: Congress must act now to prevent an even worse economic crisis
Huge discounts on spring wardrobes are coming
YouTube to reduce video quality to ease strain on the internet
Small business cash crunch grows 'more dire by the day'
TOKYO, JAPAN – MARCH 13: People cycle past a banner for the Tokyo Olympics on March 13, 2020 in Tokyo, Japan. Excluding the Diamond Princess cruise ship cases, the number of coronavirus infections in Japan reached 684 today as United States President Donald Trump suggested the Tokyo Olympics should be postponed to next year.
What postponing the Summer Olympics means for NBC
Moviefone bought by mystery bidder for just $1 million
From Reagan to Trump: Here's how stocks performed under each president
MARKETS
PERSPECTIVES
From left, Labor Secretary Eugene Scalia, Senate Majority Leader Mitch McConnell of Ky., Treasury Secretary Steven Mnuchin, Senate Minority Leader Sen. Chuck Schumer of N.Y., and White House chief economic adviser Larry Kudlow attend a a meeting to discuss the coronavirus relief bill on Capitol Hill, Friday, March 20, 2020, in Washington.
We shouldn't be getting angry about big corporate bailouts
Saudi Arabia just won control of the oil market
The United States is still too reliant on oil
Giving all US adults cash could help stop a depression
Fallout from coronavirus will only make China's Xi Jinping more powerful
AIRLINES IN TROUBLE
BURLINGAME, CALIFORNIA – MARCH 13: A United Airlines Boeing 737 Max 9 aircraft lands at San Francisco International Airport on March 13, 2019 in Burlingame, California. The United States has followed countries around the world and has grounded all Boeing 737 Max aircraft following a crash of an Ethiopia Airlines 737 Max 8.
The crisis in the US airline industry could hit employees soon
Estimate: Airline revenues could plunge $252 billion
Most airlines could be bankrupt by May without help
Hundreds of US cities could be without air travel
US airlines seek about $50 billion in federal help
Headlines from right-of-center Fox Business
POLITICS
Trump says coronavirus relief bill will boost economy to pre-pandemic level
President Trump said he's confident that a proposed $2 trillion coronavirus stimulus package will help the U.S. economy quickly recover.
Trump wants America off lockdown by Easter
Dow posts 2,100 point gain biggest ever
FULL LIST: Who's hiring right now
These businesses are still open
Amazon Prime deliveries delayed weeks
Coronavirus passed at Connecticut party spread to South Africa
NYC recruiting drivers to deliver food
Rick Scott: Get Americans back to work
Here's where the front-runners for the coronavirus vaccine are
Trump delays major travel deadline
WH Task Force doctor feeling 'encouraged'
Payroll tax cut still far superior to sending checks to every American
Coronavirus payroll tax suspension would eventually be paid
Biden criticized for slamming Trump coronavirus plan
Coronavirus pushes NFL Network to pull live shows
Coronavirus prompts Alberstons to hire furloughed workers
Costco refusing toilet paper returns
Virtual vet visits allowed during coronavirus, FDA says
Bloomberg sued by ex-field organizers over stiffed pay
Coronavirus quarantine sends online alcohol delivery sales surging
Kudlow: WH may roll back coronavirus lockdown sooner than expected
Stocks may draw $800B investment as volatility reshapes portfolios
Nike beats on earnings, revenue despite market downturn
How to avoid slow internet while working from home
US airlines preparing for possible total shutdown of flights
This is what needs to happen before new bull market can run
MEDIA
Coronavirus complications blamed in death of Terrence McNally
76ers, Devils reverse coronavirus pay cuts for team employees
Estée Lauder to produce coronavirus-fighting hand sanitizer
Stock market's coronavirus plunge conjures 1987 crash flashbacks
Olympic medalist Apolo Ohno: Coronavirus can 'drastically change' how sports are experienced
Coronavirus shifts White Castle's focus to retail, drive-thru
UnitedHealthcare's Oxford updates coronavirus insurance policies for employers
During coronavirus, Bacardi, major brands donate to affected workers
Coronavirus drives UK retail landlords, tenants work to defer rent
Coronavirus sends pot sales soaring as more Americans stay home
Boeing CEO: No government equity stake in coronavirus aid
Texas' lieutenant governor says US should get 'back to work'
Congress needs to put money in people's pockets, help keep jobs – pet projects put us all at risk
Tokyo Olympics to be postponed, Japan Prime Minister Shinzo Abe says
How Trump can use Defense Production Act to reshape US economy
Sysco CEO: During coronavirus considering lending workers to retail customers in need
Former Bush speechwriter: Trump backlash 'not a good look' for Biden
YouTube reduces video quality to minimize lag
House Democrats' coronavirus bill criticized by Republicans for unrelated provisions
Volunteers sew coronavirus masks for health workers amid shortage
Coronavirus cripples volunteering in America
Coronavirus lived on Diamond Princess cruise ship for up to 17 days, CDC says
El-Erian: Fed has thrown everything at coronavirus slowdown
Productivity threatened as telecommuting challenges hinder workers
Amazon fights coronavirus price-gouging, suspends 3,900 accounts
Harold Hamm: Saudi Arabia, Russia trying to 'drown' US in oil price war
Verizon CEO: Calls, texts hitting Mother's Day levels amid coronavirus outbreak
Kentucky coal plant closure spells doom for struggling industry
Kevin McCarthy: 'Millions of Americans suffering' because of Dems' bill block
Hospitals forced to reuse medical masks amid widespread shortages
'We're in a hurricane': Coronavirus pandemic scuttles 2020 campaign themes
10 Market Indicator Closing Summaries – Yahoo Finance Closing Tickers on MHProNews…
Featured Focus – Where Business, Politics and Investing Can Meet
The Housing Justice Platform is a coalition of nonprofits that says the following on their website.
"We believe that housing is a human right, not a commodity to be bought and sold for profit. We believe that everyone should be guaranteed an affordable, safe and healthy place to call home. We believe that homes must be accessible for people with physical or other disabilities, as well as to where people work, go to school and have built a community. And we know that to build a just housing system, we must start now."
Additionally, the same source said this, which specifically mentions manufactured home community residents.
"It doesn't have to be this way. We're in a moment of incredible change, where people are fighting for universal healthcare, sanctuary for immigrants, free college and a Green New Deal. We need to be equally bold in demanding homes for all. That is why tenants, manufactured home residents, homeowners and community members across the country are coming together to chart a path forward."
Here is a list of those nonprofits involved, which we will spotlight the first one further below.
NATIONAL
Action Center for Race and the Economy (ACRE) | Alliance for Housing Justice | Bargaining for the Common Good (BCG) | Center for Popular Democracy | Homes For All (Organizing Committee) | MHAction | Partnership for Working Families | People's Action | PolicyLink | RACE FORWARD | Right to the City Alliance
STATE / LOCAL
9to5 Colorado / Colorado Homes For All | Access Task Force, Lansing | Action NC | Alliance of Californians for Community Empowerment Action (ACCE Action) | Alliance for Community Transit — Los Angeles | Alliance for Metropolitan Stability | Arkansas Community Organizations | BASTA, Inc. | Building Movement Project/Detroit People's Platform | CAAAV: Organizing Asian Communities | Causa Justa :: Just Cause | City Life Vida Urbana | City-Wide Tenant Union of Rochester | Coalition of Organized Residents of East Liberty | Community Justice Project | DARE — Direct Action for Rights & Equality | Detroit Action | East Bay Alliance for a Sustainable Economy (EBASE) | East Bay Housing Organizations | East LA Community Corporation | Equal Justice Society | Esperanza Community Housing Corporation | Esperanza Peace and Justice Center | Frogtown Neighborhood Association | Georgia Stand-Up | Grassroots Collaborative | Greater New Orleans Fair Housing Action Center | HEART L.A. — Housing Equality & Advocacy Resource Team | Hill District Consensus Group | Homes For All (Organizing Committee) | Homes For All Newark (HFAN) | Indivisible Sausalito | InnerCity Struggle | Inquilinxs Unidxs Por Justicia (Renters United for Justice) | Investing in Place | Ironbound Community Corporation | Jane Addams Senior Caucus | Just Harvest | Kentucky Student Environmental Coalition | LAANE | LA Forward | Landless Peoples' Alliance / Pittsburgh Union of Regional Renters | Liberty Resources, Inc. | Louisiana Fair Housing Action Center | Montgomery Citizens United for Prosperity (MCUP) | New York Communities for Change | NYS Upstate Downstate Housing Alliance | ONE DC | ONE Northside | One Pennsylvania | Organize Sacramento | Our Natural Homes Property Management LLC | Partnership for the Public Good | People's Alliance for Transit, Housing, and Employment (PATHE) | People's Housing Coalition of Maine | Pittsburgh United | Pittsburghers for Public Transit | Progressive Leadership Alliance of Nevada | Public Advocates Inc. | Public Engagement Associates | Puget Sound Sage | PUSH Buffalo | Raise-Op Housing Cooperative | Reclaim Philadelphia | Rochester City-Wide Tenants Union | San Antonio Historic Westside Resident Association | Social Justice Learning Institute | Springfield No One Leaves | Strategic Actions for a Just Economy (SAJE) | Struggle for Miami's Affordable and Sustainable Housing, Inc. | SURJ (Showing Up for Racial Justice) — Marin Chapter | Tenants Together | United for a New Economy | Urban Habitat | Washington Lawyers' Committee for Civil Rights and Urban Affairs | Washington Legal Clinic for the Homeless | Western Regional Advocacy Project | Women's Community Revitalization Project (WCRP) | Working Partnerships USA
Two more bullets from the same website.
Specifically, the platform outlines five pillars: create millions of new, non-market housing units that are community-controlled; protections for renters and homeowners from displacement; redress for decades of racist housing and land policies; a call to decommodify housing and regulate Wall Street; and a Green New Deal for housing that would rehabilitate millions of homes and create good jobs in the process.
In most parts of the country, tenants and manufactured home residents lack even basic protections from eviction by unscrupulous landlords and speculators who may double or triple rents in a single year. Without such protections, landlords are free to engage in predatory behavior, displacing tenants and perpetuating housing insecurity. The far-reaching impacts of evictions are often experienced most intensely by already-marginalized people: Eviction rates are highest among Black women.
Universal rent control 
Universal just cause eviction laws 
Federal investment in community-controlled anti-displacement funds 
A right to return for displaced residents 
The latest pro-green new deal white paper from MHAction is published and it reads in part as follows.
"Inadequate protections from predatory community owner practices leave residents vulnerable The current context in Florida allows community owners to establish dramatic lot rent and fee increases, enact arbitrary rules and requirements, and disregard community maintenance. These practices put residents at risk of choosing between essentials like food and medicine, and their homes. Dramatic rises in housing costs and threats of eviction have severe health consequences such as elevated blood pressure and increased likelihood of stroke, cardiovascular disease, diabetes, and depression. Additionally, some community owners fail to maintain water, sewage, and trash disposal, putting residents directly at risk for injuries, and air-borne and water-borne illnesses."
There is no doubt that some of that is demonstrably true, but it begs the question, why is Buffett supporting such an attack on the industry? Why does the Manufactured Housing Institute (MHI) fail to mention the antics of MHAction, which after all, disrupted HUD Secretary Ben Carson's first address to the trade group in Las Vegas?
Hold those thoughts.
Essence recently reported on a protest of HUD Secretary Ben Carson early this month. Celeste Scott, an organizer with the organization Pittsburgh United was "one of over 100 grassroots housing justice leaders, organizers, and advocates from across the country who gathered at HUD to release the Housing Justice National Platform and hand a copy to Secretary Ben Carson's office. The platform and action were in response to the ongoing housing crisis impacting households of all income levels across the country."
The group understandably laments the very real disparity between blacks, Hispanics and whites in home ownership and the household wealth that such housing creates.
The facts such organizations often cite may be accurate, but for whatever reason they often fail to go deeper in the issues so that underlying causes and solutions are made manifest. Instead, their 'solutions' are often rent control – which produces no new housing, and studies suggest tends to slow housing production – or the creation of 'social' housing that is paid for by taxpayers and they propose should be rented at lower-than market costs. For those deeper dives into causes and solutions, see the related reports, further below.
Such programs tend to undermine manufactured housing, says family-owned land lease community owner Marge Clark.
Subsidized Housing vs Manufactured Homes, Community Owner Marge Clark Sounds Off
Among the groups pushing for massive federal programs are ACRE, supported by the Libra Foundation.
The Libra Foundation is a private grantmaking foundation that supports left-of-center advocacy organizations in the United States and around the world. Per Influence Watch, "The Pritzker family is an American family engaged in entrepreneurship and philanthropy, and one of the wealthiest families in the United States of America (staying near[quantify] the top of Forbes magazine's "America's Richest Families" list, since the magazine began such listings in 1982). Its fortune arose in the 20th century– particularly through the founding and expansion of the Hyatt hotel corporation.
Family members still largely own Hyatt, and also owned the Marmon Group, a conglomerate of manufacturing and industrial service companies (which has since been sold to Berkshire Hathaway).[1]"
Rephrased, The Libra Foundation has its own ties – through that sale to Berkshire – to one Warren Buffett, the conglomerate's chairman.
"More recently, we have seen how these corporate landlords treat the low income residents of mobile homes. In Iowa,Havenpark Capitalbought five mobile parks and increased rent from 24% to 69%. In Sunnyvale, CA, the Carlyle Group purchased the Plaza del Rey mobile home park for $151 million and increased the rent by 8% annually since its acquisition of the park in 2015. For comparison, the previous owners would raise annual rents by 3%." That per the Housing Justice Platform website, and those firms are MHI members, which along with others are apparently not being asked by the Arlington, VA trade group to live up to the National Communities Council (NCC) so-called "Code of Ethical Conduct."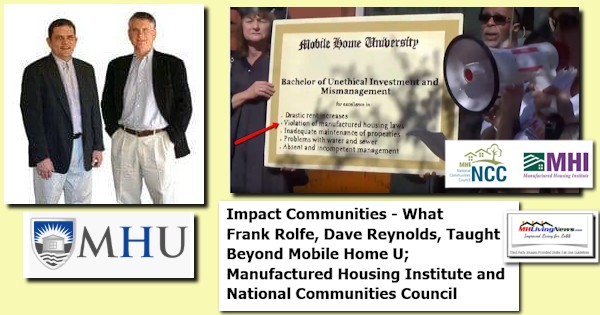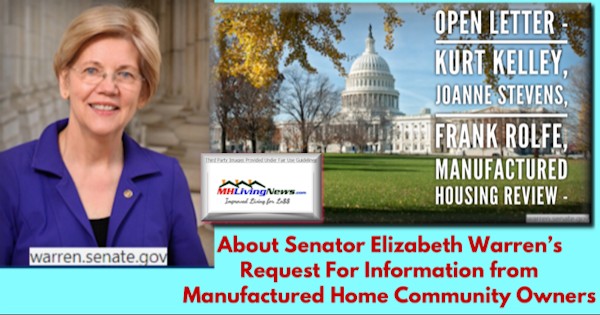 MHProNews Analysis, Commentary and Additional Information
Barriers to entry, persistence and exit are potential tools that benefit consolidators and would-be monopolists.
Barriers to Entry, Persistence, and Exiting in Business, Affordable Housing, and Manufactured Homes
The bad news and legislation that flows in the wake of these problems benefit larger firms over smaller ones, because the bigger ones can better sustain the costs.
Rephrased, these are arguably tactics that are craftily deployed by the Omaha-Knoxville-Arlington axis and their allies.
Summing up, these groups are arguably weaponized as part of the "moat' strategy that Warren Buffett is known for, and which Kevin Clayton himself bragged about in the report linked below the quote.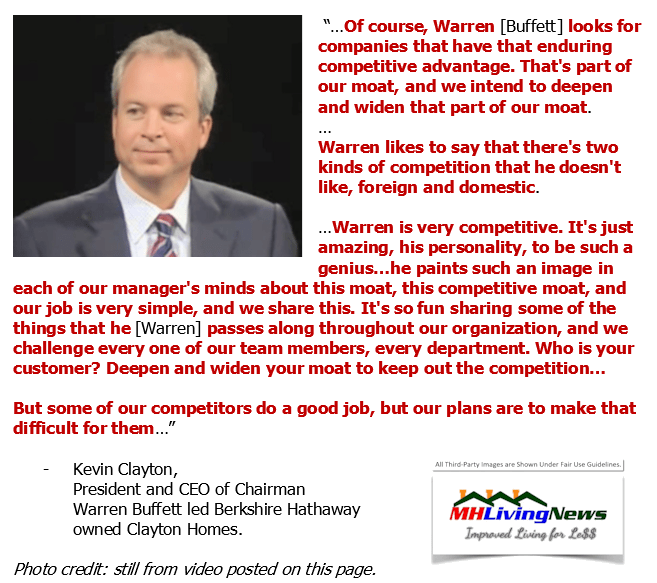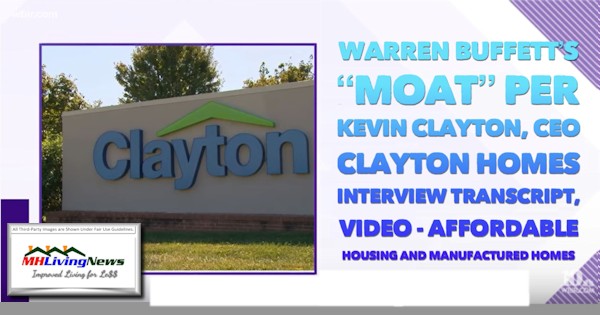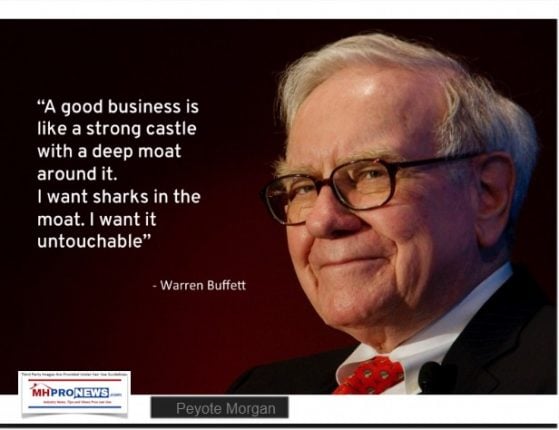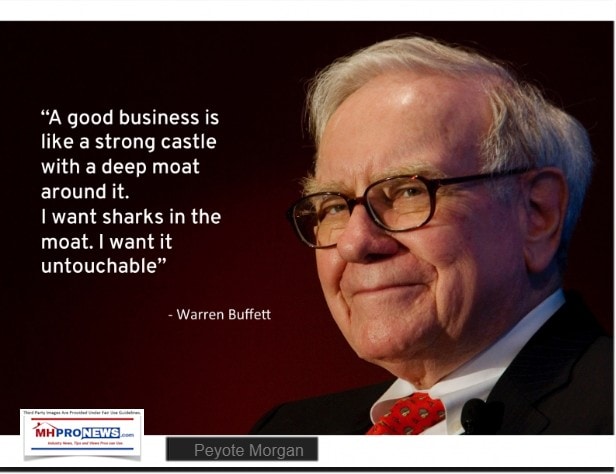 To learn more, see the related reports.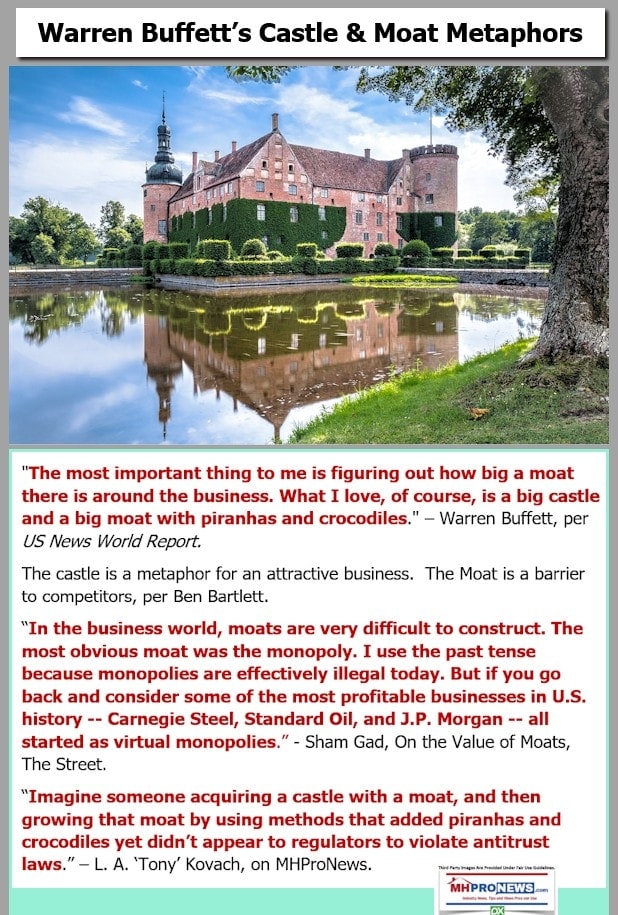 Related Reports:
Weaponized Philanthropy, Castrated Associations and Manufactured Housing – Michael Bloomberg and Warren Buffett Connection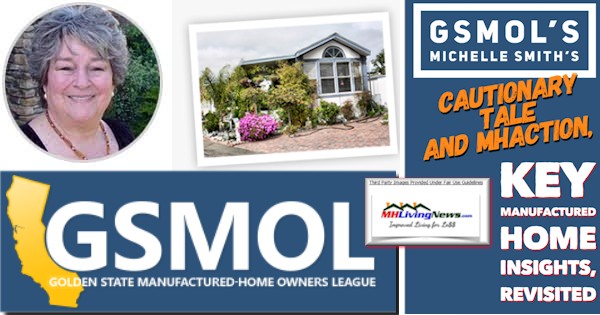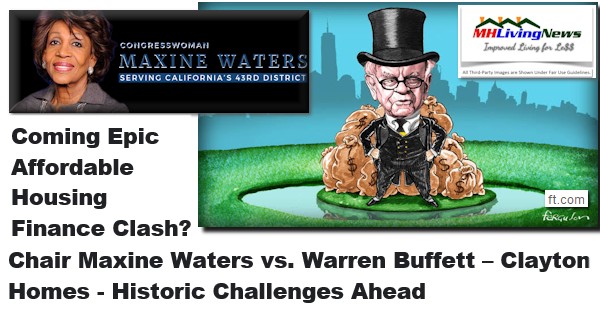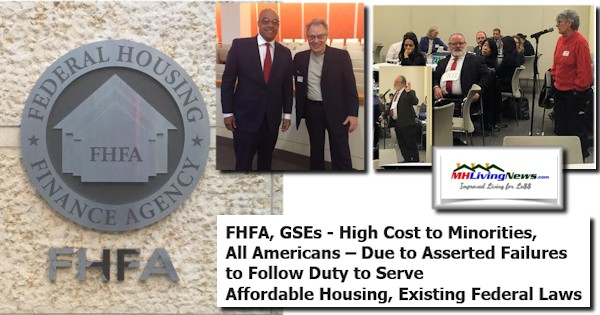 Marty Lavin, Modular Builders, and Manufactured Housing Institute – on COVID19 – Coronavirus Disaster Impacts and Plans
Closures for Manufactured Housing, Others Announced, More Pending, plus Sunday Weekly Headline News Review 3.15 to 3.22.2020
Manufactured Housing Industry Investments Connected Closing Equities Tickers
Some of these firms invest in manufactured housing, or are otherwise connected, but may do other forms of investing or business activities too.
NOTE: The chart below includes the Canadian stock, ECN, which purchased Triad Financial Services, a manufactured home industry lender
NOTE: Drew changed its name and trading symbol at the end of 2016 to Lippert (LCII).
Spring 2020…
Berkshire Hathaway is the parent company to Clayton Homes, 21st Mortgage, Vanderbilt Mortgage and other factory built housing industry suppliers.
· LCI Industries, Patrick, UFPI, and LP each are suppliers to the manufactured housing industry, among others.
· AMG, CG, and TAVFX have investments in manufactured housing related businesses. For insights from third-parties and clients about our publisher, click here.
Enjoy these 'blast from the past' comments.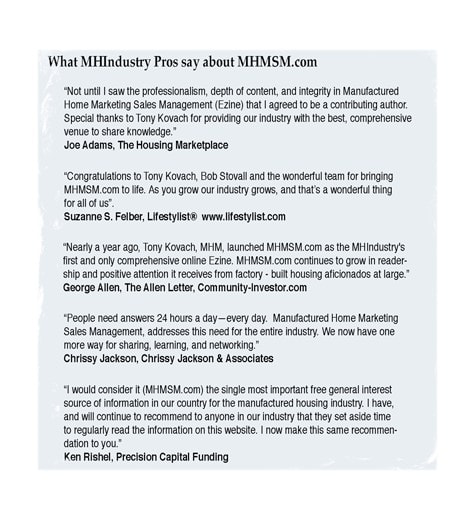 MHProNews. MHProNews – previously a.k.a. MHMSM.com – has now celebrated our tenth anniversary.
Learn more about our evolutionary journey as the industry's leading trade media, at the report linked below.
Celebrating 10 Years of Goal- and Solution-Oriented Manufactured Home Industry Innovation Information, and Inspiration for Industry Professionals
· For expert manufactured housing business development or other professional services, click here.
· To sign up in seconds for our industry leading emailed headline news updates, click here.
Disclosure. MHProNews holds no positions in the stocks in this report.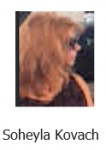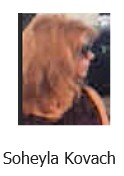 "We Provide, You Decide." © ## (News, analysis and commentary.)
(Image credits and information are as shown above, and when provided by third parties, are shared under fair use guidelines.)
Submitted by Soheyla Kovach, co-managing member of LifeStyle Factory Homes, LLC and co-founder for MHProNews.com, and MHLivingNews.com.

Connect with us on LinkedIn here and here.
2019 Year-End Totals Reveals Decline in New HUD Code Manufactured Home Production, Shipments vs. 2018