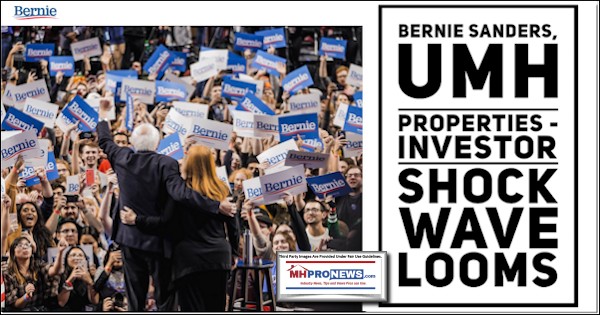 "As U.S. stocks tumbled on Monday, hit by mounting coronavirus fears, analysts also flagged the possibility that investors haven't been taking Bernie Sanders seriously enough, after the Vermont senator's surprisingly broad support in the Nevada caucuses Saturday." So said Bloomberg News, per Yahoo Finance on February 24, 2020 at this link here.
One of the firms noted in the report was UMH Properties. To set the stage for the commentary provided, some background from the article and the source of the comment cited is warranted.
"Sectors with exposure to the progressive Democratic candidate," the Bloomberg article continued, "including managed care companies and the biggest banks, underperformed in early trading. Centene Corp. and UnitedHealth Group ended last week lower and were the biggest decliners in health care on Monday, with both sinking more than 7%. The KBW Bank Index shed as much as 3.5%, the most since August, and fell to the lowest since late October, with Bank of America Corp. and Citigroup Inc. briefly dropping more than 4%.
Here's a sample of the latest commentary…"
The last investor analysis cited was by Isaac Boltansky, Director of Policy Research at Compass Point. The firm's website says it was founded in 2007 and is "a premier independent, full-service investment firm…" which also says that "Equity research is the foundation of Compass Point."
Their research page states in part that: "Our research disciplines include stock specific fundamental research, quantitative research, thematic industry trends and Washington Policy analysis. With over 100 companies under coverage, Compass Point publishes research on the following financial sector industries:
Regional Banks
Community Banks & Thrifts
Online Brokers
Educational Services
Home Builders
Mortgage REITS
Apartment REITS
Equity REITS
Real Estate Operating Companies
Specialty Finance
Business Development Companies
P&C Insurance
Insurance Brokers
Alternative Asset Managers
Financial Technology"
To frame the matter in its context, that portion of the Bloomberg/Yahoo article reads as follows:
"Compass Point, Isaac Boltansky
Investors will be forced to reassess their assumptions that Trump would be heavily favored if Sanders "continues to gain both momentum and delegates," Boltansky wrote. In particular, he flagged Sanders' strength with Latino voters, which is a "promising signal."
"A progressive White House would weigh on health insurers, big tech, education services companies, M&A advisories, fossil fuel businesses, for-profit prisons, and large banks/PE firms," he said. On the other hand, a progressive president may be good for Puerto Rico banks, workforce/manufactured housing companies like UMH Properties Inc., childcare providers such as Bright Horizons Family Solutions Inc. and "lower price-point" homebuilders, he said."
The above is as cited in the mainstream news report, but it should have had quotations around this line: "On the other hand, a progressive president may be good for Puerto Rico banks, workforce/manufactured housing companies like UMH Properties Inc., childcare providers such as Bright Horizons Family Solutions Inc. and "lower price-point" homebuilders."
MHProNews obtained the original research document from Compass Point that Bloomberg/Yahoo Finance was referencing. Compass Point's cited memo is attached here. Under the heading of "ELECTION: Sanders Wins Big in Nevada, Now On To South Carolina," the quotation above is from the third bullet in that attachment.
That segment from Compass Point's memo said in part that "Senator Bernie Sanders (I-VT) cruised to victory in the Nevada caucuses and he remains the frontrunner for the Democratic presidential nomination. The Sanders campaign is gaining momentum and delegates while the centrist lane remains contested and congested."
Compass Point also noted that: "Strength With Latino Voters Positive Signal for Sanders Campaign. Sanders won over 50% of the Latino vote in Nevada, which is a promising signal for his campaign given the demographics of key upcoming states. Roughly a third of the eligible voters in both California and Texas are Latino and those states account for 10% and 6% of the total Democratic delegates, respectively."
That analysis by a firm focused on the policy impact on equities could be reframed as follows. 'Would a Bernie Sanders Presidency harm or help UMH Properties?'
Noting that Compass Point specifically said "a progressive president may be good for Puerto Rico banks, workforce/manufactured housing companies like UMH Properties Inc…" the question could be broadened. What would a Sanders presidency do to or for manufactured housing in general?
Per an informed source, MHProNews understands that Compass Point has an analyst that specifically covers UMH Properties (NYSE:UMH) and that person isn't Boltansky.
Whatever the origin of the comment, and be the analysis right or wrong, it arguably did the industry and UMH a favor by begging a timely question. What would the impact of a Sanders presidency be on manufactured housing?
Given Senator Sanders' views on U.S. energy policy, and how that would play out with respect to manufactured housing in general, and UMH in particular?
It is widely known that Sanders is a strident believer in "climate change," which he has repeatedly called an "existential threat." Agree with that contention or not, per the Sanders campaign website, one of their bullets are to: "End the greed of the fossil fuel industry and hold them accountable."
Mainstream media sources that span the left-right divide ranging from the Washington Post to Fox Business report that Sanders would "end all fracking."
Furthermore, "Sen. Bernie Sanders of Vermont introduced a bill this week that would end hydraulic fracking in the United States," per the Washington Examiner on January 31, 2020.
What the Sanders Campaign Has Said About Manufactured Homes
Based upon campaign comments, MHProNews asked for clarification on the following issues that were submitted to the Sanders campaign as questions.
Three questions were submitted as follows.
Q1) The issues section of your campaign website says: "End the housing crisis by investing $2.5 trillion to build nearly 10 million permanently affordable housing units." We'd value details on this plan, including, but not limited to, what role if any the Sanders campaign sees for HUD Code manufactured housing in that plan.
Q2) As the Nation, Seattle Times, John Oliver/MHLivingNews, MHProNews and others have reported, the manufactured home industry is arguably being monopolized by Warren Buffett led Berkshire Hathaway brands that include Clayton Homes, 21st Mortgage Corporation and Vanderbilt Mortgage and Finance, among others. What steps, if any, would the Sanders campaign propose to deal with apparent violations of antitrust or other law violations?
Q3) As part of your Green New Deal, it reads in part: "Because our mobile home stock is leaky and often very old, we plan to replace all mobile homes with zero-energy modular homes." Does the first part of that statement literally mean pre-HUD code mobile homes? Are you including in the "modular homes" replacements plan HUD Code manufactured homes?
While the Sanders campaign replied and said they would respond to those inquiries, they did not provide the answers. A follow up to the Sanders campaign is pending.
MHProNews Additional Information, Analysis and Commentary
With approaching one in five residents of the population of South Carolina are living in pre-HUD Code mobile homes and post-HUD Code manufactured homes, the timeliness of the issue is clear.
There are political experts, including Democratic rivals to the Sanders campaign, that believe that if Sanders finishes close to former Vice President Joe Biden in South Carolina on Saturday, that Biden's 'electability' argument could be mortally wounded.
The media buzz is largely around the Sanders campaign. The deep pockets effort by billionaire and former New York City Mayor Mike Bloomberg assures him of attention for as long as he decides to be involved.
The South Carolina Republican Party cancelled their voting, as the New York Times reminded readers just days ago, essentially endorsing the nomination of President Donald J. Trump for a second term. With the state holding an open primary, it is expected that some pro-Republican voters will vote for Democratic candidates on Saturday. Fox News Channel (FNC) announced it is hosting a town hall with Senator Amy Klobuchar (MN-D). Their event will be tonight, February 27 in Raleigh, N.C., at 6:30-7:30 p.m. It will be moderated by Bret Baier, host of FNC's Special Report which normally runs 6 to 7 PM ET and Martha MacCallum, who anchors The Story from 7 to 8 PM ET.
The Real Clear Politics average of polls on this data is below. It is an open question if Biden will hold onto a thin lead, if the various attacks on the surging Sanders will blunt his momentum and who the top finishers will be. Billionaire Tom Steyer has invested heavily in the state and could finish 3rd.
Pivoting back to the UMH question, the company has long acknowledged that there is a risk/reward to their strategy of focusing on properties in the Marcellus and Utica Shale regions.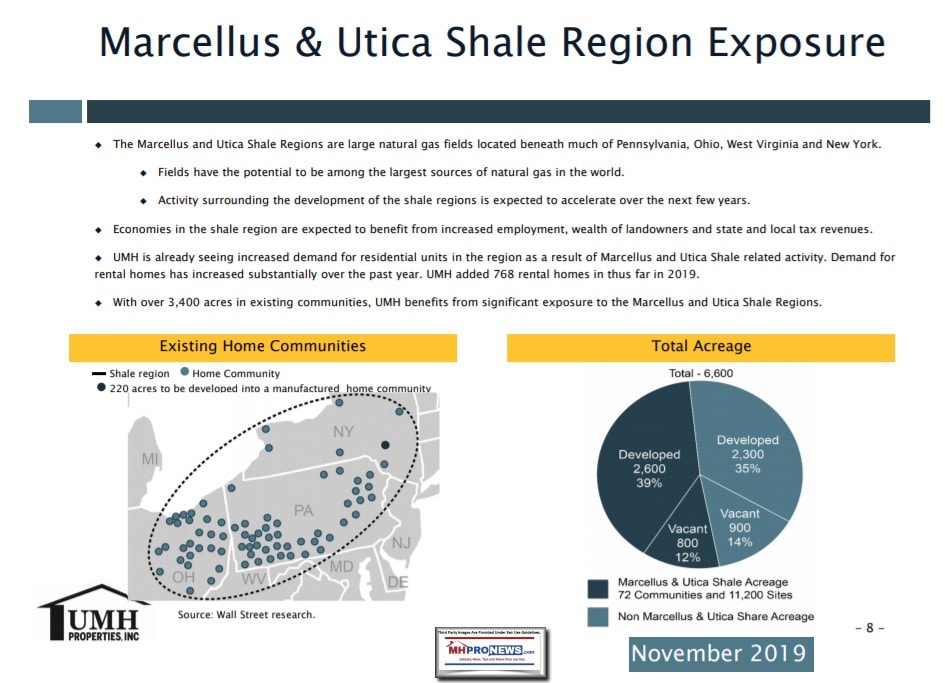 If Sanders continues to gain steam, it is increasingly possible he could become the Democratic Party's nominee for the presidency. Thus, the question that Bloomberg, Yahoo, Compass Point or others are raising will be ever more important. Namely, what would it do to manufactured housing in general, and UMH Properties in particular?
There are obvious reasons for UMH's leaders and investors to be concerned. MHProNews will continue to monitor the 2020 campaign, which will rapidly be further clarified as Super Tuesday looms. Note: this report should not be construed as an endorsement of Sanders or his rivals.
To go deeper on the related issues that have arguably been keeping manufactured housing underperforming during an affordable housing crisis, see the timely reports further below. That's it for this report on manufactured housing "Industry News Tips and Views Pros Can Use" © – MHVille's runaway #1 news source, where "We Provide, You Decide." © (News, fact-checks, analysis, and commentary.) Notice: all third party images or content are provided under fair use guidelines for media.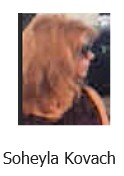 Submitted by Soheyla Kovach for MHProNews.com. Soheyla is a co-founder and managing member of LifeStyle Factory Homes, LLC, the parent company to MHProNews, and MHLivingNews.com. Connect with us on LinkedIn here and here.
Long-Knives – Sanders Surges, Bloomberg Campaign Prepares Sharper Attack, plus Manufactured Housing Investing, Stock Updates
"People are Afraid to Speak Out" – Extortion by Fear, Hobbs Act – Residents, Manufactured Housing Institute Members, Association Controversies
Manufactured Home Communities Targeted by Lawmakers, AG Plans – Manufactured Housing Industry Alert
Destabilization in Manufactured Housing Market Ahead, plus Sunday Weekly Manufactured Home Headline Review 2.16 to 2.23.2020
Attorney General Tom Miller Slams "Predatory" Manufactured Home Community Operators, plus Manufactured Housing Investing, Stock Updates
The bad news is that the opposition to ethical 'white hat' businesses, investors and other professionals have deep pockets and they are politically connected. But the good news is that Bernie Madoff could have once made that similar claim. Today, Madoff sits in a federal cell. It took persistence on the part of a few professionals with federal officials to finally topple Madoff's multi-billion dollar empire.
Revealing-FHFA Meeting on Duty to Serve Lending Called Manufactured Housing Institute, Manufactured Housing Association for Regulatory Reform, Others – Report, Analysis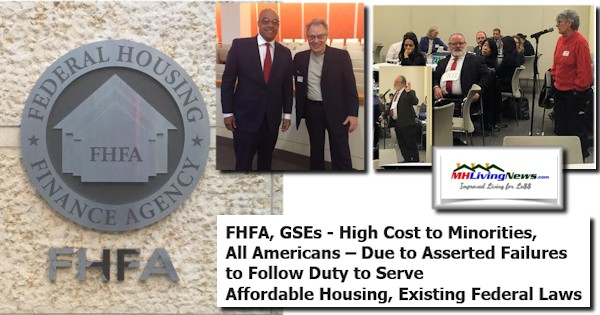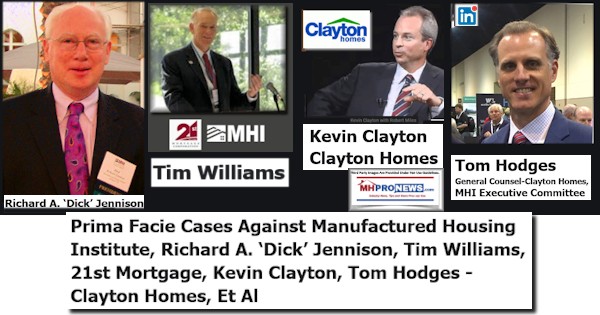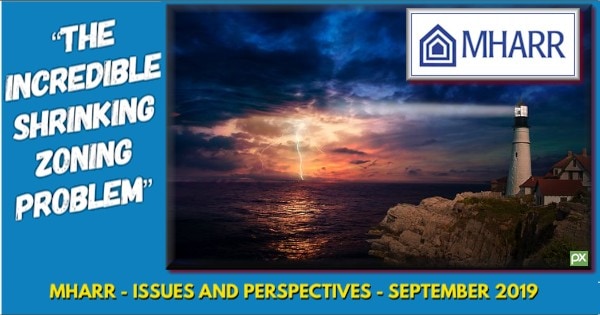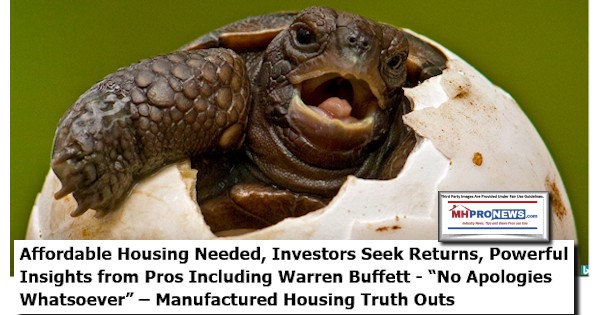 Association Leaders Spotlight, Blast-Zoning, Financing, CrossModsTM and Manufactured Housing Institute
2019 Year-End Totals Reveals Decline in New HUD Code Manufactured Home Production, Shipments vs. 2018
David Dworkin, National Housing Conference, Compared and Contrasted with Lesli Gooch, Manufactured Housing Institute on Fannie Mae, Freddie Mac Proposed Modifications to FHFA on Duty to Serve Finance Plans
$500 Million Axne-Khanna Plan, Manufactured Housing Legislation Introduced, But Manufactured Housing Institute Fails to Tell Members?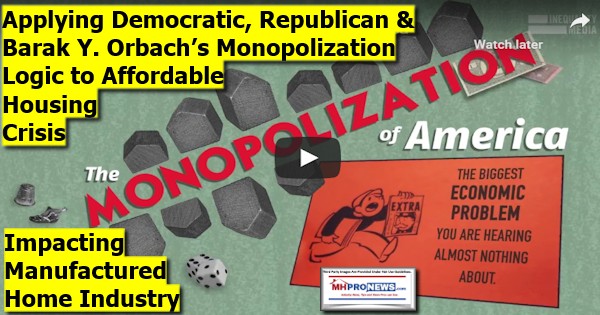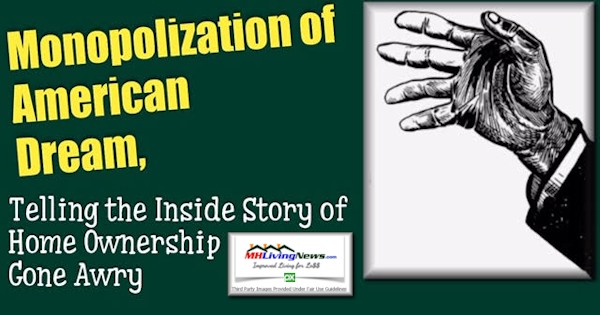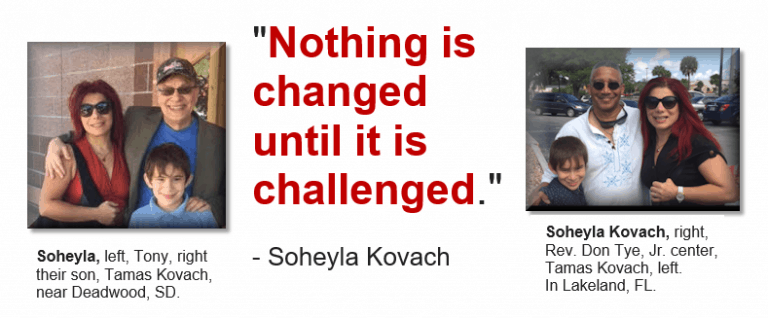 Jennifer Reingold Questioned Berkshire-Clayton Deal; MHI GSEs Rocked by Tip-Document Drop, plus Manufactured Home Investing, Stock Updates
What Warren Buffett, Kevin Clayton, Tim Williams, Berkshire Brands and Manufactured Housing Institute Leaders Fear
Huge "Landmark Case" – Law Firm Wins Millions for Manufactured Home Community Residents, Broader Industry Impacts Ahead?
Why is Skyline-Champion Giving Cover to Clayton Homes? Profitably QUESTIONING Manufactured Housing Institute Leadership for Professionals & Investors
Tim Williams Calls Lesli Gooch "Superb," But Latest Tip Reveals Additional MHI CEO Gooch Controversy Connected Documents
Complaints to State and Federal Officials, Agencies About Corrupt Practices in Manufactured Housing Industry Growing