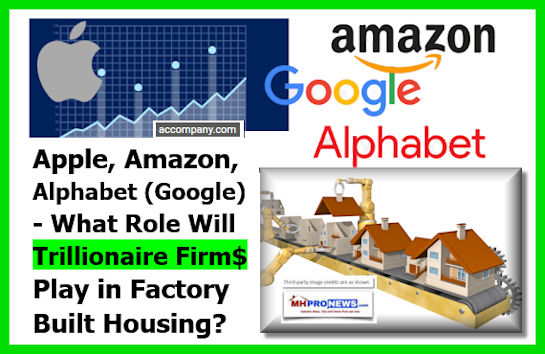 There's a race on between the giant 3 As of the tech world.
Which will become the first trillion-dollar operation?
Analysts project that in about 12 months, Apple, Amazon, and Alphabet – the parent company to Google –  could hit the $1 trillion-dollar mark in valuation.
As the Daily Business News has previously reported, several of the tech giants are dabbling directly or indirectly in the world of factory-built housing.
In one sense, their realities give them little choice.
Housing for their workers is a problem. So, of course they will be focusing on solutions for those kinds of issues.
The composite Google search results from this morning – shown below – provides a snapshot of the realities.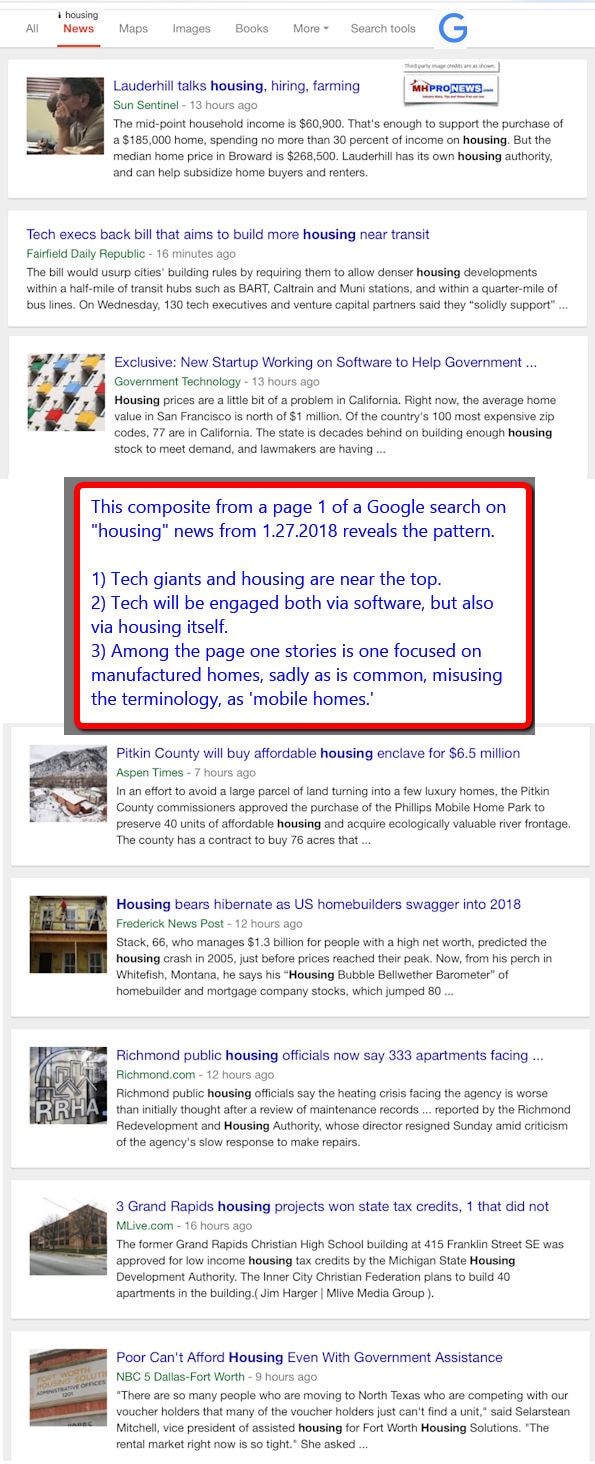 With affordability an issue, as the housing news search above demonstrates, the tech giants are both compelled – and will be attracted into – the world of factory built homes.
When Apple announced that it will repatriate over $200 billion dollars due to tax reform,
with over 200 U.S. companies announcing bonuses and pay hikes to workers, that positively impact millions of Americans,
with President Trump's Davos trip theme of "America is Open for Business" to the titans of international commerce being widely hailed, even by many in an often-critical press,
with consumer confidence at or near record highs,
with business confidence high,
with unemployment is at or near historic lows,
with immigration related issues moving towards – yes, hard to believe based upon the political theater – the first stage of resolutions,
and housing affordability and millions of housing units need,
those bullets all read like a road map for investors into the universal need for more quality, affordable housing.
That in turn has and will continue to lead investors into affordable factory-built housing. Which has already led some in tech into various kinds of prefab or modular housing, as we reported throughout 2017.
Meet the Modular Housing Builder Google Picked, and their "Industrial Cathedral"
Survey Top 2017 PreFab, Modular, Tiny and 3D Printed Housing News Stories
But others will "discover" that manufactured homes are very different than the stigmatized stereotype projects. That's when the Sam Zell mantra – when others are going right, look left – will take root with a growing number of tech companies, hedge funds, and other deep pocket players searching for smart, sustainable value.
Given the fact that:
production backlogs of HUD Code manufactured homes are several months deep,
new plants are scheduled to come online,
manufactured housing – which outsells modular, as the example from Skyline below reflects – will doubtlessly get its share of the investment pie.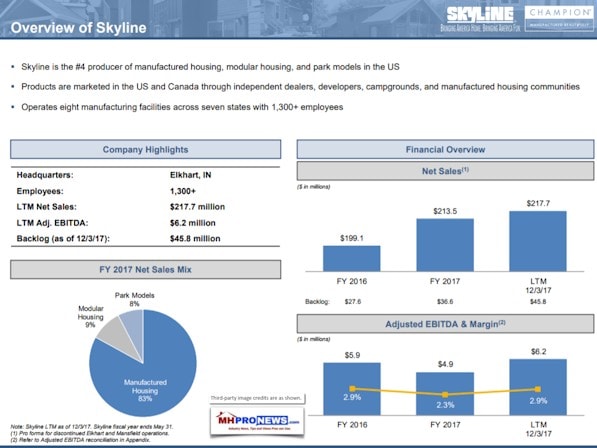 Housing, Housing, Housing…
The latest announced shakeup at HUD is a signal, Daily Business News' sources tell us, that the Trump Administration is recognizing the potential, importance and value of manufactured housing in the mix of the nation's total housing outlook.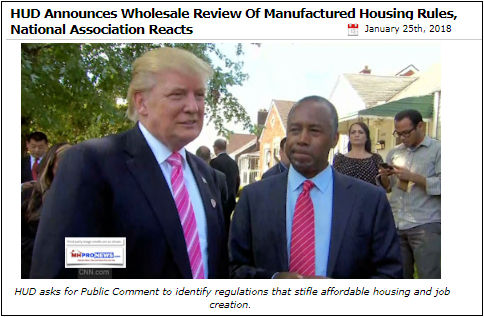 Keep in mind that Vice President Mike Pence is from Indiana, which is the 'birthplace' of manufactured homes.  Sources there tell MHProNews that VP Pence understands HUD code homes – even our industry's lingo – far better than most politicos.

As MHLivingNews reported during the campaign, one of President Trump's family businesses – building – has direct exposure to high-end prefabs.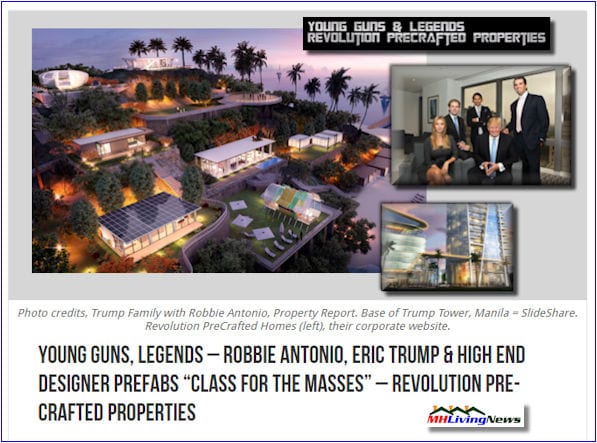 So the foundation for a federal policy more embracing of factory-built homes exists.
These are among the reasons why MHProNews early, loudly, and proudly promoted Team Trump during and since the 2016 campaign.  The background and policy positions of the Trump/Pence ticket were clearly superior to those of Secretary Hillary Clinton.  2017 and early 2018 economic news has proven that to be an accurate assessment.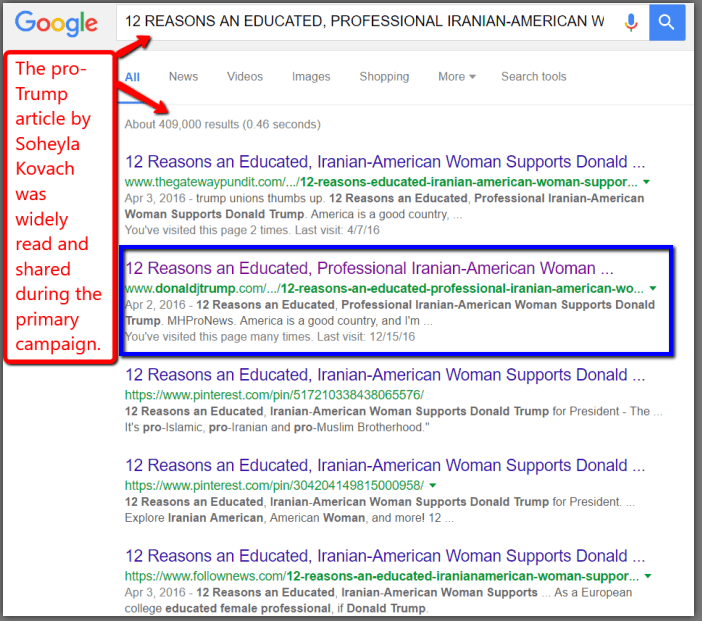 The Latest Big Deal…
The Skyline-Champion deal has and will cause more investors to take a new, fresh look at manufactured and modular homes.  As last night's market report reflected, the stock has soared in the wake of the announcement.
Skyline – Insider Trade$, Institutional Owner Move$ – Plus Manufactured Housing Market Update$
The manufactured housing REITs and publicly traded companies that have land-lease communities have had a strong, steady performance, even in the face of the headwinds caused by the Obama-era Consumer Financial Protection Bureau (CFPB).
For a snapshot of the market impact, see the links from last night's MH connected market report for the 1 Year Post-Election trends of the various companies the Daily Business News tracks better and in more detail than anyone else in the manufactured housing industry's trade media.
Big Toe in the Water…
While it's a arguably a pittance to start, Fannie Mae's and Freddie Mac's toe into the manufactured home chattel lending waters has drawn headlines, and that also means, investors' eyes too.
FHFA Publishes Fannie Mae's and Freddie Mac's Underserved Markets Plans for Duty to Serve (DTS) Program
England's financial services giant Legal and General has taken a direct dive into modular housing.  Plus L&G has reported investments in U.S. based Cavco Industries (CVCO), the current #3 producer of HUD Code manufactured homes.
Capital has and will seek ways to be deployed in areas of opportunity.  Housing may not be quite as sexy as tech, AI and self-driving vehicles for some.  But it very much fits the mold of a market that is already attracting new capital, and is poised to draw in even more.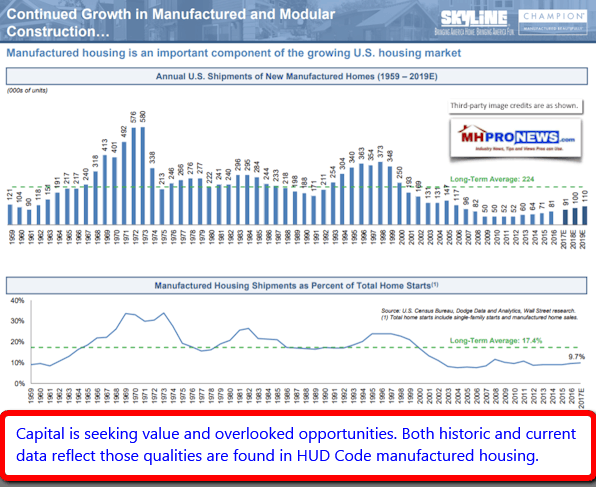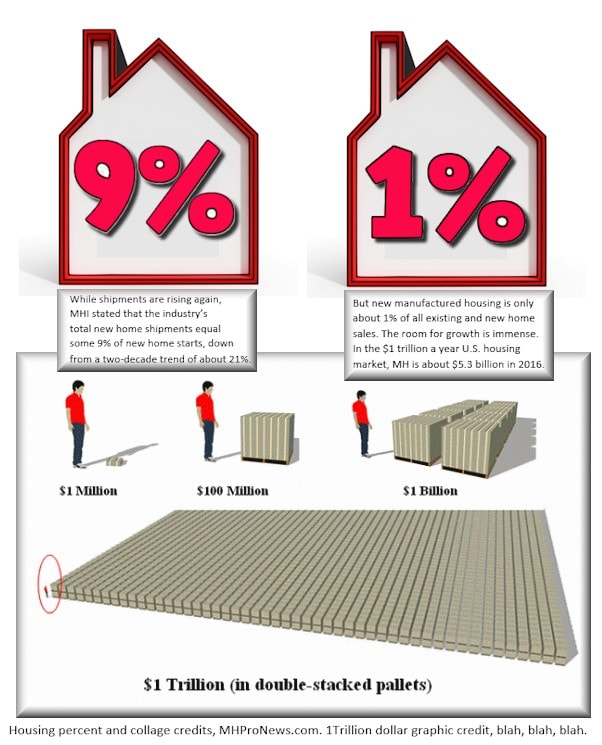 The list of promising indicators are so numerous, that a book is needed, not an article.
Thus this post is designed to provide a flavor of known facts, trends, and links to more details about the dynamics behind it all.
Investors, Investors…
Investors are reaching out to and researching MHProNews and MHLivingNews – directly and indirectly.  Why?  Because they find these to be a superior resource for their research.  The same can be said about public officials.
Beyond messages and conversations, website and third-party statistics provide insights of why these sister-trade-media-platforms are well received by the public, professionals, and politicos alike.
"Controversial Topics" Exist in Part as Answers to Tough Questions from Outsiders Looking at HUD Code Manufactured Homes
The controversial topics that cause some in MHVille angst, are in fact a necessary part of the industry's reality check.
They answer questions that investors and industry pros alike are posing.
The articles linked herein take a deeper dive into some of the related topics.
Manufactured housing underwent a major shakeup after the industry's downturn that began in 1998.
The Warren Buffett/Clayton/Vanderbilt/21st/MHI related articles are designed in part to answer a common question from investors.
Among the questions or lenders and investors?
For those who have seen and touched the product, "How is it that manufactured housing hasn't already taken off?"
Interview videos with experts – such as the one above – help answer that question.
The video below helps answers concerns that arise from informed public officials.  The written reports that compliment those two and other videos we've produced over the years round out fact-based insights that intelligent investors, shoppers, and others want answers to; today.
The Powerful Insights from the Clayton Video Interview
The thumbnail link to the Kevin Clayton video interview has now been placed on the MHProNews home page.
That interview is akin to a road-map for the industry's story in recent years in several ways.
Combined with our related reports, that interview video helps explain several of the dynamics on how and why so many in manufactured housing have struggled when it should be soaring. It explains why and how Clayton – via Berkshire and "the moat" – gobbled up such big pieces of the industry in a relatively short period of time.
Warren Buffett, "the Moat," Manufactured Housing, Berkshire Hathaway, Clayton Homes, 21st Mortgage, Vanderbilt, Wells Fargo, NAI…
Kevin Clayton Interview-Warren Buffett's Berkshire Hathaway, Clayton Homes CEO
The Clayton interview and related report – linked above – also plainly states what the billionaires and the billion-dollar corporations want to know.
Namely, what must others do to be successful in a sustainable way in manufactured housing?
Study!  Research!  Facts! Expert Guidance! Understanding! 
Warren Buffett's success, as Kevin Clayton mentioned, is due in part to the Berkshire Hathaway chairman's studious 'professorial' approach, and ongoing research.
The advantage Buffett has wielded is understanding.
Understanding is what reduces risk, says Buffett, and can lead to maximum opportunities.
The Alan Amy and Mike Harrison videos each make or underscore points that the factory-built housing industry's current and incoming professionals must grasp.
They are?
Alan Amy states the obvious truth that is hiding in plain sight. Manufactured housing is the future. That's why people like Buffett or real estate/investment mogul Sam Zell are in the business, and why they continue to try to increase their presence.
Mike Harrison is one of several possible examples of how quickly manufactured housing can be used to develop – or redevelop – properties with hundreds of homes, in a short time-frame.
While MHI's strategic initiative will draw some attention, what is already known about it is typical of their work.  They're behind, not ahead.
Part of the evidence is Barry Noffsinger with Credit Human fine job of explaining for MHProNews reader/viewers almost a year ago several of the same points – in several ways, better – and certainly for less money.
The irony is that "the moat" -building Berkshire boys are growing at a slower pace than the industry at large is. That's based upon their own and MHI's data.
Further, if you listen to Kevin Clayton's video and look at their current number of retail locations, one must draw the conclusion that they reduced the number of retail locations in recent years by about 100.
While reducing many of their own retail centers, Clayton Homes purchased others from independents. Among those purchased by Clayton, were operations our consulting side had involvement with.  Most of their profits aren't from retail, they are from finance.
Facts simply are. None of those are slams.  Rather, they are reality-checks that are precisely the kinds of insights that investors and professionals alike ought to crave.
Clayton arguably would be doing better – and certainly the industry at large would be doing better – if they had not killed off/forced out hundreds of competing companies, as "the Moat" article above lays out and links up in more detail.  Keep in mind that IBISWorld/The Atlantic projected that it would occur.  So these are not mere opinions, they are observable realities that objective researchers will uncover if they but look.
Those researchers are looking here and on MHLivingNews.
Our upcoming exclusive focus group videos and reports continue to build on the body of evidence that manufactured housing is the future, and can routinely yield happy home owners.
So, while there is a certain 'tension' between the elephant-in-the-room (Berkshire's manufactured housing units, the rest of the industry and outsiders looking in); the behavior of the Omaha/Knoxville/MHI axis could be a case study as to why anti-trust (anti-monopoly) laws exist in the first place.
MH Resistance – Unmasking, Demystifying, Manufactured Housing Industry's Roadblocks
Anti-trust laws exist because it is overall bad for business, bad for consumers and bad for the economy at large — even if it may seem to specifically benefit a given 'trust.'
Faster Growth Outside of the Giants
Independent producers, such as Sunshine Homes, have been growing at more than double pace of Clayton and Cavco.
Let's begin with a blast of honesty. Doing some Inside MH video episodes are more fun than others. At the start and end of the video below, yours truly gets rebuked by a person being interviewed. Part of what's interesting in doing unscripted interviews is that you never know what someone is going to say.
Independent retailers and selling communities – such as New Durham Estates and others – are growing at a far faster pace than the industry 'leaders.'
One takeaway is clear.
Free enterprise works when its allowed to work.
Taking the foot off the regulatory break – a foot that Buffett and others helped put and keep in office with President Barack Obama – will naturally be good for business.
While people can hate or love his tweets, President Trump – the builder/entertainer/communicator – is reopening America for business.
Housing Hunger…a Necessity That Must Be Fixed
Realtors are hungry for more affordable inventory.
Realtor's website joined Bloomberg, Fox and HousingWire in 2015 in proclaiming the role that manufactured homes need to make in the nation's housing supply.
While housing becomes more and more expensive across the United States, there's a simple solution. For those who either want to be frugal and still get great quality or those who have limited funds, but desire to be a homeowner – the answer, suggests and HousingWire – could be modern manufactured homes.
MHI continues to communicate problematic narratives to Washington (e.g.: stressing manufactured housing as predominantly "rural housing" is arguably one of several tactical/strategic errors they've made for years).
But the reality of MH being successfully used in urban and suburban settings has been a theme that MHLivingNews and MHProNews have spotlighted for years.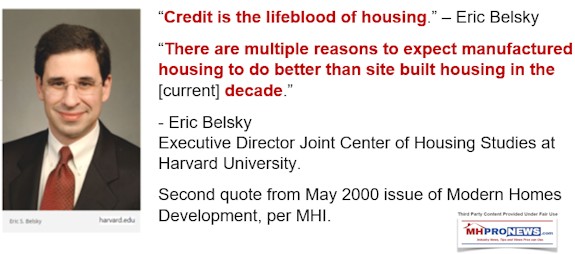 Appealing Manufactured Housing Institute (MHI) Marketing, Finance Booklet Reviewed
In the pre-MHI president and CEO, Richard "Dick" Jennison era, MHI's staff were far better at grasping and pointing to those urban and suburban uses.  See the report, linked above.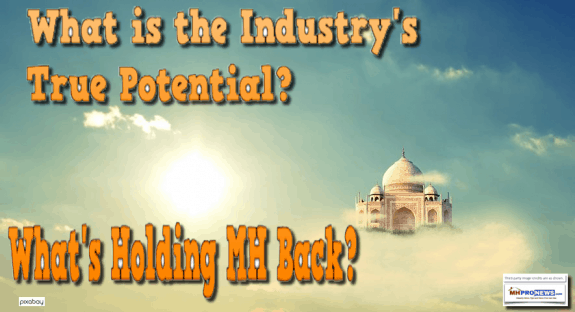 Until those within and outside of MHVille fully grasp the amazing benefits of the 'two great laws' already on federal books that could benefit manufactured housing, the industry will not reach its potential.
But the reverse is true.  Applying those two great laws are part of what the savvy players are banking on.
Two Great Laws Already on the Books NOW,  Can Unlock Billion$ Annually for Manufactured Housing Industry Businesse$, Investor$
Only Patient Research, Sufficient Resources and Expertise Will Sustainably Succeed
It's a complex industry at first.
Warren Buffett's Political Payoff$, THIPS, and Manufactured Housing
There are many moving parts.
The politics of the industry and its associations are not instantly grasped.
Too many within the industry's own ranks are not clear on just how great the upside potential truly is.
None of those claims should be construed as a slam. They are demonstrably true, as sources tell us or admit.
But the reason that the latest 'big deal' – Skyline Champion – is a signal to:
investors,
housing/policy advocates,
public officials and
those in the industry
is precisely the reasons why the tech giants and billions being unleashed in the America economy will attract billions of investor dollars into factory-built housing.
While no one can say how many billion that will be, the math is clear.
For those who understand or learn about the HUD Code manufactured home industry's two already existent great laws, it ought to be obvious.
Manufactured homes are, as Alan Amy wisely said, the housing of the future.
Some might call all of the above our opinion.
But it's the view from a veteran of the industry, not just a 'reporter.'  That combination of veteran and consulting experiences, combined with our daily research and reports places us in that enviable Masthead perch.
It's a fact. You can see farther from atop the Masthead than you can from the deck of the ship. It's not bragging if it's true.
"We Provide, You Decide." © ## (News, analysis, commentary, links to documents and research.)
Note 1: Thousands do it. For those industry pros, investors, and MH advocates who want to sign up to our industry leading headline news/updates – typically sent twice weekly – please click here to sign up in just seconds.
(Image credits are as shown above, and when provided by third parties, are shared under fair use guidelines.)
Kovach is the award-winning managing-member of LifeStyle Factory Homes, LLC, parent to MHProNews, and MHLivingNews.com.
Both are #1 in their categories.
For consulting and business development, other professional services, click here.
Kovach is one of the most endorsed and recommended MH industry professionals in all of manufactured housing.