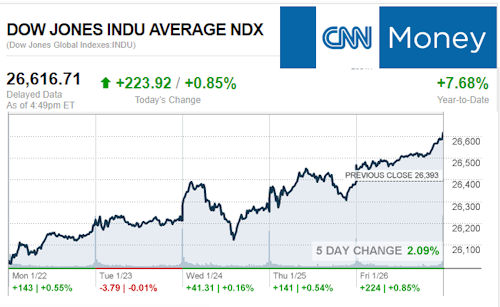 As you'll see further below in our market spotlight, SKY is HIGH.
Institutional moves, and insider trades are part of this evenings report.
If you're new, already hooked on our new spotlight feature – or are ready to get the MH professional fever – our headline reports are found further below, just beyond the Manufactured Housing Composite Value for today.
The evolving Daily Business News market report sets the manufactured home industry's stocks in the broader context of the overall markets.
Part of this unique feature provides headlines – from both sides of the left-right media divide – that saves readers time, while underscoring topics that may be moving investors, which in turn move the markets.
Readers say this is also a useful quick-review tool that saves researchers time in getting a handle of the manufactured housing industry, through the lens of publicly-traded stocks connected with the manufactured home industry.
MH "Industry News, Tips and Views, Pros Can Use." ©
Selected headlines and bullets from CNN Money:
Steve Wynn accused of sexual misconduct
Steve Wynn responds to allegations
Sears is at risk of default
Justin Trudeau had a really good week
Bombardier wins big over Boeing in trade dispute
Lyft responds to claims of staff spying on riders
Trump official: Regulators don't have a 'blank check'
Thousands saw Facebook events linked to Russian trolls
What's wrong with Starbucks?
What Davos thought of Trump's speech
Six male BBC staffers agree to pay cuts
Selected headlines and bullets from Fox Business:
One multimillion dollar bet on Eagles changed the point spread, MGM bookie says
Super Bowl commercials: What brands have planned for this year's game
ESPN's $1M anchor Jemele Hill to join site run by Washington Post vets
Dow soars 220 points as Wall Street books record highs
In-N-Out managers make $160,000 per year
Boeing suffers blow as trade court blocks 300% tariff against Bombardier
Wynn Resorts shares plunge as casino mogul accused of sexual misconduct
How tax reform bonus payments can save your business a ton of money
CEO of Canadian drug company whose founder, wife found dead steps down
High-tax states forming coalition to sue government over tax bill, SALT changes
Budweiser just released its Super Bowl LII ad: Here's a look
Anheuser-Busch CEO says he's committed to the U.S. after tax reform
ICYMI – for those not familiar with the "Full Measure," 'left-right' media chart, please click here. 
Today's markets and stocks, at the closing bell…
S&P 500 2,872.87 +33.62(+1.18%)
Dow 30 26,616.71 +223.92(+0.85%)
Nasdaq 7,505.77 +94.61(+1.28%)
Russell 2000 1,608.06 +6.39(+0.40%)
Crude Oil 66.23 +0.72(+1.10%)
Gold 1,349.50 -13.40(-0.98%)
Silver 17.42 -0.20(-1.14%)
EUR/USD 1.2422 +0.0047(+0.38%)
10-Yr Bond 2.66 +0.04(+1.56%)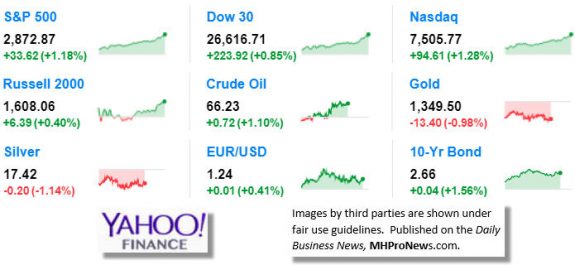 Manufactured Housing Composite Value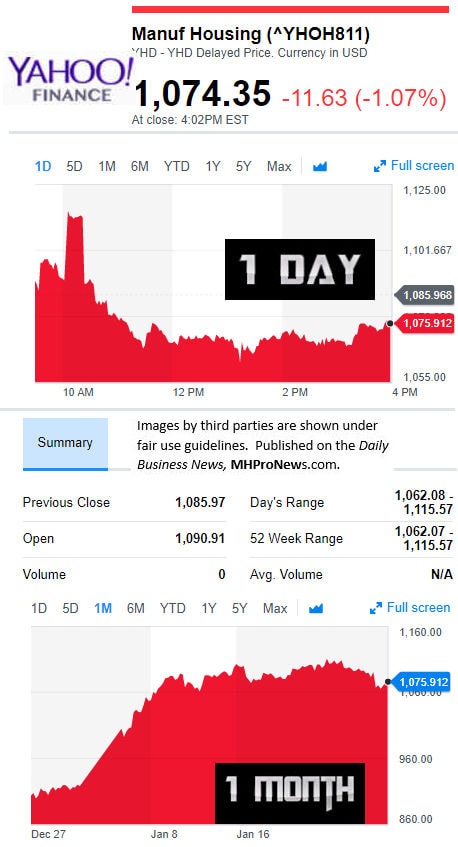 Today's Big Movers
For all the scores and highlights on tracked manufactured home connected stocks today, see the Bloomberg graphic, posted below.
Today's MH Market Spotlight Report –
To say that the factory built home industry and the markets have had a new buzz since Skyline Champion's Jan 5, 2018 announcement would be an understatement.
The screen capture from Google News, below, gives you the flavor.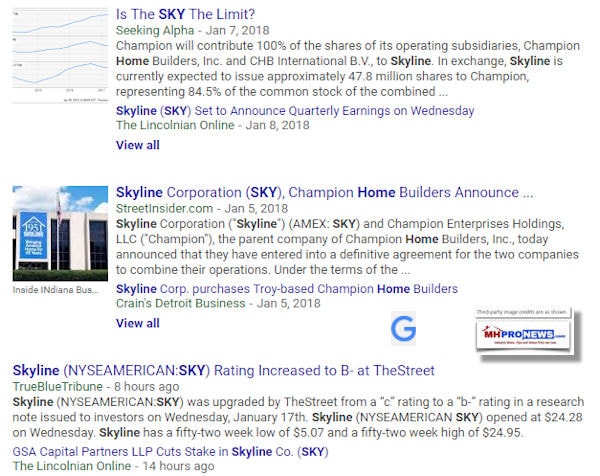 The report below, per the Post Analyst.
Skyline Corporation (SKY): Look At Its Institutional Ownership, Some Reported Insider Trades

Skyline Corporation (NYSE:SKY) "produced a 378.9% rally since recording the worst price of $5.07. Thanks to the latest 10.97% increase, it now trades at $24.28. Throughout the trading on 01/25/2018, the share price floated between $21 and $24.95. This company shares are -100% up from its target price of $0 and the current market capitalization stands at $201.28M. The recent change has given its price a 64.58% lead over SMA 50 and -1.82% deficit over its 52-week high. The stock witnessed 90.13% gains, 91.18% gains and 230.34% gains for the 1-month, 3-month and 6-month period, respectively. To measure price-variation, we found SKY's volatility during a week at 8.28% and during a month it has been found around 9.18%.
Skyline Corporation (SKY) Top Holders
"Institutional investors currently hold around $96 million or 51.9% in SKY stock. Look at its top three institutional owners. Gendell Jeffrey L owns $24.79 million in Skyline Corporation, which represents roughly 12.32% of the company's market cap and approximately 25.82% of the institutional ownership. Similar statistics are true for the second largest owner, Wells Fargo & Company/Mn, which owns 573,196 shares of the stock are valued at $12.54 million. The third largest holder is Venator Capital Management Ltd., which currently holds $7.71 million worth of this stock and that ownership represents nearly 3.83% of its market capitalization."
Skyline Corporation 13F Filings
"At the end of 09/30/2017 reporting period, 14 institutional holders increased their position in Skyline Corporation (NYSE:SKY) by some 603,586 shares, 16 decreased positions by 580,772 and 7 held positions by 3,199,956. That puts total institutional holdings at 4,384,314 shares, according to SEC filings. The stock grabbed 5 new institutional investments totaling 186,960 shares while 6 institutional investors sold out their entire positions totaling 84,900 shares."
Skyline Corporation (NYSE:SKY) Insider Trades
"Multiple company employees have indulged in significant insider trading. Skyline Corporation disclosed in a document filed with the US Securities and Exchange Commission (SEC) that 10% Owner Gendell Jeffrey L Et Al has acquired 48,966 shares of Skyline Corporation (SKY) in trading session dated Jan. 08, 2018. These shares are worth $831,932 and were traded at $16.99 each. The SEC filing shows that Gendell Jeffrey L Et Al performed a purchase of 9,648 shares. The 10% Owner added these shares by way of transaction on Nov. 03, 2017. The company's shares were assimilated at $12.28 per share worth to an investment of some $118,477 on account of Gendell Jeffrey L Et Al.
10% Owner, Gendell Jeffrey L Et Al, purchased 41,420 common shares of Skyline Corporation (SKY) in the open market. In a transaction dated Oct. 19, 2017, the shares were bought at an average price of $11.24, giving away a sum of $465,561. After this purchase, 1,206,879 common shares of SKY are directly owned by the insider, with total stake valued at $29,303,022.
In the transaction dated Oct. 17, 2017, the great number of shares acquired came courtesy the 10% Owner; Gendell Jeffrey L Et Al added a total of 32,420 shares at an average price of $11.07, amounting to approximately $358,889. The insider now directly owns 1,165,459 shares worth $28,297,345."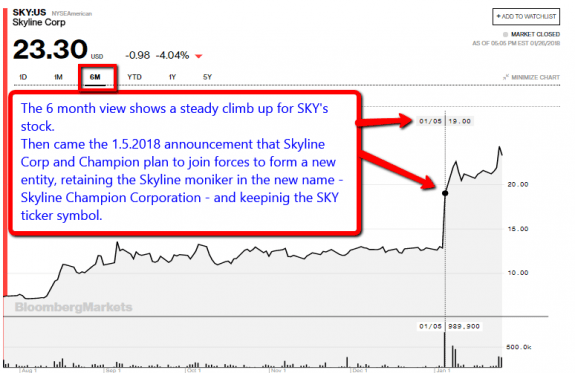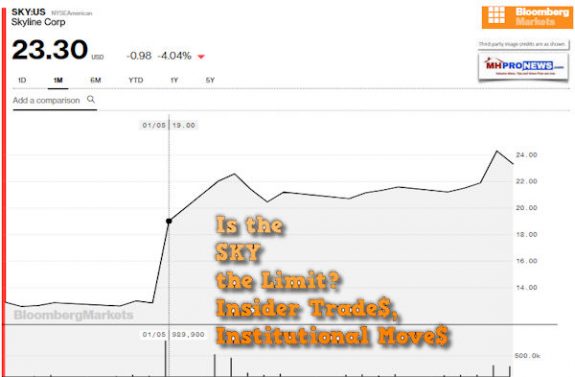 Our latest report, is linked below.
Skyline Corp, Champion Homebuilders Conference Call Presentation Facts, Figures, Forward-Looking Statements, Planned Merger Detail$
See Recent Exclusive 1 Year Snapshot of All Tracked Stocks
Profitable Insight$ – POTU$ Trump Effect on MH Stock$ at 1 Year, Part 4
Suppliers LPX, Patrick, Manufactured Home Builders Nobility, Skyline Homes – the Trump Effect on MH Stocks, Markets Part 3
Trump Effect – 1 Year Election Impact on Manufactured Housing Connected Stocks, Part 2
Just the Facts – Trump Effect on Manufactured Home Connected Stocks, Part 1
NOTE: The chart below includes the Canadian stock, ECN, which purchased Triad Financial Services.
ECN Triad Financial Services – Fascinating Facts, Manufactured Home Industry Professionals, Investors
NOTE: The chart below covers a number of stocks NOT reflected in the Yahoo MHCV, shown above.
NOTE: Drew changed its name and trading symbol at the end of 2016 to Lippert (LCII).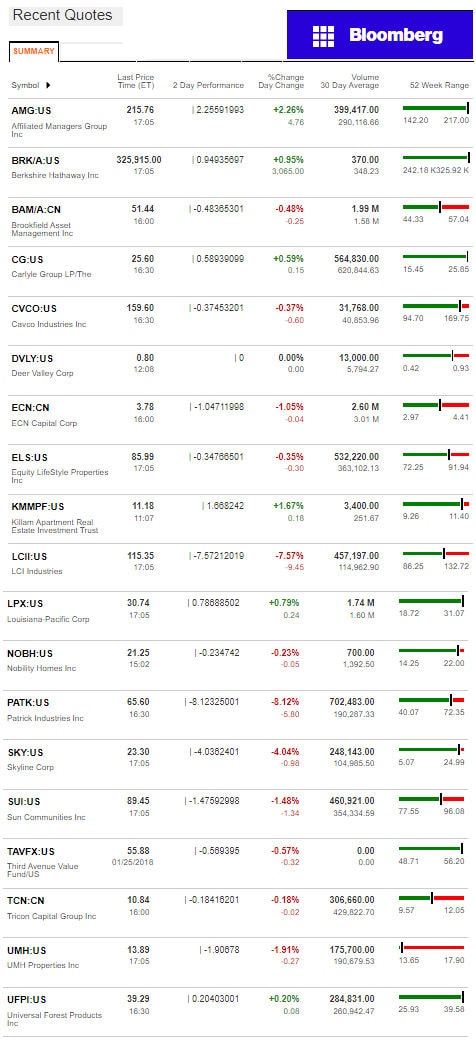 Berkshire Hathaway is the parent company to Clayton Homes, 21st Mortgage, Vanderbilt Mortgage and other factory built housing industry suppliers.
LCI Industries, Patrick, UFPI and LP all supply manufactured housing.
AMG, CG and TAVFX have investments in manufactured housing related businesses.
Your link to a recent round of industry praise for our coverage, is found here.
For the examples of our kudos linked above…plus well over 1,000 positive, public comments, we say – "Thank You for your vote of confidence."
"We Provide, You Decide." © ## (News, Analysis.)
(Image credits are as shown above, and when provided by third parties, are shared under fair use guidelines.)
Submitted by Soheyla Kovach to the Daily Business News for MHProNews.com.