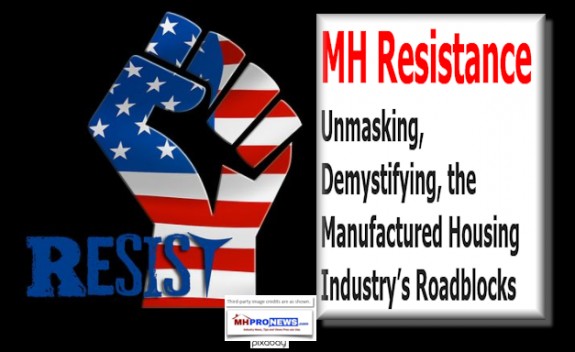 Broadly speaking, there are two sets of roadblocks or choke points to the manufactured housing industry's growth.
They are?
Internal road blocks, and external ones.
The nearly concluded Louisville Manufactured Housing Show marks 50 years of Show Ways Unlimited's Dennis Hill's leadership of the event.
Every significant event in the industry creates numerous opportunities for interaction between the factory-built housing professions members, as well as for newcomers to the industry.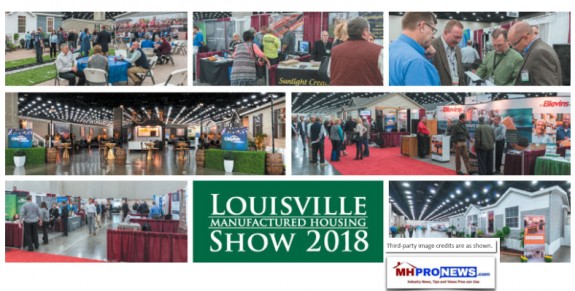 Discovery – Newcomers, "Fresh Eyes"
Among the dozens of one-on-one interactions between MHProNews and event attendees was with a newcomer exploring the professional opportunities manufactured homes could create.
That specific gentleman was "blown away" at the 'quality and value of manufactured homes,' compared to conventional site built ("stick built") housing.
But that newcomer – who is already successful in a complementary field – was equally stunned to learn that manufactured homes were going to finish 2017 at fewer than 100,000 shipments.
State of the Manufactured Home Industry, Comparing RV vs. MH Data
When the final numbers come in, preliminary indicators suggest the total number of HUD Code manufactured homes will be around 92,000 (+/-).
'So what explains the low [new home shipment] totals?' – that visiting professional asked.  Their operation is pondering making a play related to manufactured housing.
It's a penetrating question.  One that the MH industry's pros ought to ask themselves routinely.
When Harvard University researcher Eric Belsky projected that manufactured housing ought to outperform conventional housing by 2010 – a fact once cited by the Manufactured Housing Institute – an objective analyst must ask, 'what caused the miss in Belsky's estimate?'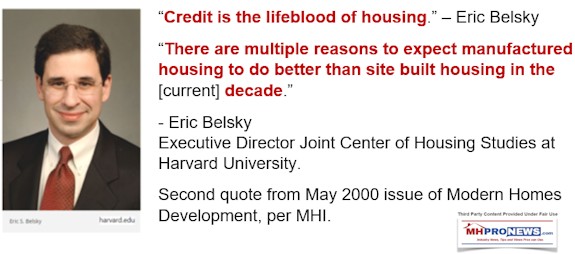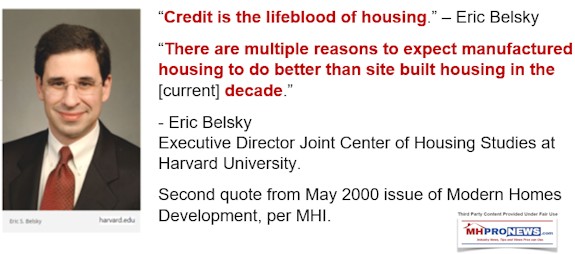 Appealing Manufactured Housing Institute (MHI) Marketing, Finance Booklet Reviewed
Belsky knew of the repossessions and financing shifts circa the late 1990s/early 2000 when he made his educated observations. Those issues – in Belsky's view – seemed to be transitional.
As the manufactured housing industry's first and still only Daily Business News has previously observed, there is only one national association in the industry that claims to 'represent all of factory built housing.' That would be the Arlington, VA based Manufactured Housing Institute (MHI).
As the self-proclaimed industry's leaders, who tell their members about "MHI Zen" and ask, "Got Clout?" – they can't have it both ways.
They can't both claim clout and 'Zen-like' leadership, and then not take responsibility when things go awry.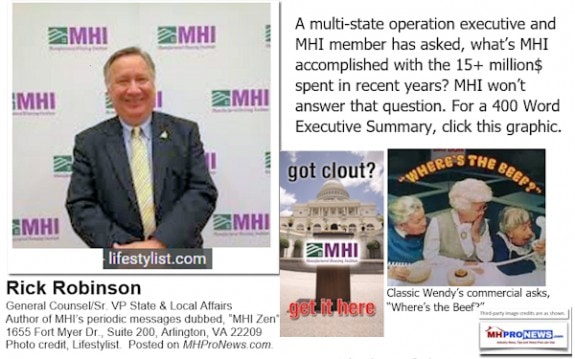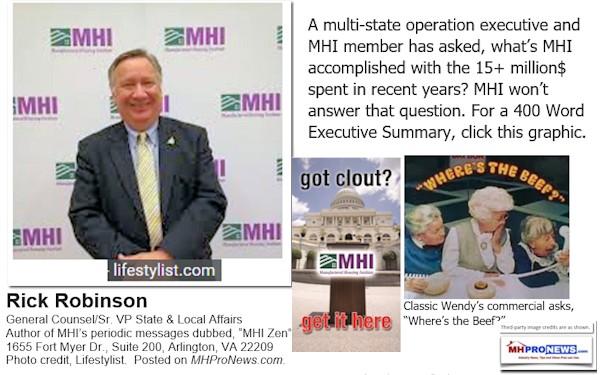 They are either successful gurus, or they are something else…
Indeed, MHI's own prior Chairman, Nathan Smith, said the association had to admit to itself that it had often 'failed to be pro-active' in their efforts. Here exactly how he said that, in context, in the video below.
Why not ponder for a few moments, and take Nathan Smith at his word?
If it is wiser to go to the district office to see a congressman or senator, then why for years has MHI organized their Washington, D.C. meeting?
Why not take Smith as his word, as he laughs and says, he doesn't want the competition?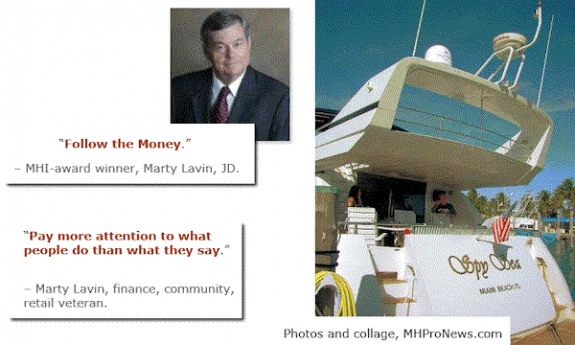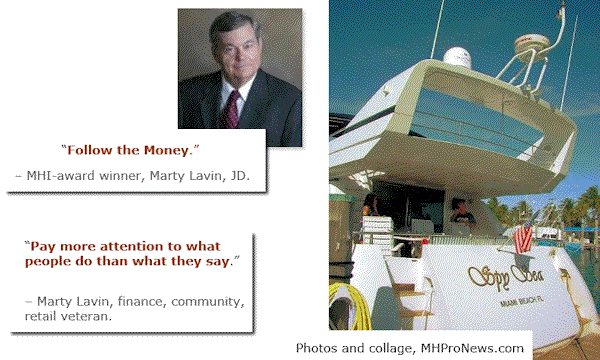 When the Arlington-based association's efforts and fact patterns demonstrates continued problematic performance, analytically speaking, they have only a few choices, if they want to maintain credibility.
It's the same options any professional, or organization faces when a miscue occurs, because we all have them.  The issue isn't only the miscue, rather, its what happens after a mistake takes place.
Or are they a case of – if they succeed or fail, a handful of MHI members profit either way?  Keep in mind some of the key takeaways from the Kevin Clayton video interview, found in a report linked further below.
There are only two kinds of competition Warren Buffett dislikes, foreign and domestic – Kevin confirmed that claim during the video.  Kevin also went on and on about "the moat."
Warren Buffett, "the Moat," Manufactured Housing, Berkshire Hathaway, Clayton Homes, 21st Mortgage, Vanderbilt, Wells Fargo, NAI…
MHI's Miscue Options
1) Admit mistakes and failures as they occur, and attempt to correct them. MHI President and CEO Richard "Dick" Jennison said on camera that they do fail at times. But do they admit specificity what those failures are? Or how they plan to learn from and correct them?
When was the last time you saw MHI admit to an error?  Or when in recent years did they publicly take ownership of a failure to achieve a stated goal?
2) Hide or ignore past or on-going failures to meaningfully advance the industry as a whole, not just select companies.
Arguably, this is one of the more common approaches MHI takes. Examples are issues ranging from:
Pam Danner at HUD,
to the DOE energy rule they initially promoted, and were finally forced by trade media, MHARR, and others to do a U-turn on.
Or on critical issues like lending, where Preserving Access has been a six-year odyssey, that prominent MHI member Frank Rolfe, or Bob Crawford, and others have criticized.
Or their own former MHI vice president, who correctly said years in advance that the Preserving Access to Manufactured Housing Act was unlikely to pass.
Or on Duty to Serve, where Tim Williams, 21st Mortgage Corp President and CEO, and prior MHI Chair — resisted change, while the association claimed to be working for DTS implementation.
How can such obvious contradictions be overlooked?

First, the readers digest version, then the details. Last week, the WVHI sent out their newsletter with a column apparently written by their co-president, George Gunnell. Gunnell is an RVP for Clayton Homes. That article and others in the same newsletter indicated that MHI wanted Pam Danner ousted from her role at HUD.
Links to articles detailing those issues are above and below.
Manufactured Housing Institute VP Revealed Important Truths on MHI's Lobbying, Agenda
Duty To Serve, "Complete Waste of Time" per Tim Williams, CEO/21st Mortgage; POTUS Trump, Warren Buffett Insight$
3) Distract from failures, rather than admit them. While distracting, do they quietly or publicly attack and attempt to undermine those voices that call their history of failures into question?  Every time one hears 'the industry needs to unite' behind MHI, one should ask, why?  Where's their pattern of success that would warrant such a trusting unity?
'We Want Your Money' – 2018 MHI Membership, Infographic Fact Check
The "Secret Society"
One need not believe any conspiracy theory to point to the fact that MHI's current president and CEO ducked out on a long, previously publicized event during this week's Louisville Show.
That's self-evident.
Whether MHI's CEO cancelled the night before, or less than 2 hours before MHI's long-planned presentation is an interesting detail.  But regardless, Jennison was seen walking on the Louisville Manufactured Housing Show floor — at the same time he was scheduled to present.
What happened? That report, is linked above.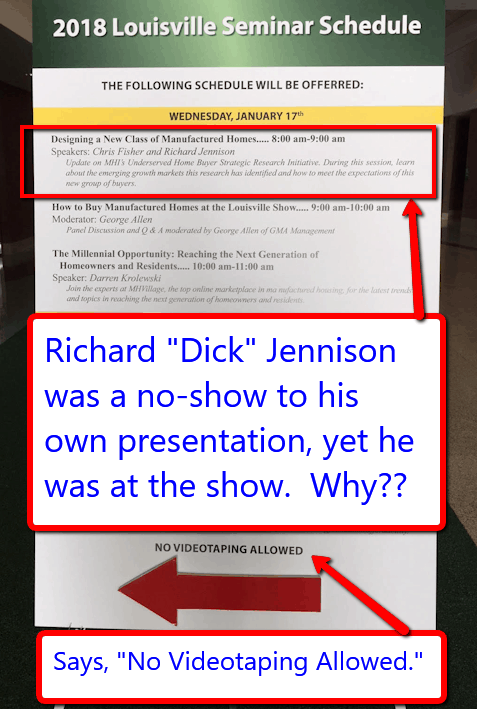 The Bottom Lines?
A common refrain during this week's show has been that 'all factories are humming.'
That's largely true. But HUD Code manufactured housing is still doing only a tiny fraction of the 500,000 or more new housing units that are possible annually, per numerous sources.  That's also true.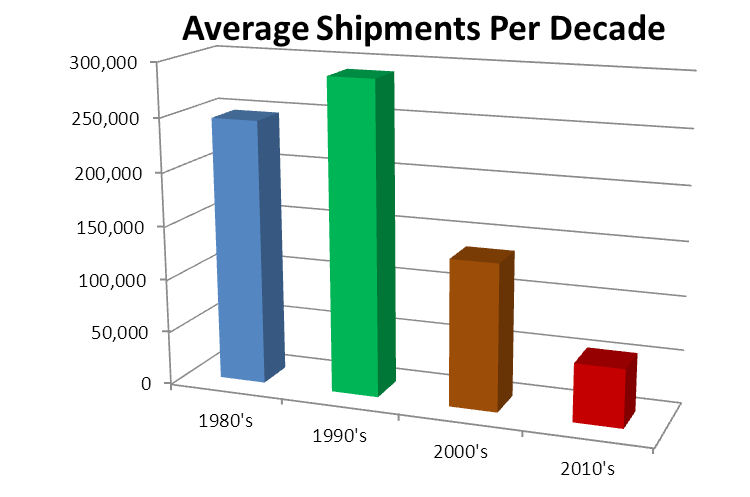 The industry won't be taken as seriously as it should be doing under 100,000 new housing units a year. But the reverse of that is there's a tremendous opportunity – a vacuum to be filled – by visionaries from inside or outside manufactured housing.
Nature abhors a vacuum.  The vacuum will be filled.  It's only a question of by whom, by which entities.
There seems to be no escaping the fact that some of those problems originate within the industry itself.
ELS' Sam Zell – Compliance Costs Destroys Smaller Businesses = Consolidation
MHI member Frank Rolfe and others have said so.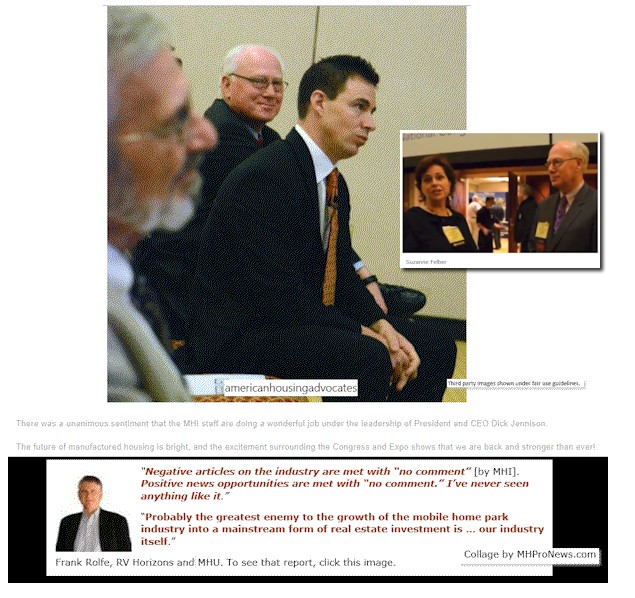 Even some of the problems that are outside of the industry – problematic media coverage – often trails back to the failure on the part of MHI to engage the media in a ways that it should.
Yet, MHI was told years ago what was needed, how it could be done, and MHI's now retiring Vice President Ann Parman praised this publication's leadership in that regard.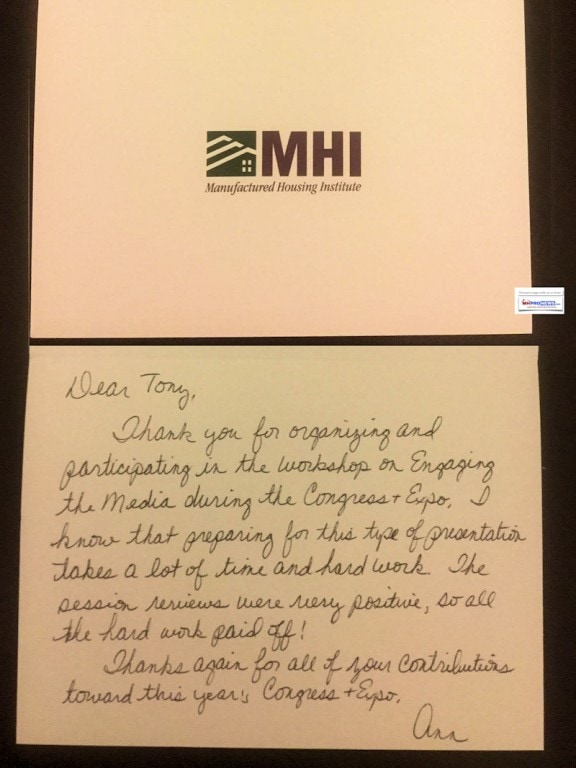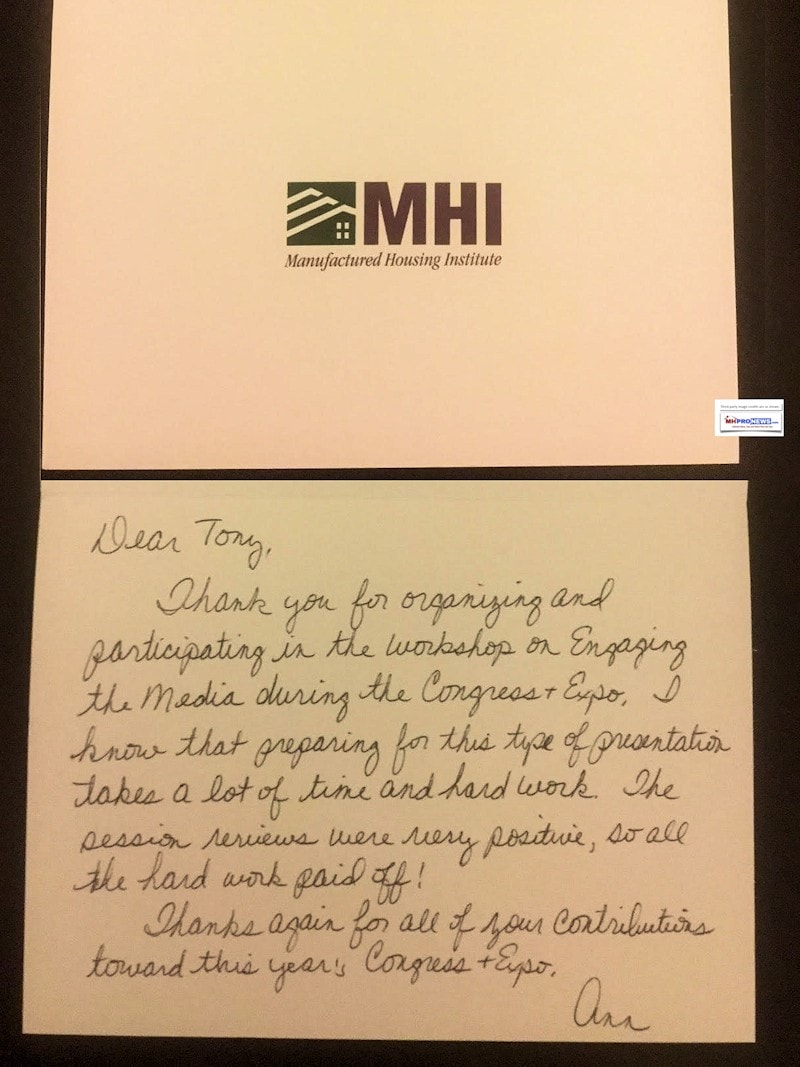 CEO Jennison, and MHI's Late Cancellation of their Presentation
If MHI is so proud of their new plans, why wouldn't they want MHProNews to video the presentation?  Why not allow thousands of industry members – and potentially far more beyond the industry – to see that presentation via video?
The Top Twelve Questions for Manufactured Housing Institute (MHI) CEO, Richard "Dick" Jennison
Logical conclusions are that
if it was a good plan, beyond scrutiny and above reproach, they would have jumped at the chance for free media coverage.
The other option is more troubling. Why did they attempt to stop MHProNews from doing a video or otherwise cover their presentation? Why did MHI not use their considerable influence with the show's management and the Midwest Manufactured Housing Federation (MMHF) board to press ahead with pro-industry trade media coverage of their presentation?   Are concerns raised by MHARR and others about their plan valid, and they didn't want to expose their plan to scrutiny?  If they wanted to escape media coverage, did they really fail to consider that possibility, months in advance?  Aren't all of these problematic?
MHARR's pre-show concerns were voices in their report, linked below.
Jennison and MHI – per members of their own board to MHProNews – are acting like "a secret society."  There are a few insiders, and all others are outsiders.
While there are those who say that publishing anything negative about MHI is like 'airing the industry's dirty laundry,' there's a different view that other industry professionals take.
"The best disinfectant is sunlight," is an observation shared with MHProNews, as it applies to MHI and the forces that dominate that association.
Pro-MH Industry Voices some from inside, others from outside MHI – point to Berkshire Hathaway stronghold over MHI as reasons for dodging critiques, rather than doing an open, frank dialogue.
If MHI and Berkshire Hathaway owned units have nothing to hide, why do they fail to engage?
The article and the Kevin Clayton video interview posted in it are linked below. Per sources, they are one of several reasons why Jennison cancelled on the Louisville presentation to a few dozen members of the industry.  MHI has some explaining to do.  Ditto those who operate Berkshire Hathaway manufactured housing units.
Kevin Clayton Interview-Warren Buffett's Berkshire Hathaway, Clayton Homes CEO
MHI, Clayton Homes, 21st Mortgage, Vanderbilt Mortgage et al, have an open invitation to engage the industry via this, the largest and most popular venue in manufactured housing. Why not do so in Tunica, via a video recorded public discussion?
The MHI/Berkshire Hathaway Challenge
Ladies and Gents at MHI/Berkshire Hathaway brands, are you up for the challenge?  Will you address the industry's concerns and allegations about failure to perform for the broader industry, so that thousands of companies could help achieve the industry's potential?
It's not just that newcomer to the industry's amazing potential that is left scratching their heads over why HUD Code manufactured homes will finish 2017 with under 100,000 new home shipments.  There are numerous voices inside and outside MH that feel – as Harvard researcher Belsky does – that the industry could dominate.
That's arguably a crisis in leadership.
But as former president John F. Kennedy famously observed, the Chinese characters for crisis spell both danger, and opportunity.  Will the industry navigate its dangers?  Who in the industry – or those potential newcomers outside of MHVille – will have the guts to seize the opportunities?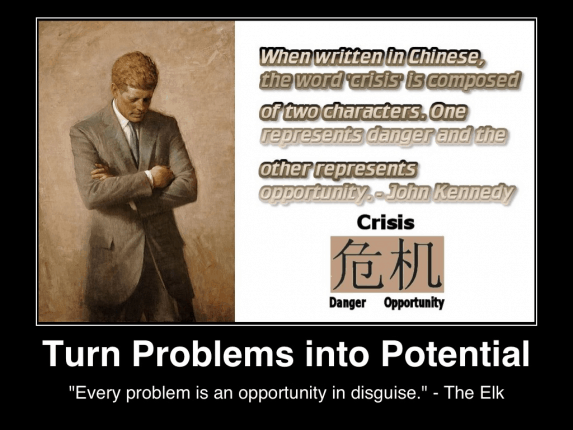 "We Provide, You Decide." © ## (News, analysis, commentary.)
Related:
The Manufactured Housing Institute has finally provided a series of written responses to concerns raised by a number of industry members. MHI did so to via an email to their members, as they ask them to renew their annual membership dues. Let's make this hyper-simple.
Upcoming – perhaps next week: A special report on Dick Jennison, MHI and the rewards that Berkshire Hathaway gave…
(Image credits are as shown above, and when provided by third parties, are shared under fair use guidelines.)

Submitted by Soheyla Kovach to the Daily Business News for MHProNews.com.