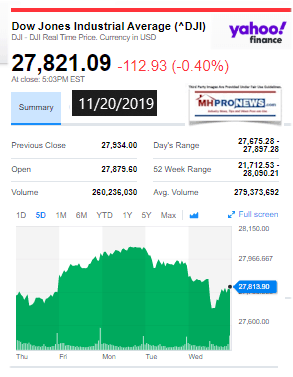 It was The Hill's investigative reporter John Solomon who said today that characterized hearings on Capitol Hill as a "Weapon of Mass Distraction." It was former CBS News award-winning reporter Sharyl Attkisson who wrote a book entitled "The Smear." It was the Rev. Donald Tye, Jr. who told MHProNews that people don't get assassinated as much today as they get their character assassinated by a cloud of innuendo. On a day when the headlines on some news sources are about a purported smoking gun 'quid pro quo' and that 'everyone was in the loop,' we'll look at what PBS NewsHour's video of that same witness reveals. On a down day on the markets, that will be our focus for tonight.
Regular readers please note there are a few tweaks to some of the standard portions of our evening market/investing report. Read carefully as some changes of the 'standard text' that follows before our left-right headlines and also in other features near the end of tonight's reports.
Every evening our headlines that follow provide snapshots from two major media outlets on each side of the left-right news spectrum that reflect topics that influence or move investor sentiment. In moments on this business evening report, you can get 'insights-at-a-glance.'
This report also sets the broader context for manufactured housing markets, in keeping with our mantra, "News through the lens of manufactured homes and factory-built housing" ©.
We begin with headlines left-of-center CNN followed by right-of-center Fox Business. We share closing tickers and other related data courtesy of Yahoo Finance, and more. 5 to 10 minutes reading this MHProNews market report every business night could save you 30 minutes to an hour of similar reading or fact-gathering elsewhere.
Perhaps more important, you will get insights about the industry from experts that care, but also dare to challenge the routine narrative that arguably keeps manufactured housing underperforming during an affordable housing crisis.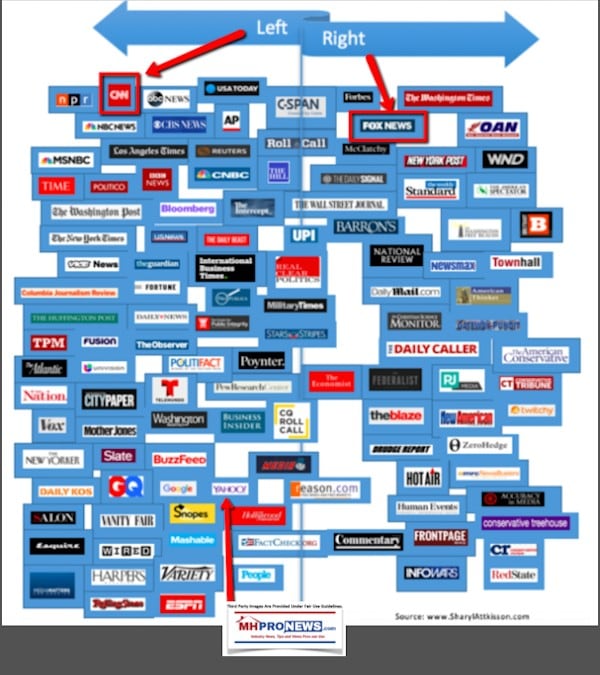 Newsy, Peeling Back Media Bias, Manufactured Housing Sales, Investing, Politics, and You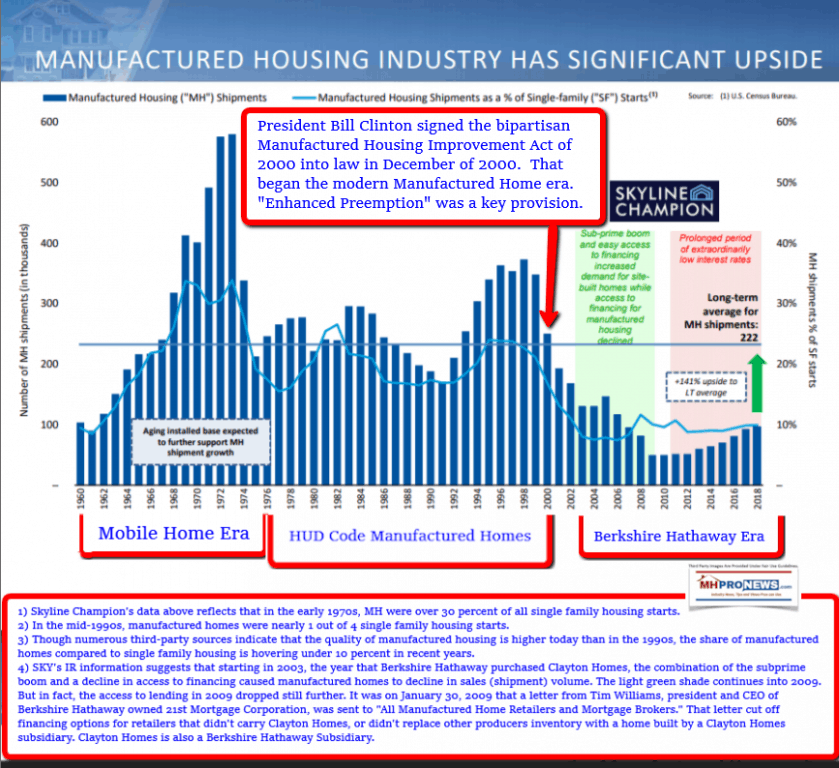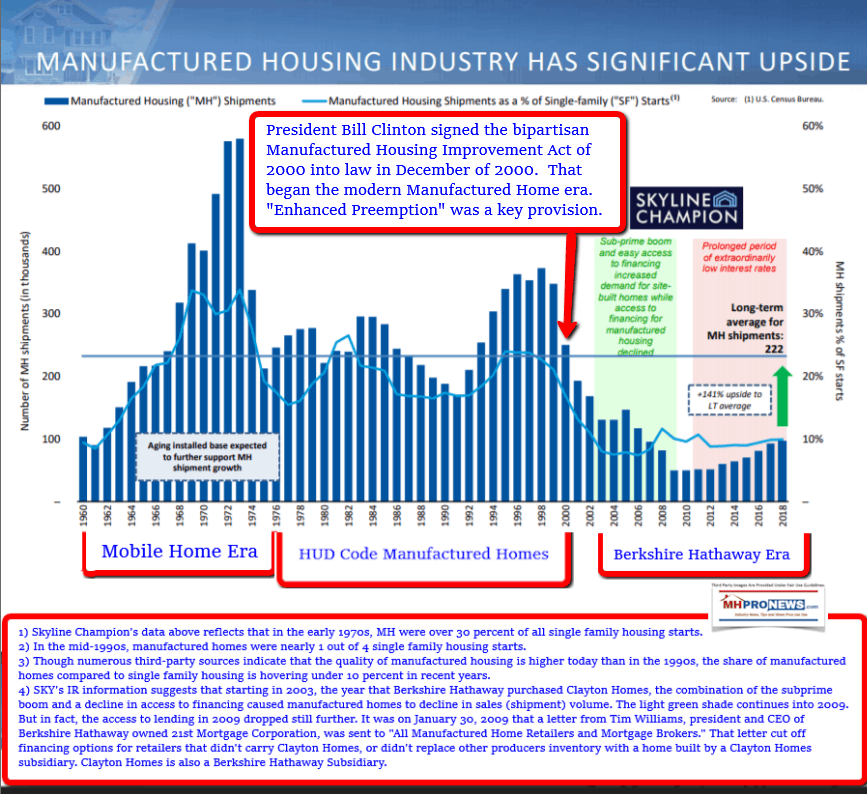 Headlines from left-of-center CNN Business.
The next era of deliveries – Amazon develop a new, fully-electric delivery system — Amazon Scout — designed to safely get packages to customers using autonomous delivery devices. CREDIT: aboutamazon
Amazon wants to ship you anything in 30 minutes. To do that, it's going to need more robots
GM sues Fiat Chrysler, charging it was hurt by corrupt bargaining with United Auto Workers
LIVE UPDATES Dow slides on report of trade deal delay
Aston Martin reveals its first SUV
Uber's latest attempt to address safety concerns: letting riders and drivers record rides
Regulators approve biggest bank marriage since the 2008 financial crisis
Apple breaks ground on new Austin campus
Lawyer for impeachment witness Lt. Col Vindman demands Fox News retract 'false and defamatory' segment
Burger King is running out of zesty sauce because of the global horseradish shortage
White Claw projects $1.5 billion in sales this year
These are the creepiest holiday gifts of 2019
Content by SmartAsset
Startup raises $51 million to take on retirement industry
This will be the fastest Mini Cooper on the road
Hackers could be using your Android camera to spy on you
Why Millennials and GenZers love going to the bank
Allbirds isn't thrilled with Amazon's lookalike shoe
Target is one of the hottest stocks of 2019
Kohl's makeover isn't working
Old Navy's future is in doubt
It's only $4.99. But Costco's rotisserie chicken comes at a huge price
Secretive energy startup backed by Bill Gates achieves solar breakthrough
This kite could harness more of the world's wind energy
Solar powered kiosks are charging phones in Rwanda
Offshore wind could power the world
How Amsterdam plans to power a city of electric cars
Headlines from right-of-center Fox Business.
Longtime exec in jeopardy over sagging Victoria's Secret sales, sex monster ties
Wexner's leadership at L Brands has drawn scrutiny in recent months amid a sales slump at Victoria's Secret, as well as his personal ties to the late sex offender Jeffrey Epstein.
Embattled United Auto Workers president resigns
GM sues Fiat Chrysler alleging its rival bribed auto workers union
Federal marijuana legalization advances in Congress, states would regulate
China vows retaliation after US Senate backs Hong Kong protesters
How to squeeze in last-minute tax deductions for 2019
Biden team sends email about debate performance — hours before debate
China may be forced to accept Trump ultimatum on trade deal
WATCH LIVE: Trump impeachment inquiry hearings continueVideo
Most Americans aren't saving enough, study finds
Coupon circulating on social media is too good to be true, fact-checkers warn
LUMP OF KOHL
SEE PICS: Futuristic $7.5 billion project will bring 'exotic beach' to Vegas
Payne: Science fiction is becoming reality – and we shouldn't fear that
Why this major US city is key to Apple's future success
Here's how much Bernie Sanders is worth
Retail giant gears up for a very different Black Friday
Want $10,000? Guess how much Trump's childhood home will sell for
Stocks sink on report US-China trade deal may be delayed
Clinton Foundation hemorrhages money for third straight year
Lo will kick off new year as global face of luxe fashion brand
Stormy Daniels wins $450,000 after Ohio strip club arrest
PG&E kills power to thousands of residents
Ocean Spray plunges into health food to satiate new appetites
Fed meeting notes preview possibility of future rate cuts
SEE INSIDE: Aston Martin unveils first SUV
County rejects New York Times subscription, calls it 'fake news'
ROYAL DISASTER: Epstein scandal scarred-Prince Andrew to 'step back' from duties
Oprah to join star-studded ensemble on Weight Watchers tour
Disney's 'Frozen 2' to heat up retail sales this holiday season
CONFEDERATES LOSE AGAIN: County removes statue despite law protecting them
Pittsburgh's jock tax triggers lawsuit from pro athletes, players' associations
New England fishermen hurt by warm waters, prices could spike
Saudi king talks Aramco IPO, selling parts of the world's biggest company
Varney: Tim Cook the Apple of Trump's eye
Warren picks up the pieces after Medicare-for-all falls on its face
Password data for 2.2M users of currency and gaming sites dumped online
Ex-British Airways exec indicted in massive bribery case
Ex-Baltimore Mayor Catherine Pugh faces fraud, tax charges
Conor McGregor hits first responders with $1M in whiskey money
Apple flexes muscles as Trump, Cook tour facilities
Mattel throws a wild card into UNO deck: politics
Hundreds of thousands of CA homes lose power as PG&E cuts losses
New 'Cats' trailer shows big star power
10 Market Indicator Closing Summaries – Yahoo Finance Closing Tickers on MHProNews…

Featured Focus – Where Business, Politics, and Investing Meet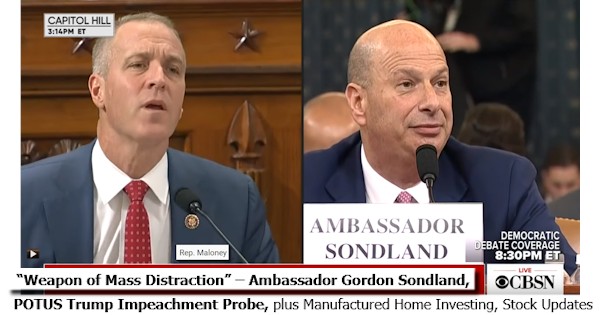 What do you want from Ukraine? "I want nothing. I want no quid pro quo," said Amb. Gordon Sondland about President Donald J. Trump's statement in his presence, adding that the president wanted the Ukraine to 'do the right thing.'
Is supposed guilt or innocence of the president on the Ukrainian probe solely in the eyes of the beholder?
As a segue, to establish a relevant parallel, manufactured housing professionals ought to know better than many about how a given news source or journalist can do a fine job, or not, reporting on our industry. That accurate or not reporting can occur inside MHVille by trade media, as some are arguably little more than paid surrogates for the powers that be. Spin or mistaken impressions can occur when a reporter is rushed and doesn't have a reliable source to get accurate information from.
But there are plenty of mainstream reports that accurate reflect a story too. So hyper-generalizations that amount to exaggerations ought to be avoided.
Those with years of experience have seen fair reports on our industry and unfair ones too. If the public understood the truth about manufactured housing, sales would arguably top 1 million new homes a year but stand at less than a tenth of that total instead. It isn't the mainstream media's job to promote our industry. That's our industry's individual company and collective representation's job. But journalists are supposed to fearlessly report the truth as accurately as possible while holding the powerful to account.
Rooms filled with industry pros when asked if media reporting on manufactured homes, and for example, tornadoes is fair and balanced, the entire room will routinely say that mainstream reports are flawed on that topic. The facts, properly understood, reflect differently too, as Realtor University researcher Scholastica 'Gay' Cororaton's 2018 research reported.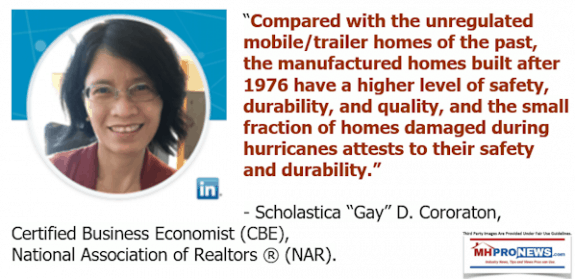 That's a useful parallel to the headline topic.
In an era of partisan news sources which periodically – absolutely not always – exhibits tainted or biased reporting, Representative Michael Turner's (OH-R) full questioning of EU Ambassador Gordon Sondland during Chairman Adam Schiff's (CA-D) is a useful tonic.
Per left-of-center PBS, here is Congressman Turner's full questioning of Gordon Sondland during today's POTUS Trump impeachment probe.
According to left-of-center PBS NewsHour's YouTube page:

Rep. Michael Turner, R-Ohio, questioned Gordon Sondland, the U.S. ambassador to the European Union, on Nov. 20, in a public hearing as part of the impeachment inquiry into President Donald Trump. Turner, who called Sondland's testimony "somewhat circular," questioned the ambassador's assertion that "everyone was in the loop." "If Giuliani didn't give you any expressed statement, then it can't be that you believed this [about the connection between investigations and aid] from Giuliani," Turner said. "Is that your testimony today, Amb. Sondland? That you have evidence that Donald Trump tied the investigations to aid because I don't think you're saying that." Sondland said he was "presuming" that is what Trump meant. Sondland testified that there was a "quid pro quo" in which U.S. aid and a White House meeting were contingent on Ukraine agreeing to investigate the 2016 elections and the Ukrainian energy company Burisma, where the son of 2020 presidential candidate Joe Biden, Hunter, sat on the board. Sondland also said he understood the "prerequisites" to be a reflection of "Trump's desires and requirements.
Tonight will be the Democratic debate, that start at 9 PM ET on MSNBC. We'll plan to watch, as before. Do we expect that video clip or quote to be used in that debate? Tune in and see for yourself.
Here is a CBS News video of the exchange today between Congressman Sean Maloney (NY-D) questioning Ambassador Gordon Sondland today about the same issue of Ukraine and a claimed 'quid pro quo.'
It bears mentioning that the Ukrainians say they felt no pressure. Inconvenient facts omitted from a narrative are the very definition of spin or paltering.
Impeachment hearings are all about 2020. Chairman Schiff said as much to supporters of the 'resistance' this past weekend. Why not take the president on head-on over performance or policy issues, instead of over smoke and mirrors?
Based upon the law and agreements between the U.S. and Ukraine, even if the president had tied aid to investigating the 2016 related matters, it would have been within his rights and duty as the chief executive. That's why this hearing is a 'weapon of mass distraction.'
Meanwhile, there is real work waiting to be done for the citizens of our nation.
There was another compelling 2020 related topic that we will plan to cover soon. Because whatever your politics, there is going to be a full court press by some Democrats to win 2020, and one of those campaign tools that has gone under-reported will be explored in a planned upcoming report.
See the related reports for more.
Related Reports:
As Next Dem Debate Looms, Former President Obama Cautions 2020 Democratic Hopefuls, plus Manufactured Home Investing, Stock Updates
Warning Sign for POTUS Trump in 2020? How Did John Bel Edwards Win Re-election? Manufactured Housing Perspective, Insights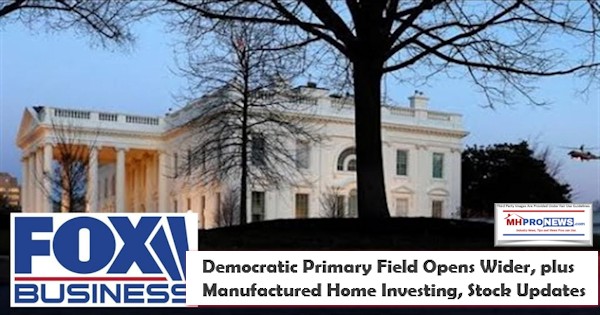 Economic Club NY – POTUS Trump – Foundation of Liberty, Prosperity? "Rule of Law" – plus Manufactured Home Investing, Equities Updates
Manufactured Housing Industry Investments Connected Closing Equities Tickers
Some of these firms invest in manufactured housing, or are otherwise connected, but may do other forms of investing or business activities too.
NOTE: The chart below includes the Canadian stock, ECN, which purchased Triad Financial Services, a manufactured home industry lender
NOTE: Drew changed its name and trading symbol at the end of 2016 to Lippert (LCII).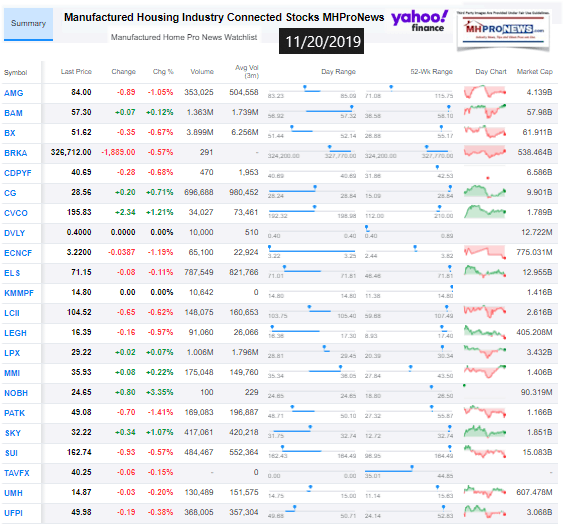 Updated for Fall 2019…
Berkshire Hathaway is the parent company to Clayton Homes, 21st Mortgage, Vanderbilt Mortgage and other factory built housing industry suppliers.
· LCI Industries, Patrick, UFPI, and LP each are suppliers to the manufactured housing industry, among others.
· AMG, CG, and TAVFX have investments in manufactured housing related businesses.
For insights from third-parties and clients about our publisher, click here.
Enjoy these 'blast from the past' comments.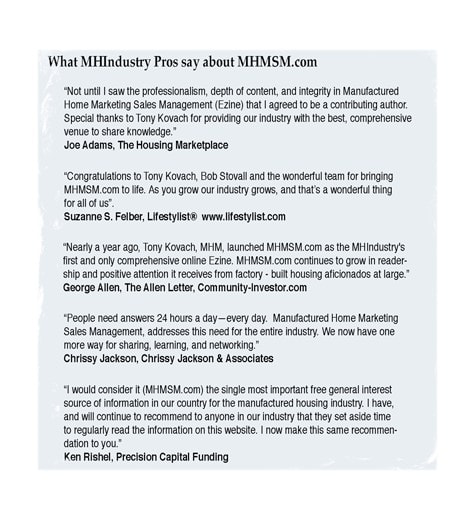 MHProNews. MHProNews – previously a.k.a. MHMSM.com – has now celebrated our tenth anniversary. Learn more about our evolutionary journey as the industry's leading trade media, at the report linked below.
Celebrating 10 Years of Goal- and Solution-Oriented Manufactured Home Industry Innovation Information, and Inspiration for Industry Professionals

· For expert manufactured housing business development or other professional services, click here.
· To sign up in seconds for our industry leading emailed headline news updates, click here.
Disclosure. MHProNews holds no positions in the stocks in this report.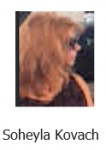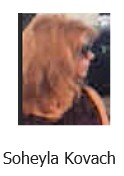 "We Provide, You Decide." © ## (News, analysis and commentary.)
(Image credits and information are as shown above, and when provided by third parties, are shared under fair use guidelines.)
Submitted by Soheyla Kovach, co-managing member of LifeStyle Factory Homes, LLC and co-founder for MHProNews.com, and MHLivingNews.com.

Connect with us on LinkedIn here and here.