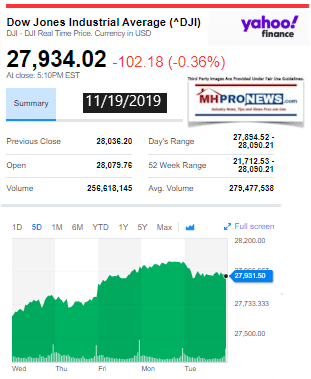 Some are dropping out or are poised to exit the Democratic presidential hopeful stage. 2 newcomers are in, and rumors of potentially more entering the field persist. One poll suggests that about 1 in 4 Democrats are not satisfied with the expansive set of candidate choices they've had so far. Those on the right who think that this means disarray in 2020 are likely overstating their case. But when former President Barack Obama is cautioning the field, and seemingly nudging former Gov. Patrick Duvall (MA-D) to run, that too may say something for those paying attention. On a day with mixed markets, but another Nasdaq record high, a previous of tomorrow night's Democratic debate in Atlanta will be our featured focus.
Regular readers please note there are a few tweaks to some of the standard portions of our evening market/investing report. Read carefully as some changes of the 'standard text' that follows before our left-right headlines and also in other features near the end of tonight's reports.
Every evening our headlines that follow provide snapshots from two major media outlets on each side of the left-right news spectrum that reflect topics that influence or move investor sentiment. In moments on this business evening report, you can get 'insights-at-a-glance.'
This report also sets the broader context for manufactured housing markets, in keeping with our mantra, "News through the lens of manufactured homes and factory-built housing" ©.
We begin with headlines left-of-center CNN followed by right-of-center Fox Business. We share closing tickers and other related data courtesy of Yahoo Finance, and more. 5 to 10 minutes reading this MHProNews market report every business night could save you 30 minutes to an hour of similar reading or fact-gathering elsewhere.
Perhaps more important, you will get insights about the industry from experts that care, but also dare to challenge the routine narrative that arguably keeps manufactured housing underperforming during an affordable housing crisis.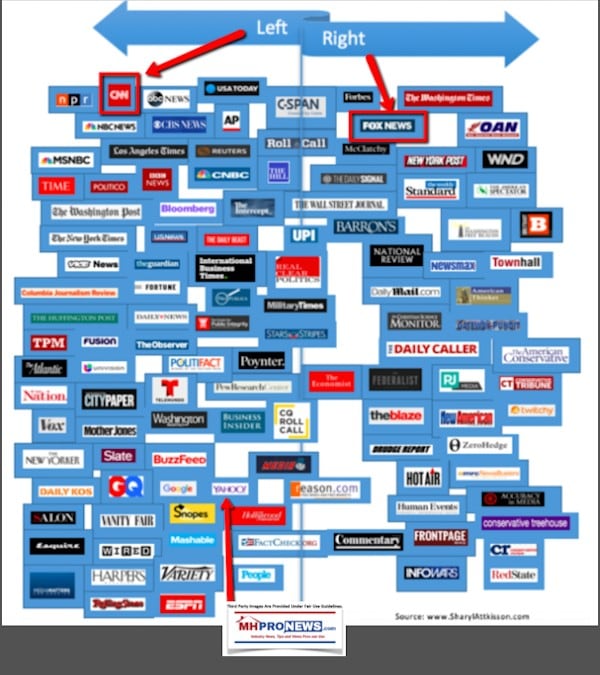 Newsy, Peeling Back Media Bias, Manufactured Housing Sales, Investing, Politics, and You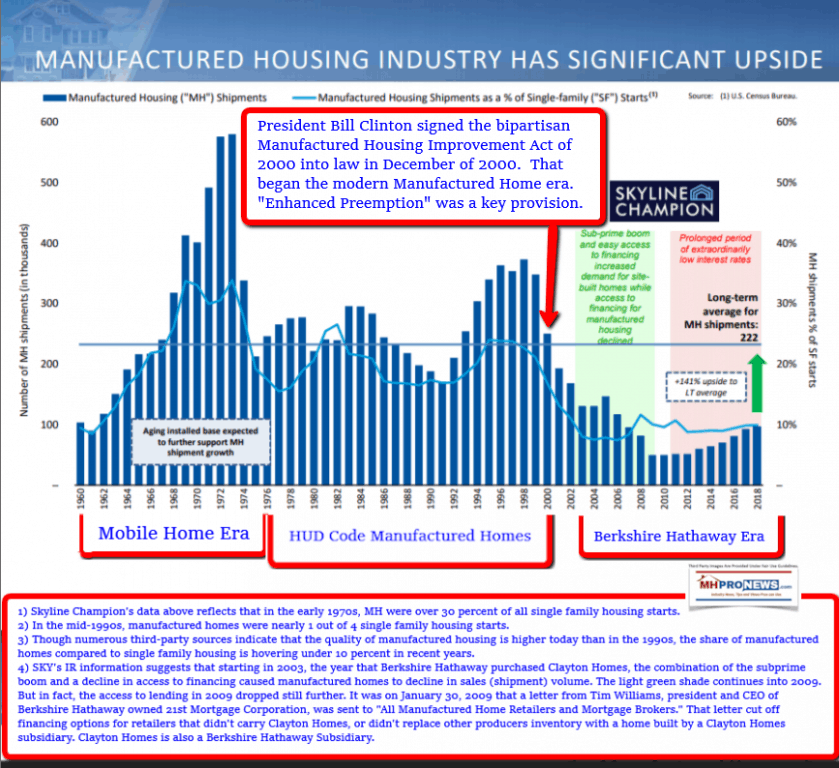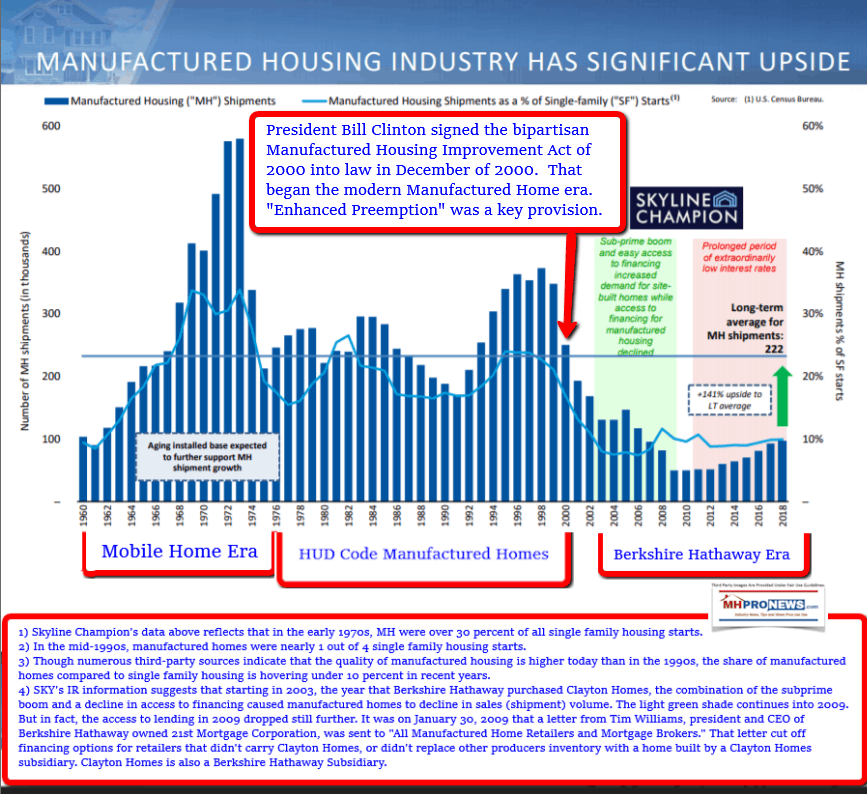 Headlines from left-of-center CNN Business.
The cost of declining enrollment – The US economy is losing billions of dollars because foreign students aren't enrolling
Home Depot isn't selling as well online as it wanted to
'Shark Tank's' Mr. Wonderful is bullish on dividend stocks and tech giants
DoorDash sued by DC Attorney General over allegedly misusing worker tips
Politics? VETO! UNO is now 'nonpartisan' for the holidays
Google Stadia is here, but there are still huge issues
Boeing may need to redesign 7,000 jets after a fatal accident last year
Boeing recorded its first 737 Max orders since the grounding
Slack's stock plunges after Microsoft says Teams has 20 million users
California won't buy cars from certain makers because they sided with Trump over emissions
The new Corvette is named MotorTrend Car of the Year
So, your Disney+ account was hacked. Here's what to do
Gannett CEO: 'Protecting journalism is the right thing to do'
Startup raises $51 million to take on retirement industry
Secretive energy startup backed by Bill Gates achieves solar breakthrough
Kohl's makeover isn't working
Democratic presidential candidate Sen. Elizabeth Warren (D-MA) speaks at the Liberty and Justice Celebration on November 1, 2019 in Des Moines, Iowa.
Opinion: Elizabeth Warren's wealth tax will make income inequality worse, not fix it
THE WEWORK SCANDAL
Opinion: WeWork's saga is a cautionary tale about CEO pay
WeWork braces for mass layoffs this week
Former WeWork CEO is getting a massive payout
The company lost $1.25 billion last quarter
WeWork almost ran out of money. Now, it's spending $438 million to renovate a building
Burger King sued for cooking Impossible Whopper alongside meat
Nestlé launches vegan alternative to bacon
Taco Bell now has a vegetarian menu
McDonald's starts testing a Beyond Meat burger
Impossible Burgers debut at the grocery store
Headlines from right-of-center Fox Business.
Nasdaq snags new high while Home Depot, Boeing dent the Dow
Wall Street investors take a breather.
TALE OF TWO RETAILERS: Walmart, Target winning while these stores stumble
Fed greenlights merger to create monster US bank
Trump throws down the gauntlet, won't budge on China's big demand
White House goes scorched earth on Democrats in new USMCA push
Police surround last holdouts at Hong Kong campus as protesters brace for endgame
$15 minimum wage is destroying businesses and jobs
You can win a free trip home for Thanksgiving — but there's a catch
WATCH LIVE: House impeachment inquiry hearings continue
WATCH: Broadcasting legend fired for immigration remarks explains himself
Study makes concerning find about how workers view health insurance
Officials eye possible E. coli outbreak as several people get sick from salad
RICH & FAMOUS – Chuck Woolery: Trump diminished Democrats by doing business
Salaries spiking faster in these towns than in New York City
Lo makes surprising reveal about how much she raked in from stripper movie
US urged to require fixes to older Boeing 737s after gruesome death
NTSB DEMANDS ACTION
'Progressive' mayor reportedly pays women less than male counterparts
House passes short-term spending measure to keep government running
Something for everyone: The best credit cards to use in 2020
US tech giants answer questions on business practices amid House probe
2020 Dems demand NBC clean up 'toxic culture' before debate
This year's best employers in sports, according to employees
PG&E prepares to cut power to 303K residents
Chick-fil-A infuriates conservative customers by caving to LGBTQ protests
South Korea hands US historic $110 million win in trade talks
Military dedicates new headquarters for nuclear control unit
Home Depot earnings disaster throws a wrench in Dow
Liberal state's pension revealed as invested in cut throat businesses
FUMING MAD: California lashes out at Toyota, GM after losing emissions fight to Trump
Strange bedfellows? Inside Trump's unexpected friendship with Tim Cook
KNUCKLE SANDWICH: Popeyes may go beyond firing to foil fast-food fights
Food influencers, restaurants turn Instagram into recipe for success
Jeffrey Epstein's prison guards arrested amid furor over his suicide
Varney: Democrats in chaos as 2020 election looms
Mötley Crüe announces 2020 comeback tour
Toyota worker's death ruled suicide after boss' constant ridicule
Kyle Busch's 'Monster' NASCAR Cup Series winnings
Truckers fear the spread of California's gig economy law, saying it could lead to 'tremendous' price hikes, jobs dying
Super Bowl party of the year: Gronk Beach
Toy industry, safety org fight over which products pose a threat to kids
Best-of-the-best 'Jeopardy!' champs to fight for $1.5M prize in grand finale
Amazon offers free music streaming service
Inside Trump and Fed Chair Powell's intense White House meeting
Here's how much it costs to start a business
The 5 airlines most likely to bump you from your seat
Unexpected Apple app event announced for December
South Dakota's governor defends $449,000 'Meth. We're on it' ad campaign
Long-running Navajo Nation coal plant shuts down permanently
FCC's new 5G push could mean faster phones, rural broadband and more money for the US
Uber self-driving car crash: NTSB meeting to focus on cause
This is the main hold-up keeping Kaepernick out of the NFL right now
Browns' Myles Garrett gets support from teammate after brawl: 'He was protecting himself'
Juul sued by New York state over deceptive marketing
Netflix beats back the Disney + charge on Wall Street
Mazda recalls 117,000 with potentially killer Takata air bag inflators
10 Market Indicator Closing Summaries – Yahoo Finance Closing Tickers on MHProNews…

Featured Focus – Where Business, Politics, and Investing Meet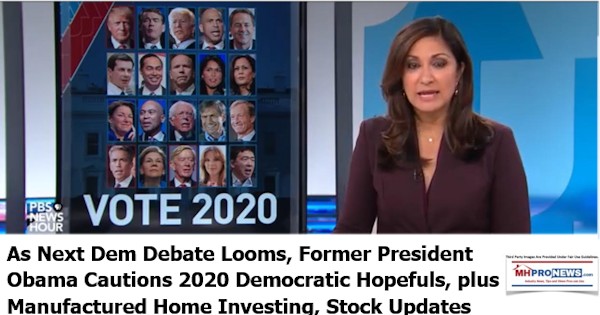 Former President Barack Obama has not been silent, but nor has he been actively involved thus far in a highly visible way during the 2020 cycle.
That may be changing.
Tomorrow night is the next Democratic debate, which is taking place in Atlanta. A local CBS affiliate filed this video report.
2020 Democrats campaign in Nevada, as Obama warns them to stay 'rooted in reality,' per reports by PBS News Hour.
PBS' YouTube page said, "Fourteen contenders for the 2020 Democratic presidential nomination headed to Nevada this weekend, trying to distinguish themselves in the primary season's third-voting state. The lineup included former Massachusetts Governor Deval Patrick, a new entrant to the race. But as the candidates jostle for attention, the party's debate over how best to beat Donald Trump continues."
The 44th president's purported promotion of Patrick for 2020, with some talk persisting of former Obama era attorney general Eric Holder and others possibly jumping in, can be construed as a vote of no-confidence in former Vice President Joe Biden.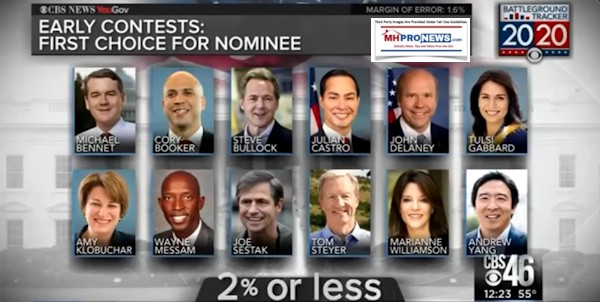 Biden still 'leads' on paper, but that's as much a vote against the left wing as reflected by Senators Elizabeth Warren (MA-D) and Bernie Sanders (VT-I).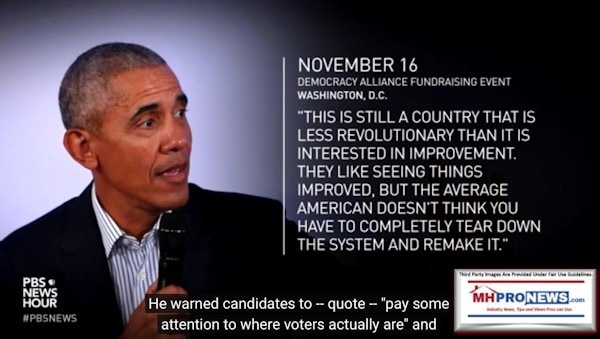 The field is not wide open, as the campaigns of Senator Kamala Harris and former HUD Secretary Julian Castro seem to be faltering, as they are laying off staffers. By contrast, Hawaii's Representative Tulsi Gabbard has earned her way back to the debate stage.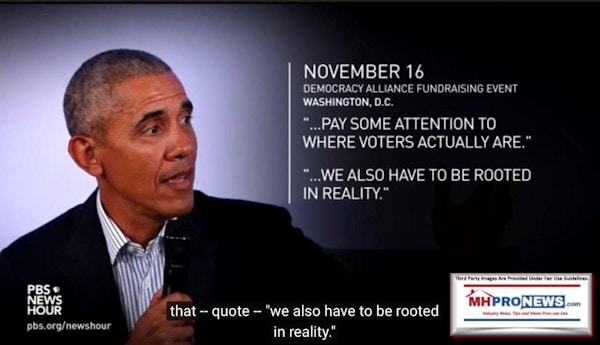 The next debate will begin tomorrow at 9 to 11 PM ET, on MSNBC.
Related Reports: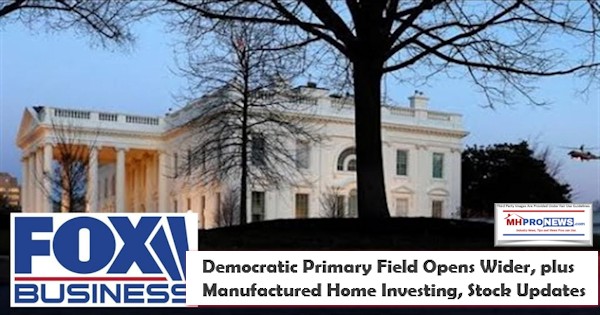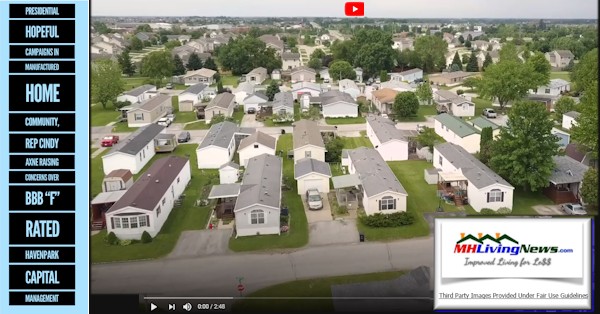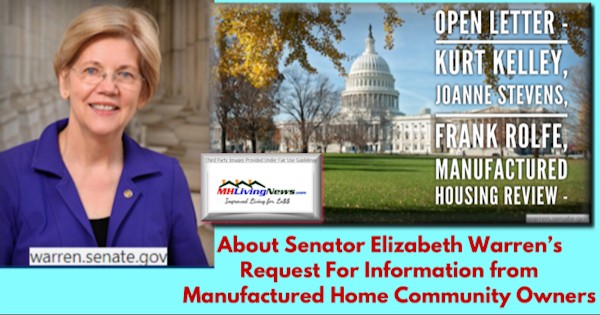 Warning Sign for POTUS Trump in 2020? How Did John Bel Edwards Win Re-election? Manufactured Housing Perspective, Insights
Economic Club NY – POTUS Trump – Foundation of Liberty, Prosperity? "Rule of Law" – plus Manufactured Home Investing, Equities Updates
Manufactured Housing Industry Investments Connected Closing Equities Tickers
Some of these firms invest in manufactured housing, or are otherwise connected, but may do other forms of investing or business activities too.
NOTE: The chart below includes the Canadian stock, ECN, which purchased Triad Financial Services, a manufactured home industry lender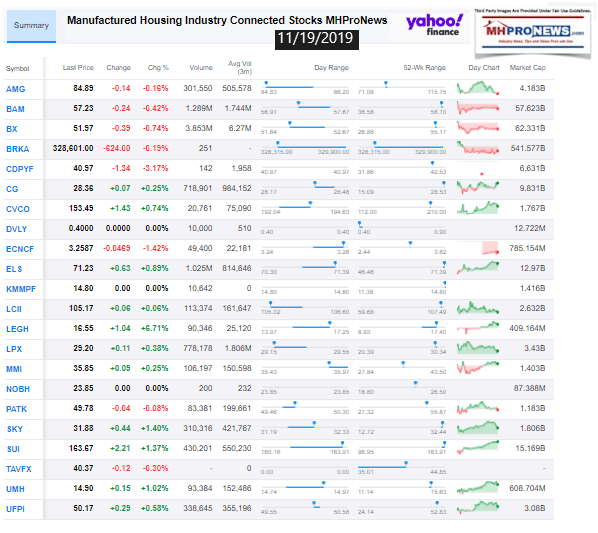 Updated for Fall 2019…
Berkshire Hathaway is the parent company to Clayton Homes, 21st Mortgage, Vanderbilt Mortgage and other factory built housing industry suppliers.
· LCI Industries, Patrick, UFPI, and LP each are suppliers to the manufactured housing industry, among others.
· AMG, CG, and TAVFX have investments in manufactured housing related businesses.
For insights from third-parties and clients about our publisher, click here.
Enjoy these 'blast from the past' comments.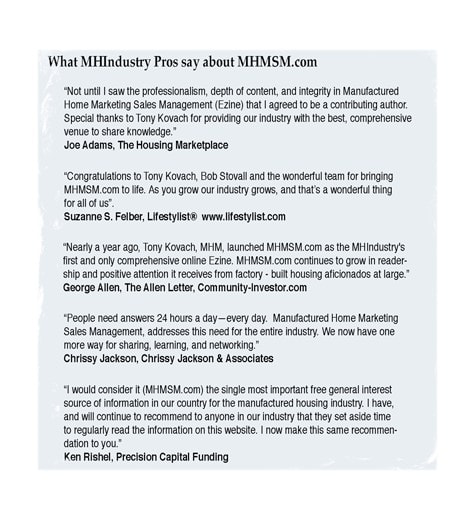 Celebrating 10 Years of Goal- and Solution-Oriented Manufactured Home Industry Innovation Information, and Inspiration for Industry Professionals
· For expert manufactured housing business development or other professional services, click here.
· To sign up in seconds for our industry leading emailed headline news updates, click here.
Disclosure. MHProNews holds no positions in the stocks in this report.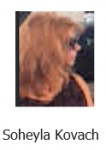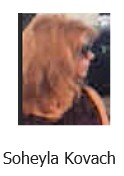 "We Provide, You Decide." © ## (News, analysis and commentary.)
(Image credits and information are as shown above, and when provided by third parties, are shared under fair use guidelines.)
Submitted by Soheyla Kovach, co-managing member of LifeStyle Factory Homes, LLC and co-founder for MHProNews.com, and MHLivingNews.com.