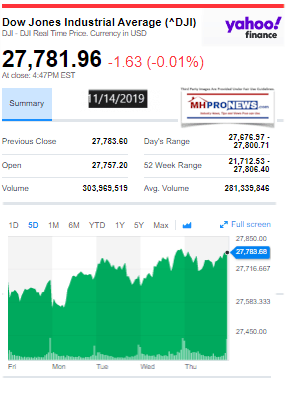 We gave it a day to see how many plays on YouTube 2020 Democratic hopeful Elizabeth Warren's new wealth tax ad would garner. You'll see that video plus others from both sides of the left-right divide in tonight's featured focus. As one pundit who has numerous Democratic contacts observed, the field is now wide open. Is that good for bad for Democratic prospects to take back the Oval Office in just under a year? On a mixed day on Wall Street, we'll look at new entrants to the 2020 Democratic presidential hopeful field, plus the debate over Senator Warren's wealth tax, and what all this may mean for investors.
Regular readers please note there are a few tweaks to some of the standard portions of our evening market/investing report. Read carefully as some changes of the 'standard text' that follows before our left-right headlines and also in other features near the end of tonight's reports.
Every evening our headlines that follow provide snapshots from two major media outlets on each side of the left-right news spectrum that reflect topics that influence or move investor sentiment. In moments on this business evening report, you can get 'insights-at-a-glance.'
This report also sets the broader context for manufactured housing markets, in keeping with our mantra, "News through the lens of manufactured homes and factory-built housing" ©.
We begin with headlines left-of-center CNN followed by right-of-center Fox Business. We share closing tickers and other related data courtesy of Yahoo Finance, and more. 5 to 10 minutes reading this MHProNews market report every business night could save you 30 minutes to an hour of similar reading or fact-gathering elsewhere.
Perhaps more important, you will get insights about the industry from experts that care, but also dare to challenge the routine narrative that arguably keeps manufactured housing underperforming during an affordable housing crisis.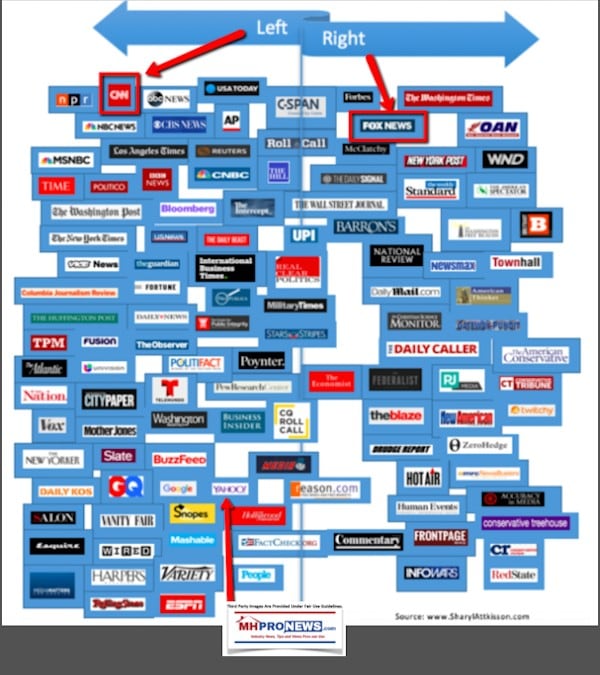 Newsy, Peeling Back Media Bias, Manufactured Housing Sales, Investing, Politics, and You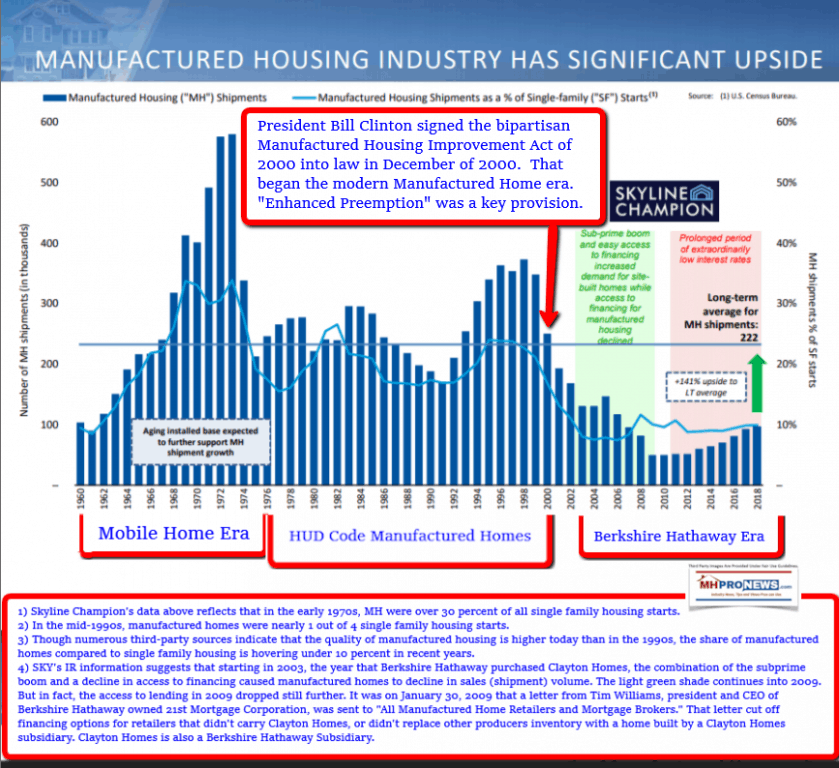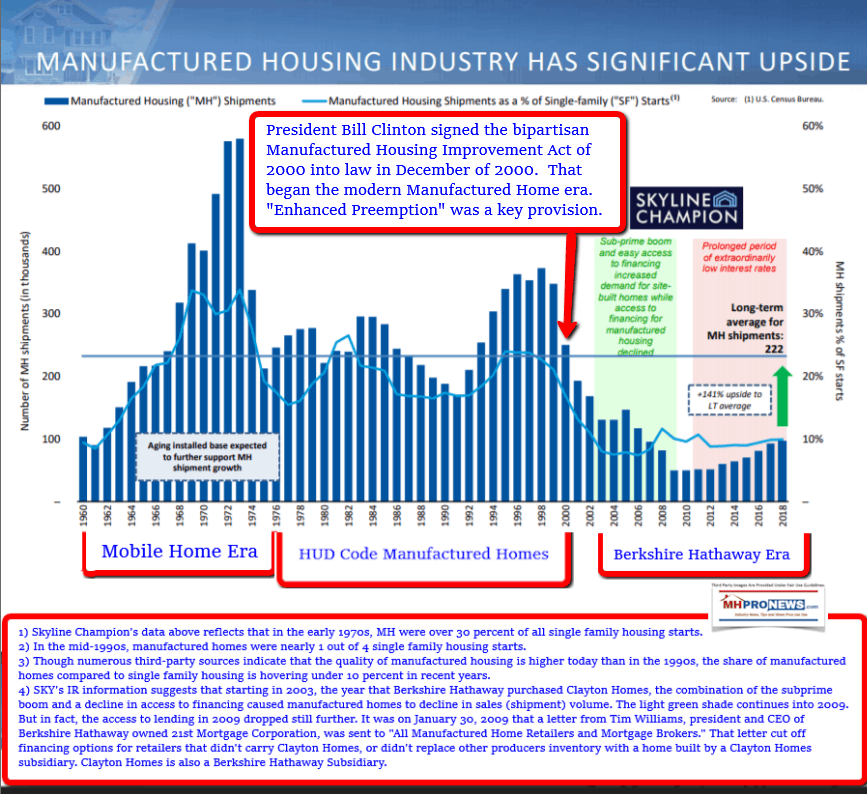 Headlines from left-of-center CNN Business.
The worst isn't over yet – Kraft Heinz shares are down 30% in 2019 as the company struggles with a 'persistent' decline in profit
I took maternity leave twice as CEO of Stitch Fix. Here's what I learned
Walmart surges heading into holidays
Elizabeth Warren is calling out billionaires on their turf. They don't like it
Electric cars are on the rise. But oil and gas executives aren't worried
Smith & Wesson will become a standalone gun business
Fitbit's rise and fall on Wall Street shows the one-trick tech pony is dead
A Silicon Valley company will pay you $10,000 to leave the Bay Area
SpaceX test fires Crew Dragon spacecraft ahead of first astronaut mission
Ford's new Mustang is an electric SUV
Ratings for first impeachment hearing show healthy interest and a serious partisan divide
Content by SmartAsset
Startup raises $51 million to take on retirement industry
The logo marks the showroom and service center for the US automotive and energy company Tesla in Amsterdam on October 23, 2019. (Photo by JOHN THYS / AFP) (Photo by JOHN THYS/AFP via Getty Images)
Tesla Model 3 and Model S reclaim their coveted Consumer Reports 'recommended' ratings
Elizabeth Warren criticizes how Goldman Sachs handled Apple Card bias claims
The new Motorola Razr is $1,500 but OMG I must have it
UNHACKABLE
Facebook bug accesses iPhone's camera while user scrolls
Researchers used a laser to hack Alexa
A scam targeting Americans over the phone has resulted in millions of dollars lost to hackers. Don't be a victim.
The US just moved ahead of China in quantum computing. But the race isn't over yet
How hackable is your password?
RETHINKING BREAKFAST
Post Hostess™ Twinkies™ Cereal
Twinkies is being turned into a breakfast cereal
Wendy's unveils its full breakfast menu
Dunkin' launches new breakfast sandwich nationwide
McDonald's is bringing back Donut Sticks
Chipotle CEO says breakfast is off the table … for now
Headlines from right-of-center Fox Business.
EXCLUSIVE: Dem fundraisers yawn as ex-governor jumps into 2020 race
Deval Patrick struggles with name recognition as he launches a presidential bid.
Deval Patrick's 2008 crisis history could sink his White House hopes
Bain Capital scrubs Deval Patrick's name from website
Mark Cuban says Elizabeth Warren taking page out of 'winning playbook'
Former Goldman CEO hits Warren where it hurts with 'DNA' dig
The NFL team Amazon's Jeff Bezos reportedly wants to buy
Colin Kaepernick workout leaves NFL insider and supporters skeptical
Nancy Pelosi sets goal for getting US-Mexico-Canada trade deal done
USMCA left hanging as clock runs out
Here's what employees really want
Ride-share company reportedly owes this state $650 million
Postal Service revenue sent down
Varney: Hillary Clinton helping 'enormously' to get Trump re-elected
PayPal to stop paying PornHub models
How to relish one-day-only Sonic deal
Iconic snack is becoming cereal
Fed's Powell says this could doom booming US economy
'CAREFULLY MONITORING'
Fed's Powell says this could doom booming US economy
Decades-old scandal kills one episode on Disney+
'SIMPSONS' RECKONING
Decades-old scandal kills one episode on Disney+
New Yorkers open their wallets way more than rest of US
Stocks end mixed with trade deals in focus
Uber co-founder Travis Kalanick rings the register on $164 million of stock
Facebook completes massive lease for office space in New York
Professor: I canceled conservative speaker's Ole Miss visit
How average Americans are winning big in market boom
US poultry flocks to China in big win for Trump's trade war
US charges two former Herbalife execs in bribery scheme
Two of the biggest US newspaper companies set to merge
Flight or FRIGHT? The airports you should absolutely avoid
Nike extortion case sees new charge against Michael Avenatti
Canada Goose sales hot as luxury coat brands warm up to the masses
Jeffrey Epstein paying off alleged sex abuse victims from the grave
How these military dogs are training to defend our freedom
Deval Patrick's 2008 crisis history could sink his White House hopes
Anonymous Google worker sounds alarm on tech giant's health care scandal
Americans have spent billions treating diabetes
Winners and losers of 2019 holiday shopping season
Biden unveils $1.3 trillion infrastructure plan
Motorola is bringing back the flip phone, but this time with more horsepower
Warren blasts billionaires to their faces in blistering new ad
Cy Young voting mishap makes ace pitcher strike out on thousands in income
Amazon's HQ2 in Arlington, Va. heats up local housing market
'Survivor' contestant grilled over misconduct allegations
Trump campaign raised $3.1M from impeachment hearing: manager
Warren finds new angle of attack on Goldman Sachs, Apple
Ford starts presales of 'Mustang' electric SUV
Mark Cuban: Elizabeth Warren's Medicare-for-all will take years to achieve
WeWork hemorrhages another massive pile of cash
NBA teams could try to keep key veteran away from LeBron James
Kanye West's 'Sunday Service' with Joel Osteen to attract record crowds
Wells Fargo former interim CEO Parker steps down as general counsel
Walmart hires off-duty officers as El Paso site reopens after mass shooting
Couple faces jail for living in RV after fire gutted home on Christmas Eve
Students say they'd be willing to do this if it meant loans were eliminated
Little Rock teachers strike for first time in decades as state seeks to union bust
Entrepreneur worried this may force him out of US
Walgreens' parent company set for historically huge cash windfall
10 Market Indicator Closing Summaries – Yahoo Finance Closing Tickers on MHProNews…

Featured Focus – Where Business, Politics, and Investing Meet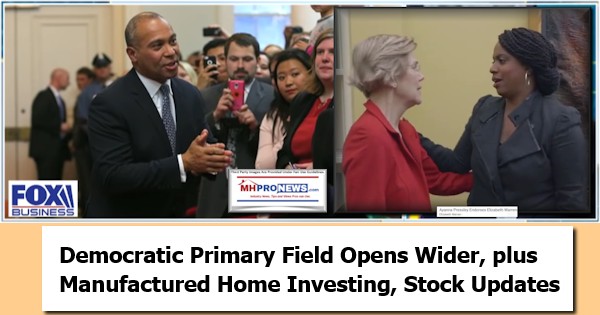 Perhaps one need not go beyond what the New York Times published this morning. That left-of-center flagship for many said that economists think her wealth tax could hurt the economy. If she makes it to the convention as their party's nominee, expect statements like that to be in opposition campaign ads.
Let's first give Senator Warren her due. She's clearly an intelligent person who maneuvered beyond President Trump tagging her "Pocahontas." While that DNA test result was embarrassing, based upon public polling among Democrats, it looks to be in the rearview mirror for numbers.
MHProNews frankly disagrees with numbers of her policies positions, but has noted for some time her stance on antitrust law enforcement. But as a U.S. Senator, she could arguably be doing more on that than placing billboards in Silicon Valley.
Let's start with Representative Ayanna Pressley (MA-D) endorsement of Senator Elizabeth Warren for President. Pressley is a member of the progressive Democratic House freshmen "Squad," but has broken with Rep. Alexandria Ocasio Cortez (NY-D, 'AOC'), who supports Bernie Sanders.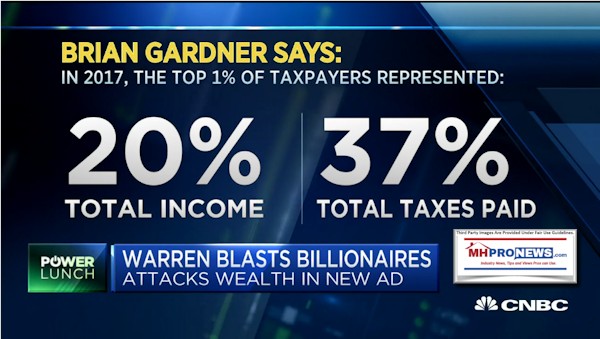 8,953 views • Nov 6, 2019.
The mainstream media has given Warren far more views of clips of her wealth tax ad than the ad itself has earned on YouTube. 54,116 views • Nov 13, 2019. Her webpage calls it, "Elizabeth Warren Stands Up to Billionaires."
Next, is a video from Fox Business, with billionaire and Trump critic Mark Cuban. Cuban said that in his view, capitalism is going to win, because socialism just doesn't work. He contacted one of the economists that helped forge Warren's plan, and that insight is truly interesting.
Last up is this from FOX Business' Charlie Gasparino. He discusses former Massachusetts Gov. Deval Patrick's decision to enter the 2020 presidential race and where the current and possible Democratic contenders would rank in the field in the coming months. Let's note that while Gasparino says that Warren is slipping, a new YouGov poll shows her as ahead of former VP Joe Biden.
Perhaps the best analysis of this bunch is this next video by CNBC, "Warren's new campaign ad paints false, deceptive picture, says KBW's Gardner." Brian Gardner of KBW and Brian Schwartz, political finance reporter for CNBC, join the "Power Lunch" team to break down the heated dialogue between Sen. Elizabeth Warren and billionaires. Warren is running for the Democratic presidential bid and has multiple wealth tax proposals.
So far, in our analysis, perhaps due to money alone Michael Bloomberg – whom many dismiss as not seriously thinking he could win – might get far more traction than some might think. His billionaire status could of course hurt him, as billionaire Tom Stayer's campaign has gone nowhere so far. If Patrick Duvall can get traction with some of the Obama coalition, that will be worth watching. But his name recognition is very low. Ties to Bain Capital might not help him with the progressive base either.
So of the current top four or five Democratic contenders, absent a shakeup, they are all exhibiting problems. That explains why even former Secretary of State Hillary Clinton, who claims she is getting calls to run, is toying with the notion of jumping in.
We'll track it all. It may be a wilder ride that the 2016 race. After all, at least this time around, President Trump will have a track record. See the related reports below.
Related Reports:
Economic Club NY – POTUS Trump – Foundation of Liberty, Prosperity? "Rule of Law" – plus Manufactured Home Investing, Equities Updates
Antitrust "Breakups" – AG Karl Racine Says "This Could Go to that Level," plus Manufactured Home Investing, Stock Updates
Black Voices for Trump Rally Launches Renewed 2020 Game-Plan, plus Manufactured Home Investing, Stock Updates
Markets Rise on China-U.S. Trade Hopes, ex-Mayor Mike Bloomberg's Toe in 2020 Waters, plus Manufactured Home Investing, Stock Updates
Warren Buffett Buddy Bill Gates Says, 'I Made a Mistake' Meeting Convicted Sex Criminal Jeffrey Epstein, plus Manufactured Home Investing Stock, Updates
Manufactured Housing Industry Investments Connected Closing Equities Tickers
Some of these firms invest in manufactured housing, or are otherwise connected, but may do other forms of investing or business activities too.
NOTE: The chart below includes the Canadian stock, ECN, which purchased Triad Financial Services, a manufactured home industry lender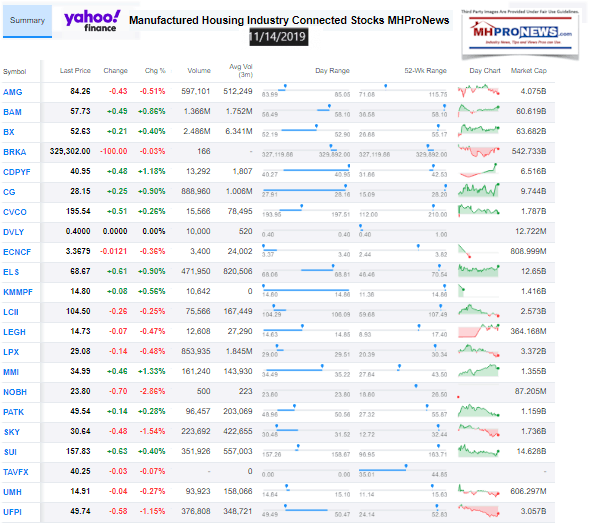 Updated for Fall 2019…
Berkshire Hathaway is the parent company to Clayton Homes, 21st Mortgage, Vanderbilt Mortgage and other factory built housing industry suppliers.
· LCI Industries, Patrick, UFPI, and LP each are suppliers to the manufactured housing industry, among others.
· AMG, CG, and TAVFX have investments in manufactured housing related businesses.
For insights from third-parties and clients about our publisher, click here.
Enjoy these 'blast from the past' comments.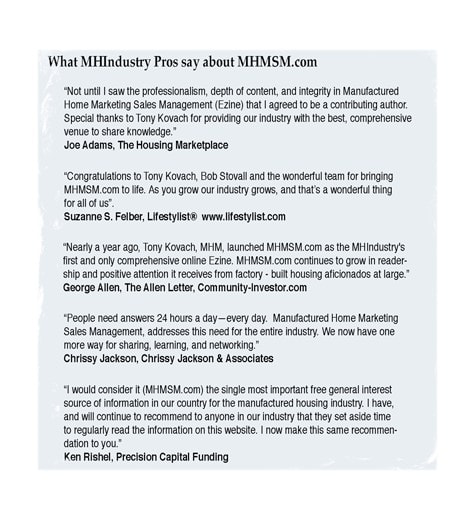 Celebrating 10 Years of Goal- and Solution-Oriented Manufactured Home Industry Innovation Information, and Inspiration for Industry Professionals
· For expert manufactured housing business development or other professional services, click here.
· To sign up in seconds for our industry leading emailed headline news updates, click here.
Disclosure. MHProNews holds no positions in the stocks in this report.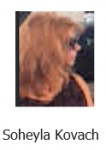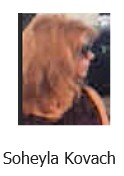 "We Provide, You Decide." © ## (News, analysis and commentary.)
(Image credits and information are as shown above, and when provided by third parties, are shared under fair use guidelines.)
Submitted by Soheyla Kovach, co-managing member of LifeStyle Factory Homes, LLC and co-founder for MHProNews.com, and MHLivingNews.com.