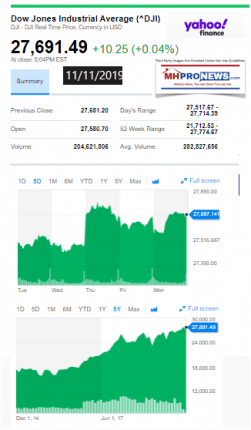 "As Congress turns up the heat on companies like Facebook, they're facing added pressure," says Full Measure's YouTube page. "Nearly every state has now joined an anti-trust investigation that could threaten the way the tech giants do business. Lisa Fletcher talks with the Attorney General for the District of Columbia, Karl Racine." While the interview with AG Racine will be tonight's video, other antitrust and legally connected issues – including lobbying and maneuvers by giant Berkshire Hathaway – will be included in our market focus this evening. On a mixed day that led to another record high on the Dow, let's dive into our left-right headline recap, before pressing onto the headline feature tonight.
Regular readers please note there are a few tweaks to some of the standard portions of our evening market/investing report. Read carefully as some changes of the 'standard text' that follows before our left-right headlines and also in other features near the end of tonight's reports.
Every evening our headlines that follow provide snapshots from two major media outlets on each side of the left-right news spectrum that reflect topics that influence or move investor sentiment. In moments on this business evening report, you can get 'insights-at-a-glance.'
This report also sets the broader context for manufactured housing markets, in keeping with our mantra, "News through the lens of manufactured homes and factory-built housing" ©.
We begin with headlines left-of-center CNN followed by right-of-center Fox Business. We share closing tickers and other related data courtesy of Yahoo Finance, and more. 5 to 10 minutes reading this MHProNews market report every business night could save you 30 minutes to an hour of similar reading or fact-gathering elsewhere.
Perhaps more important, you will get insights about the industry from experts that care, but also dare to challenge the routine narrative that arguably keeps manufactured housing underperforming during an affordable housing crisis.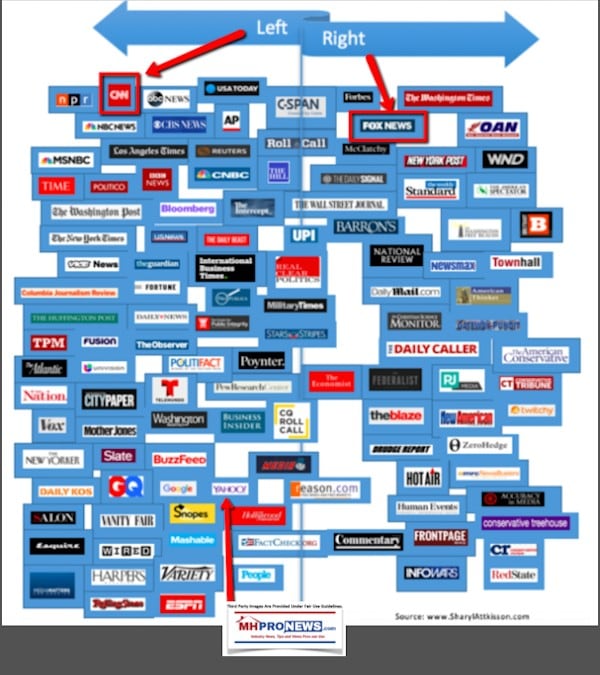 Newsy, Peeling Back Media Bias, Manufactured Housing Sales, Investing, Politics, and You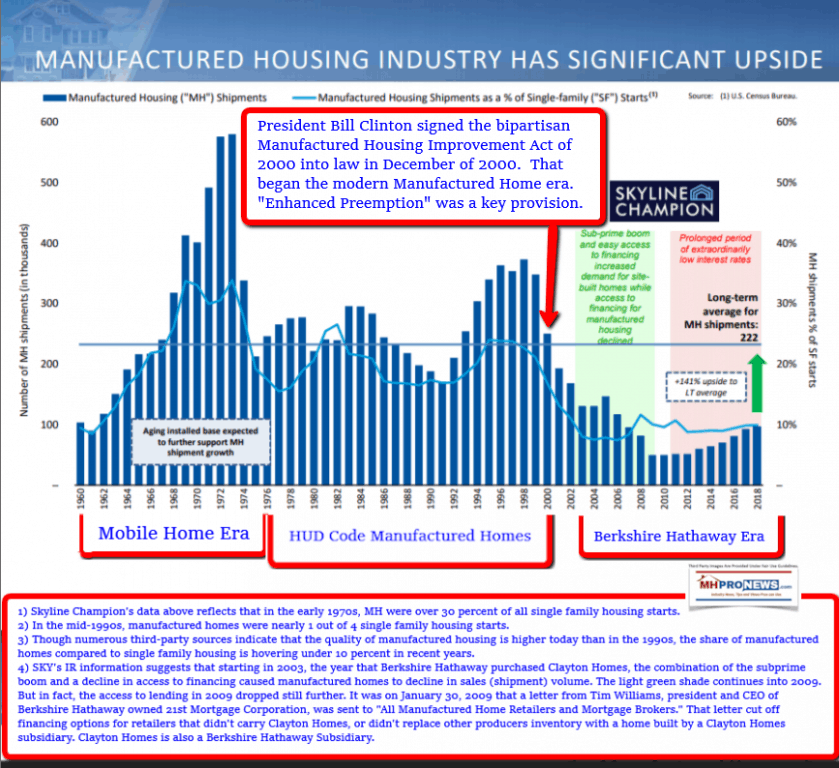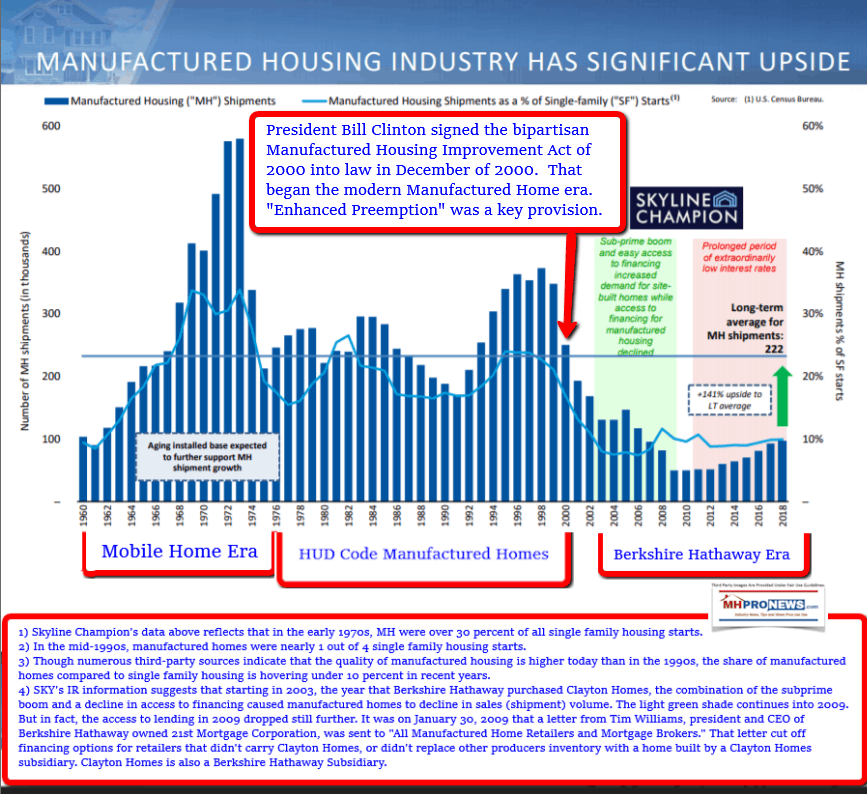 Headlines from left-of-center CNN Business.
Boeing stock soars – The company still thinks it can fly the 737 Max again before the end of this year
Southwest Airlines flew jets without full knowledge of their repair histories
Walgreens could leave the Dow. What should replace it?
T-Mobile CEO John Legere in talks to take over top job at WeWork
Instagram is about to hide likes for some US users. Here's what to expect
Disney bets it all on Disney+
The one stock you want to own through an Elizabeth Warren presidency
SpaceX launches 60 more internet satellites
Singles Day is bigger than Black Friday and Cyber Monday combined
Ex-Volvo CEO: I never got a golden parachute. Other CEOs shouldn't either
White House press secretary Stephanie Grisham has yet to hold a briefing with reporters, but finds time for Fox News
How to ask for a raise: 5 tips for negotiating a higher salary
Startup raises $51 million to take on retirement industry
Walgreens may get scooped up in the largest private equity takeover in history, report says
Apple co-founder Steve Wozniak says Apple Card discriminated against his wife
Pick the best streaming service for you, from Disney+ to Netflix
When CEOs date employees, it can get messy fast
Companies run by billionaires are better for investors
Bad time to be a CEO: 170 top executives left last month
How Michael Bloomberg became the richest man in media
Boeing CEO Dennis Muilenburg won't get most of his 2019 pay
SpaceX launches 60 more satellites
US Air Force's mysterious space plane lands after record 780 days in orbit
Elon Musk teases photos of Mars rocket prototype
Boeing's Starliner capsule launches key test before first astronaut flight
Virgin Galactic had an anticlimactic first week on the stock market. Here's why
Headlines from right-of-center Fox Business.
2020 CAMPAIGN – Mark Cuban is latest billionaire to jab this Elizabeth Warren proposal
A number of wealthy individuals have questioned Warren's proposals in recent weeks.
Warren differs from Sanders on whether billionaires should exist
SEE PICS: Tesla rolls out its first cars in this country, eyes world's biggest auto market
Electric truck to be unwrapped by Christmas
Legendary hockey analyst fired over 'hurtful' on-air comments
Apple TV+ makes big change just days after launch
Veteran: This is the great unanswered question of my military generation
Flights return to Miami airport with mechanical issues
Trump may delay EU car tariffs
Boeing helps Dow close at record high
This major airline reportedly flying planes nobody can verify are safe
Waiter on the hook for $30,000 after country club lunch goes horribly wrong
Socialist pol overcomes Amazon's dollar dump, appears set to win election
Varney: Democrats face a split in their party ⁠— and the chasm is widening
Why millions of Americans are skipping their winter vacation
Jeff Bezos may buy an NFL team, and this one looks perfect
UPS partnership allows customers to ensure quality of food shipments
Teachers in this state capital planning to go on strike
What you'll be able to watch with Disney Plus subscription
Why employers are becoming landlords
Trump becomes first sitting president to do this on Veterans Day
Subway takes bold step to stop rapid wave of store closings
Businesswoman trapped in Kuwait sentenced to prison for embezzlement
Marine offering free boxing lessons to inner-city residents
US nuclear reactor shut down after officials discover leak
NYC's mayor reportedly doesn't do mornings
Young Americans alarm experts, say they don't need college to succeed
Uber co-founder Travis Kalanick makes massive stock market move
This Navy veteran's advice for those transitioning into civilian life
Walgreens approached by KKR for record buyout deal: Report
Green Beret turns battlefield coffee into an $80M business
SpaceX successfully launches Falcon 9 rocket with 60 satellites on board
Veteran's junk removal business is using trash to create civilian jobs
Veterans Day restaurants where service members can eat for free
25,000 University of California workers to strike Wednesday
Uber CEO faces boycott over calling Khashoggi murder a mistake
How Alibaba rakes in tens of billions on a joke holiday ever year
10 military veterans who became CEOs of Fortune 500 companies
Kaiser Permanente CEO's death postpones strike by 4,000 medical professionals
American Airlines plane slides off runway in Chicago
Average US price of gas remains steady
25K pounds of pizza toppings recalled over possible Listeria contamination
Regis Philbin lists his Connecticut mansion at a significant loss
Break up ICE? 'Be prepared to reap the whirlwind,' director of citizenship, immigration says
Boeing wants to deliver 737 Max before pilot training is approved: Report
Neglected dams threaten thousands of Americans with disastrous flooding
10 Market Indicator Closing Summaries – Yahoo Finance Closing Tickers on MHProNews…

Featured Focus – Where Business, Politics, and Investing Meet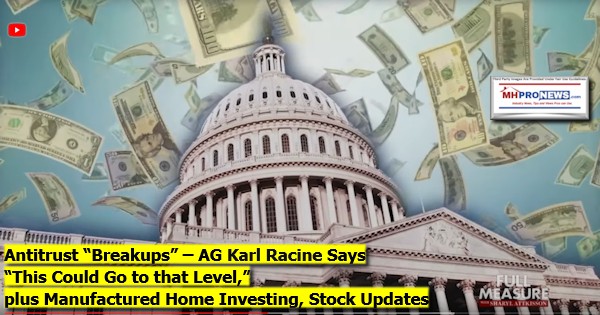 MHProNews has made the point before that the tech giants directly impact manufactured housing in a variety of ways.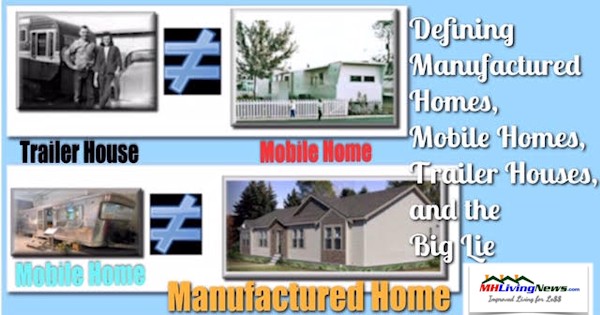 While relevant and important to MHVille, that isn't the focus this evening.
What is grabbing the headlines is the 'sexy' topic of antitrust law as it relates to the tech giants, often called the FANG or FAANG companies.
But what's getting less national attention, save here on MHProNews and MHLivingNews, are subjects that shed light on federal investigations – including reported antitrust and other probes by federal agencies – of operations connected with Warren Buffett led Berkshire Hathaway.
The Seattle Times has made the argument that Clayton's apparent racial bias is in part a reflection of their monopolistic power over the manufactured housing market. That newspaper suggested that their brazen behavior is that of a firm that believes it can get away with boorish, racist, and other legally problematic behavior.
When your own hometown news station is spotlighting the stories, it must be a bit awkward, as well as revealing.

Last Friday, Reuters and right-of-center One America Network reported that "Makan Delrahim spoke at an antitrust conference at Harvard Law School hosted by the Computer & Communications Industry Association, which counts companies like Amazon, Facebook and Alphabet's Google as members."
Pay close attention to how his statement was phrased.
"Some have suggested changing the antitrust laws, creating new agencies or even regulating the conduct of some firms … it bears repeating that our existent framework is flexible enough to detect harm in any industry and emerging ones," Delrahim – who is the Trump Administration's top cop for the DOJ antitrust division – said.
OAN said that the Department of Justice (DOJ) and the Federal Trade Commission (FTC) have come under pressure from lawmakers, who have accused them of wasting time discussing who would investigate which tech company, during a broad investigation into firms like Google, Amazon, Facebook and Apple. The FANGs have been spending record amounts lobbying, hoping for regulations vs. antitrust breakup.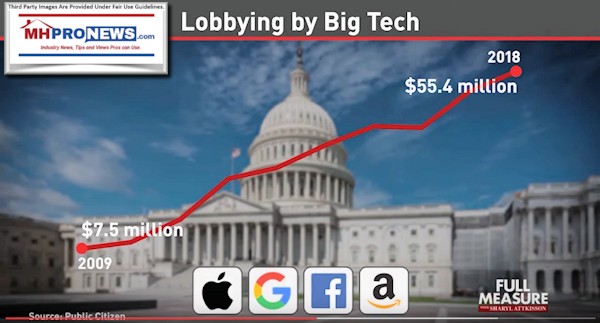 That turf debate, which MHProNews has previously highlighted, is another reason why moves by state attorneys general are of no less interest or importance is following this evolving trend.

Lobbying by tech giants and/or conglomerates like Berkshire Hathaway should not be construed as always being connected to antitrust action. That said, when lawmakers are asked for help on one topic from a company that has made campaign contributions or has otherwise spent money lobbying, it is no surprise when they may go back to those same lawmakers on a subject like antitrust.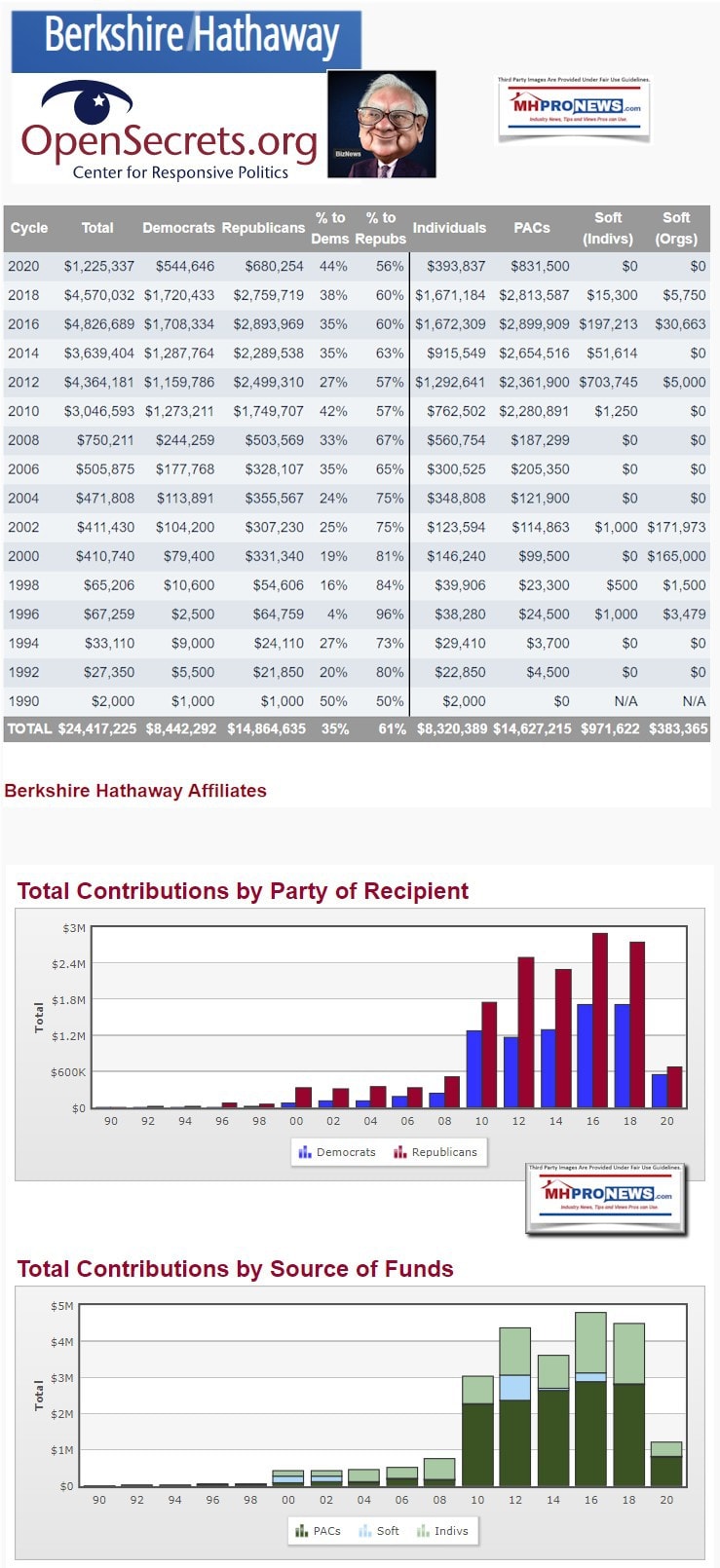 A non-MHARR source that monitors Berkshire has told MHProNews that they have shuffled the deck for their antitrust legal efforts. There are indicators that such is the case, but it must also be kept in mind that Berkshire faces scrutiny beyond just Clayton Homes and their affiliated lenders, Vanderbilt Mortgage and Finance (VMF) and 21st Mortgage Corporation.
It is also worth mentioning that legal and investigative sources outside of manufactured housing per se have signaled MHProNews that antitrust isn't the only kind of probe underway. Other allegations against the firm have been raised, some reported by mainstream media, others not so much.
With the Trump Administration, state AGs, and a growing number of Democratic and Republican lawmakers raising concerns about the outsized market power of conglomerates like the FAANGs, Berkshire, and Microsoft – to name but the more prominent ones – research done by MHProNews and MHLivingNews is apparently being scrutinized by several public officials.
Stay tuned.
When AG Racine told Full Measure as a reminder that it was his counterparts from a century ago that broke up Standard Oil, he said that it could go to that level. That may be a negotiating point. Some see probes by cash-hungry states or D.C. as being in part about collecting fines, not unlike what the European Union has done.
That remains to be seen. As a matter of analysis, history, and advocacy, MHProNews has taken the editorial position that breakup is what is necessary in the case of these giants. The logic of Scott Galloway with New York Stern University, who has studied this issue in depth as it applies to 'the four,' arguably applies to Berkshire and possibly others.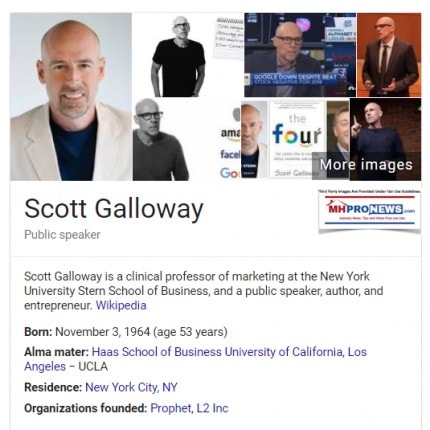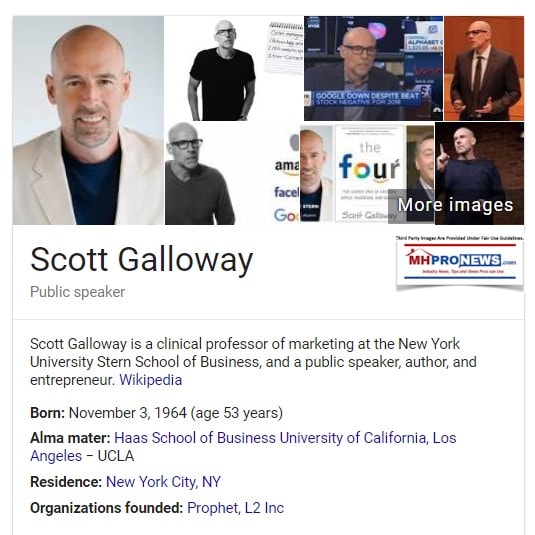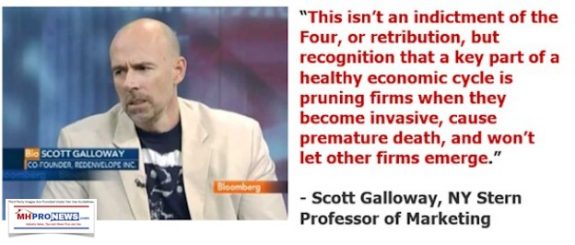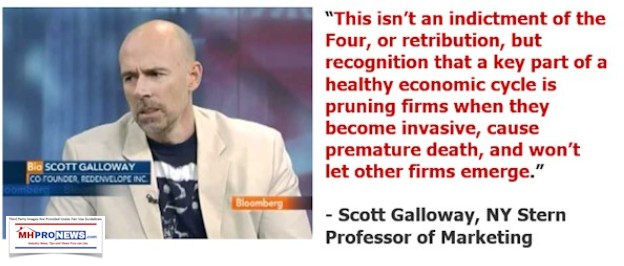 One more note before wrapping this. "Although privacy fits primarily within the realm of consumer protection law, it would be a grave mistake to believe that privacy concerns can never play a role in antitrust analysis," Delrahim said. Recall the reports of Clayton/21st "spying" – which was previously reported at the link below.
Clayton Homes and 21st Mortgage's Manufactured Housing "Spies"
For more in related reports, see the links below.
Related Reports:
News Tip, Document – Is Clayton Homes Engaged in False Down Payments? Deceptive Trade Practices?
Arabella Advisors – Big Money in Dark Shadows, Warren Buffett Ties – Capital Research Group
Retail Industry Leaders Letter to Federal Trade Commission Asking for Antitrust Investigation, Action – Plus Antitrust Division Comments
Senator Warren Campaigns on Antitrust Action Pledge, plus Manufactured Home Investing, Stock Updates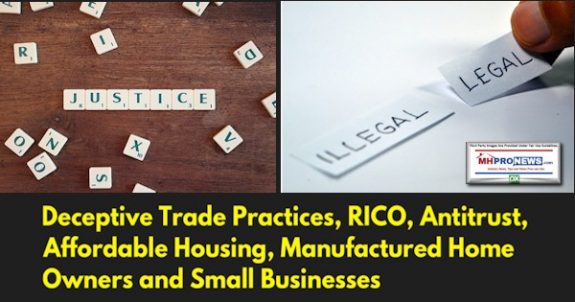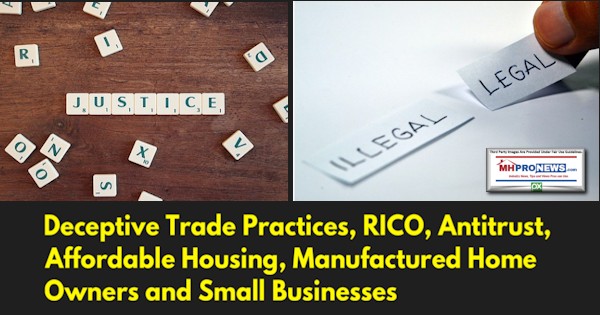 Smaller, Independent Businesses, Property Ownership, Manufactured Housing Risks and Opportunities
Manufactured Housing Industry Investments Connected Closing Equities Tickers
Some of these firms invest in manufactured housing, or are otherwise connected, but may do other forms of investing or business activities too.
NOTE: The chart below includes the Canadian stock, ECN, which purchased Triad Financial Services, a manufactured home industry lender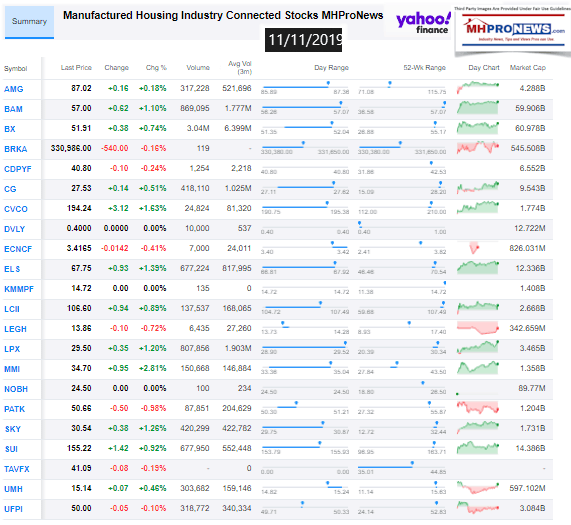 Updated for Fall 2019…
Berkshire Hathaway is the parent company to Clayton Homes, 21st Mortgage, Vanderbilt Mortgage and other factory built housing industry suppliers.
· LCI Industries, Patrick, UFPI, and LP each are suppliers to the manufactured housing industry, among others.
· AMG, CG, and TAVFX have investments in manufactured housing related businesses.
For insights from third-parties and clients about our publisher, click here.
Enjoy these 'blast from the past' comments.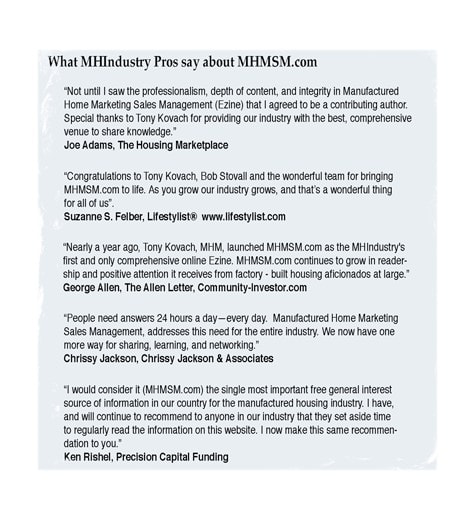 Celebrating 10 Years of Goal- and Solution-Oriented Manufactured Home Industry Innovation Information, and Inspiration for Industry Professionals
· For expert manufactured housing business development or other professional services, click here.
· To sign up in seconds for our industry leading emailed headline news updates, click here.
Disclosure. MHProNews holds no positions in the stocks in this report.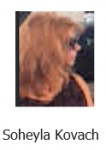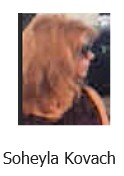 "We Provide, You Decide." © ## (News, analysis and commentary.)
(Image credits and information are as shown above, and when provided by third parties, are shared under fair use guidelines.)
Submitted by Soheyla Kovach, co-managing member of LifeStyle Factory Homes, LLC and co-founder for MHProNews.com, and MHLivingNews.com.