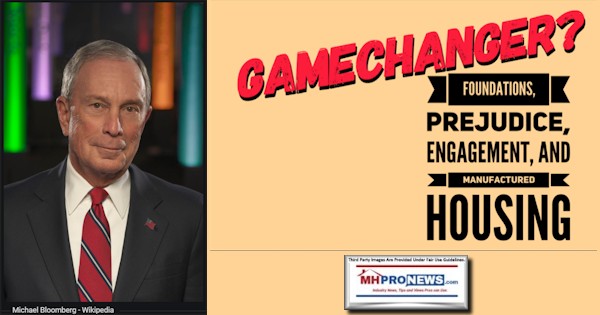 In medicine, business, politics, or most any vocation – the prudent professional faced with problems goes to the root or foundational issue(s).
When any form of prejudice is at work, it is often a problem caused by misinformation. Thus, the core solution must include engaging those who are misinformed with correct insights and information.
There is a widely acknowledged affordable housing crisis. Affordable housing was a topic at last night's Democratic Debates. It is an issue that the Trump Administration is tackling too. Affordable housing is on voters' minds, so it is going to be on politicians and their campaign's thoughts as well.
Manufactured homes are the most proven form of affordable housing, as a bipartisan group of lawmakers specify in the report spotlighted in the article linked below.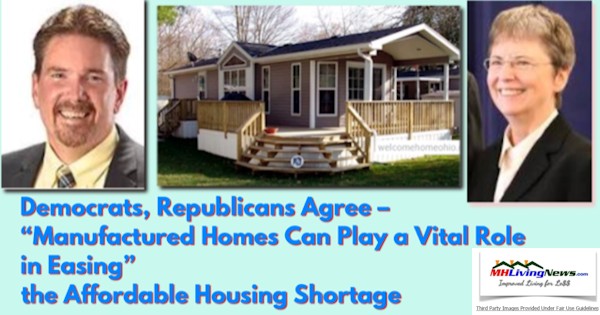 Nevertheless, manufactured homes were not mentioned by any of the candidates last night, why not? Is that a problem or an opportunity in disguise for the industry?
Manufactured Home Pro News (MHProNews) plans to unpack the 11.20.2019 Atlanta Democratic Debate soon for readers precisely because public policy is a source issue in the dramatic fall of the industry from producing some 1 in 4 housing starts 2 decades ago, to now only about 1 in 10 new single-family housing units are a manufactured home.
The manufactured home industry's role in housing is still important and it could play a far larger role. Indeed, it is the one segment of the affordable housing business that could ramp up the fastest, precisely because it is factory-based and federally regulated construction.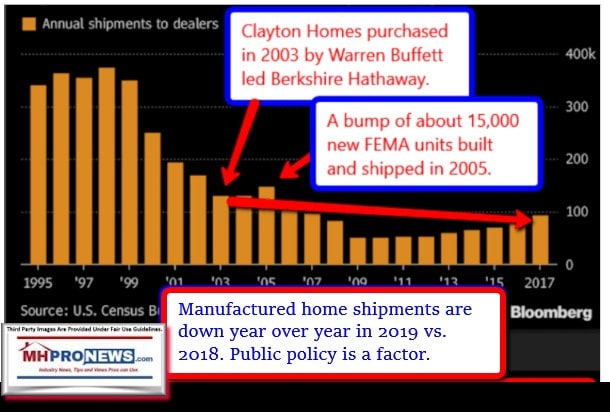 The Emerging 2020 Field and Manufactured Homes
Despite one of the largest fields of Democratic presidential hopeful candidates in modern times, polling indicates that some 1 in 4 Democrats don't find a candidate on that stage that they like. No less a figure than former President Barack Obama (D) recently warned candidates about going to far left. A close ally of the 44th president, former Governor Deval Patrick (MA-D) has announced he is in.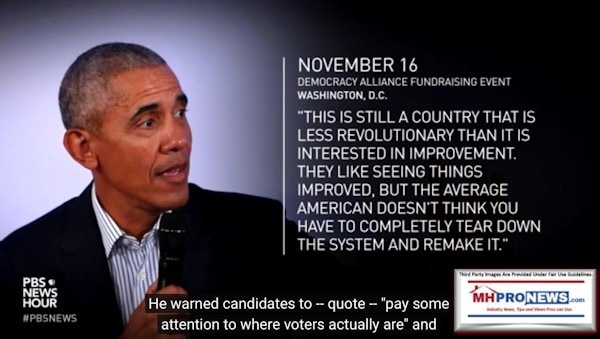 But that's all background for the following focus of this report.
Former Mayor Michael Bloomberg has already filed paperwork for multiple states to be on the primary ballots. He has campaign staff taking shape. At least on paper, he could fill the more moderate lane that faltering frontrunner and former Vice President Joe Biden occupies. And perhaps because of yesterday's weapon of mass distraction, a little noticed news item was reported on CNBC that should send chills down the spines of GOP candidates, including President Donald J. Trump. Nor should it be taken lightly by 2020 Democratic hopefuls.
Bloomberg is among the wealthiest men in American. He could afford to spend hundreds of millions of dollars or more on a campaign. Indeed, per CNBC, he is pledging $15 to $20 million dollars to register some ½ million voters in swing states that President Trump carried in 2016. While many are dismissive of Bloomberg's chances and possible influence on the campaign, that should be rethought for several reasons. Those states the 45th president carried could well decide the election in 2020, regardless of which Democrat ultimately becomes the nominee.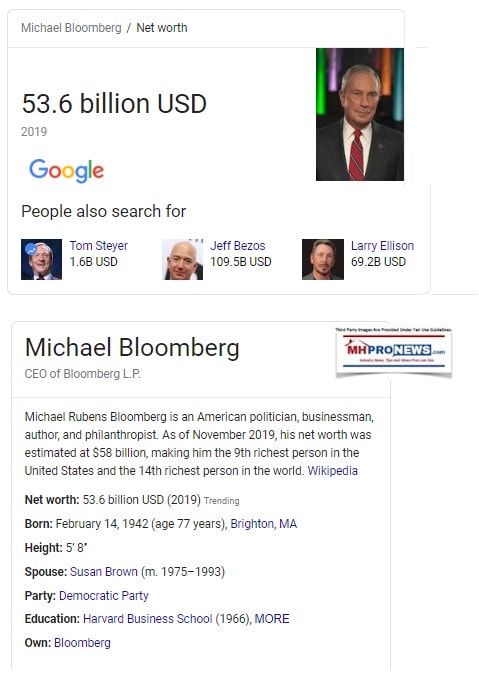 Here are the bullets, per CNBC.
The new effort will target 500,000 voters from traditionally underrepresented groups that typically lean Democratic, including African Americans, Latinos, Asians, young voters and those living in some rural communities.
The 77-year-old former Republican and independent, who formally registered as a Democrat just last year, is expected to make a formal announcement about his 2020 intentions in the coming days.
The new voter registration drive targets voters across five states that Trump won in 2016 largely by narrow margins.
The new voter registration drive targets voters across five states that Trump won in 2016 largely by narrow margins. The Republican president carried Michigan and Wisconsin by less than 1 point and Arizona and North Carolina by 3 points. The exception is Texas, where Trump scored a 9-point victory, but where Democrats are increasingly hopeful that demographic shifts backed by California transplants will make the state more competitive next year.
Bloomberg's stated views toward manufactured homes with respect to the campaign are unknown because there is no formal announcement or stated policies yet for his candidacy. But he comes from an area where it is certainly possible that he has an incomplete view of our industry. Why? It is because there are very few manufactured homes in the Big Apple.
That said, it should be noted that the media outlets that carry his name, Bloomberg, have often given quite fair coverage of our industry.
MHProNews will monitor the developments and continue to provide the industry's best, most read, reports and analysis on the developments that do or could impact manufactured home professionals, millions of manufactured home homeowners, thousands of investors, and tens of millions of affordable housing seekers.
The next two related reports explain why the need for manufactured homes is growing. That implies a need to apply good existing laws that would remove barriers to more manufactured homes.
CoreLogic SFRI Reports Low Rental Inventory Levels Pushing Rent Higher
U.S. Conventional Housing Starts Rise, Building Permits Hit New High, Manufactured Housing Insight
The Bloomberg candidacy – and efforts like the one noted above – are far more significant than many realize. That's your first installment today of "News through the lens of manufactured homes and factory-built housing," © your runaway #1 biggest and most-read professional information resource, where "We Provide, You Decide." © (News, fact-checks, analysis, and commentary.)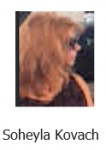 Submitted by Soheyla Kovach for MHProNews.com.
Soheyla is a co-founder and managing member of LifeStyle Factory Homes, LLC, the parent company to MHProNews, and MHLivingNews.com. Connect with us on LinkedIn here and here.
Related Reports:
Click the image/text box below to access relevant, related information.
Markets Rise on China-U.S. Trade Hopes, ex-Mayor Mike Bloomberg's Toe in 2020 Waters, plus Manufactured Home Investing, Stock Updates
As Next Dem Debate Looms, Former President Obama Cautions 2020 Democratic Hopefuls, plus Manufactured Home Investing, Stock Updates
Senator Elizabeth Warren, Other Lawmakers Rip 'Sham Research' Defending Private Equity, plus Manufactured Home Investing, Stock Updates
Saturday Satire and Executive Summaries for Manufactured Housing Professionals, Investors, Advocates, Researchers, Public Officials, and Investigators
Economic Club NY – POTUS Trump – Foundation of Liberty, Prosperity? "Rule of Law" – plus Manufactured Home Investing, Equities Updates
Warning Sign for POTUS Trump in 2020? How Did John Bel Edwards Win Re-election? Manufactured Housing Perspective, Insights