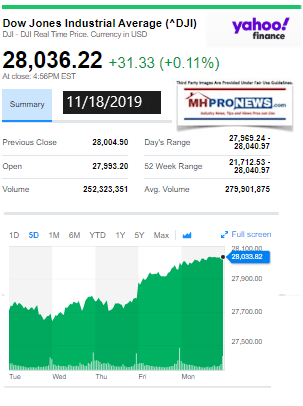 When left- and right-leaning media outlets arrive at similar concerns on something that isn't political theater, it is a reasonable signal that more attention needs to be paid from those on both sides of the two major party-political divide. Senator Elizabeth Warren and other lawmakers are raising serious concerns about often vexing issues, but their solutions are coming under serious fire from both sides as missing the mark. On a day when markets rose to new highs, a look at those nuances and details will be our featured focus this evening.
Regular readers please note there are a few tweaks to some of the standard portions of our evening market/investing report. Read carefully as some changes of the 'standard text' that follows before our left-right headlines and also in other features near the end of tonight's reports.
Every evening our headlines that follow provide snapshots from two major media outlets on each side of the left-right news spectrum that reflect topics that influence or move investor sentiment. In moments on this business evening report, you can get 'insights-at-a-glance.'
This report also sets the broader context for manufactured housing markets, in keeping with our mantra, "News through the lens of manufactured homes and factory-built housing" ©.
We begin with headlines left-of-center CNN followed by right-of-center Fox Business. We share closing tickers and other related data courtesy of Yahoo Finance, and more. 5 to 10 minutes reading this MHProNews market report every business night could save you 30 minutes to an hour of similar reading or fact-gathering elsewhere.
Perhaps more important, you will get insights about the industry from experts that care, but also dare to challenge the routine narrative that arguably keeps manufactured housing underperforming during an affordable housing crisis.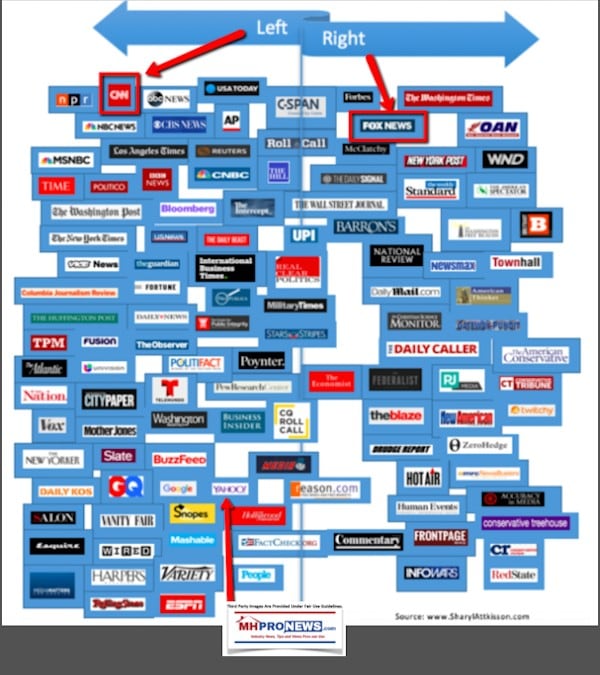 Newsy, Peeling Back Media Bias, Manufactured Housing Sales, Investing, Politics, and You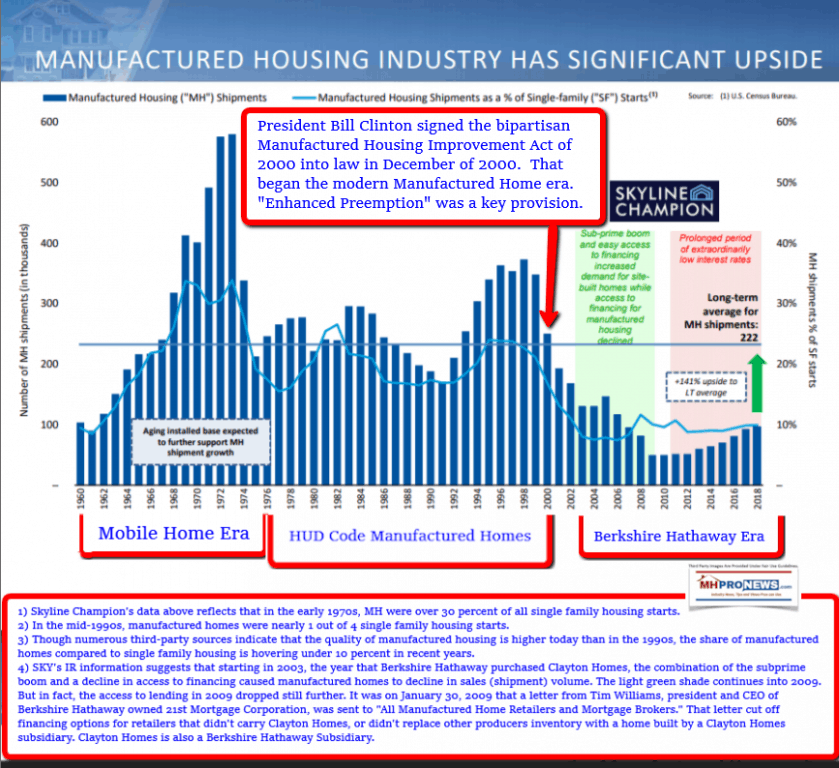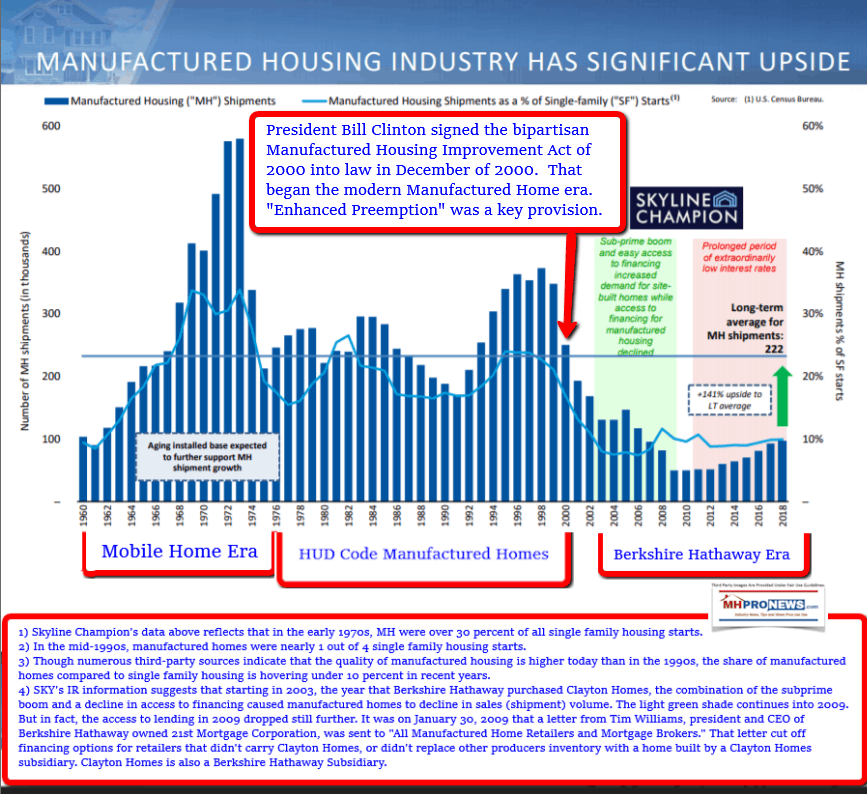 Headlines from left-of-center CNN Business.
China's shoppers are still going strong
Chinese consumers continue to spend, despite concerns about tariffs
WeWork braces for mass layoffs this week
The United States once again kicks the Huawei can down the road
FedEx CEO challenges the New York Times to a debate after critical story
Airbus lands $30 billion in new orders for planes
T-Mobile CEO John Legere will step down
Google requested a trove of documents from the Texas attorney general's antitrust probe
Companies pull support for Prince Andrew's networking event
Lindsey Graham faces heat from right-wing media
Marie Kondo cleared your homes of clutter. Now she wants to sell you stuff
How much should you be spending on vacations?
Startup raises $51 million to take on retirement industry
Andrew Yang: As president, I will establish a Department of the Attention Economy
DALLAS, TX – AUGUST 03: (L-R) Same sex couple Whitney Copeland and Skye Newkirk embrace outside a Chick-fil-A restaurant on August 3, 2012 in Dallas, Texas. Several same sex couples gathered to kiss in support of a National Same Sex Kiss Day at Chick-fil-A held across the country in response to Chick-fil-A's stance on gay marriage. (Photo by Tom Pennington/Getty Images)
Chick-fil-A will no longer donate to anti-LGBTQ organizations
Kylie Jenner sells a $600 million stake in her cosmetics company
Ford takes aim at Tesla with electric Mustang SUV
Volvo's first fully electric car will also be one of its safest cars ever
Tesla will finally reveal its electric pickup
This electric living room on wheels could be yours
Off-roading in the world's most expensive SUV
What you should know about Google Stadia's launch
Google's secret weapon as it pushes into gaming
PlayStation 5 will feature a redesigned controller
Sony slashes prices on cloud gaming service a month before Google rival launches
Big tech is betting big on gaming
The all electric Ford Mustang Mach-E SUV
Would you live in a glass house? This family does
See inside the world's largest Starbucks
Could mushrooms be the key to replacing plastic?
He says Facebook's Libra is the future. Lawmakers aren't so sure
Mary Daly, president of the Federal Reserve Bank of San Francisco, joined other U.S. central bankers on Tuesday in supporting patience on future interest rate moves amid economic uncertainty.
From working at a doughnut shop to the Federal Reserve: The unlikely journey of Mary Daly
For some people, glass houses offer just the right amount of exposure
More women are on big company boards, but the numbers are still shockingly low
This smart lock lets Walmart deliver groceries inside your home — no key needed
Microsoft tried a 4-day workweek in Japan. Productivity jumped 40%
TikTok could be getting into the streaming music business
Kentaro Kawabe (L), CEO and president of Z Holdings and Takeshi Idezawa (R), CEO and president of LINE shake hands during a joint press conference in Tokyo on November 18, 2019.
Yahoo Japan and Line are merging to fend off US tech giants
HP board rejects takeover bid from Xerox
Conservative radio host says his show was pulled because he criticized Trump. The station says that's untrue
Boris Johnson doesn't have Fox News but he can always rely on the Telegraph
How the Trump era has sorted us into 'pro,' 'anti' and 'never' categories
Headlines from right-of-center Fox Business.
Boeing allegedly didn't probe 737 MAX safety until after SECOND deadly crash
Monday's lawsuit, filed in the Court of Chancery in Delaware, said the first crash was "the biggest red flag an airline manufacturer can face."
Dow, S&P 500 and Nasdaq ALL climb to record highs amid ongoing trade talks
US, China hold 'constructive discussions,' Beijing says
LATEST: Campus under siege as Hong Kong police battle protesters
Hong Kong multimillionaire on what's inspiring protesters to rise up
VARNEY: Hong Kong's 'dynamic' society has been turned on its head
Taylor Swift's performance STILL in doubt despite reported agreement
CHALLENGE ON THE FIELD: NFL star's helmet brawl suspension takes turn
How Joel Osteen got the million-dollar church Kanye West visited
McDonald's new CEO tells employees: 'I'd like to hear from you'
5 financial tasks you should tackle by year-end
Trump doesn't have to release tax returns — for now, court rules
The 5 airlines most likely to bump you from your seat
Varney: Impending failure of Trump's impeachment could make you money
At least 3 people dead in Oklahoma Walmart shooting
AmEx is paying up to get businesses to accept its cards
US farm country hit by propane emergency
USPS' downward spiral could wreck your holiday plans
FTC has 'MULTIPLE' ongoing probes into big tech platforms, chief reveals
KEEPING UP WITH KOSMETICS: Kylie Jenner unloads stake in beauty company
Former NBA player: CBD needs to be regulated
Vegetarians, vegans aren't even eating most plant-based alternatives
This is the main hold-up keeping Kaepernick out of the NFL right now
Boost Mobile founder willing to pay billions to get brand from Sprint
Pennsylvania will improve prison conditions for death row inmates
5 financial tasks you should tackle by year-end
Juul sued over 'systematic campaign' to addict kids
Multimillion-dollar yachts destroyed in predawn fire at Florida marina
This airline just took a massive leap of faith on Boeing's 737 Max
Chick-fil-A to stop donating to Salvation Army: report
Taliban-chasing horse soldier vets foster 'American spirit' in bourbon distillery
Ilhan Omar's alleged $150K payment to lover's firm raises questions
Biden camp falls for Sanders fan's prank, promotes party at Epstein estate
College students turn to 'adulting' classes for basic life skills
How following around GM engine parts reveals the truth of free trade
Trump admin extends China's Huawei a massive trade war olive branch
Starbucks attendance declines in wake of open-bathroom policy: Study
Trump meets with Fed's Powell at White House after berating him for months
Nissan recalls 450,000 vehicles, saying brake issue could cause fires
Stents, bypass surgery serve 'no advantage' in terms of survival, decreasing heart disease: Dr. Marc Siegel
US colleges' bottom line hurt by third straight drop in foreign students
American homeowners staying put longer for this solid economic reason
FedEx CEO dares New York Times publisher to debate $0 tax bill story
UBS banker 'at peace' with skipping Anguilla court date
US yogurt sales are falling off a cliff
Sports clothing company looks to capitalize on nostalgia to win over fans
Egypt could face US sanctions over Russian fighter jet buy
Kansas researcher denies working for Chinese university, calls it an extortion attempt
10 Market Indicator Closing Summaries – Yahoo Finance Closing Tickers on MHProNews…

Featured Focus – Where Business, Politics, and Investing Meet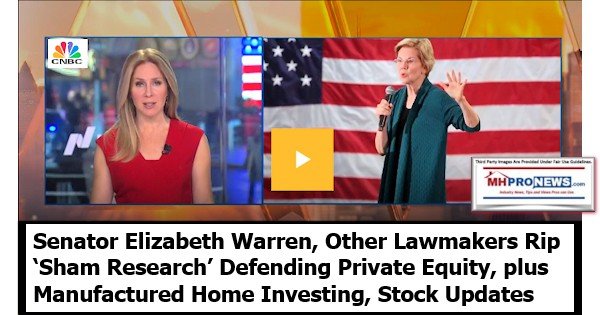 "There are a myriad of other ways that corporate interests can wield their influence. One way they do so is by funding sham research – by consultants and researchers who receive big bucks for their work – to back up their views," Senators Elizabeth Warren and six other lawmakers wrote to Ernst & Young Chairman and CEO Carmine Di Sibio, said left-of-center CNBC.
The lawmakers sent a letter to Ernest & Young, accusing the accounting firm of helping the American Investment Council put together a report to defend the private equity industry that the politicians believe skewed the facts.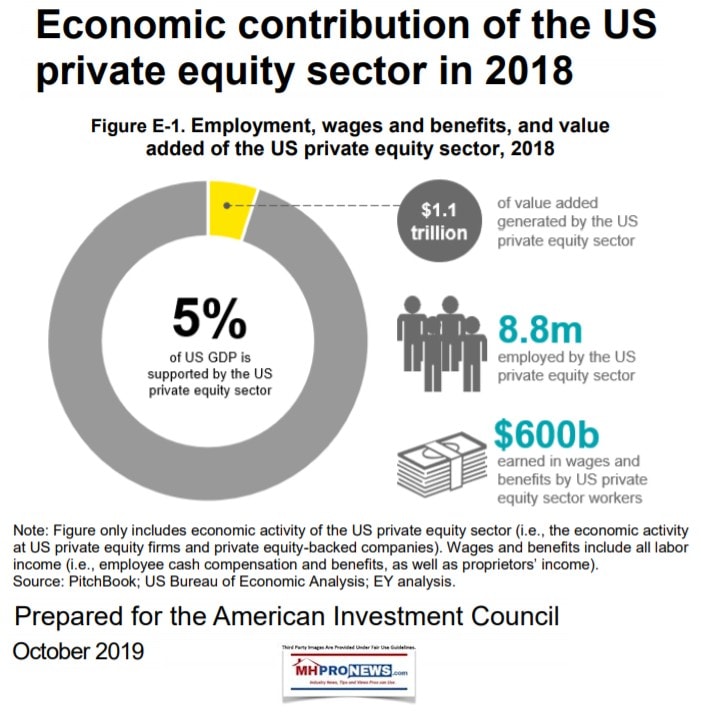 "These studies are distorted and biased and misused in the regulatory and legislative and regulatory process, lending an air of legitimacy to corporate special pleading. The new EY report, prepared with and for a trade group for the private equity industry, appears to be a picture-perfect example of such sham study," the lawmakers wrote.
The private equity defending report, released in October, presents a different portrait of the private equity industry than the one put forward by populist politicians like Senators Warren, Bernie Sanders and other lawmakers.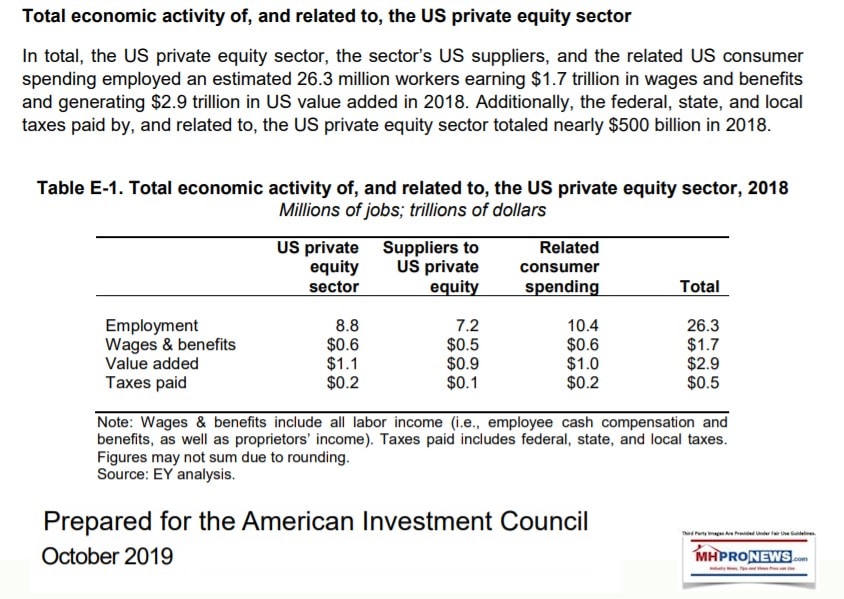 What is missing from their analysis is the point raised by Manufactured Home Living News and MHProNews; namely, that 'progressive' billionaires like Warren Buffett can make contributions through dark money channels that fund attacks on private equity in a way that could spark more regulations that actually serve to benefit what Warren and others have said is vulture capitalism.
Big companies can withstand more regulations better than smaller firms. So attacks that may be misconstrued as diminishing all of – for example – manufactured housing can actually benefit those funding the attacks. Who says? The logic of Roth Carol for one.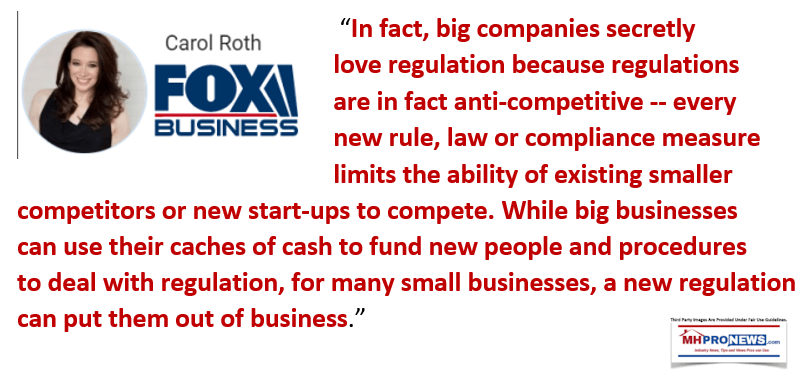 Just as the power to tax is the power to destroy, so too the power to regulate – or the power of negative media – is a power to harm several sectors of an entire industry.
Back to Warren's and the other lawmaker's letter. Representatives for Ernst & Young, KKR and AIC didn't immediately respond to a request for comment on the matter.
The lawmakers argued, "a recent analysis of private equity buyouts from 1980 to 2013 found that average earnings per worker fell by nearly 2 percent, compared to similar companies not owned by private equity." That may be true. But the question is, how does one address it?
Ironically, Warren herself has presented a potentially better solution than new legislation. That could be a more robust enforcement of existing laws, like antitrust action.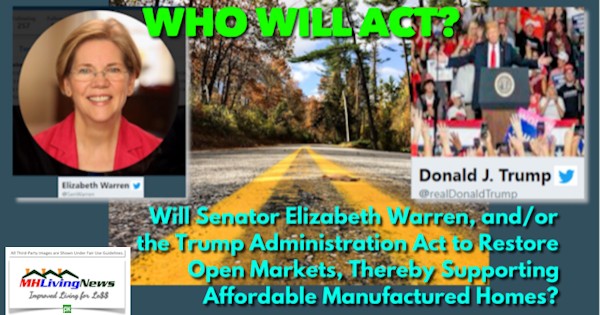 When it comes to principles that impact manufactured housing and manufactured home land-lease communities, and their residents – a variety of sources across the left-right divide are seeing similar fundamental facts, it is the solutions that vary widely.
Intentionally or not, Warren's proposals may benefit some of the very people she claims to want to tax and regulate more.
There are also other practical concerns that CNBC's analysis raised, see that in the video posted below. Namely, that the taxes on investments – under Warren's proposal – could exceed that of the investment itself. That would clearly deter the investment in the first place.
That analysis is similar to what Mark Cuban, an often Democratic supporting CNBC personality in a recent Fox Business interview said.
When left and right sources raise similar concerns, it is a good idea to take a closer look. For more as to how the concerns relate to manufactured housing – see the related reports below.
Related Reports:
Barriers to Entry, Persistence, and Exiting in Business, Affordable Housing, and Manufactured Homes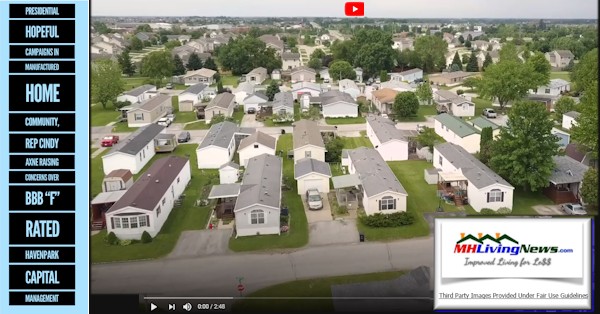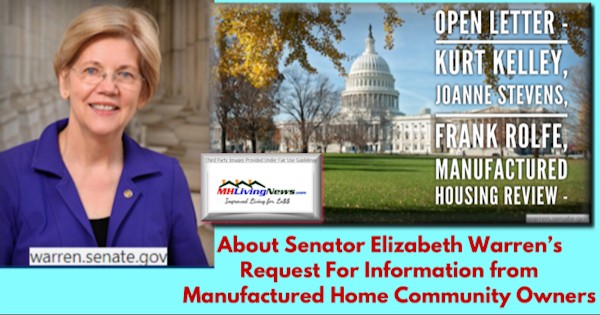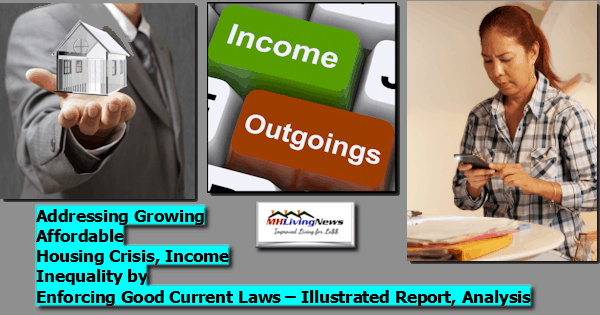 Investor Alert – Manufactured Housing Institute Paltering Concerns, Fannie Mae's Duty to Serve, plus Manufactured Housing Investing, Stocks Updates
Saturday Satire and Executive Summaries for Manufactured Housing Professionals, Investors, Advocates, Researchers, Public Officials, and Investigators
Manufactured Housing Industry Investments Connected Closing Equities Tickers
Some of these firms invest in manufactured housing, or are otherwise connected, but may do other forms of investing or business activities too.
NOTE: The chart below includes the Canadian stock, ECN, which purchased Triad Financial Services, a manufactured home industry lender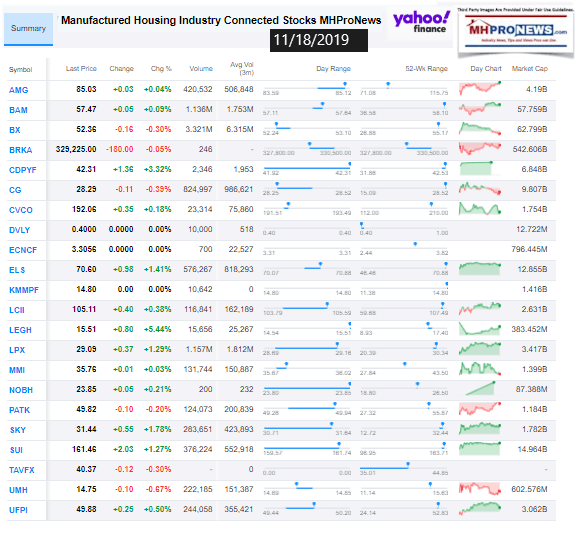 Updated for Fall 2019…
Berkshire Hathaway is the parent company to Clayton Homes, 21st Mortgage, Vanderbilt Mortgage and other factory built housing industry suppliers.
· LCI Industries, Patrick, UFPI, and LP each are suppliers to the manufactured housing industry, among others.
· AMG, CG, and TAVFX have investments in manufactured housing related businesses.
For insights from third-parties and clients about our publisher, click here.
Enjoy these 'blast from the past' comments.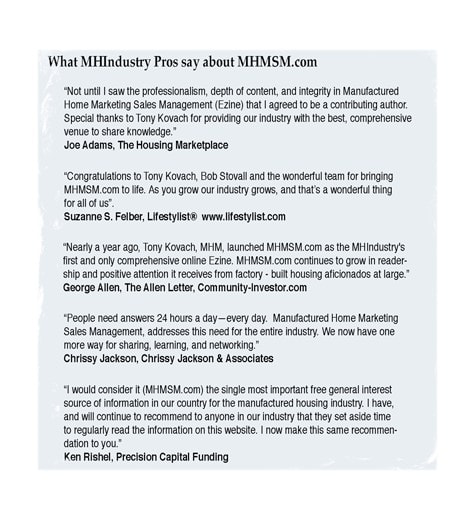 Celebrating 10 Years of Goal- and Solution-Oriented Manufactured Home Industry Innovation Information, and Inspiration for Industry Professionals
· For expert manufactured housing business development or other professional services, click here.
· To sign up in seconds for our industry leading emailed headline news updates, click here.
Disclosure. MHProNews holds no positions in the stocks in this report.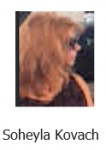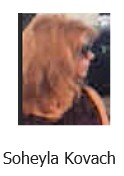 "We Provide, You Decide." © ## (News, analysis and commentary.)
(Image credits and information are as shown above, and when provided by third parties, are shared under fair use guidelines.)
Submitted by Soheyla Kovach, co-managing member of LifeStyle Factory Homes, LLC and co-founder for MHProNews.com, and MHLivingNews.com.