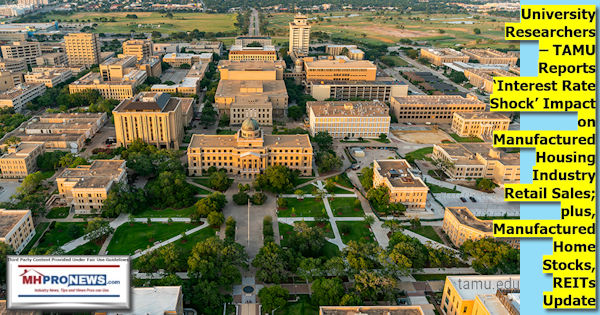 According to a statement provided by the Texas A&M University (TAMU) Texas Real Estate Research Center (TRERC) to MHProNews, "Rising interest rates shock Texas' manufactured housing industry." It goes on to say that "Texas' manufactured-housing outlook worsened for the first time during the COVID-19 pandemic recovery. According to the latest Texas Manufactured Housing Survey (TMHS), industry activity slowed for the second straight month as sales slipped and trended downward." Texas is the #1 state in the U.S. for manufactured housing production and shipments. What follows from the TMHS and the TRERC provided insights should be compared to recent information from publicly traded companies who happen to be Manufactured Housing Institute (MHI) members and that of some of their major producers who are publicly traded. It should also be compared and contrasted with statements made directly by MHI and the other national trade organization, the Manufactured Housing Association for Regulatory Reform (MHARR). Such comparisons will be part of the analysis and commentary which follows the TAMU release, provided below.

FOR IMMEDIATE RELEASE
June 10, 2022/News Release No. 19-0622
Rising interest rates shock Texas' manufactured housing industry
COLLEGE STATION, Tex. (Texas Real Estate Research Center) – Texas' manufactured-housing outlook worsened for the first time during the COVID-19 pandemic recovery. According to the latest Texas Manufactured Housing Survey (TMHS), industry activity slowed for the second straight month as sales slipped and trended downward.
"The May TMHS made it clear that new-order volume is moving down for Texas manufacturers," said Rob Ripperda, vice president of operations for the Texas Manufactured Housing Association. "Interest-rate increases are hitting retailers on two fronts, with homebuyers now facing higher mortgage payments and rate increases in inventory-lending raising retailers' carrying costs on unsold homes.
"Those factors elevate the risk associated with ordering more homes to the retail lot. As the retail channel cools, there is still healthy demand from communities and developers whose order delivery times may now be accelerating."
Despite the sales slowdown, Texas housing manufacturers increased production for the 12th consecutive month in an attempt to reel in historically high backlogs.
"Manufacturers still have a healthy backlog of orders to work through, and there is no indication of plans to decrease the pace of home construction, especially amid increased payrolls and capital expenditures," said Ripperda.
The TMHS corroborated an ongoing employment expansion despite a tight labor market, forcing manufacturers to elevate wages and earnings.
Pricing pressures, however, showed signs of easing as the TMHS supply-chain disruption index reached its lowest level since the pandemic started, and the raw-materials price index reached a year-to-date low.
"Prices on critical inputs for manufactured housing are beginning to see some relief," according to Dr. Harold Hunt, research economist at the Texas Real Estate Research Center (TRERC) at Texas A&M University. "For example, lumber prices have declined almost 60 percent from where they were a year ago."
TMHS respondents expect several supply-side challenges to subside in the next six months, but many challenges loom.
"Interest rates will undoubtedly continue to increase as the Federal Reserve steps up its fight to control the highest inflation we've seen in 40 years," said Hunt, "and there is more and more uncertainty surrounding the overall health of the economy."
Funded by Texas real estate licensee fees, TRERC was created by the state legislature to meet the needs of many audiences, including the real estate industry, instructors, researchers, and the public. 
—30—
Additional Information, More MHProNews Analysis and Commentary in Brief
Aspects of what is stated above about a slowdown in retail are confirmed in part by publicly-traded MHI member producers, Cavco Industries (CVCO) and Skyline Champion (SKY).
'Better Quality Manufactured Home Buyers' 'More Regulatory Relief' – Skyline Champion Corporation (SKY) CEO Mark Yost on Q4 2022 Results – Earnings Call Transcript, Facts & Analysis
'Record Results' – Cavco Industries 2022 Q4 Results, CEO Bill Boor Said 'Dramatic' Rate Increases Means 'Decreased Affordability,' 'Many Hopeful Buyers' Left Out, 'Fundamental Undersupply Remains'  
It seems only Legacy Housing, among publicly traded producers that are MHI member brands, is willing to publicly and repeatedly state the obvious. Zoning and placement issues are a significant problem. Those placement barrier problems are reducing potential manufactured housing sales.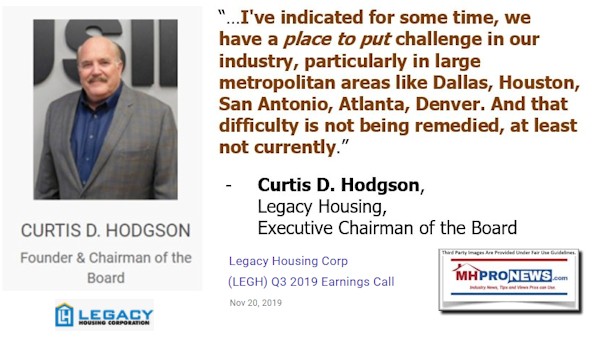 Legacy Housing Announces Changes in Leadership, Kenny Shipley, Other Role Changes and Team Member Additions Include Duncan Bates for Growth, Succession Plan; plus MH Stock Updates
So, oddly, MHI members Cavco and Skyline-Champion and the TMHA/TRERC supplied insights above seem to contradict MHI's recent claim in an email to their members that said there is "momentum" for manufactured housing. Really? Momentum? Does MHI redefine momentum as the risk or actuality of going backwards and down rather than forward and up? In fairness, for the full context of MHI's unusual claim about "momentum," see the recent report linked below.
MHI Claims 'Momentum' in D.C. – HousingWire, MHInsider Showcase Manufactured Housing Institute CEO Lesli Gooch Op-Ed on DOE Energy Rule Sans Critique, Fact Check, Viewpoints; plus MHMarket Update
Perhaps as or more importantly, MHI themselves have contradicted their own claim of momentum.
They have publicly stated that there is a risk of losing entry level manufactured housing production as a result of the announcement in May 2022 of the DOE Manufactured Home Energy Rule standards. A 1 year to implementation countdown clock is now several weeks underway. MHI themselves said that the Biden White House claims of a major housing plan that includes and is supposed to help manufactured housing are contradicted by the Biden DOE energy rule standards.
Those disconnects within MHI's own messaging beg the question. Does MHI need a tip sheet for their writers, staff leaders, and spokespeople so they don't contradict themselves?
There are reasons why a strong, steady stream of manufactured housing professionals, including numbers of MHI member managers and readers, are reportedly regular readers of MHProNews. Who else fact-checks MHI claims and who else in industry trade medias bothers to see if their statements are consistent or self-contradictory? Despite ongoing efforts by MHI connected bloggers, trade media, and others to marginalize our reports, in recent months the primary (among many) cPanel on the MHProNews site has consistently registered over 1 million pageviews monthly. There are other cPanels that take our total pageview and visitor counts significantly higher. Put differently, MHProNews has data which supports our being the runaway #1 most read publication despite 'wannabe' rivals that boast and beat their chests – but don't provide specific evidence to back up their boasts. Information warfare is a tool in the arsenal of monopolizers, as a Warren Buffett connected nonprofit board member has observed.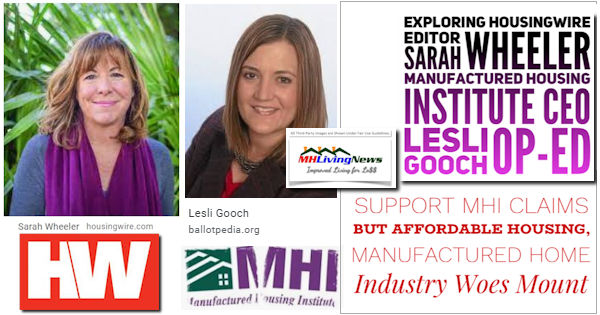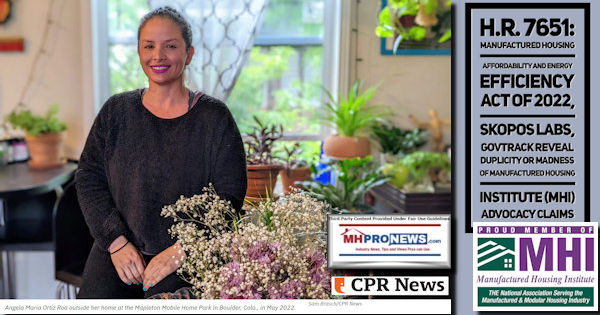 MHI can obviously do whatever they legitimately think will actually solve the triple issues listed below. Note all three of these are issues that their own statements clearly indicate are challenges that do or soon will limit manufactured housing sales.
1) Zoning/placement barriers.
2) The need for more financing by implementing DTS with the Government Sponsored Enterprises (GSEs) and removing the hobbling 10/10 rule with Ginnie Mae on FHA backed loans.
3) The harmful DOE energy rule, which the Manufactured Housing Association for Regulatory Reform (MHARR) points out is not required in most states for far costlier site-built housing but is being mandated for lower cost including entry level, manufactured homes.
So, why hasn't MHI used their legal muscle and other resources to move the needle to a positive resolution on those three key topics?
Instead, why is MHI taking self-contradictory and apparently unhelpful courses of action on properly implementing federal laws? Another MHI member, Sun Communities, thoughtfully spelled it out. Sun Communities in an earnings call said that a record number of communities are in the pipeline for acquisition. The threat of taxes and stiff regulations from government are headwinds that harm the interests of manufactured housing independents but are the de facto allies of larger firms.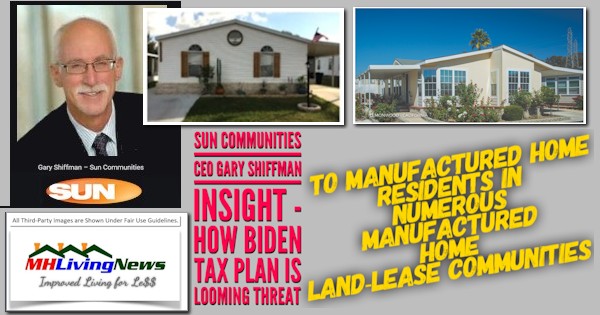 When someone follows the evidence, history, and money trail, the point made by MHProNews some years ago about regulations by quoting the keen insights of Carol Roth are being demonstrated day by day in the manufactured housing arena.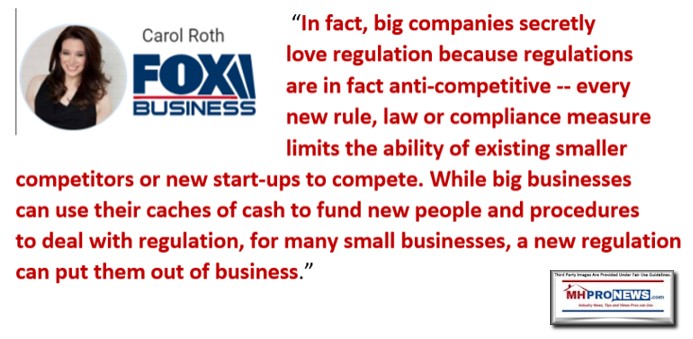 For additional insights relevant to the TAMU research and MHI connected claims, see the exclusive question and answer published below.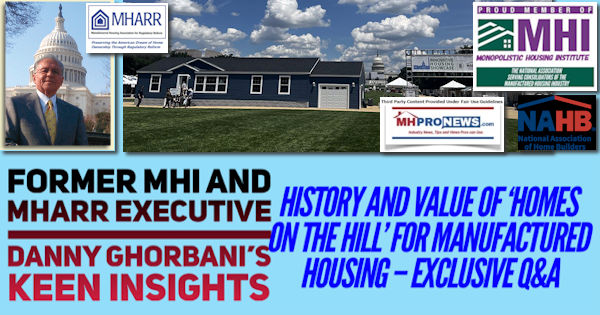 Next up is our daily business news recap of yesterday evening's market report, related left-right headlines, and manufactured housing connected equities.
The Business Daily Manufactured Home Industry Connected Stock Market Updates.  Plus, Market Moving Left leaning CNN and Right-leaning (Newsmax) Headlines Snapshot. While the layout of this daily business report has been evolving over time, several elements of the basic concepts used previously are still the same. For instance. The headlines that follow below can be reviewed at a glance to save time while providing insights across the left-right media divide. Additionally, those headlines often provide clues as to possible 'market-moving' news items.
Market Indicator Closing Summaries – Yahoo Finance Closing Tickers on MHProNews…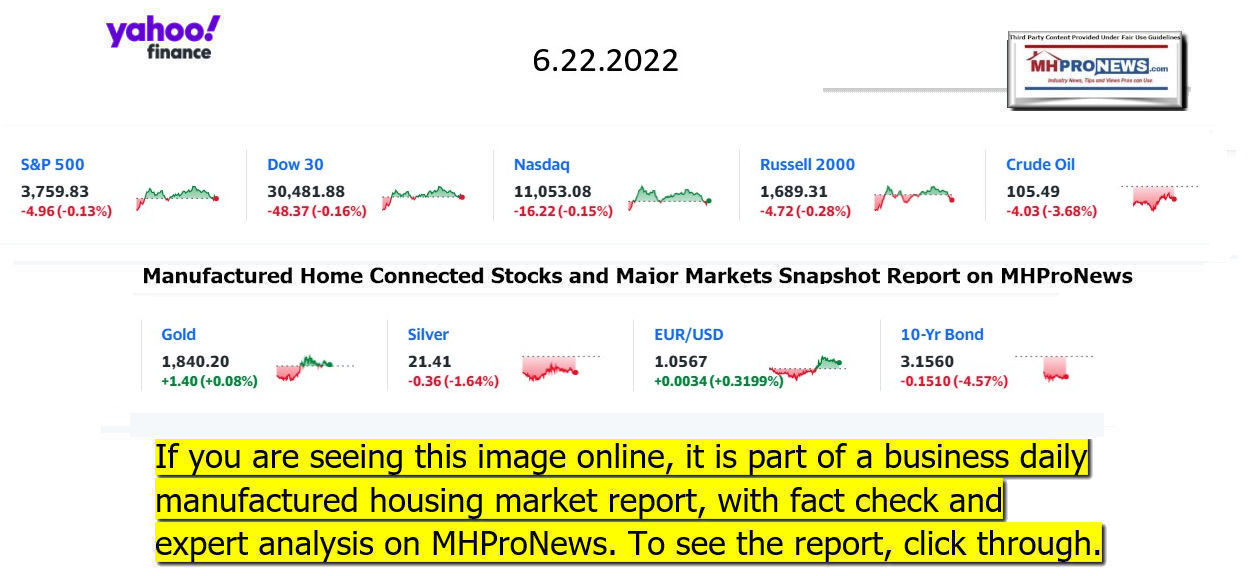 Headlines from left-of-center CNN Business – from the evening of 6.22.2022
Housing cools down
A Chase bank branch on Madison Avenue in New York, U.S., on Tuesday, Jan. 4, 2022.
JPMorgan lays off hundreds of employees in mortgage division as rates spike
Could a housing slump threaten the stock market and the entire economy?
Elizabeth Warren to Fed's Jerome Powell: Don't 'drive this economy off a cliff'
Gary Cohn: Fed was late on interest rate hikes
Juul vape pens could be pulled from US shelves. Altria shares tumble
Why Kellogg is turning its back on Frosted Flakes and Froot Loops
Changes to your next 401(k) statement could be alarming, but don't panic
Rents to rise for more than a million New Yorkers in rent stabilized apartments
Opinion: Airlines are facing pressure from all directions
Kraft Macaroni and Cheese is changing its name
'Hang them all': January 6th committee members target of violent rhetoric on right-wing social media platforms
Ukrainian journalist Maks Levin 'executed in cold blood,' report says
Analysis: Trump's election lie becomes a big problem for MAGA Media
Putin says Russia is rerouting trade to China and India
A customer fuels a vehicle at a gas station in San Francisco, California, US, on Thursday, June 9, 2022.
Well, drivers, we've got good news and bad news about gas prices
What today's retirees want future retirees to know
GOING ELECTRIC
Report: Volkswagen could sell more electric cars than Tesla by 2024
GM delivers 150 electric vans to FedEx
An electric car finally makes financial sense
Hyundai to build $5.5 billion EV and battery plant in the US
Electric supercar maker Rimac receives over $500 million investment from Porsche and others
MEDIA
Political analyst of PBS's "The NewsHour With Jim Lehrer" Mark Shields speaks during a taping of "Meet the Press" at the NBC studios February 17, 2008 in Washington, DC. Shields discussed the 2008 presidential race.
Mark Shields, political analyst on CNN and PBS 'NewsHour,' dies at 85
Stephen Colbert explains staff arrests at Capitol
Pixar's 'Lightyear' fizzles at the box office
Analysis: The media is awash in Trump coverage…again
Vince McMahon takes 'Smackdown' stage after misconduct allegations emerge
Headlines from right-of-center Newsmax 6.22.2022
Biden Asks Congress for Temporary Gas Tax Suspension
President Joe Biden speaks about gas prices in the South Court Auditorium on the White House campus, Wednesday.
The president also urged states to temporarily suspend state fuel taxes, which are often higher than federal rates, the official said, and will challenge major oil companies to bring ideas on how to bring back idled refining capacity when they meet with his energy secretary later this week. [Full Story]
Russian Invasion of Ukraine
Zelenskyy Awaits EU Offer as Russian Strikes Continue
Russia's Lavrov in Iran to Talk Nuke Deal, Cooperation
Russia: West Is Spreading Lies About Causes of World's Food Crisis
Yeltsin Center Removes Anti-War Statement From Website at 'Request' of Authorities
Ukraine's Metinvest Urges Customers Not to Buy 'Stolen' Steel
Moscow Fumes Over Lithuania Rail Ban to Russian Region
Russia to Lithuania: You'll Will Feel the Pain Over Kaliningrad
Russian Parents Plead: Don't Send Sons Back to Ukraine
More Russian Invasion of Ukraine
Election Primaries 2022
Trump Hails 12-0 Record in Senate GOP Primaries After Britt Victory
Key Newsmax Debate Moments | video
Zeldin Targeted in Heated NY Gov Debate | video
Trump-Backed Britt Beats Brooks in Alabama GOP Primary
Bowser Wins Democratic Primary for Mayor in Troubled DC
Trump-Backed Jones Beaten in Georgia GOP Runoff
Georgia GOP Picks McCormick, Collins in Congress Runoffs
Ben Cline Wins GOP Nom for House in Va.'s 6th
GOP's Vega, Kiggans to Face Reps. Spanberger, Luria in Va.
Allen Wins GOP Nomination for Alabama Secretary of State
Newsmax TV
Van Duyne: Biden's Gas Tax Break a 'Weak Response'
Cammack: Biden, Dems Taking Hispanic Votes for Granted | video
Jordan: Jan. 6 Committee Can't Have Seriousness of Investigation Go Both Ways | video
Rodney Davis: Double Standard on Colbert Staff Arrests | video
Dershowitz: Jan. 6 Panel Wrong to Promote 'Doctored' Trump Speech Tape | video
Ted Cruz: Left Will Organize Violence When Roe Is Overturned | video
Newsfront
President Biden Cannot Escape 'Age' Concerns, As Dems Ponder 2024 Election
Will 79-year-old Joe Biden – already the oldest sitting president in United States history – run for the nation's highest office again in two short years?… [Full Story]
Report: DeSantis Not Seeking Trump's Endorsement in Reelection Bid
Florida Gov. Ron DeSantis did not plan to seek former President [Full Story]
Former NBA Player Caleb Swanigan Dead at 25
Former Purdue standout Caleb Swanigan, who played three seasons in [Full Story]
Potential Pope Francis Retirement Would 'Rock the Faithful'
News that Pope Francis canceled a scheduled trip to Africa and plans [Full Story] |
Russia's Lavrov in Iran to Talk Nuke Deal, Cooperation
Russian Foreign Minister Sergey Lavrov arrived in Iran on Wednesday, [Full Story]
Manchin, Sinema Saved Biden, Democrats From Themselves
While Democrat Sens. Joe Manchin of West Virginia and Kyrsten Sinema [Full Story] | Platinum Article
Proud Boys' Jan. 6 Trials Delayed Until December
A federal judge agreed Wednesday to postpone a trial for the former [Full Story]
West Point Now Teaches Critical Race Theory
Critical Race Theory is now being taught at West Point military [Full Story]
Parkland, Florida, School Shooter's Trial Nearly Has Jury
The final phase of jury selection in the penalty trial of Florida [Full Story]
Rupert Murdoch, Actor Jerry Hall Getting a Divorce
Media mogul Rupert Murdoch and actress Jerry Hall are getting a [Full Story]
South Carolina Dem Seeks Age Limit for 'Geriatric' Pols
Democrat gubernatorial nominee Joe Cunningham is proposing an age [Full Story]
New Antibody Therapies Fight Cancer, Draw Investment
Antibody therapies are offering promising treatment breakthroughs for [Full Story]
GOP Sen. Kevin Cramer Says He Injured His Right Hand, May Need Amputation
Kevin Cramer, R-N.D., said Wednesday he injured his right hand [Full Story]
Oil Slumps Nearly 3 Percent Amid US Fed Rate Hikes
Oil prices tumbled about 3% on Wednesday as investors worried that [Full Story]
Japan Tracks Russian, Chinese Warships Near Island
Chinese and Russian warships were seen near Japan, officials in Tokyo [Full Story]
Panel: Commanders Owner Snyder Launched 'Shadow' Probe Into Misconduct
The House Oversight and Reform Committee on Wednesday issued a [Full Story]
US Will Import Mexican Baby Formula to Ease Shortage
The Biden administration announced Wednesday it is providing [Full Story]
Florida First Lady Aims to Mobilize a Million Mamas for DeSantis
Florida First Lady Casey DeSantis announced Tuesday that she's [Full Story]
GOP Bill Will Give Minors Legal Recourse Against Gender-Transition Procedures
Legislation is being introduced to help people who are suffering from [Full Story]
Uvalde Mayor: Robb Elementary School to Be Demolished
The Uvalde, Texas elementary school where 19 students and two [Full Story]
Cornyn 'Confident' in Bipartisan Gun Safety Bill
John Cornyn, R-Texas, told Politico this week that hes confident [Full Story]
NYPD Destroys 92 Dirt Bikes, ATVs
New York City officials on Tuesday destroyed 92 dirt bikes, ATVs and [Full Story]
Trump Hails 12-0 Record in Senate GOP Primaries After Britt Victory
Katie Britt's victory over Rep. Mo Brooks, R-Ala., on Tuesday night [Full Story]
Former Florida Democrat Gov. Candidate Gillum Indicted on Fraud Charges
Former Florida Democrat gubernatorial candidate Andrew Gillum and an [Full Story]
Biden Asks Congress to Pause Gas Tax
President Joe Biden on Wednesday called on Congress to pass a [Full Story]
US Tech Companies Yank Job Offers, Leaving College Grads Scrambling
One by one, over the last week of May, Twitter Inc. rang up some [Full Story]
Moderna: Booster Effective Against Omicron Subvariants, Ready in August
Moderna Inc said on Wednesday that an updated version of its COVID-19 [Full Story]
Hockey, Triathlon Join Raft of Sports Reviewing Transgender Policy
The International Hockey Federation (IHF) and World Triathlon have [Full Story]
Israeli Knesset Votes to Dissolve in Step Towards Snap Election
Israel moved closer on Wednesday to its fifth election in less than [Full Story]
Afghanistan Earthquake Kills at Least 920
A powerful earthquake struck a remote border region of Afghanistan [Full Story]
Arizona Gas Station Cuts Prices to Try Help Customers
Owners of a Phoenix gas station are doing their part to help [Full Story]
Finance
JPMorgan Lays off Hundreds in Mortgage Business
JPMorgan Chase & Co. is laying off hundreds of employees in its home-lending business and reassigning hundreds more this week, Bloomberg News reported on Wednesday, citing people familiar with the matter…. [Full Story]
Twitter Tests Long-form Text Called 'Notes'
PIMCO: Inflation May Lead to Recession, Financial Risks
NBCUniversal, Google Top Choices for Netflix Ad-supported Tier
Musk Says Tesla's New Car Factories 'Losing Billions of Dollars'
Health
What You Should Know as COVID Shots for Young Children Begin
The United States has begun rolling out COVID-19 vaccines for children as young as six months after receiving the go-ahead from the Food and Drug Administration and the Centers for Disease Control and Prevention. The following are some details about the two messenger RNA…… [Full Story]
Reduce Summer Swelling With These Anti-Inflammatory Foods
Report: FDA to Order Juul E-cigarettes Off Market
Study: Light in the Bedroom Linked to Obesity, Hypertension, Diabetes
Stand on One Leg Test Predicts Longevity
MHProNews has pioneered in our profession several reporting elements that keep our regular and attentive readers as arguably the best informed in the manufactured housing industry. Among the items shared after 'every business day' (when markets are open) is our left-right headline recap summary. At a glance in two to three minutes, key 'market moving' news items are covered from left-of-center CNN Business and right-of-center Newsmax. "We Provide, You Decide." © Additionally, MHProNews provides expert commentary and analysis on the issues that others can't or won't cover that help explain why manufactured housing has been underperforming during the Berkshire era while an affordable housing crisis and hundreds of thousands of homeless in America rages on. These are "Industry News, Tips, and Views Pros Can Use" © features and others made and kept us the runaway #1 in manufactured housing trade publisher for a dozen years and counting.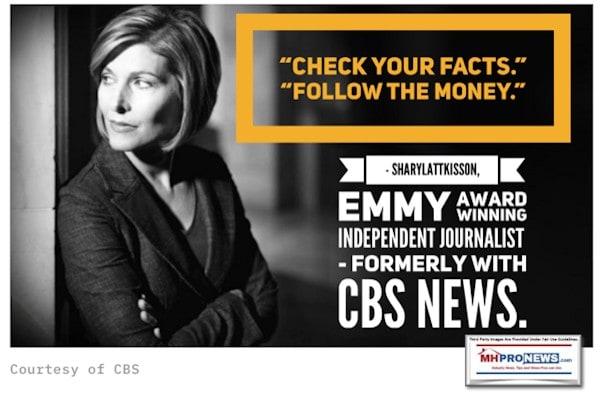 Manufactured Housing Industry Investments Connected Equities Closing Tickers
Some of these firms invest in manufactured housing, or are otherwise connected, but may do other forms of investing or business activities too.
NOTE: The chart below includes the Canadian stock, ECN, which purchased Triad Financial Services, a manufactured home industry lender
NOTE: Drew changed its name and trading symbol at the end of 2016 to Lippert (LCII).
NOTE: Deer Valley was largely taken private, say company insiders in a message to MHProNews on 12.15.2020, but there are still some outstanding shares of  the stock from the days when it was a publicly traded firm.  Thus, there is still periodic activity on DVLY.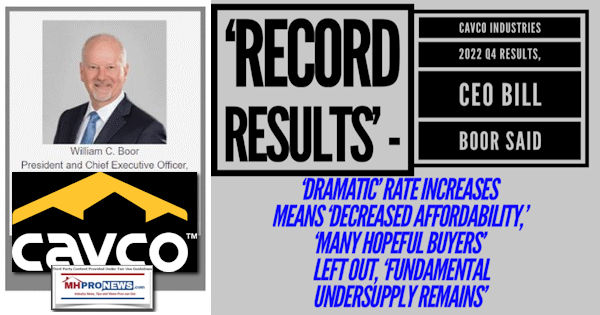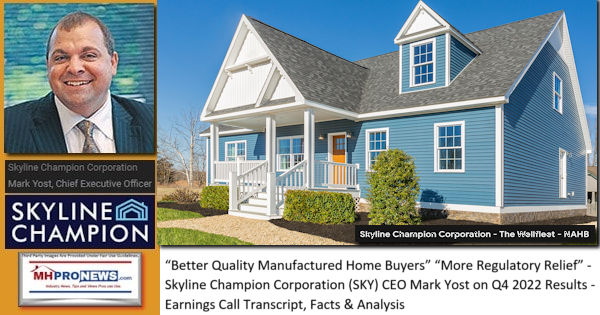 Manufactured Home Communities (a.k.a. 'Mobile Home Parks' – SIC) – Exploring UMH Properties; Fellow Manufactured Housing Institute Member Yes! Communities Suits and Settlements; plus MH Markets Updates
'Announcing!' 'Manufactured Community Owners' Association of America' 'Finally Bringing Fight To Manufactured Home Community Sector of the Industry' – plus Sunday Weekly Manufactured Housing Headlines Review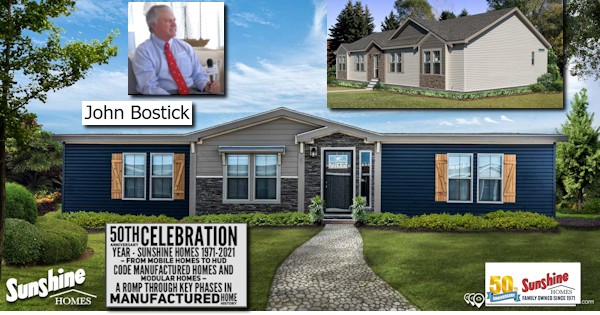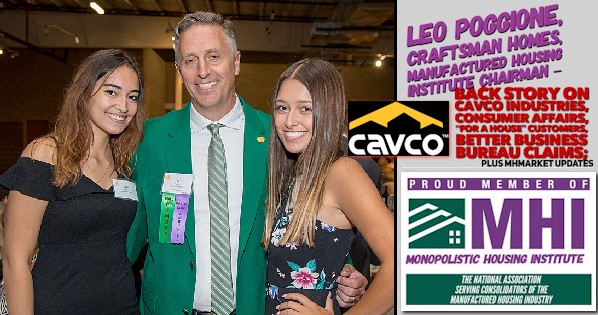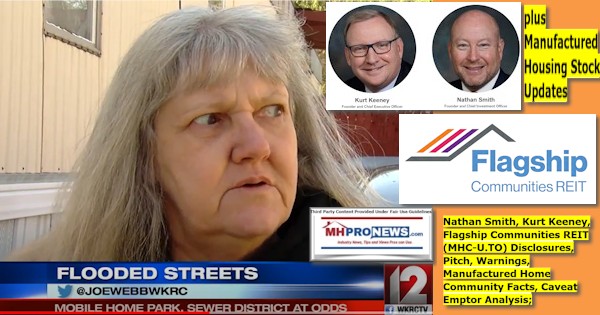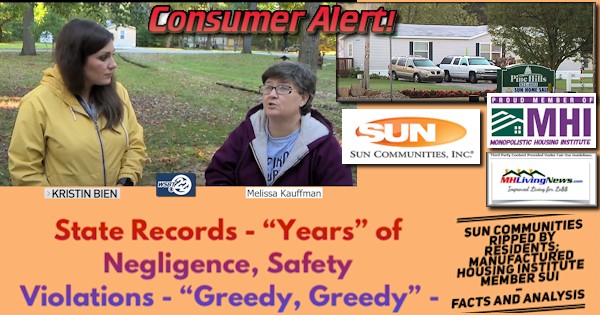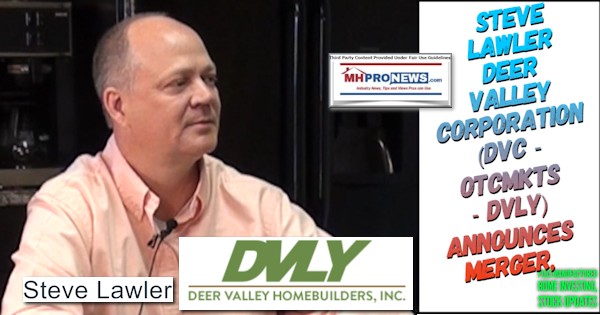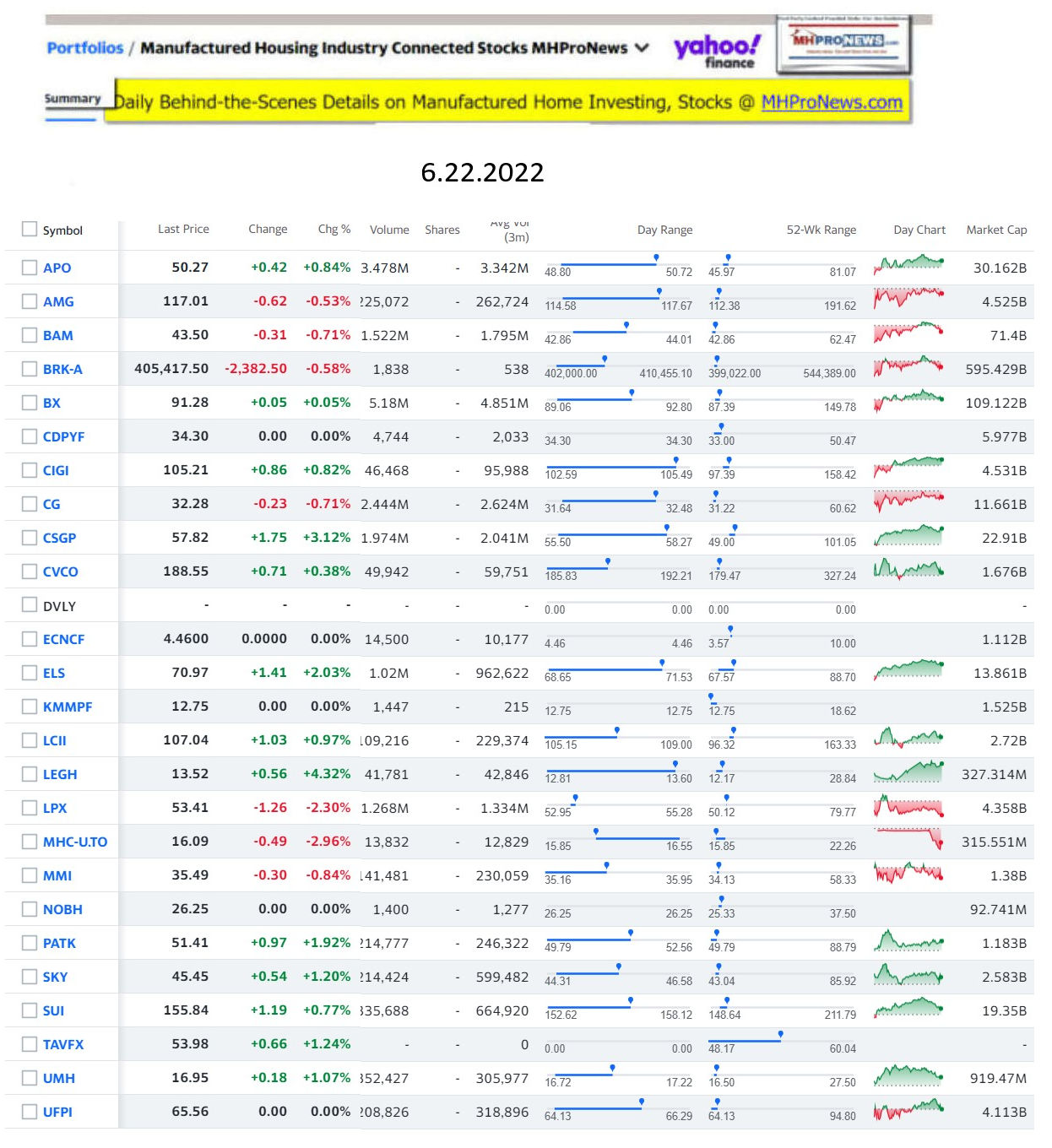 2022

…

Berkshire Hathaway is the parent company to Clayton Homes, 21st Mortgage, Vanderbilt Mortgage and other factory-built housing industry suppliers.


·

LCI Industries, Patrick, UFPI, and LP each are suppliers to the manufactured housing industry, among others.




·

AMG, CG, and TAVFX have investments in manufactured housing related businesses.

For

insights from third-parties and clients about our publisher

, click here.


Enjoy these 'blast from the past' comments.

MHProNews. MHProNews – previously a.k.a. MHMSM.com – has celebrated our 11th year of publishing and have completed over a dozen years of serving the industry as the runaway most-read trade media.
Sample Kudos over the years…
It is now 12+ years and counting…
Learn more about our evolutionary journey as the industry's leading trade media, at the report linked below.
· For expert manufactured housing business development or other professional services, click here.
· To sign up in seconds for our industry leading emailed headline news updates, click here.

Disclosure. MHProNews holds no positions in the stocks in this report.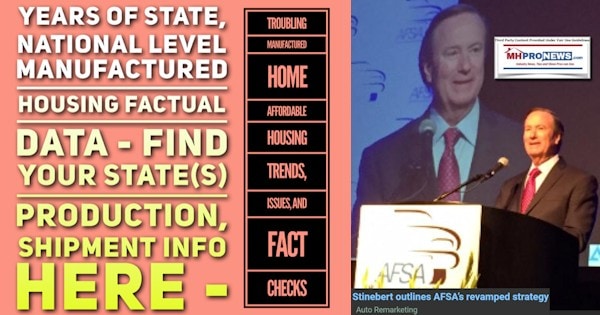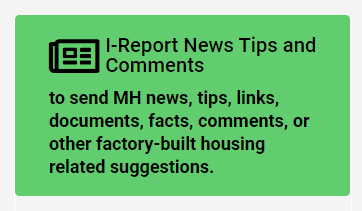 That's a wrap on this installment of "News Through the Lens of Manufactured Homes and Factory-Built Housing" © where "We Provide, You Decide." © (Affordable housing, manufactured homes, stock, investing, data, metrics, reports, fact-checks, analysis, and commentary. Third-party images or content are provided under fair use guidelines for media.) (See Related Reports, further below. Text/image boxes often are hot-linked to other reports that can be access by clicking on them.)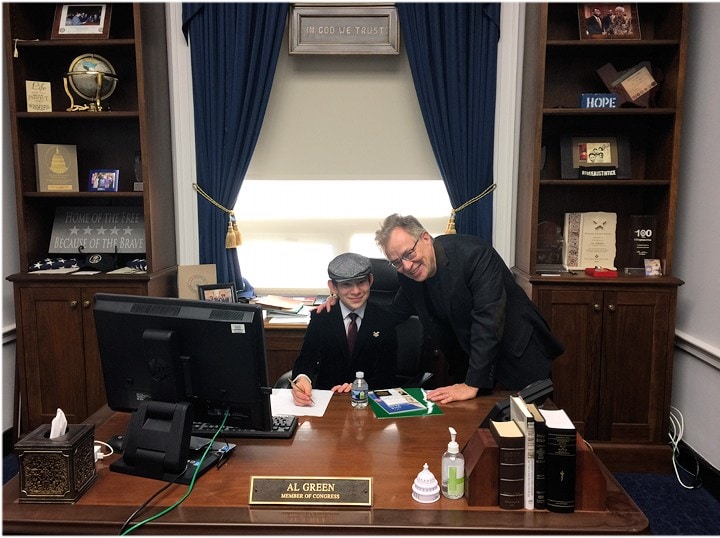 By L.A. "Tony" Kovach – for MHProNews.
Tony earned a journalism scholarship along with numerous awards in history. There have been several awards and honors and also recognition in manufactured housing. For example, he earned the prestigious Lottinville Award in history from the University of Oklahoma, where he studied history and business management. He's a managing member and co-founder of LifeStyle Factory Homes, LLC, the parent company to MHProNews, and MHLivingNews.com. This article reflects the LLC's and/or the writer's position and may or may not reflect the views of sponsors or supporters.