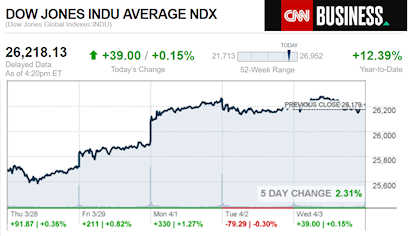 Once even a friendly dog is given a bone, it may not let go without a serious struggle.  Ponder that metaphor for the next few minutes, as the Daily Business News on MHProNews briefly spotlights this evening an interesting contrast between the behavior of giant Amazon and giant Berkshire Hathaway brands in manufactured housing, after each have come under scrutiny.  That will be our focus report for this evening.
If you're new, already hooked on our new spotlight feature – or are ready to get the MH professional fever – our headline report is found further below, after the newsmaker bullets and major indexes closing tickers.
The evolving Daily Business News market report sets the manufactured home industry's stocks in the broader context of the overall markets.  Headlines – at home and abroad – often move the markets.  So, this is an example of "News through the lens of manufactured homes, and factory-built housing." ©
Part of this unique evening feature provides headlines – from both sides of the left-right media divide – which saves busy readers time, while underscoring topics that may be moving investors, which in turn move the markets.
Readers say this is also a useful quick-review tool that saves researchers time in getting a handle of the manufactured housing industry, through the lens of publicly-traded stocks connected with the manufactured home industry.
This is an exclusive evening or nightly example of MH "Industry News, Tips and Views, Pros Can Use." © It is fascinating to see just how similar, and different, these two lists of headlines can be.
Want to know more about the left-right media divide from third party research?  ICYMI – for those not familiar with the "Full Measure," 'left-center-right' media chart, please click here.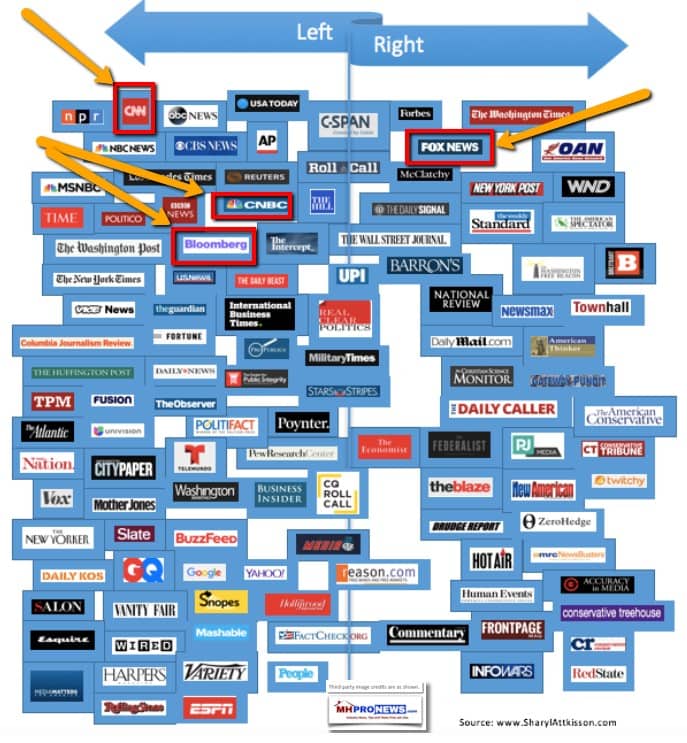 Select bullets from CNN Money…
Another scandal rocks Facebook
Hundreds of millions of Facebook records exposed on Amazon's cloud computing services
Timeline: Facebook's bottomless pit of scandals
LIVE UPDATES Nasdaq notches five wins in a row as chip stocks boom
Mohamed El-Erian says market rally could last another year or two
GameStop's future is streaming
WeWork buys office cleaning and management startup
SEC sides with Exxon by blocking major climate vote
Silicon Valley has a powerful defender in antitrust fight: the Koch network
Elizabeth Warren says CEOs should face jail for negligence in scandals
GE bets on offshore wind as fossil fuels business stumbles
NYT Mag: Fox chief Lachlan Murdoch texted support to Tucker Carlson after host's anti-immigration comments
'The City' launches in NYC with stories about corruption and subways
Elon Musk's battle with the SEC heads to court
Rihanna's Fenty pulls 'Geisha Chic' highlighter after social backlash
Warren Buffett wants to make an 'elephant'-sized acquisition
Ford will introduce 30 new models in China over 3 years
Self-driving cars are now on the streets of Hamburg
Vehicles of all sizes are forcing drivers to slow down
Europe will require carmakers to install speed limiters from 2022
The auto industry barely survived the Great Recession. Now it faces its biggest hurdle yet
Amazon is slashing prices at Whole Foods
Amazon expands in Austin with 800 new tech jobs
Volkswagen and Amazon team up for cloud computing
Amazon gets an edge with its secret squad of PhD economists
The world is coming after Silicon Valley. Tech companies must evolve to survive
Select Bullets from Fox Business…
Walgreens CEO lost $1.2B in one day
Trump steps up criticism of Fed's Powell: 'I guess I'm stuck with you'
Key Democrat pushes new tax on wealthy, targeting unrealized capital gains
Mick Jagger's reported heart surgery is a 'miracle procedure:' Dr. Marc Siegel
CFOs believe economic slowdown coming to US – and soon
What you don't know about your 401(k) can cost you
Lawmakers advance comprehensive retirement reform: What to know
'Mighty Ducks' actor Brock Pierce used bitcoin to buy $1.2M home in Amsterdam
Marvel's 'Avengers: Endgame' shatters ticket pre-sale records, crashes websites
How much you need to be in the top 5% in every state
WATCH: Ford unveils new 2020 Escape that underpins sales turnaround strategy
Rapper 50 Cent sells massive Connecticut mansion at 84% loss
FDA probes whether e-cigs cause seizures
Oracle's explosive database business is smart, humanless, CEO Mark Hurd says
Elizabeth Warren proposes bill to make it easier to jail executives for company abuses
Google employees demand removal of conservative member from AI council
Amid border shutdown threats, Trump may keep trucking lanes open
First ever West Point Mint-marked quarters released
Whole Foods is slashing prices today in a bid to dissolve its pricey image
Zion Williamson sneaker deal: Nike, Adidas bidding war could be biggest ever, exec says
Alliance of American Football suspends operations after less than one season
Kristaps Porzingis sponsors Adidas, BodyArmor laying low amid rape investigation
Investing in families now is a down payment in our nation's future[overlay type]
Investing in families now is a down payment in our nation's future
US must challenge France's shakedown of American tech companies
Biden's problem is advantage to Trump, left-wing Democrats: Varney
Can GameStop survive cloud gaming?
Signs the hiring boom may be losing steam; online real estate giant Zillow getting into the mortgage business
Former Shiloh, Israel Mayor on Trump's border shutdown threat: Have to think long term, security is number one
Today's markets and stocks, at the closing bell…

Today's Big Movers
For all the scores and highlights on tracked manufactured home connected stocks today, see the Bloomberg graphic, posted below.
Today's MH Market Spotlight Report –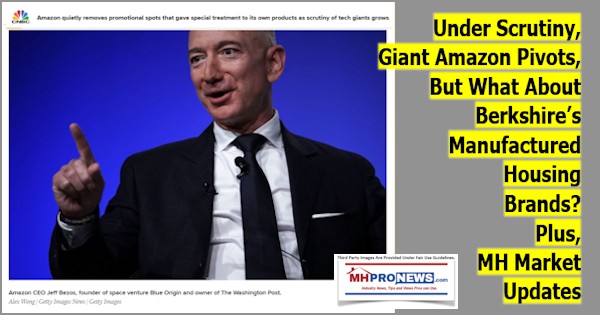 Amazon quietly removes promotional spots that gave special treatment to its own products as scrutiny of tech giants grows
For years, the Daily Business News on MHProNews has taken not just an industry specific view of trade journalism, but also a broader view of how other events may shed an interesting or useful light upon the manufactured home industry.
No where has the been better reflected that in these evening market reports.  In 7-10 minutes (+/-) or so depending on your reading speed, one can:
scan the major headlines from both sides of the left-right (CNN-Fox) media divide,
see the closing tickers the major indices,
check out the closing numbers on manufactured housing connected tracked stocks.
Lastly, and hopefully not least, we look at some topic that in our editorial view ought to make industry investors and professionals stop and think.
This evening, we spotlight Amazon, and a report on left-of-center CNBC.
As a quick reminder to longtime readers, or a heads up to those who may be new to this feature, Amazon's Alexa Fund took the plunge last year into an investment in Plant Prefab, a factory-built housing venture.  In doing so, they announced that in their estimation, the prefab (factory-built) housing industry's annual market potential was $330 billion dollars a year.
Let that sink in, $330 billion annual potential for manufactured homes, modular housing, and other forms of prefabricated construction.  That's not an outlandish estimate, given that in 2018, some 1.6 trillion dollars was spent on purchases of new or existing housing. Yet manufactured homes closed the year with under $8 billion in new home sales?  Who else has even spotlighted this stark contrast in MHVille, save MHProNews?

We've also been tracking not just specific concerns about possible antitrust or other alleged illegalities and/or unethical business practices in the manufactured housing industry that involves Berkshire Hathaway owned brands, specifically some based in metro Knoxville TN, as well as the Manufactured Housing Institute (MHI), based in Arlington, VA. We've also monitored other instances where antitrust issues have been raised about others outside of MHVille.
Among those are the so-called FAANG stocks.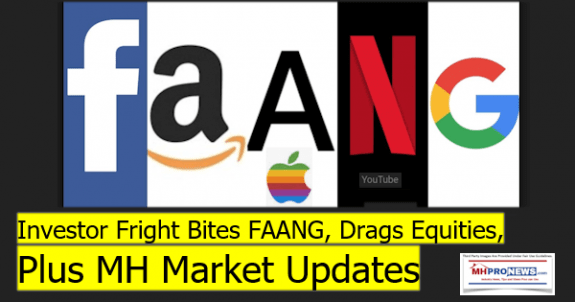 So, it was through that lens that this report on CNBC caught our eye tonight. Amazon has been under fire for months.  Whatever you may think of Senator Elizabeth Warren, her politics or campaign hopes, she has called out the tech giants for antitrust issues.  Senator Bernie Sanders has named Amazon by name in blasting their business practices.
While defending themselves, of course, what has Amazon done about some of the issues raised about them?
According to the sources that CNBC cites, they've pivoted.  Amazon has toned down some of the more potentially egregious examples of bias on their own platform.
Here are the key examples, per CNBC.
Amazon has significantly scaled down or relocated promotions of its private label products in recent weeks.
These promotions were exclusively reserved for Amazon's own private label products and appeared in highly visible areas of the site, like the top of search results or next to the "buy box" of a competitor's product page.
The change follows increased regulatory scrutiny of tech giants in recent months, including Sen. Elizabeth Warren's call for breaking up big tech companies.
They provide this before and after look at this very issue.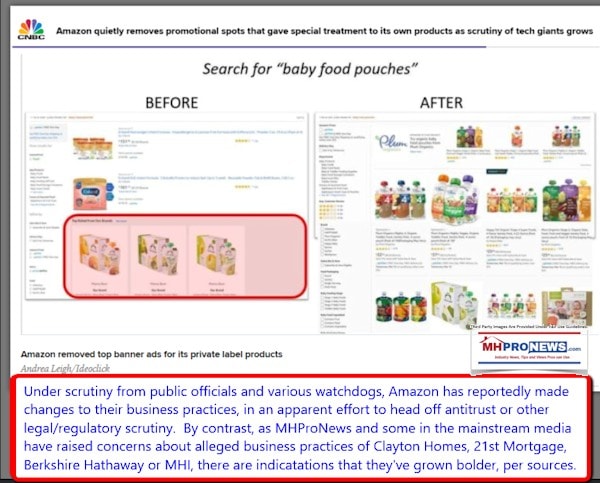 Now, compare that to what has occurred in manufactured housing and the issues that mainstream media and/or MHProNews has raised – most notably about what we've dubbed the Omaha-Knoxville-Arlington axis.
Instead of backing off, there is evidence, per our sources, that Clayton, the Berkshire lenders, and MHI have doubled down on their purportedly problematic behavior.  Some examples:
The bruhaha over Heath Jenkins, the #MHM, Regional Enterprises, and Clayton Homes
MHI completely ducking the issue of allegations of working with the GSEs to redirect lending away from the bulk of manufactured housing industry produced houses, to only a few 'new class' of homes manufactured housing that Clayton Homes has promoted.
The later has drawn quiet ire of even non-MHARR member producers, one of whom lamented, 'What Are We, Chopped Liver?'
We don't want to make ourselves part of the news, but facts are facts. MHI and/or their affiliates have hired more than one attorney to harass MHProNews in ways that no one else in the industry's trade media is being treated. While one could say, 'we have it coming to us' for raising issues about MHI et al, one could just as easily say, that it is MHI and their masters behaving in a quite different way that Amazon has just reportedly done.  If there is nothing to hide in Omaha-Knoxville-Arlington, why don't they just publicy address the concerns and prove us wrong???
Among the most common comments raised by industry pros talking to us face-to-face in Tunica, MS last week were these:
There is fear among industry independents that they might be next for some under-handed trick by a Berkshire brand.
Thank you comments from numbers of industry independents who respect that MHProNews has tackled such issues in a way that no one else in the industry has done.
These are perhaps among the reasons why MHProNews dominates in manufactured home trade readership.  We strive to follow the facts, evidence, and the money.  We ask the hard questions, and give MHI, Clayton, 21st, et al, a chance to respond. Up until about 2 years ago, they did respond, routinely and promptly.
But as the questions got tougher, they opted to go quiet, which is of course their constitutionally protected right.
We'll wrap this summary up this evening by pointing readers to related links below, but also by saying the following.
As tomorrow's shipping/production report will reflect, the industry is still sliding, during an affordable housing crisis.  There are only a few possible logical options.
The Omaha-Knoxville-Arlington (OKA) axis and their allies are incompetent. They don't know how to sell affordable manufactured homes during an affordable housing crisis.
The OKA axis are posturing efforts to address concerns that for whatever reasons are not working. This is what MHARR called the "Illusion of Motion."
The Omaha-Knoxville-Arlington axis have a plan, and they are acting upon it. That plan does not short term include short term steps that will fix the headwinds that are buffeting manufactured housing.
Certainly, other possible combinations of bullets exist that explain the failure of MHI to successfully address issues that are slowing manufactured home sales.
Every stockholder or possible investor who looks at the biggest brands in the industry must ask themselves, what is going on in manufactured housing?
Every public official that is concerned about antitrust or other issues that impact affordable housing, should likewise be seeking answers to issues.
The industry's professionals are increasingly waking up to the worries that some level of artificial restraints on trade are occurring. Why?  The most logical answer is that larger companies have been consolidating smaller ones at a discounted price as a result of such alleged misbehavior.
Instead of addressing these issues head-on, the Omaha-Knoxville-Arlington axis have used diversionary tactics and more posturing.  That is their right to not deal with these matters.
But it is our right to raise the concerns, because if the trend lines continue, more manufactured home industry firms will be sold for less than their intrinsic value or may fail altogether during an affordable housing crisis.
As usual, we invited the powers that be in MHVille to respond publicly to these allegations. We note for the record that several federal investigations are underway, per mainstream and our own sources.  The views of this mainstream news video – from Clayton's hometown media – have roughly doubled since we began to spotlight it.
And that last point may help explain why they say nothing.  Whatever they say may be used against them later in a court of law.
That is the day that MHProNews seeks to hasten.  Rip the Band-Aid off the cover-ups and echo chamber praise of the OKA axis by others in industry trade writing.  Pull back the veil on beyond what our reports have done on the machinations that have for too long plagued our industry.  That can only be done by three broad methods:
Federal and/or state investigators,
Plaintiffs' attorneys,
More serious mainstream media journalism looks at this issue not superficially, but specifically on topics that MHProNews has already begun. See some of those, linked in the related reports, below.
The good news is this. The potential for manufactured housing to soar rather than snore is strong, per Amazon's Alexa Fund analysis. For those with the moxie and the chutzpah, they can go after the big boys in the marketplace, because while some are trying to slow things down, others could in theory roar past them.
We don't speak for others, but merely note that Legacy Housing, for example, is investing in retail outlets.  They already have factories and are to a degree vertical already.  They believe in the future of the industry.  Skyline Champion's IR packet points to the industry's underperformance, as part of the potential upside.
We believe the day will come, perhaps in the near term, when the alleged manipulations of the manufactured housing marketplace will be front-page news, and could land some into deep legal gomul.
Should that day come, what is swirling around Cavco may seem like a picnic. "We Provide, You Decide." ©
Related Reports:
America woke up today to division. But perhaps 75 percent (+/-) of the nation's people could come together on a plan that demonstrably could do the following. Increase the U.S. Gross Domestic Product (GDP) by some $2 Trillion Annually, without new federal spending.
"Mobile Home Militia," Retail/Production Sources, Sound Alarm Against Clayton Homes, CMH, New "Anti-Competitive Practices" Allegation
Think triple damages potentially worth millions to some pros that you know, and billions collectively as you read this. You, a friend or colleague may be entitled to it, and you may not even know it. It may be easier than you think. That will be explained further below.
Gannett Media Exposés, MH Community Owner Moves Sparks Outrage – IEDs of Manufactured Housing
Historic Manufactured Housing Industry Decisions Were Made Here on 3.27.2019
State Level Shipment Data Continues to Flash Warning Signals for New HUD Code Manufactured Housing Sales
Independent MH Communities, Retailers – NAMHCO's Susan Brenton Says What Fueled Break from Manufactured Housing Institute (MHI)
Trump Administration Move on Housing Financing Draws Sharp Manufactured Home Association Response
MH IDEAL, Understanding Manufactured Housing's Choke Points, Tunica Show Day 3
Spreading City Ban on Individual Lot Placements Threatens Independently Owned Manufactured Home Communities, Retailers, Residents, and HUD Code Producers
MHI's Growth Agenda? Rick Robinson, JD, SVP Manufactured Housing Institute, Preemption Evidence, Writ of Mandamus, and Addressing HUD Code Manufactured Home Shipment Woes
For years here on MHLivingNews and our professional sister site, MHProNews, we've worked with a simple premise. Affordable quality living is a non-partisan issue. Rephrased, that means it should be a bipartisan effort to understand and promote the most proven kind of affordable housing that America has ever known.
MHI CEO Dick Jennison's Pledge – 500,000 New Manufactured Home Shipments
Bloomberg Closing Ticker for MHProNews…
NOTE: The chart below includes the Canadian stock, ECN, which purchased Triad Financial Services.
NOTE: The chart below covers a number of stocks NOT reflected in the Yahoo MHCV, shown above.
NOTE: Drew changed its name and trading symbol at the end of 2016 to Lippert (LCII).
Berkshire Hathaway is the parent company to Clayton Homes, 21st Mortgage, Vanderbilt Mortgage and other factory built housing industry suppliers.
LCI Industries, Patrick, UFPI and LP all supply manufactured housing.
AMG, CG and TAVFX have investments in manufactured housing related businesses.
Your link to industry praise for our coverage, is found here.
For the examples of our kudos linked above…plus well over 1,000 positive, public comments, we say – "Thank You for your vote of confidence."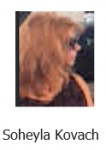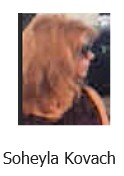 "We Provide, You Decide." © ## (News, analysis and commentary.)
(Image credits and information are as shown above, and when provided by third parties, are shared under fair use guidelines.)
Submitted by Soheyla Kovach to the Daily Business News for MHProNews.com.