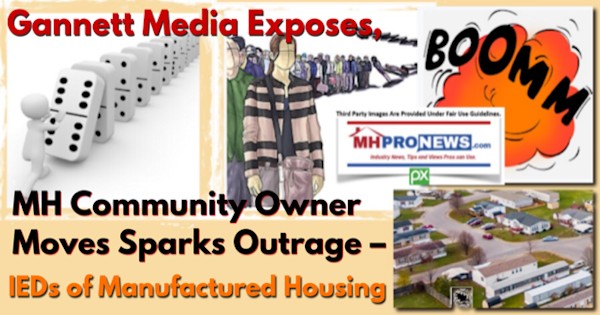 Given the nature of the internet, bad news in one part of the country travels nationally and globally. So, while this specific incident may or may not seem to be in your market(s), or that of some professional that you know, this Gannett Company media series of exposés could well cost you potential customers.
Even if you aren't in the manufactured home (MH) communities' sector (MHCs), given how interconnected manufactured housing is, this report will – properly understood – reveal real-world impacts on honorable businesses and investors.
This vexing series is obviously causing angst among hundreds of residents that these stories covered.
In the American Heartland…Where Politicians Are Criss-Crossing Their State
In a series of reports by Gannett owned Iowa City Press Citizen and the Des Moines Register reflects the outrage by residents who are being hit with rent increases reportedly over 50 percent that will impact them this summer.
"Residents at Golf View Mobile Home Court in the Iowa City suburb have been notified by Utah-based Havenpark Capital that they will see their rent spike from $284 to $450 on June 1 — a 58 percent increase," wrote Ian Richardson and Zachary Oren Smith on March 29, 2019.
Havenpark reportedly did more in another community they acquired. "When the new owners of Midwest Country Estates in Waukee taped notice of a 69 percent rent increase on the doors of residents last week, they were doing the same thing at another recently purchased mobile home park in North Liberty."
George W told the Better Business Bureau (BBB) on 02/07/2019 that, "Havenpark Capital bought eight Value Homes LLC parks in Mid-Michigan. Our rent increase (including new fees) included a 40%+ hike. Every communication from them states, "we are going to do amazing things." Nothing amazing has or will happen. Our property manager even encourages us to contact our State Representatives and expresses displeasure in the company's greedy business practices. Meanwhile, a whole lot of people on fixed incomes are hurting to pay their bills. Some are having to sell their homes and move."
So, when the Gannett-owned newspaper's journalists reported the quotes cited herein, they underscore a pattern that complaints to the BBB had already established. The bullets below reflect three quotes from an article linked here.
Don Lund, who's lived at Golf View for 21 years, told the Press-Citizen he's worried about how his current income — $700 per month from disability and about $160 from newspaper writing — will be able to handle the increase.
"Most people buy a trailer 'cause we can't afford a house," said Lund, who was born without hands or feet. "I spent $40,000 on this back in 1997, and it took 20 years to pay it off."
In Waukee, 91-year-old resident Arletta Swain said she's lived in the mobile home park for nearly 50 years, and this increase will "take me right down to my last dollar."
Or ponder the impact on residents, prospective buyers – and thus independent businesses – that reading the following bullets pulled from this link here.
Alex Kornya, assistant litigation director with Iowa Legal Aid…,which offers free civil legal assistance to the elderly, low-income, veterans and other vulnerable groups, sees a "high proportion" of people coming to its office with mobile home-related issues.
"Rent will be going up to protect our community," the letter [from Havenpark Capital] says. "If the rent did not go up, the land where Midwest Country Estates sits today would have been more valuable if it were changed into apartments, or a large retail store, causing all of our residents to be evicted."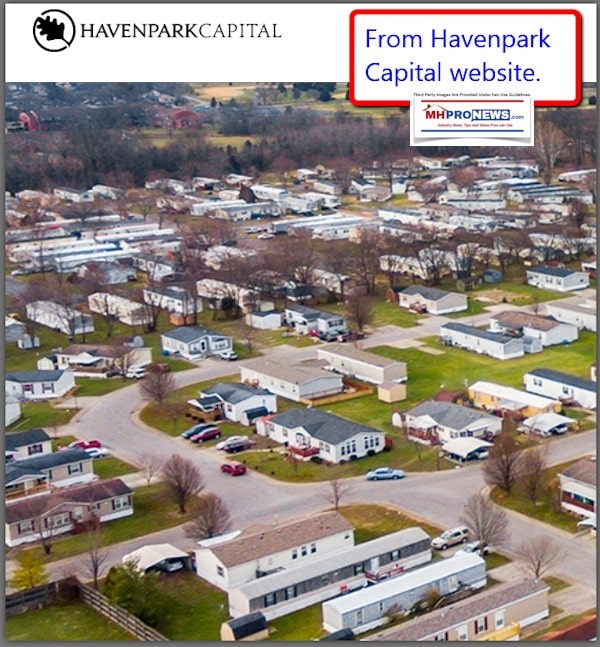 Havenpark Capital Partners Website
"We presently own and operate 25 communities totaling approximately 5,000 home sites. We continue to source properties meeting our investment parameters and offer qualified investor access to a geographically diversified portfolio of properties through private fund offerings." So says the Havenpark Capital Partners website.
They also stated that their investment criteria is as follows.
100+ Home Sites
Located in a Metropolitan Area of 100,000+
3-5 "Star" Asset Quality
What the Better Business Bureau (BBB) Says About Havenpark
BBB File Opened: 5/31/2018
Years in Business: 3
Business Started: 1/5/2016
Business Started Locally: 1/5/2016
Business Incorporated: 1/5/2016 in UT
Type of Entity: Limited Liability Company (LLC)
The BBB currently rates this firm as a D+.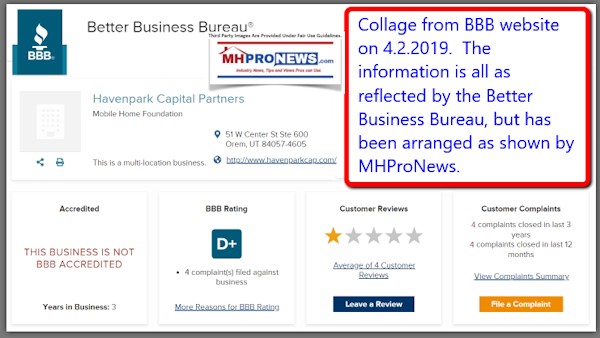 Another Comment from the BBB, and Statements from MHC Seller Barbara Hames
"Horrible company! They come in added $100 to our rent, then added water bills on a well, and sewer charges and even school tax. Anyone looking to move into anything these greedy money grubbers own…DON'T. They didn't add a clubhouse, child play area nothing of any real benefit. This area has many senior citizens who live here who will probably have to give up their meds to live here." – Shar K, 12/11/2018, per the BBB.
Among the sellers to Havenpark Capital described by the Gannett owned newspapers was Barbara Hames, of Hames Homes.  Here is a video from their website.
Barbara Hames told the Press Citizen that they were not looking to sell two of their communities.  For half-a-year, Hames said they were getting 2 to 3 calls a week from potential buyers.
Hames, a prominent and popular figure in the Iowa Manufactured Housing Association (IMHA), explained the decision to sell to Utah-based Havenpark Capital in these terms.
"We were absolutely not looking to sell….It is a family business here."
"The DNR informed us that Sunrise (Village) would need to be upgraded in a year or two and West Branch would eventually need to be upgraded." DNR is short for the Iowa Department of Natural Resources.
"The reason the offer [from Havenpark] was tempting was both [manufactured home land-lease communities] in Iowa City and West Branch would cost a lot to bring into full compliance."
Hames described the hike in site fees as "surprising…"
"Even if they raise the rent, they also invest a lot of money in the parks they purchase," Hames told the Press Citizen.
"The prices in eastern Iowa have been artificially low for years," Hames said, which likely made such hikes inevitable.
"When supply is bigger than the demand, prices go down," Hames said, who explained that the lack of other credit sources after the fall of Green Tree Servicing forced them to establish their own lending. "The supply of manufactured home sites has been high because of the lack of financing for people wishing to purchase."
Knowingly or not, Hames has described a pattern that the Daily Business News on MHProNews has tracked for years. More recently, our analysis reflects that several of these issues arose in the aftermath of events described on MHLivingNews at this link here. As Berkshire Hathaway owned 21st Mortgage and Clayton Homes built their respective strategic moats, thousands of retailers were tipped out of business.  That in turn had a cascade effect that impacted communities like Hames' and thousands of others too.  After all, it was those retailers that used to sell homes into communities that kept them near capacity, and allowed property owners to maintain their locations.
The well-liked Joanne Stevens was reported as the broker in the deal with Havenpark.  Per her website, "NAI Iowa Realty Commercial is proud to be part of the Berkshire Hathaway family of companies."
So, on at least two levels, Warren Buffett led Berkshire Hathaway brands are in the mix of what has transpired in these Iowa manufactured home communities.
The Intersection of Mainstream Journalism Realities and Manufactured Housing
Contemporary local media journalists have numerous pressures and limitations placed upon them.  As the number of writers and editors declines, due to dwindling ad revenues lost to competitors such as Google or Facebook, a journalist often lacks the time to dig deeper into an issue than may have been the case in years past.
To generate reader interest – which yields more clicks or sold newspapers – media sources tell MHProNews that they have to focus on controversy and attention-sparking headlines and stories.
So finer details, correct terminology, mitigating circumstances, or other nuances may not rank as high as it otherwise might have in years gone by. It's not fake news. But it is news that by accident, media dynamics – or at times, an unstated agenda – often reflects poorly on manufactured home living.

For example, these bullets from the same Gannett media source.
Resident Janet Hook said…"We're sitting ducks is what we are…"There's a lot of us out here who don't know what we're going to do."
An NAI Iowa Realty Commercial survey of 13 mobile home parks in the Des Moines metro from October 2018 showed rents ranging from $244 to $596 per month, with an average monthly rent of $436.
Joanne Stevens, an NAI Iowa Realty agent who helped with the Midwest Country Estates sale, said owners that want to stay in the mobile home business long-term need market rate rents to keep parks operational and well-maintained.
Nowhere is the Berkshire Hathaway connection to these events explicitly mentioned. Nowhere in these reports will you find a more in-depth explanation for how Berkshire owned brands arguably helped fuel the issues that caused these communities to lose occupancy for years.
As regular and detail-focused MHProNews readers know, the industry's business model was disrupted in large measure by the events documented here.  There rest are details and commentary.  It is the kind of nuance – or even in-your-face-facts that mainstream journalist who are not well versed in manufactured housing, for the reasons noted above, can easily miss.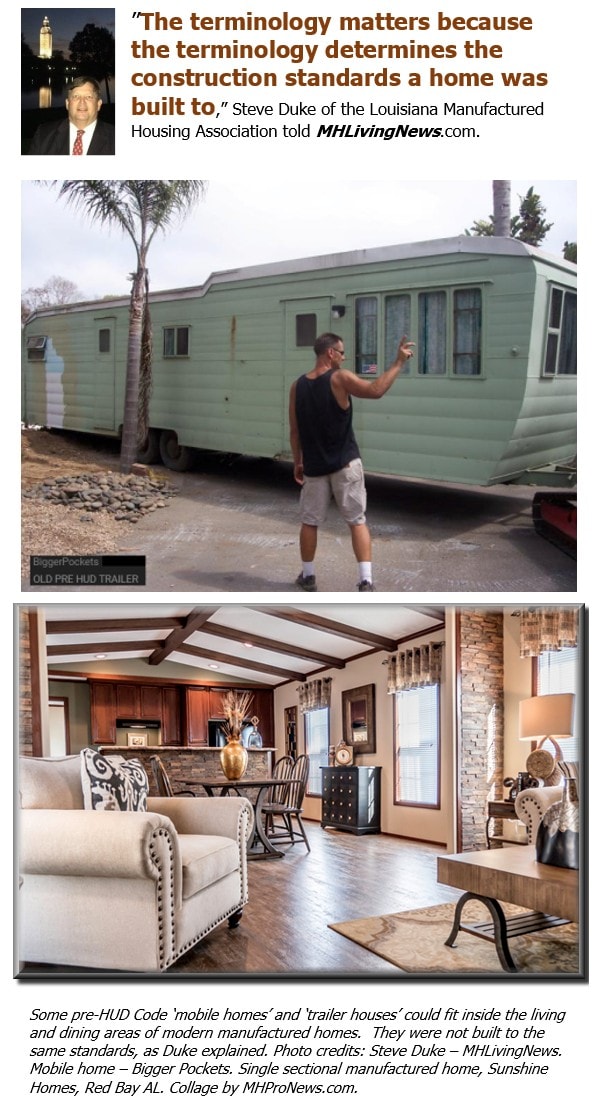 It will be recalled that not long after Berkshire bought Clayton Homes, the community side of Clayton's operations were spun off.  Per sources, "Warren" didn't want to be seen 'as raising the rents on grandma.'
Yet thanks to the domino effect, it is apparently okay with 'Warren' when someone else raised granma's and others site fees.  It is even better when a firm Buffett-led Berkshire owns gets a slice of the brokerage commissions involved. Then, in an ironic twist, Buffett can go on national television, and lament how some citizens become "roadkill" that should be cared for by a Big Brother government.
Buffett has also reportedly used some of his profits to help fund the protest groups – such as MHAction – as reported by the Golden States Manufactured-Home Owners League or GSMOL – see a report, linked here.
The net results?
Real- but artificially-sparked headwinds arise or are allowed to develop.  Lacking the time to dig beyond the surface, journalists in the contemporary media environment may not be able to properly spotlight the underlying causes or contributing factors to the issues that they report on.
So, hearing from residents or others that 'mobile homes depreciate like a car' goes unchallenged, even though there is evidence by the National Association of Realtors (NAR) 2018 research that manufactured homes can and do appreciate.  Cases like the ones these Gannett media stories reflect may indeed result in depreciation, if someone is forced to move quickly.  But that same loss of equity could occur with conventional housing too, given similar dynamics and a hasty sale.  Stating the facts, but absent all the nuances, can thus cause still more harm to potential sellers of a manufactured home, when they might rightly ask in the wake of such reports, 'why would I want to be next in line for this kind of situation?'
The MH Industry's Largest Post-Production Association…
Where is the Manufactured Housing Institute (MHI) on this or similar issues?  The Daily Business News on MHProNews asked the Arlington, VA based national association.  They are silent. Why? Could it be because some of their 'big boy' members benefit from such patterns?
Meanwhile the independents of the industry at large suffer. Who suffers most? The mom-and-pop 'family' operations, that may or may not realize what dynamics they have succumbed to, as this report from Iowa sadly reflects.
Metaphorical IEDs in Manufactured Housing
Buffett's and his minions' strategic moat tactics don't require specific foreknowledge of precisely what will occur or to whom.  All they need to know is that when a domino is tipped over, other dominoes in the chain will follow.  See the illustration at the top of this article.
What the Atlantic's report earlier this decade pointed to impacted not only independently owned manufactured home retailers.  It also logically harmed manufactured home communities, producers, lenders – anyone involved in the manufactured home industry business-supply chain.  ICYMI, or need a refresher, you can click on the hot-linked text-image box below for more details.
Examining Derek Thompson's Atlantic Report on 'Mobile Home' Retail Market as Fastest Dying Business In America
What is occurring in Iowa is like a metaphorical improvised explosive device (IED) planted by a terrorist. Only these IEDs have an economic impact on people, whose personal or professional lives are just as disrupted as soldier's would be when hit by an unexpected land-mine.
The industry's once multi-decades successful business model has been disrupted. It could be rebuilt. #OpenMarkets, antitrust law and other solutions must be put into play to right the imbalances (see related reports, further below the bylines and notices).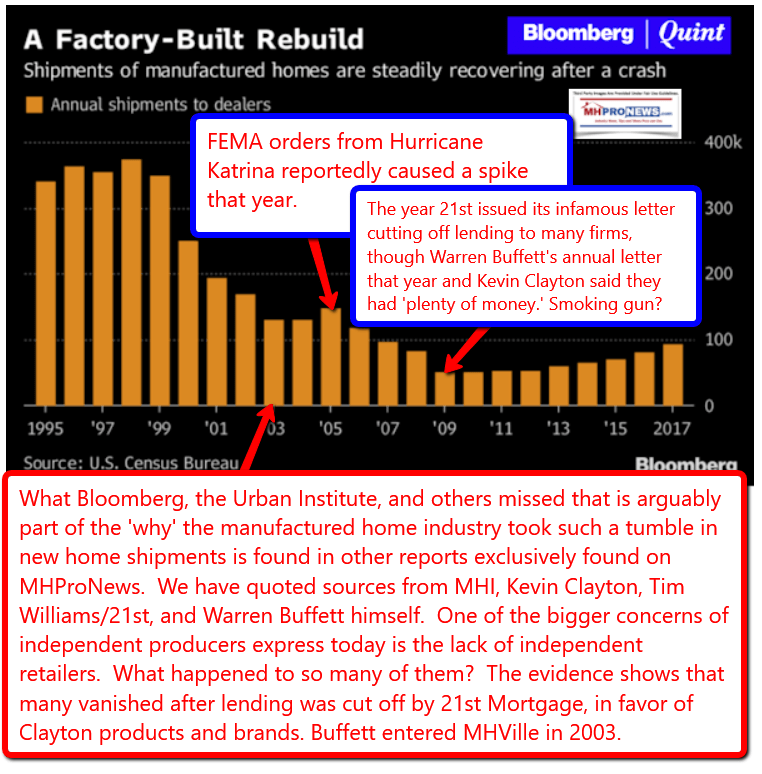 But until the necessary steps are taken to change the dynamics already in play, consolidators like Havenpark Capital will do what Buffett's "Conquest Capitalism" arguably allowed it to accomplish.
And none of the Omaha-based Berkshire brands found in the Knoxville metro, or MHI would – or could? – respond to these concerns in the presence of their peers, who met in Tunica last week to discuss just such issues.
Tick-tock, tick-tock. That's not just a clock, it's effectively an improvised economic-explosive device that mimics IEDs.  How long before politicos in Iowa or elsewhere decide that they will step in to 'fix' the problems?
If so, will their political fixes only hasten the issues that caused Barbara Hames and independents like her to sell in the first place?  See the rent control report, linked here.
That's the latest #NettlesomeThings from MH "Industry News, Tips, and Views Pros Can Use," © where "We Provide, You Decide." © ## (News, analysis, and commentary.)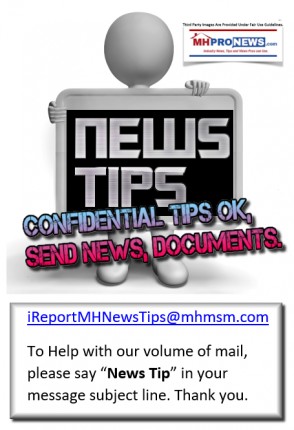 Your link to industry praise for our coverage, is found here.
For the examples of our kudos linked above…plus well over 1,000 positive, public comments, we say – "Thank You for your vote of confidence."
"We Provide, You Decide." © ## (News, analysis and commentary.)
(Image credits and information are as shown above, and when provided by third parties, are shared under fair use guidelines.)
Submitted by Soheyla Kovach to the Daily Business News for MHProNews.com.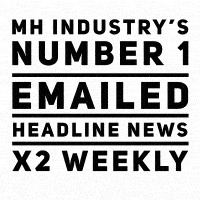 2) To pro-vide a News Tips and/or Commentary, click the link to the left. Please note if comments are on-or-off the record, thank you.
3) Marketing, Web, Video, Consulting, Recruiting and Training Re-sources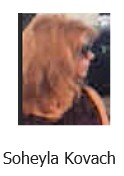 Submitted by Soheyla Kovach to the Daily Business News for MHProNews.com. Soheyla is a managing member of LifeStyle Factory Homes, LLC, the parent company to MHProNews, and MHLivingNews.com.
Related Reports

:
You can

click on the image/text boxes

to learn more about that topic.
Independent MH Communities, Retailers – NAMHCO's Susan Brenton Says What Fueled Break from Manufactured Housing Institute (MHI)
State Level Shipment Data Continues to Flash Warning Signals for New HUD Code Manufactured Housing Sales
MHI's Growth Agenda? Rick Robinson, JD, SVP Manufactured Housing Institute, Preemption Evidence, Writ of Mandamus, and Addressing HUD Code Manufactured Home Shipment Woes
Washington, D.C., March 28, 2019 – The Manufactured Housing Association for Regulatory Reform (MHARR), in written testimony submitted to the Senate Banking Committee in conjunction with its March 26-27, 2019 hearing concerning reform of the Government Sponsored Enterprises (GSEs) and the domestic housing finance system, has called on Congress to maintain the express "Duty to Serve Underserved Markets" (DTS) mandate of the Housing and economic Recovery Act of 2008 (HERA) in any final reform legislation.
Washington, D.C., February 4, 2019 – The Manufactured Housing Association for Regulatory Reform (MHARR) reports that according to official statistics compiled on behalf of the U.S. Department of Housing and Urban Development (HUD), HUD Code manufactured home production declined again in December 2018.
Motion – or, more accurately, activity – in and of itself, is not necessarily synonymous with, or equivalent to, realprogress, or, in fact, any progress at all.