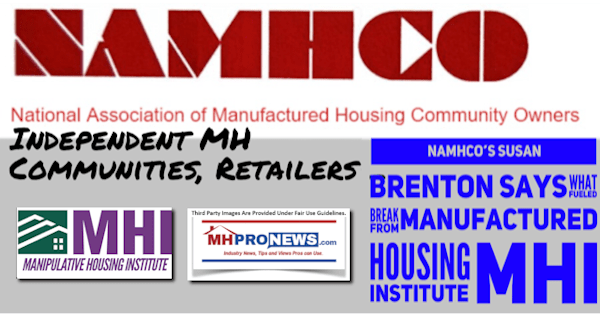 It is a principle of good medicine and good business that one must treat the underlying cause(s), and not merely the symptoms of an illness or problem.
The headline topic will follow this rapid thumbnail of mobile/manufactured home (MH) history, which will prove useful to new and longtime readers alike.  It will also tee up Susan Brenton's insights in useful ways for industry professionals, investors, advocates, and researchers.
For decades, part of the business model of the mobile home industry – which later evolved into the manufactured housing industry – was that independent retailers sold homes that went either into 'mobile home parks' or onto privately property.
During those decades, while some MH community owners sold and/or rented housing, the more common practice was that they developed and then leased home sites to the buyers or owners of a mobile or later a HUD Code manufactured homes. The bulk of those home sales were made by manufactured home 'dealers' or 'street retailers.'
New manufactured home (MH) communities sprang up, as other communities filled up.
MH Retailers and community owners alike benefited from that long-established business model. Note too that this early business model for the industry served and benefited consumers and MHC residents.
In the 1950s through much of the 1990s, MH Communities had to compete for the business of residents. The stories that have become more common in roughly the last 15 (+/-) years of communities closing, being sold off for big box stores or other forms of multiple-family housing redevelopment were not yet occurring. The related displacements of residents were thus not generating problematic events for those owners, nor vexing headlines for those in the industry. The organization of resident groups in MH Communities to 'defend against' their 'landlords' is a more recent phenomenon. Why? Because MH residents and MHC managers had an alignment of interests.
As long-time or 'veteran' industry professionals know, the development of new land-lease communities continued into the 1980s and the 1990s. It was after 2000 that the pace of new communities opening began to slow to a crawl, while community closures for a variety of reasons began to pick up steam, and make often sad news.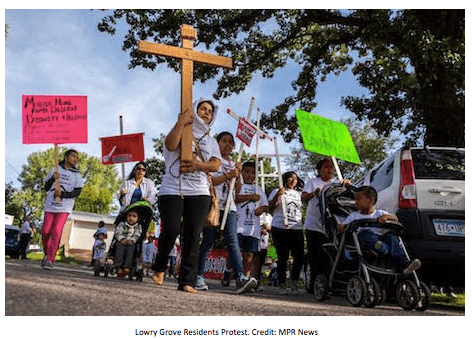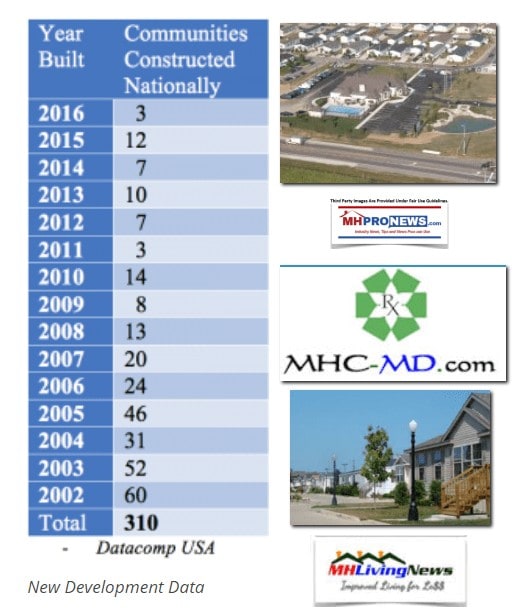 While somewhat simplified, millions of MH home owners and thousands of MH professionals that reflect back can see that pattern as an accurate reflection of what occurred.
In the 1980s, some may recall the S&L or savings and loans crisis.  There was turbulence in the housing and finance sectors, but not at the same level as occurred in 2008. There were peaks and valleys in the sales of new housing, including what by then was HUD Code manufactured homes.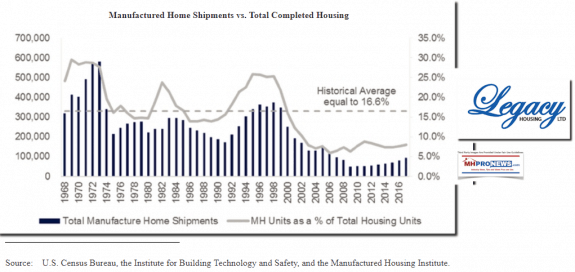 It was during the resurgence of sales and the production of manufactured housing in the 1990s that several states saw a significant percentage of new single-family housing stock construction were factory-built HUD Code homes.
There are those who say that easy financing fueled that surge in the 1990s. Beyond question, that played a role, because lending is always a factor in robust home sales.
But it is arguably too much to say that easy lending was the only factor. The quality and appeal of manufactured homes continued to evolve after the start of HUD Code homes on June 15, 1976.
The price advantage of manufactured homes over site-built homes remained steady in the 1990s. It was researchers for the Fannie Mae Foundation and Harvard's prestigious Joint Center for Housing Studies that pointed to such various realities of increasing appeal, durability, energy and purchase cost-savings.  Based on an ever-growing need for new housing stock, those university and third-party level researchers began to project that the trend lines favored a continued growth of the housing market share for manufactured homes.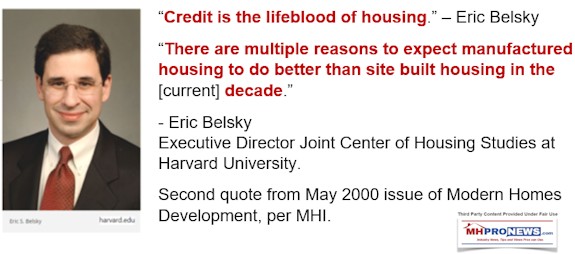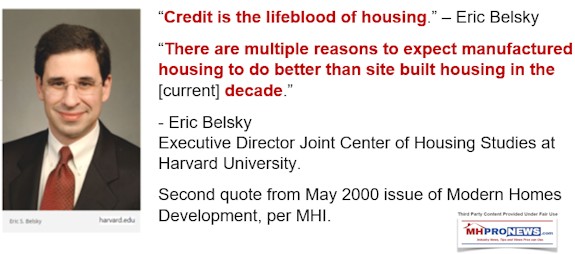 Belsky was quoted for a time in the literature of the Manufactured Housing Institute (MHI).  But a check of his name today reveals nothing on the MHI website.  Curious?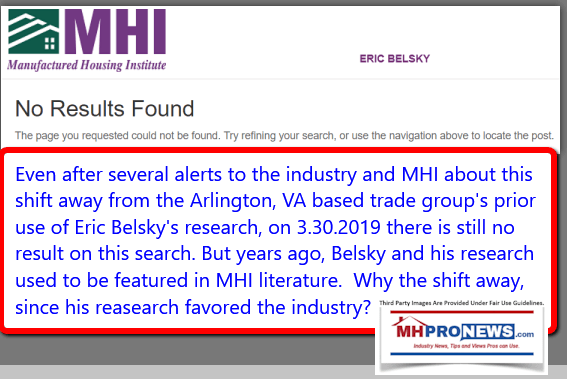 What Happened?
The two quotes from Belsky above have been pared by the Daily Business News on MHProNews. They should not be thought of as spoken by Belsky as one line after the other. Rather, those two pared thus reflect strong realities that researchers like Belsky recognized.  They are accurate sound-bites that drill down to essential points.
In the 1990s and into the early 2000, there were numerous lenders in the manufactured home space.  Even in the 1980s, there were financial services firms, such as Lenders Services Inc (LSI) or AGIC in cities like Tulsa, OK that acted as middle-men between those banks, S&Ls or other financial institutions and the authorized sellers of manufactured homes.
As the manufactured home repossession rout of the late 1990s and early 2000s occurred, numbers of those finance companies – for example, Ford Motor Credit or the Associates – exited the business. Unlike site-built housing, many of those manufactured home lenders never returned to serve the industry.
By 2003, when Warren Buffett led Berkshire Hathaway bought Clayton Homes, Oakwood Homes, and some associated lending units, the MH industry was down, but not out. As Kevin Clayton said in the video in the report linked here, their firm used to have a road show that met with investment capital sources to raise capital to finance manufactured homes via their own captive lender. At the time, Clayton wasn't in first or second place among the top producers or sellers of manufactured housing, that was still Fleetwood and Champion.
With Buffett's deep Berkshire pockets, Clayton Homes need to fret about raising capital to finance new home sales vanished for Kevin Clayton and his firm's team. Clayton said in the video on the page linked above that it was like saving several weeks a year in time, just because capital and reporting demands had been dramatically reduced.
Wall Street's taste for MH finance paper had soured by 2004, so Berkshire owned Clayton had more than one strategic edge in the marketplace.
After the 2008 mortgage/housing collapse, which somewhat followed the pattern that occurred in manufactured housing a decade earlier, new starts in conventional housing sank like a rock. So did the values of existing housing. As Belsky observed, credit is part of the lifeblood of all housing.
By the time that Tim Williams from Berkshire owned 21st Mortgage Corp issued the first of his 2 now infamous letters linked here, that cut off of lending effectively took out or 'knee capped' numerous independent retailers.  That must not be thought of as a once and done event, as insider tips have revealed that it has occurred on floorplan lending by 21st more recently too.
That loss of thousands of retailers, chronicled in part by the Atlantic, IBISWorld and others, disrupted manufactured housing in several ways.  What they never identified, that tips by insiders to MHProNews did, was what arguably was a key that sparked that collapse.
In no particular order of importance, the loss of independent retailers impacted the following:
harmed the interests of the independent producers of HUD Code manufactured homes that sold largely or exclusively through those independents. Several long-time producers were put out of business, why?  In part because of the cascade or domino effect of losing their retailers.
The loss of street retailers also harmed the interests of independently owned manufactured home communities (MHCs). Because most communities relied upon retailers to fill their spaces, when retailers vanished, so did many of those new arrivals into MHCs.
Needless to say, nearly all aspects of manufactured housing that supply the industry were harmed. From suppliers, vendors, service, utilities, financial services, installers, transporters, experts or consultants, etc.  Lose sellers, production is lost, and a downward spiral occurs. Who benefited?  Consolidators.
The loss of independent retailers also harmed the interests of consumers and residents in manufactured home communities. Consider this point, among many that could be listed.  So long as a community is at or near capacity, much like a conventional housing subdivision, the only way to 'get in' is to buy an existing home.  That protected the value of those home owners.  When new communities are no longer were being built at the historic pace, and existing communities' lost residents for a variety of reasons, imbalances occurred.
Those imbalances harmed the interests of most independently owned MHCs, and it harmed the interests of the residents in those communities too.
Until more land lease communities began to sell their own homes, vacancies meant that their property values were reduced.  These factors harmed consumers and independents, but could be construed to have made property values lower, and thus aided in the consolidation of communities into the hands of consolidators.
While there is more to that historical outline, that is sufficient to set-the-table for the comments of Susan Brenton to other independents Thursday afternoon, 3.28.2019.
What Susan Said…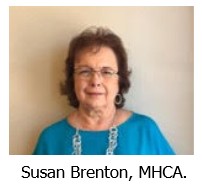 Susan Brenton from the National Association of Manufactured Housing Community Owners (NAMHCO) shared several examples of issues that from her perspective and that of her community owner/members that the Manufactured Housing Institute (MHI) had failed to resolve for years.
In some cases, per Brenton, there were issues that she raised with the Arlington, VA based MHI that they were uninterested in addressing.
Let's look at an example she gave.
While MHI is posturing with their members to this day that they are working with the Government Sponsored Enterprises (GSEs) to get more lending, NAMHCO has taken that 'bull by the horns' and began making a direct effort.
In doing so, they learned that locally based team members of Fannie Mae didn't even know what manufactured housing was.
That's stunning, given that the Duty to Serve (DTS) manufactured housing became federal law, in good measure though the efforts of the Manufactured Housing Association for Regulatory Reform (MHARR) to get that into the Housing and Economic Recovery Act (HERA) of 2008.  Rephrased, more than a decade after HERA and DTS became law, and Fannie Mae officials that Brenton and her colleagues met with had no clue what a manufactured home was?
That speaks volumes.
That also begs these questions. How can the GSEs claim to be fulfilling their Duty to Serve Manufactured Housing when their own team has examples of employees unaware of what our industry does?  How sincere can the GSEs be at fulfilling the law, when their staffers have so little understanding of the industry that they are supposedly going to serve as mandated by federal law?


Another discovery Brenton shared with independent retailers, producers, and other attendees on Thursday was the following. There were potential avenues for 'carve outs' from the Consumer Financial Protection Bureau's MLO rules that MHI was reportedly disinterested in addressing. Brenton was reportedly told by their staff that MHI's plate was too full to consider working with another group Brenton and her colleagues encountered that was doing seller financing.
MHI was too busy to consider working with them, even though Brenton and their communities were dues paying members.
Out of frustrations like those that clearly harmed the interests of independently owned communities, community associations broke ranks from MHI.  Here is how Neal Haney put it.

It remains to be seen what NAMHCO's direct lobbying efforts with the GSEs will produce. But at least an effort is being made.
What in hindsight is increasingly clear is that the 'smoking gun' of the letter by Williams at 21st not only harmed the interests of independent retailers and producers of HUD Code homes.  It arguably likewise harmed the interests of independently owned communities, residents, lenders, and others in the industry supply and services chain.  Never forget that even U.S. Bank, who was doing profitable and successful lending in MHVille post 2003, finally exited the business after MHI failed to head of the implementation of the rules of Dodd-Frank.  U.S. Bank cited low sales volumes and the regulatory risks from making those loans.  Other examples could be named, but that makes the point.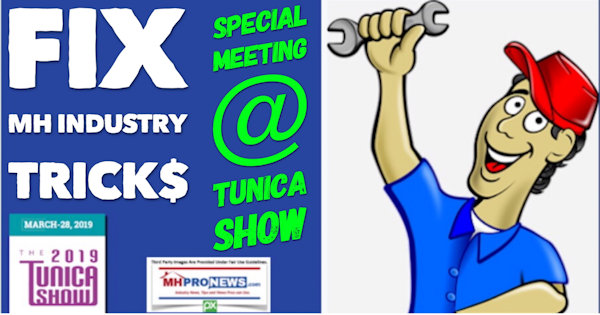 Some Takeaways from Fix the MH Industry Tricks Meeting
We will return to some of the other lessons and insights from Thursdays "Fix the MH Industry Tricks" meeting in the near future.  But for now, let's note the following ones.
The school of hard-knocks from the domino effect of what Berkshire brands arguably caused as outlined in the account here is one that continues to be unpacked. Millions of residents, and thousands of independent owned businesses have been harmed.
Meanwhile, Arlington, VA based MHI did…what?  They certainly appear to have taken the Omaha-Knoxville party line. Whatever seemed to be contrary to that Omaha-Knoxville-Arlington axis' goals went unaddressed.  That's not just true for communities, it is true for retailers too.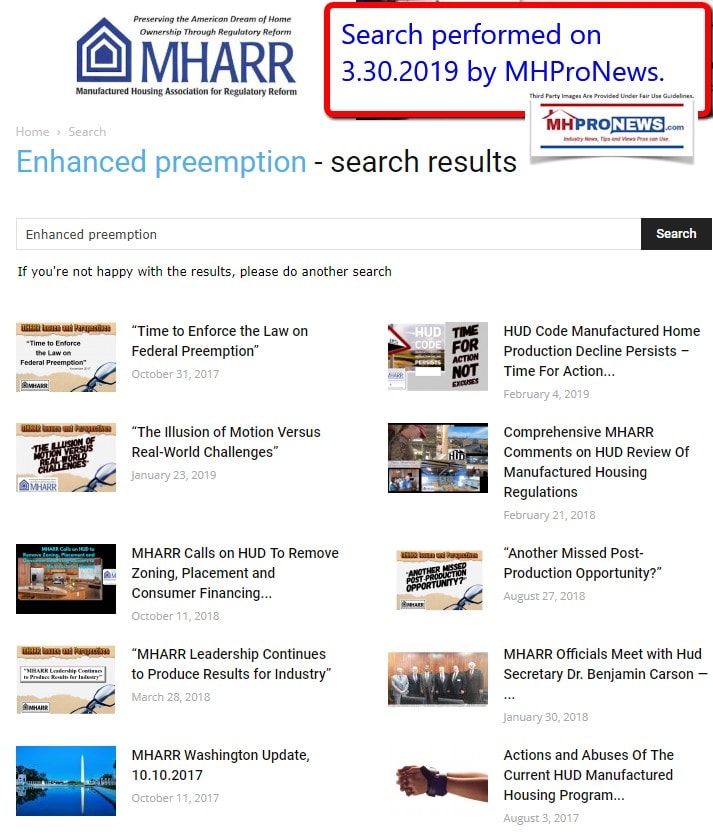 Brenton told the retailers, independent producers of manufactured homes, and the other interests represented Thursday at the "Fix the MH Industry Tricks" discussions that she absolutely saw the value to creating a new non-production trade group that retailers and others could participate in.
What she implied was clear, as Haney or MHI award-winner Marty Lavin has previously said. If the interests of the big boys don't align with those of the independents, it is only the big boys that benefit from MHI.

Closing Notes of Keen Importance – Who Didn't Come
Despite being personally invited to attend, neither Kevin Clayton, Joe Stegmayer, Tim Williams, Tom Hodges, or any MHI staff leaders opted to attend.  Why not?

They were given the specific opportunity to explain or debunk to the industry attendees their respective views regarding the various allegations made by MHProNews, MHLivingNews, MHARR, NAMHCO, and a variety of others.  Their silence is their constitutionally protected right. But their silence also leaves the record of our publishing unchallenged. Our allegations stand on the merits of their own words, documents, follow-the-money trail and trend lines, plus that Kevin Clayton video evidence.
Two 'publishers' of MH industry news were also specifically invited by our publisher to attend the "Fix the MH Industry Tricks" meeting. One of those two was Darren Krolewski of MHInsider.  Apparently coming and perhaps having to write about the meeting wouldn't fit their pro-Clayton, pro-MHI, pro-big boy narrative?
Maybe that is why their magazines go largely un-picked up at Tunica and elsewhere?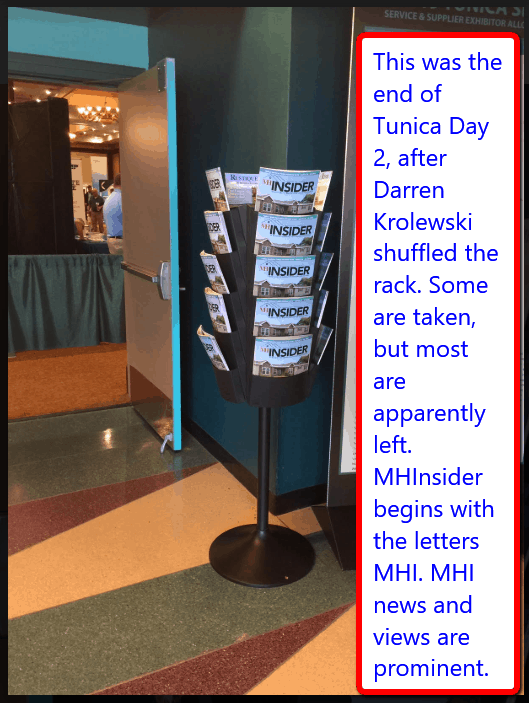 The other publisher specifically invited was one that privately called Clayton "evil," but he nevertheless said he didn't want to buy into the concerns over antitrust and other legal or MHI related issues.  That same publisher that thinks that Clayton is "evil" said he wants to get along Clayton and MHI, and gladly publishes only "fluff" that makes the industry "look good."
But how does one cure a problem who's root causes are largely going unaddressed? Once more, one is left with the medical or good business practices analogy mentioned at the top of this article.  If the only thing that is dealt with are symptoms, then the core issues will continue to fester.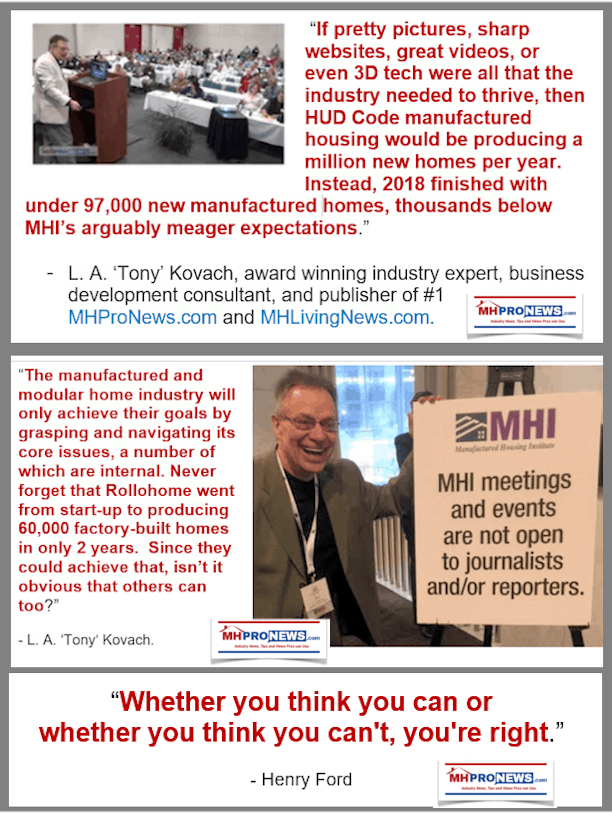 Finally, while not specifically invited, other industry bloggers and writers failed to make the "Fix the MH Industry Tricks" scene. Where was George F. (F?) Allen?  Where was Spencer Roane, Kurt Kelley, Suzanne Felber, or others?  Did they not want to hear accounts like those of Brenton, that might shake up their "inclusive," self-serving, and 'happy talk' industry views? These are not meant as personal slams against any of those mentioned, who can be very pleasant people. Rather, these are valid questions as to what drives those that publish content that industry readers are supposed to 'learn' from.
One of those that wasn't able to attend that was among those that said they wanted to said this. 'You guys are the only publication [MHProNews] that deals with the realities of manufactured housing.  Thanks for telling it like it is and standing up for the [interests of] independents in the industry.'
As the above should also reflect, standing up for independents is also standing up for the legitimate rights of consumers. When the system is rigged, there are a variety of consequences that arguably harms taxpayers, potential and current manufactured home owners, plus the businesses that seek to serve them.
That's this Saturday's manufactured home "Industry News, Tips, and Views, Pros Can Use," © where "We Provide, You Decide." © ## (News, analysis, and commentary.)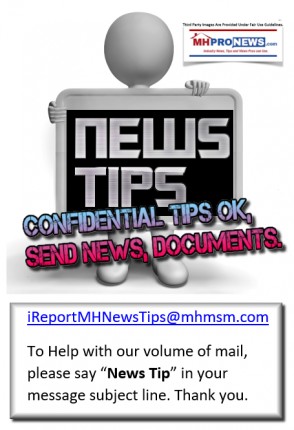 Your link to industry praise for our coverage, is found here.
For the examples of our kudos linked above…plus well over 1,000 positive, public comments, we say – "Thank You for your vote of confidence."
"We Provide, You Decide." © ## (News, analysis and commentary.)
(Image credits and information are as shown above, and when provided by third parties, are shared under fair use guidelines.)
Submitted by Soheyla Kovach to the Daily Business News for MHProNews.com.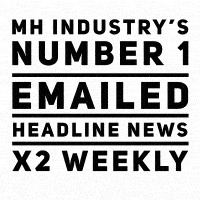 2) To pro-vide a News Tips and/or Commentary, click the link to the left. Please note if comments are on-or-off the record, thank you.
3) Marketing, Web, Video, Consulting, Recruiting and Training Re-sources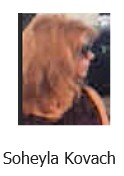 Submitted by Soheyla Kovach to the Daily Business News for MHProNews.com. Soheyla is a managing member of LifeStyle Factory Homes, LLC, the parent company to MHProNews, and MHLivingNews.com.
Related Reports

:
You can

click on the image/text boxes

to learn more about that topic.
MH IDEAL, Understanding Manufactured Housing's Choke Points, Tunica Show Day 3
Warren Buffett Urges Government Care For People Who've Become 'Roadkill' – Video, Analysis
Trump Administration Move on Housing Financing Draws Sharp Manufactured Home Association Response
Clayton Homes Insiders Tips – After Birmingham 'Fiasco,' Clayton Pivots Back to Tunica Show – Day 2 Insights
Attraction Marketing, Appealing to More Cash, Good Credit Customers into Manufactured Homes
Affordable Housing Crisis Rages, Sages Sing Manufactured Home Praises, Fix the MH Industry Tricks – Easy as 1, 2, 3
Tunica Manufactured Housing Show, MH Industry Pro Feedback, Day 1
Motion – or, more accurately, activity – in and of itself, is not necessarily synonymous with, or equivalent to, realprogress, or, in fact, any progress at all.
Washington, D.C., January 8, 2019 – The National Association of Manufactured Housing Community Owners (NAMHCO), a new, independent association representing a key manufactured housing industry post-production constituency, has announced a major step in its initial organization and the start of national-level advocacy activities to better and more effectively represent the post-production sector in Washington, D.C.
Washington, D.C., February 4, 2019 – The Manufactured Housing Association for Regulatory Reform (MHARR) reports that according to official statistics compiled on behalf of the U.S. Department of Housing and Urban Development (HUD), HUD Code manufactured home production declined again in December 2018.