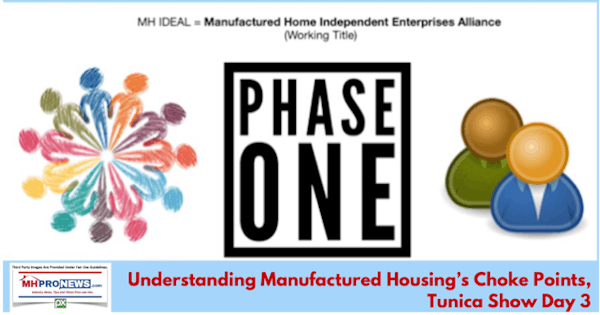 Numbers of manufactured home independents, many of whom are so called 'street retailers' or independently owned communities, producers, lenders, and other professionals from MHVille stopped the MHProNews team to say 'thank you' while walking show homes or the exhibit hall.
Among them was an independent retailer who had acquired a location that had been in business since before the HUD Code had gone into effect. That old mobile home lot was now selling HUD Code manufactured homes. But the overall pace of sales is slower in that state and others compared to years gone by, in part because there are now far fewer independent retailers.
Monopolists may not understand that people in America like choices.  Look at a grocery shelf at all of the different kinds of cereals. Those brands don't try to put each other out of business.  Cereal makers want their part of the shelf-space, and they will get their part of the sales.
Monopolists and their variations may think that it helps them to squeeze the little guy out. What obvious nonsense. The manufactured home shipment reports data tells it all.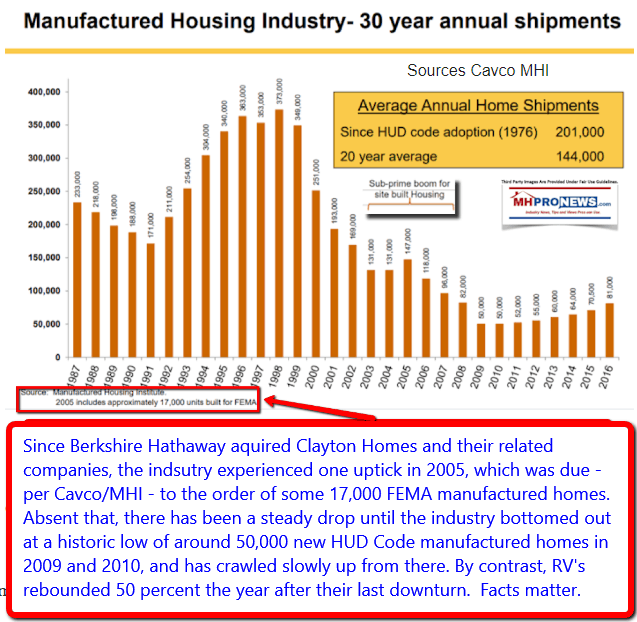 That paucity of individual retailers causes a ripple effect throughout the supply chain of business and workers that would normally be serving manufactured housing distribution outlets.
A lack of street retailers also impacted manufactured home communities. For decades, 'dealers' or retailers have supplied the new homes going into manufactured housing communities. Fewer street retailers means fewer new homes going into a land lease. Our of necessity, many community owners have had to start buying and selling homes, because the old distribution model was being broken.
The Wisconsin Housing Alliance's (WHA) Amy Bliss recently lamented those lost retailers, community closures, lost HUD Code home builders, and others in a report linked here.  But what Bliss arguably failed to do is identify the true causes of that problem.
Her predecessor, Ross Kinzler, showed the impact on shipments of those losses via the sobering graphic below.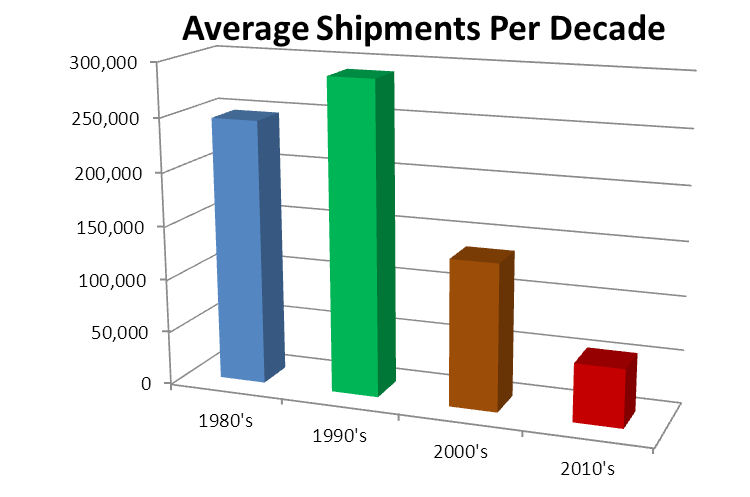 'If it weren't for MHProNews, we would not have any other source of accurate information as to what has and is occurring in our industry,' said an independent at the Tunica Show, who was among those who stopped to thank us for our pro-industry independents work.
He elaborated by saying he can read what other publications put out, and then compare it to what MHProNews reports. The man moved his hands up and down as if he was weighing the contents of what pro-Manufactured Housing Institute (MHI) publishers or bloggers say vs. what MHProNews fact-checks, reports, and analysis state.
The smile toward us was sincere but reflected pain. "I just want to say, thank you for sticking up for us independents."  It was both gratifying, but heartbreaking at the same time.
Another mom-and-pop operation said that the letter from Tim Williams from 21st Mortgage Corp linked here put out of business numbers of people that they personally know.
MH Industry Choke Points
Once you understand an industry's choke points, you can then see where the weaknesses or potential vulnerabilities of those businesses are. A publisher stopped MHProNews' L. A. 'Tony' Kovach in an extended engagement. While disagreeing with some elements of MHProNews' thesis on monopolization, that one called what Clayton is doing to manufactured housing "evil."
Evil is a strong word. But that publisher, having said that, still publishes happy talk articles.  He called his own content "fluff." It is geared to get good SEO or search engine optimization, and to make readers feel good. He said so himself. There are no exposes. There are no fact-checks.  There are a variety of pro-MHI or pro-Clayton articles in that publisher's 'news.' Let's say for the record, he has a right to publish that fluff, and that pro-Clayton, pro-MHI 'news.'
But how can you call a firm or organization evil, and then promote them?
'I want to do business with as many companies as possible.'
Ouch, but there it is.
An independent producer of HUD Code homes shared the decline of the numbers of independents in markets they ship into. The drop in the numbers of street retailers over the years in their markets are dramatic.  That drop in independents puts an artificial cap on the numbers of sales.
If Cavco plaintiff's shareholders attorneys understand that, what do they think the actual value of a publicly trade stock would be, if the market wasn't artificially manipulated?  There's an affordable housing crisis, and yet fewer HUD Code manufactured homes are being sold today than in 2003, when Warren Buffett led Berkshire Hathaway began to build his economic moat by buying Clayton homes and other industry lenders, producers, and so on.
Bliss and others among state associations have witnessed that pattern first hand. Perhaps they are blind to the pattern. But if they read here, how can they be blinded to it?  Most if not all of them do read here.
So while some association executives are sources for MHProNews, others are not. Those others are republishing MHI propaganda, oops, 'MHI news and updates.'  Several states may once upon a time have published Manufactured Housing Association for Regulatory Reform (MHARR) reports, but that is in the rearview mirror in too many instances.
An independent producer told MHProNews that it has been years since several of those state executives have done something to actually help their members. Yes, they lobby against this bill, or for that bill. But what are they doing to actually help an independent to survive and grow?
That same producer noted an exception to make the point that all aren't in the pocket of the Omaha-Knoxville-Arlington axis.  Nevertheless the 'fighting legislation' – however useful that might be – has not changed the depressed level of HUD Code manufactured home sales.
It would be an exaggeration to say that there is no other news but MHProNews. But it's often happy talk, and the level of interest by attendees at Tunica or Louisville is reflected in the few copies of MHInsider being picked up by attendees.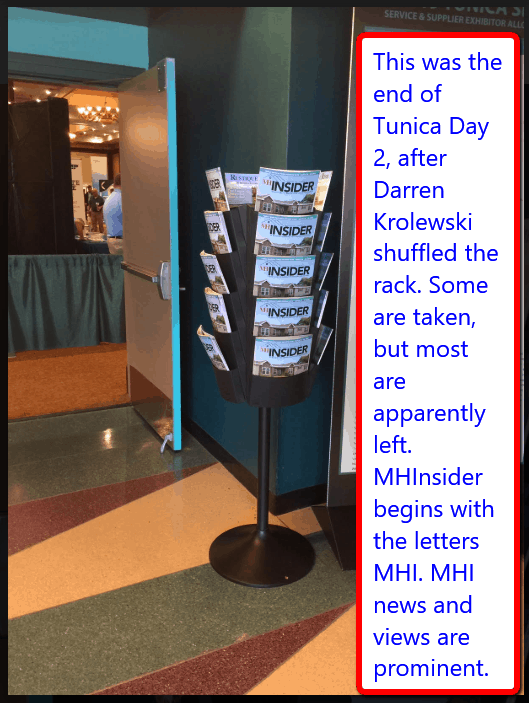 Darren Krolewski was seen reshuffling that same magazine rack above and was walking back to his display, just moments before that photo was taken.  That photo was near the end of day 2. Not too many copies have been picked up, have they?
Think about that veteran independent retailer, weighing with this hands, the truth or lack thereof in what's being published.
That's part of the reason, perhaps, that Casey Mack at Legacy publicly praised MHProNews' superior results in marketing for their firm. There is no publisher in the industry that even comes close to our level of engagement. We've asked the others, they won't publish their stats on reader engagement.  Some use formats that make it difficult at best to know how much or little is being read.
So, of course there is heavy engagement here, people hunger for what's true, not for what's fake or fluff.

If people don't read, or don't take a competing publisher's 'stuff' seriously, why support those advertisers?  The answer is sobering.  Some support them, for reasons that smack of fear or protection that could be the basis for a racketeering charge.
Mack explained they tracked their results. It's not a guess that MHProNews was better. It was no contest.
If someone doesn't happen to be on MHARR's mailing list, or doesn't read here on MHProNews, what 'information' are they getting save from pro-MHI publishers?
Choke points in distribution or lending. Informational choke points. Once you know them, the evil can do with that information what the good would never conceive of or imagine.
Others can cheer-lead for MHI and the Claytons all they want, it's a semi-free country that is arguably still far greater than others on the planet. We too cheerlead the quality, value, and solutions to the affordable housing crisis that manufactured housing and well run communities represent. But without identifying the causes of the industry's low levels of sales, how can others work to effect the needed cures?
Out of:
fear,
a merchants vs crusaders mentality that says don't cause yourself to become a purported Omaha-Knoxville-Arlington target,
ignorance,
a go along to get along mentality,
the once far greater manufactured housing industry is now a shadow of its former self.  That's what's real. If anyone aligned with the Omaha-Knoxville-Arlington axis can provide a thesis that fits the facts, by all means, let them attend our session this afternoon at Sam's Town and state their case in front of their industry peers.
Got the moxie to sell fluff, spin, or outright lies to the industry's independents to their face?
The underperformance of the industry is reflected in investor relations packets distributed by firms like Skyline-Champion (SKY). Yes, there is significant upside, as their chart reflects.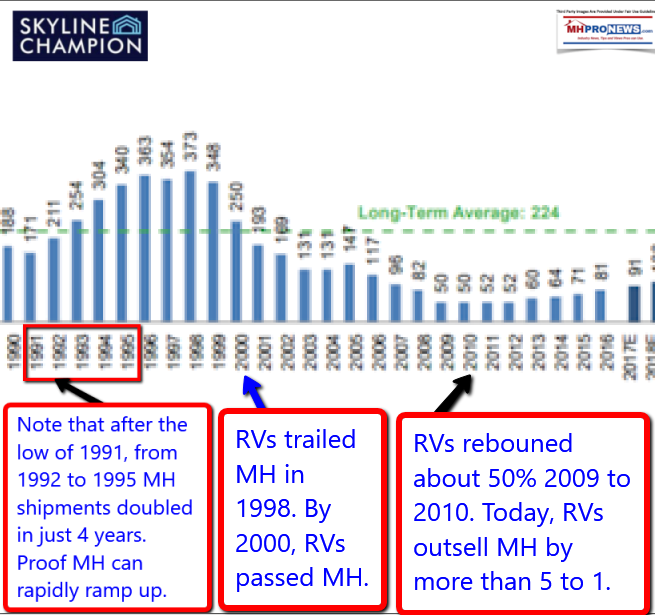 But if independents are constantly being targeted in a variety of ways, what are they to do? Who do they turn to for help, when state executives are afraid for their jobs, as some have told MHProNews?
Thus, there is a logical need to organize a national 'for independents, run by independents,' trade group. That MH Alliance, or the working name of MH Ideal is critical for the true recovery of the industry. The trend lines and facts don't lie.
MH IDEAL = Manufactured Home Independent
NAMHCO came to that conclusion for communities two years ago, launched a new trade group last year and hired their lobbyist this year. A small group has got that ball rolling.
MHARR came to that conclusion years ago, as Danny Ghorbani said RE following.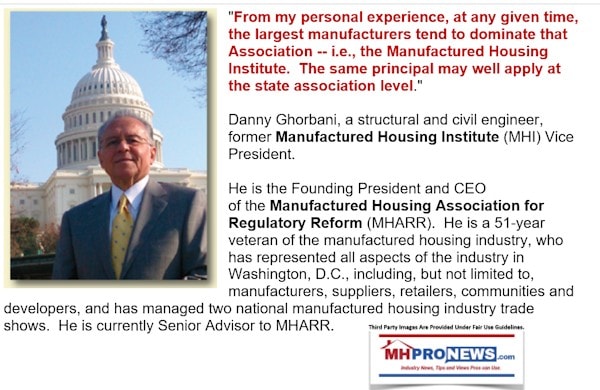 A small group of independent producers got MHARR going.
It is time for the balance of the industry's independents to gather and start the process of changing the root causes of the industry's issues.
That first step is today at Sam's Town, located right across from the Resorts and Hollywood hotels and casino.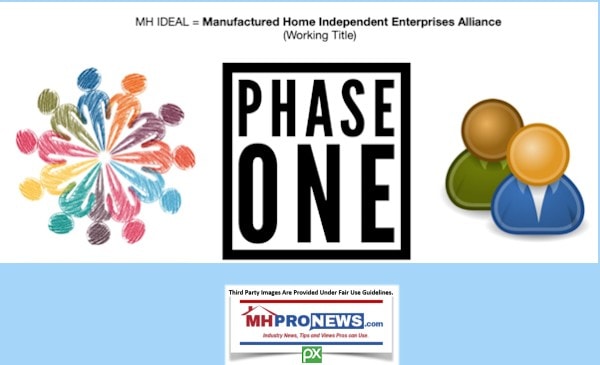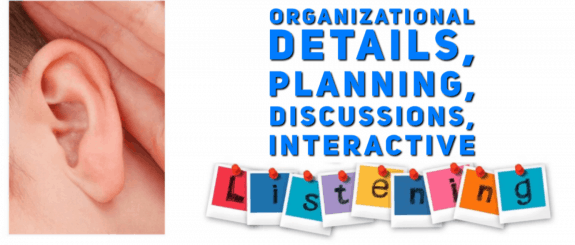 Sam's Town is a huge complex, so come early for a free 3 part series of discussions. It starts when the doors open at 11:45 AM, well after the time (typically shortly after 11 AM) Dennis Hill normally shuts down the Tunica show proper. That time was selected after our publisher spoke with Dennis Hill personally.  The location off the Resorts property was done to honor Dennis Hill's request.
Rephrased, we've tried to very specifically not to interfere with the time that exhibitors are paying for at Tunica. We get it that Tunica is paid by exhibitors, because we've been there, done that and have the shirts.
Even a few homes on display represents hundreds of thousands of dollars in inventory, plus the cost to exhibit, travel, promote, and the list of ancillary costs like insurance goes on.
But if not here in Tunica today, then when? If not now, when?  Do we wait for even fewer cereal brands – err, manufactured housing operations – left on the shelf?
Where else can you encounter the most independents?
Here's the map to the meeting, in the large Sam's Town complex.  If you can, come early for priority seating, because seats are limited.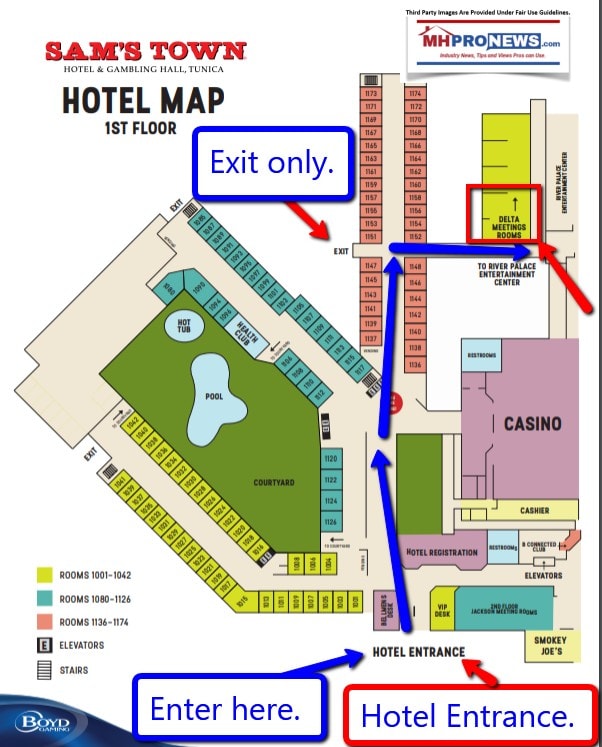 Here below are the 3 sessions. HUD Code Producers should strive to have someone representing them attend all three sessions if possible, because all three matter to builders. The third and final session is only for HUD Code independently owned factory builders (not one of the big three).
The first session is open to many industry members, including Senior Clayton, MHI, 21st or their attorneys. It won't be open to rank and file members of a big 3 company or their lending affiliates.
At Session 1, the Omaha-Knoxville-Arlington representatives will be given a chance to debunk the allegations made here on MHProNews, or on MHLivingNews. Those senior leaders of Clayton, Cavco, MHI, 21st or other Berkshire Hathaway brands not personally known by MHProNews must bring proper identification. Security is on hand, and MHProNews reserves the right to admit or deny anyone at any time for any reason to this private industry problems-and-solutions gathering.
If the Omaha-Knoxville-Arlington elites arrive, terrific. They have been personally invited.  They will be given an opportunity in front of their industry peers to refute, clarify, or make the case why our evidence or fact-checks are other than accurate. That's as fair and balanced as it gets.
They have the right to engage, or to be silent. In America, you thankfully don't have to prove your innocence.
But the allegations of slowly choking the independents is a critical one for most, if not almost all in manufactured housing.
Session 2 is to discuss how the purported Omaha-Knoxville-Arlington machinations can lawfully be dealt with in the marketplace, with regulators, public officials, the media, and the home buying public.  Session 2 is closed to those who are not independents, or those who aren't in the pockets of the Omaha-Knoxville-Arlington axis.  Communities, Retailers, Suppliers, Service Providers, and non-big 3 producers are welcomed to attend.
It is in Session 2 that independents will take the first steps to organize a national platform that does for them what MHARR has done for independent HUD Code builders, or what the NFIB does for independent businesses across America.
Session 3 is for HUD Code builders only, meaning those in MHI, MHARR or who are non-aligned and who are not one of the Big Three. They each face unique challenges. A lack of distribution is one, but others are labor, capital access, regulations, and more.  Each of the three session is useful – and in a logical sense – necessary to HUD Code producer independents.
For those that think the industry is doing greater than it ever has, this would be a waste of your time and ours.  We deals with facts, evidence, trend-lines, and follow-the-money realities here.  If you come with that, and have a different point of view, you'd be welcomed to participate.
We know that not everyone can modify their travel plans. There was no perfect world solution here to host such a gathering of professionals.  There was no way to make everyone happy.
But this is the best time and place to start the ball rolling.  Those who attend will be making history.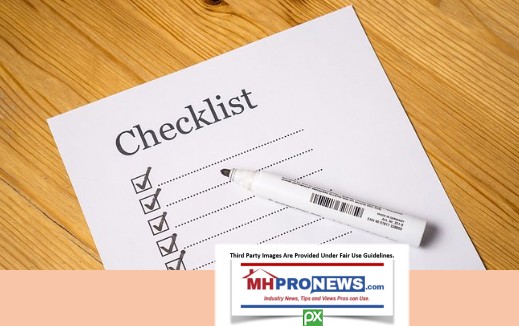 The doors open at 11:45 AM. Please bring the following, especially if you are not personally well known by MHProNews – your show badge, photo ID and business cards. You will leave one business card with your contact information with us to register.  So registration is quick and painless, drop your card with current information, and you are set for food, drinks, snacks and likely the most important discussion you will have about manufactured housing this month, or perhaps any in 2019.
The independents must begin to better organize, period, end of story, or their days are arguably numbered.
However many come, it will likely be more than what began the NCC, MHARR, or NAMHCO.
Crawl, walk, run, or drive across the road and be a part of a common-sense next step to solving the industry's obvious challenges.  Thanks for checking in.  Thanks for sharing your views and tips.
That's this morning's manufactured home "Industry News, Tips and Views Pros Can Use," © where "We Provide, You Decide." © ## (News, analysis, and commentary.)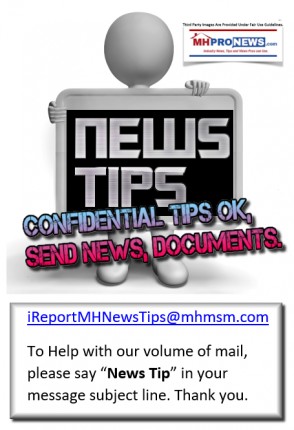 Your link to industry praise for our coverage, is found here.
For the examples of our kudos linked above…plus well over 1,000 positive, public comments, we say – "Thank You for your vote of confidence."
"We Provide, You Decide." © ## (News, analysis and commentary.)
(Image credits and information are as shown above, and when provided by third parties, are shared under fair use guidelines.)
Submitted by Soheyla Kovach to the Daily Business News for MHProNews.com.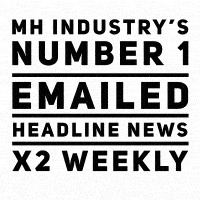 2) To pro-vide a News Tips and/or Commentary, click the link to the left. Please note if comments are on-or-off the record, thank you.
3) Marketing, Web, Video, Consulting, Recruiting and Training Re-sources
Submitted by Soheyla Kovach to the Daily Business News for MHProNews.com. Soheyla is a managing member of LifeStyle Factory Homes, LLC, the parent company to MHProNews, and MHLivingNews.com.
Related Reports

:
You can

click on the image/text boxes

to learn more about that topic.
Lesli Gooch, PhD, Manufactured Housing Institute EVP Reveals DTS Financing Con Job
Fact Check, Darren Krolewski, MHInsider Claim on 2019 Louisville Show Attendance
Speak No Evil, Only Evidence. Tunica Show, Feds, Clayton, 21st, MHI, MHARR, Public Debate, and You
Urgency Grows, Another City Prepares Ban on Manufactured Homes
Smile! You're on Candid Camera! Security, Casino Hotels, and Fix the MH Trick$ Tunica Event
"What Are We, Chopped Liver?" MHI Member December 2018 Reactions
Subsidized Housing vs Manufactured Homes, Community Owner Marge Clark Sounds Off
The U.S. Department of Housing and Urban Development (HUD), in the March 22, 2019 edition of the Federal Register, has issued a proposed rule that would amend the Federal Manufactured Housing Construction and Safety Standards (24 C.F.R. 3280) and Procedural and Enforcement Regulations (24 C.F.R.
The Department of Housing and Urban Development, on March 20, 2019, held the latest in a series of "HUDdle" conferences with invited HUD-program stakeholders. The conferences, which are an initiative of – and hosted by – HUD Secretary Ben Carson, focus on emerging issues at the Department, including, but not limited to, aspects of its ongoing regulatory reform process.
Washington, D.C., February 4, 2019 – The Manufactured Housing Association for Regulatory Reform (MHARR) reports that according to official statistics compiled on behalf of the U.S. Department of Housing and Urban Development (HUD), HUD Code manufactured home production declined again in December 2018.
Washington, D.C., November 15, 2017 – The Board of Directors of the Manufactured Housing Association for Regulatory Reform (MHARR) has authorized the public release of a comprehensive internal study by the Association of the past, present and future representation of the post-production sector (PPS) of the federally-regulated manufactured housing industry.