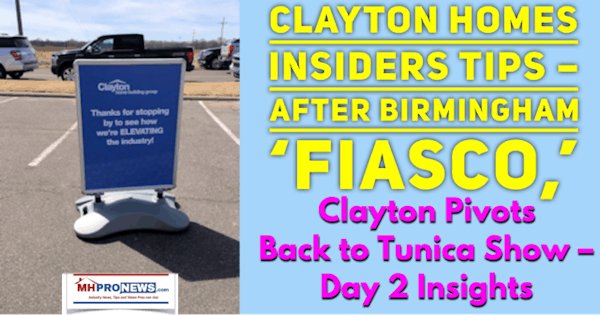 It will be recalled that Clayton Homes made a move largely away from their presence at the Tunica Manufactured Housing Show, when they decided to have their own plant show for Clayton retailers in Birmingham, AL.
With highways torn up for reconstruction for the next 18 months, a return to their plant show site in Birmingham seemed ill advised, per several sources at the Tunica Show today.
But the potential embarrassments were from unexpected consequences of the Birmingham Show site while they were there. "They didn't realize that they had picked a location right across from the Alabama OSHA office," said one source that was confirmed by another. 'That was bad, because officials found it too interesting to resist putting their noses into their plant show. But what made it worse [for Clayton] is that they discovered that they had to recheck every home every morning, because the homeless would break in overnight and camp out, until they were chased out.'
Embarrassing and costly is how the matter was described.
So along with other logistical and show related mishaps and the "fiasco" claimed, Clayton decided to make a come-back in 2019 with more model homes at the 2019 Tunica Show.  One non-Manufactured Housing Institute producer told MHProNews that they were glad that Clayton made that move.  "Clayton's presence helped the show," said that source.
Some Berkshire Hathaway brands gladly greeted, or even embraced and did photos with the MHProNews team.  The Daily Business News on MHProNews once more reminds Clayton team members who share news tips to avoid using company issued cell phones or company email addresses.  Those, per insiders, are monitored. "Big brother is watching you at Clayton, believe it" said an informed source.
While some where happy at Clayton's presence in Tunica, others had a darker view.
"Clayton is slowing killing [off] our industry's independents," said a mom and pop source that were in retail.  They had stopped to chat with our publisher and consultant, L. A. 'Tony' Kovach.
Another informed source put a finer point on it. "When you are an independent retailer that is selling Clayton Homes product," said a show attendee, "you are Clayton's test marketing for an area.  If an independent is doing really well, then expect Clayton to appear with a new store in that same market area."
There were more confirmations of reported misdeeds by 21st Mortgage, with respect to floorplan financing. They largely fit the pattern described in the prior report, linked below.  ICYMI, and for new comers, you can click the hot-linked text image boxes that follow for more details on that topic.
CFPB and 21st, Second Shoe Drops? Flooring w/21st Mortgage Corp? Insider Tips
Another independent told MHProNews that they personally knew independent retailers of HUD Code manufactured homes who had been a victim of the openly publicized ploy described in the article linked below.  For new readers, recall that 21st Mortgage issued a letter cutting off retailers who weren't buying Clayton product, in the aftermath of the financial crisis.  Yet Warren Buffett, and Kevin Clayton both said that they had 'plenty of money.'
America woke up today to division. But perhaps 75 percent (+/-) of the nation's people could come together on a plan that demonstrably could do the following. Increase the U.S. Gross Domestic Product (GDP) by some $2 Trillion Annually, without new federal spending.
Independents, Uniting?
It remains to be seen just how many independent manufactured housing:
Retailers,
Communities,
Suppliers,
Lenders,
Financial Services firms,
Producers of HUD Code homes,
Along with other vendors and service providers will attend tomorrow's discussion to launch a new post-production trade group.
Following that meeting, there will be a session for independent non-3 C companies that will discuss issues of common concern, and how they might interface with the efforts to forge a new-post-production trade group.
That 3 session discussion and organizational meetings will be held at Sam's Town hotel and casino, right across the highway from the Hollywood and Resorts hotel where the 2019 Tunica Show is being held.
The doors will open at 11:45 AM, with food, beverages and snacks being served.  The meeting will start promptly at 12:15 AM.  It will be in the Delta 1 and Delta 2 meeting rooms, in the Sam's Town conference center area.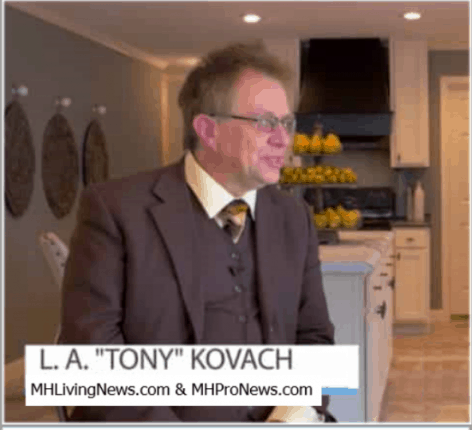 "The law is on the side of the manufactured home industry and it's independents on so many levels," says
L. A. 'Tony' Kovach. "What has been occurring in recent years with the Manufactured Housing Institute (MHI) and their puppet masters in Omaha-Knoxville areas and their allies is a purported betrayal of the interests of every independent in the industry. We heard from a wide range of professionals in the last 2 days.  Some are literally fearful, others are hopeful, but almost all agree that the industry should be doing far more than it currently is."
If history – which Warren Buffett says is useful – is any guide, then positive changes to grow the industry and simultaneously break the iron grip of Berkshire brands over MHI, several state associations, and by other means the industry at large.
Among those who've stated they are formally attending Session 1 are:
A big 3 producer,
MHI and state association members,
#MHM,
NAMHCO,
MHARR,
More than one HUD Code producing independents.
Independent Retailers,
Communities,
And some suppliers and vendors also indicated they will be in attendance.
It is a fluid situation. But as noted in the more detailed reports below, there are reasons to believe that the birth of a new non-production association will begin tomorrow afternoon at Sam's Town.
There may also be a greater meeting of the minds between various independent producers of HUD Code homes.  To learn more about all three sessions, click the report below.
Affordable Housing Crisis Rages, Sages Sing Manufactured Home Praises, Fix the MH Industry Tricks – Easy as 1, 2, 3
MHProNews wants to note once more an important principle that was heard in various forms during the last two days.  Not every MHI member is happy. Not every Berkshire brand team members are happy with Clayton, 21st, Vanderbilt Mortgage and Finance, etc. There are good people working with or for these operations, and are troubled.
The mainstream news video of an ex-Clayton employee makes that point clearly.
The point is that people wake up to the reality of what is happening in our industry at different times, and in their own ways.  There is wheat and chaff all around, and each person and entity must be taken as an individual. There is no intent to lump every MHI member into the cabal that is allegedly slowly monopolizing the industry through Buffett's increasingly well know 'strategic moat.'
There is limited seating.  Prior notices apply to this update.  The discussion will be moderated.
'It has been years since several state associations' have bucked the desires of Clayton Homes, 21st or MHI, per multiple sources. Since it is apparent that Berkshire has its own BH Media group, mountains of cash, and could easily promote manufactured housing as much as they desired, the logical conclusion is that they want to keep the industry down, precisely to keep new entrants out, and to force existing companies to sell cheap or close entirely.
One alone can be isolated and beaten. But a group that stands together against unjust forces will be hard to beat. Independents can compete and win, with the backup of such a pro-growth trade group.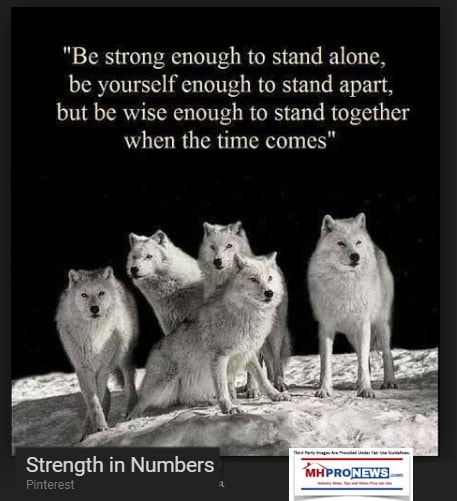 Let's stop worrying, fretting, or underperforming.
Let's do this.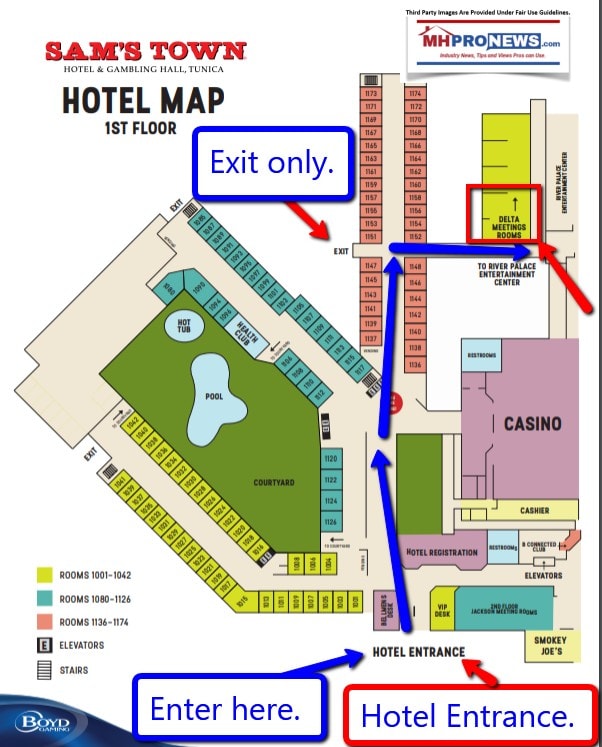 What You Should Bring and Do To Attend the Fix the MH Industry Tricks Meeting
RSVP a Text Message to 832-689-1729.
Text the following:
RSVP Fix the MH Industry Tricks
Your Name(s) (EG: John and Jane Brown)
Your Business Name (EG: John's MH Sales, and Jane's MH Community)
Your Title (EG: Owner, manager, executive.)
Your Cell Phone Number (EG: all 9 digits: XXX-XXX-XXXX)
Those who are ready to stand up to the powers that be alongside others who want to preserve the industry's independents should make plans to have a trusted team member there.
That's tonights's manufactured home "Industry News, Tips and Views Pros Can Use," © where "We Provide, You Decide." © ## (News, analysis, and commentary.)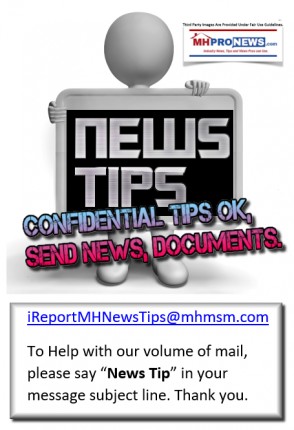 Your link to industry praise for our coverage, is found here.
For the examples of our kudos linked above…plus well over 1,000 positive, public comments, we say – "Thank You for your vote of confidence."
"We Provide, You Decide." © ## (News, analysis and commentary.)
(Image credits and information are as shown above, and when provided by third parties, are shared under fair use guidelines.)
Submitted by Soheyla Kovach to the Daily Business News for MHProNews.com.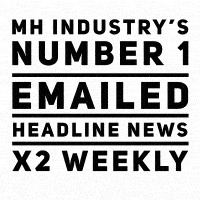 2) To pro-vide a News Tips and/or Commentary, click the link to the left. Please note if comments are on-or-off the record, thank you.
3) Marketing, Web, Video, Consulting, Recruiting and Training Re-sources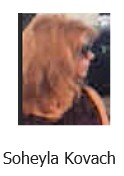 Submitted by Soheyla Kovach to the Daily Business News for MHProNews.com. Soheyla is a managing member of LifeStyle Factory Homes, LLC, the parent company to MHProNews, and MHLivingNews.com.
Related Reports

:
You can

click on the image/text boxes

to learn more about that topic.
Lesli Gooch, PhD, Manufactured Housing Institute EVP Reveals DTS Financing Con Job
Fact Check, Darren Krolewski, MHInsider Claim on 2019 Louisville Show Attendance
Speak No Evil, Only Evidence. Tunica Show, Feds, Clayton, 21st, MHI, MHARR, Public Debate, and You
Urgency Grows, Another City Prepares Ban on Manufactured Homes
Smile! You're on Candid Camera! Security, Casino Hotels, and Fix the MH Trick$ Tunica Event
"What Are We, Chopped Liver?" MHI Member December 2018 Reactions
Subsidized Housing vs Manufactured Homes, Community Owner Marge Clark Sounds Off
The U.S. Department of Housing and Urban Development (HUD), in the March 22, 2019 edition of the Federal Register, has issued a proposed rule that would amend the Federal Manufactured Housing Construction and Safety Standards (24 C.F.R. 3280) and Procedural and Enforcement Regulations (24 C.F.R.
The Department of Housing and Urban Development, on March 20, 2019, held the latest in a series of "HUDdle" conferences with invited HUD-program stakeholders. The conferences, which are an initiative of – and hosted by – HUD Secretary Ben Carson, focus on emerging issues at the Department, including, but not limited to, aspects of its ongoing regulatory reform process.
Washington, D.C., February 4, 2019 – The Manufactured Housing Association for Regulatory Reform (MHARR) reports that according to official statistics compiled on behalf of the U.S. Department of Housing and Urban Development (HUD), HUD Code manufactured home production declined again in December 2018.
Washington, D.C., November 15, 2017 – The Board of Directors of the Manufactured Housing Association for Regulatory Reform (MHARR) has authorized the public release of a comprehensive internal study by the Association of the past, present and future representation of the post-production sector (PPS) of the federally-regulated manufactured housing industry.