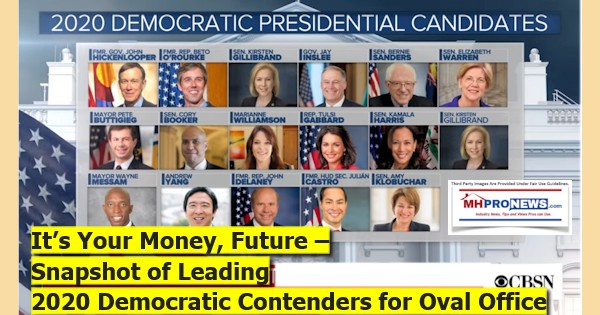 We've curated tonight's report from 3 different sources that cover the left-right media divide. It will be laced – of course – with our own Daily Business News on MHProNews manufactured home industry focused analysis.
By way of disclosure, our plan for this campaign season is to do something different.  As we track and digest the candidates, we will focus more on three different 'ones to watch' for 2020.  Mindful that we are political independents, here's the working plan for our coverage in the race for 2020.
One will be from the GOP, which at this stage seems to be President of the United States (POTUS) Donald J. Trump.
Another will be those Democrats – narrowing it down to one – who espouse policy positions that may, at some level, have a benefit for our part of the affordable housing industry.
Finally, we will look at independents and minor party candidates. At this point, our eyes are on Howard Schultz, who is carving a unique path for a Democrat floating the possibility of a third-party run for the White House.
Among Democrats, our early look was at Elizabeth Warren, due to one primary issue – her strongly stated antitrust stance. Frankly, some of her policy positions are otherwise harmful for our industry and the nation. Pete Buttigieg looks like he may be getting some fundraising O2 as well, and we will reach out at some point to his campaign if this trajectory continues. Coming from South Bend, Indiana – near the birthplace of manufactured housing – Buttigieg could in theory offer some pluses that other declared Democrats don't.
What follows are pull-quotes from right-of-center Fox Business, that are complimented by videos from left of center Bloomberg and CBS News.  We'll conclude this early campaign snapshot with some points for industry pros and investors to consider.
The latest polling, per Bloomberg, of top possible and accounted candidates are as follows.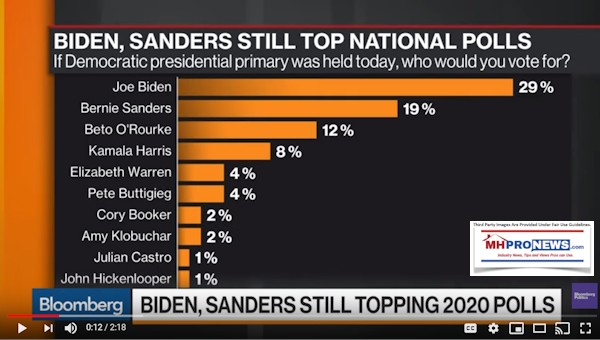 Pete Buttigieg
"South Bend, Indiana Mayor Pete Buttigieg said on Monday that his campaign raised more than $7 million in the first quarter of 2019."  Buttigieg is reportedly an openly homosexual candidate. That's a non-factor to MHProNews politically, but it may be a major party first that could benefit him with segments of the Democratic base.
Francis "Beto" O'Rourke
"Former congressman and 2020 presidential candidate Beto O'Rourke's campaign raised a record-breaking amount in the first 24 hours after his candidacy was announced…O'Rourke received $6.1 million in online contributions, according to his campaign…" He reportedly also has cash on hand from his failed 2018 campaign for the U.S. Senate against Republican Ted Cruz.
Bernie Sanders
"Independent Vermont Sen. Bernie Sanders raised more than $5.9 million in the first full day after he launched his campaign. In less than a week after the declaration of his candidacy, his team said he raised $10 million…" Sanders has perhaps the biggest organizational advantage, given his failed run for the Oval office in 2016 as a Democratic contender.
Kamala Harris
"California Sen. Kamala Harris, who declared her candidacy earlier this year, raised $1.5 million in the 24 hours following her announcement. That included $1 million in the first 12 hours. The average donation was about $37, among 38,000 donors. Harris will not be accepting donations from PACs. Minnesota Sen. Amy Klobuchar raised more than $1 million within the first 48 hours after she launched her campaign, far less than the totals of some of her colleagues."
Amy Klobuchar
"Minnesota Sen. Amy Klobuchar raised more than $1 million within the first 48 hours after she launched her campaign, far less than the totals of some of her colleagues. Klobuchar will also not accept donations from PACs."
Elizabeth Warren
"Massachusetts Sen. Elizabeth Warren's campaign did not publicly disclose how much it raised in the first 24 hours after she declared her candidacy, but according to filings with the Federal Election Commission (FEC), she raised more than $299,000 after announcing that she was forming an exploratory committee. According to Politico, that included more than 8,000 donations on the day that she announced the committee – with an average donation amount of about $37."
The U.S. is Too Far Down the List Among Nation's With the Highest Percentage of Home Ownership 
Once more, our focus will be what's best for citizens, current mobile/manufactured home owners, and the nation.  The graphic below is an indictment of both major parties in the last few decades on this issue.  The American Dream includes home ownership, not merely affordable renting.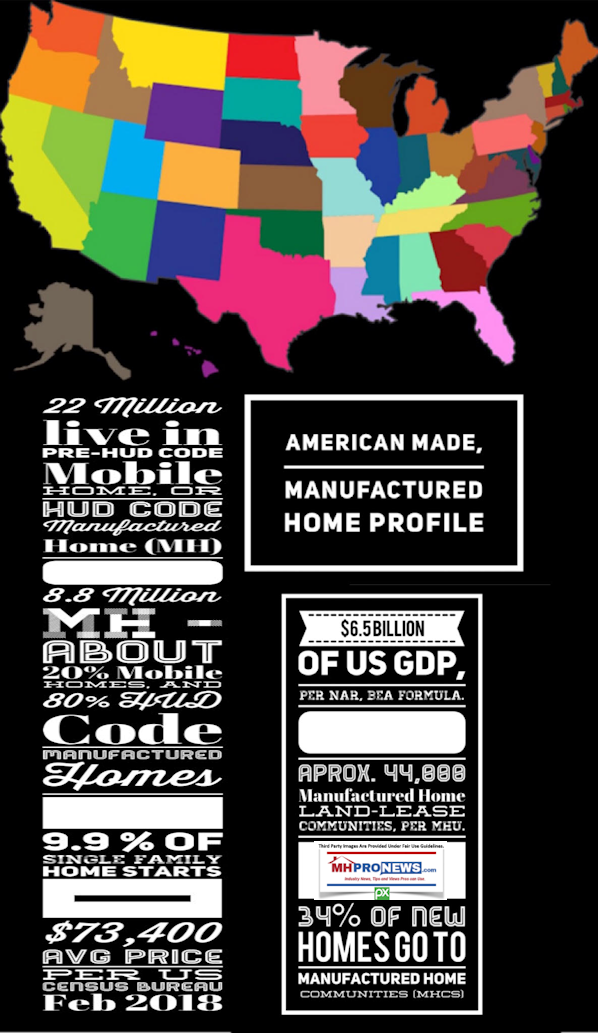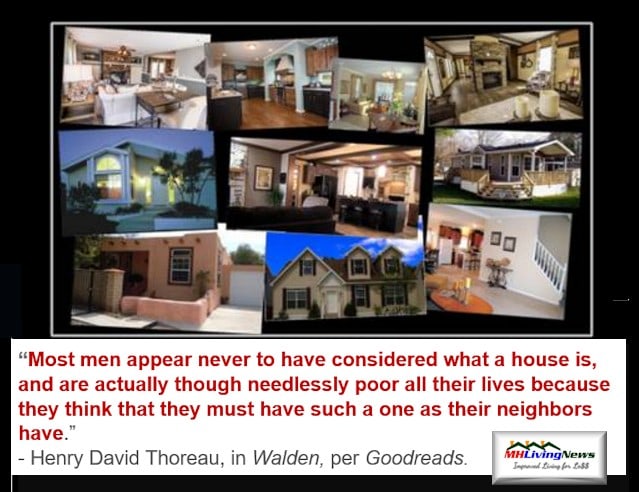 The Industry Rundown at this Time?
Frankly, most of the Democratic field has tended too far left.  Many are pushing unrealistic plans, such as the Green New Deal, or "Medicare for All," which some GOP types of nick-named, "Medicare for None" – because they believe it will rapidly bankrupt the nation.
Warren and Buttigieg will be interesting to watch, but both will need to do something to break out.  Will they pivot to a more business savvy position?  Time will tell.
Among Democrats, the one who is pushing more centrist concepts is Howard Schultz, as he tests the waters for a possible independent run for the White House.  He is uniquely talking more about the dollars and cents of various policies, more so than anyone on the Democratic side.
In 2016, we formally endorsed Donald J. Trump, and overall his blend of typically Democratic and GOP policies that created what in some ways is a unique blend that could well propel him to reelection in 2020. Again, as a disclosure for new readers, this writer had an article published here on MHProNews spotlighted on the Trump 2016 campaign website.
Team Trump clearly valued our trade media's support.  No one else in MHVille trade media even came close to trying, much less being nationally recognized.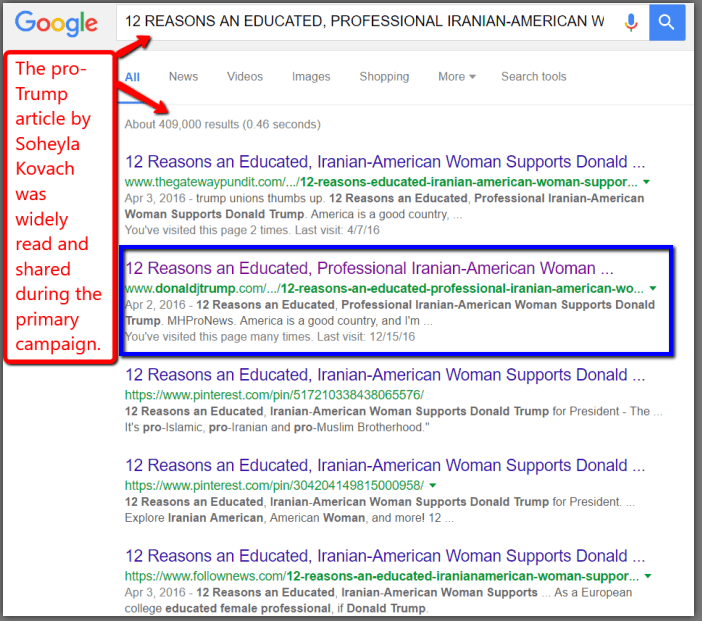 That said, as noted above, we will plan to narrow our picks down to 3 in 2020 as we being to approach the conventions.
The GOP contender we believe has the best policies for the nation and our industry,
A Democrat, with the same criteria, who will offer the best MH and national policies,
And an independent/minor party candidate with the same criteria.
Once the nominees are known, we'll make a final recommendation to our readers at that time.  Will it stay POTUS Trump?  Will it be a third party or Democrat this time around?  You'll know shortly after we decide who looks best – and why – for policy, track record, and other reasons.
Among the issues that we think matter most to the industry? Or to manufactured home owners?  To investors?
Business friendly policies that will grow the economy. The rising tide should float the most boats, especially with the second bullet below taken into account.
Strong anti-trust policies, noting what the top candidates have or plan to do with respect to the FAANGs, Berkshire Hathaway, and Microsoft (#DeFaangBM, #OpenMarkets). For reasons MHProNews and MHLivingNews has outlined before, we believe that it is better for the economy and the industry if the FaangBM companies are broken up under antitrust laws.
Candidates who will enforce good existing laws. Much of what manufactured housing needs are already federal law.  Be it the Duty to Serve (DTS), Enhanced Preemption under the Manufactured Housing Improvement Act of 2000, antitrust, or RICO laws, etc. – they should be enforced.
We'll track the more likely presidential candidates, and later to a lesser extent, some House and Senate races too.
That's how we plan to help you protect your money and interests, as we provide "News through the lens of manufactured homes, and factory-built housing," © where "We Provide, You Decide." © ## (News, analysis, and commentary.)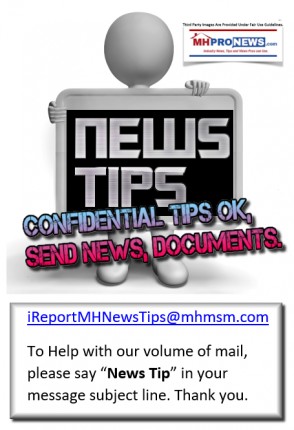 Your link to industry praise for our coverage, is found here.
For the examples of our kudos linked above…plus well over 1,000 positive, public comments, we say – "Thank You for your vote of confidence."
"We Provide, You Decide." © ## (News, analysis and commentary.)
(Image credits and information are as shown above, and when provided by third parties, are shared under fair use guidelines.)
Submitted by Soheyla Kovach to the Daily Business News for MHProNews.com.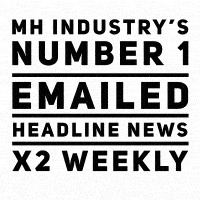 2) To pro-vide a News Tips and/or Commentary, click the link to the left. Please note if comments are on-or-off the record, thank you.
3) Marketing, Web, Video, Consulting, Recruiting and Training Re-sources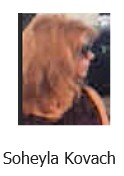 Submitted by Soheyla Kovach to the Daily Business News for MHProNews.com. Soheyla is a managing member of LifeStyle Factory Homes, LLC, the parent company to MHProNews, and MHLivingNews.com.
Related Reports

:
You can

click on the image/text boxes

to learn more about that topic.
For years here on MHLivingNews and our professional sister site, MHProNews, we've worked with a simple premise. Affordable quality living is a non-partisan issue. Rephrased, that means it should be a bipartisan effort to understand and promote the most proven kind of affordable housing that America has ever known.
There's an incongruity stirring in most of the U.S. and Canada. Hundreds of millions think of mobile and manufactured homes as housing built for the poor or lower middle class. Really? Tell that to the celebrities, millionaires, and billionaires who own and love their manufactured and mobile homes. Don't get me wrong.
Preface. Mistakes happen. People can learn from them, or not. Mature adults should ideally not allow themselves to be defined by errors – because everyone has their share of mistakes and ignorance. Rather, people of all ages and backgrounds are better defined by their behavior after an error has been uncovered.
There are few turn-offs that are arguably worse to manufactured home owners and residents than that of 'trailer trash.' First, it is unjust. Second, there have been no mobile homes since June 15, 1976. The 'trailer house' era ended roughly 2 decades before then.
" During my time at MHI, I was often asked the same question, "What must happen for business to return – for manufactured housing to begin growing again? " My stock answer would usually start with 'financing' and end with a general comment about the need to bring 'value' to our customers."
America woke up today to division. But perhaps 75 percent (+/-) of the nation's people could come together on a plan that demonstrably could do the following. Increase the U.S. Gross Domestic Product (GDP) by some $2 Trillion Annually, without new federal spending.
Fear affects decision-making every day. But often, " F.E.A.R." is an acronym for " False Evidence Appearing Real." Our research indicates that the solution to the affordable housing crisis is hiding in plain sight, but fear and prejudice have kept it from being widely embraced.
The scores of Elvis impersonators one can find are the only reminders needed that he is still seen as the 'King of Rock and Roll' today, as he was by millions in years gone by. When you are a star, it seems surprising to people that someone with money and fame would pick a mobile home for their personal use.
Compared with the unregulated mobile/trailer homes of the past, the manufactured homes built after 1976 have a higher level of safety, durability, and quality, and the small fraction of homes damaged during hurricanes attests to their safety and durability." – Scholastica "Gay" D. Cororaton, Certified Business Economist , National Association of Realtors ® (NAR).