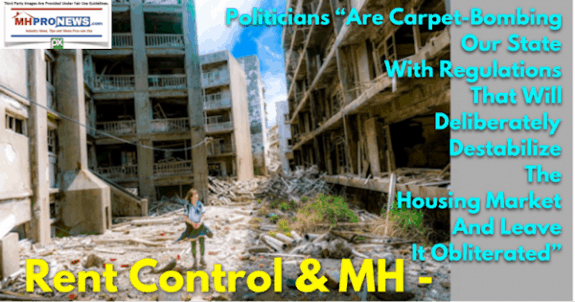 The quotation in the headline is a reaction cited in detail further below to legislation passed in Oregon for statewide rent control. Rent control is often hailed by resident groups in our industry.  The activists at MHAction are just one example of support among manufactured home community (MHC) resident groups.  A search of the Manufactured Housing Institute (MHI) website today under the search phrase "rent control" brought up articles that appeared to have no connection with "rent control," although they did have the word "rent" in numerous articles.
Put differently, on the post-production side of our industry, several resident groups are promoting rent control, and at least visibly, MHI is mostly silent on the issue.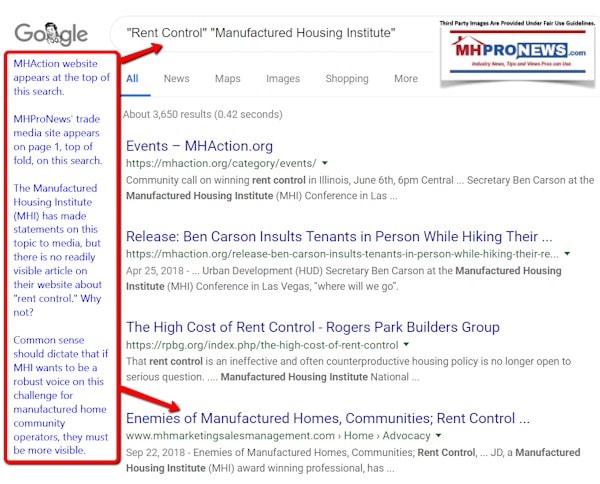 By contrast, MHProNews has spotlighted this troubling topic for several years.  One example is the article linked below.
Enemies of Manufactured Homes, Communities; Rent Control, MHAction, George Soros, Ignorance, & Entropy
For whatever reasons, numbers of voices on the political left are pushing rent control. It should be noted that not only Democrats, but sometimes Republicans flirt with price controls.  During the Nixon Administration, the imposition of wage and price controls was tried and failed.  Rent control has routinely been proven to fail too.

The video below from Canada is balanced report that provides an real-world example of the unexpected problems or so-called "unintended consequences" of rent control on manufactured home communities.  A similar pattern occurs in conventional housing too.

With that introduction, what follows below is an interesting look by the right-of-center Daily Signal's Joel Griffith about the recently passed Oregon rent control bill.  Griffith's column, shared under fair use guidelines and in accordance with the Daily Signal's policies, will be followed by some additional commentary by MHProNews.

Oregon's Proposed Rent Controls Would Shrink Supply of Housing
Oregon just took a big step this week toward becoming the first state in the nation to impose statewide rent controls—a step in the wrong direction.
Senate Bill 608—which has now passed both houses of the Legislative Assembly—limits annual rent increases to the inflation rate plus 7 percent and imposes stringent restrictions on the ability to evict tenants without cause. (It exempts new construction for 15 years.)
A united Republican caucus was joined by only three Democratic House members in opposition when it passed the lower chamber Tuesday. Only one Democrat opposed the legislation when it cleared the state Senate on Feb. 12.
The Willamette Week reported that Gov. Kate Brown, a Democrat, is likely to sign the measure into law.
Unfortunately for Oregon residents, public policy crafted in defiance of economic reality yields poor results, good intentions notwithstanding.
Rent control is the cause celebre of the chief sponsor of the legislation, state Sen. Shemia Fagan, D-Portland. She knocked off incumbent state Sen. Rob Monroe in a Democratic primary last May in part by sharply criticizing his opposition to rent control.
Her win proved instrumental in shifting the entire Democratic caucus to the left on the issue. Her stern message to fellow Democrats: "They need to take a message from my victory. My community is not interested in watering down my victory."
Across Oregon, stringent zoning restrictions, density limitations, and aggressive environmental regulation limit supply of housing while increasing the costs of construction.
Rental costs reflect those realities. Capping rent increases does nothing to make housing less costly to build. But it will have the perverse effect of shrinking future supply by deterring new construction and incentivizing landlords to spend less money on upkeep and remodeling.
With rents capped, demand likely will increase further, but with supply unable to keep up with demand, housing shortages will likely continue.
"Oregon Democrats are carpet-bombing our state with regulations that will deliberately destabilize the housing market and leave it obliterated," said Jonathan Lockwood, a spokesman for a group of Republicans in the Oregon House and Senate. "And in the smoldering remains, they will cry out that Senate Bill 608 wasn't enough."
The legislation also denies landlords the option to give a tenant a one-month "no-cause notice" to vacate a unit after 12 months of tenancy. Ostensibly, the intent of the sponsors is to protect tenants from higher-priced rents elsewhere or the inconvenience of relocating.
Legislators neglected to take note that a no-cause notice is also the best way for a landlord to remove a tenant engaged in harassment of his or her neighbors. In effect, this new prohibition will restrict compliance with Fair Housing Act protections against harassment.
Salem, Oregon, property manager Melodie Atkinson warned in a Feb. 8 op-ed in The Oregonian that "taking away landlords' ability to issue these no-cause notices removes a valuable tool in protecting other tenants from one who has been harassing them or engaging in behavior that falls short of a for-cause eviction."
She added, "Under current law, residents are better protected, and bad actors creating a hostile environment are given ample time to make alternative arrangements."
Criticism of rent control as bad economics is hardly limited to landlords or to free-market conservatives.
As far back as 1965, Gunnar Myrdal, one of the visionaries behind Sweden's welfare state, warned, "Rent control has in certain Western countries constituted, maybe, the worst example of poor planning by governments lacking courage and vision."
Economics professor Assar Lindbeck, Myrdal's fellow Swede, cautioned in 1972, "In many cases rent control appears to be the most efficient technique presently known to destroy a city—except for bombing."
In 1989, communists running Vietnam linked the abject condition of Hanoi's housing directly to rent control. Then-Foreign Minister Nguyen Co Thach said, "The Americans couldn't destroy Hanoi, but we have destroyed our city by very low rents. We realized it was stupid and that we must change policy."
Although the Oregon legislation may score cheap political points, rent control and handcuffing property managers does nothing to solve the affordable housing problem.
It's no surprise that with its already onerous restrictions on landlords, rents in Portland soared 42 percent from 2010 to 2017, more than triple the overall rate of inflation. Now, these ills are likely to adversely affect the rest of the state, too.
By contrast, reforming land-use laws—in effect, increasing supply—would be a big step in the right direction. With increased supply, rental prices could plateau or even decline.
The governor defends land-use regulations as a reason why the state's wine industry thrives. Even if that were true, the unaffordable rental costs would amount to a hidden tax on the general public (many of them working class) in order to allow wealthy vineyard owners to thrive.
Adding new controls will only force renters to live in more dilapidated conditions and preclude additional units from being built.
That's what you might call a Pyrrhic victory for Fagan and her fellow advocates of rent control.
— end of Daily Signal article. —
A Pyrrhic victory is a reference to a classical phrase from ancient history.  It means a win that is so costly, that it may as well have been a defeat or loss.  As Dictionary put it, "This expression alludes to King Pyrrhus of Epirus, who defeated the Romans at Asculum in b.c. 279, but lost his best officers and many of his troops."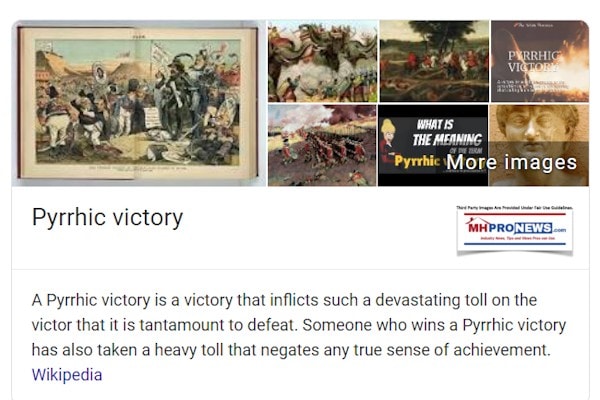 For Democrats or others who promote rent control, however good their intention may be, the results are routinely the same. It turns out badly.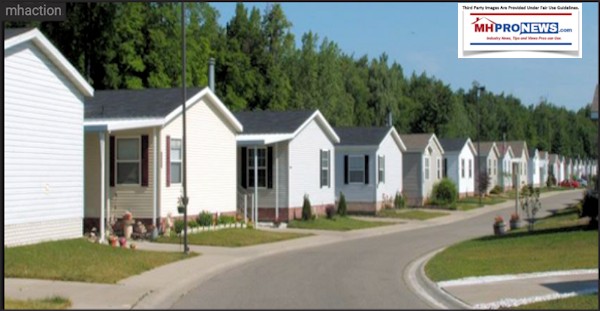 Impact of Rent Control on MH, Other Independents?
But there is another point about rent control that ought to be made. How does it impact independents vs. larger corporations?
As with many burdensome and complex regulations, rent control often forces the 'mom and pop' sized businesses, out of business.  In the manufactured home community sector, that routinely means that larger community operations end up purchasing – often at a discounted value – a manufactured home land-lease property.
Or, it may mean that a community is sold for redevelopment and closed forever as a source of affordable manufactured home living.
Ironically, these are the opposite of the outcomes that left-wing MHAction claims that they want.
MHAction recently torched several of the giants in manufactured home communities via a 'white paper.'  That white paper was spotlighted by the left-of-center Washington Post, see the MHProNews review of that article linked below the byline and notices.
The National Association of Manufactured Housing Community Owners or NAMHCO was formally established in 2018.  A Google search this morning makes it appear that NAMHCO does not have a website yet.  So, it is too soon to see what NAMHCO's posture on this topic might be.
But it is worth noting that Paul Bradley, President of ROCUSA came out against rent control in a letter to the editor here on MHProNews. MHAction, and those like yourselves, are you listening?
Letters to MHProNews from western manufactured home communities trade association executive director, Sheila Dey and another from Sam Landy of UMH Properties, plus others on the rent control topic are also linked further below.
At this time, on this vexing post-production issue, this site is the primary national platform where those who question the value of rent control can come for intellectual support. For pragmatic reasons, independent MHProNews has and will continue to oppose rent control as eventually having the opposite effect that its proponents claim to want to promote.
That's today's "News Through the Lens of Manufactured Homes, and Factory-Built Housing" © where "We Provide, You Decide." © ## (News, analysis, commentary.)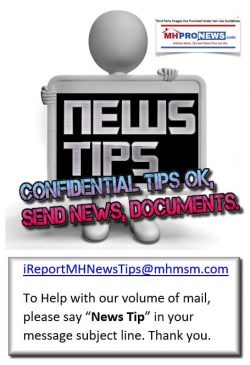 NOTICE: You can get our 'read-hot' industry-leading emailed headline news updates, at this link here. You can join the scores who follow us on Twitter at this link. Connect on LinkedIn here.

NOTICE 2: Readers have periodically reported that they are getting a better experience when reading MHProNews on the Microsoft Edge, or Apple Safari browser than with Google's Chrome browser. Chrome reportedly manipulates the content of a page more than the other two browsers do.
(Related Reports are further below. Third-party images and content are provided under fair use guidelines.)
1) To sign up in seconds for our MH Industry leading emailed news updates, click here.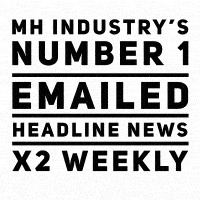 2) To pro-vide a News Tips and/or Commentary, click the link to the left. Please note if comments are on-or-off the record, thank you.
3) Marketing, Web, Video, Consulting, Recruiting and Training Re-sources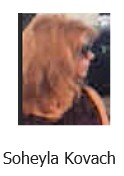 Submitted by Soheyla Kovach to the Daily Business News for MHProNews.com. Soheyla is a managing member of LifeStyle Factory Homes, LLC, the parent company to MHProNews, and MHLivingNews.com.
Related Reports

:
You can

click on the image/text boxes

to learn more about that topic.
https://www.manufacturedhomepronews.com/billion-dollar-empire-made-from-mobile-homes-what-washington-posts-peter-whoriskey-didnt-report/
Tony, I think that you've been fair and balanced on the CFED story. Maybe I've not expressed my vision for MHCs: I am optimistic that Land Lease Communities and Manufactured Housing can be an increasing source of affordable homeownership in the US. A fresh vision for the sector starts with secure land tenure (i.e.
How much sense would it make if your doctor applied a band aid to fix a broken leg? None whatsoever, however, this is how misdirected some prescriptions are to solving California's housing crisis. According to analysts, government imposed regulations and fees are leading contributors to why California is the most expensive place to live in the U.S., placing homeownership out of reach for many middle-class Californians.
The San Jose Mercury News reports that the City of Sunnyvale, California, is paying "special attention" to "rent stabilization" for mobilehome parks as a top priority in 2017. Several points are important to keep in mind. First, rent stabilization is merely a euphemism for price-fixing/rent control.
Tony, The phone rang one morning and a young man returned my call to him, we'd been playing phone tag. I had left a message with his wife in Oregon earlier, and he was calling about two Vermont MH communities I have listed for sale.
Tony, I have a long history with rent control and have thoroughly studied the issue. If you do a manufactured home community with all rental units, I suspect you will never have to deal with rent control.