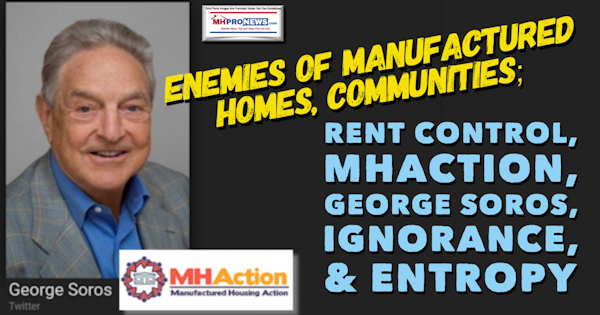 The headline isn't an all-encompassing list of those bulleted items, individuals, or groups that act as opposition or de facto "enemies" which artificially stifle the advancement of manufactured homes, homeowners, and professionals. But they do capture the flavor of important realities confronting the most proven affordable permeant homes built in the U.S. today. Specifically, HUD Code manufactured homes.
Linked reports that document various points herein can be read later for greater depth of understanding on that aspect of this subject.
Fresh Facts, Figures, Future of Affordable Housing -Comparisons- Conventional Site-Built v Mobile/Manufactured Home Industry Data
The Urban Institute, Bloomberg, and the National Association of Realtors have all had stories and reports this year that on the surface are positive and useful in various ways for advancing the truth about manufactured housing.
Bloomberg "New Home for $90,000? Manufactured Housing Is Making a Comeback" Reveals MH Media Challenge
The Urban Institute phrasing of their data and reports particularly merits scrutiny, which their January 2018 study is covered in the related report and the links from it, which are found in the analysis linked below.
Urban Institute Ask for Correction in Analysis of their Manufactured Housing Research, "Follow the Facts," "Follow the Money"
What may appear at first blush to be good news for the industry begs the question that the Urban Institute asked in January 2018. Given the affordable housing crisis, and the fact that manufactured homes are well positioned to address the need, why are so few HUD Code manufactured housing units being built?
Why is manufactured housing under-performing from its historic norms, as this chart from Skyline-Champion reflects?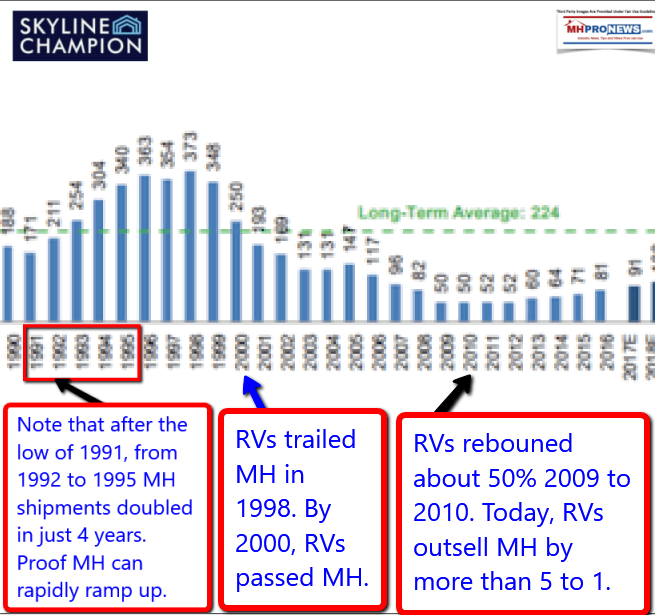 Lawrence Yun, Chief Economist for the National Association of Realtors ® (NAR), says that only by homebuilders getting busy can solve the need for an estimated 8.3 million housing unit shortfall.  Tech gurus say that only factory-based homebuilding will close that gap.  So why aren't the sales of HUD Code manufactured homes (MH) soaring?
Why are RVs – which trailed MH shipments 20 years ago – now outselling MH by some 5 to 1?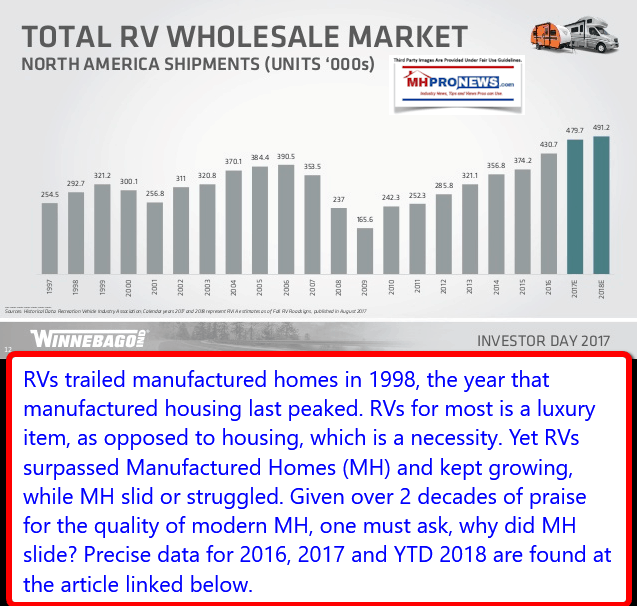 Among the headwinds are individuals, and organizations that by accident or design are behaving in ways contrary to the interests of home owners, home seekers, and most manufactured housing professionals.  That is most notably true for MHVille "independents." As an example,  tent control is an issue that's widely misunderstood, and thus merits careful examination to reveal how it harms home owners, affordable housing seekers, and many businesses too.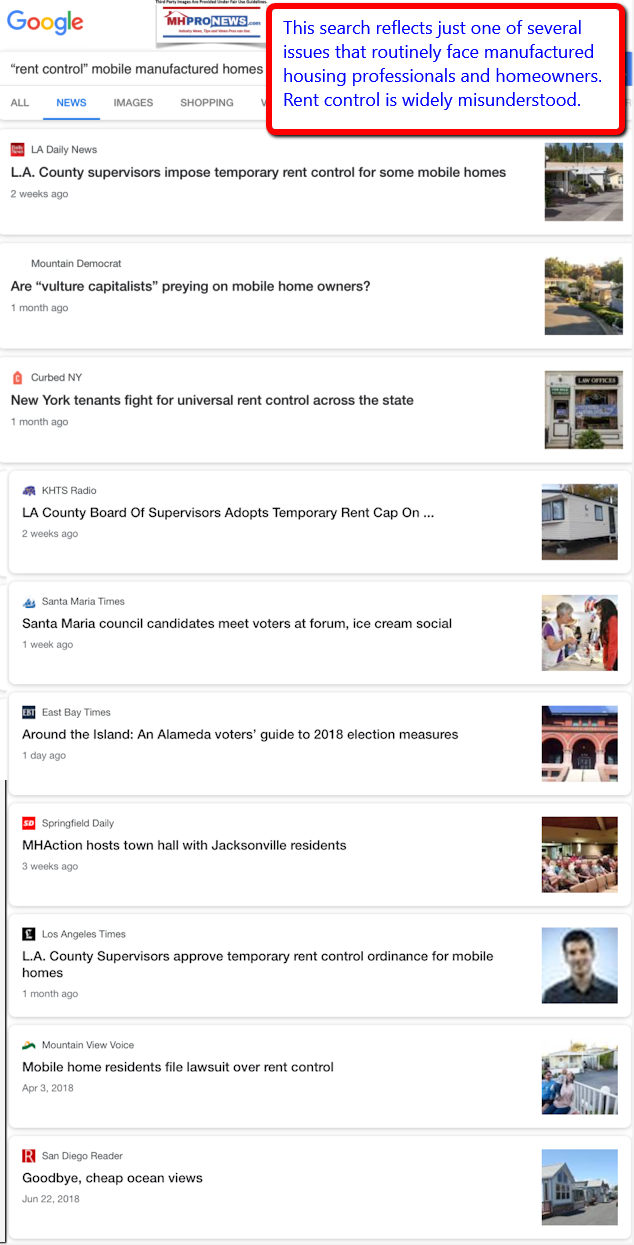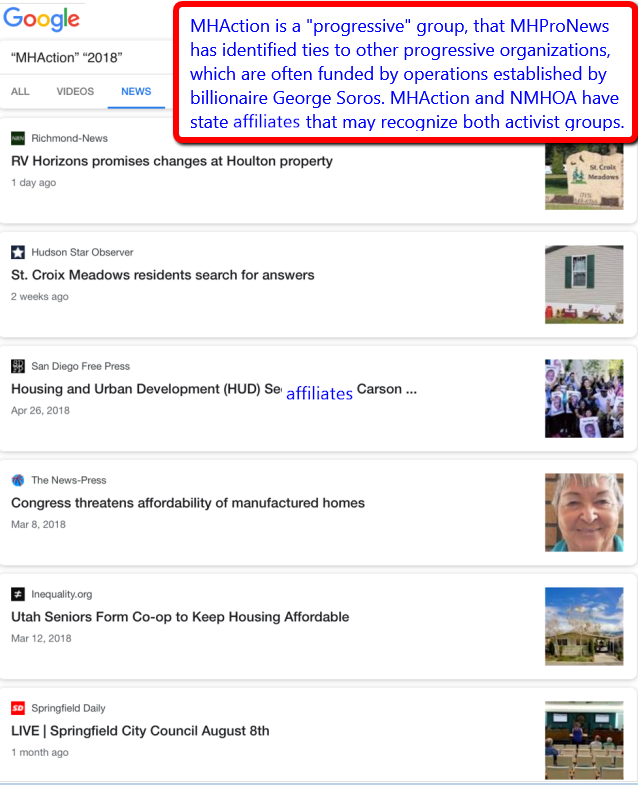 Above and below are some recent headlines, in screen captures from Google and alternative search engine, DuckDuckGo.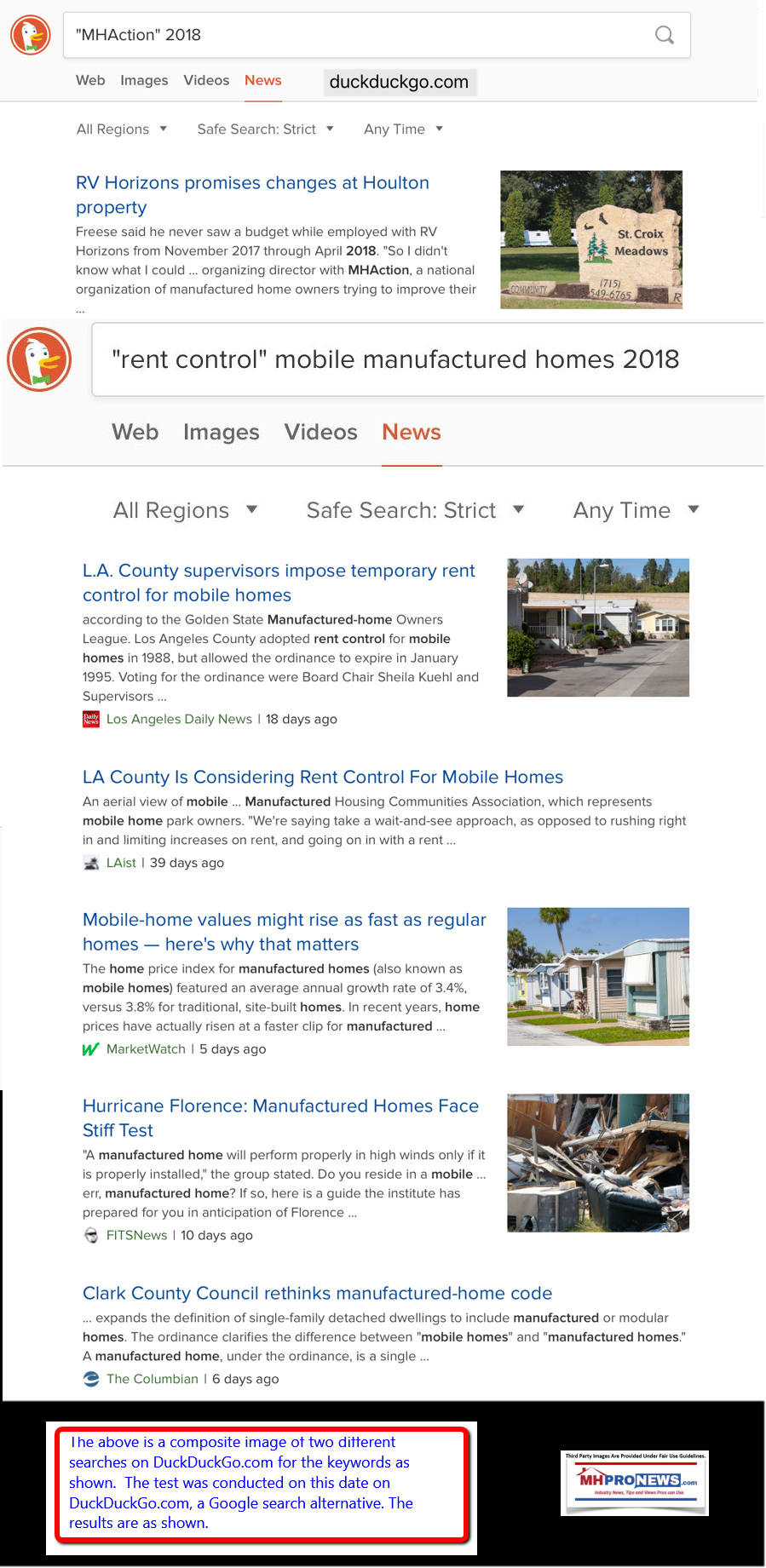 These are examples of what Marty Lavin, JD, a Manufactured Housing Institute (MHI) award winning professional, has called "the [manufactured housing] industry's other image campaign."
There are routinely far more negative stories that fill the news and ether than positive ones.  As MHProNews has uniquely documented for some years, there are positive reports about modern manufactured housing that date back for over 2 decades.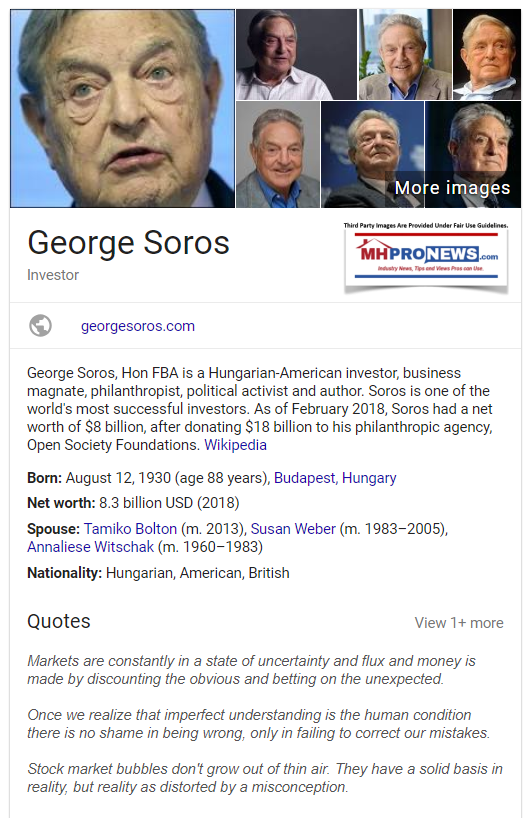 20 years ago, manufactured housing sales were soaring.  Today, they are snoring. While it is true that lending was "loose" 20 years ago, that alone doesn't explain the disparity. Because loan quality doesn't change the reality that there were demonstrably more customers actively seeking manufactured homes.
Demand is a function of news, marketing, education and desire.  This has been proven with client work by MHProNews' related consulting/business development services operations.  In varied local markets, we've demonstrated that sales can soar, given proper adjustments in training, media engagement, and other proprietary methods. When sales can profitably grow by hundreds of percent year-over-year or in a 24 month time-frame, those cases are clear indicators that it can be done by others too.

Logic and geniuses like Albert Einstein alike tell those willing to listen that doing more of the same, will only create a similar result.
It takes effort to change, or as John Bostick – President of Sunshine Homes – keenly observed, "Easy doesn't pay well." Change requires effort, and effort – energy is the antidote to entropy, the status quo, and more of the same.
People like George Soros could, in theory, be 'won over.' But Soros – and billionaires like Tom Steyer, Bill Gates, Jeff Bezos, and Warren Buffett – are demonstrably politically-aligned fellow travelers. They each supported in various ways former President Barack Obama and Secretary Hillary Clinton backed agendas. They've all grown vastly in wealth, while supporting candidates and causes that appear to be contrary to their interests. But when examined closely, big government has helped – not harmed – the wealth of billionaires.
The agendas of those named above – which are out in the open for all to see – have been demonstrably harmful economically to the interests of the vast majority of Americans, including manufactured home owners, and professionals. See related reports, linked below. "We Provide, You Decide." © ## (News, analysis, and commentary.)
(Third-party images and content are provided under fair use guidelines.)
By L.A. "Tony" Kovach – publisher of industry-leading MHProNews.com and MHLivingNews.com.
Tony is the multiple award-winning managing member of LifeStyle Factory Homes, LLC, the parent company to MHProNews, and MHLivingNews.com.
Office 863-213-4090 |Connect on LinkedIn:
http://www.linkedin.com/in/latonykovach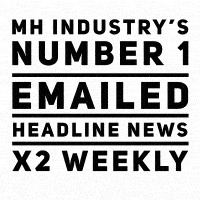 Sign Up Today!
Click here to sign up in 5 seconds for the manufactured home industry's leading – and still growing – emailed headline news updates.
Related References:
President Donald J. Trump Visit to Manufactured Home Community, Video, Hurricane Florence Update
MH Communities, Owners, MH Independents Alert – NMHOA and MHAction Next Steps? – Part 1
We learned from the National Association of Realtors (TM) Certified Business Economist (CBE) Scholastica 'Gay' Cororaton that manufactured homes can and do rise in value. Barry Noffsinger, a regional manager with manufactured home lender, Credit Human Federal Credit Union, told MHProNews that manufactured homes go up and down in value for exactly the same reasons as conventional homes.
"Disastrous," "Uncompetitive" "Takeover" of "Government Sanctioned Monopoly" Blasted in Congress as Bi-Partisan Fix Unveiled
Facebook, Marketing & News – Manufactured Housing Pros, Sarah Miller, 'Citizens Against Monopoly' Sound the Alarm
Wall Street Journal – Tech Giants are Monopolistic Threat to Businesses, U.S. Economy
Affordable Housing Revolt! Amazon's Jeff Bezos Video Responds to "Breakup" Growing Monopoly, and Manufactured Housing
Progressive "Nation" Reports on Monopolies Cites Buffett, Clayton, Others – MH Industry Impact?