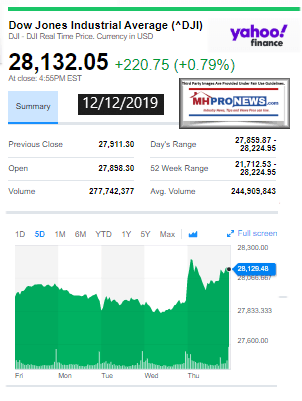 MHProNews has previously noted that a significant part of the supply chain for a number of manufactured housing producers involves Chinese production. There are pros and cons. Wall Street rallied again on the news, despite the fact that this same 'almost done' word has emerged off and on for months on end. That noted, that will be our featured report on this evening.
Longtime readers please note there are a few tweaks to some of the standard portions of our evening market/investing report. Read carefully as some changes of the 'standard text' that follows before our left-right headlines and also in other features near the end of tonight's reports.
Every evening our headlines that follow provide snapshots from two major media outlets on each side of the left-right news spectrum that reflect topics that influence or move investor sentiment. In moments on this business evening report, you can get 'insights-at-a-glance.'
This report also sets the broader context for manufactured housing markets, in keeping with our mantra, "News through the lens of manufactured homes and factory-built housing" ©.
We begin with headlines left-of-center CNN followed by right-of-center Fox Business. We share closing tickers and other related data courtesy of Yahoo Finance, and more. 5 to 10 minutes reading this MHProNews market report every business night could save you 30 minutes to an hour of similar reading or fact-gathering elsewhere.
Perhaps more important, you will get insights about the industry from experts that care, but also dare to challenge the routine narrative that arguably keeps manufactured housing underperforming during an affordable housing crisis.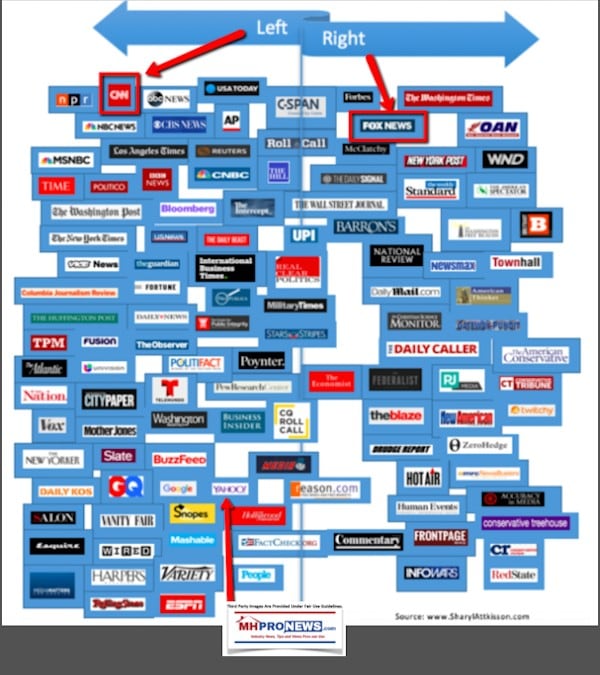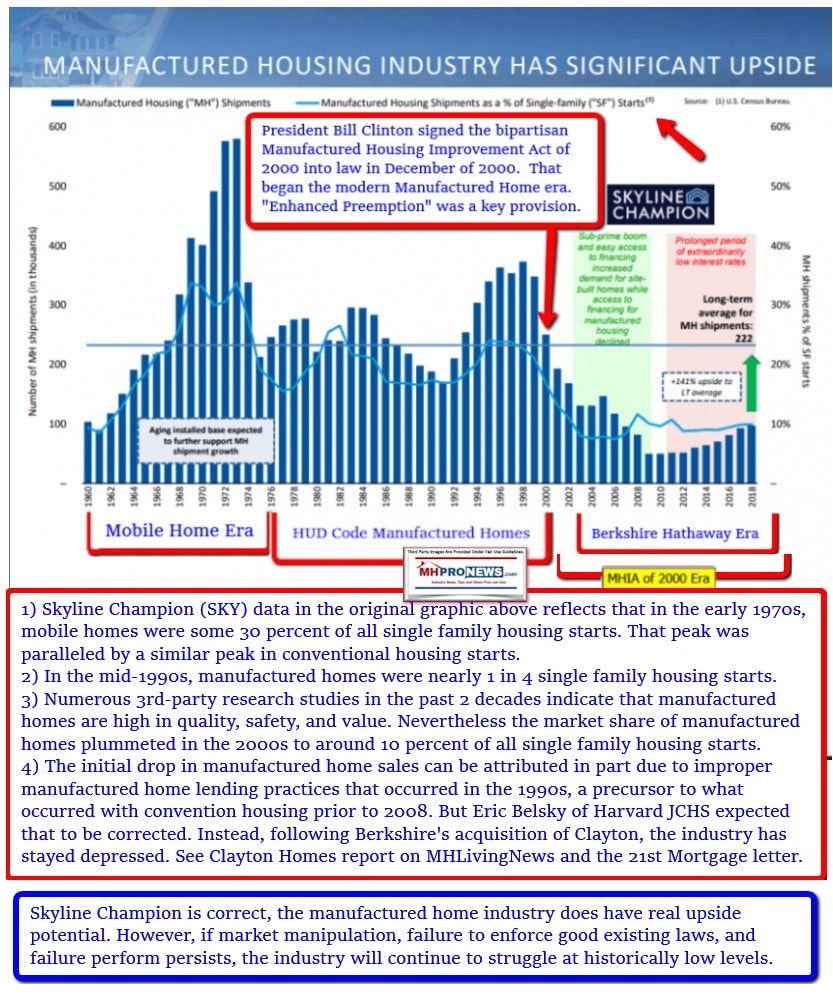 Newsy, Peeling Back Media Bias, Manufactured Housing Sales, Investing, Politics, and You
Headlines from left-of-center CNN Business.
A bad year for unicorns – Uber and other public companies flopped on Wall Street in 2019. Will IPOs rebound in 2020?
Why the Fed may need to slash rates to zero before the end of 2020
The biggest bank you've never heard of
Braves stadium to be renamed after bank no one has heard of
FTC may try to delay Facebook's plan to integrate its apps, Wall Street Journal reports
The number of Americans filing for unemployment benefits is at a two-year high
OPEC's plan to boost oil prices may not work
Priyanka Chopra and Nick Jonas are producing a reality show
He's making a killing selling ugly Christmas sweaters
Europe is sending a robot to clean up space. Why is the junk there in the first place?
Startup raises $28 million to tackle retirement industry
A general view of Saudi Aramco – The world has its first $2 trillion company. But for how long?
Family that owns Krispy Kreme announces $5 million donation to Holocaust survivors
Orangetheory Fitness debuts new Apple Watch connectivity, membership program and innovative apps for coaches and sales associates to further enhance the member experience.
Apple Watch will soon track your Orangetheory workouts
GLOOMY DAYS FOR BOEING – Why you won't fly on a 737 Max again for quite some time
FAA chief: Boeing 737 Max won't be back in the air in 2019
Southwest to share proceeds from Boeing 737 Max agreement with employees
Boeing to fix engines on 7,000 jets
Boeing records first 737 Max orders since grounding
Pepsi's new product has nearly twice as much caffeine as its regular soda
Starbucks opens its biggest store ever
Coca-Cola Energy is coming to the United States
Starbucks doesn't want you to order at its newest store
Coca-Cola thinks Americans are finally ready for Coke with coffee
Headlines from right-of-center Fox Business.
US, China agree to phase one trade deal, source tells FOX Business
The United States and China have completed phase one of a trade deal, a source confirms to FOX Business.
RECORD HIGHS: Nasdaq, S&P 500 soar after US-China reach trade deal
US Chamber of Commerce EVP: China deal brings greater trade certainty
Experts: China trade deal delay would be a risk to US markets
Apple, big tech face key tariff deadline
China trade feels like 'a bit of a ping-pong match' to this Texas farmer
JPMorgan CEO Dimon optimistic about US economy in 2020
Gasparino: Anything that ends US-China trade war is 'positive'
Boris Johnson's Conservatives likely to win majority of Parliament: exit poll
FTC may limit Facebook's actions by seeking injunction amid probe: report
Lawmakers reach agreement on $1.4T government-wide spending bill
Police find recording devices in Hyatt Regency hotel
Top 5 American charities that have raked in the most donations
Why rich Americans are worried about the US economy
American counties with the best (and worst) economic growth
How much Meghan Markle's 'Deal or No Deal' briefcase could be worth
China's pig apocalypse to boost pork, chicken exports around the world
Inflation tsunami will slam US: Peter Schiff
Top 10 housing markets heading into the next decade
What the result of today's UK election may mean for Trump's 2020 chances
USMCA will lead automakers to choose US: Former Ford CEO
McDonald's comes out guns blazing in fried chicken sandwich wars
FAULTY PLAN? Study finds massive failure in Elizabeth Warren's wealth tax
Facebook users offering to help jobless truckers as industry hits very bumpy road
Troy Aikman 'entertained' thought of being GM of this NFL team
'Wall Street Pete' Buttigieg heckled during fundraising swing
Prestigious college accepts Felicity Huffman's daughter in wake of cheating scandal
Lizzo named 'Entertainer of the Year,' but why is she popular?
Varney on impeachment efforts: Democrats must think we're stupid
PG&E invests in weather stations, cameras to monitor wildfires amid bankruptcy turmoil
LA city council making life harder for food vendors
China raises red flag on Boeing's 737 Max rehab attempt
'Grease' leather jacket returned to Olivia Newton-John
GREEN CADDY: GM reveals when all Cadillac vehicles will be electric
Saudi prince realizes vision with massive $2T oil titan
Facebook backs social media 'Supreme Court' with $130M
Tim Hortons signs Wayne Gretzky for ad after 'Gretter' coffee video
Bold new Pepsi promises all the flavor and twice the caffeine of cola
Clinton Portis among NFL players charged in health care fraud scheme
Amazon's bestseller list features Cocaine Santa sweater
Forbes unveils 2019 list of world's most powerful women
Trump turns attention toward Ivanka's project: paid family leave
Agriculture chief Perdue discusses Chinese threat to US farmers
Ryan Reynolds says Peloton actress' performance made him emotional
Subaru CEO predicts record US sales in 2020 despite market slowdown
Ex-Super Bowl champion accused JPMorgan Chase branch of making racially charged remarks
Appeals court to rehear arguments in Trump hotel lawsuit
Oracle takes tech conference out of San Francisco amid homeless, drug crises
Constellation pulls brands from E. & J. Gallo Winery deal
Southwest Airlines, Boeing reach compensation agreement
Ferrari CEO says brand's first all-electric car coming after 2025
Porsche's electric Taycan draws 30K down payments
Millennials, low earners spend more on lottery tickets and other financial vices
Jack in the Box begins search for new CEO
Delta sees strong 2020 profit, revenue on back of strong American consumer
How a decade of culture wars changed TV forever
Tokyo Olympics already set to smash this record
10 Market Indicator Closing Summaries – Yahoo Finance Closing Tickers on MHProNews…

Featured Focus – Where Business, Politics, and Investing Meet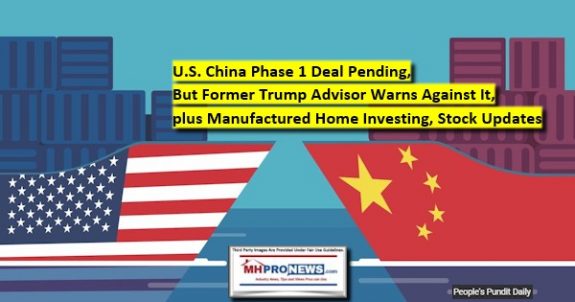 We'll do this featured focus in three sections. First, the bullets and video from left-of-center CNBC. Then, video from Fox Business, which will be accompanied by an Op-Ed by a former Trump advisor who says it is a mistake to do this deal. Finally, there will be some MHProNews analysis with our customary related reports.
CNBC
The Trump administration has reached a trade deal in principle with China, three sources close to the talks told CNBC.
The president met with advisors Thursday afternoon about whether to scrap the next round of tariffs on China.
The Trump administration has offered to eliminate tariffs on Chinese goods set to take effect Sunday and cut some existing duties in half, sources told CNBC.
Christian Whiton: Trump should cancel China trade deal (and raise tariffs) — Here's why
The USA does not need a trade deal with China, and now would be an unfortunate time to throw a lifeline to the Chinese government.
President Trump said last week that it may be better to wait until after his reelection to complete a trade deal with China. As a scheduled increase in tariffs on China approaches on December 15, Trump should stick with this instinct: he doesn't need a deal and shouldn't throw a lifeline to the Chinese Communist Party while it is floundering.
It is increasingly clear that China has reneged on what it agreed in October for a "Phase 1" partial trade deal, just as it reneged on an earlier deal last May.
Beijing promised to buy $50 billion worth of U.S. agricultural goods. But from the moment of the agreement, it was walked back that pledge, implying it will spend much less.
Beijing agreed to protect U.S. intellectual property and threw in a handout for Wall Street by promising easier access to the Chinese market—a joke they have played for at least two centuries on visiting barbarians who imagine they can access China's large population.
China did promulgate a new law that led a spokesman to declare, "Beijing will not discriminate between domestic and foreign enterprises when enforcing its [intellectual property] laws." This is also amusing to those who know history, since China doesn't protect domestic intellectual property either. Also, Beijing has broken many similar promises before, and the law in China isn't even a speed bump to the one-party government doing whatever it pleases.
Indeed, a Chinese scholar recently noted that Beijing has approved 336 reform measures in past years, but he observed, "they are not well-implemented." In other words, the government puts on a show about reform and then cheats.
Beijing insists that any concessions, such as they are, won't begin without the prior removal of tariffs implemented by the Trump administration. But that simply was not what was agreed in October.  Beijing is trying to turn back the clock to before the trade war with make-believe concessions.
Furthermore the concept of a "Phase 1" trade deal was already a concession to China—effectively a skinny deal advocated by Treasury Secretary Steve Mnuchin in lieu of the comprehensive reform in China that Trump has long sought. It won't address most of the "seven deadly sins" of Chinese trade misconduct, which, beyond intellectual property theft, include forced technology transfers in joint ventures, exporting deadly fentanyl to America, cyber attacks, currency manipulation, dumping goods to put U.S. companies out of business, and subsidizing Chinese state-owned enterprises.
One other important factor has changed since October: the U.S. economy, whose stunning growth since Trump's election was needlessly slowed by Federal Reserve incompetence, has begun to roar again. GDP growth in the third quarter was recently revised upward, and unemployment is lower than it has been in 50 years. Wages are growing faster than at any time during the Obama years, and growth is higher still for the middle class.
Meanwhile, China's communist economy is sputtering. Trump has forever shattered the illusion that America couldn't get tough with China on trade because we were somehow beholden to them and vulnerable. The opposite is true.
The trade war has compounded other economic problems in China and contributed to a noticeable downturn. Notwithstanding fake official numbers, GDP growth is probably near zero, debt is out of control, and food prices have spiked.
On top of economic problems, Beijing has also run into political trouble because of its heavy-handedness in Hong Kong, where protesters remind the world what Chinese who have some freedom think of Beijing's tyranny. The crisis there furthermore raises doubts about Chairman Xi Jinping's judgment, political stability in the rest of China, and whether a spasm isn't coming within the ruling Communist Party as bad news compounds.
Put simply, the USA does not need a trade deal with China, and now would be an unfortunate time to throw a lifeline to the Chinese government.
Furthermore, given his strengthening political position, Trump himself doesn't need a deal, and China would be more willing to make a meaningful pact after it is stunned by his increasingly likely reelection. Delaying an agreement until at least 2021 would bring medium-term clarity and certainty to U.S. tariff levels and trade policy, which in turn would benefit U.S. businesses by making planning easier.
In the meantime, the pending U.S.-Mexico-Canada Trade Agreement that will replace NAFTA accounts for twice the trade volume and five times the American exports of any deal with China. Furthermore, the new U.S.-Japan trade agreement that Trump negotiated takes effect on January 1. It will be a major boon to U.S. farmers and ranchers who can export more thanks to reduced tariffs from Japan.
Trump isn't just beating China economically, he is transcending it as a new economic and political world order emerges at this transformational period of time. He should tell Beijing and its duplicitous negotiators to take a hike.
Christian Whiton was a senior advisor in the Donald Trump and George W. Bush administrations.  He is a senior fellow for strategy and public diplomacy at the Center for the National Interest and the author of "Smart Power: Between Diplomacy and War."
###

We've made the point before and will do so again. While there may be political or other expediency reasons for the Trump Administration to do this deal, the entire notion of trade with China was flawed from the outset decades ago. Perhaps the President has some clever ace up his sleeve? That is unknown by the general public.
But generally speaking, U.S.-China trade has been a bipartisan mess.
China and Russia are the two nations which pose the greatest 'existential threat' to the United States. Russia has more nuclear weapons. China has nukes too, the largest military in the world, and is challenging America on both economic and military fronts. It makes no sense on its face to buy products 'made in China,' de facto shipping jobs to that nation, which we in turn must then spend tens of billions more to defend against. Plus, the added social safety net cost that results from trade with China, due to lost jobs, drugs being shipped in – as the Christian Whiton noted – plus spying, cyber and a range of other problematic issues.
It is possible that President Trump has some brilliant strategy or surprising stratagem going. For example, a phase one deal that never becomes a phase two, and once re-elected, he orders U.S. businesses out of China for national security reasons.
But on its face, China and Russia are our two greatest threats. China provides vital support for North Korea. President Trump's unorthodox approach to foreign policy has arguably had several successes. But this one is at this time puzzling. Stay tuned, and see the related reports below for more.
Related Reports:
Hong Kong, China-U.S. Trade, Manufactured Housing Supply Chain, American Policy Disconnects
Chinese & U.S. Stock Scammers, SEC Watchdogs Catching 'Bad Guys,' plus Manufactured Home Investing, Stock Updates
China vs. U.S., Infographic on Chinese Economic Growth, and Manufactured Housing
Senator Rick Scott-China Like Business Partner that Embezzles, Says Don't Buy Chinese – plus Manufactured Home Investing Updates
China's 70th, Bipartisan Stance for Tough New Deal, or No Deal on Trade, Sobering Infographics
Not Just Trade, Steve Bannon Says China Threat to U.S., Western Industrial Democracies, plus, MH Market Updates
Tariffs "…Will Effect Demand," says Kevin Clayton, Answers CNBC's Monopoly Question – Video – plus Manufactured Housing Market Updates
Manufactured Housing Industry Investments Connected Closing Equities Tickers
Some of these firms invest in manufactured housing, or are otherwise connected, but may do other forms of investing or business activities too.
NOTE: The chart below includes the Canadian stock, ECN, which purchased Triad Financial Services, a manufactured home industry lender
NOTE: Drew changed its name and trading symbol at the end of 2016 to Lippert (LCII).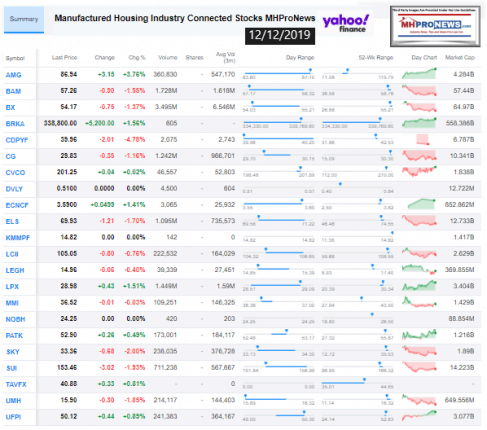 Winter 2019…
Berkshire Hathaway is the parent company to Clayton Homes, 21st Mortgage, Vanderbilt Mortgage and other factory built housing industry suppliers.
· LCI Industries, Patrick, UFPI, and LP each are suppliers to the manufactured housing industry, among others.
· AMG, CG, and TAVFX have investments in manufactured housing related businesses. For insights from third-parties and clients about our publisher, click here.
Enjoy these 'blast from the past' comments.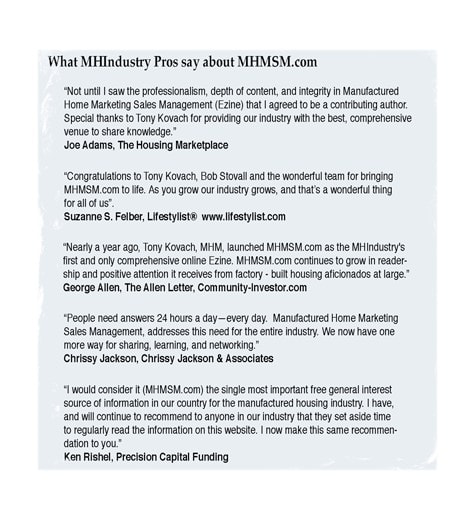 MHProNews. MHProNews – previously a.k.a. MHMSM.com – has now celebrated our tenth anniversary.
Learn more about our evolutionary journey as the industry's leading trade media, at the report linked below.
Celebrating 10 Years of Goal- and Solution-Oriented Manufactured Home Industry Innovation Information, and Inspiration for Industry Professionals
· For expert manufactured housing business development or other professional services, click here.
· To sign up in seconds for our industry leading emailed headline news updates, click here.
Disclosure. MHProNews holds no positions in the stocks in this report.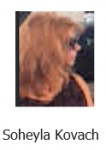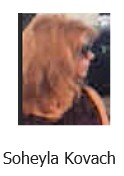 "We Provide, You Decide." © ## (News, analysis and commentary.)
(Image credits and information are as shown above, and when provided by third parties, are shared under fair use guidelines.)
Submitted by Soheyla Kovach, co-managing member of LifeStyle Factory Homes, LLC and co-founder for MHProNews.com, and MHLivingNews.com.

Connect with us on LinkedIn here and here.