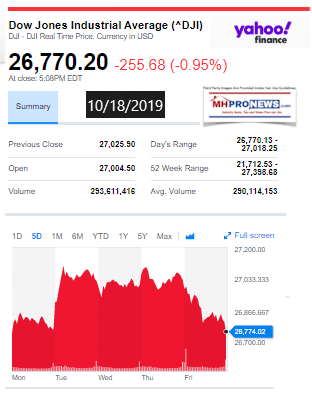 Two centerpieces of the Obama Administration era are under legal challenge. NPR and other media outlets report a challenge to the ACA – the Affordable Care Act, otherwise known as ObamaCare – that is pending before the 5th Circuit Court in the Texas v. Azar case. Texas v. Azar could end up in the Supreme Court. NPR says that the Trump Administration has opted not to defend the law. Of course. He and scores of Republicans campaigned to eliminate it. But the other structure that faces paring, significant change, or possible elimination is the Consumer Financial Protection Bureau (CFPB). Both the of the Obama-era creations have an impact on manufactured housing and consumers, but the later – the CFPB – will be the featured item in our reporting this evening.
Regular readers please note there are a few tweaks to some of the standard portions of our evening market/investing report. Read carefully as some changes of the 'standard text' that follows before our left-right headlines and also in other features near the end of tonight's reports.
Every evening our headlines that follow provide snapshots from two major media outlets on each side of the left-right news spectrum that reflect topics that influence or move investor sentiment. In moments on this business evening report, you can get 'insights-at-a-glance.'
This report also sets the broader context for manufactured housing markets, in keeping with our mantra, "News through the lens of manufactured homes and factory-built housing" ©.
We begin with headlines left-of-center CNN followed by right-of-center Fox Business. We share closing tickers and other related data courtesy of Yahoo Finance, and more. 5 to 10 minutes reading this MHProNews market report every business night could save you 30 minutes to an hour of similar reading or fact-gathering elsewhere.
Perhaps more important, you will get insights about the industry from experts that care, but also dare to challenge the routine narrative that arguably keeps manufactured housing underperforming during an affordable housing crisis.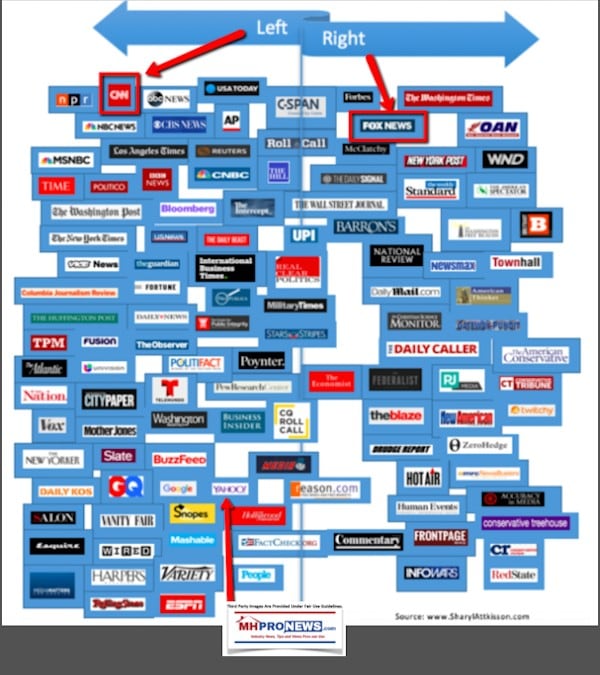 Newsy, Peeling Back Media Bias, Manufactured Housing Sales, Investing, Politics, and You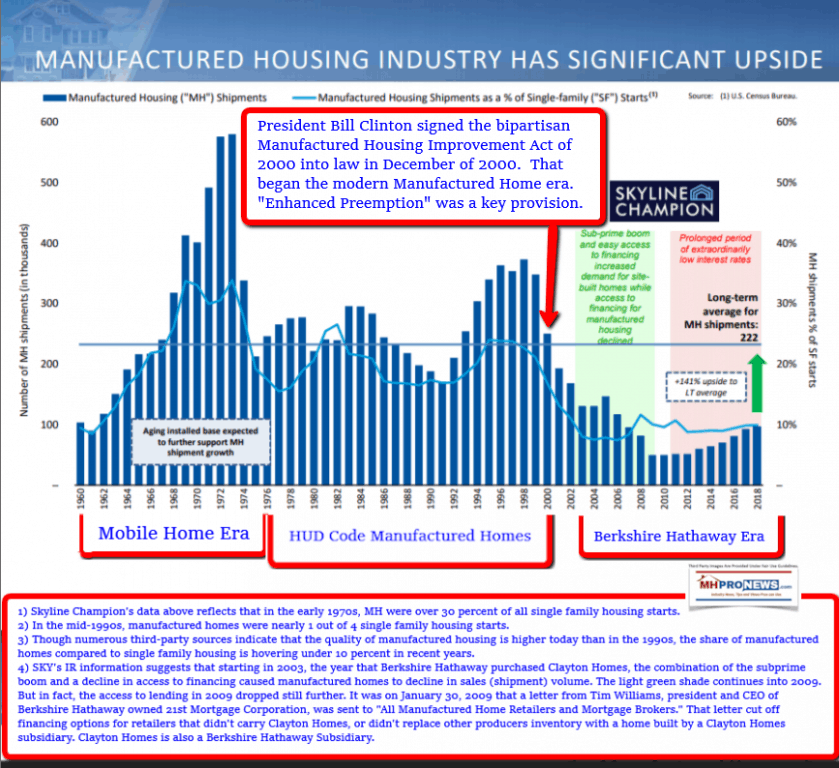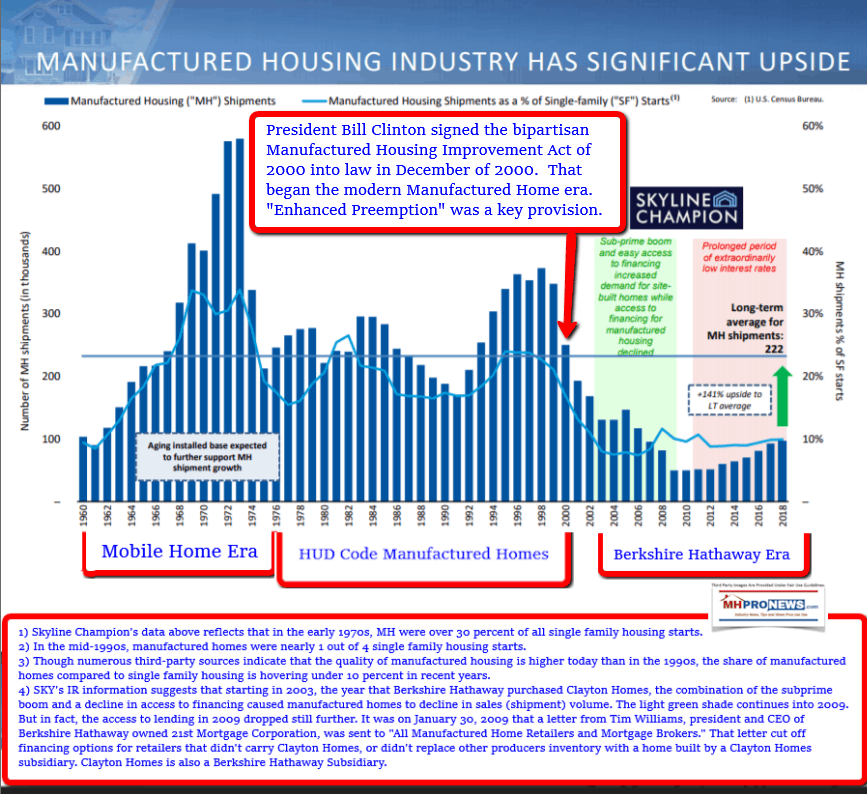 Headlines from left-of-center CNN Business.
Tiny cans, big sales
Coca-Cola downsized its iconic drink — and customers couldn't be happier
We asked a hacker to try and steal our tech reporter's data. She got it in seconds
Dow sinks 250 points as Boeing's stock tanks
Benioff: Facebook must be accountable for fake ads
Opinion: The GM workers' strike probably isn't worth it
Johnson & Johnson stock falls after asbestos found in baby powder
British luxury brands fight to keep US customers as tariffs hit
Boeing's latest 737 Max problems could come at huge cost
World's largest brewer says rival tried to steal its secret Bud Light recipe
Jamie Dimon says Libra will never happen
Swiss banks are charging millionaires to store their money
Shopping Content by CNN Underscored
Beats Solo Pro headphones pack a punch
Apple may launch high-end AirPods Pro later this month
Oracle CEO Mark Hurd has died. He was 62
Google confirms Pixel 4 face unlock works with eyes closed
Samsung: If you own this phone, remove your screen protector now
Android 10 beta rolls out to some Samsung Galaxy phones
Profits fell 56%, but the worst could be over
A rare look inside Samsung's secretive ideas lab
Samsung admits defeat in China's vast smartphone market
CHINA'S ECONOMY
China's economic growth drops to lowest level since 1992
Huawei's smartphone sales and 5G business stay strong despite US hostility
China's answer to the Nasdaq might be starting to fizzle
Oil companies like mine are paying for Trump's trade war with China. It's about to get worse
Full Range Virgin Galactic and Under Armour Spacewear System for Private Astronauts
Virgin Galactic's Under Armour spacesuits
Why this startup is making honeybees smarter
The Made at Google 2019 event saw the release of new consumer products by Google such as the Pixel 4 smartphone.
What you need to know about Google's Pixel 4 smartphone
Fortnite returns after two-day blackout
South Park creators give 'official apology' after reports the show was scrubbed from the Chinese internet
China censors a lot, from Winnie the Pooh to the NBA
These employers don't care when or where you work
Marc Benioff says CEOs must be held more accountable — and pay more taxes, too
It's National Boss's Day. Here's how to have the best relationship with your boss
Why it's good for business to have a woman at the top
Facebook CEO Mark Zuckerberg speaks at Georgetown University, Thursday, Oct. 17, 2019, in Washington. (AP Photo/Nick Wass)
Mark Zuckerberg gives speech depicting Facebook as at the center of struggle for free expression
China says Apple CEO met top regulator in Beijing for a 'deep discussion'
Intel will release data on how much it pays women and employees of color
A live demonstration uses artificial intelligence and facial recognition in dense crowd spatial-temporal technology at the Horizon Robotics exhibit at the Las Vegas Convention Center during CES 2019.
India is trying to build the world's biggest facial recognition system
Mark Hurd, CEO of Oracle, has died at 62
'A little disinformation goes a long way': Inside the whistleblower lawyer's fight against attempts to smear him and his client
Five Disney fans could get $1,000 for binge-watching movies
You can now stay in Barbie's Dreamhouse. No, seriously
BEYOND EARTH – How NASA's Apollo program kicked off Silicon Valley's tech revolution
Jeff Bezos just sold $1.8 billion worth of Amazon stock. Here's why
Bill Nye's experimental spacecraft that sails on sunlight declares mission success
SpaceX's massive Starship prototype lifts off
Drones, apps and smart lockers: The technology transforming healthcare in Africa
Look and feel good: How tech could save the fashion industry
How 'buy now, pay later' companies are getting younger shoppers to use credit
Why robots will soon be picking soft fruits and salad
Headlines from right-of-center Fox Business.
WATCH: JPMorgan CEO says gov. 'controlling companies is socialism'
Hoover Institution Research Fellow Lanhee Chen provides his perspective on JPMorgan CEO Jamie Dimon's speech defending capitalism.
BOEING BOMBSHELL: Concerns over troubled 737 MAX jet go back years
Expert predicts how this big endorsement will impact Bernie Sanders' chances
White House trade guru Peter Navarro predicts how US-China deal will go down
WATCH: Trump touts US' economic superiority over China
HOLY MOLY: How much money these megachurches bring in across the US
WATCH: These female astronauts just made history in space
Meet the former auto exec Trump just nominated to be new energy secretary
Talk show host makes shocking cocaine reveal to audience during show: report
SEE PICS: Bentley CEO unveils 'the fastest sedan in the world'
This exec is latest parent set to plead guilty in college cheating scandal
Alex Rodriguez theorizes about why the Yankees are losing so badly
Varney: Alec Baldwin is 'dead right' about this
Here's how bad 'wedding debt' has gotten for average Americans
Oracle co-CEO Mark Hurd dead at 62
5 key moments from Mark Zuckerberg's exclusive Fox News interview
'South Park' hoping for its streaming rights to head north of $500M
Boeing shares drop on damning report alleging cover-up
Following a sweet dream: This men's magazine editor quit her job to start a bakery
This obscure law could hit your wallet once it gets cold out
WeWork's utter collapse could have a severe downside for NYC real estate
It's a 'dream job': How you can get paid to watch movies
Trump threatens legal action against CNN
AI-powered drone racing may be the next big sport
Google appoints its first chief health officer
Why this NBA star will pay for shooting victim's funeral
Credit Suisse to hit wealthy clients with negative interest charges
Cash is still king in the United States — but for how much longer?
Lori Loughlin allegedly seeking Felicity Huffman's jailhouse tips
New Orleans to explode huge unstable cranes ahead of storm
These TVs fill a whole room and could be the future of home entertainment
WATCH: Mentalist shocks Stuart Varney with mind-reading trick
Airlines over packing planes may present a danger to passengers
Charles Schwab on the silent challenge facing 1 in 7 American kids
EXCLUSIVE: WeWork needs a bailout and they could get one as early as Friday
Here's when the UAW workers will finally get back on the line at GM
10 Market Indicator Closing Summaries – Yahoo Finance Closing Tickers on MHProNews…

Tonight's Business/Market/Political Impact Spotlight –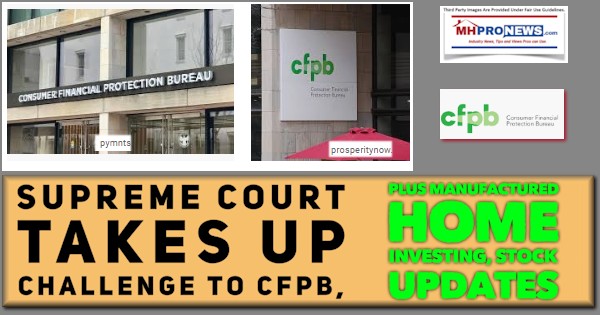 CNBC reported today on the rather curt announcement by the U.S. Supreme Court, found as a download at this link here, that they will take up a constitutional challenge to the Consumer Financial Protection Bureau (CFPB). Here are their topline bullets.
The Supreme Court announces that it will hear a case challenging the constitutionality of the Consumer Financial Protection Bureau, a regulatory agency established in the wake of the 2008 financial crisis.
A decision in the case is likely by the end of June, meaning that the fate of the regulator will be announced in the middle of the 2020 presidential campaign.
That could be particularly significant for Sen. Elizabeth Warren, a consumer advocate whose role in creating the agency has formed a central pillar of her presidential bid.
The name CFPB in manufactured housing ought to be nearly synonymous with the effort to change that law by the Manufactured Housing Institute (MHI), which was dubbed the Preserving Access to Manufactured Housing Act.
Preserving Access became a multiyear effort by MHI, pushed by Berkshire Hathaway brands 21st Mortgage Corp and Clayton Homes. The oddity, in hindsight, was that Warren Buffett favored the CFPB and those candidates that either put it in place or pledged to support the CFPB.
Rephrased, then Tim Williams chair of MHI led that trade group into a fight that was:
After years of efforts, was never successful.
Ended up driving out lenders from the manufactured housing sector, including S. Bank's program, or the lending programs of operations like UMH Properties. UMH is one of the stocks tracked in our evening report, further below.
Our publisher pointed out that the net effect of the battle over Preserving Access was black eyes with consumers as well as wearing out numbers of smaller operations that were hobbled by the regulatory burdens caused by the bill. L. A. 'Tony' Kovach called it a 'Rope-a-Dope' ploy.
What eventually occurred with S. 2155 the industry could have obtained years previously, a factoid that only MHProNews reported.
The effort was ludicrous in hindsight, because MHI's own SVP Jason Boehlert told MHProNews back then that it would not pass. Boehlert proved to be correct.

Tips regarding the entire ugly matter revealed as well what several state association executives told MHProNews. Namely, that they had their arms twisted in order to support the bill that they had little enthusiasm toward.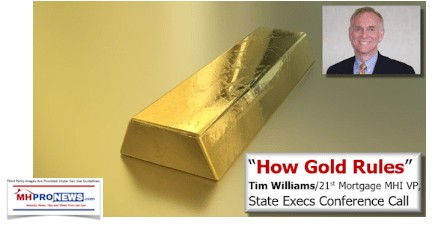 Pro-MHI industry professionals associated cheered the revelations by MHLivingNews that the CFPB and Prosperity Now – at the time known as CFED – had an interesting conflict of interest going.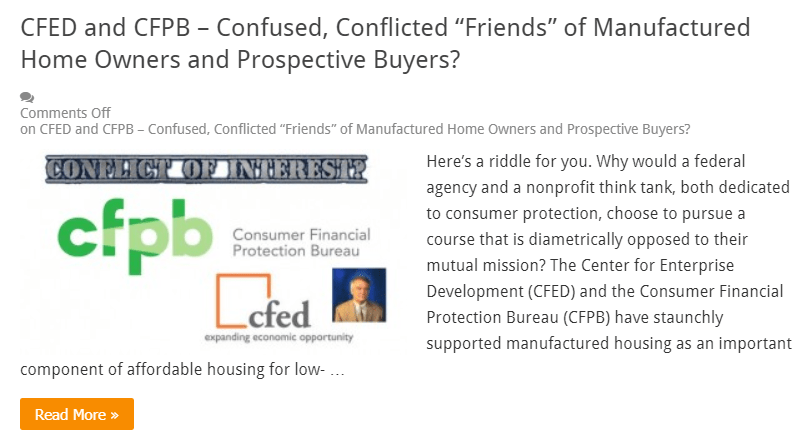 Is there something similar currently afoot with Prosperity Now with respect to the GSEs and their Duty to Serve manufactured housing?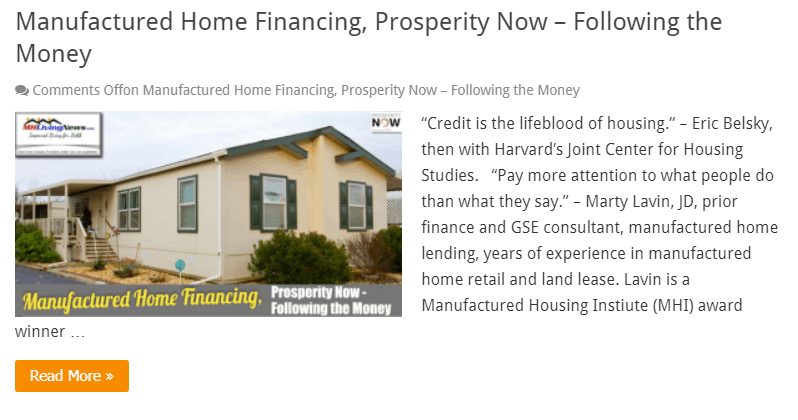 The oddities, contradictions, incompetence – or is it blatant corruption?! – linked between the Manufactured Housing Institute (MHI), Berkshire Hathaway brands Clayton Homes, 21st Mortgage Corp and others in what we call the Omaha-Knoxville-Arlington axis and their allies pops up on a routine basis. Coincidences?
Is the lack of enforcement of MHI's code of ethical conduct also just a blip on the radar?
Frank Rolfe, Impact Communities, Sparking Calls for National Rent Control, Mainstream News, Elected Officials React
Why is manufactured housing underperforming?
Industry investors, SEC, FTC, CFPB, and HUD – possibly others – are reportedly or known to be examining issues related to some of the very firms noted herein. More clues are found under the related reports, a bit further below. Sometimes, where there is smoke, there is fire.
Perhaps the biggest surprise is that plaintiffs attorneys have not yet launched investigations aimed at some of the larger MHI connected firms akin to those that have dogged Cavco Industries 0 another firm we track in our evening report, further below – for much of the last year.
EQUITY ALERT: Levi & Korsinsky – Investigation Possible Fraud by Certain Officers and Directors of Cavco Industries, plus MH Stock Updates
No one in the manufactured home industry trade media connects the dots, cites the sources, and does the evidence-based research like MHProNews. Perhaps that's why we are the runaway number one? Thanks for being one of the many who make that statement true.
Stay tuned.
Related Reports:
Highlights Of Consumer Financial Protection Bureau Director Kathleen Kraninger's First Six Months, What's Next?
Senate Democrats – Including 2020 Presidential Contenders – Ask CFPB Protect Consumers Against Predatory Lenders — Point Finger at Clayton Homes, Berkshire Hathaway Lending
Native American, Racial Minorities in Housing and Manufactured Homes, per FED, Harmed by Lending Practices, Clayton Homes, Berkshire Hathaway Affiliated Lenders Cited
Manufactured Home Communities, Production, Suppliers Investing Alerts – Manufactured Housing Institute
Manufactured Housing Industry Investments Connected Closing Equities Tickers
Some of these firms invest in manufactured housing, or are otherwise connected, but may do other forms of investing or business activities too.
NOTE: The chart below includes the Canadian stock, ECN, which purchased Triad Financial Services, a manufactured home industry lender.
NOTE: Drew changed its name and trading symbol at the end of 2016 to Lippert (LCII).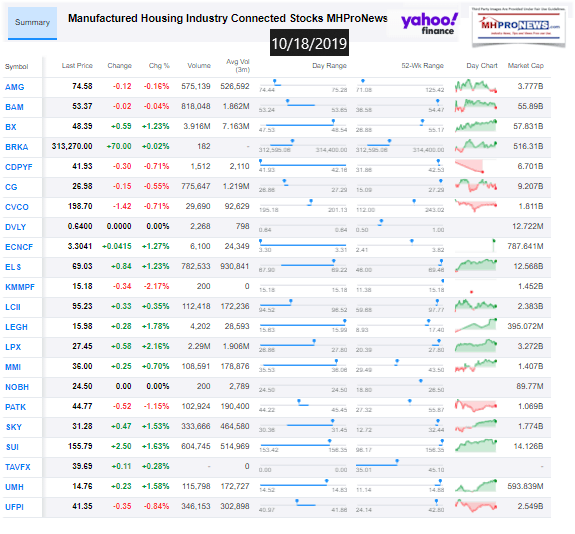 Updated for Fall 2019…
Berkshire Hathaway is the parent company to Clayton Homes, 21st Mortgage, Vanderbilt Mortgage and other factory built housing industry suppliers.
· LCI Industries, Patrick, UFPI, and LP each are suppliers to the manufactured housing industry, among others.
· AMG, CG, and TAVFX have investments in manufactured housing related businesses.
For insights from third-parties and clients about our publisher, click here.
Enjoy these 'blast from the past' comments.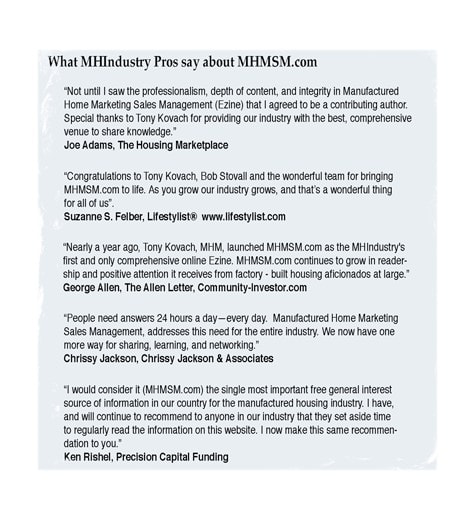 Celebrating 10 Years of Goal- and Solution-Oriented Manufactured Home Industry Innovation Information, and Inspiration for Industry Professionals
· For expert manufactured housing business development or other professional services, click here.
· To sign up in seconds for our industry leading emailed headline news updates, click here.
Disclosure. MHProNews holds no positions in the stocks in this report.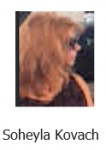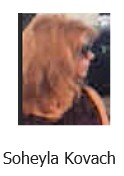 "We Provide, You Decide." © ## (News, analysis and commentary.)
(Image credits and information are as shown above, and when provided by third parties, are shared under fair use guidelines.)
Submitted by Soheyla Kovach, co-managing member of LifeStyle Factory Homes, LLC and co-founder for MHProNews.com, and MHLivingNews.com.