The tragicomedy connected with several leading organizations in manufactured housing is made evident by mainstream media reports like this one by KCRG, an ABC Iowa TV station affiliate. But to tee up the ironies, contradictions – or hypocrisy?! – one needs to step back and look anew at SECO, George Allen, the Manufactured Housing Institute (MHI) code of ethical conduct, and then Frank Rolfe.
George F. Allen (GFA) has recently been 'warning' his readers about the coming threat from national rent control. See that in his own words in the report linked just below.
Comparing Manufactured Home Industry Trade News Claims, MHInsider, MHReview, EducateMHC, George Allen Says "Gaslighting" – What Data, SPJ Reveals
But in stark contrast to that 'warning' by Allen is the fact that Allen and the SECO leaders put Frank Rolfe on their stage to talk about – you can't make this up – the way to effectively communicate with residents and rent control, among other topics.
Here is how pro-MHI 'partner' MHInsider put it.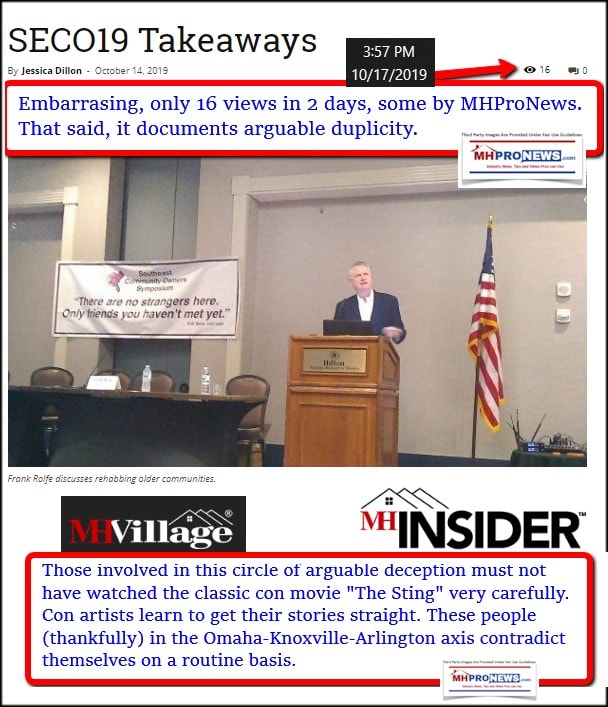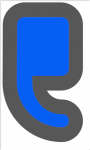 "The final day's events began with a presentation on "The Social and Economic Impacts of Bringing Old Communities Back to Life" by Frank Rolfe of MHU. He provided a detailed explanation of the challenges in revitalizing an older community and considerations for new buyers to be aware of.
Rolfe identified several things that new owners should take note of when assuming ownership of a community. He explained understanding your community's pride-of-ownership, grandfathering, and rent control.
In order to keep tenants up-to-date on current initiatives, Rolfe implored listeners to educate residents on plans for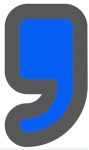 change before updates begin, explaining to listeners that "Sometimes it helps if you tell people what the heck you're doing…"
###
A stunning example of what Native Americans called speaking with a forked tongue?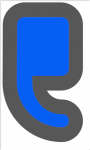 DUBUQUE, Iowa (KCRG) – Residents of a mobile home park are standing up to what they call predatory practices. It's something that's happened at mobile home parks across the state in just the past couple of years.
The Table Mound Mobile Home Park in Dubuque County on October 14, 2019. (Charlie Grant, KCRG) Two years ago, a national company known as Impact Communities – and formerly known as RV Horizons – bought the Table Mound Mobile Home Park in Dubuque County. Since then, residents said their rent has increased and other fees have been introduced.
Karla and Frank Shepherd have lived in Table Mound for 10 years. They moved to the park for a place to retire, and a trailer was appealing to the couple because Frank is disabled. Before Impact Communities bought the Table Mound, Karla says their monthly lot rent was $270. Since Impact bought the park, the Shepherds' rent went up to $420.
"First they started raising the rent and then they started with the water, putting water meters in," Karla said.
Residents said water costs were included in their rents with the previous owner, and now they have to pay.
Residents are worried rents will continue to increase, pushing out seniors, veterans, and other people who are living on fixed incomes. So renters have come together to create a tenants' association to fight the increases. Elected officials have joined the fight, including Dubuque City Councilman Brett Shaw, Dubuque County Supervisors Dave Baker and Ann McDonough, and State Representative Lindsay James.
"We know that when people come together the power of their voice is much stronger and so the hope is this association will be able to push back against the predatory practices of this particular company," James said.
James has met with residents. She said many have already sold their homes or have been evicted due to rent increases. The people who do remain are in an impossible situation, according to James.
"When other people are looking to purchase a mobile home, if the lot rent is too high, then they're not going to purchase in that area," James said. "That puts that resident in a really impossible position."
James has learned that these mobile homes aren't so easy to move.
"Their mobile home is actually not very mobile," James said. "Often if it sits on a lot for a number of years it's too old or it's too expensive to actually get up and move the home to another location."
In addition to helping the residents organize, she also plans to fight for laws that will protect mobile home renters' rights.
"We need to take a look first at the right of first refusal," James said. "That is essentially giving the homeowner an option to purchase their land."
"Rent stabilization is a controversial conversation but I think an important one when we're talking about affordable housing. And that's essentially what would it look like for us to cap a rental rate," James added.
Supervisor Baker said he doesn't like to see county residents being "bullied" by a large corporation. He hopes he and other elected officials will help residents bring awareness to this issue.
"If this was a major employer with 400 and some people and they were closing or let's say cutting their wages in half, there would be rapid response teams and people would be up in arms," Baker said.
The Board of Supervisors hosted a work session on Monday to discuss this issue and get an update from James and other county officials. While the rent hikes are one concern, residents of one portion of the mobile home park are also concerned about water quality. The renters said the water is discolored and has a funny smell, although the Dubuque County Health Department Executive Director Patrice Lambert told the Supervisors the park is compliant with all water tests.
Karla said maybe the water source isn't the issue, but the infrastructure in the park.
"The pipes from the other owner, he used to flush them," Karla said. "Okay [the new owners] do not do that. So the pipes are the problem."
Karla and the other mobile home park residents hope their efforts will lead to change.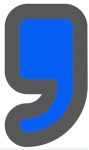 "We do love it here and we love our neighbors and no, we do not want to move," Karla said. "That's why we're trying to fight back."
###
MHProNews has asked Frank Rolfe and Dave Reynolds of Impact Communities, a.k.a. Mobile Home University (MHU) and RV Horizons, to comment or react to the ABC affiliate's report above. The pair repeatedly declined comment.
So, this afternoon, MHProNews asked MHI leadership how their code of ethics policy would be applied in this matter? As of press time, no formal reply, although a confirmation that our message was received was received.  Based upon recent history, it would be a surprise if they reply, even though for years their replies used to be prompt.  Apparently, the fact checks have painted them into a proverbial corner?
National Communities Council of the Manufactured Housing Institute "Code of Ethics," SSK Communities Update, Review
George F. Allen (GFA), who has postured concern about the indeed vexing issue of national rent control has also declined comment, as has other SECO leaders. Is it any wonder that manufactured home shipments are in decline, when key players at MHI reveal that the industry's behavior is often boorish or predatory?
Senator Elizabeth Warren Takes Aim, Blasting Again MHI Member Company in 2020 Campaign Stop
Meanwhile, rent control efforts are advancing in state after state, and discussion of a national rent control efforts are underway. If 2020 Democrats take control of the White House and both chambers of Congress, would it be a surprise if rent control became federal law?
Republican Senator Wants Study of Manufactured Home Communities, Rent Control
MHProNews Analysis
This is just the latest example of how disconnected and self-contradictory or arguably hypocritical the messaging is from MHI, MHInsider, George Allen, apparently Frank Rolfe, and SECO.
Apparently, those various voices in the Omaha-Knoxville-Arlington axis and their surrogates have not yet realized that their own words can be matched up with their own deeds by an MHProNews and/or MHLivingNews fact-check and analysis.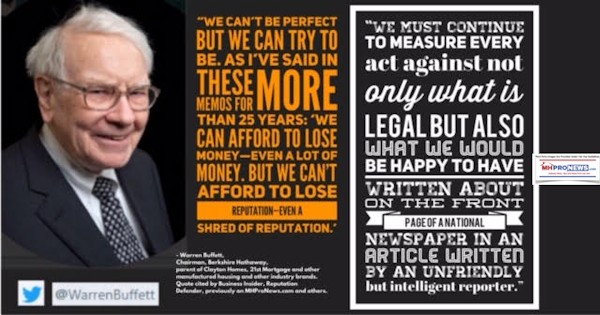 A relentless accountability is what Warren Buffett warned his people against, as well as warning them against swimming naked when the tide goes out.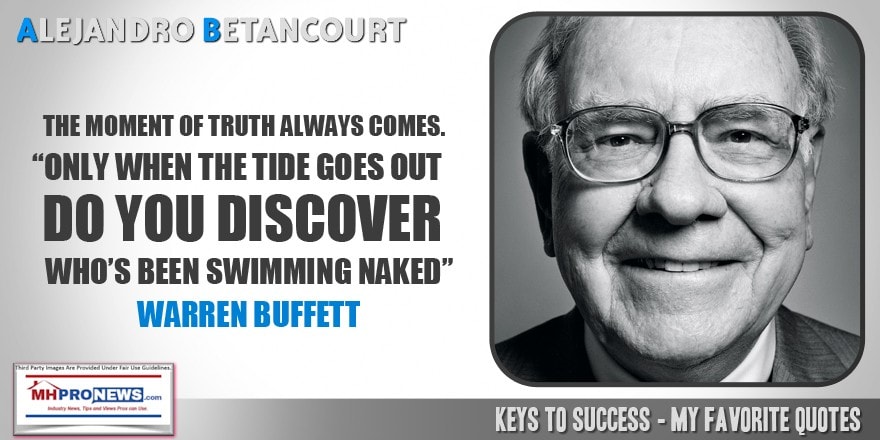 Apparently, the tide has gone out. It is increasingly evident that several MHI connected firms are participating in problematic behavior, knowing that it will spark rent control or other issues.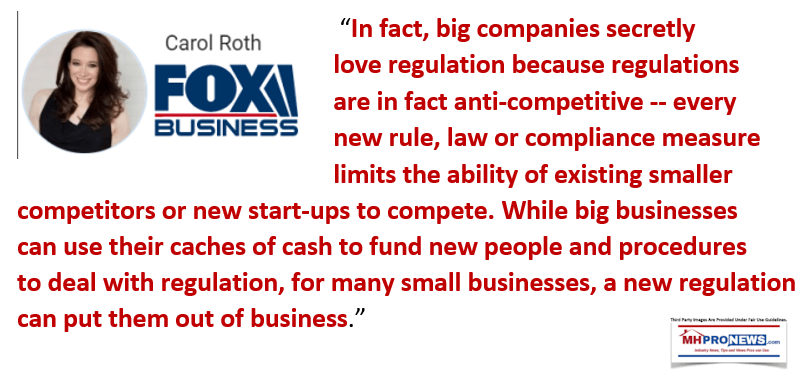 While some may construed a 'free speech' right to lie or deceive, if those deceptions are meant to mislead, harm, or defraud others, that could be considered actionable. If it is a civil or criminal act is an open and valid question.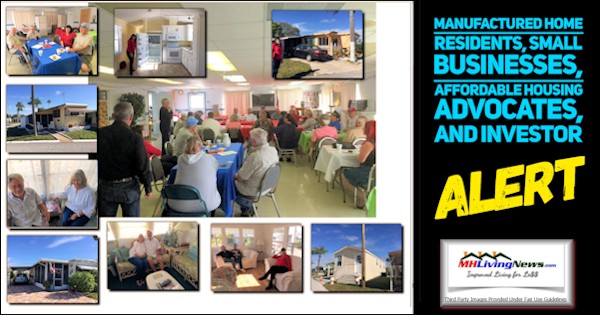 There is a growing body of evidence building against the behavior of the few that makes the many look bad.
Body of Evidence, Federal Trade Commission (FTC), Manufactured Housing Institute Staff, Gaslighting – the Growing Case
See the related reports, linked from text image boxes like the one above, or others further below. That's your final installment today of manufactured home "Industry News, Tips, and Views Pros Can Use," © where "We Provide, You Decide." © ## (News, analysis, periodic entertainment, inspiration, and commentary.)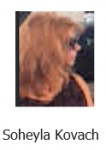 Submitted by Soheyla Kovach for MHProNews.com.
Soheyla is a managing member of LifeStyle Factory Homes, LLC, the parent company to MHProNews, and MHLivingNews.com. Connect with us on LinkedIn here and and here.
Related Reports:
Click the image/text box below to access relevant, related information.
Manufactured Housing Institute 'Studies' Threat of National Rent Control, Allen Shivvies MHI, Berkshire Brands
Will New State Rent Control Laws Conflict With Presidential Affordable Housing Initiatives? Who Has What Agenda?
Rent Controls and Manufactured Housing Restrictions Targeted in New Presidential Executive Order
Panicking Manufactured Home Community Residents Turning to Rent Control Demands
Affordable Housing and the Two Sides of Rent Control, in Two Videos – Pros and Cons
Rent Control & MH – Politicians "Are Carpet-Bombing Our State With Regulations That Will Deliberately Destabilize The Housing Market And Leave It Obliterated"