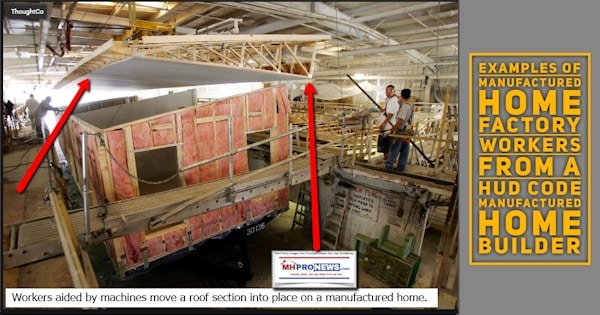 Earlier this week, MHProNews invited 3 factory builders to provide comments on a topic raised by statements reported by CNBC that focused on data and statements by National Association of Realtors (NAR) and National Association of Home Builders (NAHB) executives.
2 HUD Code builders promptly responded. One was an MHI member, another not. Their statements and that report are found linked below. It is a shorter report, and useful for grasping the context of the comments from the third HUD Code builder that follow.
'Perfect Builders' Storm' – CNBC Report – Takeaways for Manufactured Housing Pros, Investors, and Advocates
Okay, some of you have clicked that link and read, or re-read that report. We at MHProNews know a thing or two about human nature. So, if you are one of those that hasn't yet taken a few moments to read that linked report now, once more, please do read the above first before proceeding. Why? Because what follows below will be a far richer experience when those two HUD Code builder perspectives are fresh in mind.
The comments were sent by email. It began with this subject line: "some ideas, but not in any particular order… free thinking." The subheading below was that of the builder. The typing and spacing are as in the original. The blue quote marks are provided by us to make it clear that they are the writer's comments, and not that of MHProNews. That said, this is interesting.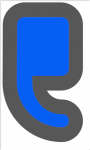 Just an example on our manufactured home worker
Lives in the local community, not a transient; building center work is at the same place not moved from site to site
Pursued proof of American citizenship, E verify
Speaks English, reads English and a tape measure
Speaks one language in the plant environment so that all can communicate quickly; no foreign language allowed
Drug tested, must pass and randomly un announce tested
Many are women workers and minorities
Goes through training of
Code requirements to know what is expected for code
Quality Control training, what is expected of them, how do they know when the work is done properly
Harassment policy and consequence and
How to use equipment and machinery
Safety video and instructions
Lead man and supervisory training, need to understand what those folks do, even if you are starting at a lower level
Benefits acknowledgement
How do they get paid and when
Time clock management
Participates in team building and plant cookouts and or picnics with family from time to time
Bonuses often for employees with great attendance (no absentee)  and time clock disciplines
Often recognition for job well done, bonuses, Tenure increases.. etc..
The beauty of it is that they do not learn one skill, but multiple skills in an area.
Often times will help in other departments when others are absent or behind; cross-trains and improve skills
If any job does not fit or they want a change, the don't leave the job, they move within the plant
The plant worker learns how to work efficiently; materials are staged in reach, not across the plant; they are taught this.
There are also benefits (insurance, 401K)  because they are an employee and not a contractor
Also, they are in a controlled environment; not outside 24/7
Work is 50 weeks with 2 weeks vacation, regardless of the weather; some days you don't work on the site; work uninterrupted in the building center
Often it is work until that day's job is done, not knock off at 5:00 PM as on  a site job; this also works sometimes to leave early if that day's production is met, all sections in station, etc…
Plant efficiencies will yield 11% to 15% labor versus inefficient 30% on site;
we are not lower price due to the materials, we are lower priced because of efficiencies.
Efficiencies… tools do not get stolen; maintenance dept. keeps tools running… they do work faster and produce more $ product per man hour.
These are just a few thoughts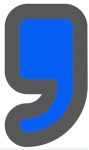 I am sure there are some good site built companies, but all building center work is geared to long term and continuous
Hope this helps.
###
Indeed, it does. Our thanks to all three builders for taking some time and sharing their unique perspectives with our readers. This one was clearly the most in depth. But all three statements brought useful points of information forward.
Manufactured housing has a great story to tell. Thousands of manufactured home professionals know that, but to a number, the above will be new insights.  Thousands will have been familiar with some of what this article and the prior one linked again here for convenience reveals. But many have never been in a manufactured home plant, or have never considered the nuances and details that the above revealed.
It is worth mentioning, not as a slam, but as a point of fact, that none of these 3 writers are working for a Clayton Homes TruMH plant. That is relevant when a building materials discussion is raised.
MHProNews Analysis and Takeaways?
The industry is not performing due to quality or value of the product. Some of the reason that manufactured homes ought to be soaring instead of snoring are summarized in the comments of each of those three HUD Code builders.
When one looks at the infographic below, and ponders the incredible value, it begs the question, why is manufactured housing underperforming? Read the data below as if you are doing so for the first time.

If you were an outsider looking in, and that information – which is hard data and keen insights by those who know – one might ask, why can't the industry be building 500,000 new HUD Code manufactured homes today instead of under 100,000 new manufactured homes likely to be shipped in 2019, a dismal performance once again?
No Matter How You Dance or Prance…
There are all kinds of head fakes, red herrings, gaslighting, or whatever one may wish to call it underway inside manufactured housing. These don't just harm the industry's professionals and investors. They harm manufactured home owners, taxpayers, and the general public too. As several reports this week and the prior week have begun to make clear, the powers that be in manufactured housing – along with their mouthpieces – are posturing one thing in our industry, but the realities are often quite different.
Trade associations like the Manufactured Housing Institute (MHI) know that membership renewal time is rapidly approaching. They want to razzle dazzle independents or those who could quit their associations into not doing so. Notice that "Frank and Dave" as well as George Allen have encouraged their readers to be a member of a state association? In doing so, they may quite deliberately dis-respect MHI. Hold that thought.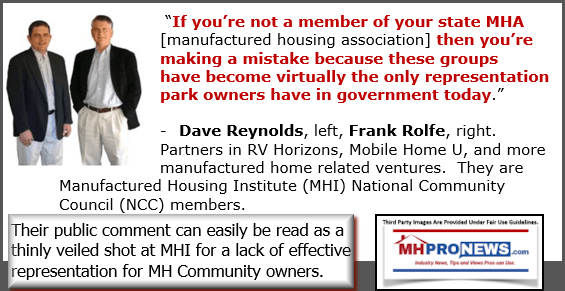 Why does that matter? It is simple, and summed up by Danny Ghorbani's comment, below.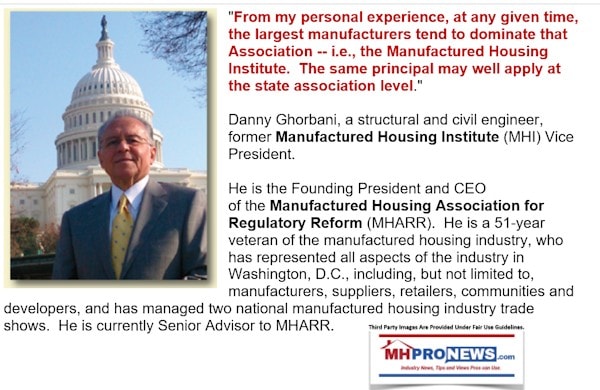 A look at the MHI board of directors reveals several positions held by state association executives. This is a shift that has slowly emerged. For years, sources reminded us, that it was companies that were on the MHI board, not other associations.
The industry is underperforming. The latest data reminds us of that stark, and uncomfortable reality.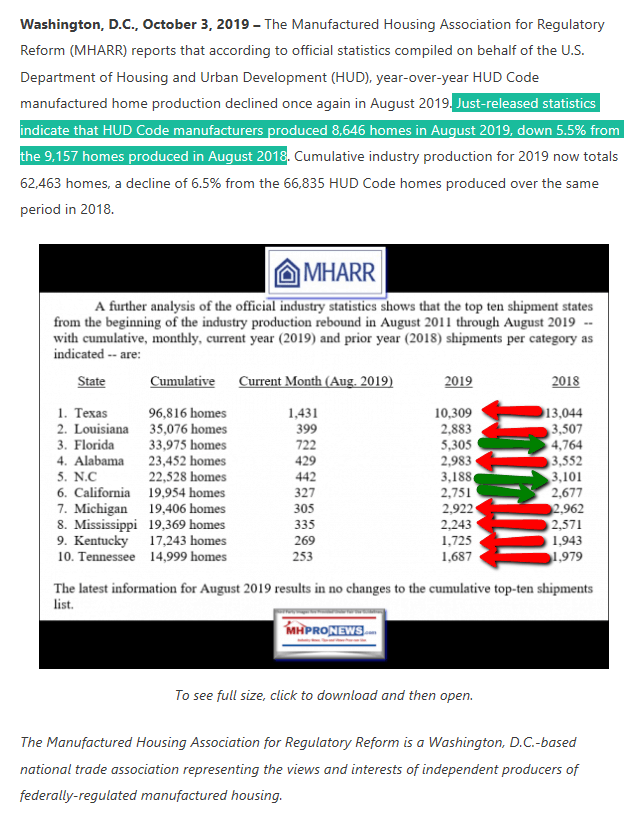 MHProNews and our sister site alone has done scoured third-party research to discover that Zillow documented the decline in interest in manufactured housing from the home seeking public.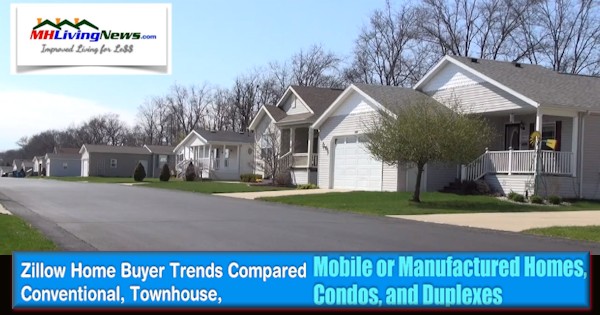 Once more, that decline in interest is an issue not only to the industry's independents and investors, but also to manufactured homeowners, an estimated 111 million renters, taxpayers, and the general public. Let's note that quoting "Frank and Dave" isn't an endorsement, rather it is to reflect precisely what they said on a relevant point.  They are arguably part of the bevy of problems facing the industry, including, but not limited to, the ticking time bomb that arguments like Frank Rolfe's outlined in depth in the report below reflect.  Much of what the industry's 'insiders' are doing could be construed as harmful to the interests of potentially millions of current home owners, and also for potential ones.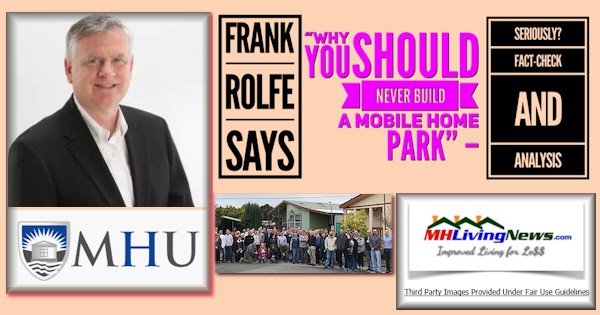 How so? If interest in manufactured homes declines, that harms resale values. If the availability of new home sites is artificially limited, that impacts valuations in a fashion that also threatens vulnerable residents, while harming HUD Code manufactured home builders who don't have their own communities to sell into.
Much like the availability of financing impacts a home's value – along with location, condition of the unit, local market conditions, and so on – demand and supply impacts values on individuals homes, communities, the sales price of a production or retail center, and so on. Artificially limiting the industry thus logically harms those in it who don't have the deepest pockets.
Rephrased, from within the industry, there are those who hold a high degree of responsibility for the current low ebb of manufactured housing. It would be an overstatement to claim that it is solely Warren Buffett and Berkshire Hathaway owned brands that are at the heart of this problem. But to ignore his and that operation's role in the industry's underperformance and weaponization is to miss the bigger picture reality.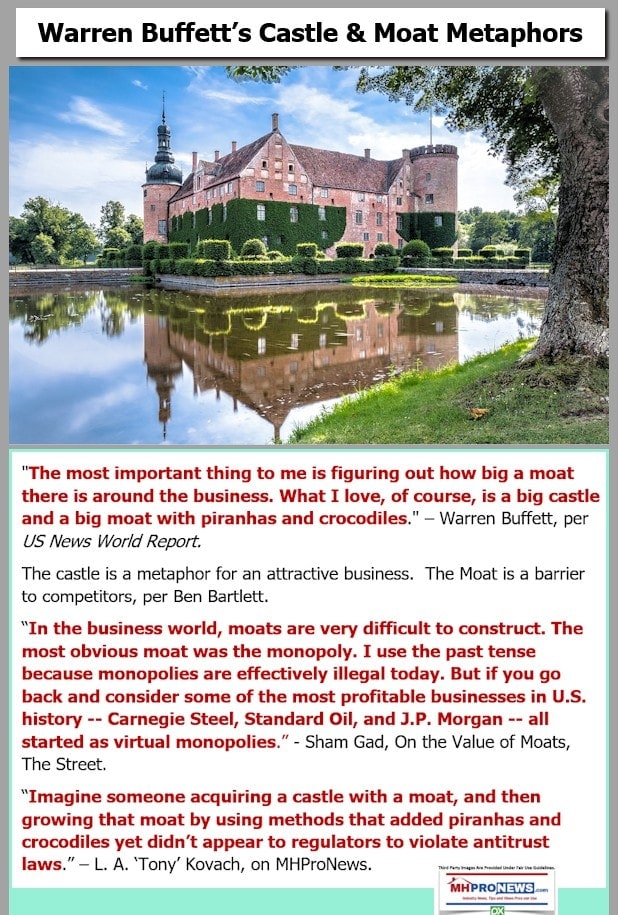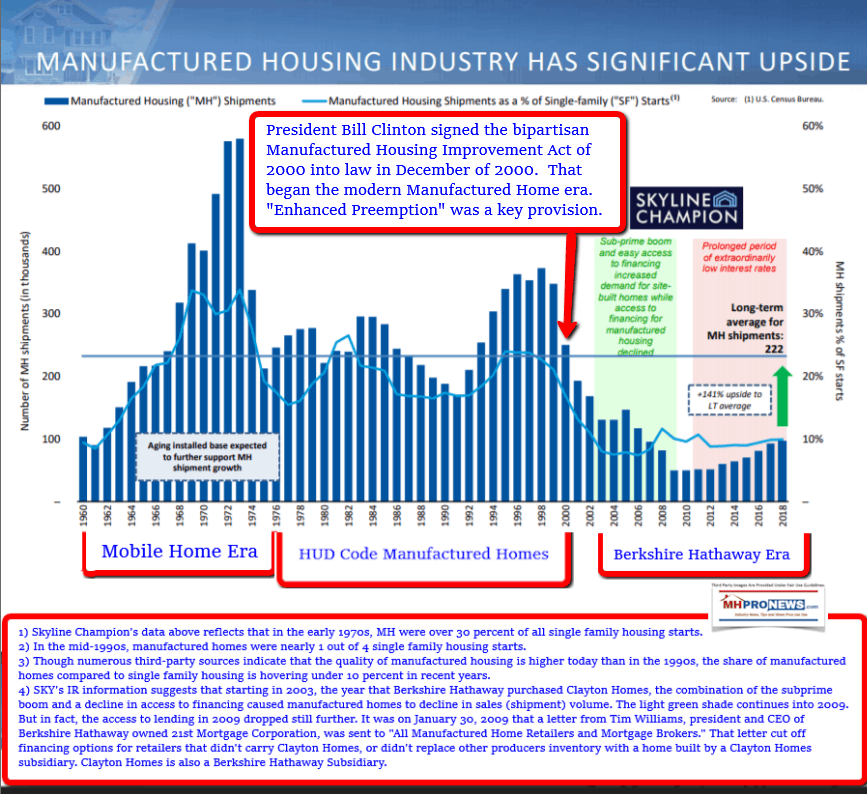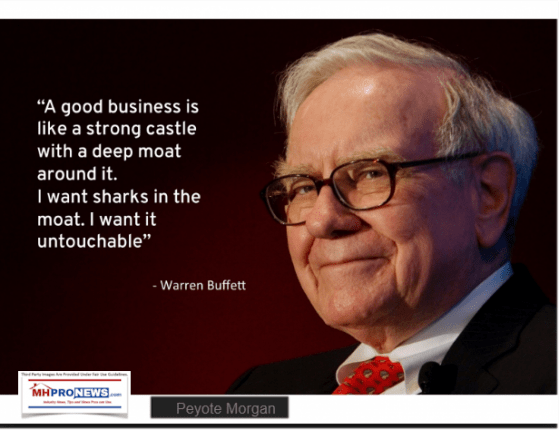 The MHI rival Manufactured Housing Association for Regulatory Reform (MHARR) decided years ago that a stubborn insistence on facts and evidence is necessary in order to foil MHI efforts that may run contrary to the interests of independents. But as we've reviewed, there are voices inside MHI that point at their own association's role in the matter. We'll pick but four, two of which were MHI chairmen at the times their comments were made. We routinely stress that even among 'black hat' operations, there are white hat firms and people too. The most useful principle we have found to sift through what is an isn't useful is the ancient principle of separating the wheat from the chaff.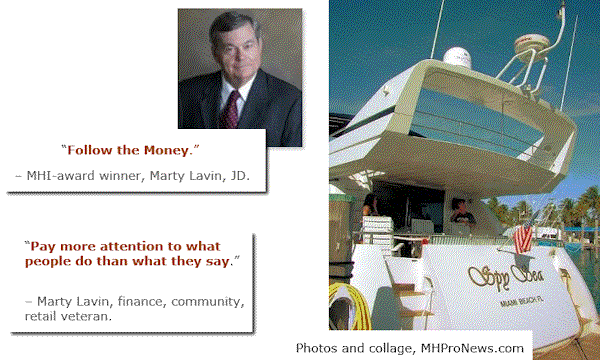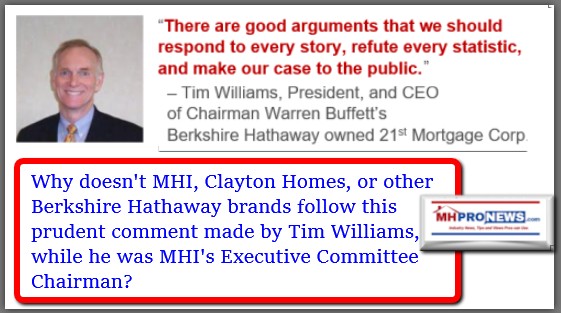 Note that this video interview with Nathan Smith was done while L. A. 'Tony' Kovach was still involved with MHI, and prior to the class action suit and other problems that later emerged that is noted below.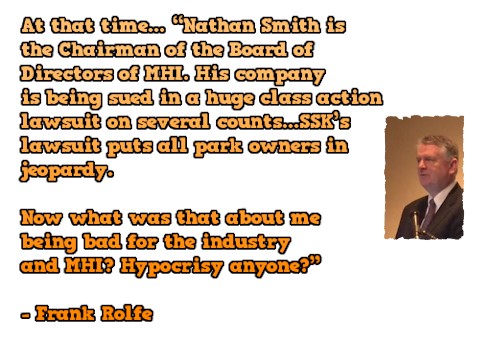 We are perhaps the most transparent organization in MHVille trade media. No one that cross links and references more hard data, no one cites more sources that can then be vetted by readers, and no one even comes close to following the SPJ Code of Ethical conduct more than MHProNews. That said, we do hold some things closer to the vest. We put most of our agenda out there for the industry to see and digest in an un-coded, intelligible fashion.
There are a variety of misleading, dishonest, or improper talking points that have reportedly been spread by top MHI staff, George Allen, MHInsider, and others relative to our pro-growth platforms. That claim also begs questions. But objective readers need not look beyond the obvious evidence of our high degree of transparency, praise from many of the same people who now dis-us, plus the point that with 10 years and the largest professional audience in the industry for over 9 of the last 10 years.  It all serves to question those claim they want to advance the industry, while they keep leading numbers of independents down blind alleys.  One must grasp and understand the possible motivations of those who cast unjustified dispersions against those who reveal their agenda.
Body of Evidence, Federal Trade Commission (FTC), Manufactured Housing Institute Staff, Gaslighting – the Growing Case
What is that agenda of the Omaha-Knoxville-Arlington axis, their allies and surrogates? In the short term, consolidation at a discounted value, as the Buffett/Moat infographic above reflects.
One need not look beyond the then stunning, but now revealing comment made by outgoing MHI President, Richard 'Dick' Jennison, to grasp that this is not new. It was a truth hiding in plain sight.
Last points for today. Top level people in the industry are okay with telling us useful insights, off the record. 4 years ago, almost every comment that came in to MHProNews was on the record. As our peeling back of the onion of what the real causes of underperformance were, the numbers of those willing to speak out under their own name dipped. That too speaks volumes.
Fear within the industry is alone a good cause, along with the other elements noted in related reports that follow, for a federal and/or state RICO investigations of certain 'big boy' manufactured home operations. Some federal investigations are already known to be underway, but the reality is that there needs to be more of them.  Why should it be a surprise that those being investigated for malfeasances would try to duck, dodge or distract from their own problematic behaviors? Put differently, consider the sources and motivations of who says what and why.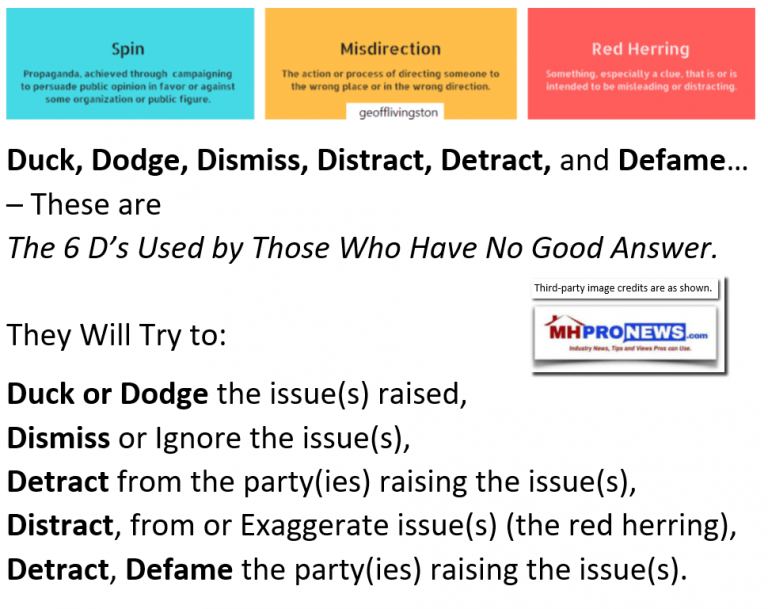 The industry is a necessary part of the affordable housing solution.  Democratic and Republican lawmakers have agreed on that point.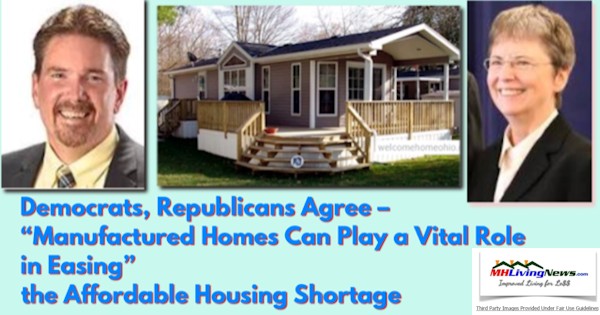 What is missing is are the true sources for the issues that harm homeowners, ethical independents, investors who may not realize all that is occurring in the industry and why, plus public officials who have good reason to see more affordable housing come online.
There is always more to come, and more related reports to read on MHProNews. This is your first look today at manufactured housing industry "News, Tips, and Views Pros Can Use," © where "We Provide, You Decide." © ## (News, analysis, and commentary.)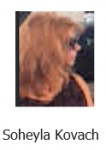 Submitted by Soheyla Kovach for MHProNews.com.
Soheyla is a managing member of LifeStyle Factory Homes, LLC, the parent company to MHProNews, and MHLivingNews.com. Connect with us on LinkedIn here and and here.
Related Reports:
Click the image/text box below to access relevant, related information.
Frank Rolfe, Impact Communities, Sparking Calls for National Rent Control, Mainstream News, Elected Officials React
Are Democrats Right to Call for the Breakup of Corporate Giants? Amazon, FAANG, Berkshire Hathaway, Microsoft and Manufactured Housing
Manufactured Housing Institute EVP Lesli Gooch, Industry Progress in Her Words, Manufactured Housing Improvement Act, and Enhanced Preemption
President Trump's New Executive Orders Vindicate Longstanding MHARR Arguments, Says Manufactured Housing Association for Regulatory Reform
Paul Barretto, Sr. Manager Fannie Mae, Manufactured Housing Initiatives, FHFA Lobbying Regulations, Duty to Serve, and Manufactured Housing Institute