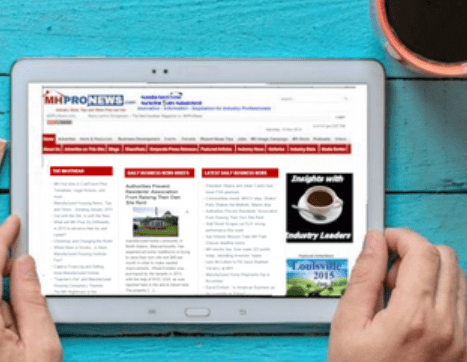 What's New in public focused Manufactured HomeLivingNews.com
What Others Say about Sunshine Homes, Manufactured/Modular Homebuilder
Tragedy and Triumph – Widow shares her Celebration of Manufactured Home
What's New in Manufactured Housing Industry Professional News
Tunica was tremendous, say attendees. Proposal would merge Fannie, Freddie. MHC to receive free wastewater system. Government impact on housing costs heard in Congress. Terrorism creates uncertainty. Ex-cons building modular homes. Sun acquires Carefree Communities, sets public offering to pay tab. Modular development in Fla. Keys. Zeman closes on three communities. MHC expansion approved in Minn. Trump support strong in MHCs. And much, much more in notions, news and views from factory-built housing around the globe.
Saturday, March 26, 2016
Proposal would Merge the GSEs, Ensuring Credit Access for Affordable Housing Initiatives
Friday, March 25
Thursday, March 24
Wednesday, March 23
HELP Act Designed to Expand Lending Opportunities in Rural Areas
"Phenomenal," "Best Show in Years" 2016 Tunica Show Flash Report
Zeman's $9 Million Loan Acquires three MHCs in Michigan
MHC Owner wants Rent Hike in order to Sell Community
Sun Communities Raising Funds to Pay for Carefree Acquisition
For Profit Hires Ex-Cons to Build Modular Homes
Tuesday, March 22
Insider Trading at MH-related Firms
Sun Acquires Carefree Communities
Sun Communities Advances 3.95 Percent
Investment Writer Touts Financial Performance of MHCs
City Council Approves MHC Expansion in Minnesota
Monday, March 21
Feb. Existing Home Sales Drop, Falling -17.1% in Northeast
Deer Valley Stock Worth the Risk
After Rising 72.5%, Deer Valley Falls 11.59%
Trump Support Strong among Manufactured Home Residents
Frank Rolfe, Dick Moore's Bob Crawford! MH Lenders! SuperCharged MH Marketing+Sales! Tuesday in Tunica!
Shares of UMH Properties Hit New High
Sunday Morning Recap-Manufactured Housing Industry News March 13-March 20, 2016 ##
(Photo credit: MHProNews)

Article submitted by Matthew J. Silver to Daily Business News-MHProNews.