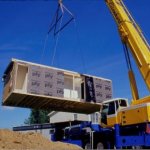 As MHProNews last reported March 10, 2016, Zeta Communities of Sacramento, Calif. was partnering with non-profit BRIDGE to build an affordable modular apartment building in San Leandro, the first of its kind in the Bay Area.
The apartments were set to be available to people who earn half of the median income in the area. So far, 18,000 applications have been received, underscoring the fact that a new home in the Bay Area can cost $700,000 to $800,000.
Now, however, according to bizjournals, green builder Zeta shuttered its factory in McClellan Park in Sacramento Tue., March 22, laying off 122 employees, notifying the state employment office that the closing was permanent. It's unknown whether the company is still operating, as neither officials from Zeta nor from McClellan Park were allegedly available for comment. The company leases 91,000 square feet at McClellan. ##
(Photo credit: Excel Homes–modular two-story being sited)

Article submitted by Matthew J. Silver to Daily Business News-MHProNews.