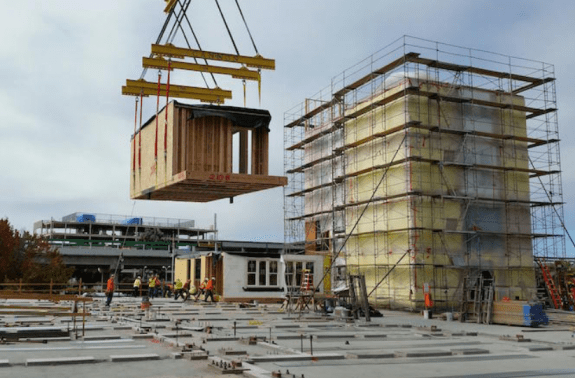 With the cost in San Francisco to build a new home running around $700,000 to $800,000, thereby pricing many middle-income and working class people out of the market, one company has begun building modular apartment buildings.
BRIDGE is a non-profit developer, and as such can receive government funding and tax credits to built affordable housing, and it is partnering with the Zeta factory in Sacramento to build the modules, as kalw.org informs MHProNews.
Howard Koenig, ZETA's CEO, said, "I actually believe that we are a central solution to the affordable housing crisis." He has seen a lot of modular builders come and go, often put off by banks that are reluctant to finance something unfamiliar.
"Real estate, we're a conservative industry, we move slow," says Adhi Nagraj, director of development at BRIDGE housing. However, he said, "We felt like there were enough case studies of smaller modular projects that we could jump in and take the risks." The two firms are partnering on an affordable development in San Leandro, the first of its kind in the Bay Area.
While developer Patrick Kennedy says, "There's a large graveyard of bankrupt developers that pursued (modular)," he acknowledges the concept has a bright future but it is now in its infancy and mistakes are bound to happen. "When modular projects go wrong, they go wrong in a very big way and usually a very expensive way," he says.
Meanwhile, the San Leandro project is moving forward for people who make half of the median income in the area. The housing will be home to families earning $40,000 a year. So far, 18,000 people have applied to live in this new development, which translates into thousands and thousands of residents in the Bay Area who continue to seek affordable housing. ##
(Photo credit: kalw.org–modular apartment building in San Leandro, Calif.)

Article submitted by Matthew J. Silver to Daily Business News-MHProNews.