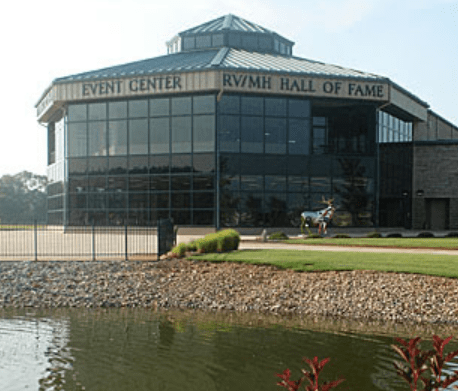 The ongoing campaign challenge to eliminate the remaining $2 million debt of the RV/MH Hall of Fame and Museum, pitting the MH industry against the RV industry, with a goal of $1 million each, reveals the manufactured home industry is way ahead, $674,750 to $132,500.
Chairman and president of the Hall Darryl Searer announced the updated totals from the campaign that began 18 months ago, when Clayton Homes CEO Kevin Clayton proposed the challenge with a contribution of $200,000 over five years. He asked others in the MH industry to pitch in, and many responded, including Joseph Stegmayer, CEO of Cavco Industries who donated $50,000.
Searer's efforts during his four years as volunteer head of the Hall has resulted in the reduction of the organization's debt from $5.5 million to $1.2 million, taking up the challenge when few thought the Hall could survive.
Noting that the RV industry has fully recovered from the Recession and now "the RV business is booming," Searer said, "I believe that the RV/MH Hall of Fame and Museum is a shining light for our two industries and belongs to everyone related to these two industries. We each should be proud of our beautiful facility, our history and heritage that it represents–proud enough to financially contribute to its continuing legacy."
Thanking the board of directors, volunteers and others in the industry for their support, Searer stated when the final $1,192,750 is paid, the Hall will be self sufficient. "Income from museum admissions, gift shop sales and hosting many events at our Northern Indiana Event Center will provide the funds to operate in the black. In addition, the board of directors passed a resolution that requires any new major project or addition to our facilities will not begin until it is fully funded."
He added, ""What we need is for a few more 'angels' on the RV side to step up." ##
(Photo credit: RV/MH Hall of Fame and Museum)

Article submitted by Matthew J. Silver to Daily Business News-MHProNews.