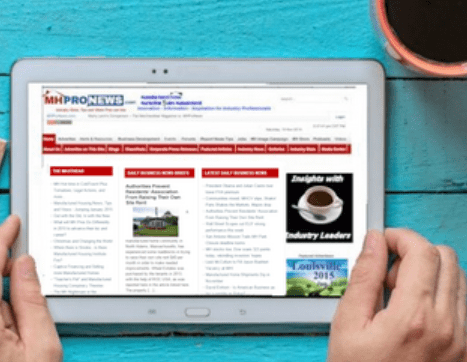 What's New in public focused Manufactured HomeLivingNews.com
Surprising Solution, Roadblocks to U.S. Affordable Housing Crisis
What's New in Manufactured Housing Industry Professional News
Manufactured home communities sell in VA, FL and MN. MHI insists GSEs make individual chattel loans. Letter to editor compliments MH. Community fined for violating Fair Housing Act. MHI's Jennison, CFPB's Cordray agree on MH loan regs. MH picked to house homeless. Deer Valley stock spikes. Fiberboard nixed for MH skirting. Memphis Blues MHC to open in June. MN provides loans to rehab MH. Habitat for Humanity involves residents in rehabbing MH. City seeks to screen MHCs. Much, much more in notions, news and views from factory-built housing around the globe.
Saturday, March 19, 2016
MHI Raps FHFA's Duty to Serve Rule for not Aiding Individual Homebuyers
Friday, March 18
Drew Industries Declares Quarterly Cash Dividend
MHC Owner Fined for Discriminatory Practices at his Community
MHCV Finishes Week just below 2,000; Dow Gains 120 Points
South Carolina City Amends MH-related Ordinance
New York State Emerson Poll reveals Shift of electorate about Trump, Cruz and Clinton in Primary Contests
Thursday, March 17
Quality of Manufactured Homes Praised by Letter to the Editor
MHI's Dick Jennison, CFPB's Richard Cordray on Manufactured Home Loan Regulations
Deer Valley Skyrockets +72.50 Percent
Manufactured Homes Chosen to House Homeless
Commissioners Reject Cement Fiberboard for MH Skirting
Builder Confidence for Single-family Homes Remains at 58
Wednesday, March 16
Minnesota Housing Providing Loans to Rehab Manufactured Homes
Skyline Gains 9.32%, MHCV Moves up 1.97%
Institutional Investors Increase Stake in Cavco Industries
New Staff Appointments at Franklin Homes
Marcus & Millichap Arrange Sale of Florida MH Communities
Tuesday, March 15
Habitat Program will Involve Residents in Updating their Manufactured Home Community
Deer Valley Plummets -42.03 percent
Memphis Blues MHC near Completion by UMH Properties
MH Industry Updates to be Offered by OMHA Executive Director Tim Williams
Nobility Homes Reports Substantial Quarterly Increases in Revenue, Income
Monday, March 14
City Seeks New Ordinance for Screening Manufactured Home Communities
Manufactured Home Community in VA sold at Auction
Patrick Ind., Third Avenue Value Fund and Skyline Register Solid Gains
Ardmore Village in Minnesota Sells for $7.6M
Sunday Morning Recap-Manufactured Housing Industry News March 6 to March 13, 2016 ##
(Photo credit: MHProNews)

Article submitted by Matthew J. Silver to Daily Business News-MHProNews.