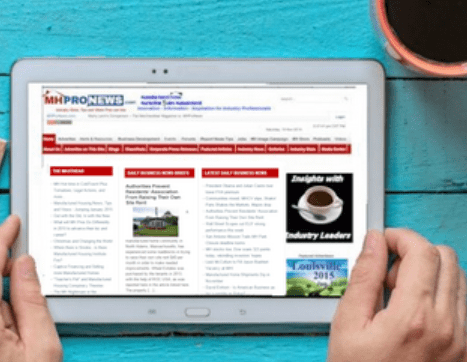 What's New in public focused Manufactured HomeLivingNews.com
Discovering a 9 out of 10 "Mobile Home Park" Lifestyle

What's New in Manufactured Housing Industry Professional News
MHC development on Pacific coast may wash out, while Hillcrest MHC in New Hampshire gets nod for expansion. UK modular plant to hire 400-500, modulars for homeless in Dublin delayed—again, and Vancouver may provide 300 modular units annually for homeless. House committee seeks to repeal Volcker and CFPB. Chinese buying U. S. businesses and real estate at record rate. Buffett defends Clayton. Newer manufactured homes do not fit older MHC sites. Doug Ryan: Strip monopoly from MH financing. Bad actors in off site produced home sales stopped. 1981 MH on market for $1.8M. Much, much more in news and views about the manufactured home industry for you to peruse.
Saturday, Feb. 27, 2016
Oracle of Omaha Defends Clayton Homes
Friday, Feb 26
Dubai-based Company moving on West Coast Workforce Modulars
Money Taken for Modular Homes, Promises Broken
Affiliated Managers Group Gains over Five Percent; Dow Slips
New Delays in Dublin Modulars for Homeless
Modular Home Factory to Hire 400 to 500
Thursday, Feb. 25
Older MHC Requires New Ordinance to Accommodate Larger Homes
Housing Market Recovery: Making Haste Slowly
ELS Gains +2.91%, Advances to $71.54; MHCV Gains +1.35%
House Committee Seeks to Repeal Volcker Rule and CFPB
Insider Trading at Patrick Industries, Inc.
Vancouver may Provide 300 Modular Homes Annually for Homeless
Wednesday, Feb. 24
Demographics of New York not Reflected in Home Purchase Loans
Universal Forest Products Gains +6.55 Percent in Two Days
Stabilizing Home Prices could make Home-buying More Feasible for First-time Buyers
Chinese Buying U. S. Firms at Record Rate. Will housing Fall-ow?
Tuesday, Feb. 23
35 Year-old Manufactured Home Lists for $1.8M
Sun Reports Q4 and Year-end Financials
Dow Rolls Back -1.14%; More MH-related Stocks Close Down than Up
Doug Ryan: Expand the Lending Opportunities for MH Buyers
Assetmark Increases Stake in Equity LifeStyle Properties
David Valenti Pleads Guilty to 19 Counts of Theft
Monday, Feb. 22
Fitch Ratings Predicts Homes for Sale Inventory to Change Little in 2016
Expansion for Hillcrest Estates MHC Approved by Planning Board
AMG Tops MH Gainers; Dow Begins Week Strongly
Real Estate Purchases by Foreign Nationals Rises
Modular Apartment Building Set within Two Days
California Coastal MHC Development Project may be in Jeopardy
(Photo credit: MHProNews)

Article submitted by Matthew J. Silver to Daily Business News-MHProNews.