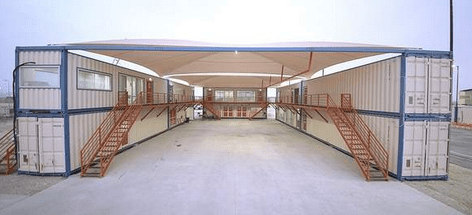 Monitac Remotely Possible, headquartered in Dubai, UAE, is beginning to provide modular farmworker housing to farms on the U. S. west coast made of shipping containers. Containers are altered into six to eight bunkhouses, or can be used for living or office space. They can be stacked three stories high, and sell for $26,000 to $35,000 each, depending upon the configuration.
The containers have high-efficiency lighting, heating and air conditioning that are solar powered and computer controlled, and considered green for using less energy, according to capitalpress. Co-founded by Shaun Shulba, a native of Seattle but who lived in Dubai for 13 years, the four-year-old company has built up to 1,000 bed modular workforce camps, primarily for mining and defense contractors in Qatar, UAE, Saudi Arabia, Iraq and eastern Africa.
The company is currently working on an affordable housing project in Vancouver, and providing relief housing for survivors of the cyclone that hit Fiji Feb. 20, killing over 40 people.
A grower who has operations in California, Oregon and Washington contacted Monitac last July, resulting in Monitac's opening a factory in Vancouver, B. C. and an office in Lynden WA, as MHProNews has learned
While they assert the steel containers last longer, the company also builds wood-framed, manufactured home bunkhouses, and provides septic and greywater treatment systems. Monitac sees a promising future in building for farmworkers, the military and firefighters.
"Competition for workers is increasing and providing quality of life for workers is a way to ensure you will get quality labor in quantities you require whether H-2A (visa foreign guestworkers) or domestic," said Shulba. ##
(Photo credit: Monitac Remotely Possible–modular units for housing or office)

Article submitted by Matthew J. Silver to Daily Business News-MHProNews.