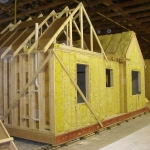 The proposed redevelopment of eight modular homes in Marathon, Fla. in the Keys, was unanimously approved by the Marathon Planning Commission despite vigorous protest from a neighbor, as keysnet tells MHProNews.
Melody Aldacosta, who has lived in Marathon 71 years, will have to share part of her driveway with people arriving for and leaving from the homes. "I over-object to this entire plan completely," Aldacosta said. "First of all, the modular homes, it's just too much. Most importantly, the traffic that it will put on that driveway and the whole stretch — I would ask that you take that into consideration. The liability if anything happens there is not going to be on me."
City staff said there's an easement on the driveway to allow access to the modular homes. Owned by 2264 Overseas Highway LLC, the city's conditions for approval include access for fire protection equipment and greenery to be approved by the city biologist. ##
(Photo credit: modular home by Dickinson Homes)

Article submitted by Matthew J. Silver to Daily Business News-MHProNews.