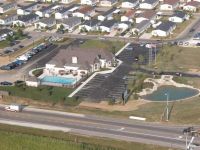 Writing in seekingalpha about investing in real estate investment trusts (REITs), Brad Thomas, noting the importance of housing to the overall economy, says following housing trends can lead to wise investing in the market. In particular, the manufactured housing market offers opportunity for REIT investors to outperform the overall market.
Since 2010 the price of new and existing homes have passed their pre-Recession levels which has resulted in the lack of affordable housing.
As the homeownership rate has fallen from just under 70 percent in 2004 to 63 percent in 2015, renter households have risen from under 34 million for the same time period to over 42 million as of 2015. Demand for apartments has pushed the cost of rentals up as well.
Thomas says that leaves only manufactured housing as affordable housing. He says, "Today's manufactured homes are indistinguishable from site-built homes and are fully compatible with any neighborhood architectural style."
He compares the average cost of a manufactured home–$65,300–as roughly equivalent to one year of median income, while a single-family site-built home at a cost of $345,800 equals approximately six years median income.
Production of MH has not seen the growth like the multifamily sector has, but prices have risen because supply has not kept up with demand (including that the quality of MH has increased in the past 20 years), although in recent years the average price has not risen, which Thomas takes to mean that supply and demand have been in balance.
Manufactured housing is also playing into the aging of the overall population. A report by Marcus & Millichap last year states strong employment growth, rising home prices and the aging of baby boomers bodes well for MH, because the lack of affordable housing is becoming more urgent, and MH is an affordable option. MH prices rose one percent in Q1 2015.
Higher yields and low borrowing costs are attracting investors to MHCs which is also creating competition for the limited assets that are on the market. As MHProNews knows, new MHCs are not being developed in large numbers, which could drive the prices for the communities that are sold higher. Additionally, owners of MH in communities are less likely to up and move because of the expense, giving more stability to a REIT investment.
REITs own and operate MHCs, sometime owning only the land and renting home sites, other times owning the home and the land. He says, "MH is the most recession resistant sector of the housing and commercial real estate sectors and has consistently outperformed multifamily in same site NOI (net operating income) growth since 2000."
(Photo credit: Tri-Star Estates MHC)

Article submitted by Matthew J. Silver to Daily Business News-MHProNews.