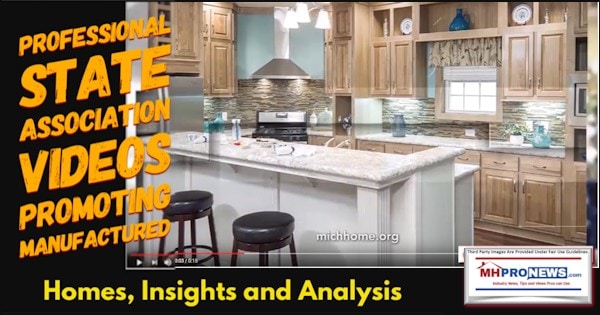 The Michigan Manufactured Housing Association (MMHA) has professionally produced some useful videos that generally promote manufactured home living as an affordable housing option. Last April, they posted two new ones on YouTube, plus ran these on commercials that month on TV.
"We are targeting those who are looking for affordable alternatives to traditional built homes," said Bill Sheffer, executive director of MMHA, on April 5, 2019. "Homebuyers are looking for high-quality homes with great features in friendly neighborhoods."
Their website added that "MMHA has designed a statewide TV campaign to air on the Comcast cable network. Two, 15-second commercials were developed and will run as "bookends" (at the top and bottom of commercial breaks). The campaign will run April 8-28."
Those two well-crafted spots are as shown below. Per the MMHA's YouTube page, "This commercial promotes the stylish and affordable manufactured homes throughout Michigan as part of the Michigan Manufactured Housing Association campaign."
Regarding their "bookend" video, MMHA's YouTube page said "This commercial promotes the many features available to residents of manufactured home communities throughout Michigan as part of the Michigan Manufactured Housing Association campaign." It is a quality 15 second video.
Just Facts…
On this date at 10:16 ET, YouTube reports that "Communities in Great Locations" TV commercial
132 views Apr 8, 2019. Perhaps 5 of those views were by MHProNews team members.
Regarding the "50% Less per Square Foot" TV commercial, YouTube says the data of that reflects video stand at 295 views, and it was also posted Apr 8, 2019. Once more, perhaps 6 (+/-) views of that video occurred.
As fate would have it, that same day, HBO's Last Week Tonight with John Oliver launched their viral video on YouTube that was errantly named "Mobile Homes." MHLivingNews did a report and analysis of that video, which is posted on the page linked here, but also below.
Oliver's YouTube page for that video says the following. "Mobile homes may seem like an affordable housing option, but large investment companies are making them less and less so." That runs precisely counter to the message that MMHA ran.
On this date as of 10:22 AM ET, Mobile Homes: Last Week Tonight with John Oliver (HBO). "6,973,285 views – Apr 8, 2019." MHProNews/MHLivingNews team members may have seen this about 3 times total. Which has had the greater impact on manufactured housing in Michigan?
First, ICYMI or need a reminder, the entire U.S. shipment data by state, HUD Code manufactured home type, and floors is linked below.
Comparing Manufactured Home Single and Multi-Sectional Data, State by State, 2018 vs. 2019
Here is the Michigan portion of that data.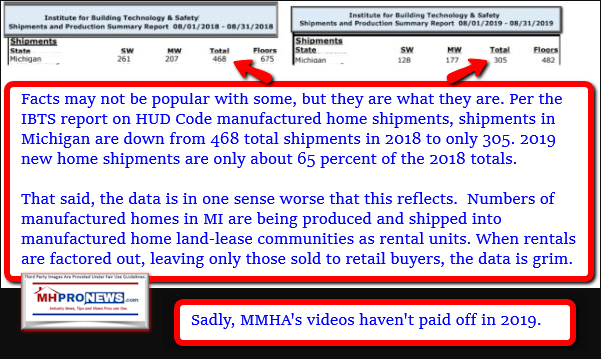 Not a Slam on Michigan…
There are several states that have invested in professionally produced videos. Perhaps they have kept the new home shipments from falling lower still. But what many states, and the Manufactured Housing Institute (MHI's) professionally produced videos have revealed is this. Manufactured housing has less interest among housing shoppers, per Zillow's research data, over the 2 years covered in the report reported in the analysis found at the link below.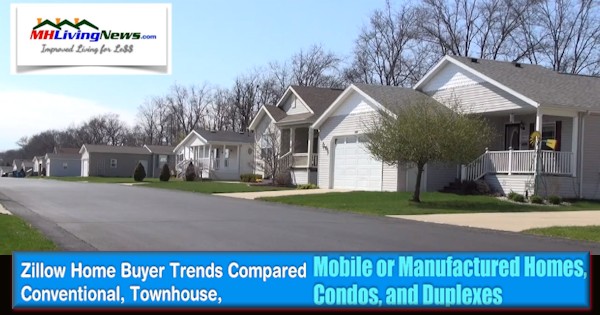 For some years, MHProNews has taken the following position.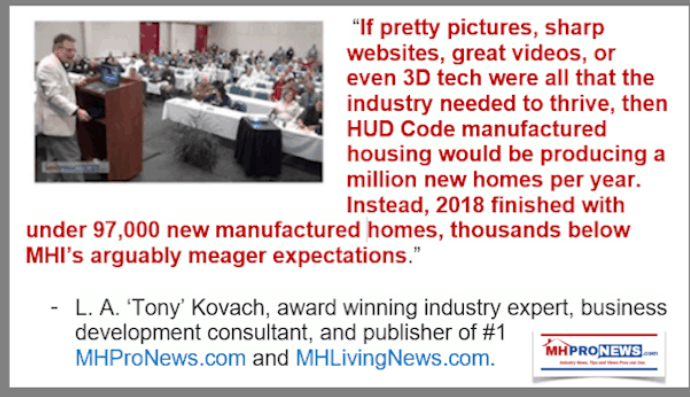 The data from MI, and most of the country, proves the accuracy of that claim.  As the data from the Manufactured Housing Association for Regulatory Reform (MHARR) indicates that just 3 of the top 10 states in manufactured home shipments have witnessed a year-over-year increase in shipments, 7 of 10 have declined.  For 11 of the last 12 months, HUD Code manufactured housing has been in decline. These are facts, not opinions or someone's spin.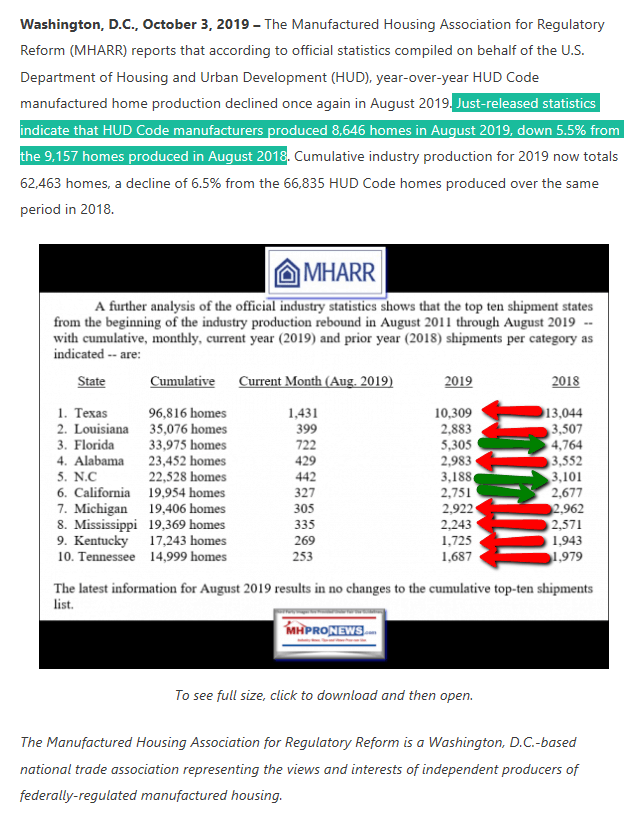 MHI has de facto acknowledged last summer that negative media is harming manufactured home sales. They did so via their 'code of ethical conduct' statement, reported here and which has those MHI documents as a download.
Frank Rolfe, Impact Communities, Sparking Calls for National Rent Control, Mainstream News, Elected Officials React
But as an upcoming report, or the ones linked above and below reflect, MHI has yet to enforce that code of ethical conduct. MHProNews reached out to several MHI connected staff and attorneys, asking if MHI would be taking action on those matters. Silence.
"Going Mobile," "Midas Mike," "Okay, Trailer Park it Is" – CBS' NCIS Spoofs Manufactured Home Community Living, Including Frank Rolfe Type Character
Ironically, the Omaha-Knoxville-Arlington axis knows precisely what is necessary. Who says? How about Tim Williams, former MHI Chairman, and President and CEO of Berkshire Hathaway owned 21st Mortgage.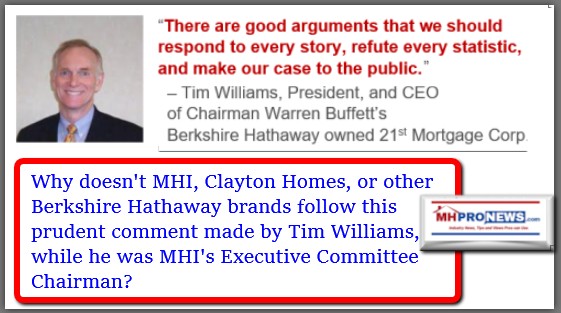 Rephrased, by their action and inaction, MHI has effectively boxed themselves in. They acknowledge that their own members are part of the image problem of the industry. But they have not yet taken any known steps to curb what public officials and residents in state after state are calling "predatory" behavior. What they have not yet admitted is this. Warren Buffett's 'donations' can be traced through dark money channels to MHAction, which was instrumental in the white paper that John Oliver referenced in his viral video, above.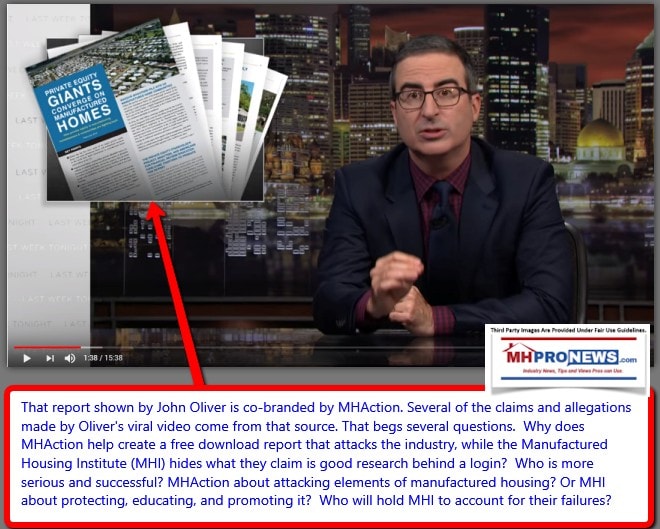 Prosperity Now, Nonprofits Sustain John Oliver's "Mobile Homes" Video in Their Reports
There will be a special report on this topic soon.
Manufactured Housing – White Hats, Black Hats, Investing, Consumers, MH Independents
Industry Fact-Check Related Insights
Stay tuned. In wrapping this review of the lessons from the MMHA up, let's note that a new analysis of data in our "almost midnight" report demonstrates that manufactured housing professionals and investors find these fact-checks compelling reading.
New, Heartbreaking Data Revealed by MHProNews for Omaha-Knoxville-Arlington Axis and Allies
There is always more to know, so stay plugged in by signing up for our ever-growing 2x weekly emailed headline news updates.
That's your second installment of manufactured housing industry "News, Tips, and Views Pros Can Use," © where "We Provide, You Decide." © ## (News, analysis, and commentary.)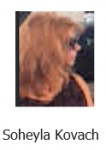 Submitted by Soheyla Kovach for MHProNews.com.
Soheyla is a managing member of LifeStyle Factory Homes, LLC, the parent company to MHProNews, and MHLivingNews.com. Connect with us on LinkedIn here and and here.
Related Reports:
Click the image/text box below to access relevant, related information.
Wow! Giving Credit, Interesting – What Rick Robinson, MHI's General Counsel, Said About Zoning Battles
Manufactured Housing Institute EVP Lesli Gooch, Industry Progress in Her Words, Manufactured Housing Improvement Act, and Enhanced Preemption
Paul Barretto, Sr. Manager Fannie Mae, Manufactured Housing Initiatives, FHFA Lobbying Regulations, Duty to Serve, and Manufactured Housing Institute
Frank Rolfe, Mobile Home University, Protests, Black-Eye News, and "Investing" – Ultimate Video Collection
"Going Mobile," "Midas Mike," "Okay, Trailer Park it Is" – CBS' NCIS Spoofs Manufactured Home Community Living, Including Frank Rolfe Type Character
Comparing Manufactured Home Industry Trade News Claims, MHInsider, MHReview, EducateMHC, George Allen Says "Gaslighting" – What Data, SPJ Reveals
Attorney General Files Suit Against Manufactured Home Community Owner – Pleadings, Official Statements, and Videos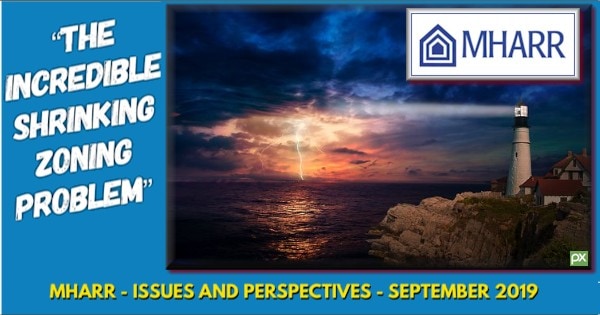 Great or Gone? Obstacles and Opportunities in Manufactured Housing, plus Sunday Morning Headlines Week in Review 10.6 to 10.13.2019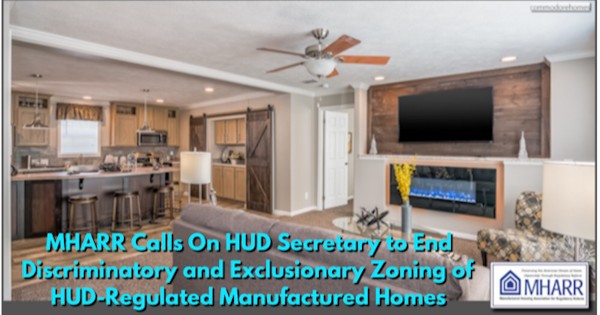 "We Seem to Have Lost Common Sense," HUD Secretary Ben Carson – Homeless, Affordable Housing Crisis
Fair is Fair, Fine New Letter by Manufactured Housing Institute EVP Lesli Gooch to HUD Secretary Ben Carson Examined
Manufactured Housing Institute 'Studies' Threat of National Rent Control, Allen Shivvies MHI, Berkshire Brands
"One Check Away from Homelessness," HUD Secretary Carson vs. CA Gov. Gavin Newsome, Zoning, and Manufactured Housing
Long-Time HUD Attorney's Formal Statement on Manufactured Housing Enhanced Preemption