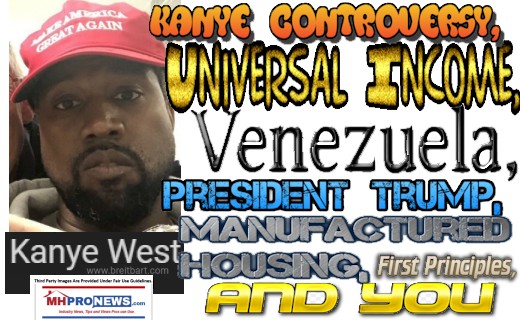 What could all of those individual topics in the headline possibly have in common? What could each of those current events mean to manufactured housing professionals, owners, investors and advocates?
Plenty.
Here's the quick rundown. The glue for each are the two words, "first principles."  Let's look…
The Kanye Controversy
Kanye West and Candace Owens where highlighted just days ago on the Daily Business News. One week after West's remarks lit up mainstream news and social media, a new poll reveals that black male support for President Donald J. Trump has doubled.
That African American support doubled in a single week.
Black support is still low, but that doubling is enough to put the 2018 midterms back into play as a jump ball.
Remember that the Daily Business News used the internals of a New York Times poll in 2016 to predict that the small drift of blacks they noted toward the Trump campaign would be enough in states like North Carolina and Pennsylvania. Recall how that turned out?
Universal Income
Last year, the Daily Business News did several reports on universal income, each making the point that it will not work. Finland announced recently it will suspend its test trials in Universal Income. They didn't work.
That was entirely predictable.
Yet there are still some powerful American voices promoting the failed and flawed universal income concept. If results facts and results matter, why should you listen to them on this topic?
Certain Voices are Pushing It – Would Universal Income Help or Hurting Americans?
Venezuela
The Daily Business News has periodically mentioned the meltdown of socialist Venezuela. A headline in Drudge today says that inflation in Venezuela has now quadrupled to 18,000 percent, in just two months.  By contrast, "The current inflation rate for the United States is 2.4% for the 12 months ended March 2018," per U.S. Inflation Calculator.
Venezuela voted in socialists spouting utopian promises about a decade ago. That proud land has gone from one of the stronger South American economies, turning into a basket-case where people are starving, and are now being politically oppressed.
The Daily Business News has also reported on the rising poll numbers of socialists in the U.S.
Troubling New Study Reveals a Millennial Trend, Business, Economic, Political Impact 
Socialistic economics has not worked in Venezuela. It didn't work in Greece, which the European Union bailed out. China is still communist but has turned to a more market economic system with less regulations.
Do you see the pattern?
No matter how much you like someone who is a preaching a socialistic economic approach, why trust or listen to them, when the clear pattern is one of repeated failure?
President Donald J. Trump
Keep in mind, editorially we are about principles over party labels. There is no doubt that the president has said and done things that get people across the spectrum stirred up.  MHProNews hears from those voices who complain about some tweet or remark about a controversial issue regularly.
A caller into a talk radio show observed that President of the United States (POTUS) Donald J. Trump is both "Democratic and Republican." That's truer that it may seem at first blush.
POTUS Trump has a position in common with Senator Bernie Sanders (I-VT) – trade and job protectionism.
POTUS is concerned over monopolistic impact over America's economy and jobs. On that, Senator Elizabeth Warren (D-MA) and right leaning Steve Bannon and Senator Ted Cruz (R-TX), and the president all hold common ground.
Breakup "Massive Power" of Giants, "Subvert Our Democratic Process" Says Senator Cruz, & MH CEO's Call for "Fully Competitive Housing Access"
On the southern border, former AZ sheriff Joe Arpaio and the president find common ground.  On peace through strength, the president looks like a Republican hawk; but he wants out of the Middle East as quickly as possible, a point he shares with libertarian leaning Senator Rand Paul (R-KY).
About 2 years ago, this independent MH industry writer and publication promoted President Trump for the White House. It was picked up by thousands of sites, including the Trump for President campaign site.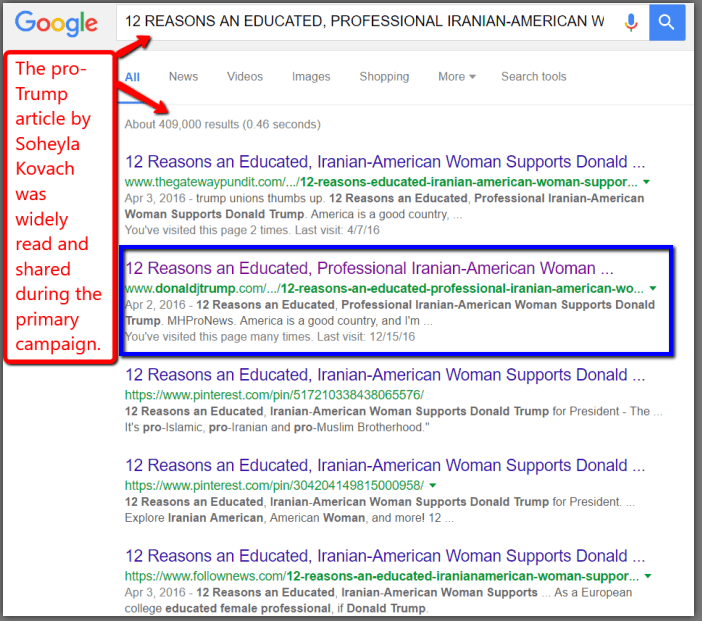 The takeaway or principle involved?  Turn down the noise and the drama, focus on the goal and results over the style. MHProNews predicted that based upon Mr. Trump's stated platform, he would be good for business, the economy, jobs, wages, and manufactured housing.
The results?
Based upon survey after survey and reams of economic data, so far, so good.
Like Kanye, it's about looking at what works instead of being distracted by what may be politically incorrect. Even Kanye's wife – Kim Kardashian – has provided some distance between herself and her mate on the POTUS Trump question. Hmmm…
But results matter.
Black, and Hispanic unemployment are at historic lows. And female unemployment is near a two-decade low.
One principle involved is this, and everyone's heard it.  The popular definition of insanity is to keep doing the same things the same way, and expect a different result.  To H-E double LL with following that pattern any longer, within or beyond of MHVille.
From Presidents Clinton, both Bushes, or Obama, there have been some common – and flawed – stances. It was time for a new approach, based upon sound first principles.
First Principles
Curating principles from clear-thinkers like Thomas Sowell, we've promoted what will work for the vast majority of the industry and millions of our potential and actual customers.  We reject controversy for its own sake, but we do nut shun a controversial stance, if it is based upon reason and facts over emotion and rhetoric.
First principles matter. Principles like, G. K. Chesterton's pithy, "What's wrong is that we don't ask what's right."  Or that the lessons of history, faith and reason matter. Of course they count.
Promises Made, Promises Kept
What may have seemed like madness two years ago in our campaign coverage and support is part of our pledge to carefully curate news topics that matter.  The manufactured home (MH) industry slid from a 1998 high of 372,000+ shipments to a low eleven years later of under 50,000 shipments.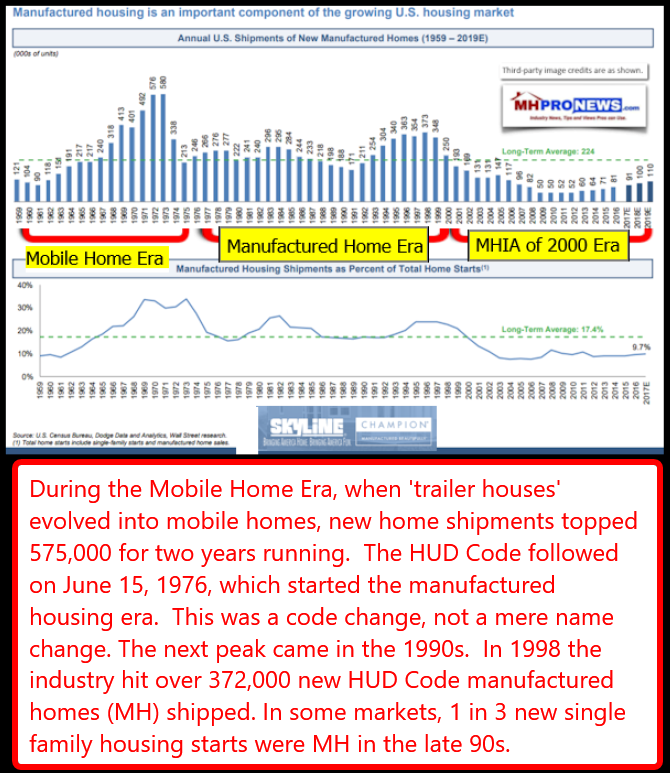 As an industry, manufactured home professionals and investors can't afford to make more big mistakes.
The Manufactured Housing Institute (MHI) has time and again talked a great game.  But counting emails, Facebook likes, or waving their hands high with "razzle dazzle" doesn't change how often they have factually gotten it wrong time and again.  If they were so right, why are shipments still so historically low?
Manufactured Housing Institute "Walk Out," "Cover Up," and Shock at their Vegas Event
Do you want positive results, or do you want style with no delivery?  Take your pick.
Prominent MHI leadership promoted Secretary Hillary Clinton over candidate Donald Trump. Clinton wanted heavy regulations, President Trump and Vice President Mike Pence promised – and are delivering – one prudent regulatory rollbacks.  There are more and more who see that's a clear disconnect, how about you?
As the president and VP have both said, "Promises Made, Promises Kept."  The Heritage Foundation score sounds high, but that organization said that the Trump Administration has already fulfilled over 60 percent of its campaign promises in just 15 months.  If Heritage is right, that means the less than 40 percent of those campaign promises are left to go.
GDP is rising
Unemployment is falling
Peace through strength is underway, and seems to be moving in a positive way by largely defeating ISIS in Syria and Iraq, and in tough stances and actions with North Korea. Is Iran next?  Time will tell.  But history reminds us that Nevil Chamberlin, Bill Clinton, and Barack Obama's efforts at appeasement have all failed. By contrast, Ronald Reagan's peace through strength with the former USSR worked.  Appeasement or strength.  Take your pick.
Presidents Kennedy (D) and Reagan (R) cut taxes, and spurred the economy.  High taxes and sluggish growth, or lower taxes and more common sense regulations that yields more opportunities and jobs.  Take your pick.
There's plenty of good, but there are also storm clouds. Too much automation, and robotics – notably by monopolistic companies – are destroying jobs.  Right now, more are being created than are being lost.  But if the monopolies aren't broken up, then new business and new job creation will be stifled and will eventually stall out.
So the good work is underway, but the fight for a brighter future is far from over.
Winners and Losers
The National Federation of Independent Business (NFIB) – which includes hundreds of manufactured housing businesses – and the Manufactured Housing Association for Regulatory Reform (MHARR) have a much better track record that MHI on picking winning positions good for business and consumers alike.
Why?
Because they are operating under several proven "first principles."
Among them?
Limited government,
with sound but limited regulation and
lower taxes will work better than;
heavy taxes, and heavy regulation both of which kills jobs, because it will drive businesses overseas. Giant Amazon just announced they are de facto working to force its will on Seattle on their latest tax to create housing proposal.  Monopolistic power forcing its will on a proven failure, another socialistic concept. It's a classic case where both parties are wrong.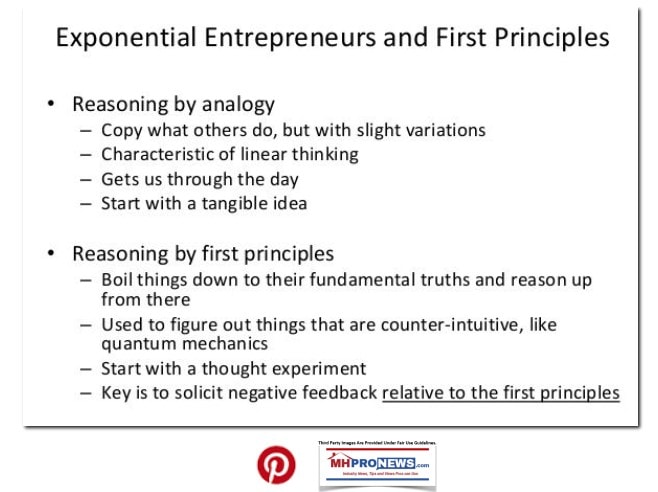 A correct use
Dr. Carson praised the industry for building "amazing" homes, while blasting the regulatory regime under Pam Danner as "ridiculous."
MHI's EVP Lesli Gooch is quoted by the Washington Post as saying they did nothing about Pam Danner.  Proof once more that MHProNews was on the right path in our reports a year or more ago.  That's not bragging, its a fact shared with an important point for manufactured housing professionals and investors in mind.
First principles matter. Investing the time to learn them, and apply them, and you'll save years of wasted effort, and make more money, rather than let millions slip through your firms fingers.
Some of this may sound harsh to those who love MHI networking and mixers.  Sorry, but facts are what they are.
It's not personal, its professional. It's not a personal attack – that's what our sources say that they do behind the scenes. Rather, what we do is analyze and critique, and give others a chance before or after to respond. There's a difference.
Some – a minority – say they don't want to read about concerns regarding monopolistic allegations, or who don't want to read about weaponized MHI news delivered directly or through their surrogates. We understand that those are uncomfortable topics.  But when operations or third parties outside of MHVille – from across the political spectrum – point to the same problems and issues, why should we as trade publishers ignore it?
So as a first principles analogy, cancer is uncomfortable too, and sometimes the doctor has to tell the patient bad news. Hopefully, a troubling diagnosis is followed by a treatment plan that is proven to work.
Our site statistics prove that those 'controversial stories' about MHI and Berkshire Hathaway, et al, are at or near the top among the most read.
Speaking of site statistics, in case you missed it (ICYMI), check out the related report, linked below.  The third-party data proves that MHI is dropping, and MHProNews is growing.  Hint.  We're winning.
What are the FACTS about Manufactured Housing Industry Traffic vs. Real Estate? MHVillage, MHProNews, Manufactured Housing Institute Data
How about that, Arlington and Omaha?  That's MH "Industry News, Tips and Views Pros Can Use." ©.
It boils down to this. Make nice as has happened for too many years, and lose opportunities.  Or be candid, and apply first principles honestly in order to earn money.  Take your pick.
Count on us at MHProNews to deliver the first principles based news and analysis that many others apparently fear to candidly and publicly share.  ## (News, analysis, and commentary.)
(Third party images, and cites are provided under fair use guidelines.)
Related Resources and Reports

:
Manufactured Housing – Regulatory, Other Roadblocks and Potential Solutions, Up for Growth Research, plus Urban Institute Report Revisited
Best Warren Buffett, Kevin Clayton, Clayton Homes, Berkshire Hathaway Annual Meeting, Competition, and "the Moat" Video Collection, Jim Clayton, Oakwood Homes, largest manufactured housing builder, largest HUD Code Manufactured Housing producer, largest manufactured home retailer, not mobile home, not trailer house,
Manufactured Housing is every bit as " amazing" as HUD Secretary Carson said in a video found on MHLivingNews.com. Secretary Carson had even more to say, his full prepared statements are exclusively found at this link here. Manufactured homes are indeed a " phenomenon," as award-winning industry veteran Ron Thomas, Sr.
http://mhmarketingsalesmanagement.com/blogs/tonykovach/happy-mh-owners-good-professional-actors-overlooked-honorable-people/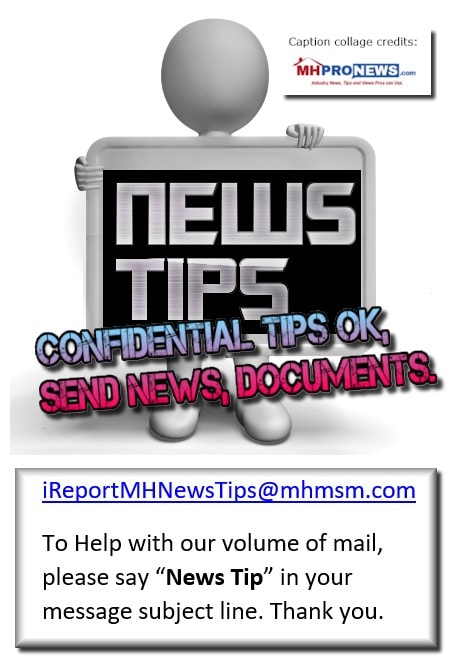 1) To sign up in seconds for our MH Industry leading emailed news updates, click here.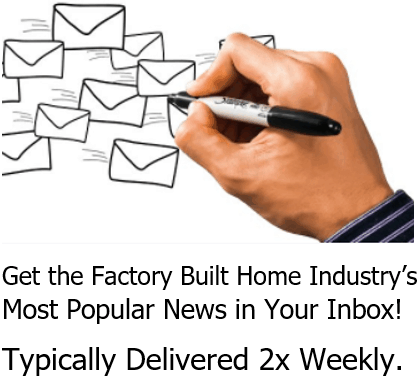 2) To provide a News Tips and/or Commentary, click the link to the left. Please note if comments are on-or-off the record, thank you.
3) Marketing, Web, Video, Consulting, Recruiting and Training Resources

Submitted by Soheyla Kovach to the Daily Business News for MHProNews.com.
Soheyla is a managing member of LifeStyle Factory Homes, LLC, the parent company to MHProNews, and MHLivingNews.com.